B. Melayu
The Penang Travel Tips Website
maintains a
Business Directory
that is one of the most comprehensive, manually compiled directories of businesses in Malaysia. It is used by people to look up businesses. If you operate a business anywhere else in Malaysia, you may add your business to this directory, so that people will locate your business more easily.
As I am a full-time blogger, I earn a living from this website. So that is why I have to charge a fee to provide various business exposure here.
There are three fee packages.
1. Listing (one-time fee of RM50)
If you wish to just list your business contact details, including your business name, address, phone number, email address, website, Facebook page, it is a one-time fee of RM50. See example below.
Mutiara Dental
31, 1st Floor, Persiaran Mahsuri 1/3,
Sunway Tunas,
11900 Bayan Lepas, Penang.
Phone: 012 626 5661
Email: dentalmutiara@gmail.com
Contact: Dr Sarchithanandan
Facebook: fb.com/dentalmutiara
2. Your own page, no visit (one-time fee of RM200)
If you want your own page on this website, the charges is presently a one-time fee of RM200 for non eateries (for eateries, such as restaurants, cafes, etc., charges vary). With this package, we will create a full page about your business to be added to Penang Travel Tips. That page is also listed in the Business Directory, to make it easier to be found. With a Full Page Package, you may provide us with photographs of the exterior and interior of your business premises, to be added to your page, and the location of your business will be shown on Google Maps.
An example of Full Page Package is shown below.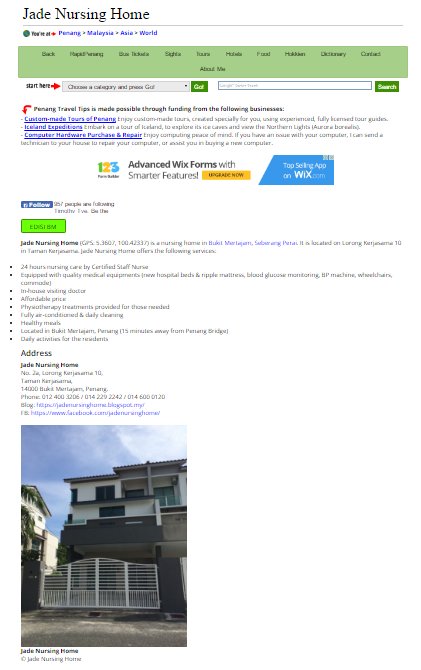 3. Your own page, with visit (and food tasting - for eateries) (one-time fee of RM300)
If you operate a restaurant, cafe or stall, and would like to invite me and my wife to a visit, to sample your dishes, so that I can blog about it on the website and on Facebook, I now charge a one-time fee of RM300/ With this Package, we shall visit your eatery to sample your food, and from the visit, create a page about your eatery as well as post about it on my Facebook channels.
How to add your business to this directory?
Fill up the form and we will get in touch with you.
Form