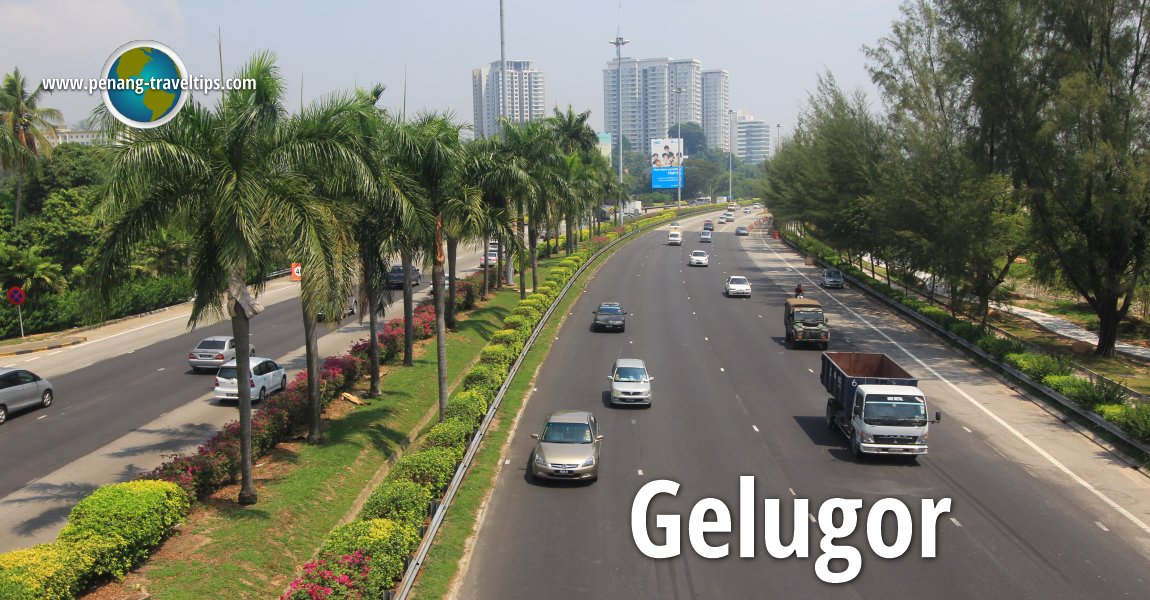 The Tun Dr Lim Chong Eu Expressway in Gelugor
(12 March, 2013)

Gelugor
(GPS: 5.38003, 100.30785; Tamil: குளுகோர்) is a district of Penang located immediately outside George Town. Until the 1960's, the city limits of George Town ends at the
Gelugor Roundabout
. Gelugor itself is said to start from that roundabout. Gelugor includes the Malay settlements of
Sungai Gelugor
, and the hilly area called Bukit Gelugor. The Gelugor postcode zone encompasses an even wider area that includes Batu Uban, Pantai Jerejak, Sungai Nibong and Sungai Dua.
Gelugor was first cleared and developed for agriculture - coconut groves and cow herding - by
David Brown
, whose estate covers much of the land in the central east coast of the island. The people living there comprised Indians who were estate workers for Brown, and the Malays in the traditional estuarine settlement of Sungai Gelugor.
Map of Gelugor
Sights in Gelugor
Amenities in Gelugor
Shopping Centres in Gelugor
Neighbourhoods and Housing Estates in Gelugor
Map of the Apartments and Condominiums in Gelugor
Apartments & Condominiums in Gelugor
Businesses in Gelugor
High-Rise Office Buildings in Gelugor
Streets in Gelugor
Roundabouts in Gelugor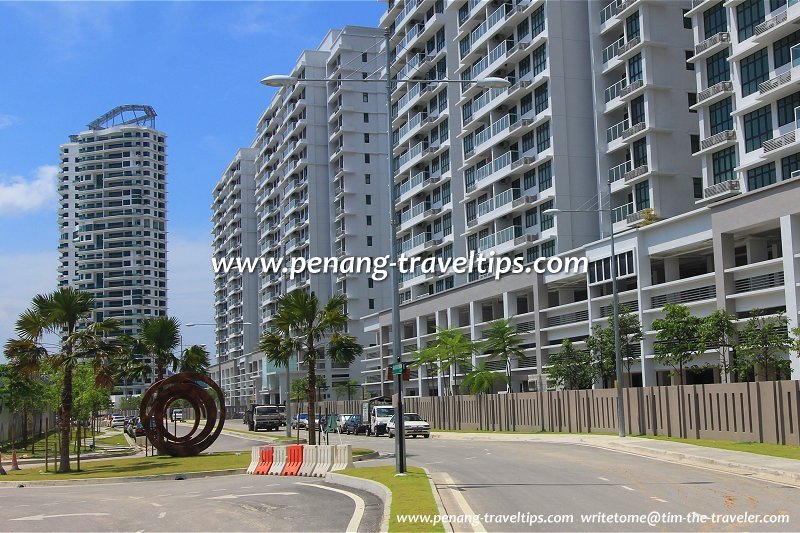 The Light Waterfront, the new face of Gelugor
(9 March, 2013)

Hotels near Gelugor
There aren't any mainsteam hotel in Gelugor. The nearest mainstream hotel is
Eastin Hotel
in the Queensbay. Also worth considering are
Vistana Hotel
and
Alora Hotel
.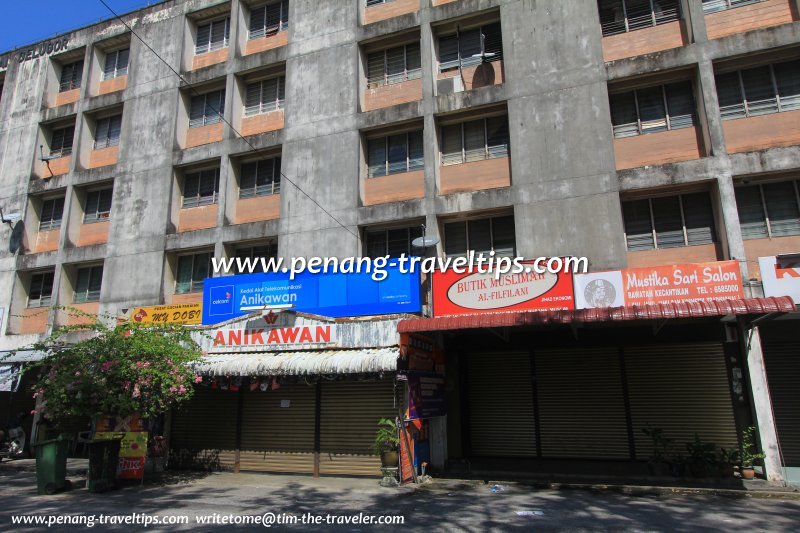 Flat Koperasi Sungai Gelugor aka Kampungku, the old face of Gelugor
(27 October, 2012)

In the 20th century, the land in Gelugor was gradually converted from agriculture for other uses. Nevertheless as late as the mid 1950's, Gelugor was still a rural part of Penang. An army camp was set up at the southern part of Sungai Gelugor. In the late 1960's,
Malaysia's second university
, USM, was established in Gelugor, in an area to be known as Minden, which was also part of the army camp.
When Bukit Gelugor was developed for housing, many who bought there considered the place "out of town". An enclave was created for government housing, and was named Brown Garden, to commemorate the original land owner. Other parts of Bukit Gelugor became government land, and government quarters were built at Hilir Pemancar, along with a transmission station.
The grazing land and animal husbandry dwindled in size into a few pockets within Gelugor, the last significant remainder of David Brown's legacy being
Kampung Buah Pala
, a traditional Indian village that endured to as recent as 2009.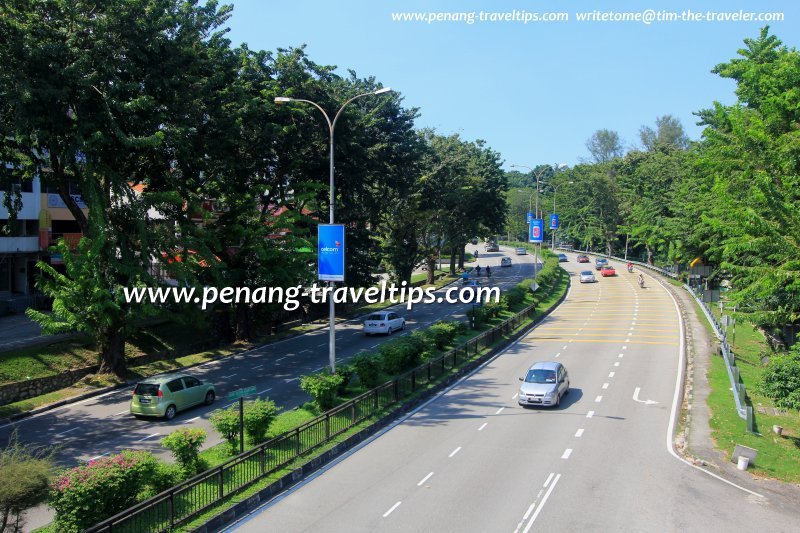 View of Jalan Sultan Azlan Shah in Gelugor
(27 October, 2012)

The affluent neighborhood of Minden Heights and the whole area of Universiti Sains Malaysia are all within Gelugor. Gelugor proper ends at Batu Uban, and from there Sungai Nibong begins. However, the Gelugor postal code includes all of Sungai Nibong Besar, Pantai Jerejak,
Pesta Site
, as well as the residential neighborhoods of Lip Sin Garden, Taman Pekaka and parts of Bukit Jambul.
Jalan Sultan Azlan Shah
is the main thoroughfare in Gelugor. The Tun Dr Lim Chong Eu Expressway and Jalan Bukit Gambir are the auxiliary arteries allowing traffic to bypass Gelugor. The town of Gelugor is nothing more than a few shophouses along Jalan Sultan Azlan Shah, and is centred near the Brown Garden junction, close to Masjid Jamek Sungai Gelugor.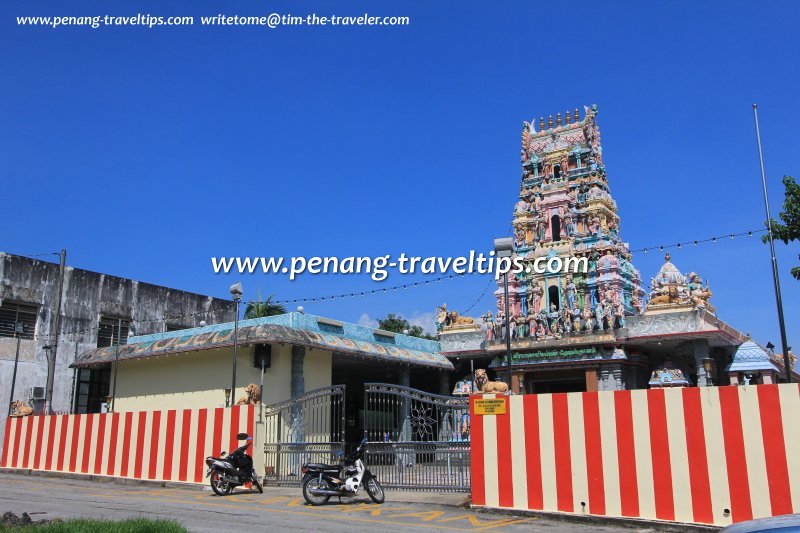 Sri Veerama Kaliamman Devasthanam, the biggest Hindu temple in Gelugor
(27 October, 2012)

Until development reached Gelugor in the late 1960's, the area was inhabited mostly by Malays and Tamils. The Indians, whose primary occupation was cattle breeding, called this area
Perai Tholam
, meaning Large Estate. One can still see traces of the early Tamil settlements in Gelugor through the Hindu shrines along the road. The biggest has been made a proper temple called Sri Veerama Kaliamman Devasthanam.
The Penang Aquarium, operated by the Fisheries Department, used to be located in Gelugor in the 1970s. It was closed down following the discovery of cracks. A new
Penang Aquarium
had since been opened by the department in Batu Maung.
Getting there by public transport
Jalan Sultan Azlan Shah is the main artery through Gelugor.
Rapid Penang
bus
102
,
206
,
301
,
302
,
303
,
304
and
401
pass through this road.
For long-distance buses, the
Sungai Nibong Express Bus Terminal
provides connection with all major towns on the mainland.
Gelugor is on the map of Penang
Add your shop/business to this website
The Penang Travel Tips website is a huge website that documents everything in Penang. On top of the hundreds of streets and tourist attractions, I also add in hundreds of shops and businesses.
If you operate a shop business in Penang, or anywhere in Malaysia or Singapore, contact me to add your business/shop into my website. It only a one-time fee, and your shop/business will be listed by location and category, helping your would-be customers find you. To find out more,
CONTACT ME
Visiting Penang? Find the lowest hotel room rates here!
Use our search engine to compare room rates from different hotel booking websites, to find the one that's lowest.
Travelling somewhere?
If you're travelling somewhere, use our online engine to find the online booking site that offers you the best room rates.
Book your hotel room here
If you're coming to Penang, book your hotel room online with Agoda. Agoda offers the best prices on 2,000,000+ properties worldwide.
Start here.
Local Guided Tours of Penang
If you are coming to Penang and need someone to show you around, I can arrange for you a licensed tour guide to take you around. Guides charge a fixed fee of RM360 for taking a small group of up to 10 people on 4-hour walking tours. Walking tours exceeding 4 hours is charged an additional RM90 per hour. Tours are tailored to guest requirement. For more details,
contact tour coordinator
. Other types of tours also available.
For details, click here.
Looking for a book? Get it from Book Depository with free delivery worldwide!
I have just discovered
Book Depository
, a subsidiary of Amazon.com, and I love it. This is where you can buy books and have them sent to you. But unlike Amazon, when you purchase using Book Depository, you enjoy free delivery worldwide.
Give it a try today!
Here's a list of the latest pages I have added or updated on my website.
My YouTube Videos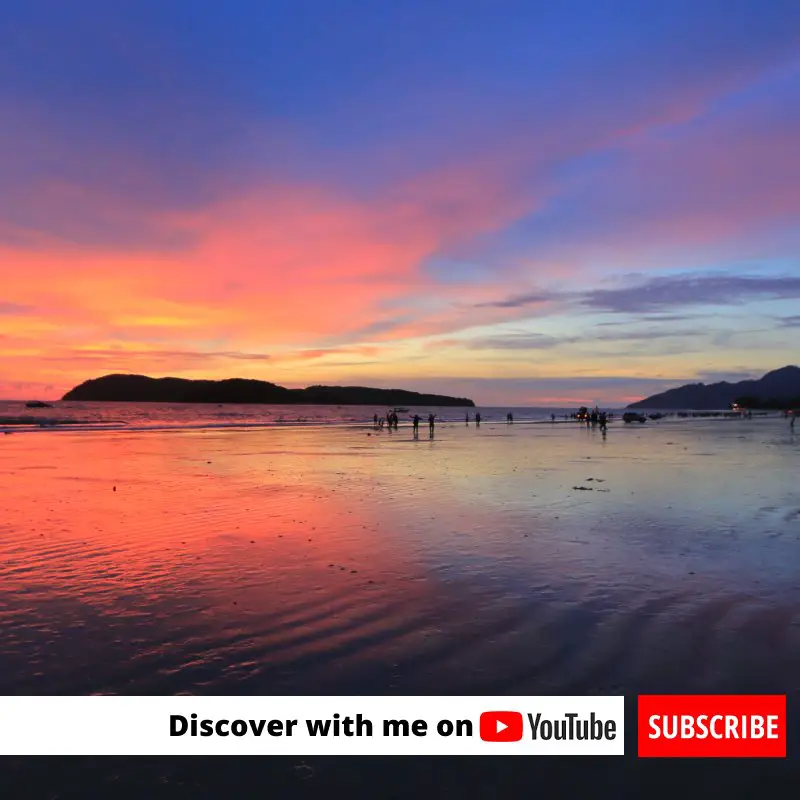 Check out
my YouTube Channel
and don't forget to subscribe!
Vital Links
Book Your Express Bus Ticket
|
Hire a car
|
Our Recipes
|
Facebook Posts
|
Just Curious
|
Not In The Dictionary
|
Our Flowering Garden
Vital Links
Book Your Express Bus Ticket
|
Engage a Tour Guide for Penang
|
What's Up at Penang Hotels
|
Hire a car
|
Facebook Posts
|
Our Recipes
|
Our Flowering Garden
|
Guide Book on Penang Durians
Discover the World
About Me