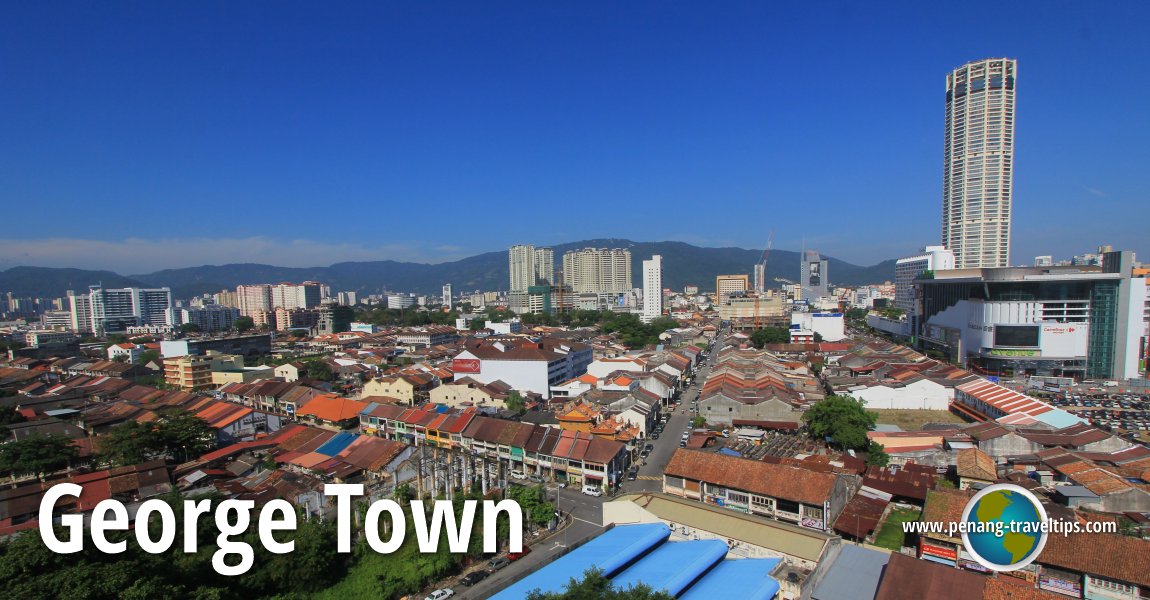 George Town, Penang
(6 February, 2013)

B. Melayu
George Town
(GPS: 5.41921, 100.34404), (Malay: Tanjung, Tanjung Penaga; Traditional Chinese: 喬治市; Simplified Chinese: 乔治市; Pinyin: Qiáozhì Shì;
Penang Hokkien
: Pho3tay4; Tamil: ஜார்ஜ் டவுன்) is the capital of Penang and one of the major cities in Malaysia. Established in 1786, it is also one of the older cities in the country. George Town was made a city by
Queen Elizabeth II
in 1957. It was the first city to be declared in the
Federation of Malaya
, and the second in the Malay Peninsula after
Singapore
, which attained its city status on 22 September, 1951, through a royal charter conferred by
King George VI
. The inner city of
George Town was inscribed as a World Heritage Site
by
UNESCO
on 7 July, 2008.
In the present city limits, George Town is 305.8 square kilometers in size. According to the 2010 census, its population stood at 529,400. The World Heritage Site of George Town covers 259.42 hectares, surrounded by an additional buffer zone. This area is rich in historical and cultural heritage sites, including colonial-era buildings of various architectural styles, as well as mosques, Chinese temples and Hindu temples. Administration of George Town is through the
Penang Island City Council
, which administers the entire
Penang Island
. As the President of the Penang Island City Council, Datuk Patahiyah Ismail serves as an unelected
de facto
mayor of George Town.
Hotels in George Town
Click here for list of
hotels in George Town
. Please read also
my article on which Penang hotel to choose
, and
hotels for business travellers
.
Where to stay in George Town
Although there are lots of hotels in George Town, when I am asked to suggest, I always choose only the ones where I am familiar with. I don't base my suggestion on hearsay, but rather because I have first-hand experience in staying in these hotels. In alphabetical order, they include
Areca Hotel
,
Cititel Penang
,
GLOW Penang Hotel
,
Hotel Neo+ Penang
,
Kimberley Hotel Georgetown
,
Mei Hotel Penang
,
Northam All Suite Hotel
,
Royale Chulan Penang
,
Sunrise Gurney 68PG
,
Sunway Hotel Georgetown
,
The Edison George Town
,
The Wembley Penang
, and
Yeng Keng Hotel
.
Map of the Roads in George Town
George Town on Google Maps Street View
George Town is so big, so it's hard to decide whether to place the start point for Street View. Eventually, I opt for King Edward Place, beside the Queen Victoria Clocktower.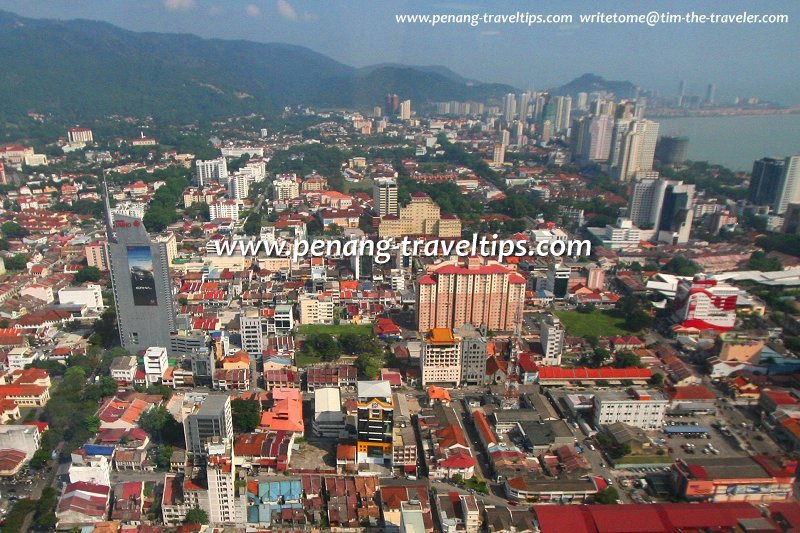 View of George Town from Komtar
(7 May 2010)

About George Town
It was established by
Captain Francis Light
on 11 August 1786, and named after the then king of Great Britain,
King George III
. During Francis Light's time, George Town occupied the area up to only
Pitt Street
in the west and
Market Street
in the south. Over the first decade of its existence, the town spread to
Chulia Street
and grew like crawling tentacles along the main arteries into the hinterlands. The
Protestant Cemetery
, which was the burial ground of the early British colonials, which is within inner George Town today, was regarded as being located outside town. (It was positioned there to be away from the place where the colonial officers lived.)
Even during its first decade of being established, there were already people living outside George Town, with pockets of settlements along the north coast, such as at
Kelawei
and at
Pulau Tikus
, but these were not regarded as part of George Town proper until later on. To the south, there were settlements along the
Sungai Pinang River
and
Batu Uban
, some pre-dating the establishment of George Town itself.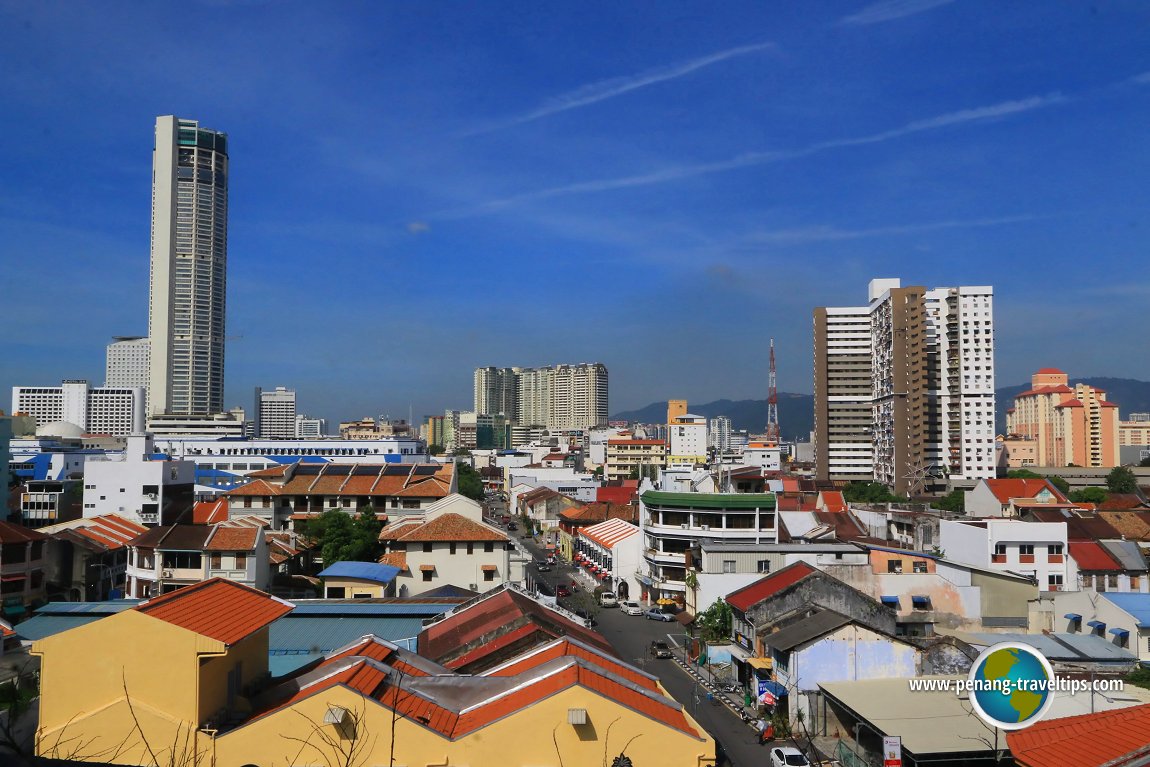 The George Town skyline, as seen from Tido Hostel Penang.
(19 June, 2017)

Malaysians today often forget how old George Town is. It is older than all the major towns and cities of Malaysia including
Kuala Lumpur
,
Seremban
,
Ipoh
,
Taiping
and
Singapore
. If you plant your feet on any of the oldest parts of George Town, you are standing on a piece of land that has undergone different usage over the past 200 years. George Town bears witness to an urban morphology that has seen that same piece of land being a wetland, farmland, countryside, workshop, warehouse, office, home and boutique hotel, depending on which part of history you slice. This ever changing use of land in George Town is part of the city's unfolding story, as it continues to reinvent itself in order to stay relevant in modern times. And yet there are places that have remained unchanged through the ages. Take
Beach Street
as an example. It is one of the oldest commercial street in Malaysia, second perhaps only to
Jonker Street
in
Malacca
. As a commercial street, Beach Street is older than many of the aforementioned towns and cities in Malaysia as well as Singapore.
The Prangin Canal, where old and new architecture stand side-by-side
(19 March 2010)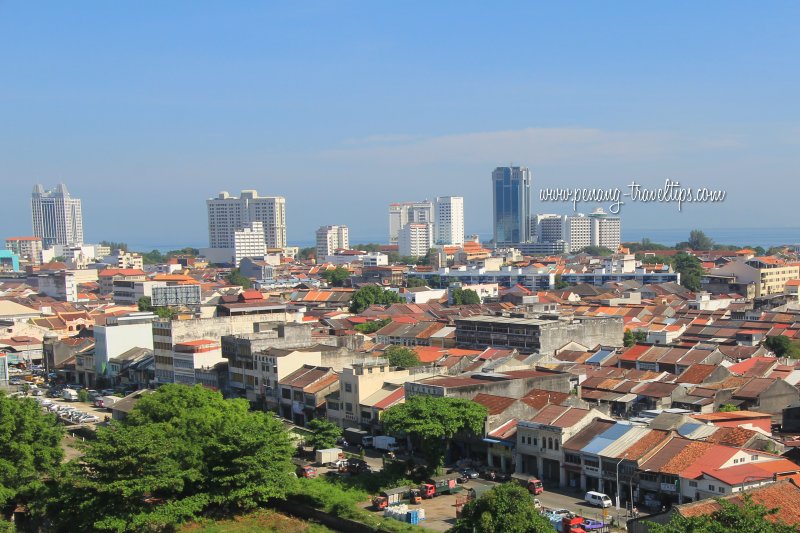 Inner City of George Town
(6 February, 2013)

By the 1870's, George Town has reached the
Prangin Canal
, where
Jalan Dr Lim Chwee Leong
is located. today. In the 1870s, beyond the Prangin Canal lay the countryside, filled with vegetable plots and cattle ranches. Yet the city continued to evolve and to expand, often sporadically, and depending on the economic might of that moment, in bursts and spurts. By the turn of the 20th century, most of the houses within the inner core of George Town, where the core zone of the World Heritage Site is located, have been rebuilt in bricks. This so as to prevent the city from being razed by infernoes that often engulf wooden structures. The city limits had ben then reached
Perak Road
.
Radiating out of the city, like the fingers of an outstretched hand, are the five main roads of George Town. From north to south they are
Kelawei Road
,
Burmah Road
,
Macalister Road
,
Dato Kramat Road
and
Jelutong Road
. These five provide the connection between George Town and the Penang Island hinterland, where most of George Town's food was grown or raised.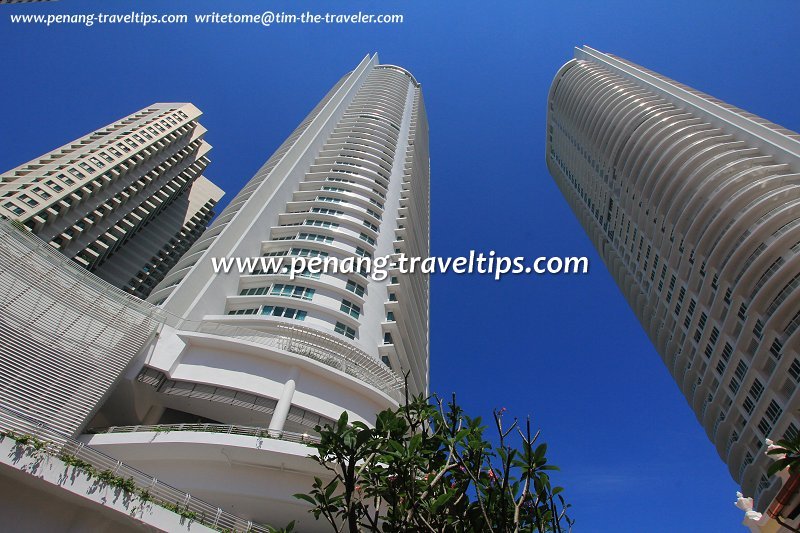 New condominiums in George Town
(23 January, 2012)

"Countryside" at the start of the 20th century refers to places such as
Green Lane
and
Jalan Air Itam
beginning at the Green Lane junction. Until the mid 20th century, Green Lane meets Jalan Air Itam where
Jalan Han Chiang
is today. Its junction was shifted to be aligned to
Scotland Road
in the 1960s to form an intersection, then a roundabout, then in the 1980s as an interchange with a flyover.
When Malaya achieved independence, George Town has reached the limit that remains till this day, as determined by
Green Lane
,
Scotland Road
,
Western Road
,
Gottlieb Road
and
Bagan Jermal
. By
that
definition, George Town, covers an area of 58 sq miles or 150 sq km.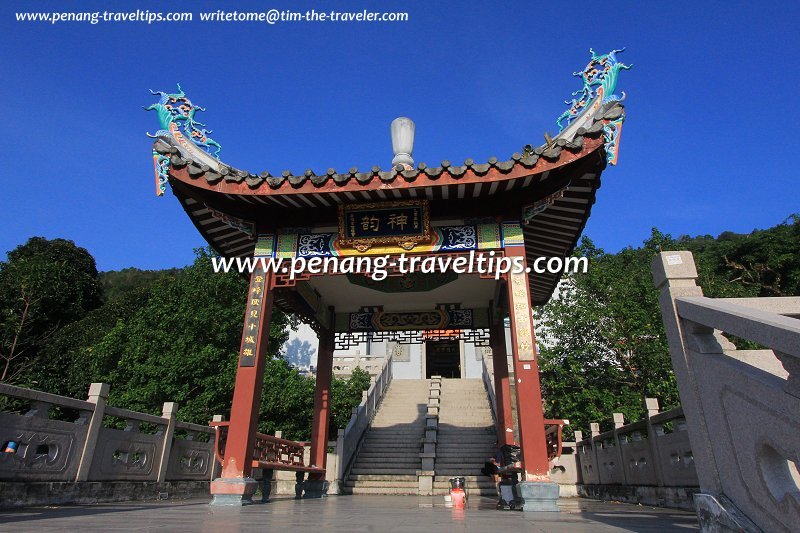 Temple of the Jade Pavilion, one of the many tourist sights of George Town
(26 January, 2012)

George Town was granted city status - on par with the
City of London
(but not
London
itself) and the
City of Westminster
, taking effect on 1 January, 1957, by royal decree from Queen Elizabeth II. Its first mayor was
D.S. Ramanathan
of the
Labour Party
while the last was
C.Y. Choy
of the
Socialist Front
. Choy served as mayor until 1966, when the Federal Government of Malaysia discontinued local elections of the City of George Town, due to the
Indonesia-Malaysia Confrontation
. But even after the confrontation was over, local elections of the City of George Town was never resumed to this day.
A section of George Town was inscribed as a World Heritage Site on 7 July 2008. Although the core zone covers merely a mere 109.38 hectares, surrounded by a 150.04 hectare buffer zone, it has helped boost property prices not only within the inner city, but throughout George Town. Today, a newly completed bungalow in a George Town suburb may cost a few million ringgit, forcing most of the city's working class to living in high-rise apartments.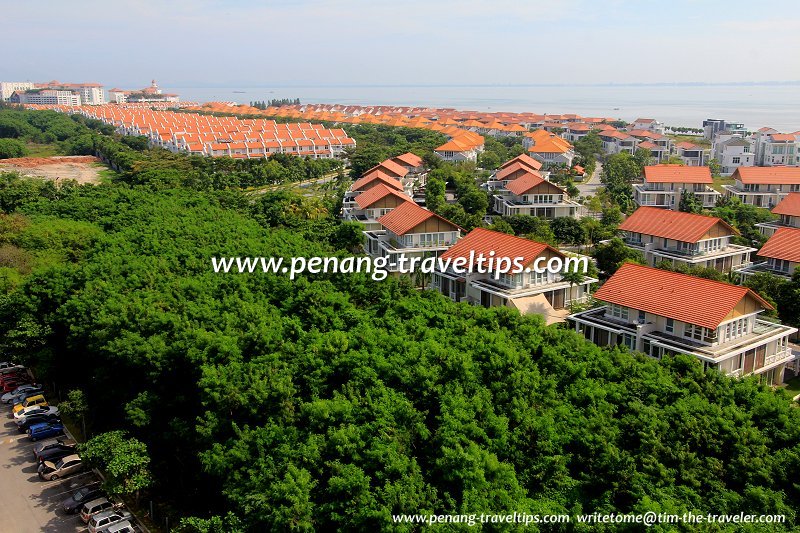 Multi-million ringgit homes emerging on newly reclaimed land in Tanjong Tokong, George Town
(30 November, 2012)

The urban area continues to grow, spilling out beyond the boundary of George Town. As recently as the early 1970s, places south of
Gelugor
was still considered as hinterland. Today it is part of the metropolitan area of George Town, which includes the whole State of Penang, as well as southern Kedah and northern Perak, an area with a population of around 2.5 million inhabitants. On Penang Island itself, former paddy fields make way for development. Areas of paddy land such as
Sungai Nibong Kecil
were cleared, and new townships such as
Bayan Baru
and
Farlim
appear, often eclipsing the older geographical names. While these are not George Town, they are administered by the Penang Island City Council, which was created from the Penang Island Municipal Council, and which itself was formed through the merger of the City Council of George Town and the Penang Rural District Council.
Even as the urban area pushed south and west (there wasn't much land left in the north for the city to grow that way), the coast also expanded outward. Land reclamation is not something new to George Town. This has been going on since the 1870s, when the coast of George Town was reclaimed, extending the shore beyond
Beach Street
. Subsequent reclamation created
Victoria Street
,
Bridge Street
(nowadays called Jalan CY Choy), and beyond. As Penang enters the 21st century, land reclamation is still ongoing, with much of the coastal areas of Penang created out of sea or wetlands.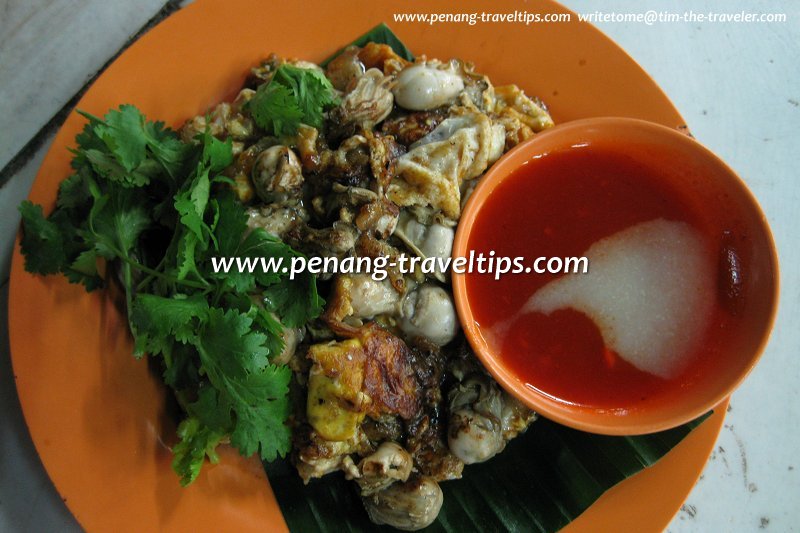 Street food of George Town
(20 October, 2012)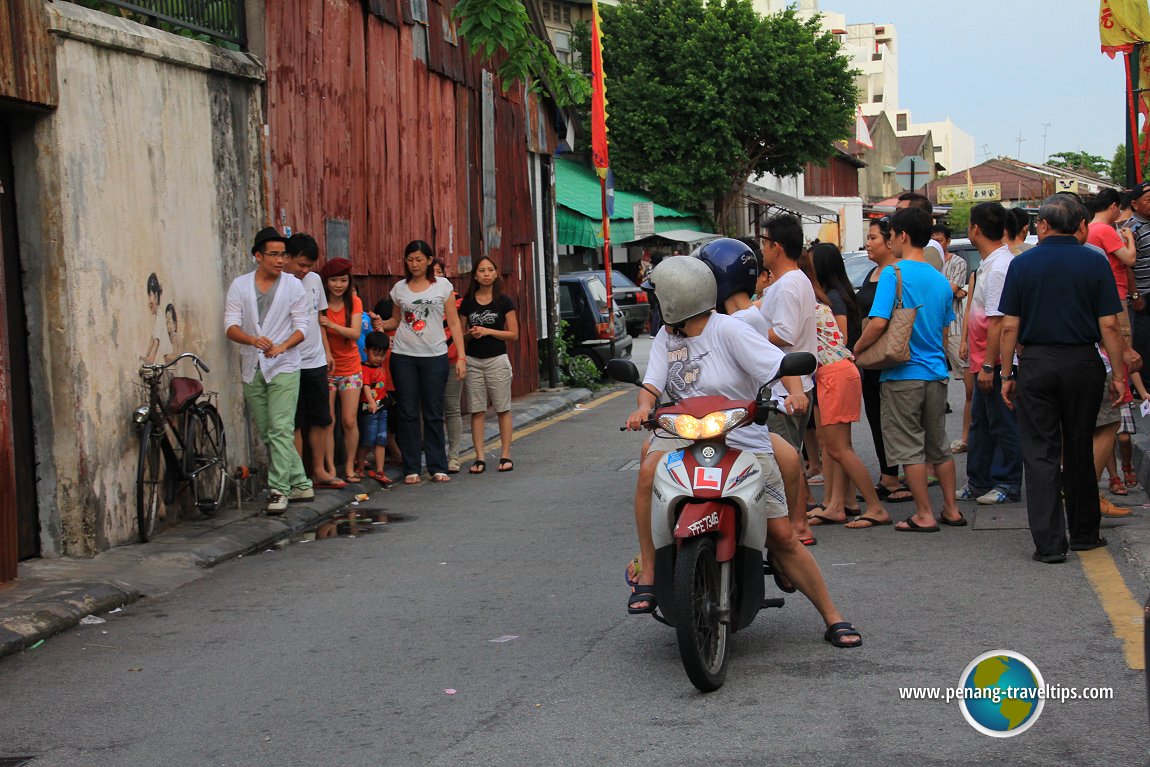 For every visitor to Penang, you have not done the George Town World Heritage Site if you haven't had your photo taken with the Little Children On A Bicycle mural!
(10 August, 2013)

As has been experienced in many cities, as it expands outwards, the inner core becomes a void. In the mid 1970's, the most vibrant part of Penang were along Penang Road. But by the late 1980's, the most happening places have moved out of the city centre. It takes much foresight from the city leaders to ensure that life is brought back into the city, without which it will certainly become very much a dead town at night. The inscription of the inner city as a World Heritage Site has injected much life back into the inner city, but is today viewed as a double-edge sword. The return of economic activities to the inner city has also caused the migration of its people out of the inner city, due to ever increasing rentals and the general feeling of being out-of-place against the more affluence lifestyle that has descended on the World Heritage Site.
George Town continues to be the nerve centre of Penang. It is almost synonymous with Penang. The city is the epicentre of everything Penang, with the highest concentration of street food, murals, temples, museums, festivals, and everything else that makes Penang so uniquely Penang.
Updates on George Town
28 December, 2015
:
The Star
(Another feather in the cap for George Town) reports that Inner George Town has been picked as one of the "must see" destinations by Los Angeles Times.
Public Transport
George Town is served by
Rapid Penang
which has its terminus at
Weld Quay Ferry & Bus Terminal
and at
Komtar
Amenities in George Town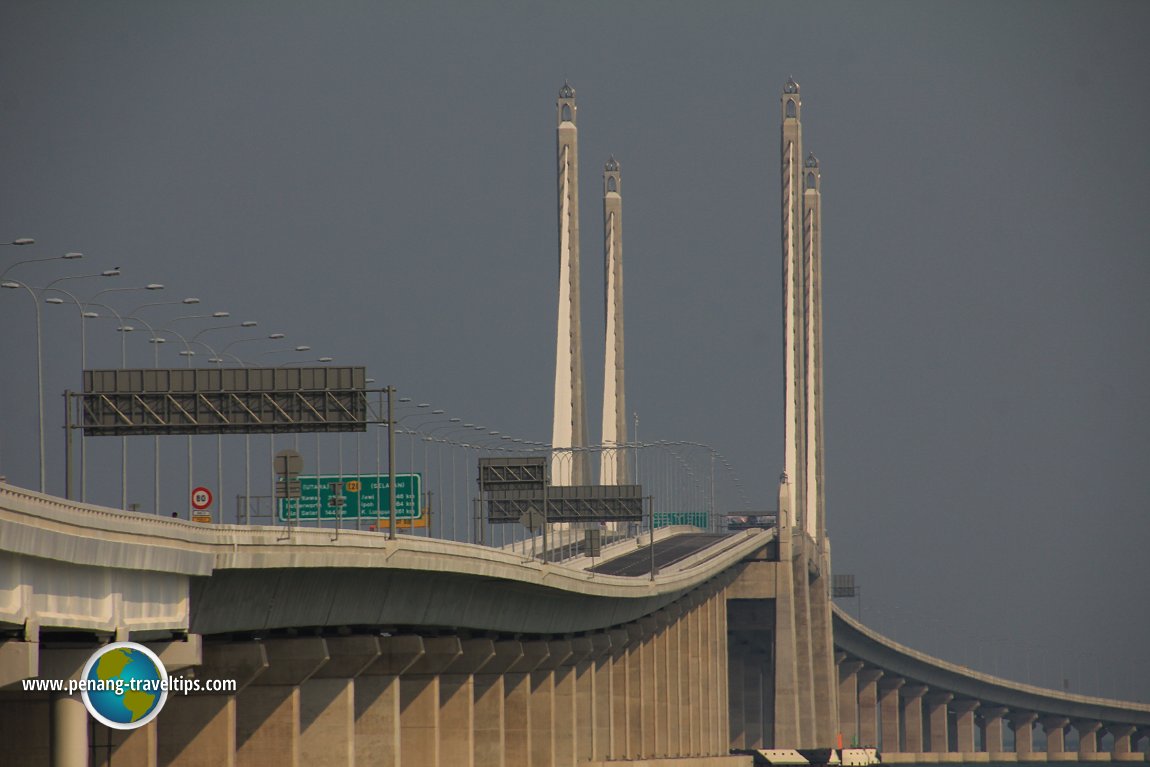 The Second Penang Bridge, although located outside George Town, is an important infrastructure supporting the local economy.
(2 March, 2014)

Traffic
The routing of one-way streets in George Town has helped tremendously in improving traffic flow in George Town. Among the bottlenecks in the city includes
Magazine Road
, as traffic from the expressway enters the city; Jalan Sultan Ahmad Shah upon entering
Farquhar Street
.
Residential Properties in George Town
Add your shop/business to this website
The Penang Travel Tips website is a huge website that documents everything in Penang. On top of the hundreds of streets and tourist attractions, I also add in hundreds of shops and businesses.
If you operate a shop business in Penang, or anywhere in Malaysia or Singapore, contact me to add your business/shop into my website. It only a one-time fee, and your shop/business will be listed by location and category, helping your would-be customers find you. To find out more,
CONTACT ME
Visiting Penang? Find the lowest hotel room rates here!
Use our search engine to compare room rates from different hotel booking websites, to find the one that's lowest.
Travelling somewhere?
If you're travelling somewhere, use our online engine to find the online booking site that offers you the best room rates.
Book your hotel room here
If you're coming to Penang, book your hotel room online with Agoda. Agoda offers the best prices on 2,000,000+ properties worldwide.
Start here.
Local Guided Tours of Penang
If you are coming to Penang and need someone to show you around, I can arrange for you a licensed tour guide to take you around. Guides charge a fixed fee of RM360 for taking a small group of up to 10 people on 4-hour walking tours. Walking tours exceeding 4 hours is charged an additional RM90 per hour. Tours are tailored to guest requirement. For more details,
contact tour coordinator
. Other types of tours also available.
For details, click here.
Looking for a book? Get it from Book Depository with free delivery worldwide!
I have just discovered
Book Depository
, a subsidiary of Amazon.com, and I love it. This is where you can buy books and have them sent to you. But unlike Amazon, when you purchase using Book Depository, you enjoy free delivery worldwide.
Give it a try today!
Here's a list of the latest pages I have added or updated on my website.
My YouTube Videos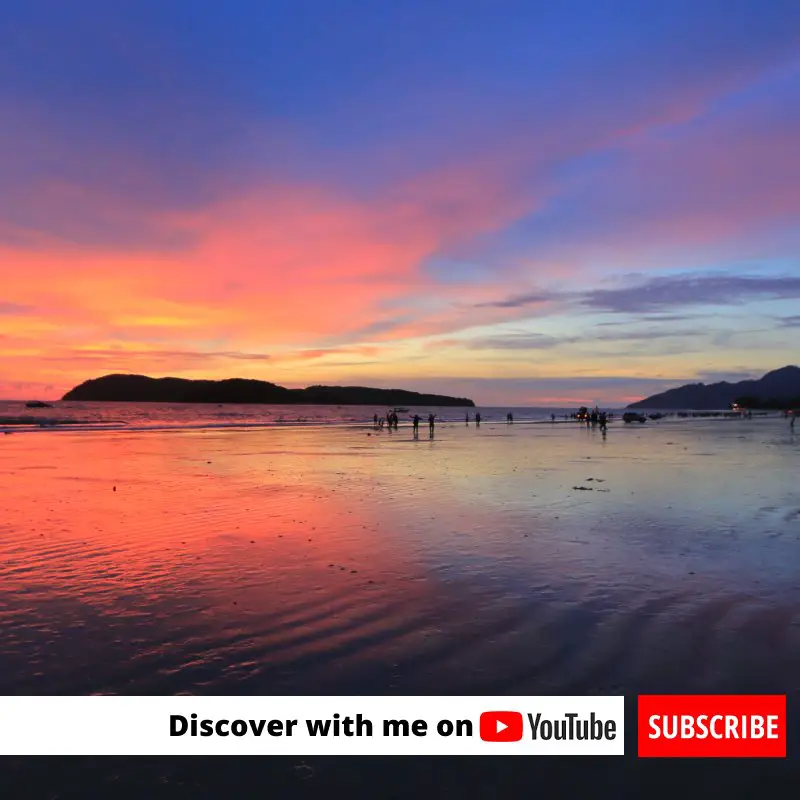 Check out
my YouTube Channel
and don't forget to subscribe!
Vital Links
Book Your Express Bus Ticket
|
Hire a car
|
Our Recipes
|
Facebook Posts
|
Just Curious
|
Not In The Dictionary
|
Our Flowering Garden
Vital Links
Book Your Express Bus Ticket
|
Engage a Tour Guide for Penang
|
What's Up at Penang Hotels
|
Hire a car
|
Facebook Posts
|
Our Recipes
|
Our Flowering Garden
|
Guide Book on Penang Durians
Discover the World
About Me