Sungai Pinang, Penang
(28 January, 2013)
Sungai Pinang
is a meandering river on the southern side of
George Town, Penang
. It is a major river in Penang, and one of two by the name of "Sungai Pinang" - it flows east while
the other Sungai Pinang flows west
. The name Sungai Pinang also denotes the neighbourhood between Sungai Pinang Road and the Sungai Pinang River, including
Kampung Rawa
.
Sungai Pinang used to determine the southern end of George Town, beyond which was
Jelutong
, then still a rural countryside. That was then. Today, the city limits of George Town has extended south, to the
Gelugor Roundabout
, whereas the Penang metropolitan area now covers the whole island. Sungai Pinang itself is today within the city and is surrounded by high rise apartments and office blocks.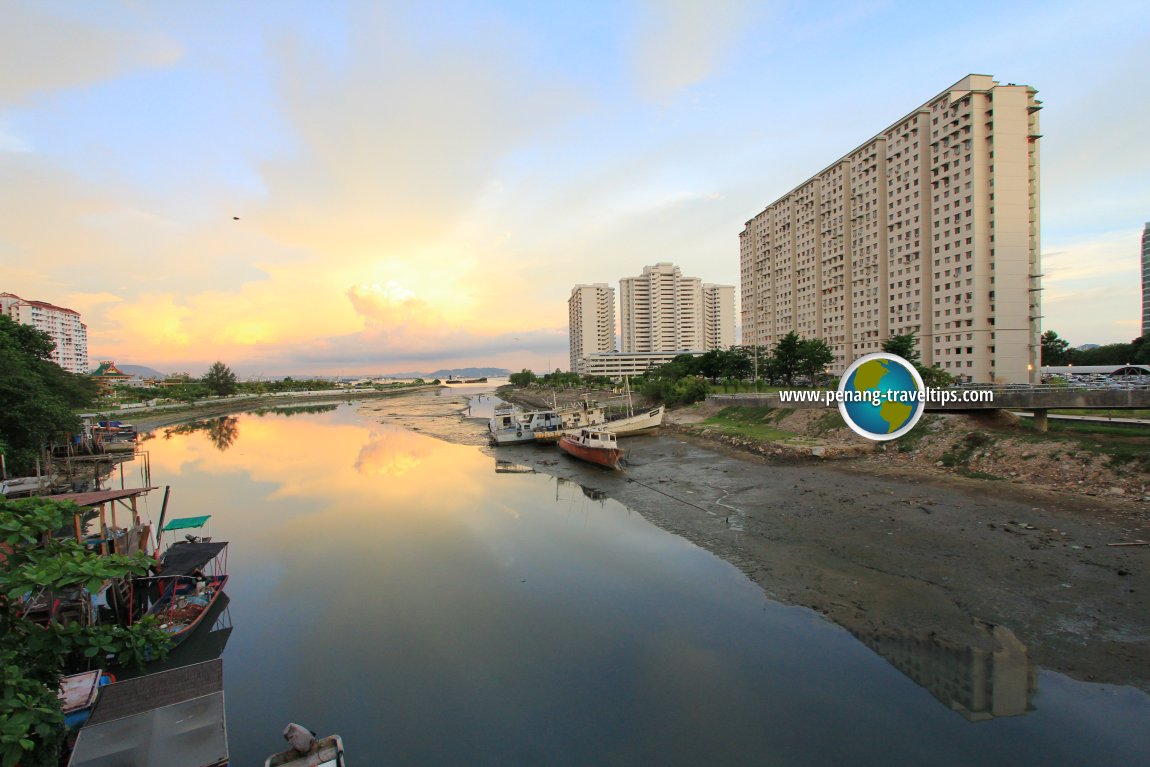 Sungai Pinang at sunset
(1 May, 2015)
Route of Sungai Pinang
Sungai Pinang begins at the confluence between
Sungai Air Itam
and
Sungai Air Terjun
, at
Dhoby Ghaut
. From there, it flows southeast under
Jalan Air Itam
, then makes a gentle curve south of Gopeng Road. It passes through the Malay village north of Jalan Langkawi and then Lintang P. Ramlee. This is a low-lying area where Sungai Pinang is prone to flash floods. It passes south of
City Stadium
, and continues east under
Perak Road
.
Sungai Pinang then passes south of Jalan Haji Kassim. This was a landing site for an early Acheenese settlement. Some of the kampung houses here belong to descendents of the mid-18th century settlers. On the south side of the river is Kampung Jawa, followed by
Kampung Rawa
. It then flows under
Patani Road
, south of
Jalan S.P. Chelliah
. Then it makes a bend and heads south as it passes under
River Road
. It makes another sharp bend at
Adorna Gold
before passing under the
Sungai Pinang Bridge
. This was the historic estuary of the river. Since then, the shore has been extended outwards through successive land reclamation. This area,
Muara Sungai Pinang
, is presently undergoing urban redevelopment, with the construction of new apartment blocks that will altar the landscape of the area.
Sungai Pinang passes under the
Tun Dr Lim Chong Eu Expressway
. The land on its north and south banks were recently reclaimed. It discharges into the sea at
Summer Place Condominium
.
For many years, Sungai Pinang was regarded as the filthiest river in Malaysia. At one time it held the dubious Class 5 category, which means it is a dead river unable to sustain any life form.
The good news for Sungai Pinang is that after a long wait, the state government of Penang began rehabilitating the river since 2008. The plan was to improve it from Class 5 to Class 2 by the year 2015. The first phase of this RM25 million Sungai Pinang Beautification Project involves desilting of the river and the placing of traps to filter out garbage that flows through it. At the same time, a new jetty is being built for fishermen and tourists.
The second phase of the Sungai Pinang Beautification involves improving the water quality. The desire is to make the river so clean that it is good enough for bathing. As I update this report (June 2012), we still have a long way to go. Although the heavy stench that once permeated the air around the river is now much reduced, its water is still a murky sugarcane green.
In 2008, the old
Sungai Pinang Bridge
, a steel truss structure, was replaced by the present tied-arch bridge.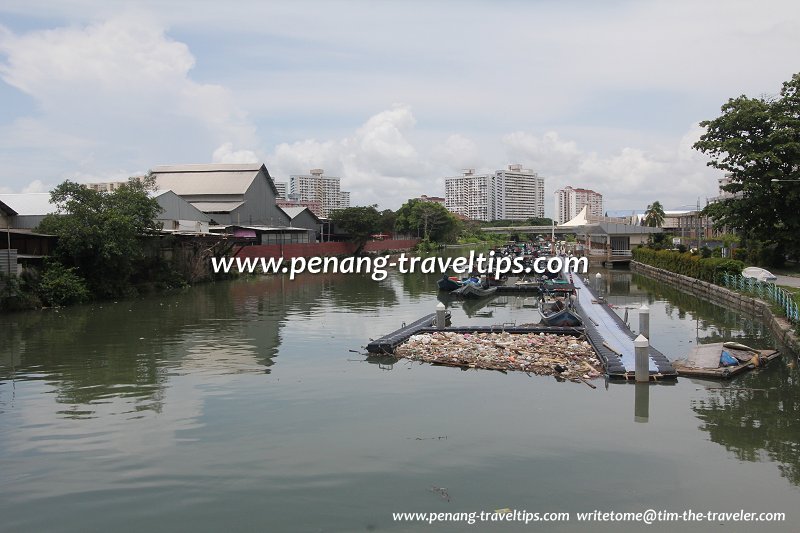 Sungai Pinang, George Town. (Can you see the rubbish collected in the river?)
(3 June, 2012)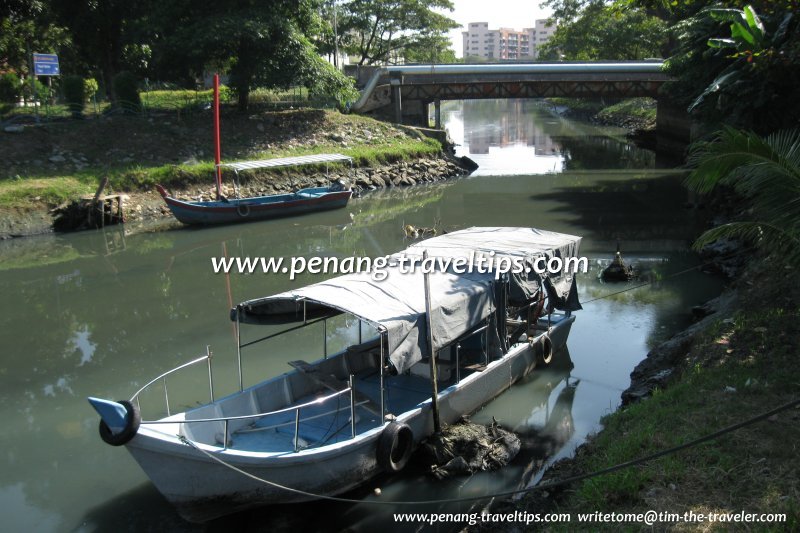 Boats along Sungai Pinang at Kampung Rawa
(20 December 2008)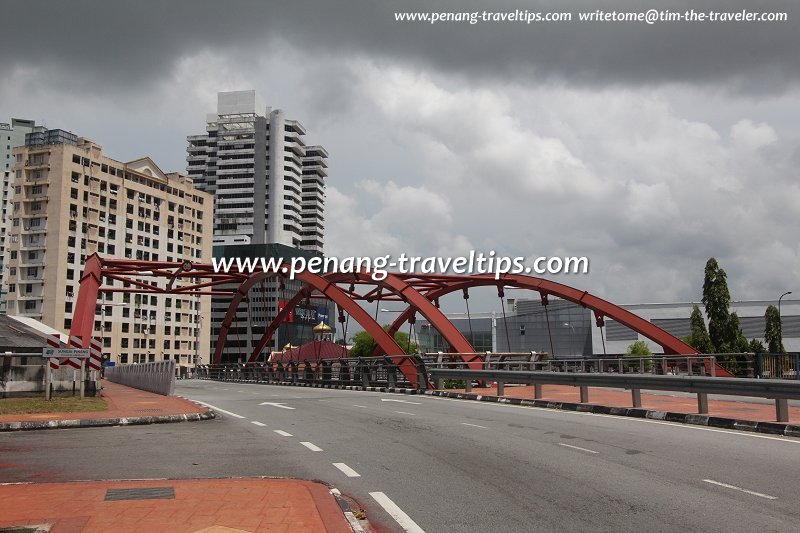 The new Sungai Pinang Bridge
(3 June, 2012)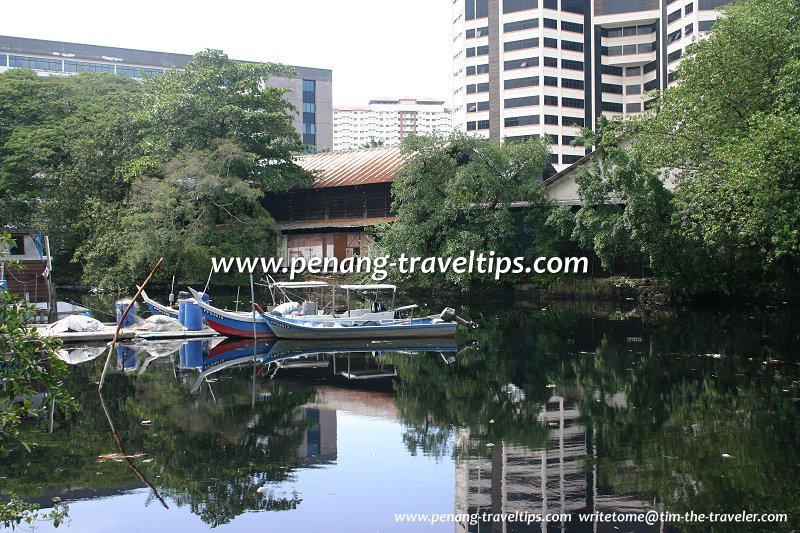 Sungai Pinang, before the rehabilitation began
(20 March 2004)
Updates
2 December, 2016
:
The Star
reports that dredging and deepening works have been carried out on Sungai Pinang, as well as tributaries such as Sungai Air Itam and Sungai Dondang.
18 May, 2015
:
The Star
reports that work to deepen the Sungai Pinang river from Kampung Rawa to the Dhoby Ghaut bridge will begin once five affected residents along the stretch are resettled. The deepening of the river is intended as a flood mitigation exercise.
Sungai Pinang in History
Sungai Pinang has one of the earliest settlements in Penang in recorded history. Even before
Francis Light
landed on Penang Island, there were already a number of riverine settlements along this river. Although not much is known about these early settlers, they are believed to be fishermen from the mainland Kingdom of Kedah as well as from northern Sumatra. They lived along the river where they could easily obtain fresh water. Traders would arrive at the estuary, where they berthed their perahus and sampans at a small pier near present-day
Masjid Maqbul
. The mosque itself came later, around the mid 19th century.
Farther upstream were pockets of Malay and North Sumatran settlements.
Kampung Rawa
was named after one such community originating from Rawa in northern Sumatra.
Masjid Haji Kassim
at Kampung Makam was erected by the leader of an Acehnese settlement along the river.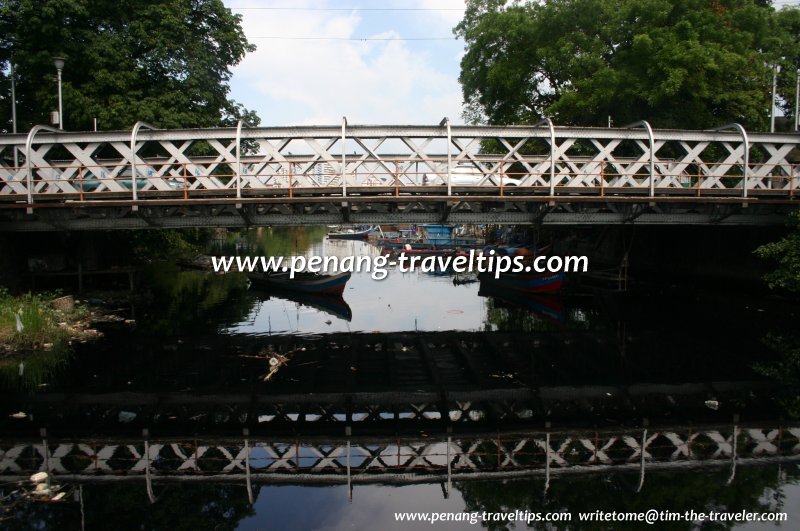 The ink-black waters of Sungai Pinang with the old steel truss Sungai Pinang Bridge
(20 March 2004)
The Malays are North Sumatrans were not the only settlers along Sungai Pinang. Joining them were Tamil Muslims as well as Hindus who also formed their own respective settlements.
Masjid Jamek Rawana
and
Masjid Khan Muhammad
are two Indian Muslim mosques within the vicinity of Sungai Pinang. There are numerous small Hindu shrines along the river. Some became full fledged temples such as the
Sri Rama Temple
near Sungai Ayer Itam, a tributary of Sungai Pinang.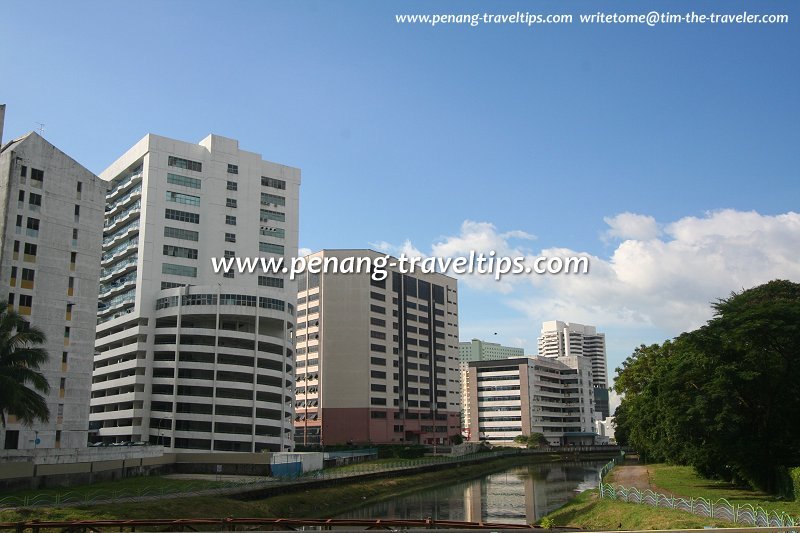 Office blocks along Sungai Pinang
(27 September, 2009)
Sungai Pinang Neighbourhood
The Sungai Pinang neighbourhood is today part of Jelutong, on the southern side of George Town. This is a mainly working-class neighbourhood. Until recently, it was still a rural enclave, but has since underwent progressive redevelopment. A number of high-rise apartments have been built in the area, and more is expected in the future.
Apartments in Sungai Pinang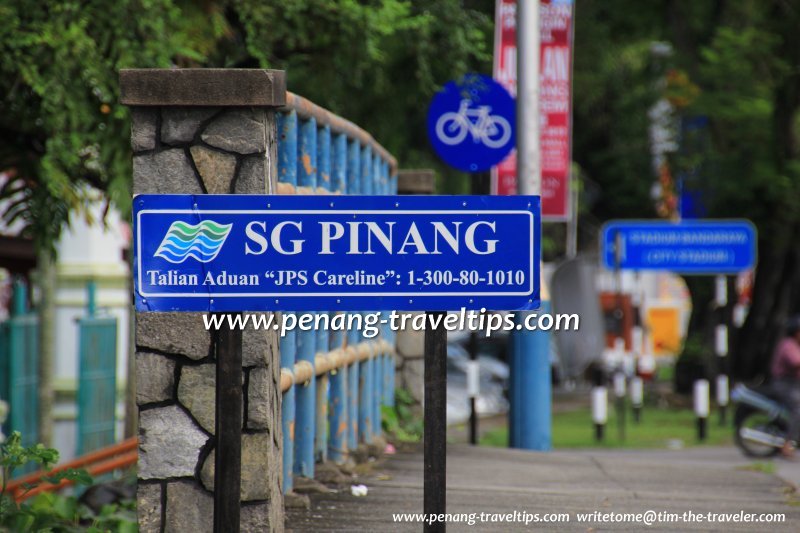 Sungai Pinang signboard
(16 December, 2012)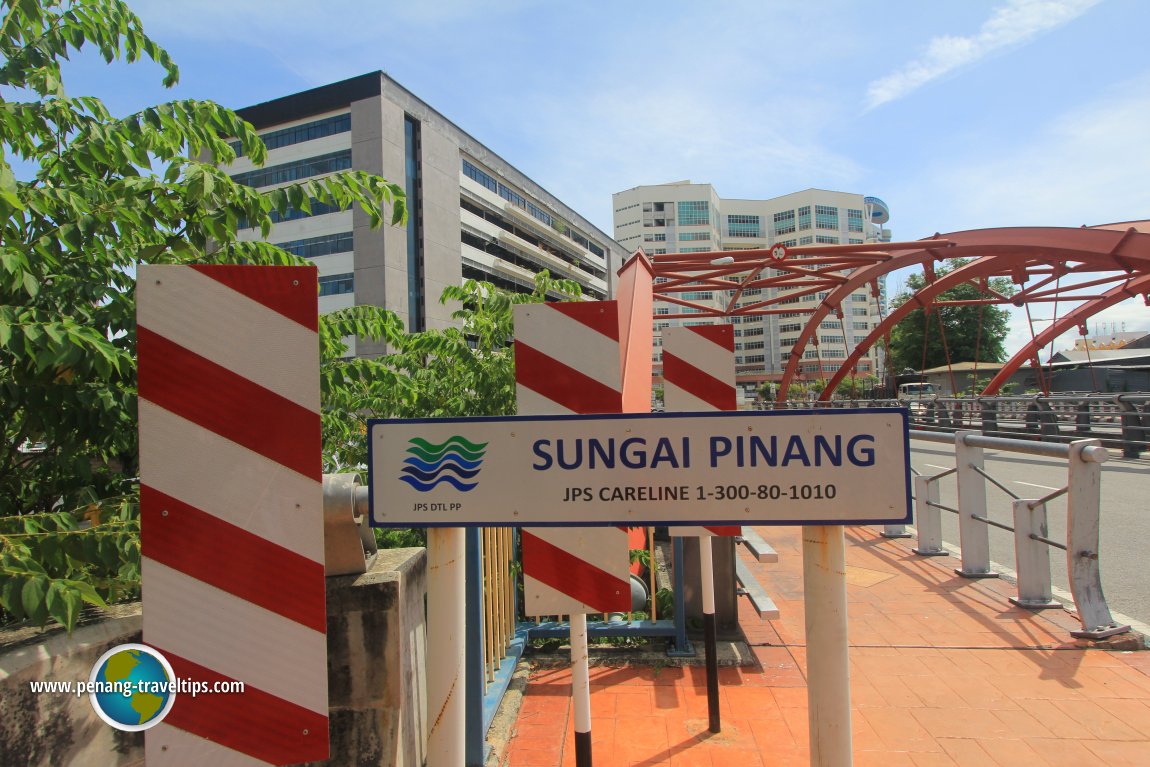 Sungai Pinang signboard
(4 June, 2013)
Thank you for using my website!
arrange for you a tour guide and/or driver
to show you around. If you are traveling by bus anywhere in Malaysia or Singapore, you can
book your bus ticket
. If you seek accommodation, you can
get hotel room rates
.
As a Christian, I hope that through this website, I am able to deliver God's message to all who need it, anywhere in the world. If you are open to hearing it, please read
God's Good News to You
.
If you wish to contact me, please use this
contact form
. And don't forget to
follow me on Facebook
. See you!