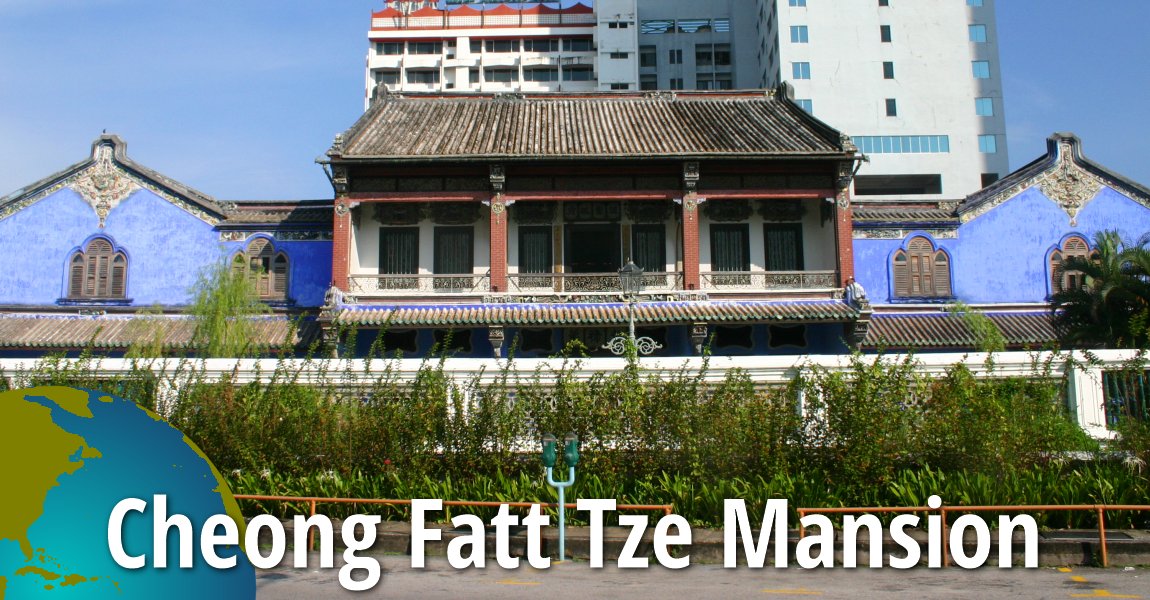 Cheong Fatt Tze Mansion
(28 February, 2004)
Cheong Fatt Tze Mansion
(GPS: 5.421583, 100.334874) is an grand Chinese-style mansion along
Leith Street
on the buffer zone of the
George Town Unesco World Heritage Site
. It was built by Cheong Fatt Tze (1840-1916), also known locally as Teow Thiaw Siat, a Chinese of Hakka descent, who was one of the richest men in Southeast Asia.
Accommodation at Cheong Fatt Tze Mansion
Cheong Fatt Tze Mansion today functions as a boutique hotel, called
The Blue Mansion by Samadhi
. A stay here offers you a glimpse at the opulent lifestyle in the early 20th century.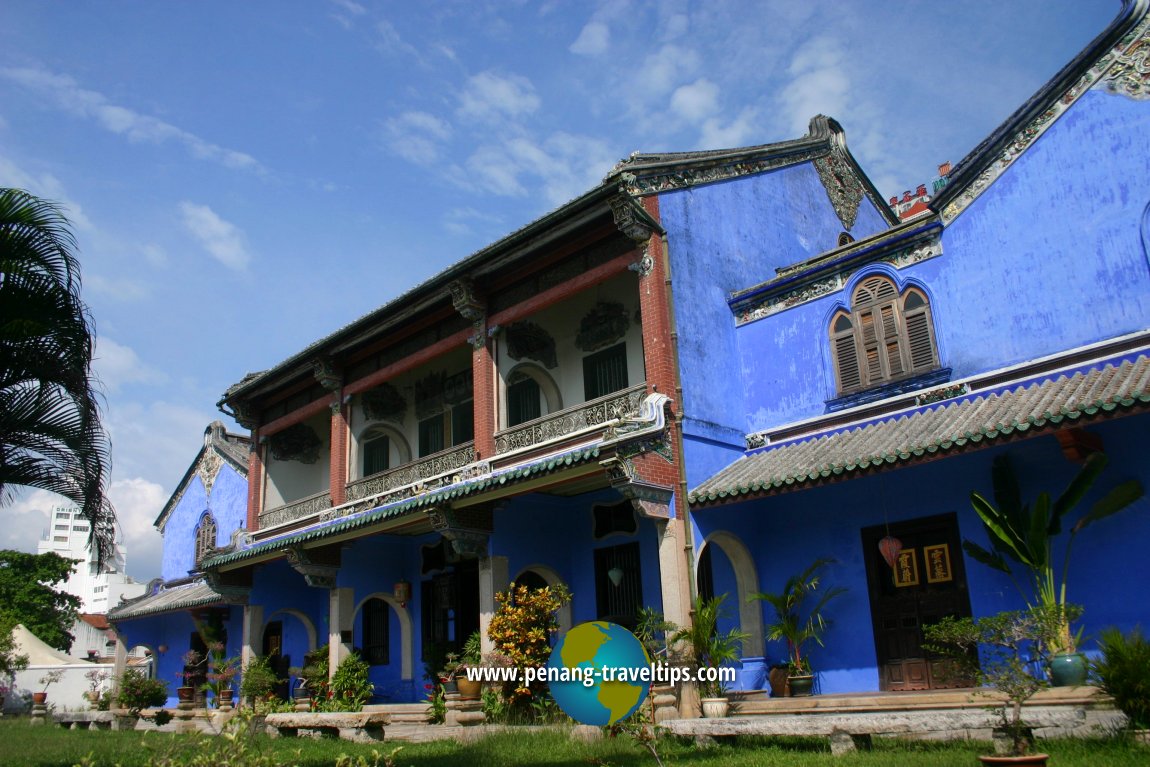 Cheong Fatt Tze Mansion
(28 February, 2004)
View of Cheong Fatt Tze Mansion from Leith Street.
History of Cheong Fatt Tze Mansion
The Cheong Fatt Tze Mansion was built over a period of seven year between 1897 and 1904. It was one of the many houses belonging to Cheong Fatt Tze, whose property stretched from Java to Sumatra, to Penang, Singapore, Hong Kong and China. But of all these properties, this mansion is his favourite residence. All eight of his sons were raised here and received a Western education at the
St Xavier's Institution
nearby. The house was also the home for his wives No. 3, 6 and 7.
Cheong Fatt Tze was a Hakka which formed a minority in Penang but welded enormous economic power. Hakkas controlled much of the property and trades in Penang. To the Hokkiens in Penang, Hakkas were called khek lang, meaning "guest people", because they were the latecomers into the Penang society.
By the late 19th century and early 20th century, the wealthy Hakkas had turned Leith Street into their own upper crust neighborhood. Apart from Cheong Fatt Tze, a number of Hakkas who were his business associates and relatives also had their homes along Leith Street, including his cousin Chang Yu-Nan, Kapitan China of Medan; Cheah Choon Seng, Kapitan China of Acheh; tin-mining tycoon Leong Fe, who was Cheong's son-in law; and Tye Kee Yoon. But while the rest opted for Western-style mansions, Cheong decided on a very traditionally Chinese look for his home and office.
Despite the decidedly Oriental appearance of Cheong Fatt Tze Mansion (a name given to the mansion only upon its reopening after recent restoration), the fixtures and furnishings were a fusion of Oriental and Western architectural concepts. As you explore the mansion, you will find Chinese-style doors, filigree and latticework placed side-by-side to contemporary louvred windows, stained-glass windows, and floor tiles imported from Stoke-on-Trent in Staffordshire, England.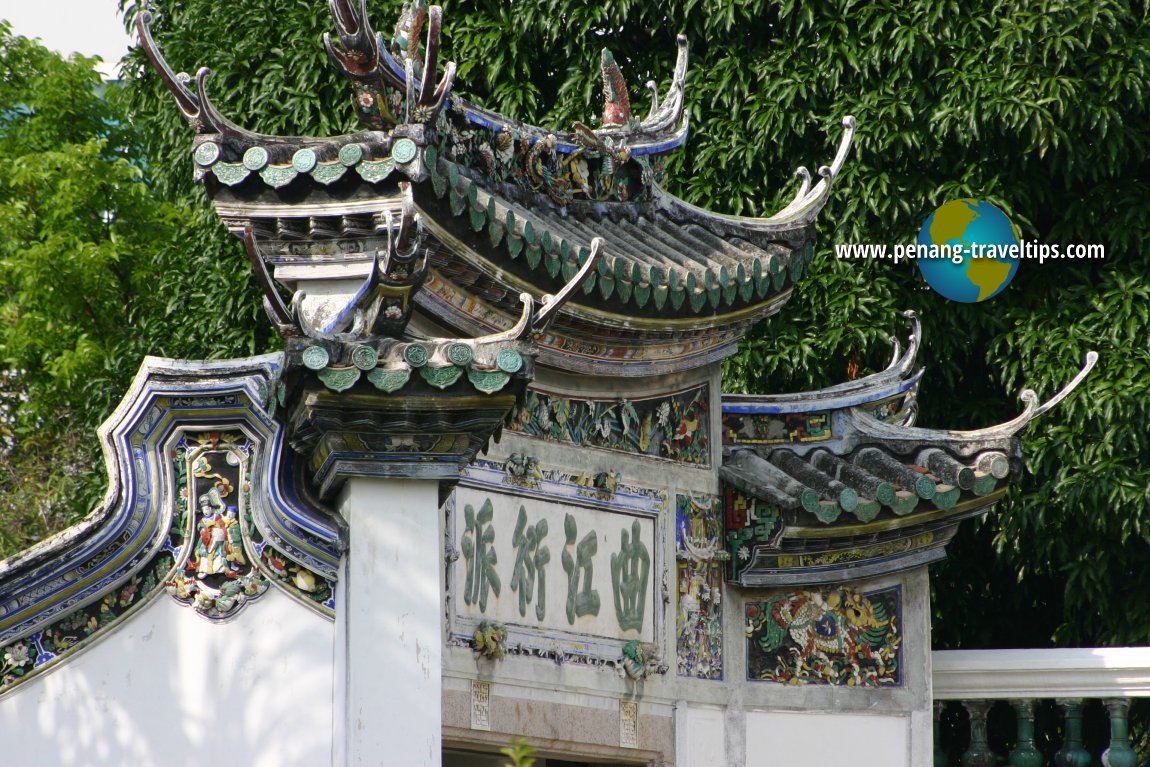 Roof design of the gate of Cheong Fatt Tze Mansion
(28 February, 2004)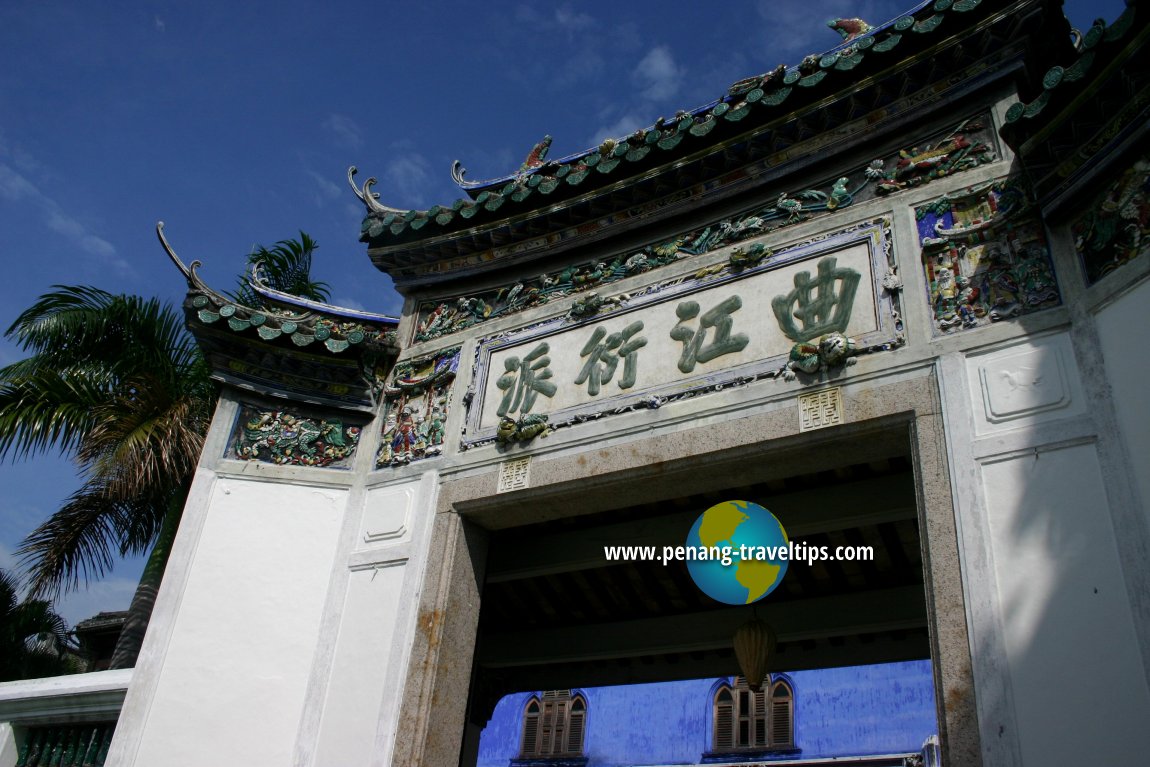 The entrance archway of Cheong Fatt Tze Mansion
(28 February, 2004)
Cheong Fatt Tze Mansion occupies a land area of 56,000 square feet, with a built-up area totalling 33,000 square feet. In addition to the mansion, Cheong Fatt Tze's residence complex also includes the five terrace houses on the opposite side of Leith Street facing the mansion.
These houses were the living quarters of his maids, gardeners, cooks, stable-boys, grooms, and even the concubines and handmaidens who were out of favor. Occupants of the complex can more or less determine where they stand with the master of the house by how close he stationed you from his centre of power.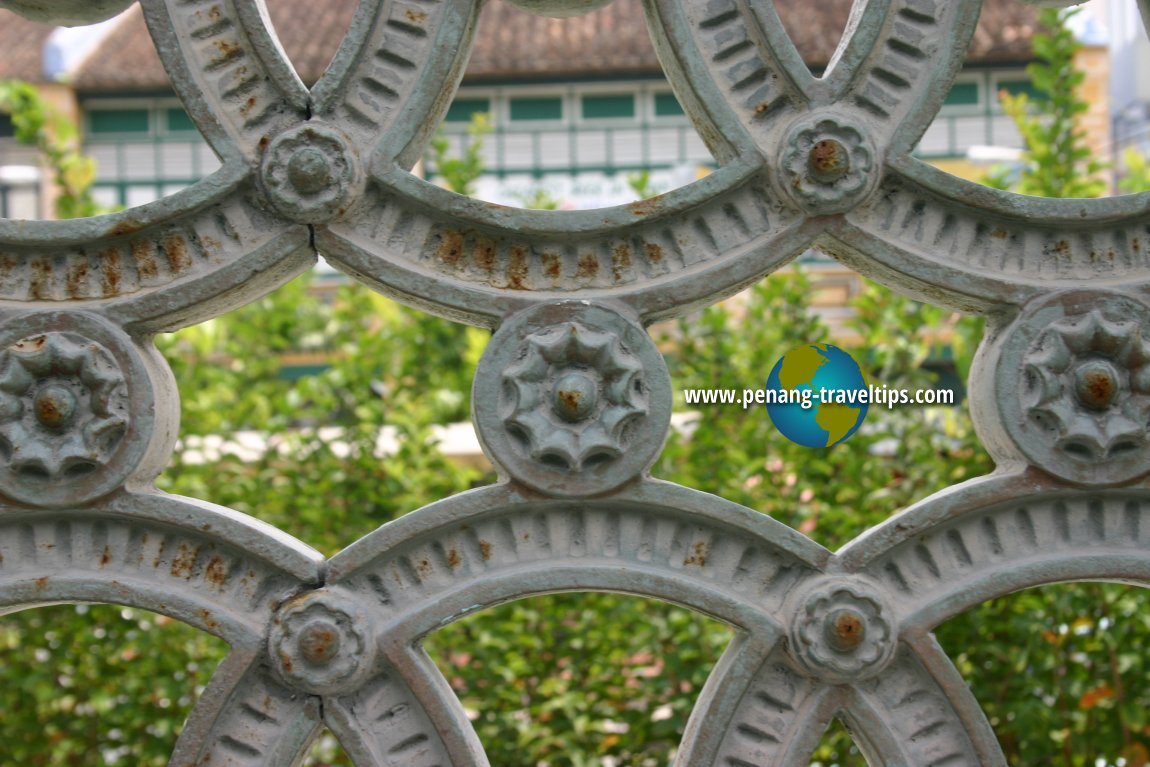 The entrance archway of Cheong Fatt Tze Mansion
(28 February, 2004)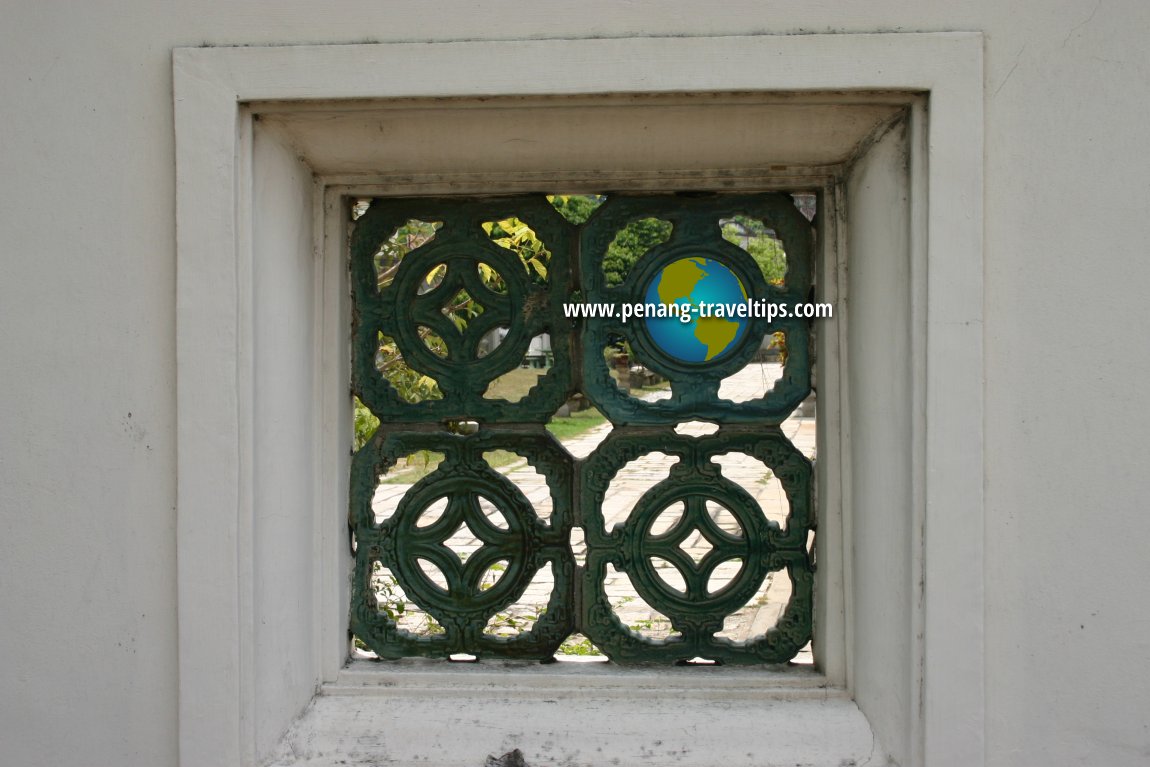 Another coin-motif window on the wall of Cheong Fatt Tze Mansion
(28 February, 2004)
Cheong Fatt Tze's mansion and the five terrace houses are not aligned to Leith Street. The street had been around much earlier, having been built in the early part of the 19th century, and named after the George Leith, the Lieutenant-Governor of Penang from 1800 to 1803. The reason for the mansion's alignment has to do with Cheong Fatt Tze's belief in feng shui.
Before the house was constructed, a master geomancer would have done the due diligence to find the best placement for it. This includes the direction of the wind, and how water will be channeled as it passed through the house. All this to ensure that every possible step is taken to ensure that the wealth is retained.
Due to the firm observance of feng shui, Cheong Fatt Tze Mansion is fronted by a rhombus-shaped garden. Within the mansion itself, however, everything was symmetrical. The main building was erected first, centred on an inner courtyard which is where, according to geomancy, all the "qhi" or "energy" eminates. The left and right wings of the mansion were only added at a later stage.
Cheong Fatt Tze went to great length to ensure that the mansion remained within his family after his demise. He put together a will that prevented its sale until the last of his many sons had died. He also put aside funds to ensure that the house is properly maintain. Sadly, it was all an exercise in futility.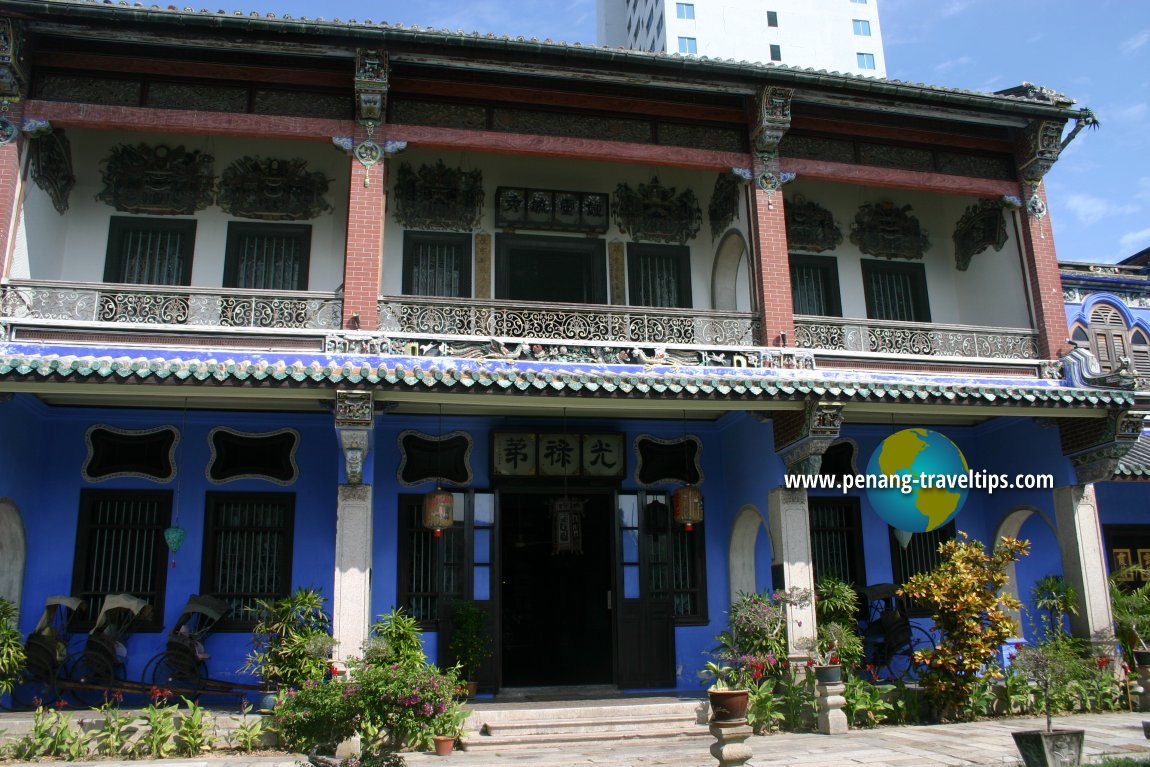 The main building of Cheong Fatt Tze Mansion
(28 February, 2004)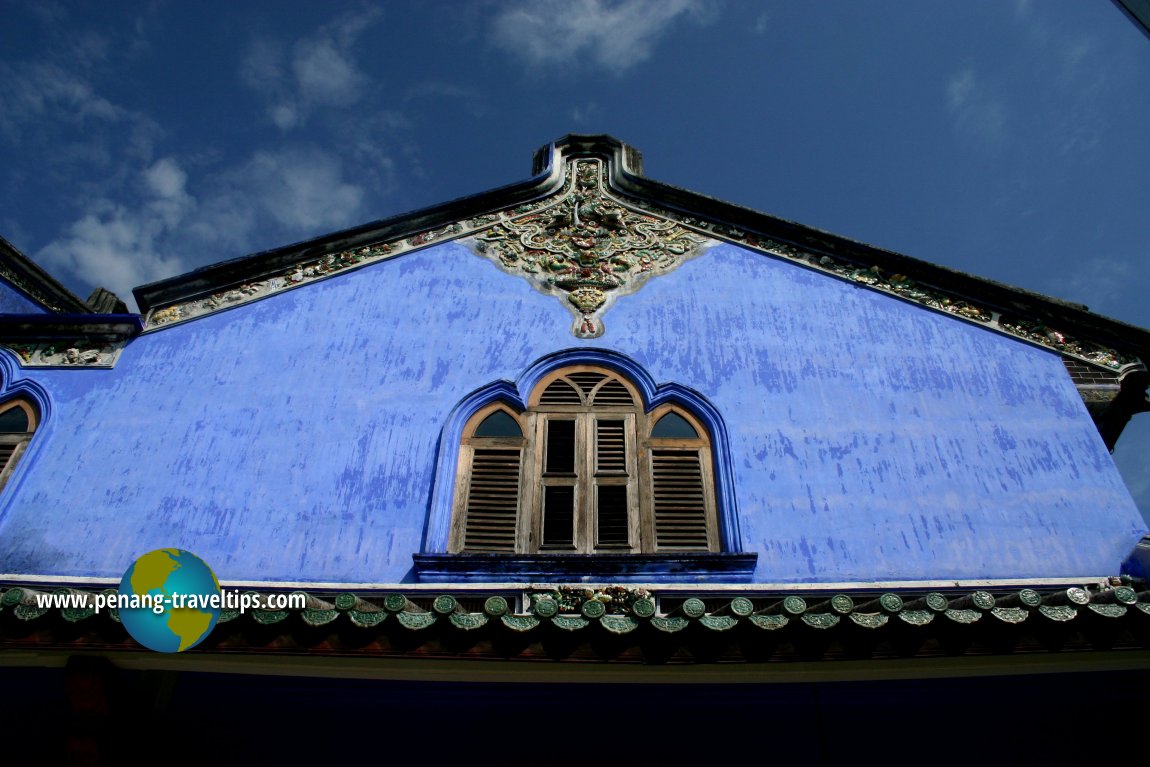 Gable ornamentation at Cheong Fatt Tze Mansion
(28 February, 2004)
Unlike the Rockefellers, the Cheong clan did not inherit the patriach's financial acumen to maintain his business empire. The money set aside for the maintenance of the mansion were not sufficiently disbursed. Also, it was a fixed amount was did not take inflation into account. Over time, there was never enough money to keep the mansion in proper repair.
Cheong's last daughter-in-law, Thong Siew Mee, lived by her own wits in trying to make ends meet and still upkeep the huge mansion. She was forced to let out rooms, corridor spaces, halls, stores, every inch of the mansion that could earn her rental.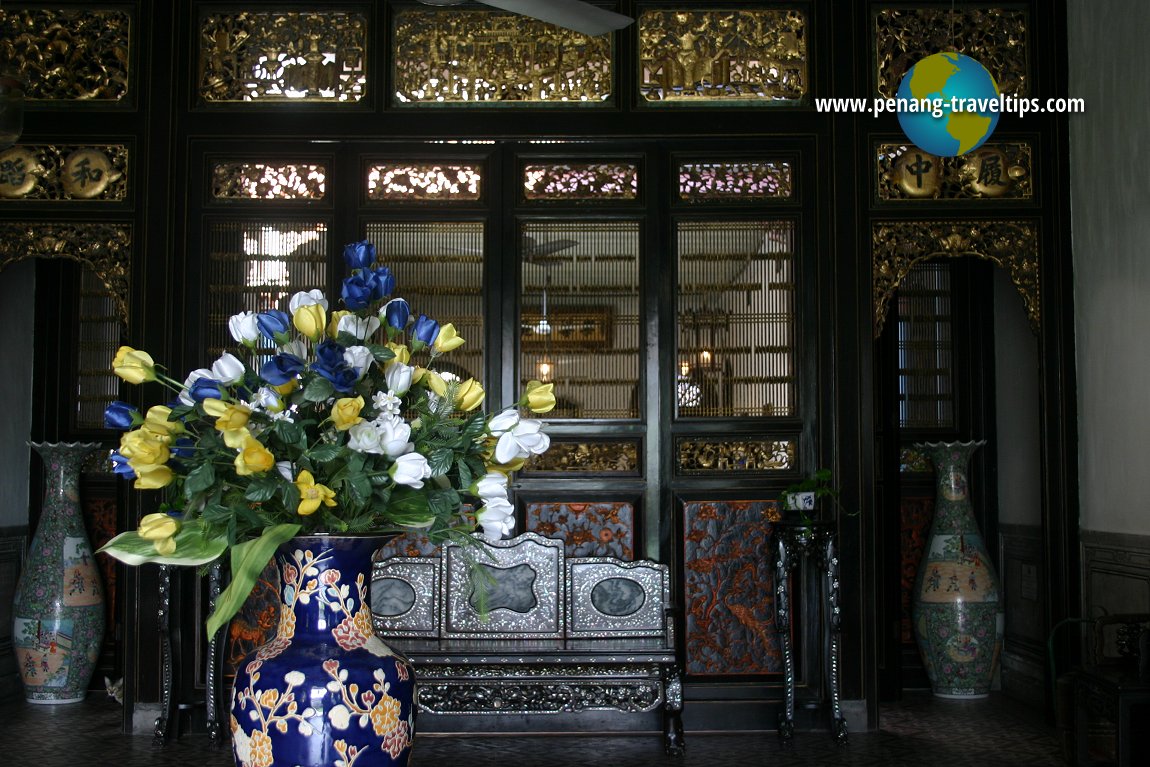 Flower centrepiece in the Reception Hall.
(28 February, 2004)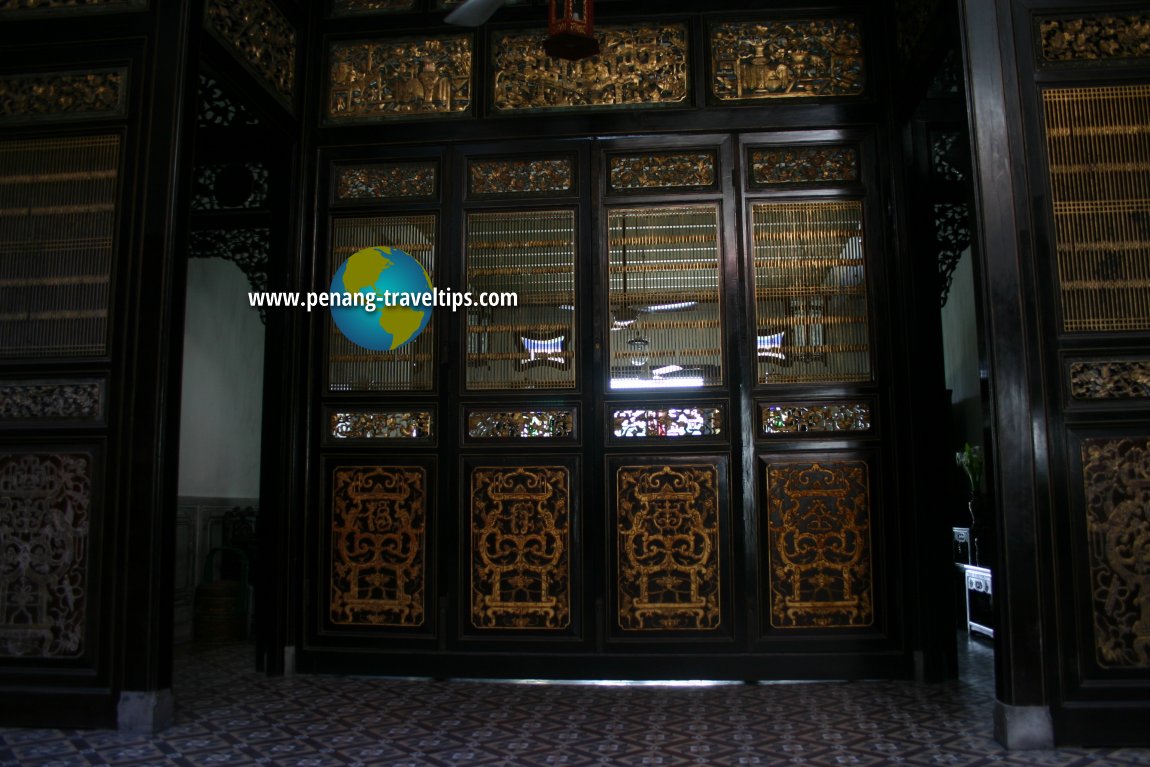 Partition with gilded filigree.
(28 February, 2004)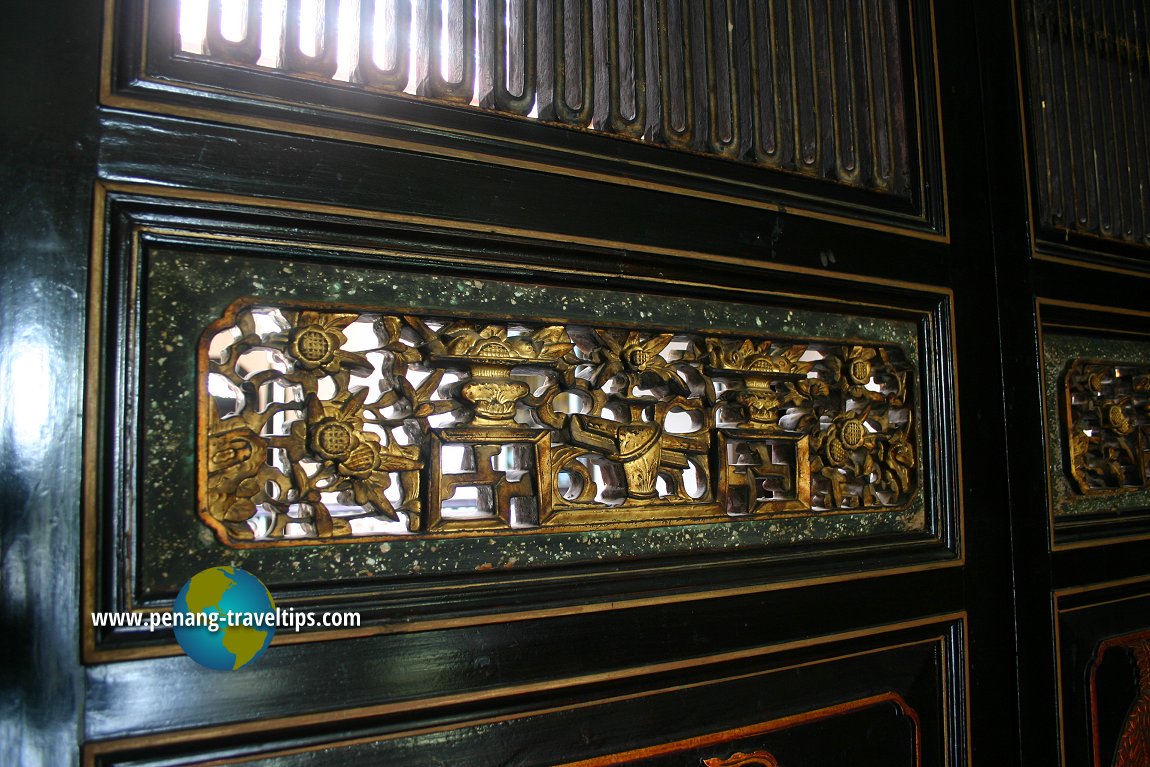 Restored gilded panels.
(28 February, 2004)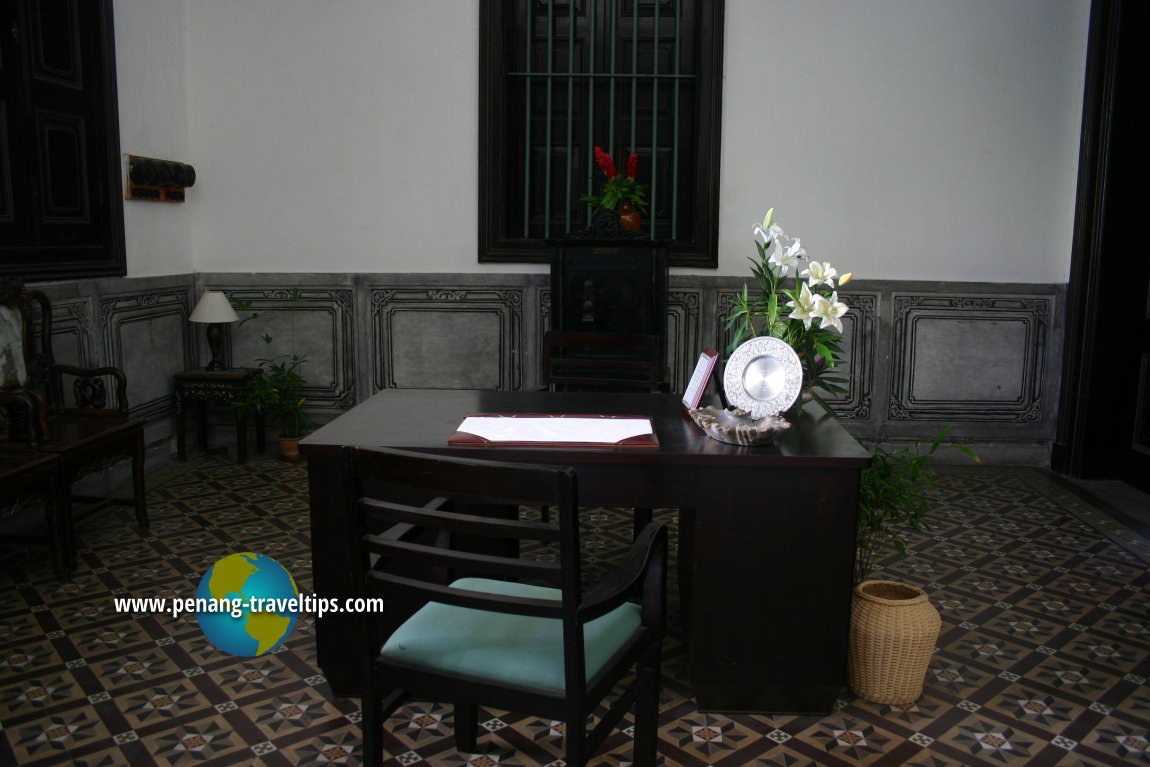 Reception Desk.
(28 February, 2004)
With the death of the last son, Kam Loong, in 1989, the trust under which the mansion was held was finally terminated, and sad to say, the mansion was put up for sale. Fortunately, a group of local conservationists stepped forward to buy it up, fearing that it would be demolished otherwise.
The mansion was then restored, bit by bit, from top down, employing techniques that are sympathetic to the traditional methods in which the mansion was first constructed. As the conservationists peeled away the years of neglect, they made startling discoveries about the mansion and the secrets of its workmanship.
Winner of the 2000 Award of Excellence
Unesco Asia-Pacific for Culture Heritage Conservation.
Restoration work on Cheong Fatt Tze Mansion begain in 1991, and was completed in 1995. The restoration project was documented and submitted to Unesco Asia-Pacific, which awarded it the "Most Excellent Project" award for cultural heritage conservation.
Today, the mansion is given the name "Cheong Fatt Tze Mansion", after its founder. It has been readapted as a boutique hotel. It is one of the few private residences of its kind outside of China, and is one of the two by the Cheong Fatt Tze clan. In Medan, Indonesia, stands a similar mansion by Cheong Fatt Tze's nephew, Tjong A Fie, who is also an imminent personality there. The Tjong A Fie Mansion is also a tourist attraction in Medan.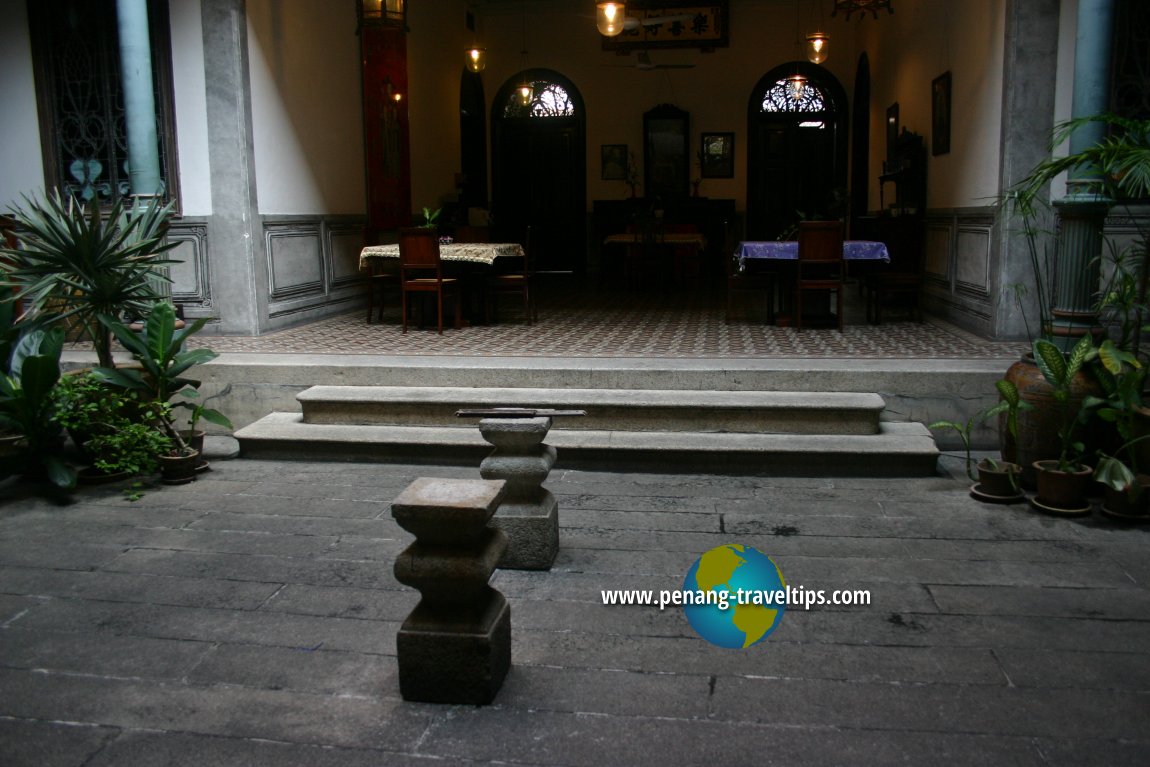 Reception Desk.
(28 February, 2004)
Contact
Cheong Fatt Tze Mansion
14 Leith Street
10200 George Town, Penang
Phone: +60-4-262 0006
Going to Cheong Fatt Tze Mansion
Cheong Fatt Tze Mansion is located along
Leith Street
, at the junction with
Farquhar Street
. The nearest bus stop is along
Penang Road
(see map below). Depending on your direction of travel, you can take
Rapid Penang
bus 103, 204,
502
and
CAT
. From the bus stop, north up Penang Road until intersection with Farquhar Street, turn right, follow Farquhar Street till junction with Leith Street, and you will see entrance to Cheong Fatt Tze Mansion on your right. Cheong Fatt Tze Mansion is also one of the stops for the
Penang Hop-On Hop-Off Tourist Bus
.
Cheong Fatt Tze Mansion is on the map of Leith Street
What to See
The ornamental entrance archway,
The decoration on the roof and walls made of tiny pieces of broken pottery called chien nien
Admire the exterior blue wall finishes made from indigo lime wash
Inside the mansion, view the trompe l'œil painting on the interior dado.
Art Nouveau stained glass windows
Nearby Sights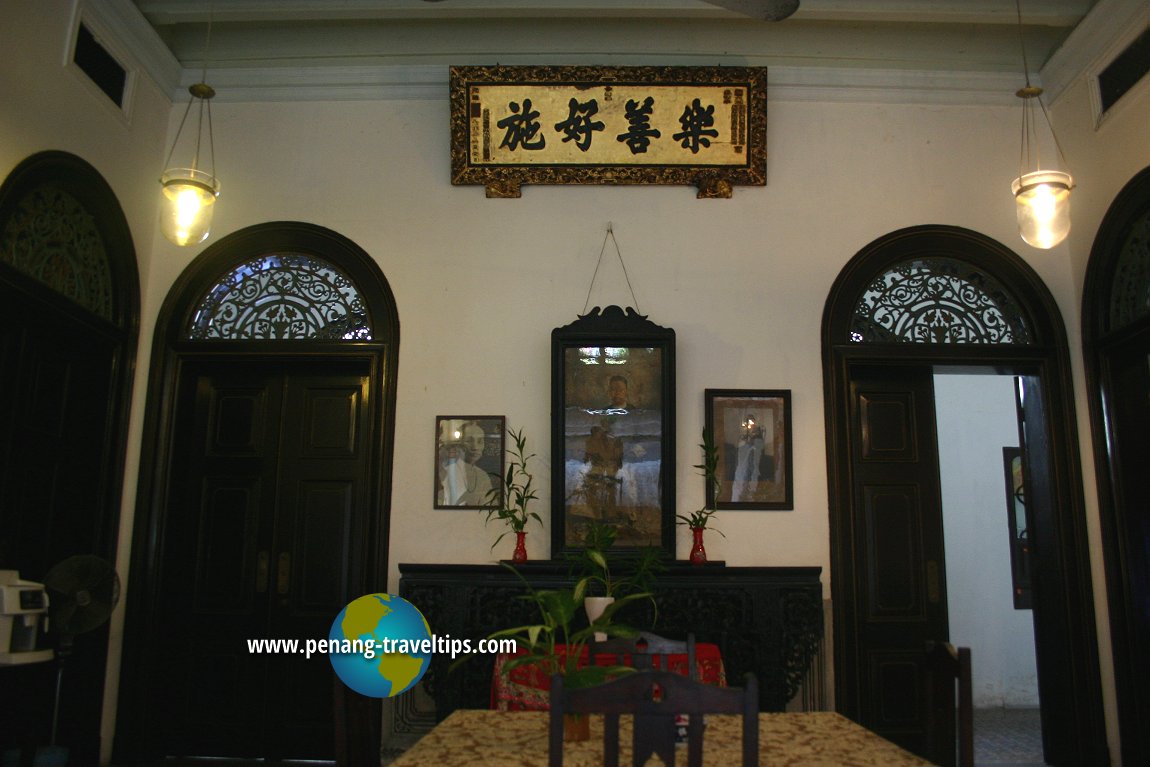 Dining room.
(28 February, 2004)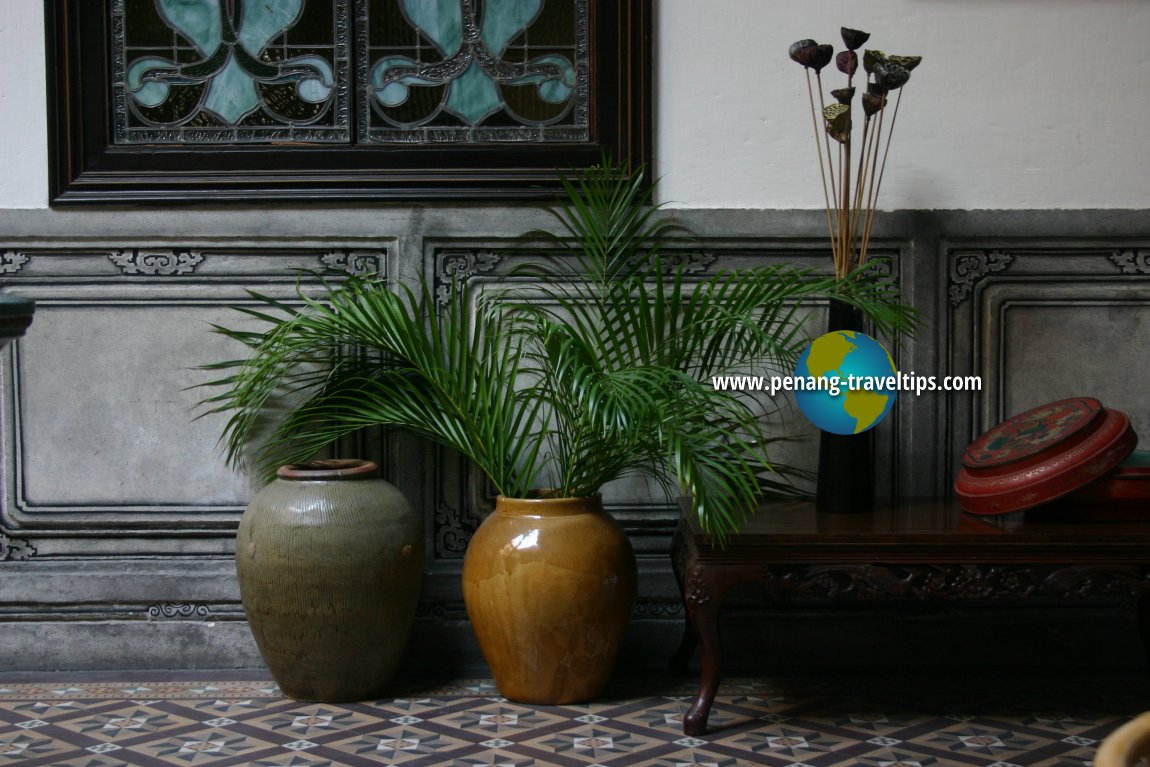 Potted plants in front of Trompe-l'œil wall ornamentation.
(28 February, 2004)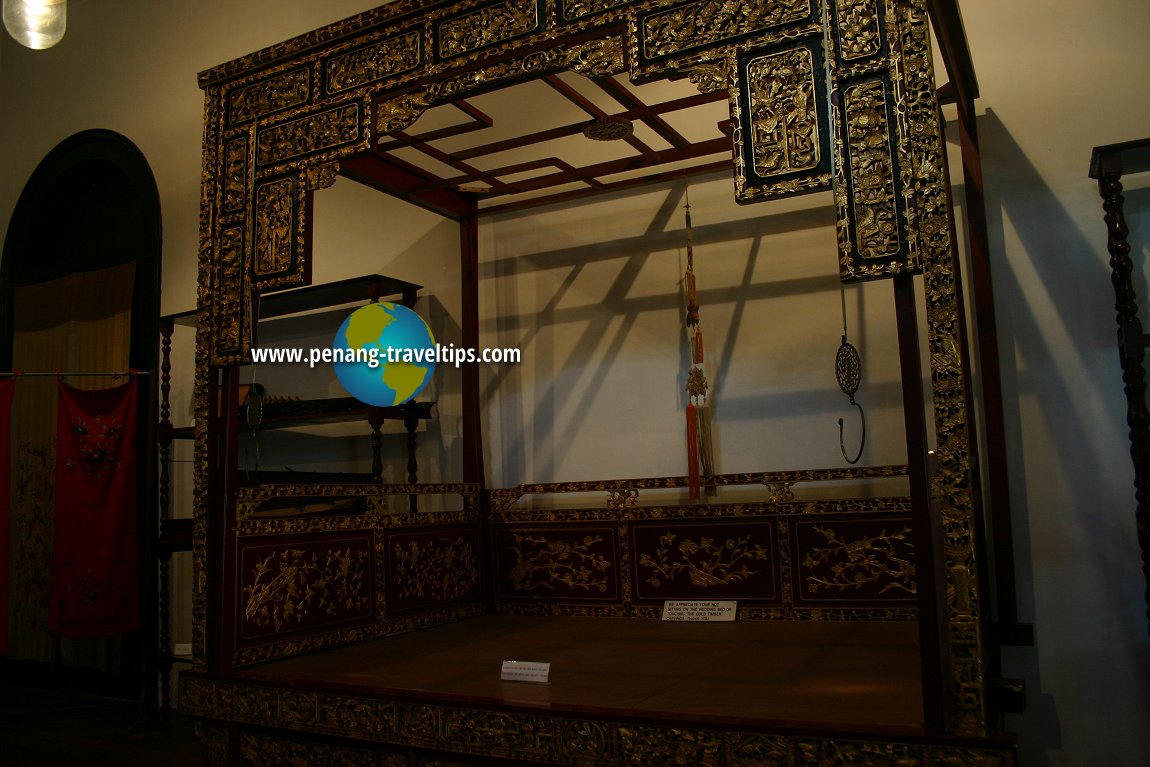 Antique bed.
(28 February, 2004)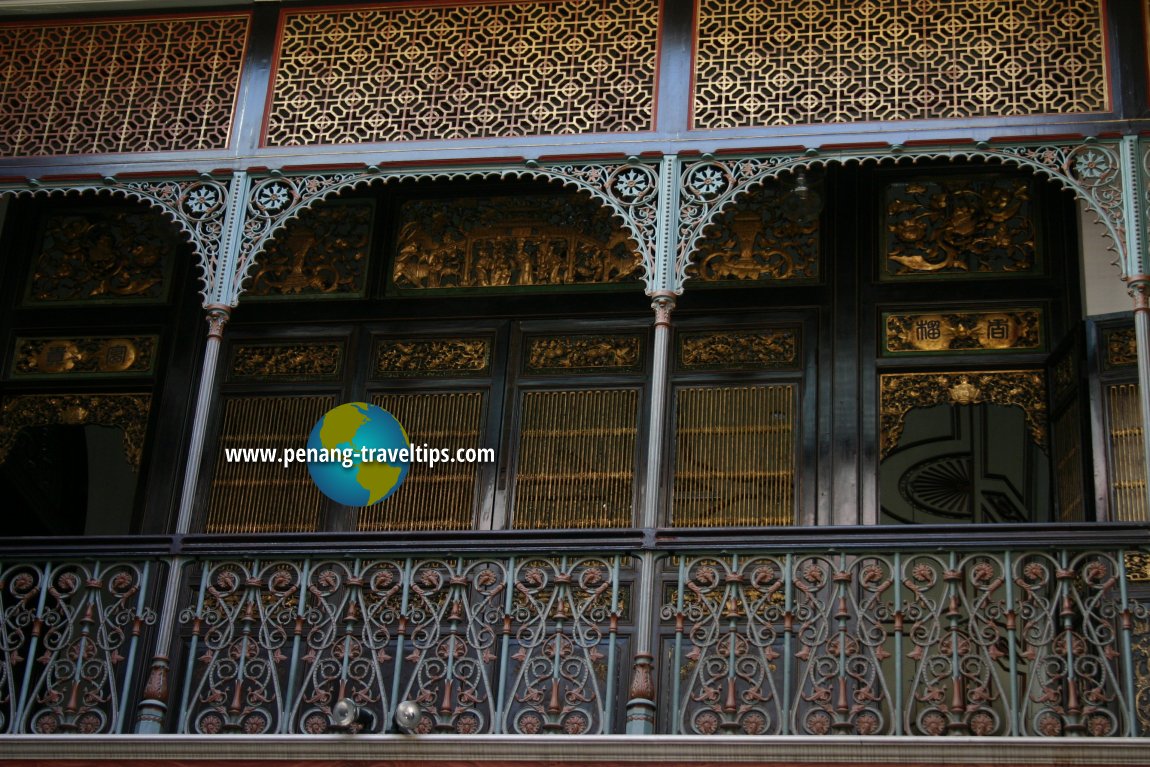 Cast-iron columns, originally manufactured by MacFarlanes in Glasgow, Scotland.
(28 February, 2004)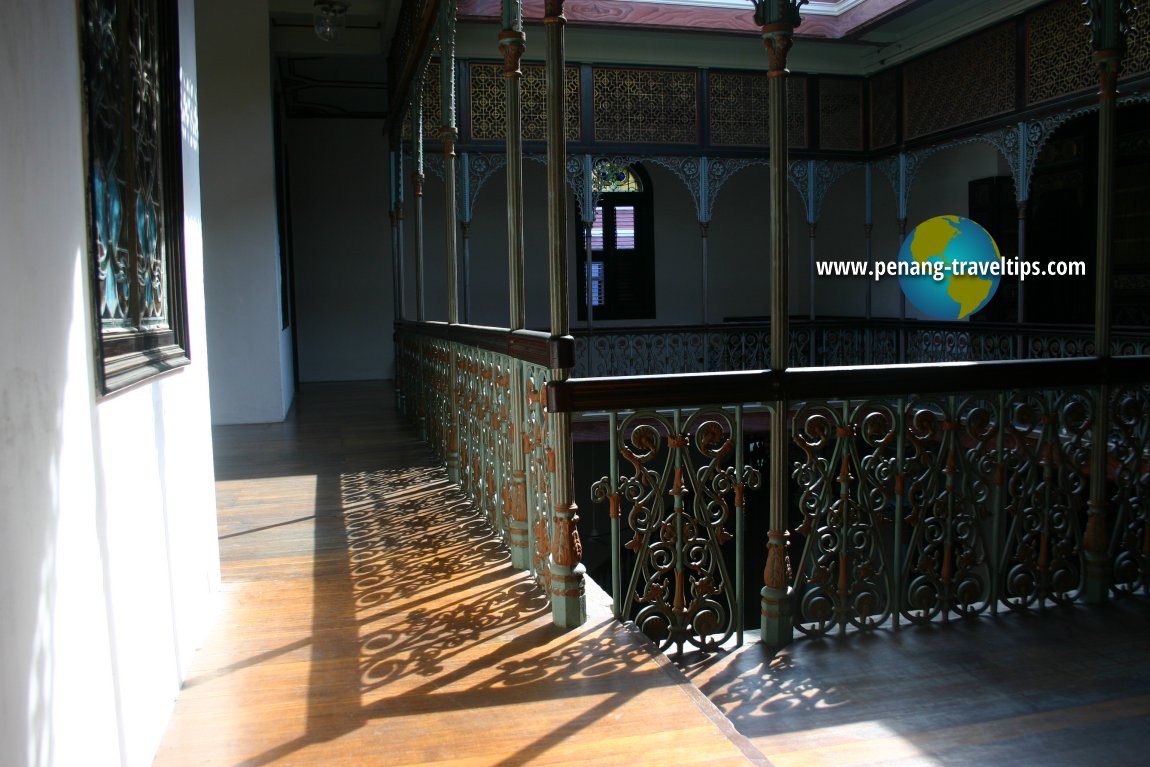 The cast-iron columns in the morning sun.
(28 February, 2004)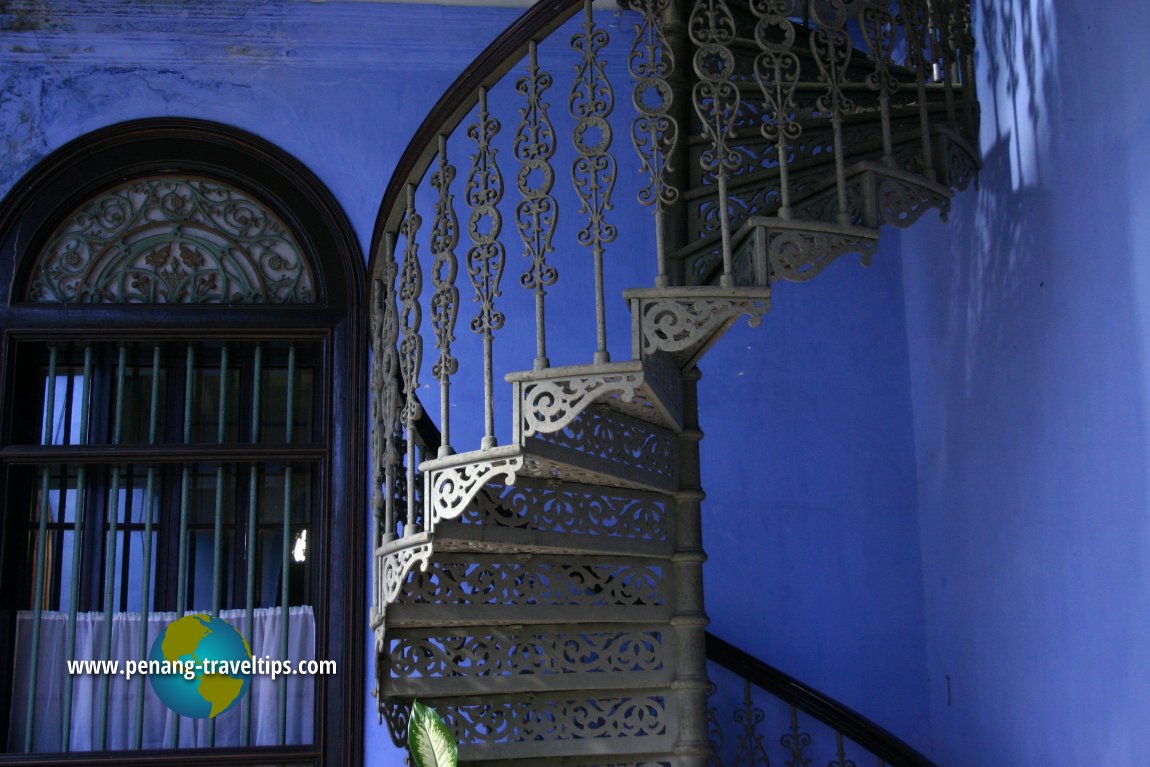 Cast-iron spiral staircase.
(28 February, 2004)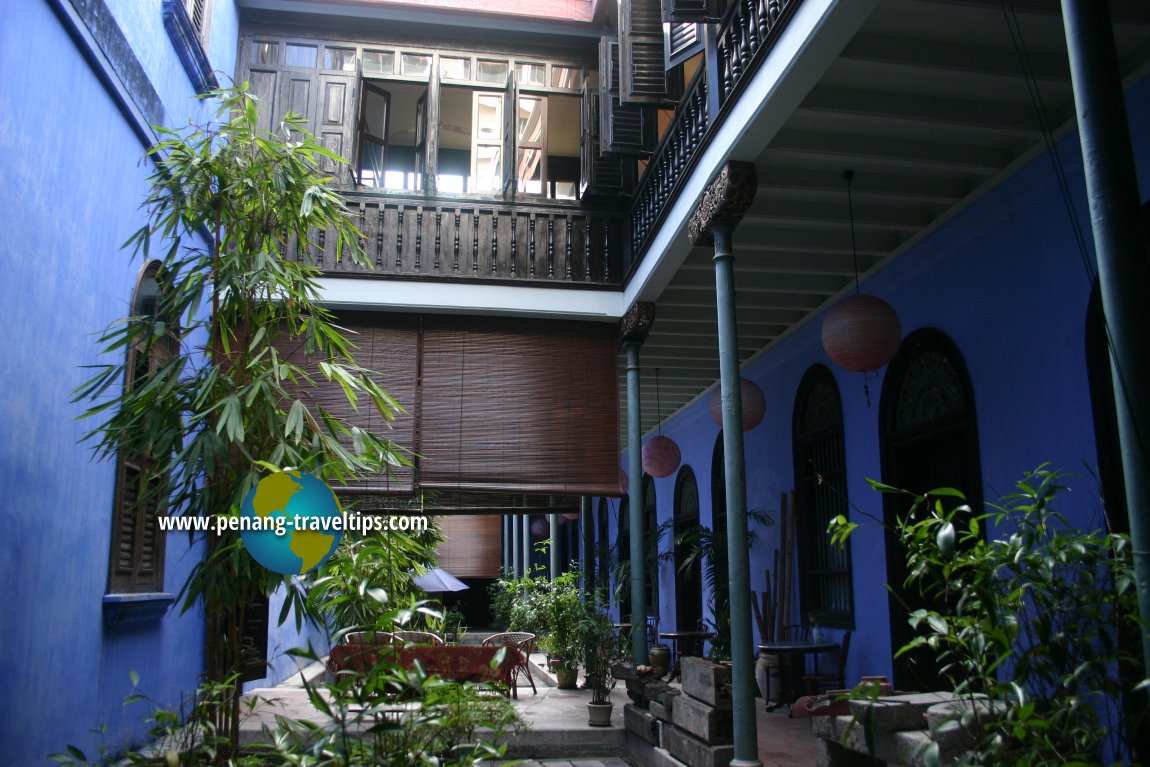 Side courtyard.
(28 February, 2004)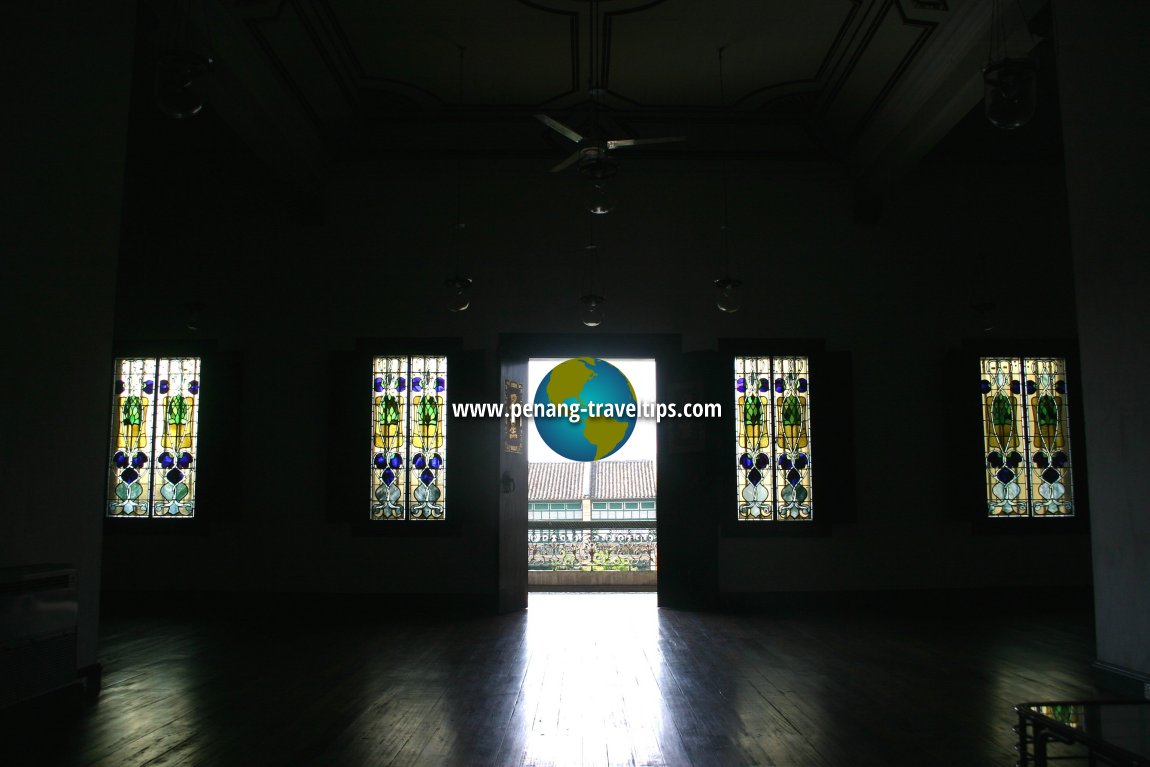 Main hall upstairs.
(28 February, 2004)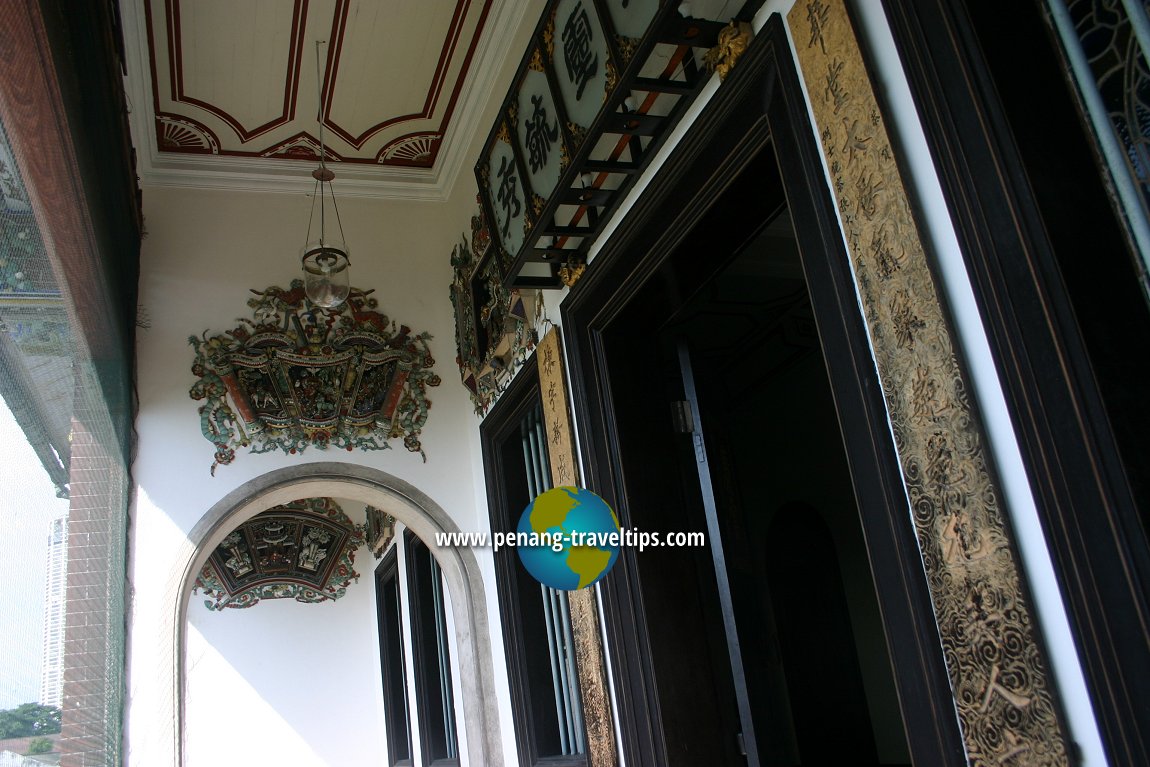 Ornamentation at the balcony.
(28 February, 2004)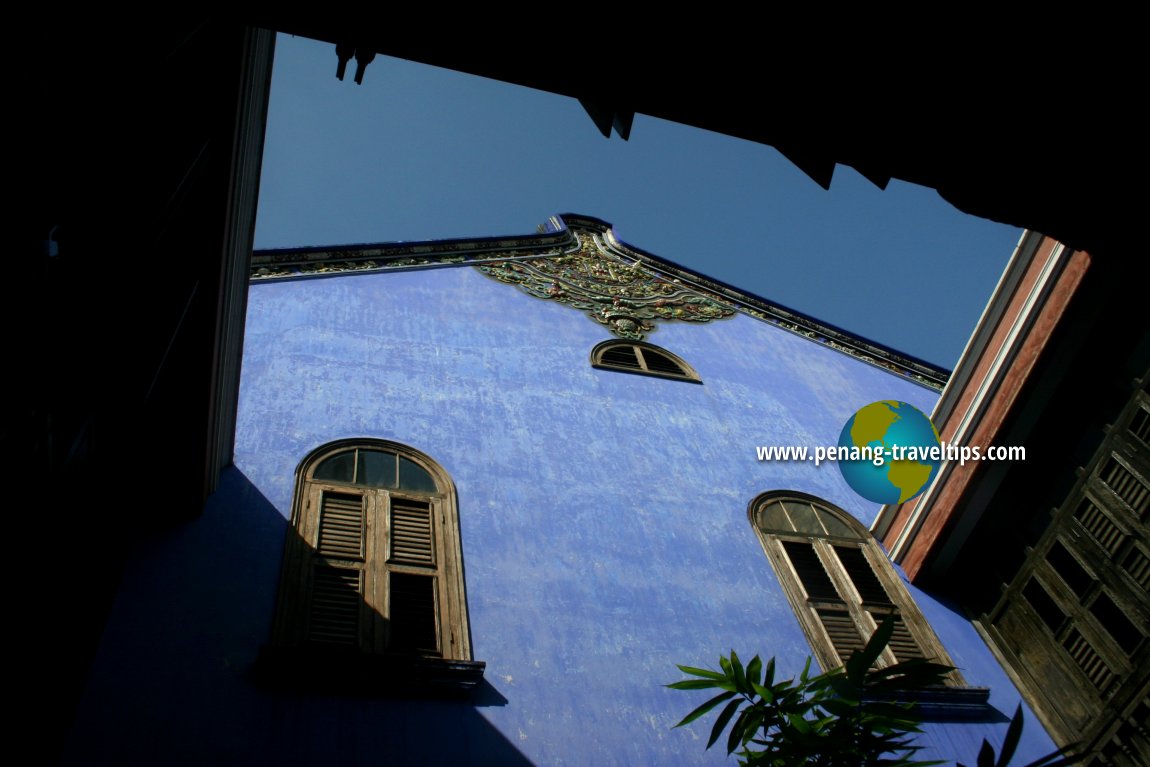 View from side courtyard.
(28 February, 2004)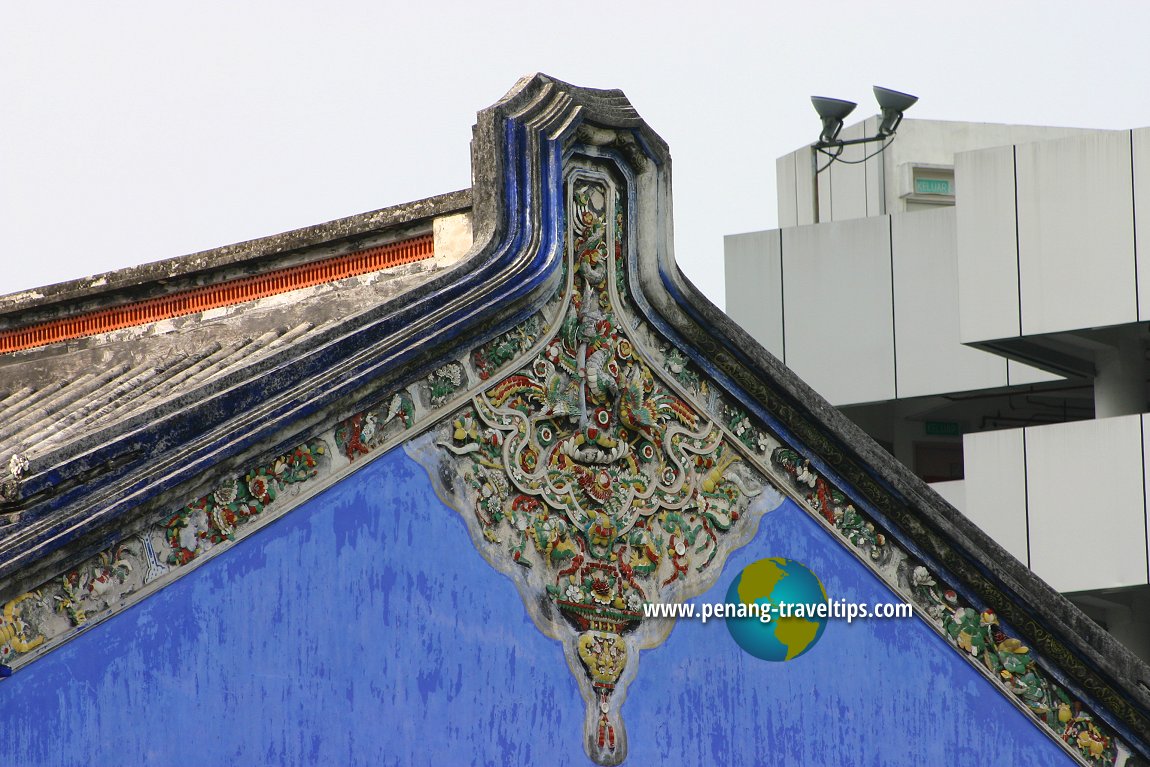 Details of the gable ornamentation.
(28 February, 2004)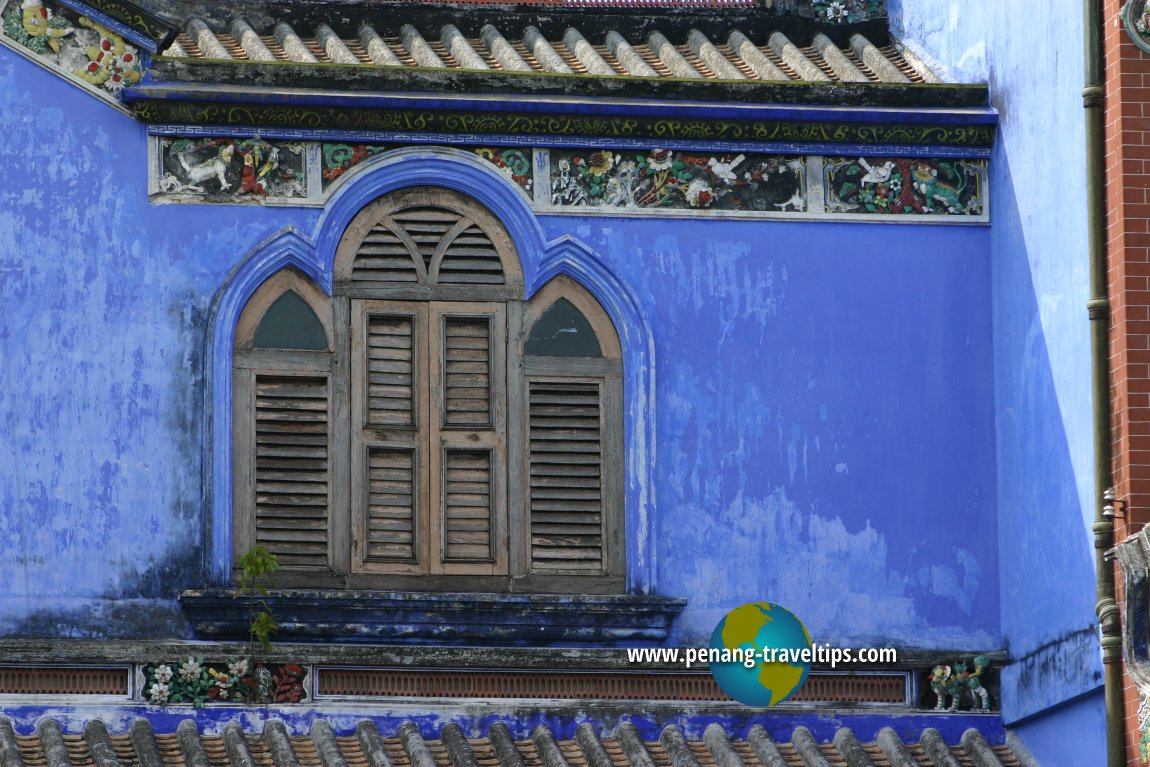 Louvre wooden shutters at the windows.
(28 February, 2004)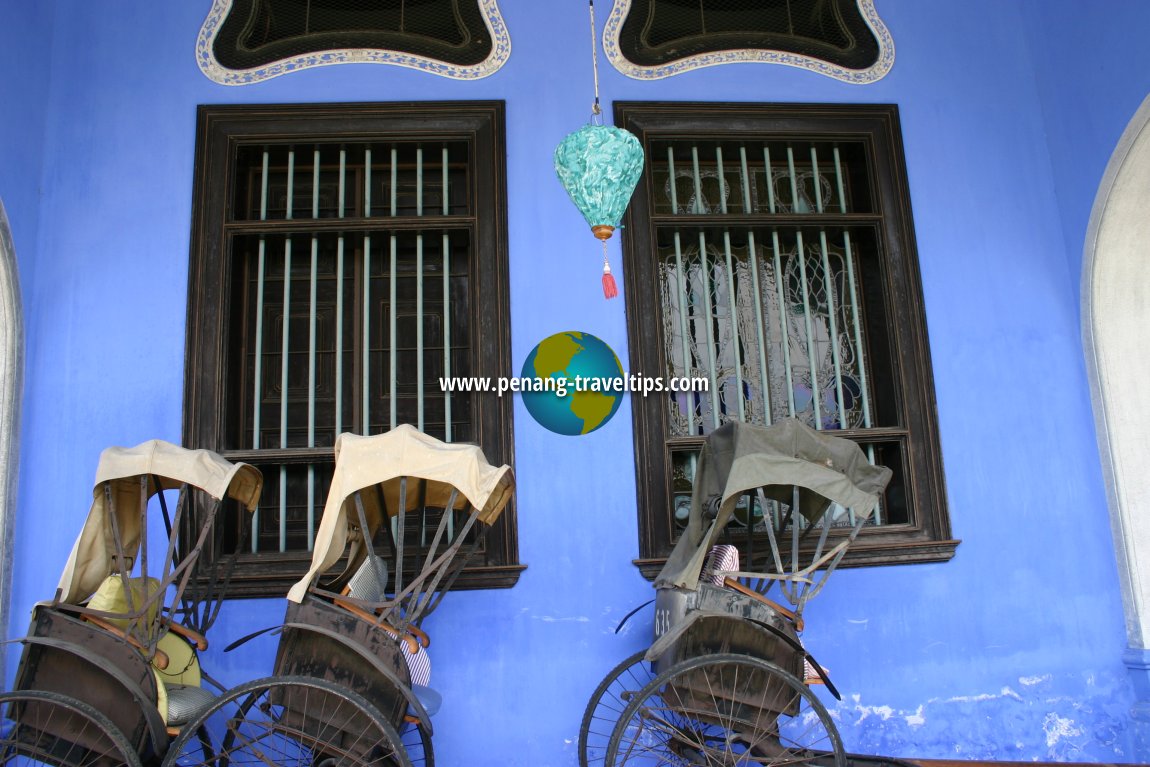 Antique rickshaws.
(28 February, 2004)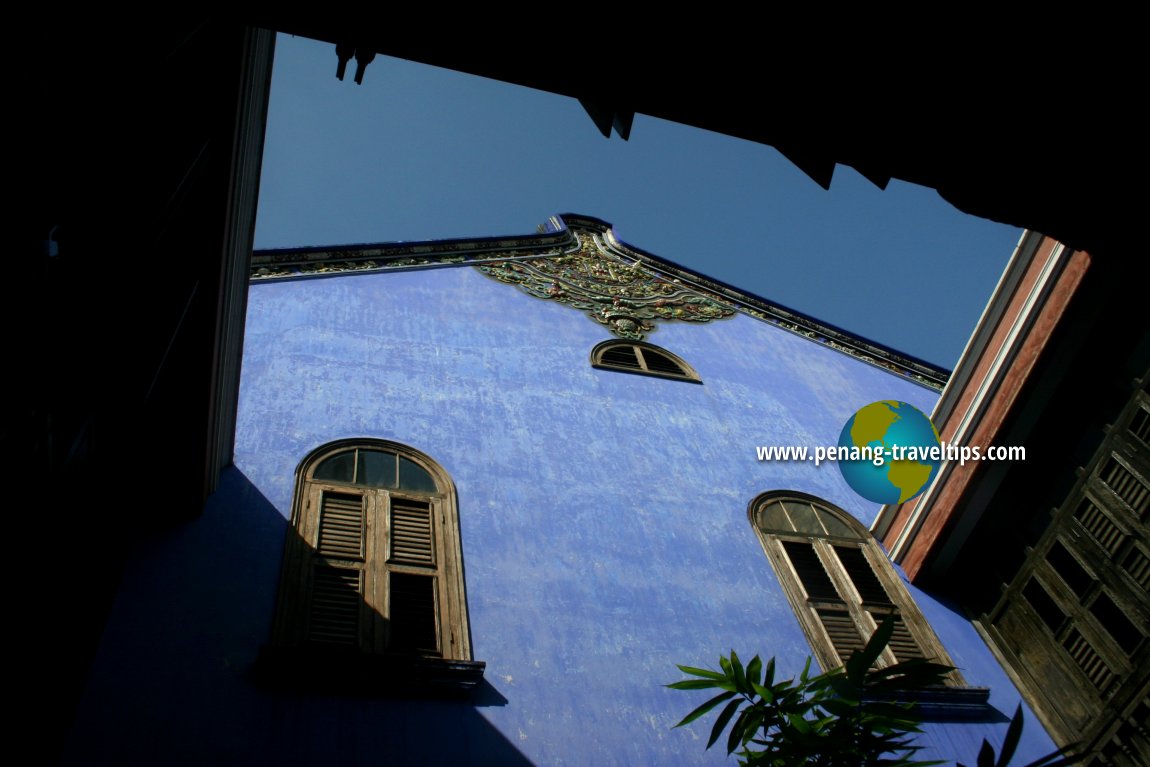 Here I am with Miss Loh Lim Lin Lee, with participants of the AsiaExplorers Site Visit.
(28 February, 2004)
Acknowledgement
Penang Travel Tips expresses its thanks to Loh-Lim Lin Lee for her assistance in the preparing of the material for this article. Special thanks also to Cheong Fatt Tze Mansion for allowing the photo shoot of its interior.
Add your shop/business to this website
The Penang Travel Tips website is a huge website that documents everything in Penang. On top of the hundreds of streets and tourist attractions, I also add in hundreds of shops and businesses.
If you operate a shop business in Penang, or anywhere in Malaysia or Singapore, contact me to add your business/shop into my website. It only a one-time fee, and your shop/business will be listed by location and category, helping your would-be customers find you. To find out more,
CONTACT ME
Visiting Penang? Find the lowest hotel room rates here!
Use our search engine to compare room rates from different hotel booking websites, to find the one that's lowest.
Travelling somewhere?
If you're travelling somewhere, use our online engine to find the online booking site that offers you the best room rates.
Book your hotel room here
If you're coming to Penang, book your hotel room online with Agoda. Agoda offers the best prices on 2,000,000+ properties worldwide.
Start here.
Local Guided Tours of Penang
If you are coming to Penang and need someone to show you around, I can arrange for you a licensed tour guide to take you around. Guides charge a fixed fee of RM360 for taking a small group of up to 10 people on 4-hour walking tours. Walking tours exceeding 4 hours is charged an additional RM90 per hour. Tours are tailored to guest requirement. For more details,
contact tour coordinator
. Other types of tours also available.
For details, click here.
Looking for a book? Get it from Book Depository with free delivery worldwide!
I have just discovered
Book Depository
, a subsidiary of Amazon.com, and I love it. This is where you can buy books and have them sent to you. But unlike Amazon, when you purchase using Book Depository, you enjoy free delivery worldwide.
Give it a try today!
Here's a list of the latest pages I have added or updated on my website.
My YouTube Videos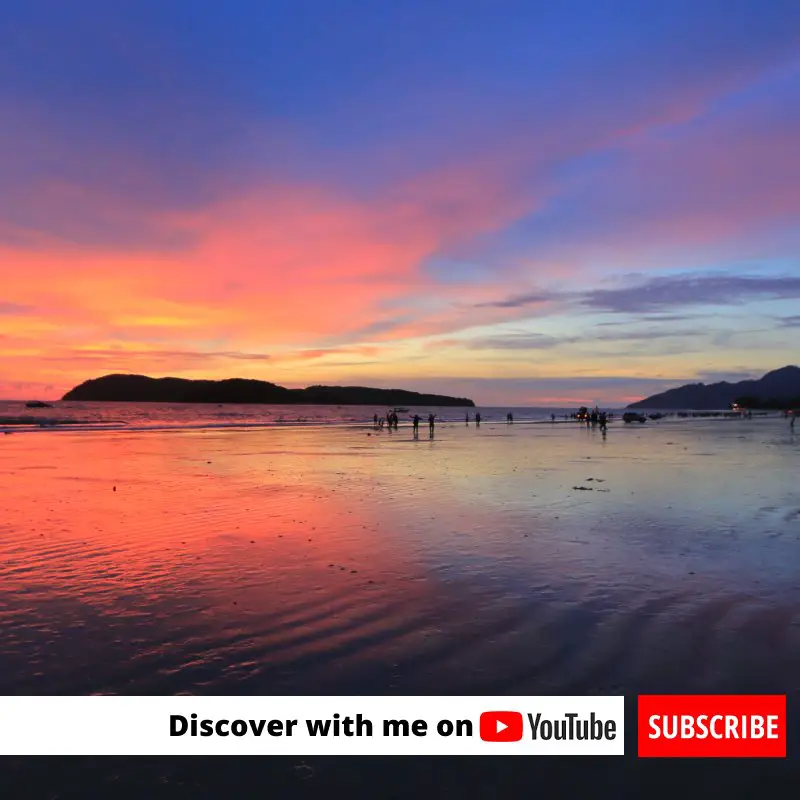 Check out
my YouTube Channel
and don't forget to subscribe!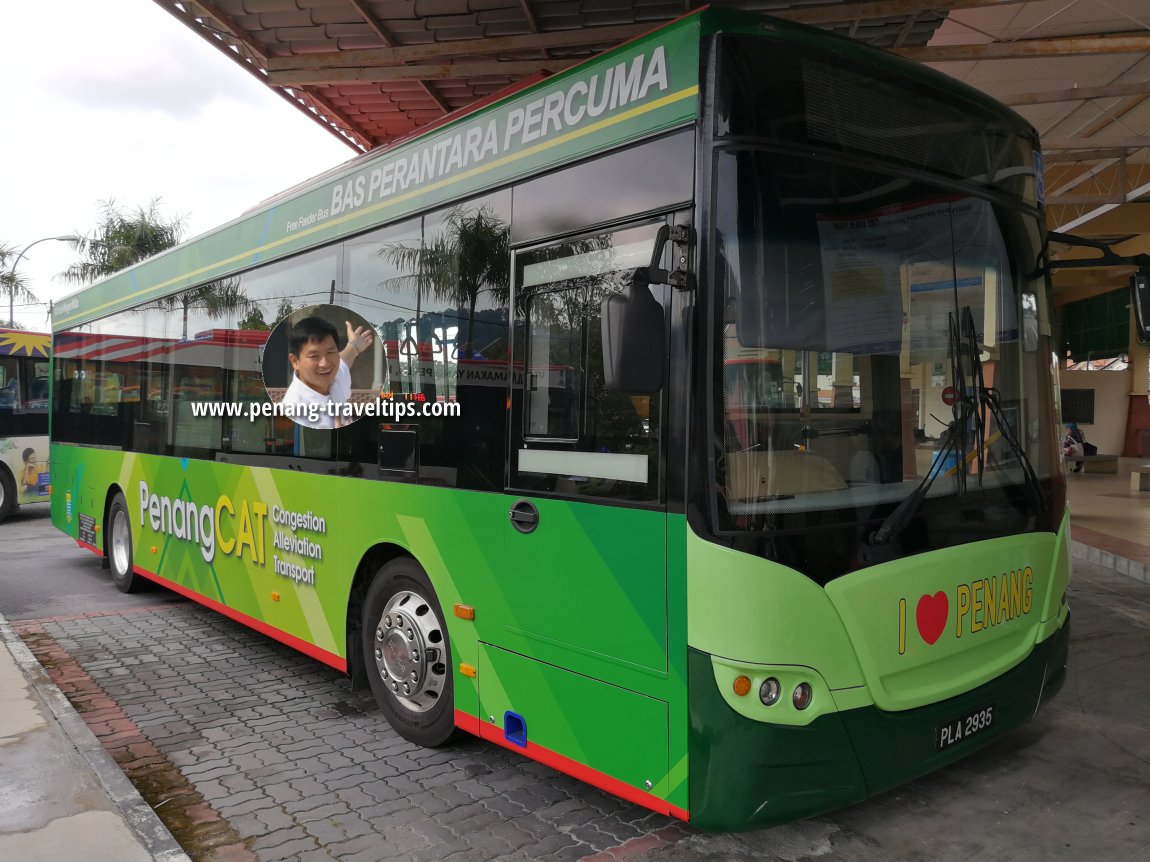 Take the CAT Free Feeder Bus
What's the best way to see Penang on a budget? Take the bus! In Penang, there are at least 12 absolutely
FREE
bus routes which cover almost every major neighbourhood on Penang Island and Penang Mainland. All you need to do is hop aboard!
Details
Vital Links
Book Your Express Bus Ticket
|
Hire a car
|
Our Recipes
|
Facebook Posts
|
Just Curious
|
Not In The Dictionary
|
Our Flowering Garden
Vital Links
Book Your Express Bus Ticket
|
Engage a Tour Guide for Penang
|
What's Up at Penang Hotels
|
Hire a car
|
Facebook Posts
|
Our Recipes
|
Our Flowering Garden
|
Guide Book on Penang Durians
Discover the World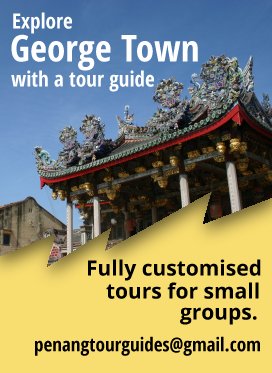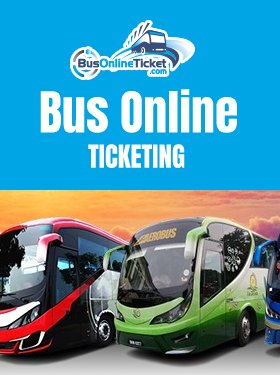 About Me
Thank you for visiting
my website
. I started it in 2003, and today it has over twenty thousand pages of information. My name is
Timothy Tye
. I would be very pleased if you enjoy the information I have put together.
As a Christian, I hope that through this website, I am able to deliver God's message to all who need it, anywhere in the world. If you are open to hearing it, please read
God's Good News to You
.
If you wish to contact me, please use this
contact form
. And don't forget to
follow me on Facebook
. See you!
Copyright © 2003-2019
Timothy Tye
. All Rights Reserved.