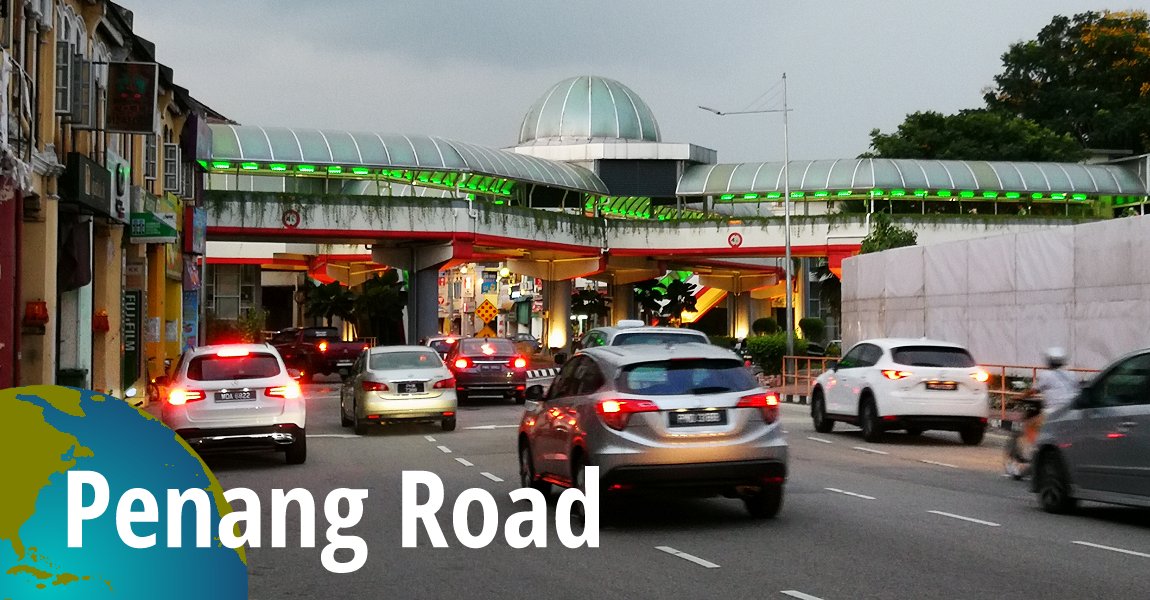 Penang Road
(31 March, 2018)
Penang Road
, or
Jalan Penang
in Malay, is the most important thoroughfare in Penang during the British colonial era. It was the first road to be built out of the original town mapped by
Francis Light
. It runs from
Lebuh Farquhar
in the north to
Jalan Gurdwara
to the south, and can be split into four different sections, each with its own characteristics.
Map of Penang Road
Hotels on Penang Road
Sights along Penang Road
Eateries on Penang Road
Pubs on Penang Road
Businesses along Penang Road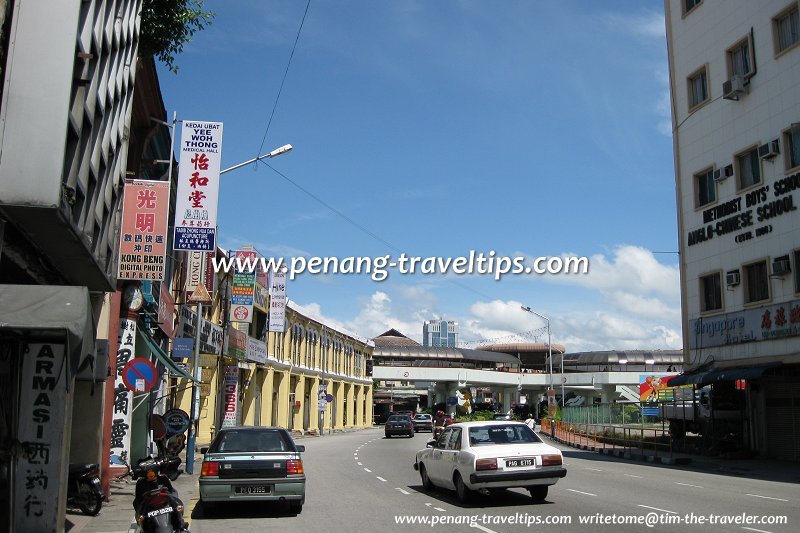 Penang Road
(30 November 2008)
Penang Road on Google Maps Street View
What to see or do
Penang Road is still an important shopping street, especially the 3rd section, between Lebuh Chulia and Jalan Burma. Chowrasta Market is a stopover point for tourists interested in the local produce such as preserved nutmeg,
lempuk
(also called
durian koay
), and preserved lime. Komtar was a major shopping mall but has pretty much lost its shine.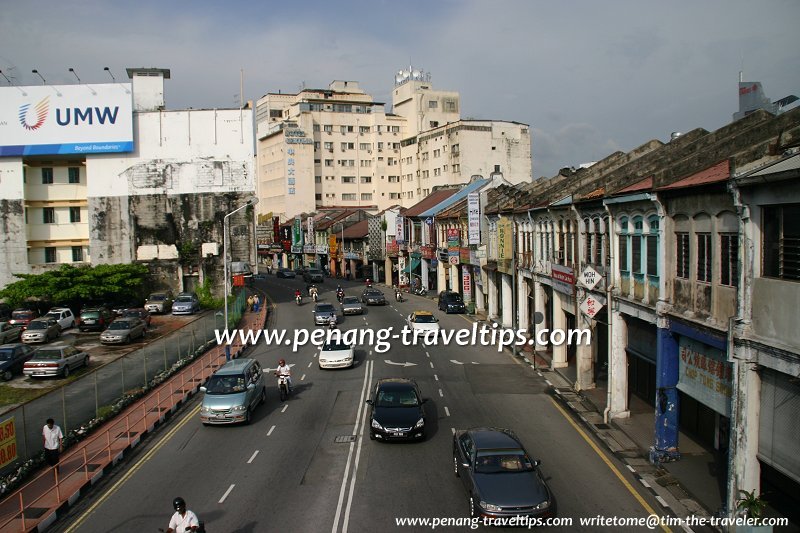 Penang Road, as seen from the Komtar Pedestrian Bridge
(6 May, 2008)
Sections of Penang Road
The northernmost section, now called
Upper Penang Road
, runs from the junction with Lebuh Farquhar, to the junction with
Jalan Sultan Ahmad Shah
. This section is now closed to vehicular traffic. Before that, it was a unique road with traffic running on the right side rather than the usual left. It is hemmed in on one side by The Garage (at time of writing, undergoing renovations) and the City Bayview Hotel. Upper Penang Road is the venue of the monthly Little Penang Street Market and host a number of pubs and restaurants.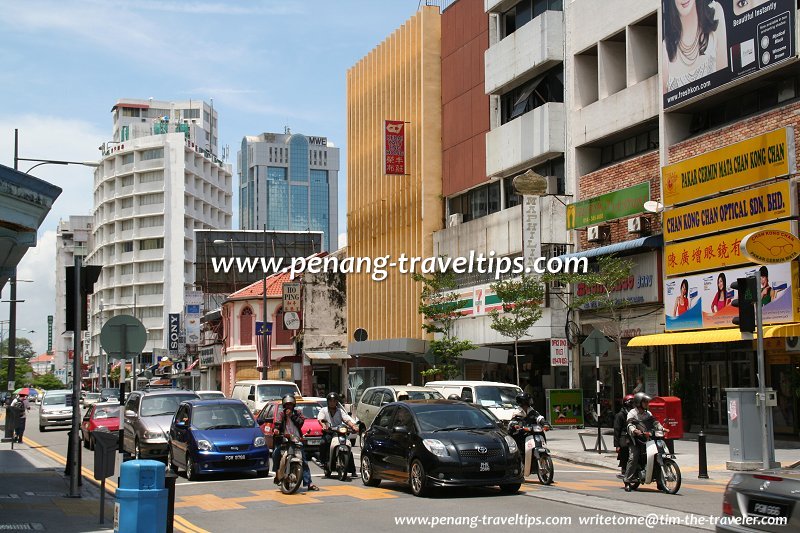 Penang Road
(3 September 2008)
The second section of Penang Road runs from the junction of Jalan Sultan Ahmad Shah to
Lebuh Chulia
. This section has several low-budget hotels. Also located here is the
Ku Din Ku Meh House
and the
St Francis Xavier Church
.
The third section of Penang Road runs from the junction of Lebuh Chulia to the junction of Jalan Burma. This is regarded as the most important section in the 1970's, when Penang Road was the main shopping street of the island. In the earlier part of Penang history, in the 19th century, this was a very cosmopolitan section settled by several different communities. Today only the road names survive them, as the character of the street becomes more homogenously Chinese. These roads branching out from Penang Road tells a story of the bygone communities.
Kampung Malabar
was where the Malabaris of South India settled. Sri Bahari Road was named after the North Indian community, whose temple, the
Sri Kunj Bihari
, is still standing.
Jalan Dato Koyah
was also named after a South Indian personality, in this case a Malabari miracle healer named Syed Mustapha Idris @ Dato Koya.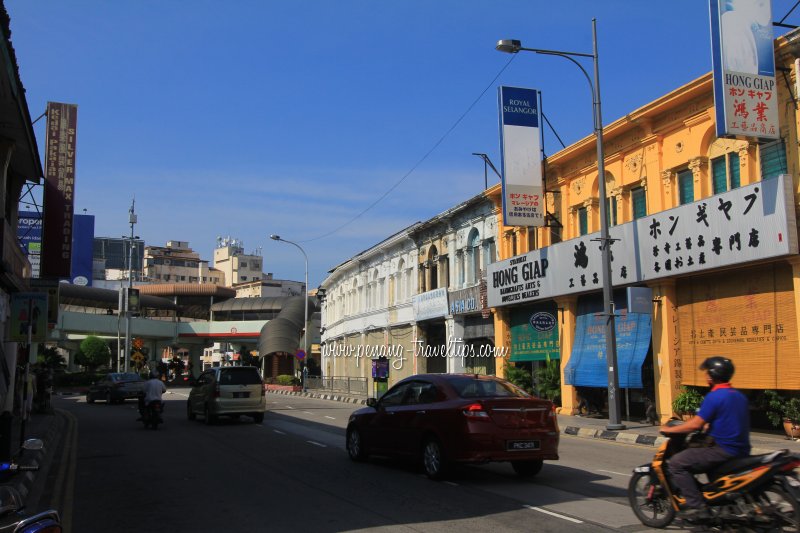 Penang Road, looking towards junctions of Prangin and Burmah Roads
(28 January, 2013)
Further down the road was the
Chowrasta Market
, a venue originally established by the Tamil community. Across the road from Chowrasta Market is the
Central Police Headquarters
, one of the biggest buildings built by the British administrators, and completed just before the Second World War.
At the junction of
Keng Kwee Street
are the two famous Teochew
Cendol
stalls. Wing Look and
Loke Thye Kee
are two very famous bygone restaurants along this stretch of Penang Road that unfortunately have since closed down.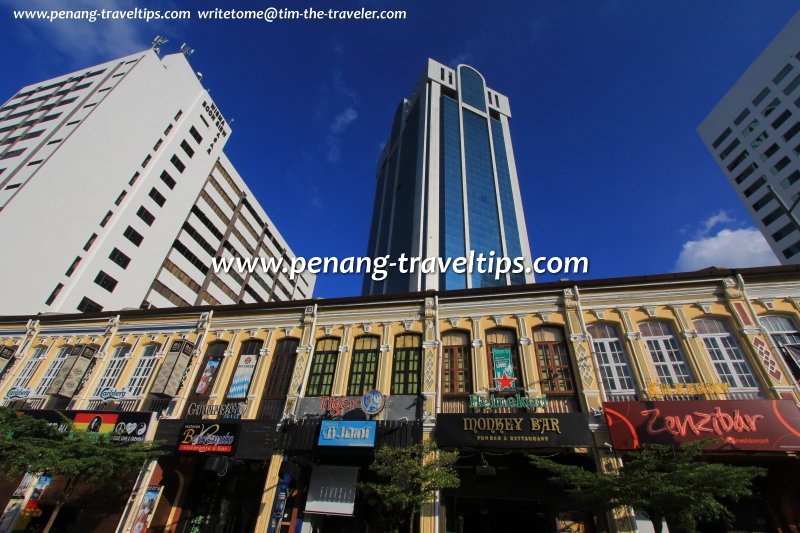 Restored shophousesnow used as bistros, at Upper Penang Road
(5 August, 2012)
The final section of Penang Road runs from the junction of
Jalan Burma
to
Magazine Circus
, the junction of Penang Road with Macalister Road, Dato Kramat Road,
Magazine Road
and Jalan Gurdwara (formerly Brick Kiln Road). A sixth road that leads out of this junction,
Gladstone Road
, has since been erased by the construction of
Komtar
, the biggest urban development project in Penang. Across the road from Komtar is
Ong Kongsi
, an ornate clan temple.
How to go to Penang Road by public transport
As one of the main thoroughfare in Penang, Penang Road can easily be reached by bus.
Rapid Penang Free Shuttle Bus
stops at three stations along Penang Road, Station No. 7 (Lebuh Muntri), No. 8 (Lebuh Campbell) and No. 10 (Komtar Utara).
Rapid Penang
bus
10
,
11
,
101
,
103
,
104
,
201
,
202
,
203
,
204
,
206
,
301
and
302
are among those that pass by it.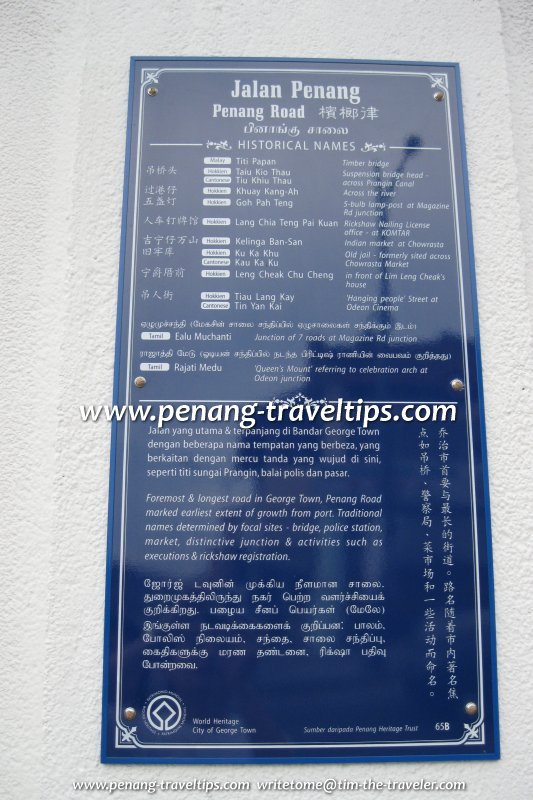 Penang Road plaque
(24 November 2008)
In Other Words ...
Due to its significance, Penang Road was known by various names among the different communities in George Town. It is also called Titi Papan (Plank Bridge) in Malay, for the section between the junction of Jalan Dr Lim Chwee Leong with Burmah Road.
In
Hokkien, Penang
Road was known as Tiau1 Keo3 Thau2, (Head of the Suspension Bridge) at the junction of Jalan Dr Lim Chwee Leong; Gor33 Pha3 Teng1 (Five Street Lights) for Magazine Circus; Lang3chia3 Teng1pai3 Kuan4 (Trishaw Registration Bureau) for the section in front of Komtar; Ke1ling3na4 Ban3san1 for the section in front of Chowrasta Market; Ku3 Kha3ku1 (Old Jail) for the area opposite Chowrasta Market; and Tiau1 Lang3 Kay1 (Hanging Man Street) around Odeon Cinema.
In Cantonese, Penang Road was known as Tiu Khiu Thau (Head of the Suspension Bridge) at the junction of Jalan Dr Lim Chwee Leong; Kau Ka Ku (Old Jail), opposite Chowrasta Market; and Tin Yan Kai (Hanging People Street) around Odean Cinema
In Tamil, Penang Road was known as Ealu Muchanti (7-Road Junction) at Magazine Circus; and Rajati Medu (Queen's Arch) at Ocean Cinema. This was also mentioned in the book
The Chulia in Penang
.
1
. It refers to the arch erected there by the
Kadayanallur community
.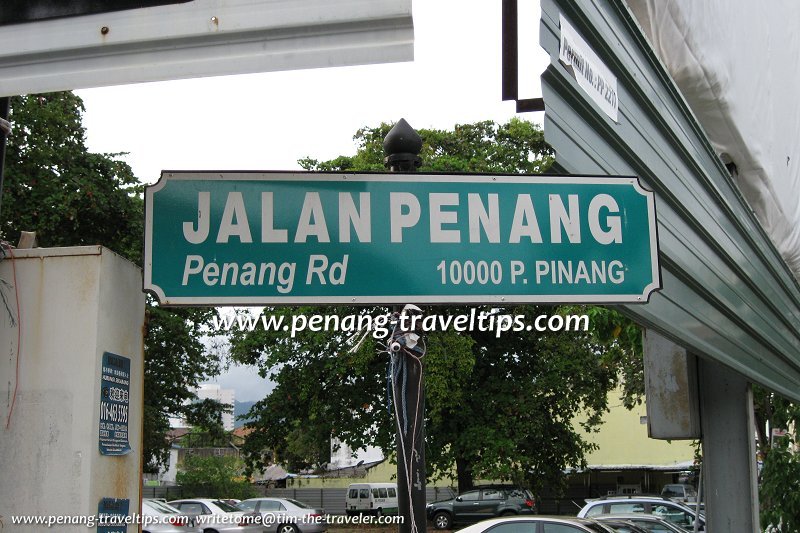 Penang Road signboard
(24 November 2008)
Old Photos of Penang Road
If you have any old photos of Penang Road that belong to you, send them to me and I will add to this page, along with your copyright note.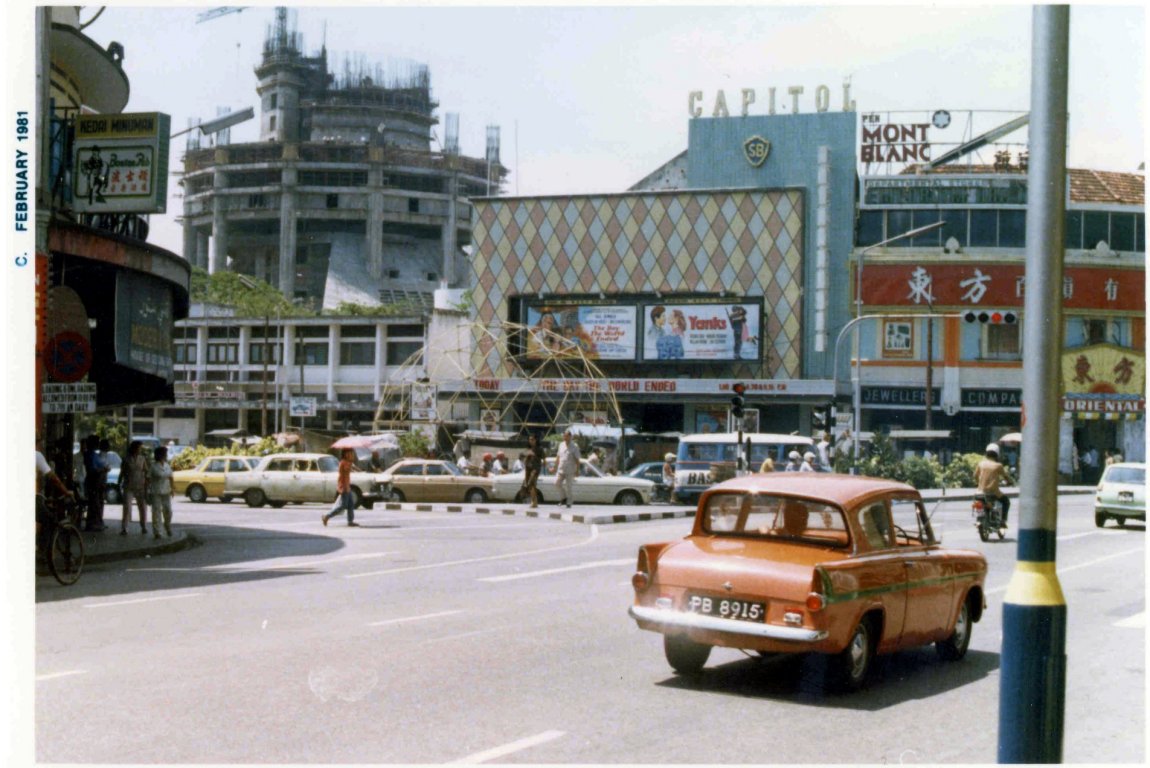 Penang Road, 1981
© N. Mahtani
References
1. Khoo Salma Nasution,
The Chulia in Penang
(Areca Books, 2014, p.14)
Add your shop/business to this website
The Penang Travel Tips website is a huge website that documents everything in Penang. On top of the hundreds of streets and tourist attractions, I also add in hundreds of shops and businesses.
If you operate a shop business in Penang, or anywhere in Malaysia or Singapore, contact me to add your business/shop into my website. It only a one-time fee, and your shop/business will be listed by location and category, helping your would-be customers find you. To find out more,
CONTACT ME
Visiting Penang? Find the lowest hotel room rates here!
Use our search engine to compare room rates from different hotel booking websites, to find the one that's lowest.
Travelling somewhere?
If you're travelling somewhere, use our online engine to find the online booking site that offers you the best room rates.
Book your hotel room here
If you're coming to Penang, book your hotel room online with Agoda. Agoda offers the best prices on 2,000,000+ properties worldwide.
Start here.
Local Guided Tours of Penang
If you are coming to Penang and need someone to show you around, I can arrange for you a licensed tour guide to take you around. Guides charge a fixed fee of RM360 for taking a small group of up to 10 people on 4-hour walking tours. Walking tours exceeding 4 hours is charged an additional RM90 per hour. Tours are tailored to guest requirement. For more details,
contact tour coordinator
. Other types of tours also available.
For details, click here.
Looking for a book? Get it from Book Depository with free delivery worldwide!
I have just discovered
Book Depository
, a subsidiary of Amazon.com, and I love it. This is where you can buy books and have them sent to you. But unlike Amazon, when you purchase using Book Depository, you enjoy free delivery worldwide.
Give it a try today!
Here's a list of the latest pages I have added or updated on my website.
My YouTube Videos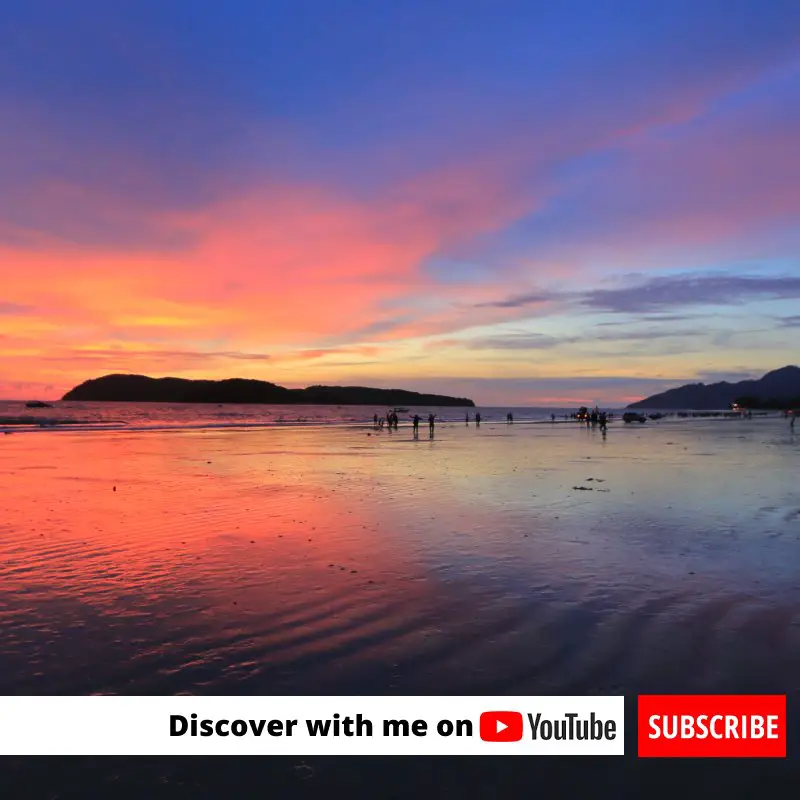 Check out
my YouTube Channel
and don't forget to subscribe!
Vital Links
Book Your Express Bus Ticket
|
Hire a car
|
Our Recipes
|
Facebook Posts
|
Just Curious
|
Not In The Dictionary
|
Our Flowering Garden
Vital Links
Book Your Express Bus Ticket
|
Engage a Tour Guide for Penang
|
What's Up at Penang Hotels
|
Hire a car
|
Facebook Posts
|
Our Recipes
|
Our Flowering Garden
|
Guide Book on Penang Durians
Discover the World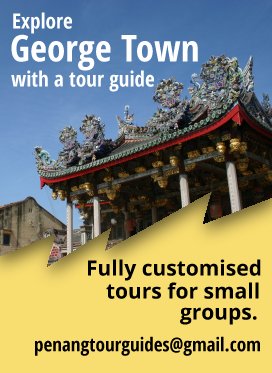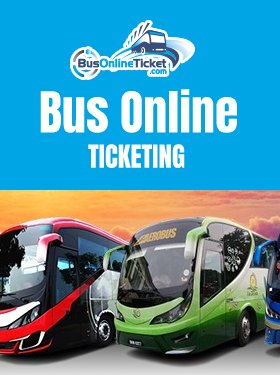 About Me