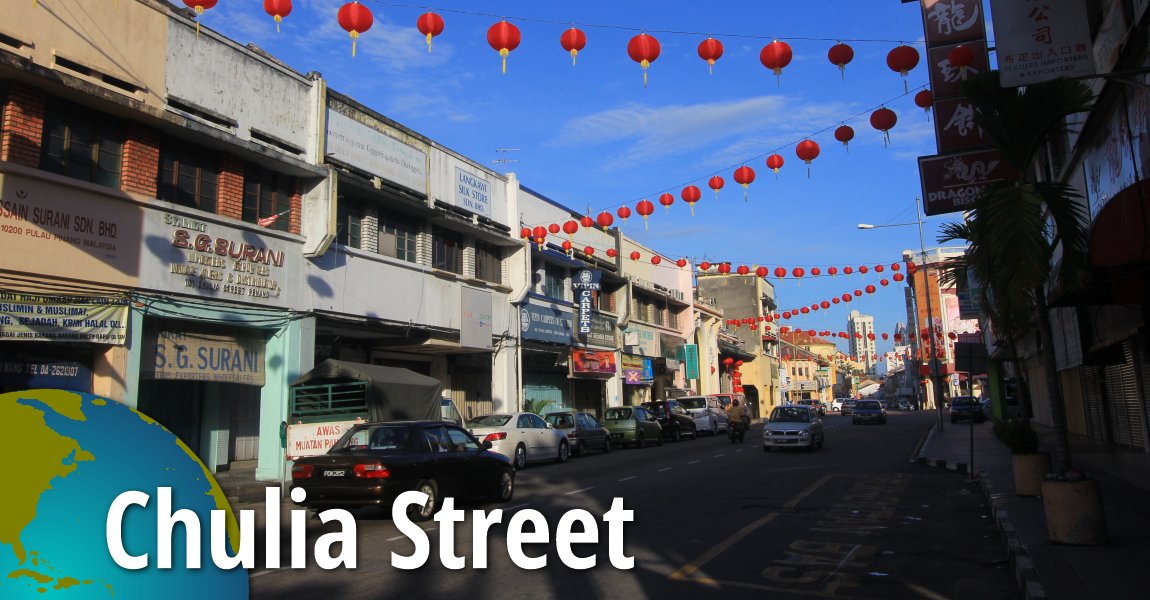 Chulia Street, George Town, festooned with Chinese lanterns
(5 February, 2013)
Chulia Street
, or Lebuh Chulia, is one of the major roads in
George Town
,
Penang
. Due to its length, part of it is within the core zone of the
George Town UNESCO World Heritage Site
, until the junctions of
Carnavon Street
and
Love Lane
, while the rest is within the buffer zone.
Where to stay along Chulia Street
Of the many hotels along Chulia Street, the one I have stayed before and experienced the hospitality is
Yeng Keng Hotel
. I have no problem in suggesting it to anybody. Just take a look at the hotel to see if it suits you.
Map of Chulia Street
Accommodation on Chulia Street
Sights along Chulia Street
Street Art on Chulia Street
Coffee shops, restaurants, bistros and bars along Chulia Street
Businesses along Chulia Street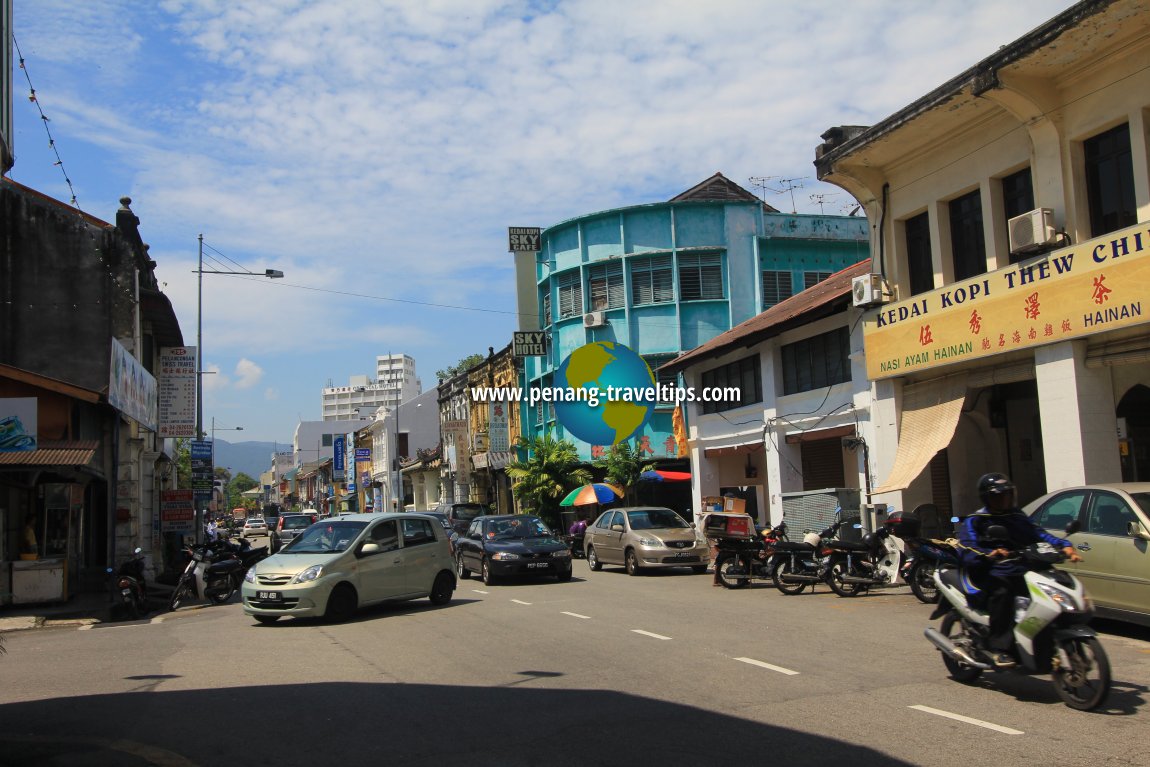 Chulia Street, at the junction with Rope Walk
(25 January, 2013)
Chulia Street Today
Today, Chulia Street is the epicentre of budget accommodation in George Town. (To view list of accommodation on Chulia Street,
scroll this page to here
.) If you are a budget traveller, you will find most of the amenities you need along Chulia Street as well as in neighbouring
Love Lane
and
Leith Street
. There are numerous budget guesthouses here, as well as cafes, restaurants, cybercafes, laundrettes, travel agencies that cater to the needs of travellers. Many of the travel agencies along Chulia Street specialize in arranging visa runs for travellers planning extended stays in Penang.
The character of Chulia Street has evolved through the 20th century. It only morphed into the backpacker haven towards the mid 20th century. For much of the 1980s and 90s, Chulia Street was the destination of budget travelers. However, since the inscription of George Town as a World Heritage Site, some of the budget establishment began to gentrify, many reinventing themselves into upscale boutique hotels. Only time will tell how far the change will take.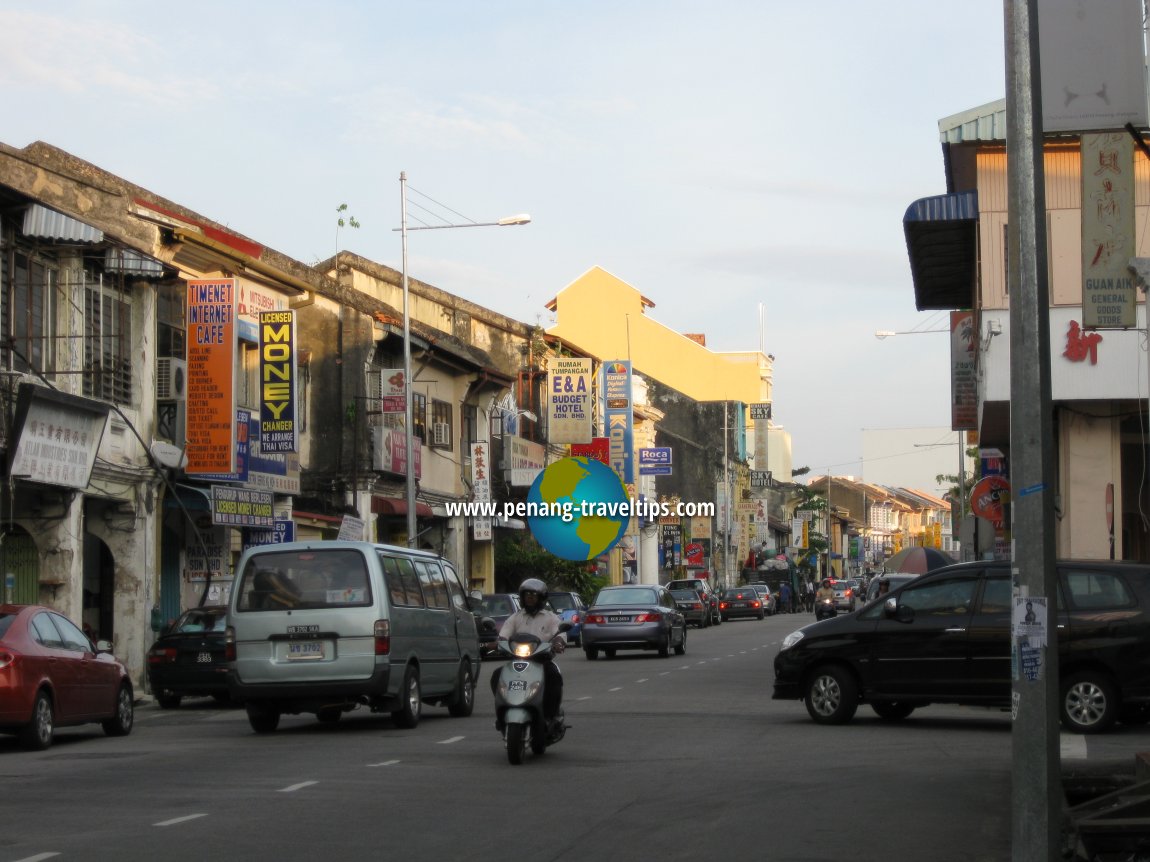 Chulia Street is today lined with businesses catering to budget travellers
(17 December, 2008)
History of Chulia Street
Chulia Street is one of the oldest streets in George Town. It was laid out during the time of
Captain Francis Light
, and is one of the four main streets of his newly developed settlement, along with Light Street, Beach Street and Pitt Street. In its earliest incarnation, it was known as Malabar Street, after the Malabari Indians. By 1798, it had already acquired the name Chulia Street, or rather, Chulier Street, as it was then written. Until 1803, Chulier Street reached only till Love Lane.
When it was extended, the section beyond Love Lane was then known as Chulier Road. Today the whole stretch is called Chulia Street, or Lebuh Chulia. This name is derived from the old Chola kingdom, and like Malabar, refers to the early Indians that settled there.
Another name that appears regularly in the Chulia Street area is Keling, most obviously at
Kapitan Keling Mosque
. The name "keling" also refers to South Indian, and to be specific, was derived from the ancient south Indian kingdom of Kalinga.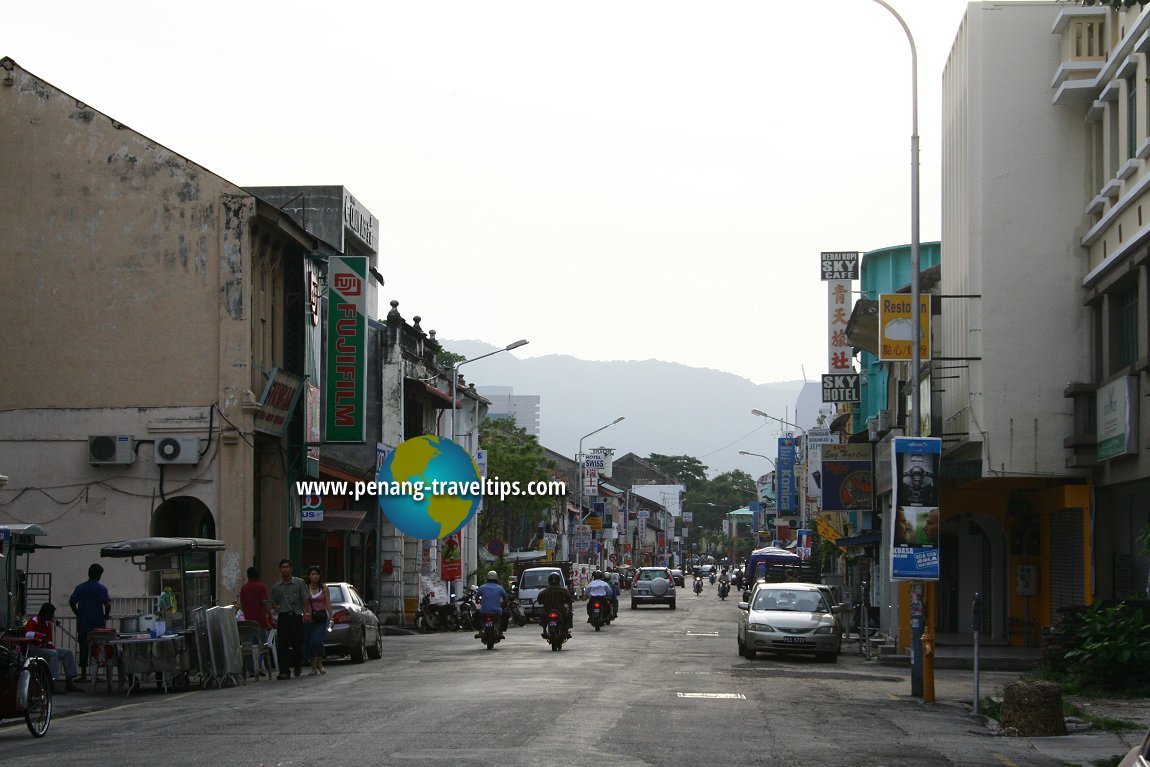 Chulia Street in the evening
(28 June, 2006)
Among the
Hokkien
, south Indians are generally called
kelinga
. Due to the lack of historical appreciation, the term
kelinga
however, has since been regarded as offensive by the Indians, as it later became associated with South Indian convicts brought into George Town. To the Hokkiens, however,
kelinga
remains a commonly used word to refer to south Indians. Its use pre-dates the arrival of the first convicts, as the Kalinga has traded with the Malay peninsula for centuries, and contact with the Hokkien living along the coast of the Malay peninsula pre-dates the founding of Penang. The use of Kelinga in Hokkien is not in any way derogatory, as it is based on the historical reference to the Kalinga kingdom.
Like most of the streets that run east-west in George Town, Chulia Street was extended in the third quarter of the 19th century following extensive land reclamation. The resulting extension is called
Chulia Street Ghaut
. Until then, there was a pier where Chulia Street ended.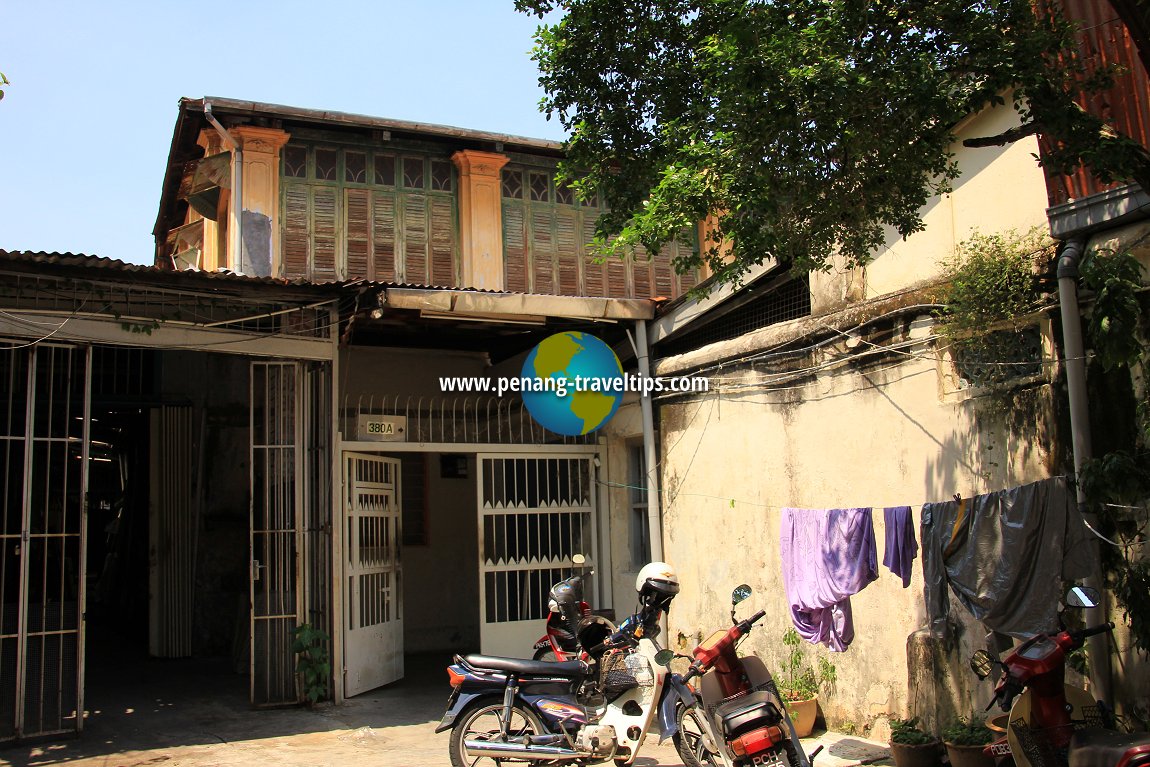 Anglo-Indian architecture, Chulia Street
(30 August, 2012)
For much of the 19th century, Chulia Street was occupied by Indians, Muslims as well as Hindus. The Indian Muslims contributed to the character of Chulia Street. Among the sights attributed to them, apart from the Kapitan Keling Mosque, includes the
Nagore Durgha Shrine
and the
Noordin Family Tomb
. The tomb is one of many properties owned by the wealthy Noordin family that settled in George Town since the early 19th century.
Masjid Alimsah Waley
is another mosque started by the Indian Muslims.
The Chinese, especially the Cantonese, began moving into Chulia Street towards the end of the 19th century where there was a decline in the number of Indian Muslims in Chulia Street as well as within George Town. Their presence is reflected in the number of Cantonese district associations along the road, namely the
Ng Fook Thong
and
Nam Hooi Wooi Koon
.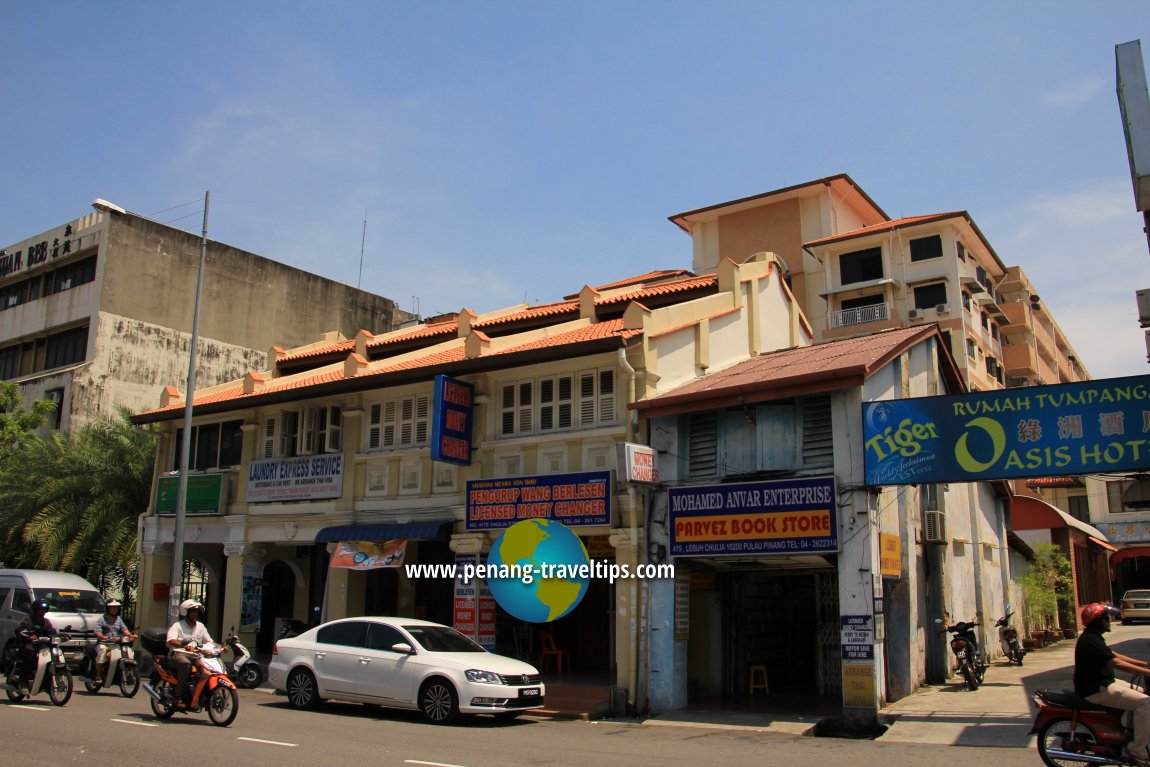 Shophouses on Chulia Street, Penang
(30 August, 2012)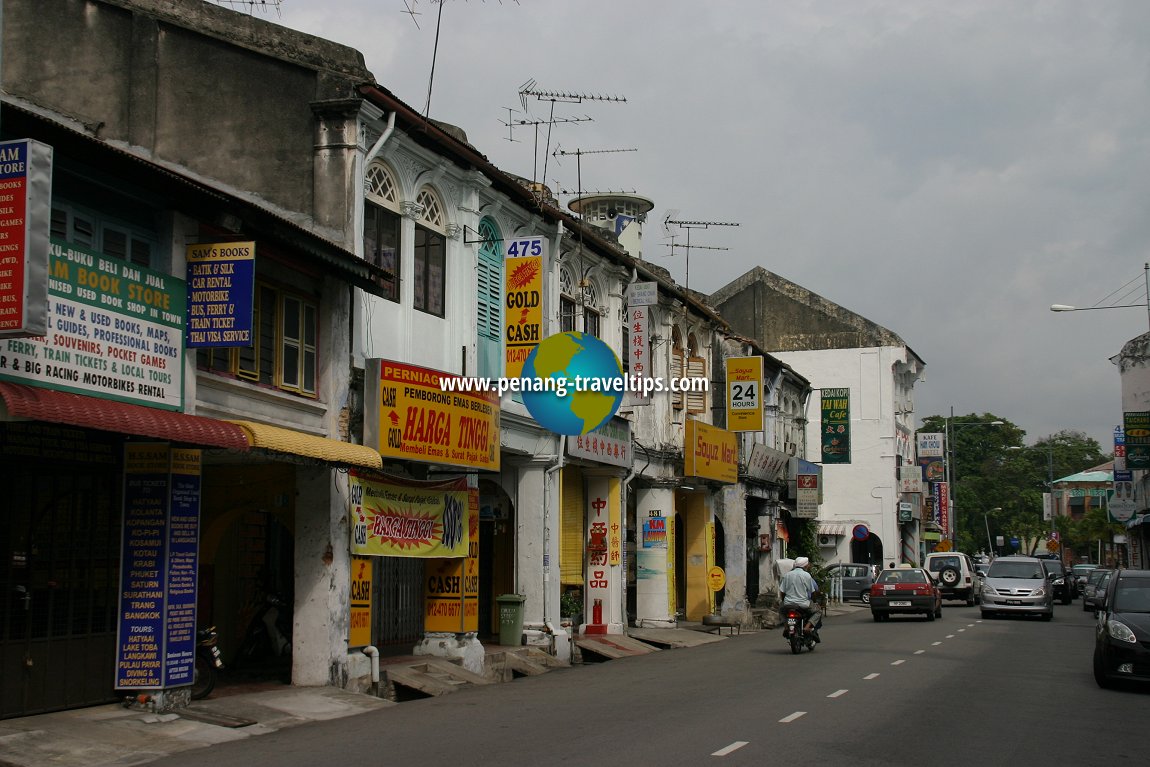 Chulia Street, George Town, Penang
(6 May, 2008)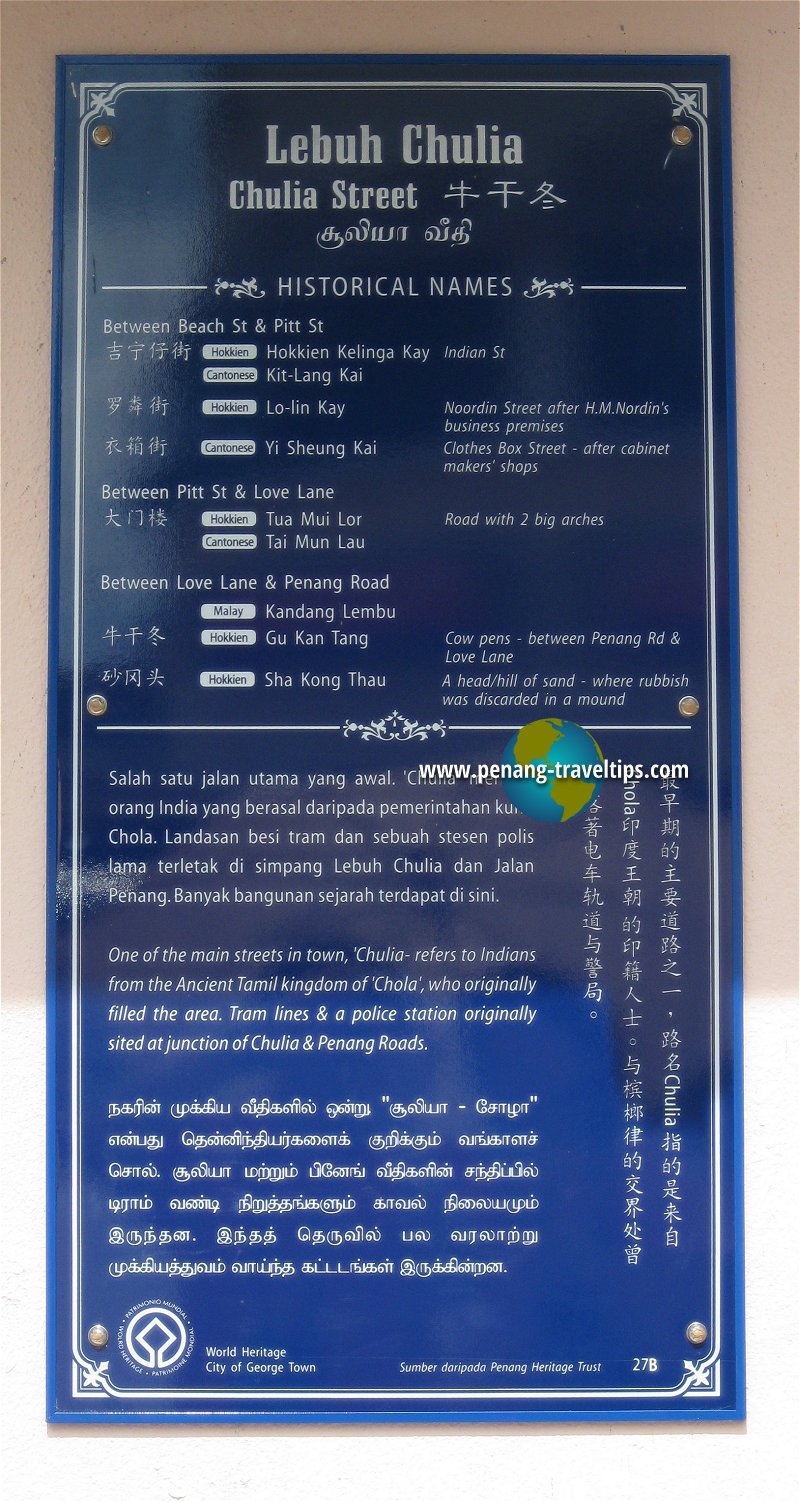 Chulia Street plaque
(12 November 2008)
In Other Words ...
Chulia Street was known in
Penang Hokkien
as Ke1ling2na1 Kay1

, meaning "South Indian Street" (in reference to the predominantly South Indian character of that stretch), between Beach Street and Pitt Street, Tua33 Mui3 Lau2 大門樓

between Pitt Street and Love Lane (in reference to an archway that was once standing in the area), and as Gu3 Gan3 Tang1 牛干冬

, meaning cow pens (from "kandang lembu"), between Love Lane and Penang Road.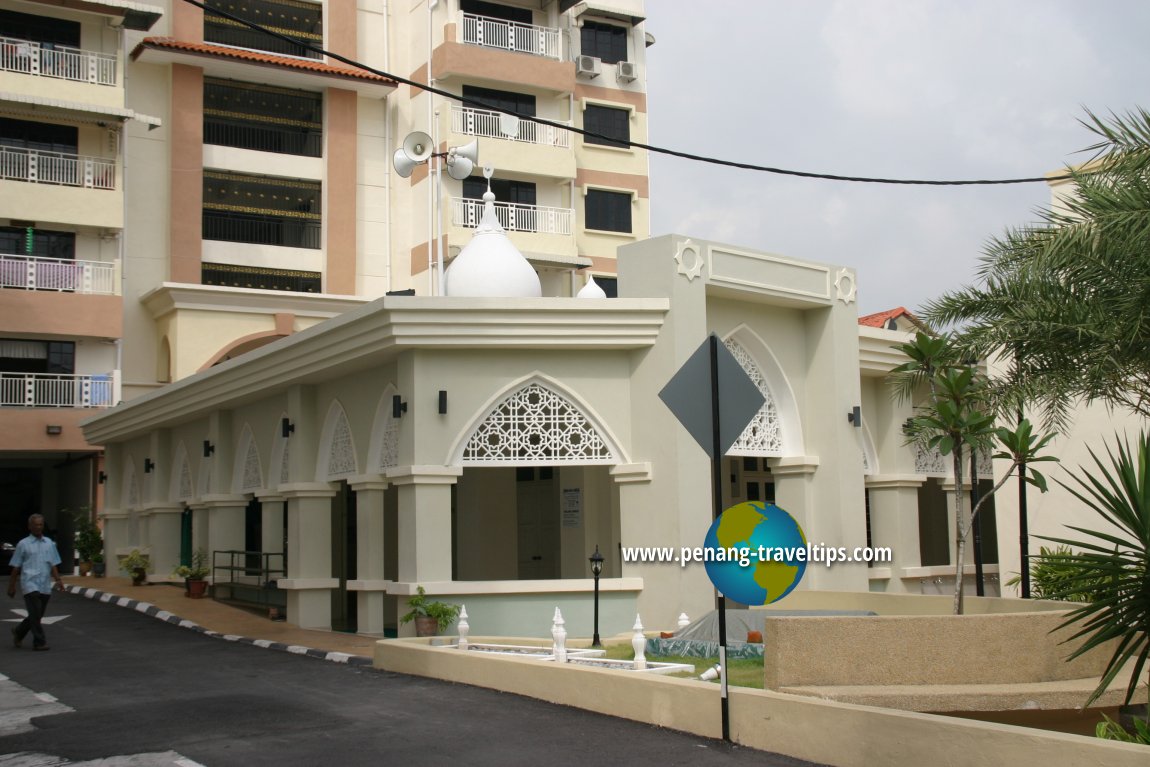 The Masjid Alimsah Waley is a reminder of a time when Chulia Street was predominantly Indian
(6 May 2008)
Property Numbering
Starting from Beach Street, the buildings on Chulia Street carry odd-number addresses if they are on the left side of the street, and even-number addresses if they are on the right.
Getting there
Rapid Penang
Bus
11
,
101
,
104
,
201
,
202
,
203
,
204
,
301
and
302
pass through Chulia Street.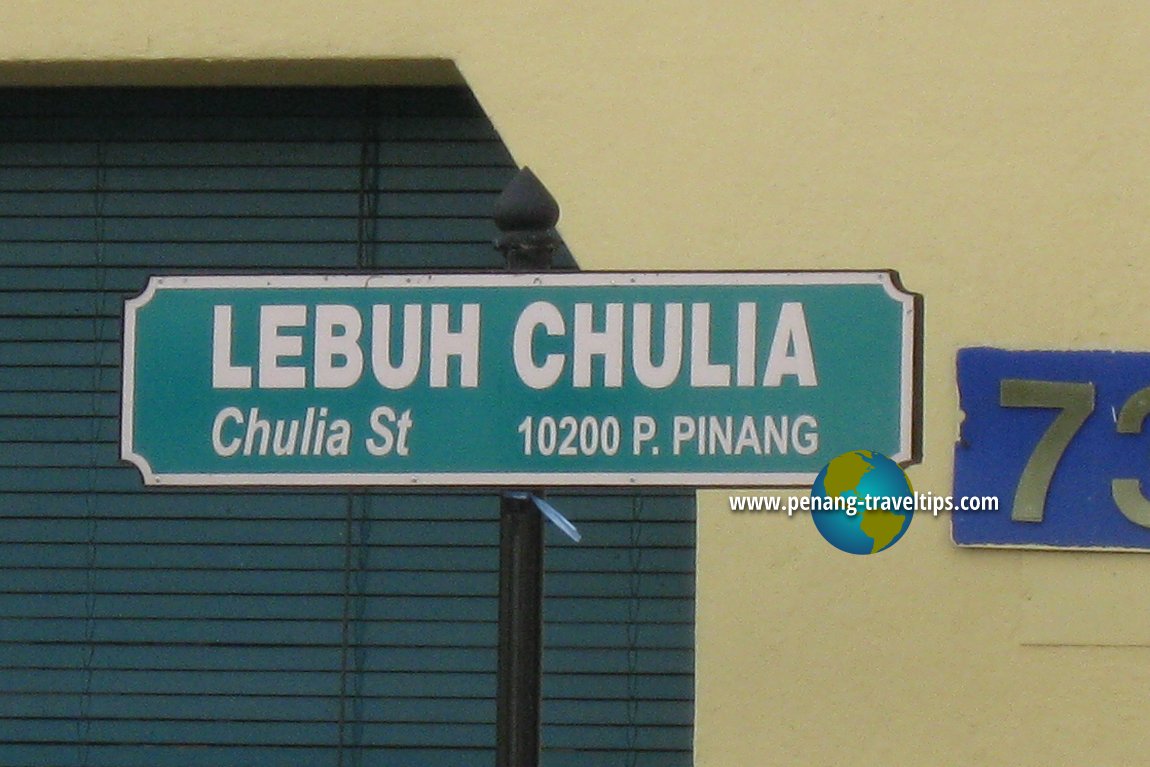 Lebuh Chulia road sign with English subtitle
(12 November 2008)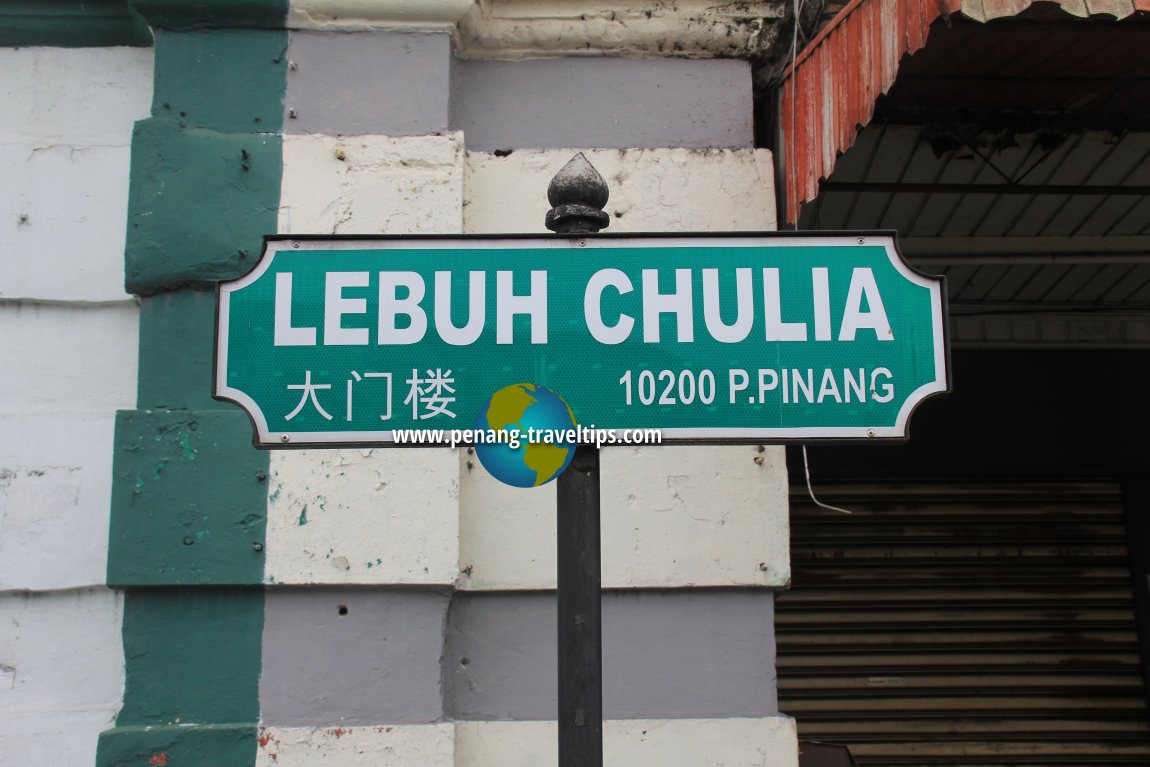 Lebuh Chulia roadsign with Chinese subtitle
(30 June, 2012)
Thank you for using my website!
arrange for you a tour guide and/or driver
to show you around. If you are traveling by bus anywhere in Malaysia or Singapore, you can
book your bus ticket
. If you seek accommodation, you can
get hotel room rates
.
As a Christian, I hope that through this website, I am able to deliver God's message to all who need it, anywhere in the world. If you are open to hearing it, please read
God's Good News to You
.
If you wish to contact me, please use this
contact form
. And don't forget to
follow me on Facebook
. See you!