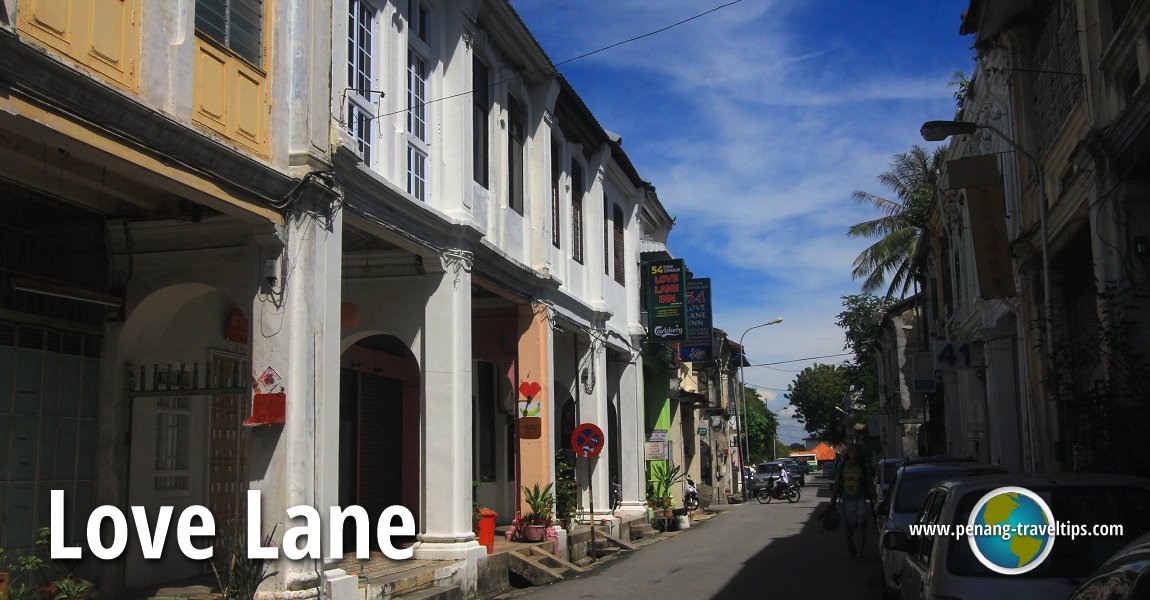 Love Lane, George Town, Penang
(15 December, 2012)

Love Lane
, or
Lorong Cinta
, is a lane within the inner city of George Town. Today it forms the boundary between the core and buffer zones of the
George Town Unesco World Heritage Site
. It runs from
Farquhar Street
, through
Muntri Street
, to Chulia Street.
There is no complete agreement as to how Love Lane got its name. There is a belief that it was named after a British officer named Love, but this has not been verified. Another belief is that it was the site for early 19th century brothels for sailors and soldiers. The adjacent road, Muntri Street, was where the rich Straits Chinese lived, and it is widely believed that these men kept their mistresses along Love Lane.
There is also the somewhat far-fetched theory that Love Lane was named after the self-flagellation procession staged by Shitte Muslims who in the early 19th century, paraded from the Indian Muslim settlements in Chulia Street through Love Lane, on their way to the sea, while the performed painful rituals of flogging themselves, in rememberance of the Ali, son-in-law of the Prophet Muhammad.
In other words ...
Love Lane is called
Ai1ceng3 Hang33

in
Penang Hokkien
.
Map of Love Lane
Sights along Love Lane
Street Art
Eateries along Love Lane
Accommodation on Love Lane
Businesses on Love Lane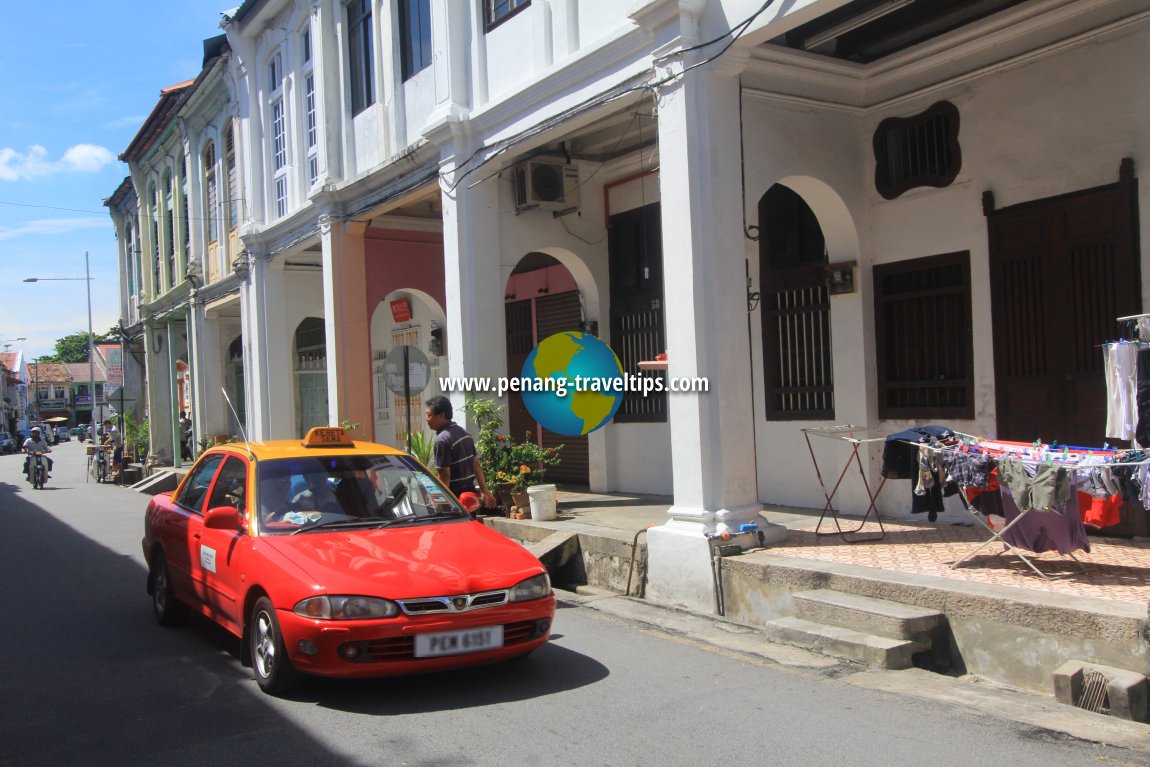 Pre-war shophouses along Love Lane, George Town
(15 December, 2012)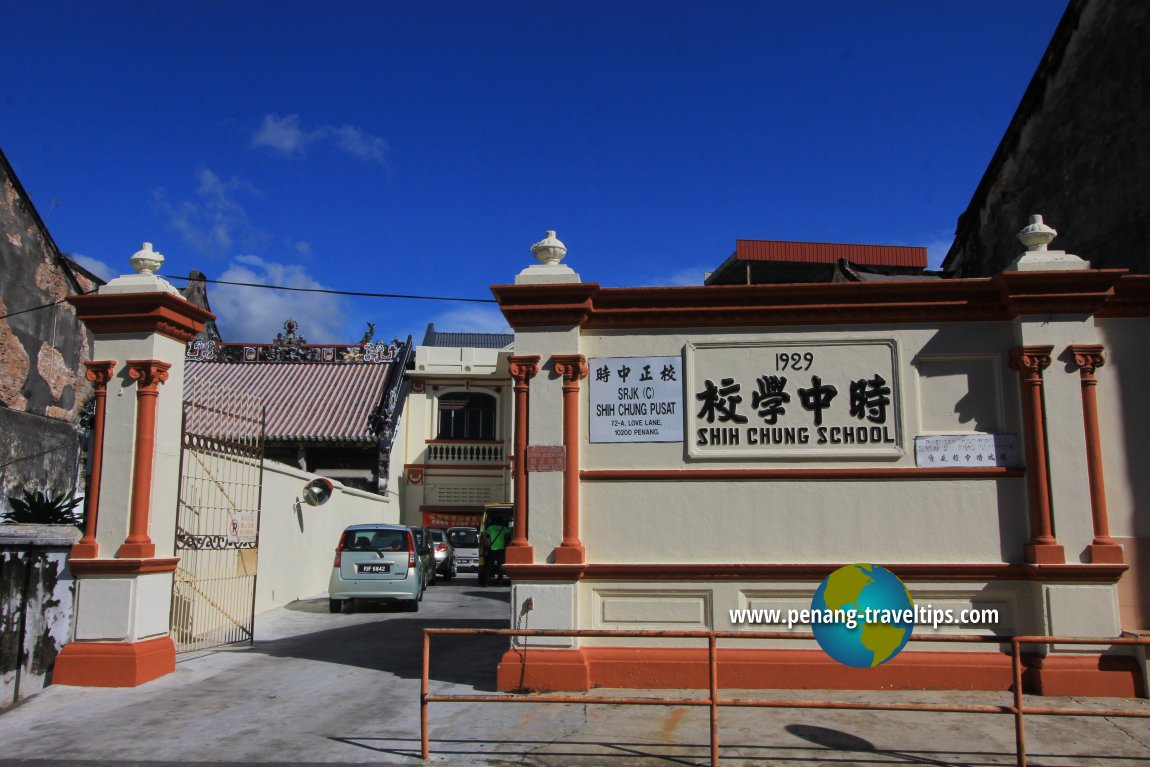 Shih Chung School, Love Lane
(30 June, 2014)

Getting to Love Lane
You can reach Love Lane by taking the
Rapid Penang Free Shuttle Bus
to Station No. 6 (Muzium), and then walking a short distance from Farquhar Street to Love Lane.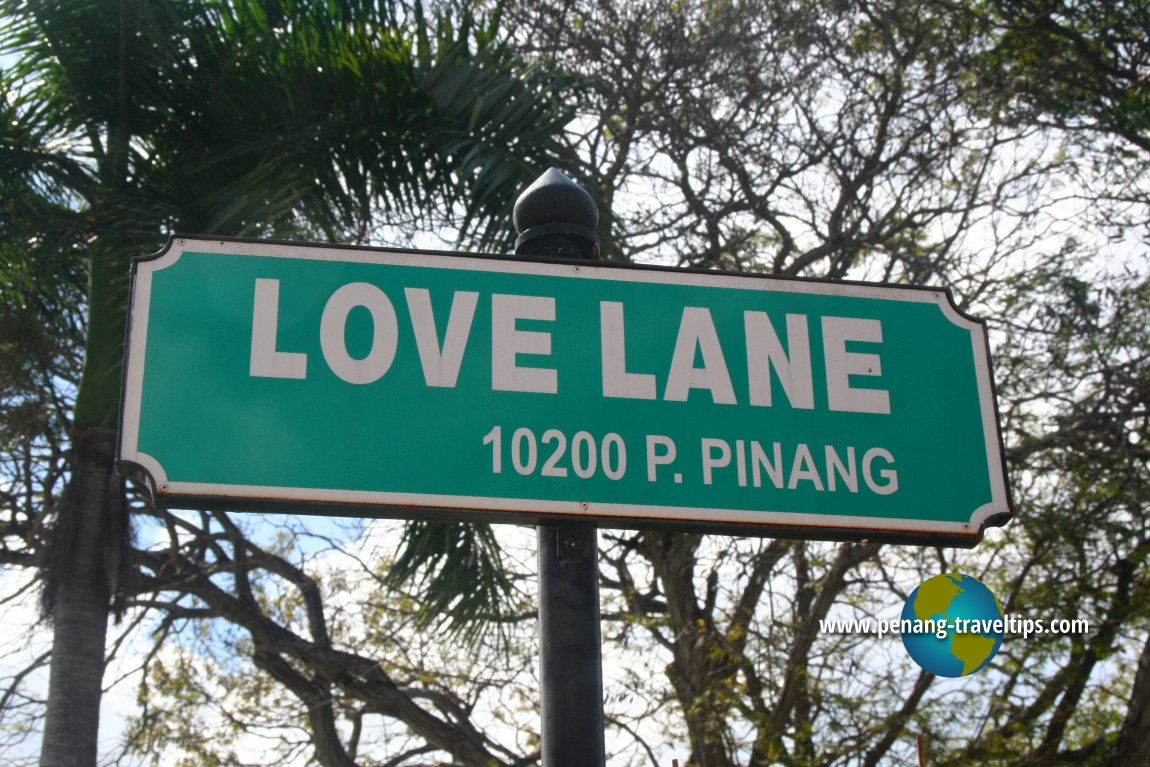 Love Lane sign
(30 November 2008)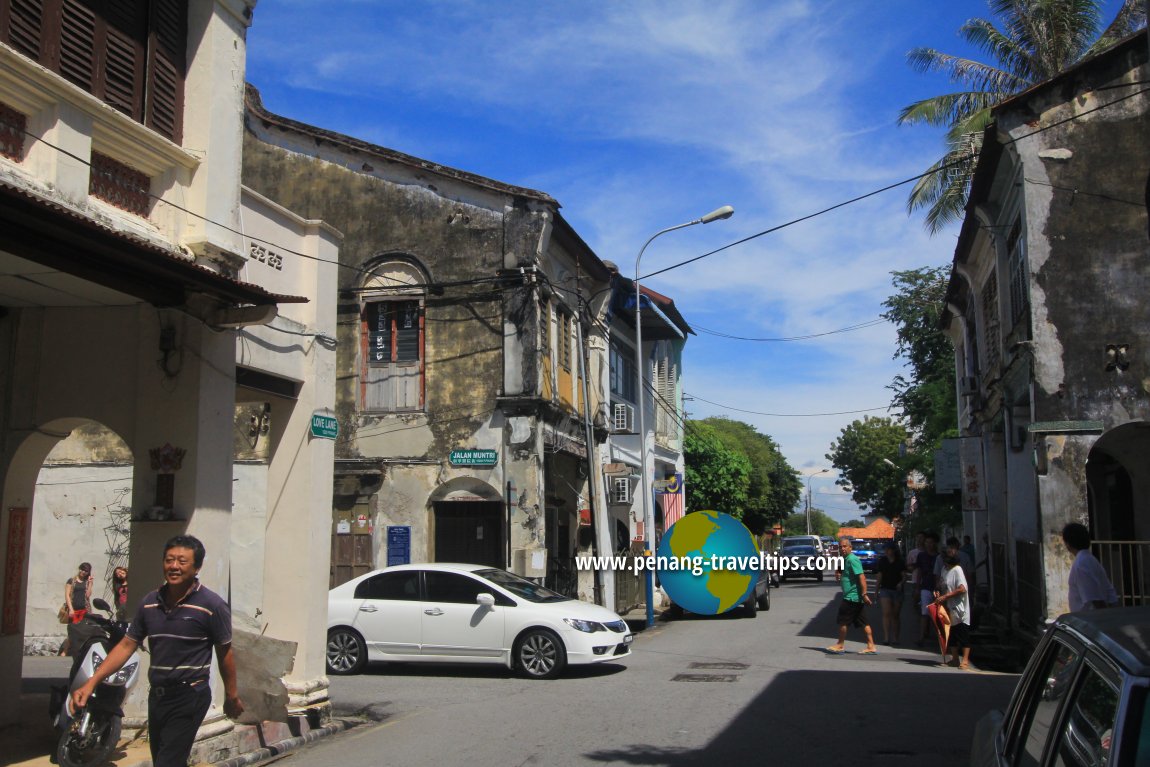 50, Love Lane, the property at the intersection of Love Lane with Muntri Street (left) and Stewart Lane (centre), which is embroiled in an issue between the Penang state government and the Penang Chinese Clan Association in 2017.
(15 December, 2012)

Updates on the property, 50, Love Lane
An issue has arisen over a property along Love Lane. House number 50 along the lane came into the news after the State Government seized the property after it defaulted on arrers for assessment and quit rent.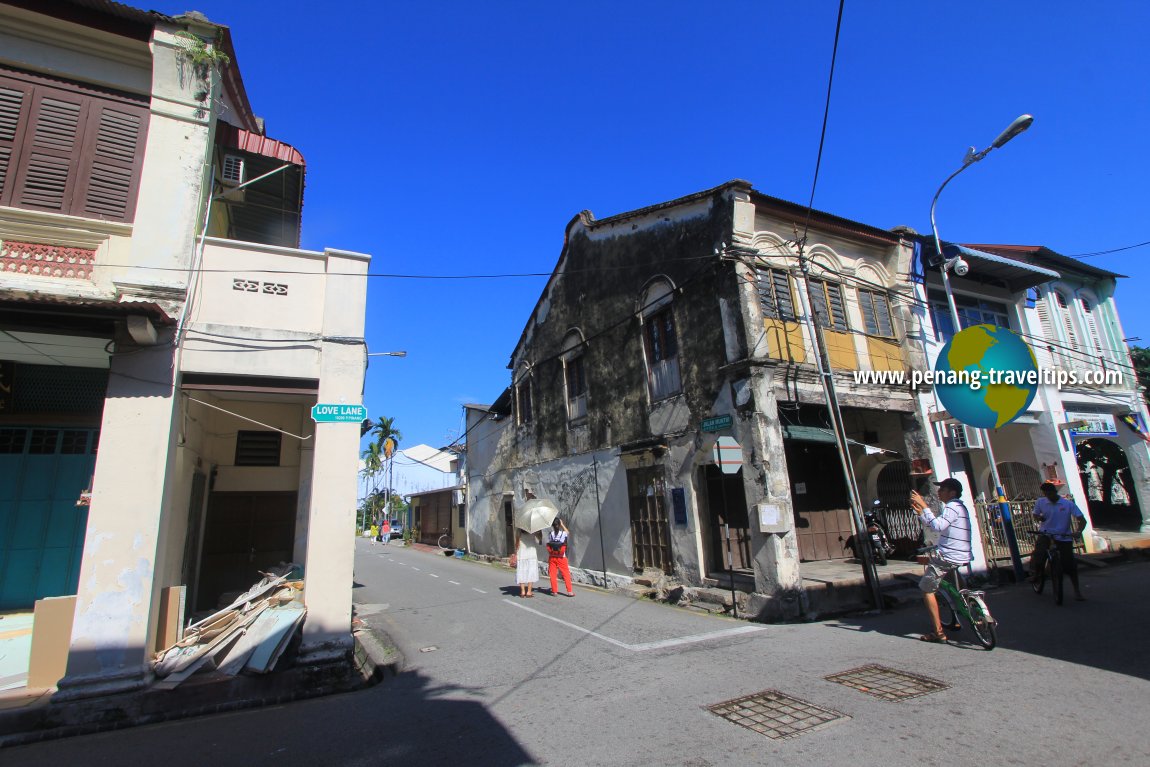 50 Love Lane, Penang.
(11 February, 2013)

12 Oct, 2017
The Star
reports
that a group of people have come forward, identifying themselves as the descendants of the Ghee Hin to claim the property, 50, Love Lane. This group of people is seeking to meet the state government before deciding on their next move.
6 September, 2017
The Star
reports
the Penang Barisan nasional saying that it was appalled that the Penang Chinese Clan Council (PCCC) was given the run-around for five years despite reaching an understanding with the state government in 2012, and that the state government should stop insisting on proof of direct connections to justify transferring the property.
5 September, 2017
The New Straits Times
reports
State Barisan Nasional chairman Teng Chang Yeow saying, in the presence of state MCA chief Datuk Tan Teik Cheng, that an understanding had been reached bwetween the Penang Chinese Clan Council (PCCC) ande the DAP-led state government in 2012 over the property, 50, Love Lane, and accused the Penang government of breaking its promise to the PCCC.
20 Aug, 2017
The Star
reports
the war of words between the Penang state government and the Penang Chinese Clan Association (PCCA) over the property, 50, Love Lane. The report mentions that the PCCA's to take over the property and turn it into a museum has pit it against the Penang chief minister. This is one of the Ghee Hin properties that were handed to trustees after the British colonial government forced the disband of triads of which Ghee Hin was classified as one. The assessment for the property went unpaid after the trustees passed away, causing the state to impound it.
At the heart of the matter was that the Chief Minister was willing to transfer the property to the PCCA on condition that the latter furnish proof that it is the beneficiary of the property, something which the PCCA was unable to do.
2 Aug, 2017
DAP Malaysia.org
reports
on the property 50, Love Lane, condemning
The Star
's Joceline Tan whom it alleges ".. typically mixes her usual staple of innuendo with half truths to cast a negative light against the Penang state government ... " It also reports that the Penang Chinese Clans Association (PCCA) chairman Chang Wei Lu had set up a public confrontation against the state government.
14 July, 2017
The Star
reports
Gerakan deputy secretary-general Dr Thor Teong Gee saying that the state should not find it complicated to decide what to do with the property, 50, Love Lane, and that the state government's role is to facilitate, not confiscate.
13 July, 2017
Malay Mail Online
reports
Gerakan deputy secretary-general Dr Thor Teong Gee saying that the state government, beign the registered owner of [50, Love Lane] could return it to the clan council for a sum that they feel is appropriate.
13 July, 2017
Free Malaysia Today
reports
a Gerakan leader, deputy secretary-general Dr Thor Teong Gee, asking the Penang government what it intends to do with the property at 50, Love Lane.
Add your shop/business to this website
The Penang Travel Tips website is a huge website that documents everything in Penang. On top of the hundreds of streets and tourist attractions, I also add in hundreds of shops and businesses.
If you operate a shop business in Penang, or anywhere in Malaysia or Singapore, contact me to add your business/shop into my website. It only a one-time fee, and your shop/business will be listed by location and category, helping your would-be customers find you. To find out more,
CONTACT ME
Visiting Penang? Find the lowest hotel room rates here!
Use our search engine to compare room rates from different hotel booking websites, to find the one that's lowest.
Travelling somewhere?
If you're travelling somewhere, use our online engine to find the online booking site that offers you the best room rates.
Book your hotel room here
If you're coming to Penang, book your hotel room online with Agoda. Agoda offers the best prices on 2,000,000+ properties worldwide.
Start here.
Local Guided Tours of Penang
If you are coming to Penang and need someone to show you around, I can arrange for you a licensed tour guide to take you around. Guides charge a fixed fee of RM360 for taking a small group of up to 10 people on 4-hour walking tours. Walking tours exceeding 4 hours is charged an additional RM90 per hour. Tours are tailored to guest requirement. For more details,
contact tour coordinator
. Other types of tours also available.
For details, click here.
Looking for a book? Get it from Book Depository with free delivery worldwide!
I have just discovered
Book Depository
, a subsidiary of Amazon.com, and I love it. This is where you can buy books and have them sent to you. But unlike Amazon, when you purchase using Book Depository, you enjoy free delivery worldwide.
Give it a try today!
Here's a list of the latest pages I have added or updated on my website.
My YouTube Videos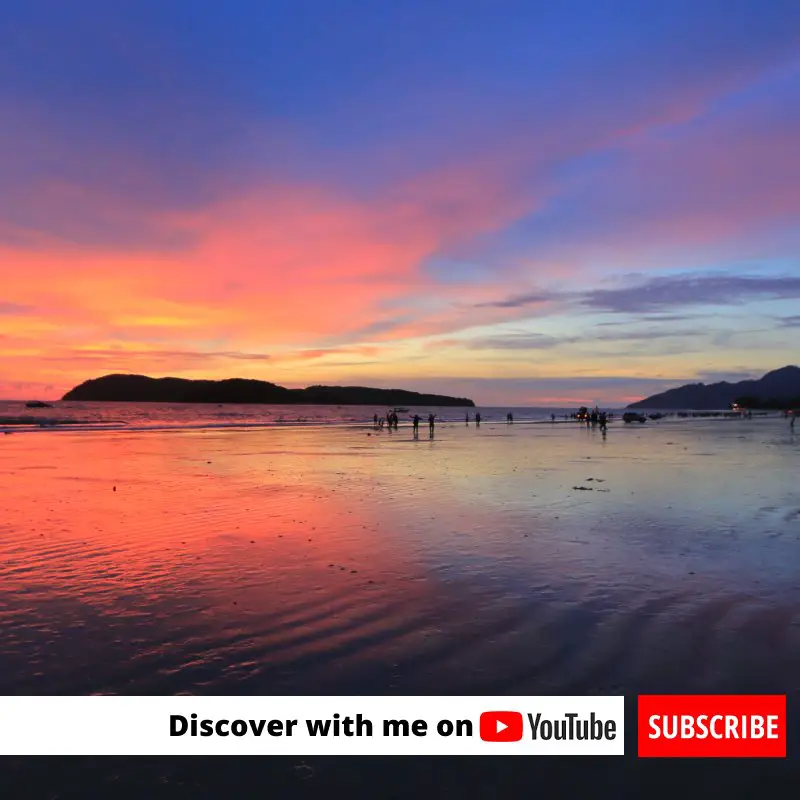 Check out
my YouTube Channel
and don't forget to subscribe!
Vital Links
Book Your Express Bus Ticket
|
Hire a car
|
Our Recipes
|
Facebook Posts
|
Just Curious
|
Not In The Dictionary
|
Our Flowering Garden
Vital Links
Book Your Express Bus Ticket
|
Engage a Tour Guide for Penang
|
What's Up at Penang Hotels
|
Hire a car
|
Facebook Posts
|
Our Recipes
|
Our Flowering Garden
|
Guide Book on Penang Durians
Discover the World
About Me