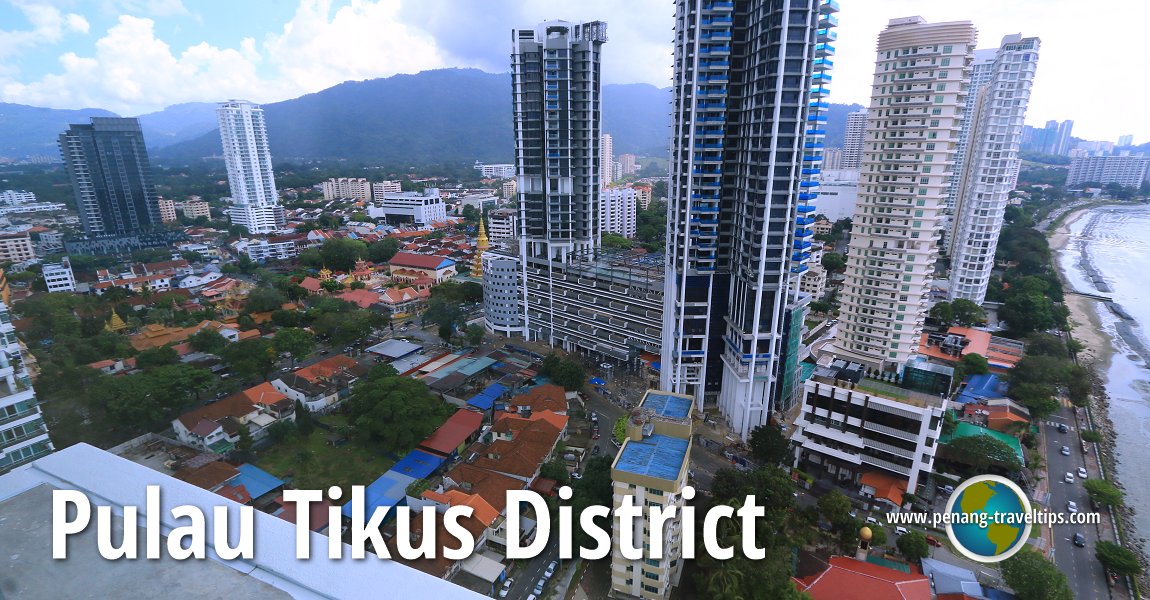 Pulau Tikus District
(21 June, 2017)

Pulau Tikus
(GPS: 5.43165, 100.31181), (Traditional Chinese: 浮羅地滑; Simplified Chinese: 浮罗地滑; Pinyin: Fúluó Dìhuá) is the name of an affluent urban district on the north-west part of George Town. Pulau Tikus proper starts near the junction of Burmah Road with
Edgecumbe Road
, and ends just before the
Bagan Jermal
junction. Burmah Road forms the main artery through Pulau Tikus, with the heart of town at the intersection of Burmah Road with
Cantonment Road
.
Location of Sights in Pulau Tikus
Street Art in Pulau Tikus
Hotels in Pulau Tikus
Food and Beverage Outlets in Pulau Tikus
Pulau Tikus is famous for hawker food. If you want to look for the best food, head to Pulau Tikus in the morning, when the market is in full swing.
Shopping Centres in Pulau Tikus
The shopping centres in Pulau Tikus are, honestly, not as exciting as
Gurney Plaza
, which technically is part of Gurney Drive, but can also be considered as part of Pulau Tikus.
Buddhist Temples of Pulau Tikus
Apart from the Thai Eurasians, Thai and Burmese of Buddhist faith also made Pulau Tikus their home, carving out enclaves and erecting their places of worship that outlast the villages themselves.
Museums in Pulau Tikus
Schools in Pulau Tikus
Historic Buildings in Pulau Tikus
Amenities in Pulau Tikus
Organisations in Pulau Tikus
Chinese Temples in Pulau Tikus
In comparison, the Chinese community in Pulau Tikus built rather low-profile temples.
Churches in Pulau Tikus
Catholic Heritage Sites in Pulau Tikus
The Thai Eurasian Catholics were the earliest group to settle in Pulau Tikus. Their heritage sites can still be visited in Pulau Tikus today.
Apartments & Condominiums in Pulau Tikus
Pulau Tikus is one of the most affluent suburbs of George Town. Much of the district continues to be leafy and quiet, with grand bungalows and high-priced residences. The following are some of the apartments and condominiums in Pulau Tikus.
Villages in Pulau Tikus
Businesses in Pulau Tikus
Medical Institutions in Pulau Tikus
Petrol Stations in Pulau Tikus
There's a Shell petrol station along Burmah Road next to Midlands One-Stop.
Hospitals in Pulau Tikus
Penang Adventist Hospital was established as a hospital for the destitute and penniless. While it has long abandoned that mission, this private hospital continues to be one of the best and most affordable in Penang. Its bakery is famous in Penang for producing some of the healthiest (but not cheapest) breads.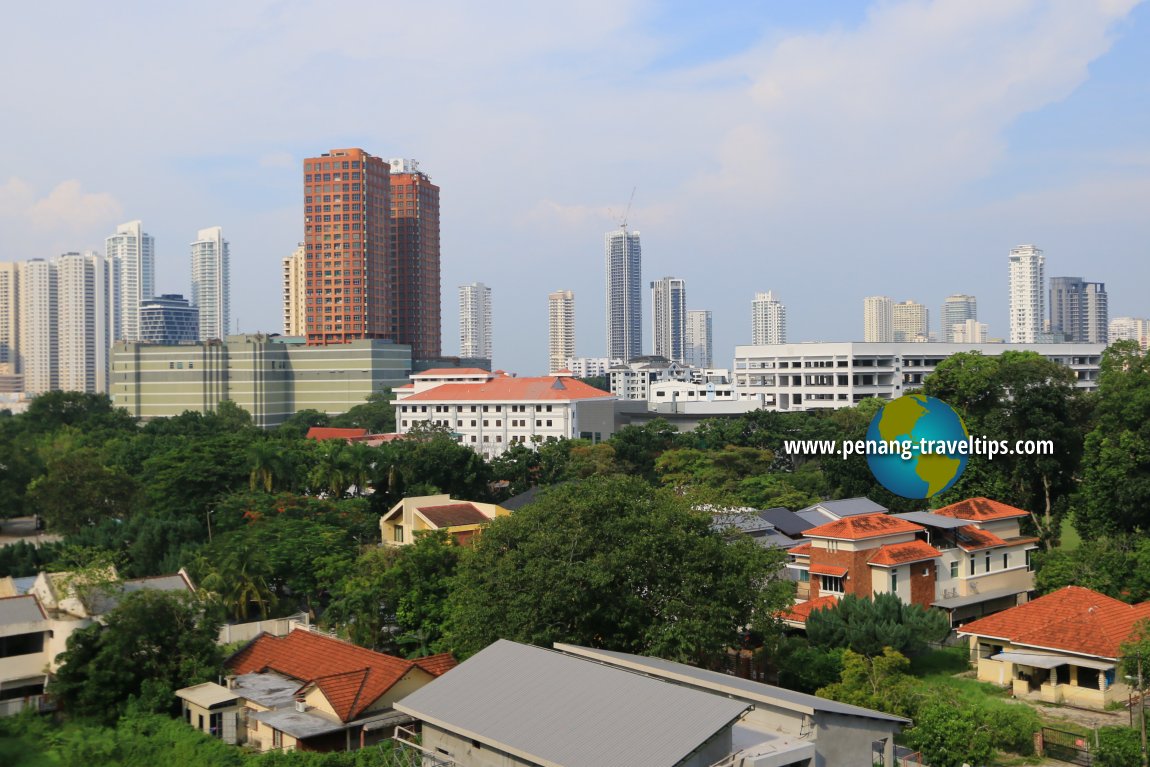 Pulau Tikus, as seen from Tropics Eight
(22 July, 2017)

Entrance of Yuen Yin Kong (Hor Kai Kong) Temple along Cantonment Road, Pulau Tikus
(1 August 2008)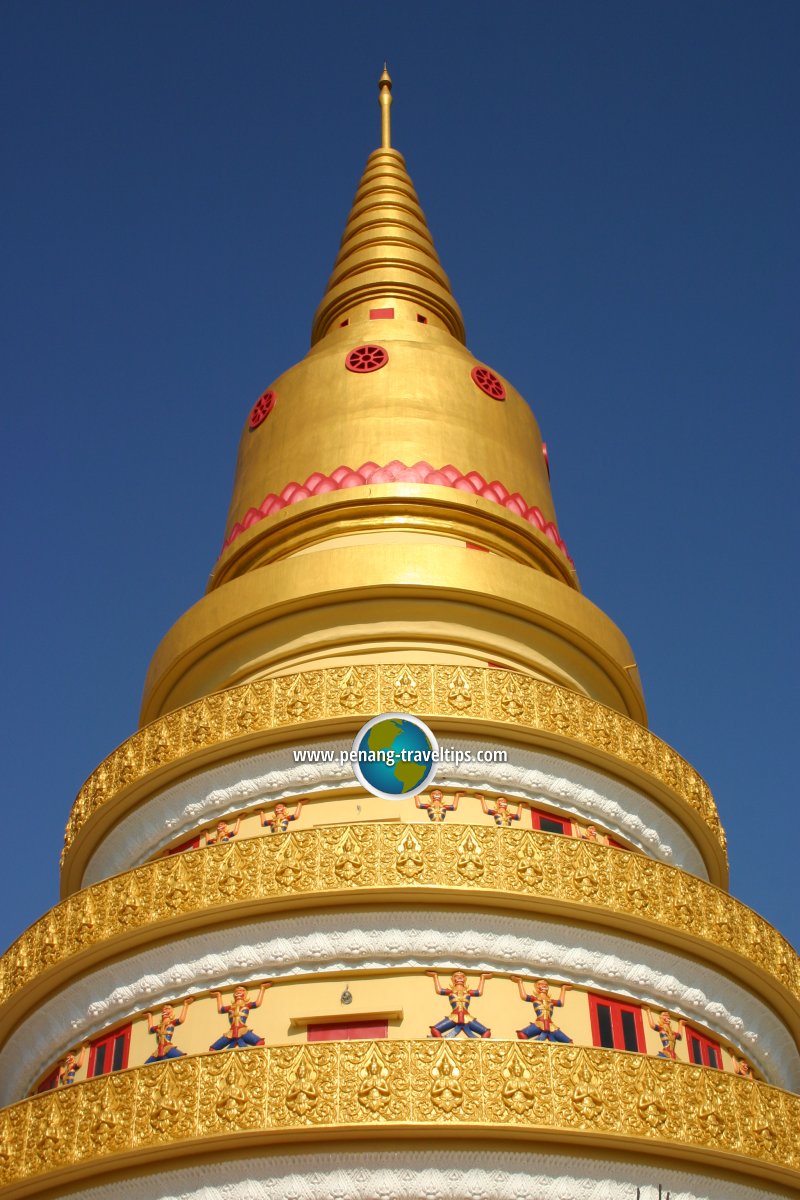 Stupa of Wat Chaiyamangkalaram in Pulau Tikus
(15 February 2004)

The etymology of Pulau Tikus
The name Pulau Tikus means "rat island". It took its name from
Pulau Tikus
, the rocky outcrop off the north coast of Penang, which ironically is not within sight of Pulau Tikus district. When I wrote this passage back in 2004, I speculated over the name, saying that it was probably called Pulau Tikus because of some rodent infestation here. Since then, I have found the historical response to the toponym.
Location of Pulau Tikus on the map
Updates on Pulau Tikus
27 July, 2013:
Kelawei Road and Burmah Road are made one way, with traffic on Kelawei Road going from east to west, while that of Burmah Road from west to east. Parts of Gurney Drive is also made one way, with traffic flowing west to east.
Update: 21 September, 2010
Over six years after this page was written, I found someone who explained to me
how Pulau Tikus got its name
. Click on the link to learn more.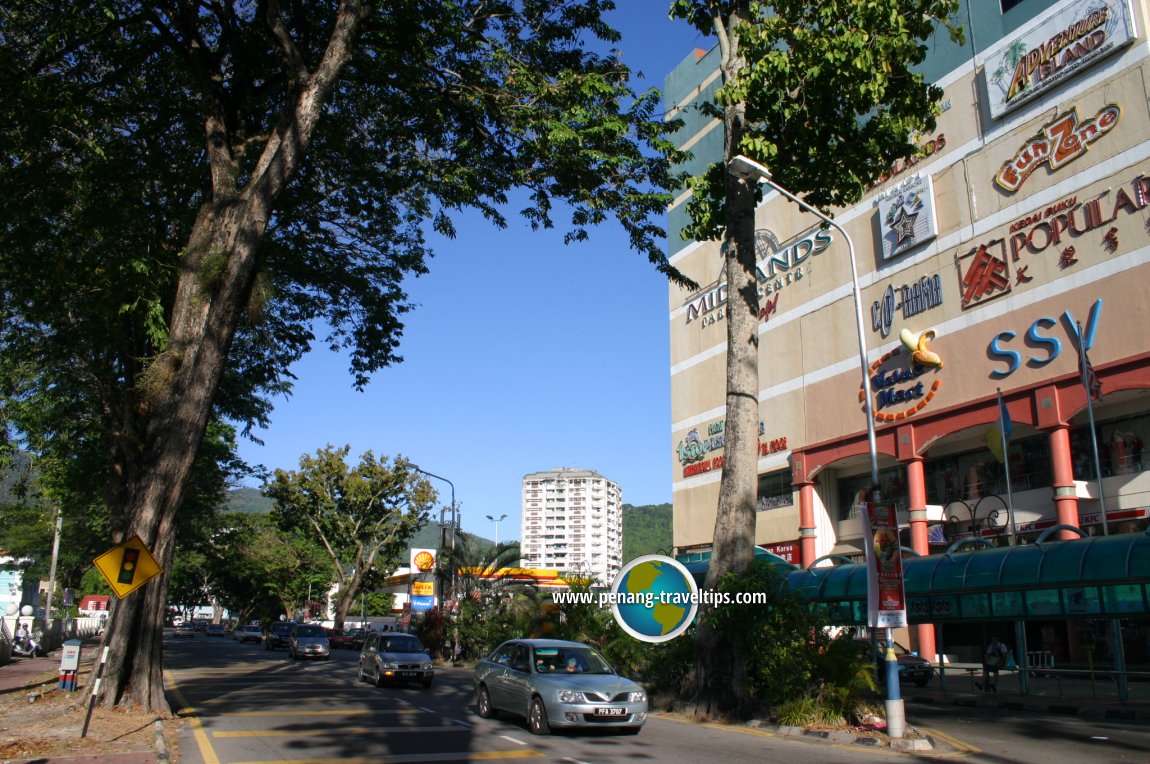 Burmah Road, one of the main roads in Pulau Tikus
(23 January 2005)

The Burmese and Eurasians were the earliest settlers in Pulau Tikus. The Burmese had formed a settlement here in the early 19th century, and their presence remained until the early part of the 20th century. At that time, there was a Burmese village here called Kampong Ava - probably named after the town of Ava (today Inwa) in Myanmar. When the British administrators created the main road here, they named it Burmah Road. Off shoots of Burmah Road were also named after places in Burma. Hence we now have road names that are of Burmese origin including Burmah, Irrawaddi, Mandalay, Moulmein, Salween, Tavoy and Thaton.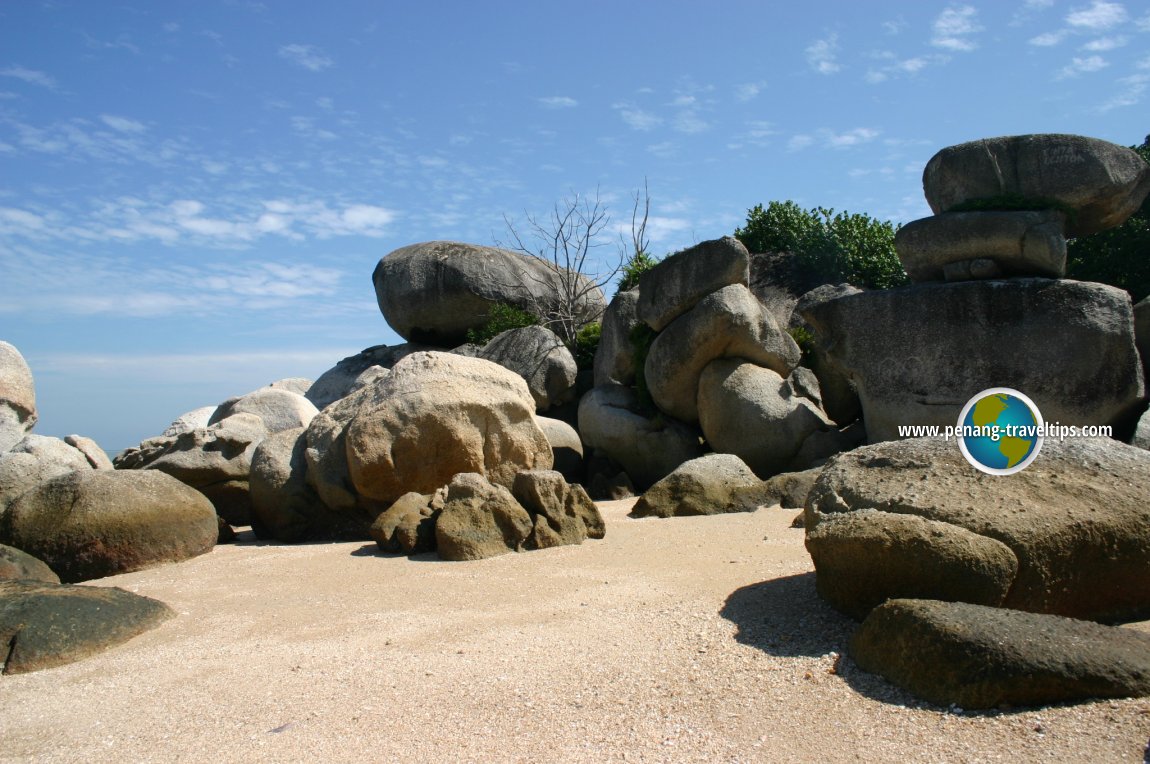 Pulau Tikus
(9 May 2004)

Today, the Burmese presence in Pulau Tikus is best represented by the
Dhammikarama Burmese Temple
at Burmah Lane (Lorong Burma). It has been around since the beginning of the 19th century. The oldest part of the temple, the stupa, dates back to 1805.
The Eurasians were another early group to settle in Pulau Tikus. They are of mixed parentage, between the Portuguese and the Thais, and are Roman Catholics. The people of Portuguese descent had had no peace to practise their faith since the Dutch arrive in Malacca in 1641. Religious persecution drove them out of Malacca. They settled in various Malay states as well as in Phuket, which at that time was called Ujung Salang (corrupted in English to Junk Ceylon), an island claimed by the Kingdom of Kedah but ruled by Siam. By the late 18th century, the Eurasians were on the run again, this time due to a decree by the increasingly demented king of Siam, Phraya Taksin @ Phya Tak, who ordered all Christians in Siam to be massacred. The Eurasians fled to Kuala Kedah, and from there, they made their way to Penang.
The first Eurasian arrivals in Penang settled in town in the area bordered by
Church Street
,
Bishop Street
, Pitt Street and China Street, in rather rudimental housing, before moving with their church, the
Church of Assumption
(so named because they arrived in Penang on the day of the Catholic Feast of the Assumption), to the Farquhar Street area, settling along
Argus Lane
.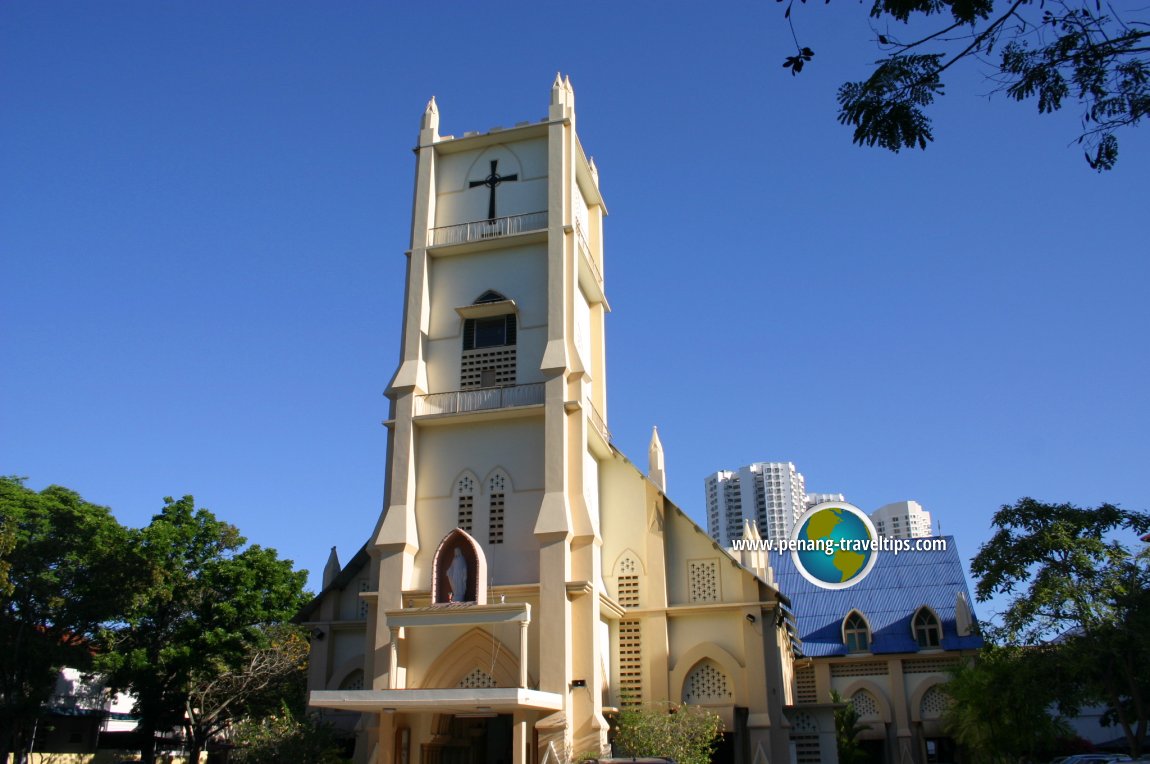 The Eurasian-founded Church of the Immaculate Conception in Pulau Tikus
(23 January 2005)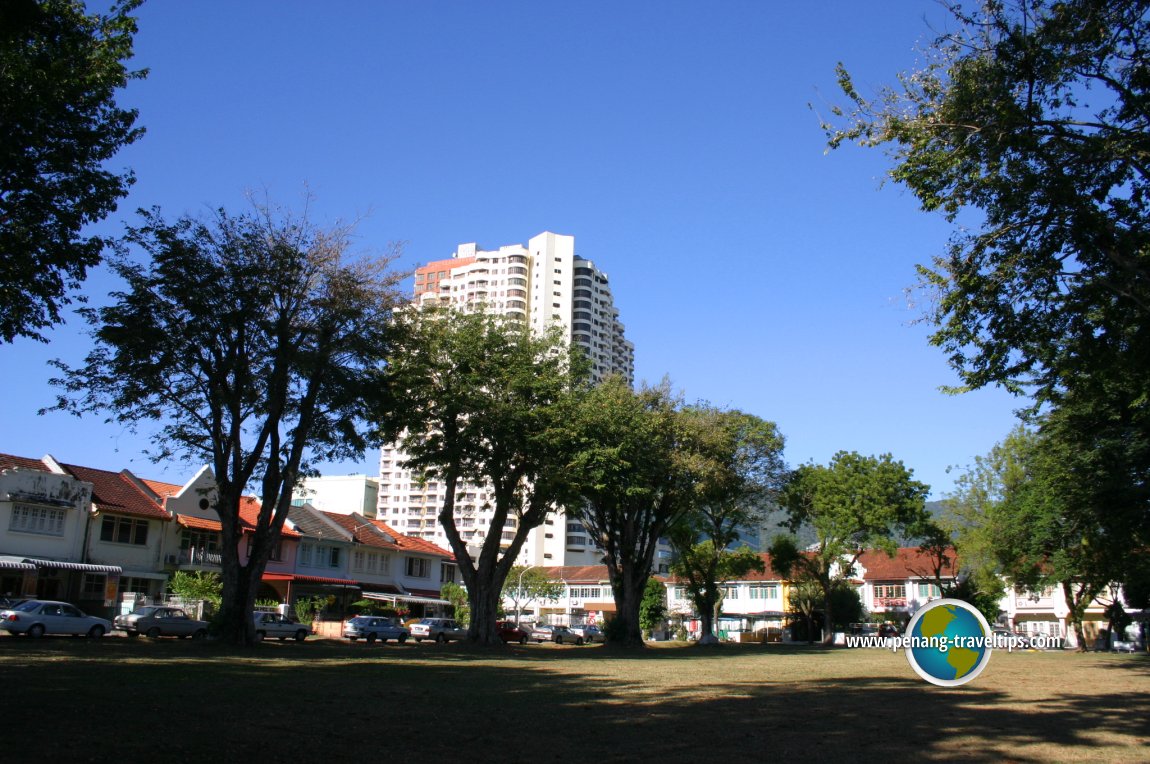 College Square, a leafy neighbourhood in Pulau Tikus named after the College General founded by the Catholics
(23 January 2005)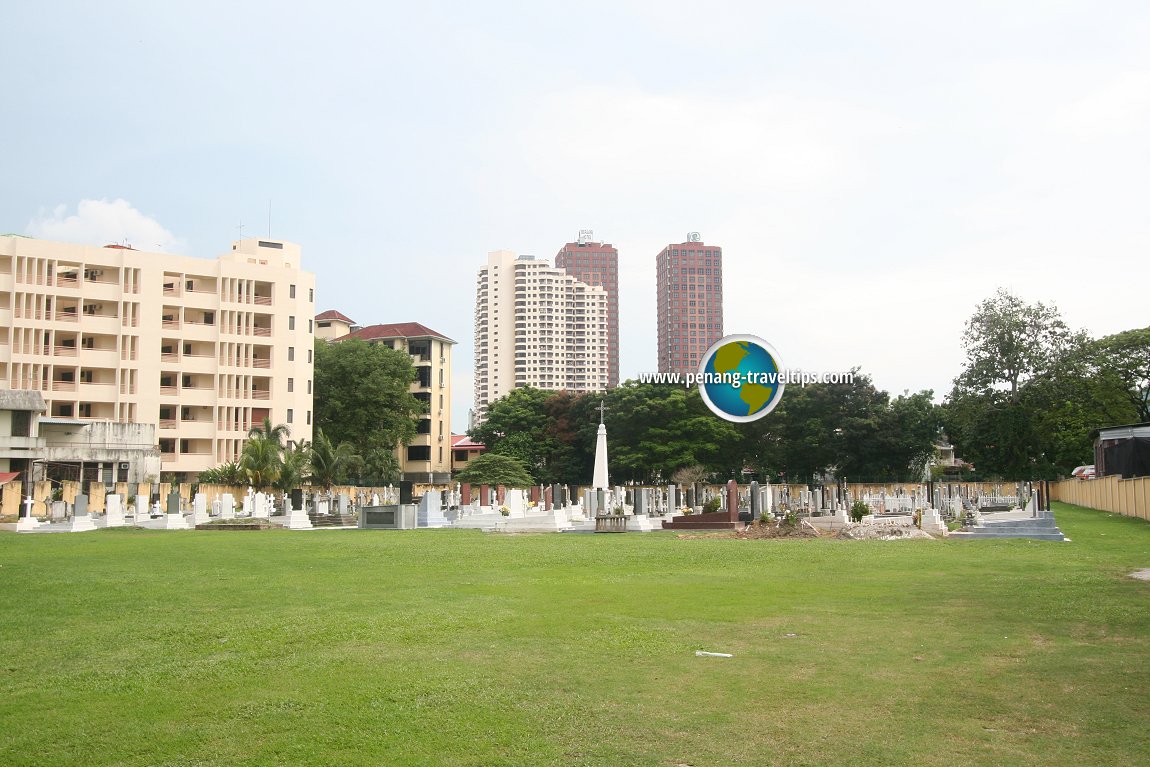 Catholic Cemetery of the Immaculate Conception Church
(2 September 2008)

There were still remnants of Eurasian community in Phuket going into the 19th century, until the Phya Tak Massacre of 1810 forced another group to Penang. Pulau Tikus had become an attractive location to settle down. They were parishioners of the Church of Our Lady Free From Sin. They arrived in 1811, headed by Father John Baptist Pasqual. In Pulau Tikus they built their church which the pope later renamed
The Immaculate Conception
.
As George Town continues to grow, it eventually swallows up the village of Pulau Tikus, making it one of its suburbs. Gone are the Burmese and Eurasian villages. What remains are their temples and churches. A reminder that they were once here is etched in the names of the streets in this area.
To the south of Pulau Tikus, and often regarded as part of the district, is the affluent neighbourhood of
Ayer Rajah
. It is named after the Ayer Rajah Estate that once belonged to
James Scott
, who was a partner in business with
David Brown
, subsequently through intermarriage within the two families. Road names such as
Brown Road
and
Scott Road
commemorates these two pioneers.
Further Reading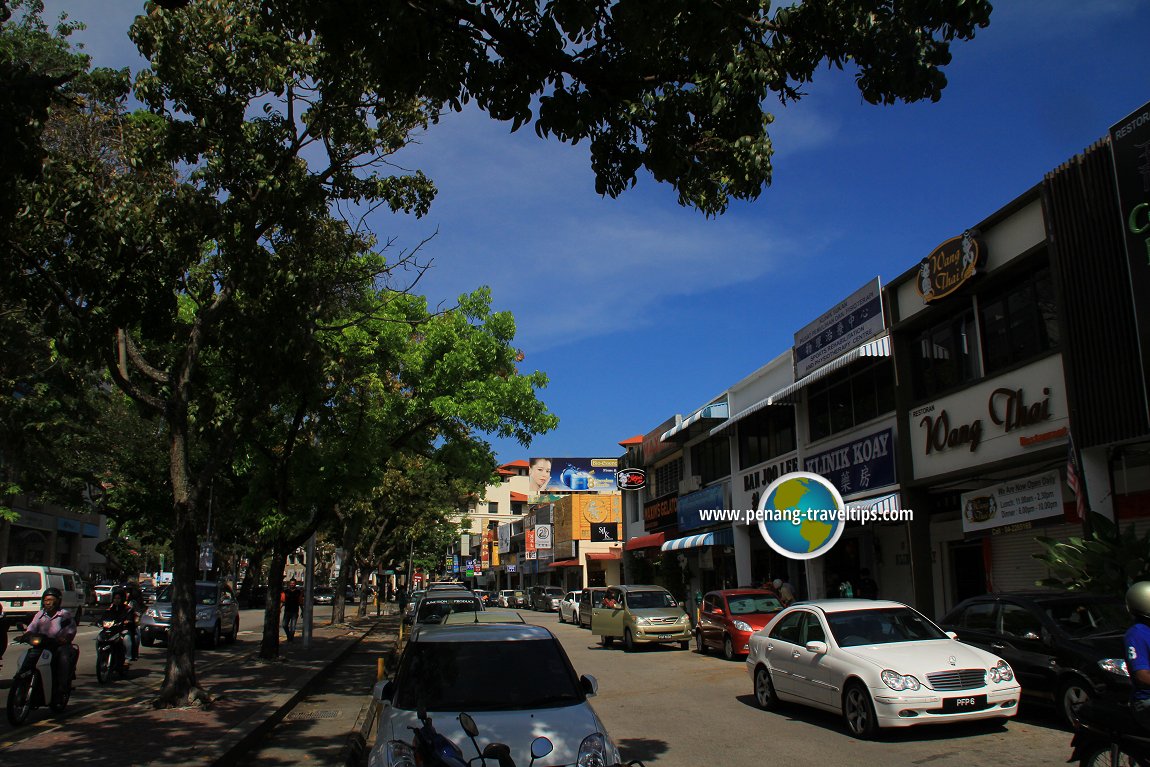 Pulau Tikus, George Town, Penang
(2 February, 2012)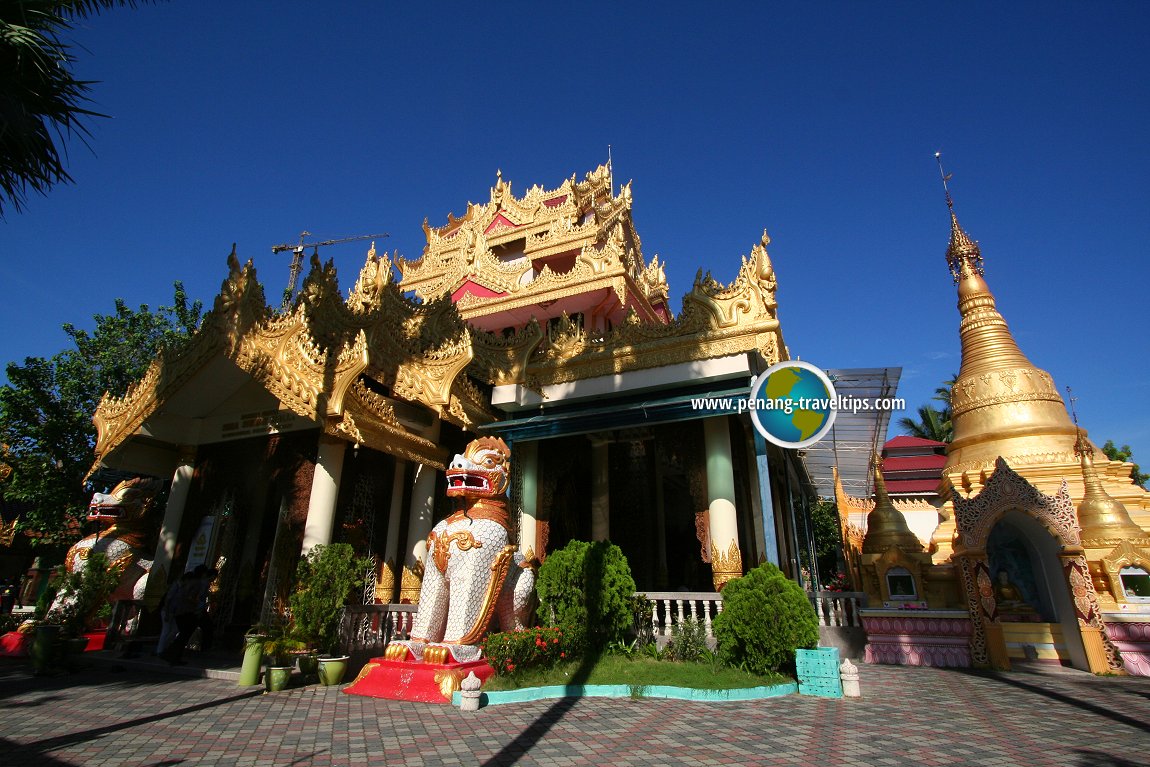 Dhammikarama Burmese Buddhist Temple, Burmah Lane, Penang
(7 June, 2009)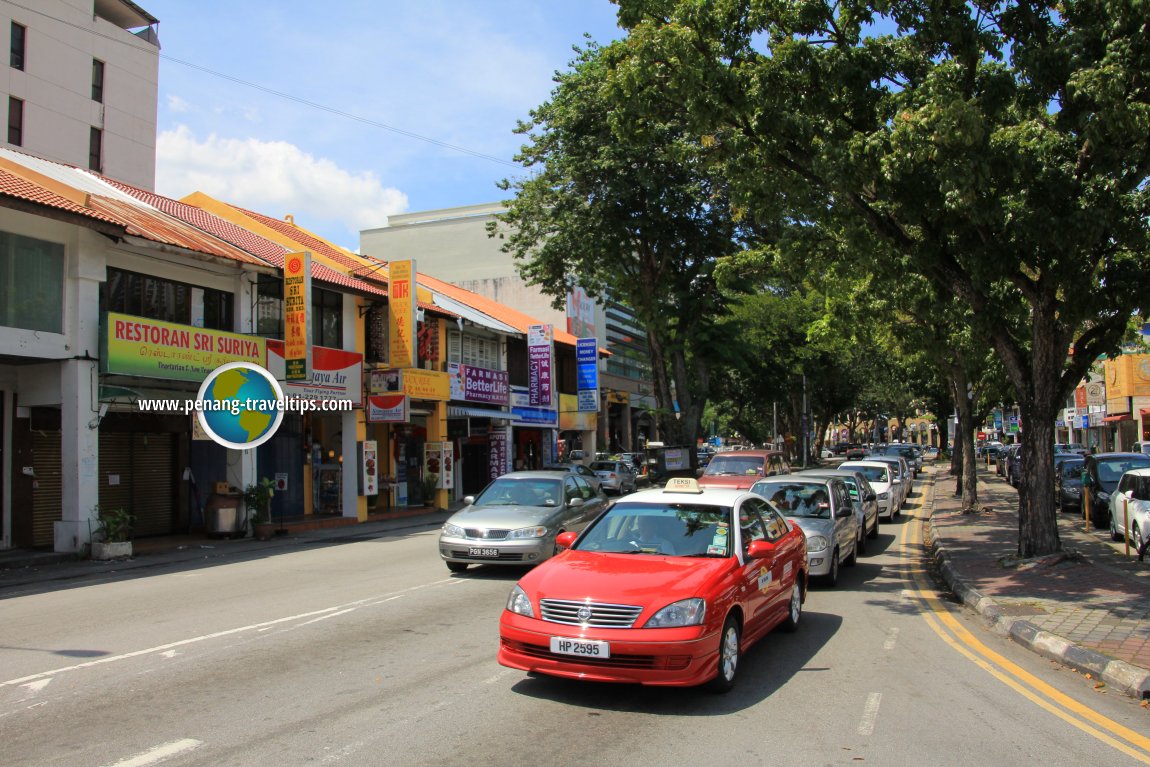 Burmah Road through the Pulau Tikus town centre
(13 November, 2012)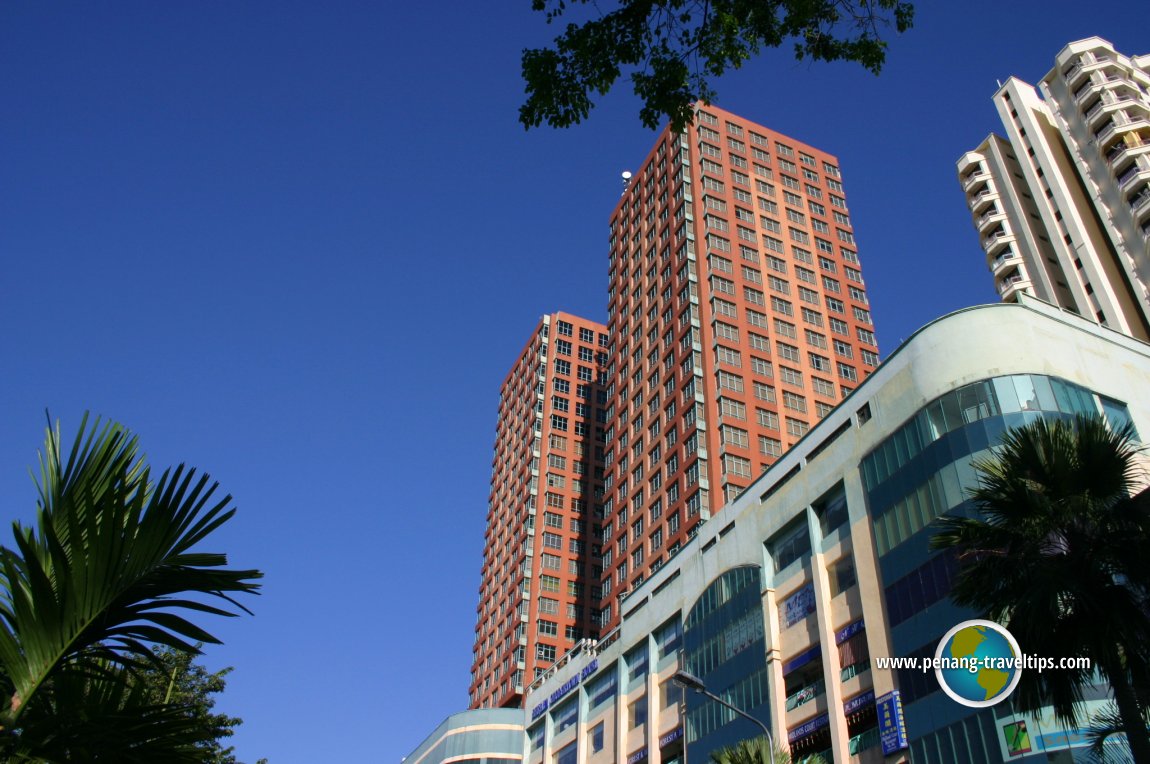 Midland One-Stop Shopping Centre, Pulau Tikus
(23 January, 2005)

Add your shop/business to this website
The Penang Travel Tips website is a huge website that documents everything in Penang. On top of the hundreds of streets and tourist attractions, I also add in hundreds of shops and businesses.
If you operate a shop business in Penang, or anywhere in Malaysia or Singapore, contact me to add your business/shop into my website. It only a one-time fee, and your shop/business will be listed by location and category, helping your would-be customers find you. To find out more,
CONTACT ME
Visiting Penang? Find the lowest hotel room rates here!
Use our search engine to compare room rates from different hotel booking websites, to find the one that's lowest.
Travelling somewhere?
If you're travelling somewhere, use our online engine to find the online booking site that offers you the best room rates.
Book your hotel room here
If you're coming to Penang, book your hotel room online with Agoda. Agoda offers the best prices on 2,000,000+ properties worldwide.
Start here.
Local Guided Tours of Penang
If you are coming to Penang and need someone to show you around, I can arrange for you a licensed tour guide to take you around. Guides charge a fixed fee of RM360 for taking a small group of up to 10 people on 4-hour walking tours. Walking tours exceeding 4 hours is charged an additional RM90 per hour. Tours are tailored to guest requirement. For more details,
contact tour coordinator
. Other types of tours also available.
For details, click here.
Looking for a book? Get it from Book Depository with free delivery worldwide!
I have just discovered
Book Depository
, a subsidiary of Amazon.com, and I love it. This is where you can buy books and have them sent to you. But unlike Amazon, when you purchase using Book Depository, you enjoy free delivery worldwide.
Give it a try today!
Here's a list of the latest pages I have added or updated on my website.
My YouTube Videos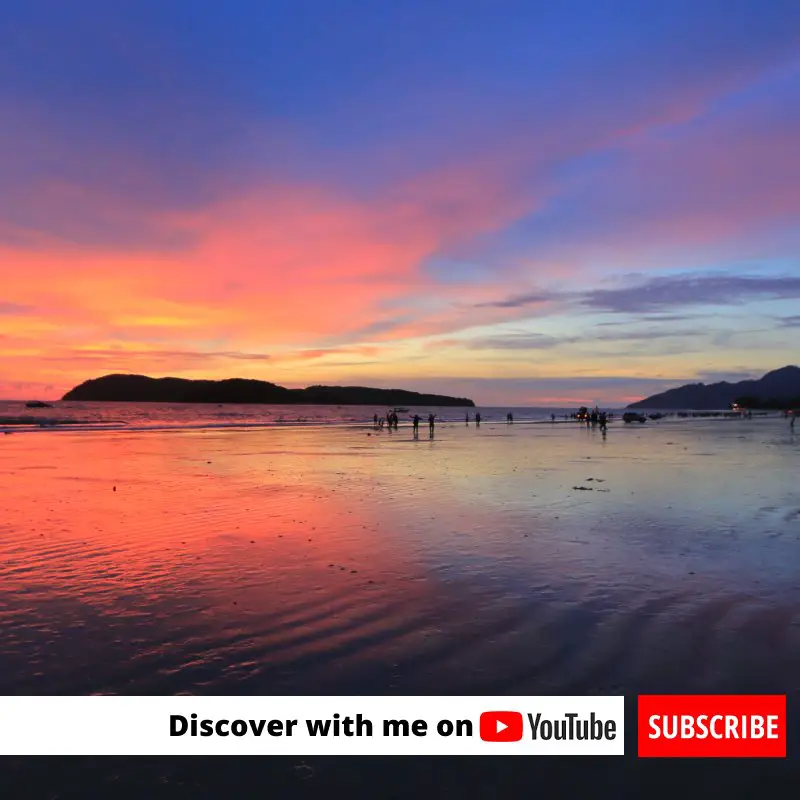 Check out
my YouTube Channel
and don't forget to subscribe!
Vital Links
Book Your Express Bus Ticket
|
Hire a car
|
Our Recipes
|
Facebook Posts
|
Just Curious
|
Not In The Dictionary
|
Our Flowering Garden
Vital Links
Book Your Express Bus Ticket
|
Engage a Tour Guide for Penang
|
What's Up at Penang Hotels
|
Hire a car
|
Facebook Posts
|
Our Recipes
|
Our Flowering Garden
|
Guide Book on Penang Durians
Discover the World
About Me