Gurney Drive, George Town, Penang
---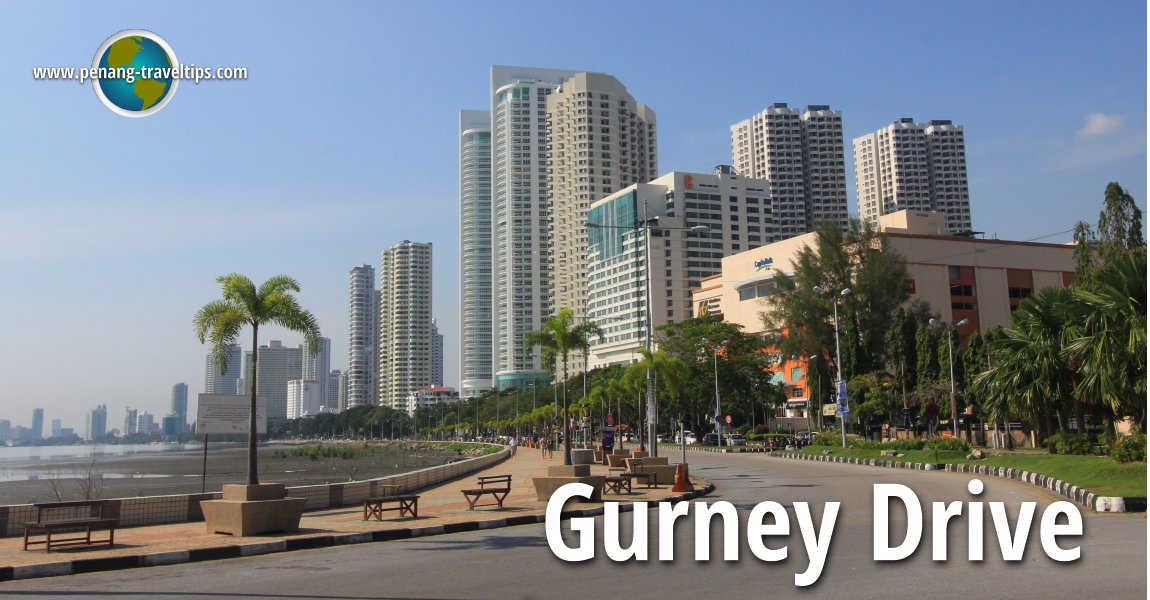 Gurney Drive, Penang (19 May, 2012)




Gurney Drive, or Persiaran Gurney, is a seaside promenade along what was formerly North Beach, in George Town, Penang. Gurney Drive is famous throughout Malaysia as the place to go to enjoy the best of Penang food. This seaside promenade was named in honour of Sir Henry Lovell Goldsworthy Gurney, the British High Commissioner who was ambushed and assassinated by guerillas of the Malayan Communist Party on 6 October 1951 near Fraser's Hill in Pahang.

Gurney Drive sits on reclaimed land created off Teluk Ayer Rajah, the bay that curves between George Town and Tanjong Tokong. The intention to build a coastal road was already in the plans as early as 1930. The idea was the extend North Beach, as Northam Road (now Jalan Sultan Ahmad Shah) was called. The first 510 yards of Gurney Drive was completed in 1934, and at that time, it simply extended the name "North Beach". This section of Gurney Drive was planted with Casuarina trees in 1962, and is a distintive section of the promenade. The road was known as New Coast Road. It was renamed Gurney Drive in 1952, after the original idea to rename Burmah Road to Gurney Road was not carried through.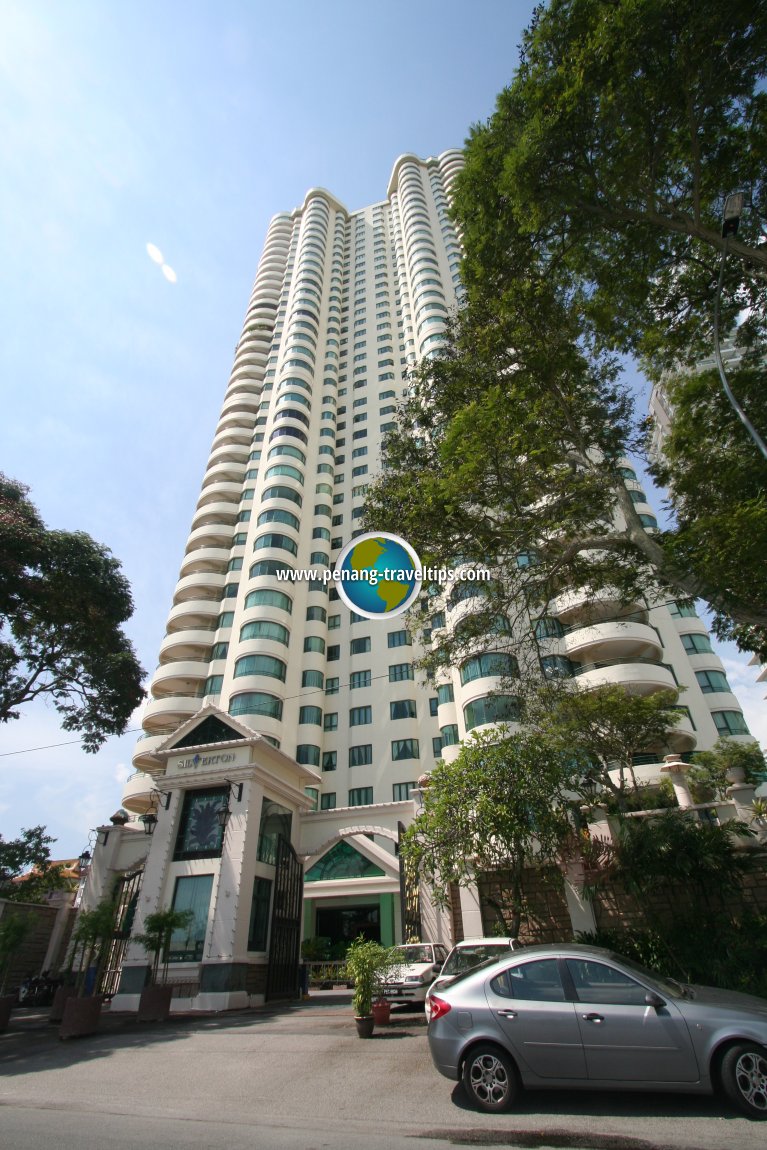 Silverton, one of the many upscale condominiums along Gurney Drive (26 September, 2009)






The wealthy built beach-side bungalows here, many of which are today incorporated into the design of upscale condominiums. At the Pangkor Road end of Gurney Drive was the fabulous mansion of Kapitan China Chung Thye Pin, son of Kapitan China Chung Keng Kwee, occupied today by One Persiaran Gurney condominiums. Gurney Plaza, one of the more upscale malls in Penang, is located at the northern end of Gurney Drive.

Although Gurney Drive is often thought of as having some of the most modern skyscrapers in Penang, it is also where you will find handsome homes belonging to the well-to-do of yesteryears. One of these is the Loke Mansion. Also at Gurney Drive is the St Joseph's Novitiate.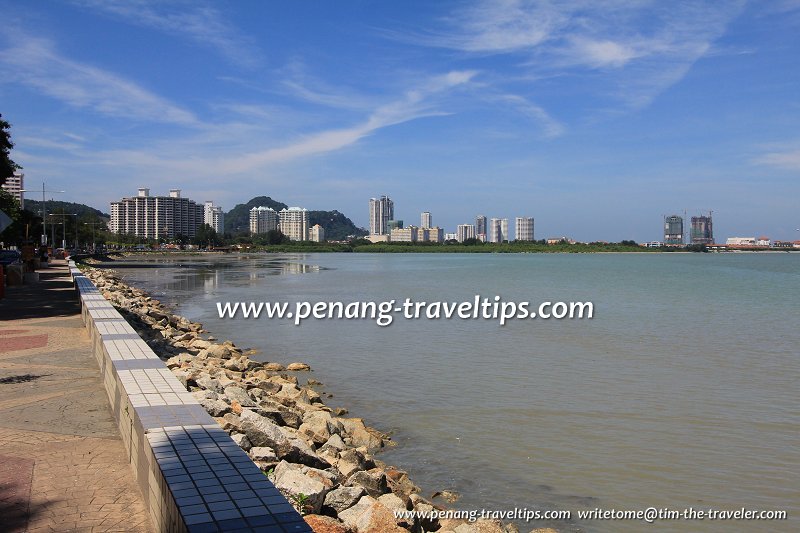 View of Teluk Ayer Rajah from Gurney Drive (23 January, 2012)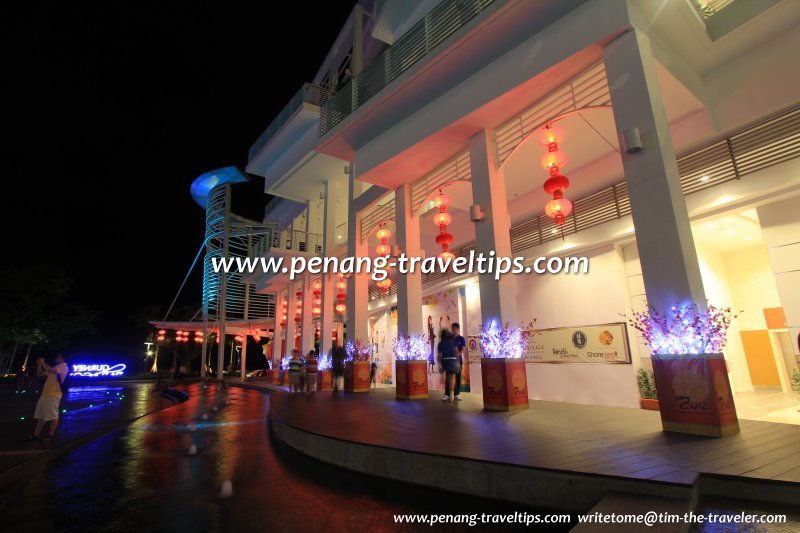 Gurney Paragon at night (28 January, 2012)


Shopping Malls along Gurney Drive
Eateries along Gurney Drive
Hotels along Gurney Drive
Residential Properties along Gurney Drive
Updates

28 September, 2013: The MPPP is putting up two speed tables along Gurney Drive to reduce speeding.

26 August, 2013: Eastern & Oriental (E&O) Bhd unveiled the phase two reclamation project for Seri Tanjung Pinang. The project will give a new, greener look to the 1.7 km Gurney Drive. The Star quotes Penang Works, Utility and Transportation Committee Chairman Lim Hock Seng that E&O will reclaim 53 hectares of land in Gurney Drive for the state government for use as recreational land and not for commercial purposes. Of the 53 hectares to be reclaimed, 20.23 hectares will be government reserve land, 21 hectares will be open spaces and buffer area, 6.87 hectares for expressway and 4.85 hectares for amenities, utilities and infrastructure.

The reclamation will allow the widening of the promenade and more lanes to be added to Gurney Drive from three lanes to nine or ten lanes with parking space. A man-made island will also be created off shore, with a new seafront promenade called Gurney Reach.

27 July, 2013: Parts of Gurney Drive is also made one way, with traffic flowing west to east.



View Gurney Drive, Penang in a larger map
Further Reading
The Story of Penang's Gurney Drive, by Syed Amran



Hello and thanks for visiting! I'm Timothy Tye, aka Tim the Traveler! Penang Travel Tips is one of some seventy websites I've written to describe the whole world. I created it to tell you about Penang. In this website you can find everything you'd want to know, from essential arrival information to bus routes, tourist attractions, places of worship, businesses, residential properties, street history, street art, famous food, Nyonya culture, history and even learn Penang Hokkien!


Please follow me in Penang Street Art and Penang Travel Tips. If you enjoy local cooking, follow Masa Masak!
Rapid Penang Bus Routes: This very useful page provides you all the information to take the public bus to visit any place in Penang.
Arriving by plane: Essential information for independent travelers (those not following a tour package) on taking the bus or taxi upon arrival at Penang International Airport.
Taking the Taxi: Taxi stands can be found at all major shopping malls. You can also call a taxi by phone. Get the details here.
Personal Guided Tours of Penang: If you like a licensed tour guide to show you around, get in touch with me and I'll arrange it for you. The fee is RM90 per hour. Payment for the first two hours collected upon booking.
Hospitals in Penang: Penang is a major regional medical tourism destination. If you are planning to come here for therapy or treatment, find out about the various hospitals available.
Penang Island Residential Property Guide: If you ever consider buying a residential property on Penang Island, read this guide before taking any action.
Penang Visitor FAQ: Frequently asked questions of visitors planning their trip to Penang.
Shopping malls of Penang: Penang has plenty of malls. Visitors often find that prices in Penang are often lower than back home. Get to know the malls in Penang.
Ernest Zacharevic George Town Murals: The murals by a young Lithuanian artist, created for the 2012 George Town Festivals, has become the biggest tourist attraction in Penang. Get information and a full list of the murals that everybody loves to photograph!
My World Travel Guides: List of all the countries I have described.