Tourists taking photos with Penang's most famous mural at Armenian Street.
(5 December, 2015)

Armenian Street

, or Lebuh Armenian, is a street in the inner city of George Town and within the core zone of the
George Town Unesco World Heritage Site
. It derives its name from an Armenian family who once stayed at the junction of the now Armenian Street and Beach Street in the early part of the 19th century. The street is the venue of the weekly Armenian Street Fair.
Map of Armenian Street
Accommodation on Armenian Street
Armenian House (GPS: 5.41515, 100.33744)
Armenian Suite (GPS: 5.41513, 100.33748)
Straits Collection (GPS: 5.415722, 100.336482)
Straits Heritage (GPS: 5.415752, 100.336736)
Eateries along Armenian Street
Sights along Armenian Street
Street Art on Armenian Street
Businesses on Armenian Street
Chai Tiam Ma Souvenir Shop (GPS: 5.41476, 100.33817)
Bon Ton The Shop (GPS: 5.4157, 100.3368)
China Joes (GPS: 5.41563, 100.33689)
Fuan Wong The Gallery (GPS: 5.41473, 100.33805)
Jonathan Yun Sculptural Jewelry (GPS: 5.41473, 100.33805)
Keng Fatt Sdn Bhd (GPS: 5.41507, 100.33757)
Lao Jie Fang Souvenir Shop (GPS: 5.4148, 100.33797)
Nyonya Beaded Shoes (GPS: 5.41481, 100.33812)
Red Pinang Culture House Souvenir Shop (GPS: 5.41503, 100.33785)
Summer Lane Venture (GPS: 5.41529, 100.33742)
Willemina Handmade Jewellery (GPS: 5.4149, 100.33782)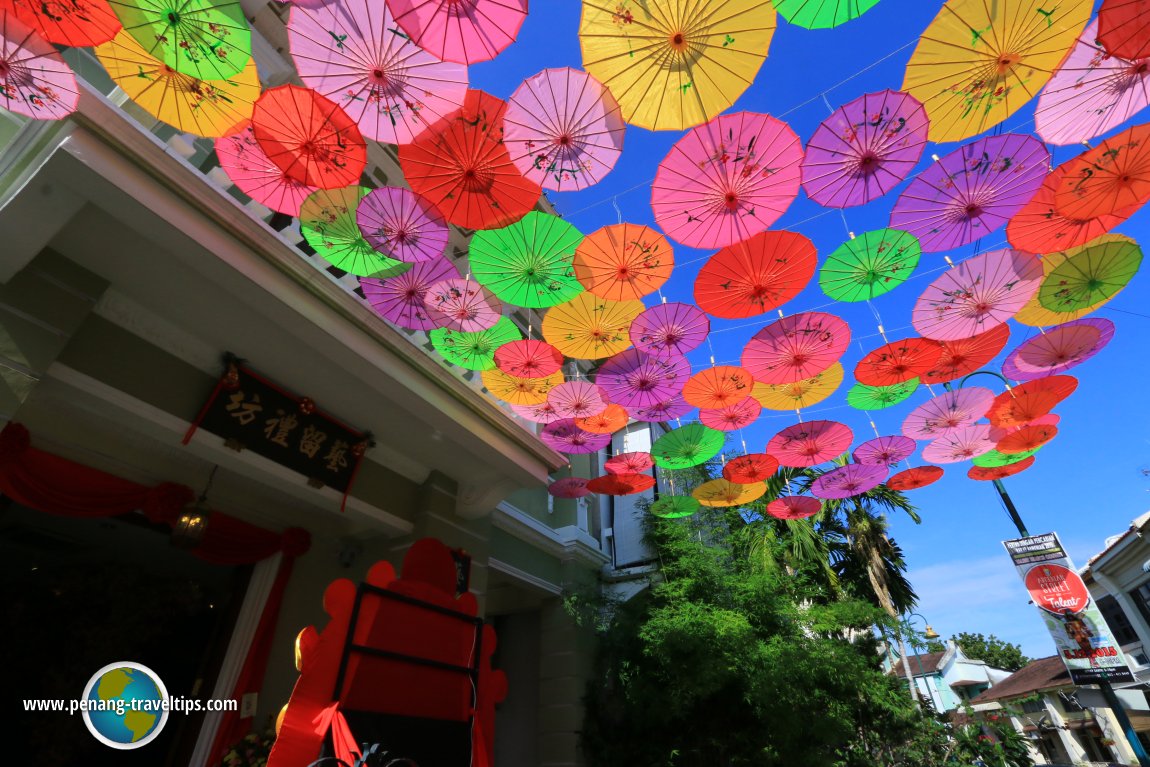 Souvenir shop on Armenian Street, George Town
(4 December, 2015)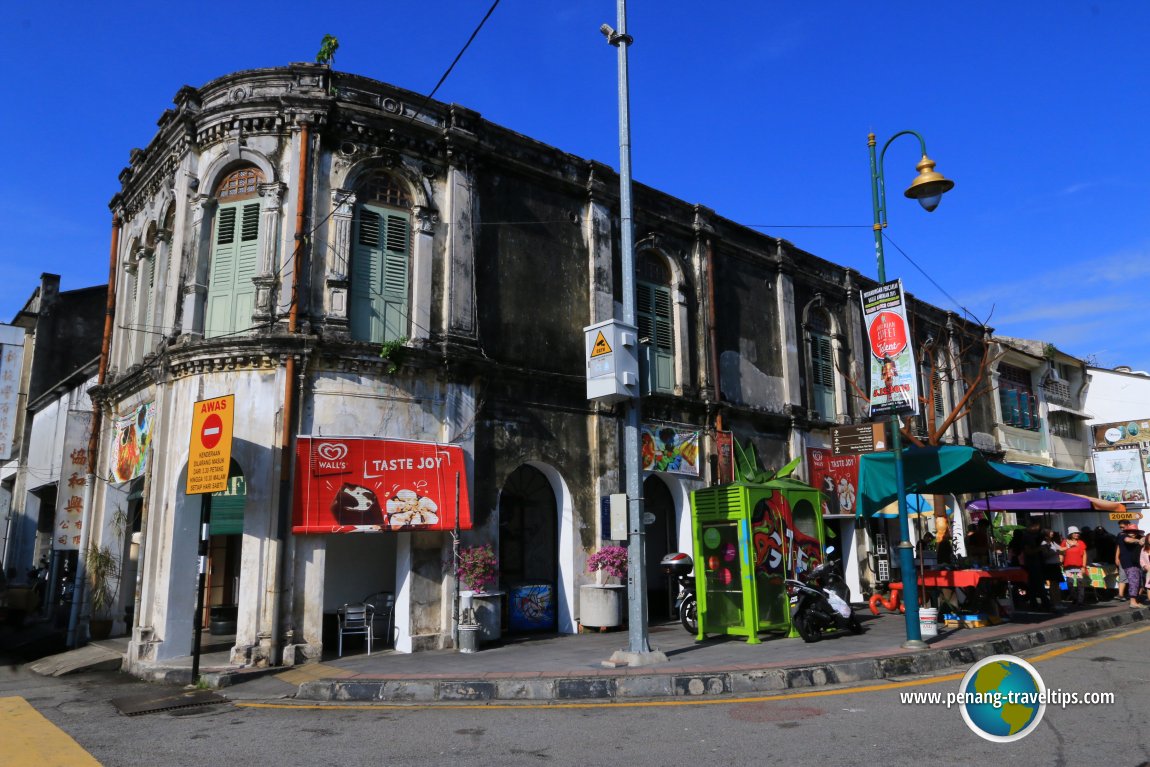 266 Lebuh Pantai, the circa 1907 building at the junction of Armenian and Beach Streets
(4 December, 2015)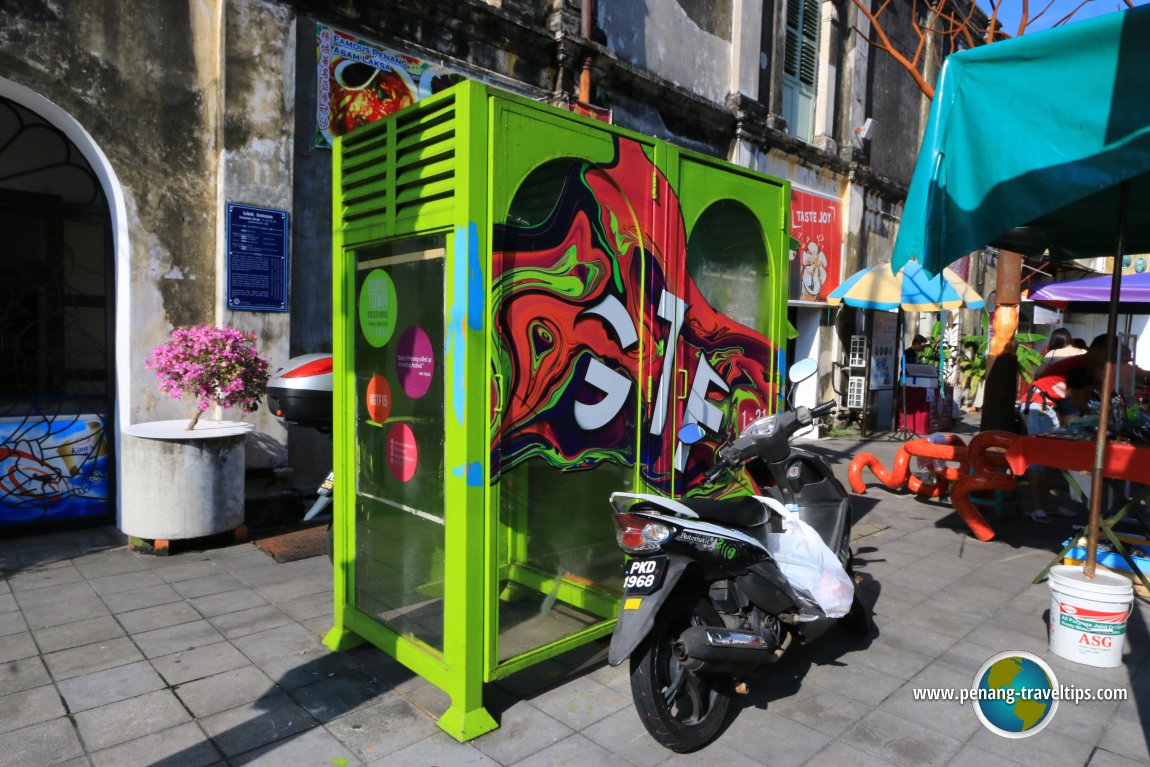 Armenian Street phone booth
(4 December, 2015)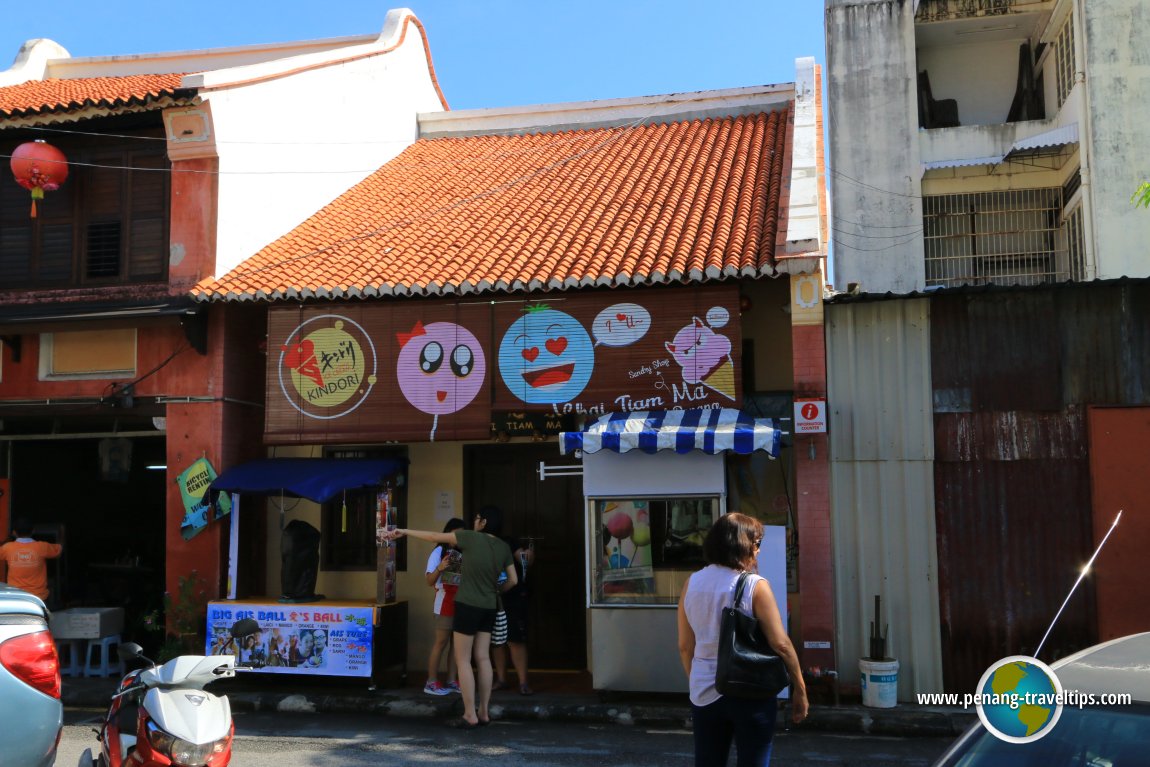 Chai Tiam Ma specialty shop at Armenian Street
(4 December, 2015)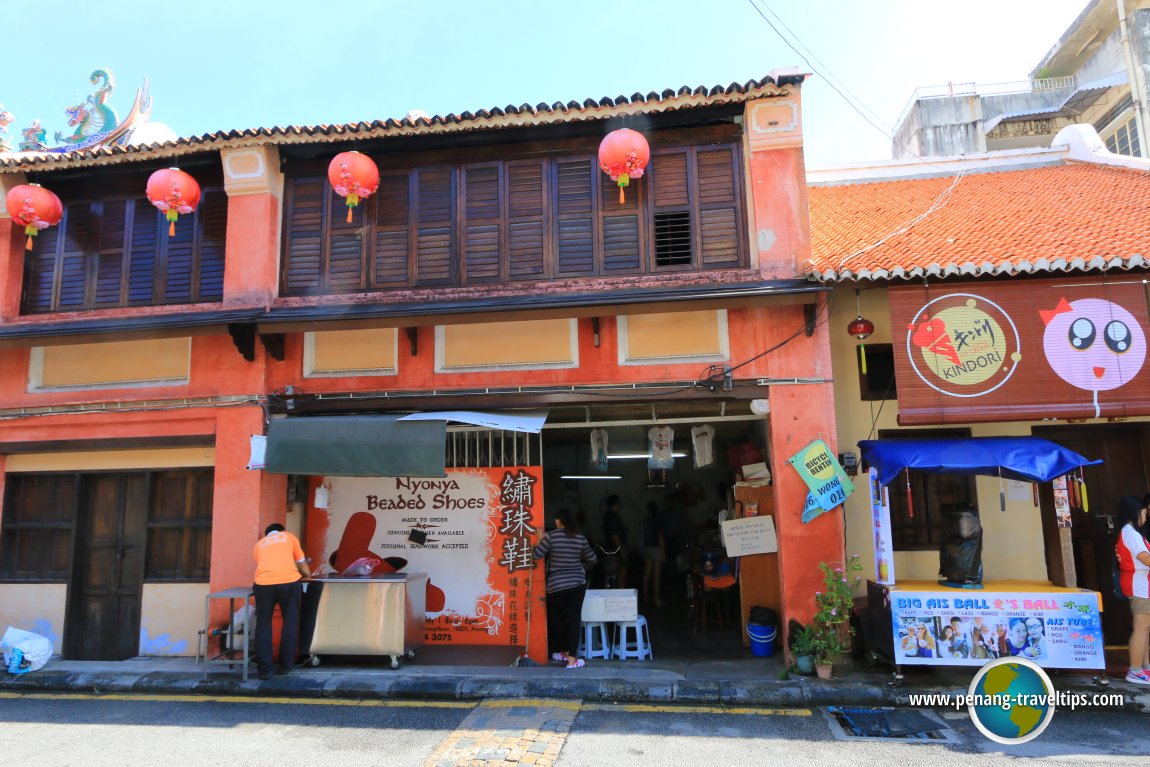 Nyonya Beaded Shoes at Armenian Street
(4 December, 2015)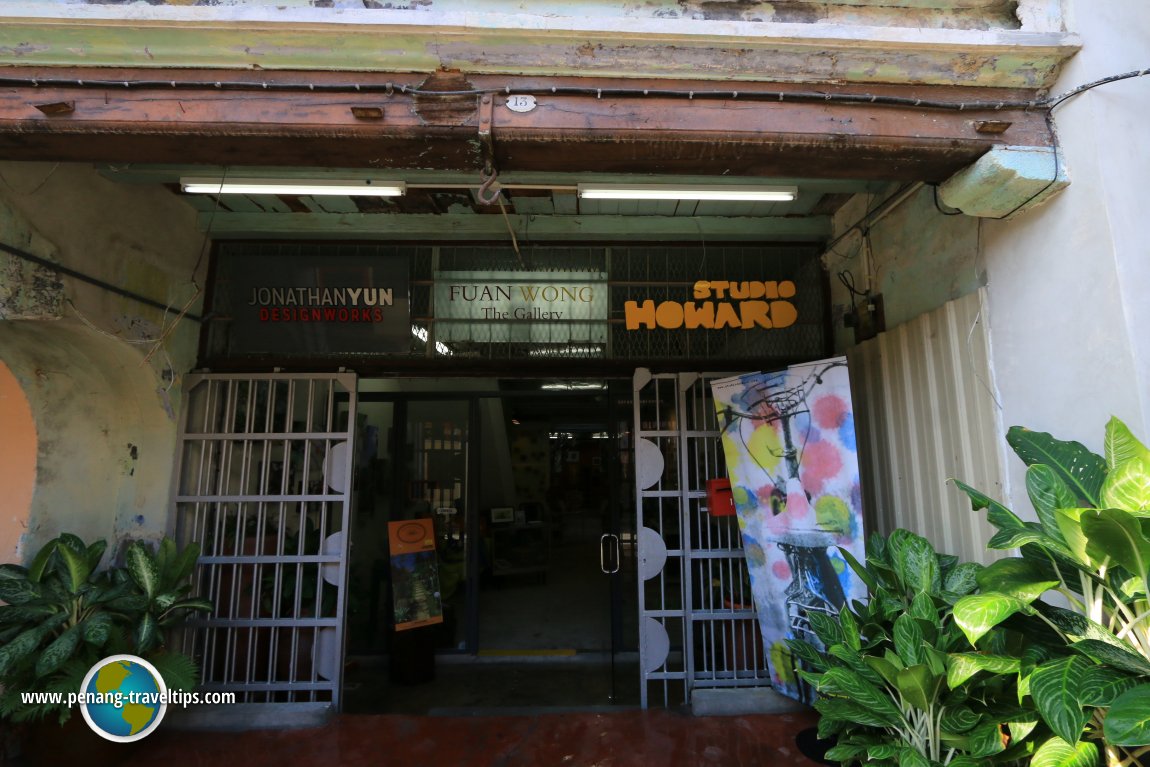 Jonathan Yun Designworks, Fuan Wong Gallery & Studio Howard
(4 December, 2015)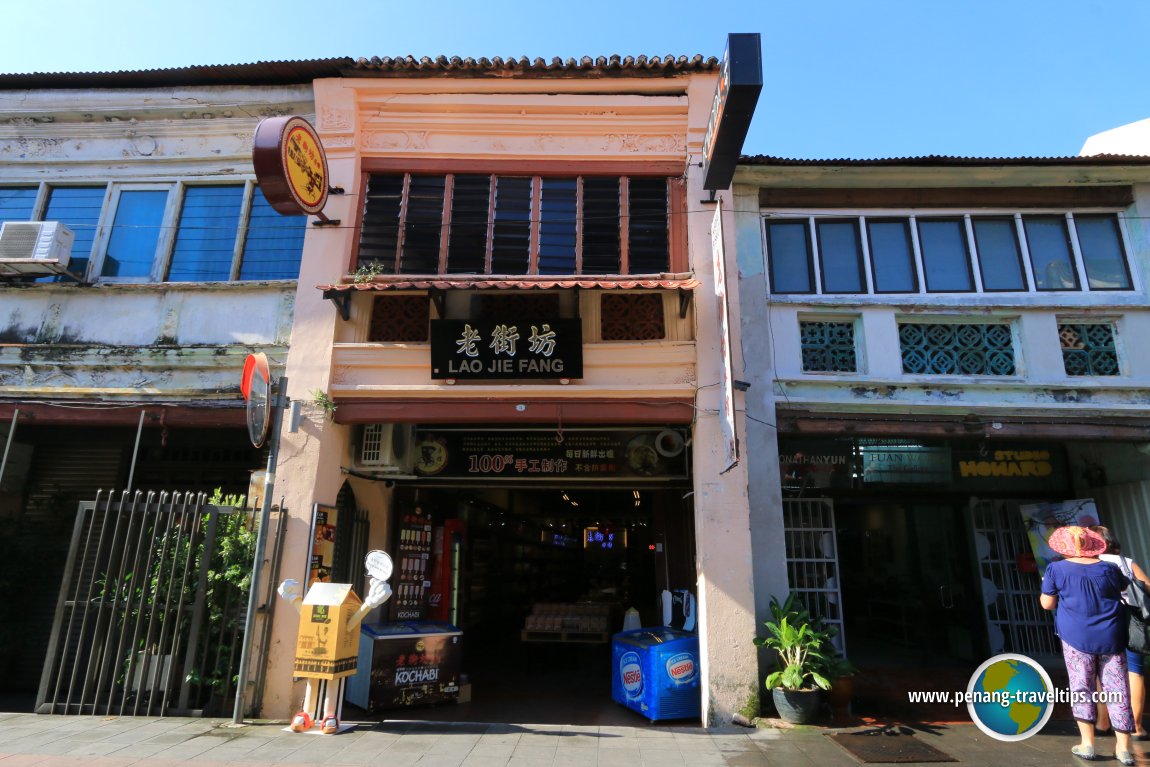 Lao Jie Fang Souvenir Shop
(4 December, 2015)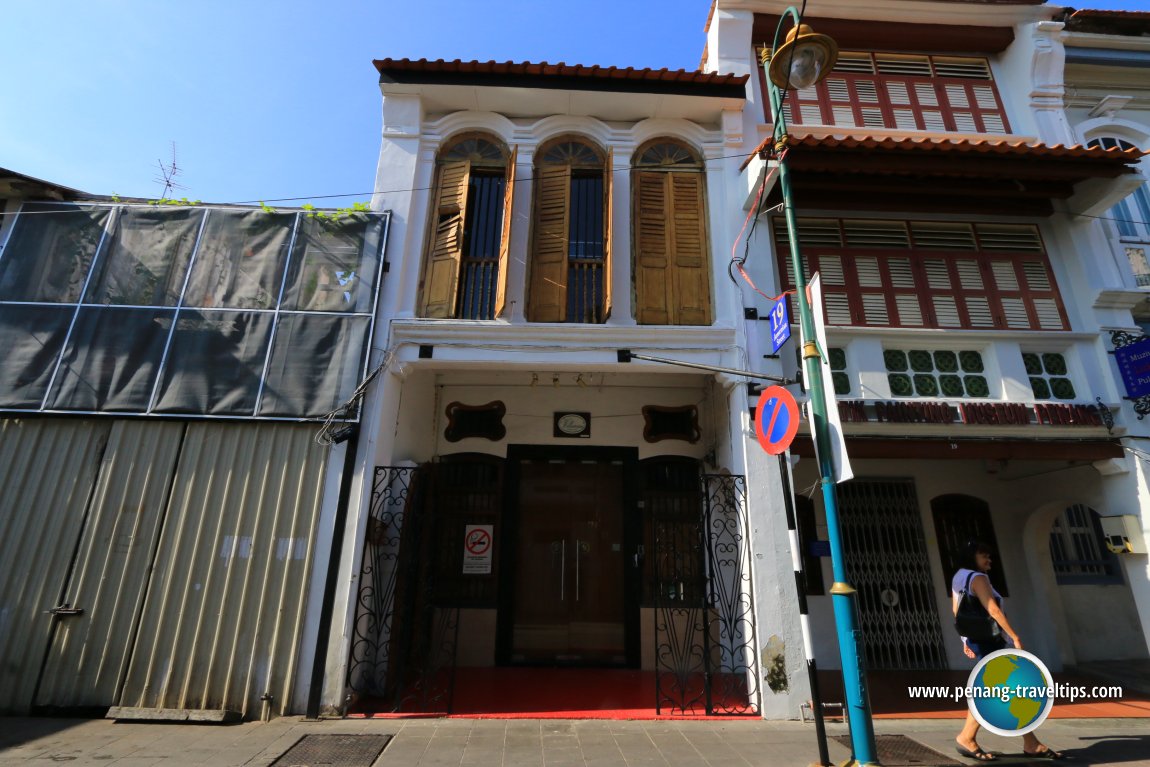 Willemina Handmade Jewellery
(4 December, 2015)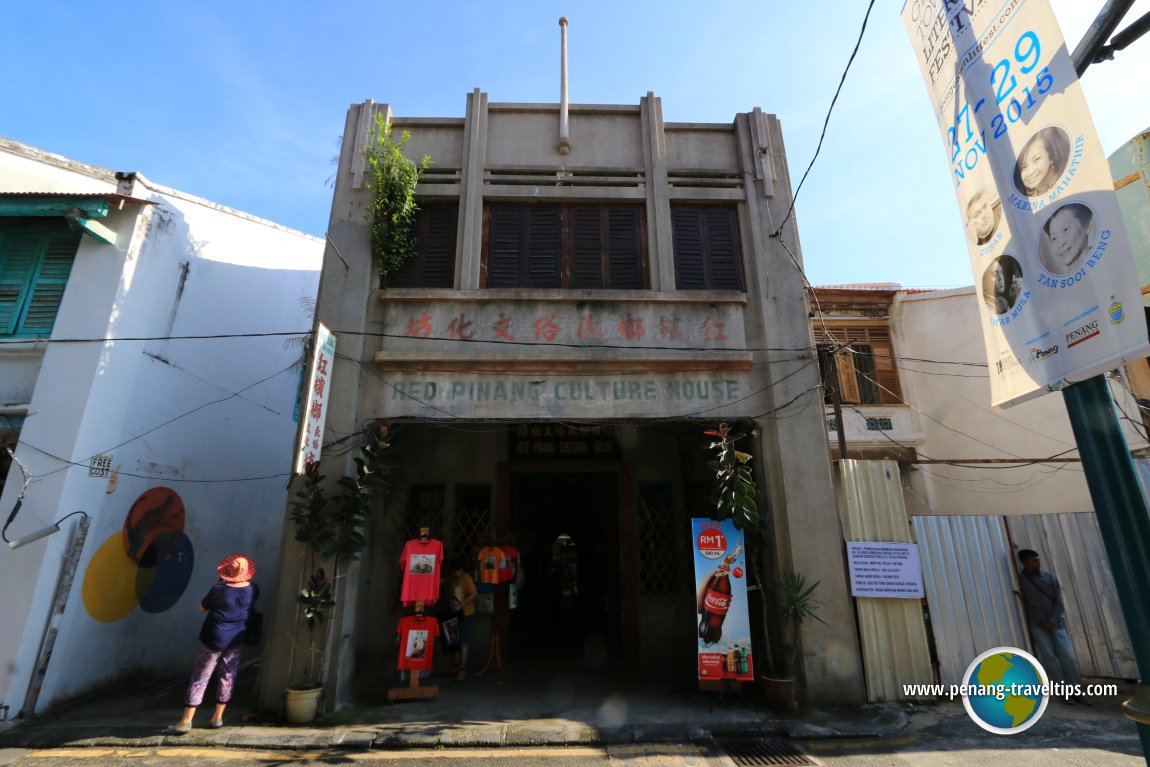 Red Pinang Culture House
(4 December, 2015)

Armenian Street Fair
The
Armenian Street Fair
is a weekly street fair taking place along a stretch of Armenian Street between the intersection of Pitt and Cannon Streets to the west and Beach Street to the east. The fair is held every Saturday evening. It is the venue for local talents to showcase their crafts and street performances.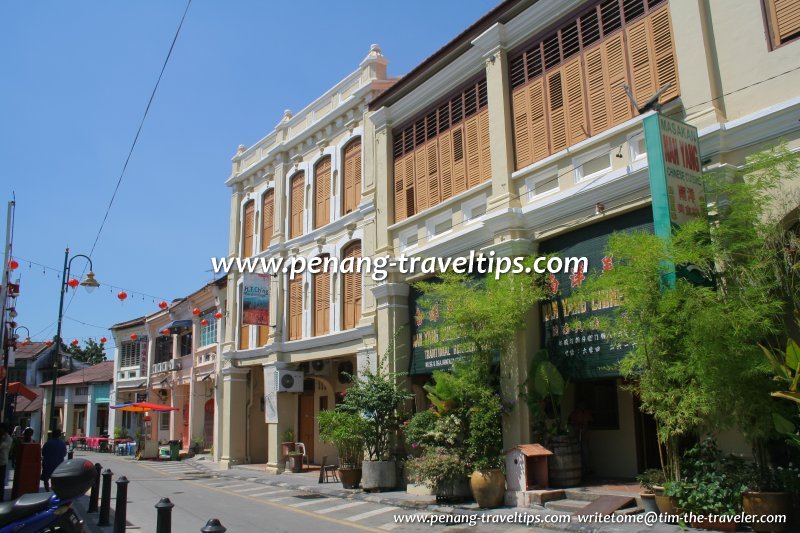 Armenian Street, George Town, Penang
(24 February, 2007)

History of Armenian Street
Armenians arrived in Penang by way of India. By 1822, they had established their church, the Armenian Church of St Gregory, which was located where Bangunan Mayban Trust is standing today. It was some eleven years older than the Armenian Church of St Gregory in Singapore. However the church was demolished around 1937, by which time most of the Armenians had packed up and left Penang.
In the earlier days, Armenian Street was known as Malay Lane. This was how it was labelled on the 1803 map of Governor George Leith
1
, based on the Malay and Achehese presence in the area that predates the shortlived stay of the Armenians on that street. The Malay settlement continues to this day with such monuments as the
Acheen Street Mosque
and
Penang Islamic Museum
in that vicinity. On the other hand, the name Armenian Street first appeared on the 1807 map
1
.
Armenian Street developed its Chinese appearance as Chinese traders moved into the area from the turn of the 20th century. Clan temples such as
Cheah Kongsi
,
Yap Kongsi
and
Khoo Kongsi
were established either on or within a stone's throw of Armenian Street. Traders and merchants of these clans helped to finance the mining of tin in the Larut district of Perak, which resulted in much prosperity flowing into the Armenian Street area from the 1860s right through to the early 20th century.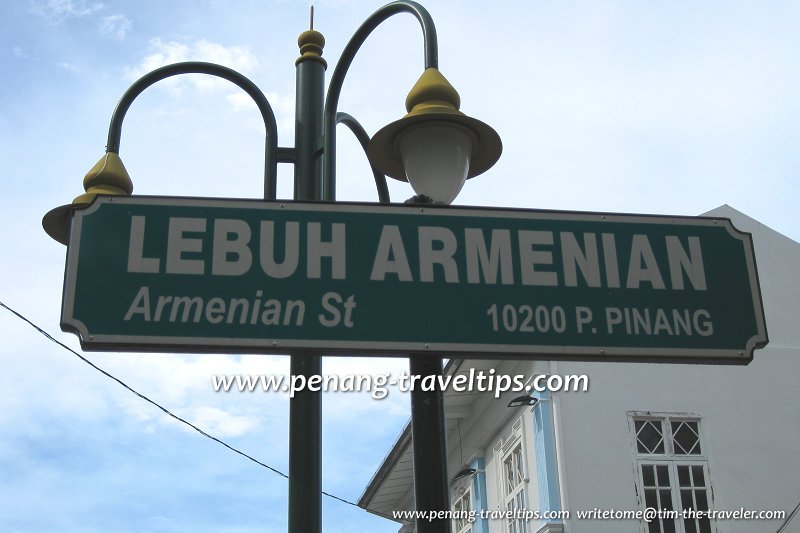 Armenian Street sign
(12 November 2008)

In Other Words ...
Armenian Street is known in
Hokkien
as
Phak1 Tang3nga1 Kay1

(打銅仔街 Pinyin: Pāi Tóng Jiē) meaning "coppersmith street" from the junction with Acheen Street to the junction with Cannon Street. It is known as 本頭公巷 (Pun1 Thau3 Kong3 Hang33

) between Cannon Street and Beach Street.
House Numbering
The address on Armenian Street descends from east to west starting from Beach Street, with housing on the left having odd numbers and those on the right even.
Properties on Armenian Street
The following are details of some the buildings on Armenian Street, with photo illustrations.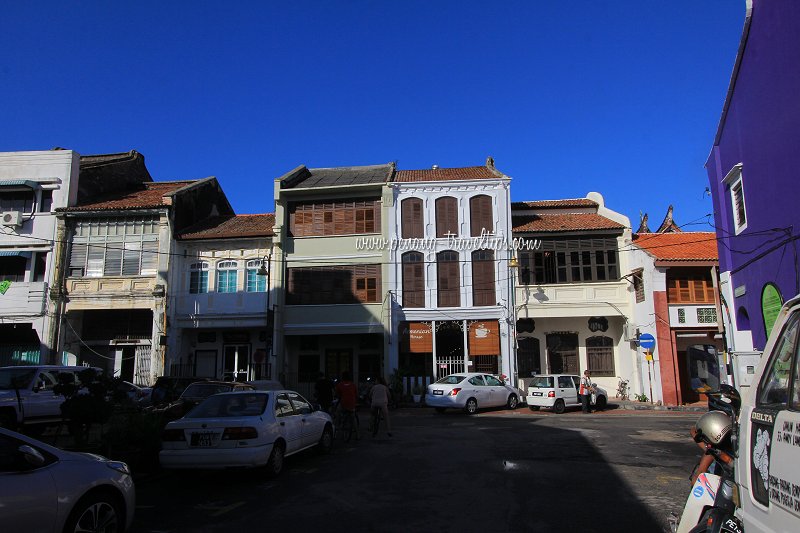 From left to right: 29, 31, 33, 35 and 37 Armenian Street
(30 June, 2014)

This photograph, taken over a year after the one below it, shows House No. 29 and 31 on the left. No. 29 Armenian Street is taller than No. 31. Both of them were built in the late 19th century. However, while No. 29 has replaced its windows with louvres, No. 31 still bear the original Straits Eclectic-style window frames, albeit the original wooden panels having been replaced with glass.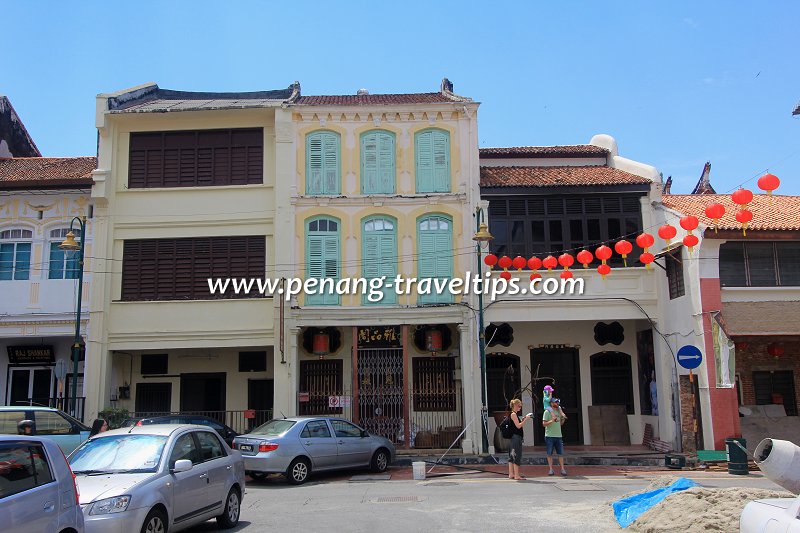 33, 35 & 37 Armenian Street
(25 January, 2013)

The three shophouses in the photograph about dates from the late 19th century. All have undergone some degree of restoration. No. 33, on the left, is a 3-storey shophouse with a rather plain façade. No. 35, at centre, retains its French windows with wooden shutters. No. 37, at right, is a restored two-storey shophouse, with a porch in lieu of a five-foot way.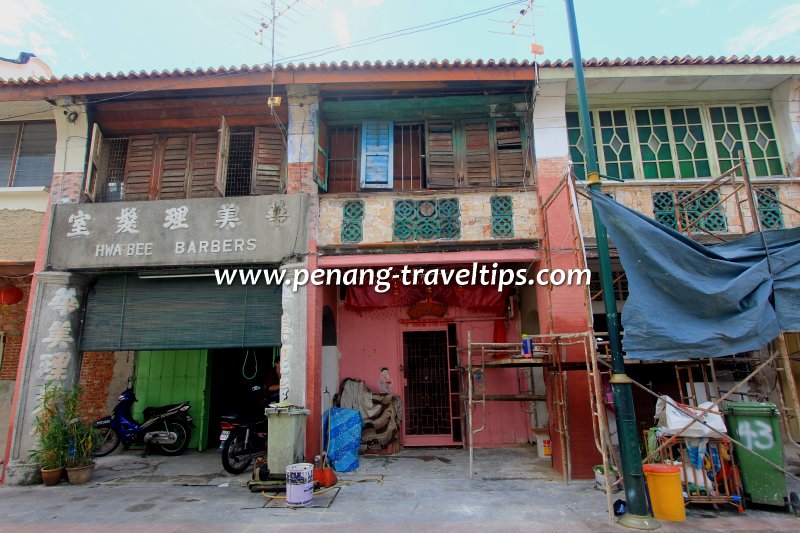 39-55 Armenian Street
(25 January, 2013)

This row of shophouses, near the intersection with Pitt and Cannon streets, are two storeys tall. They were undergoing restoration when I photographed them in January, 2013. This ensemble is part of the Hock Teik Cheng Sin complex, serving as the front and buffer to the temple located behind them. They were built in the mid-19th century, after then Thean Teik Tong (precursor of Hock Teik Cheng Sin) was established. They are rather simple in style, though one interesting feature is the green ceramic vents at the spandrels that survive till today.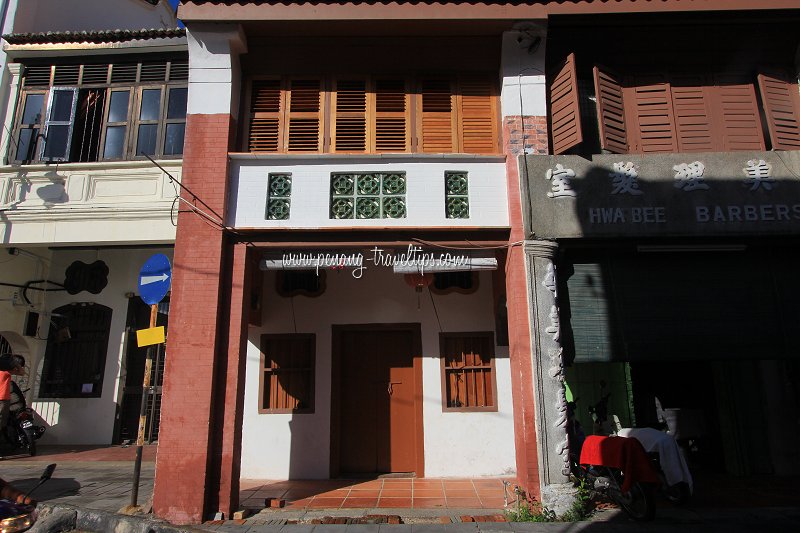 39 Armenian Street
(30 June, 2014)

Here's No. 39 Armenian Street a year and a half later. By now (30 June, 2014), it has been fully restored. The front porch has a whitewashed wall with a plain wooden door flanked by two equally plain wooden windows with grill bars, and topped with bat-shaped air-vents. The floor, previously cement, is now of terracotta tiles.
Street Art
Armenian Street has three pieces of street art. They include two murals by Ernest Zacharevic and two steel-rod sculptures based on caricatures by Tang Mun Kian. I call the murals
"Little Children on a Bicycle"
and
"This Old Man"
, while the sculptures are called
"Procession"
and
"Then & Now"
.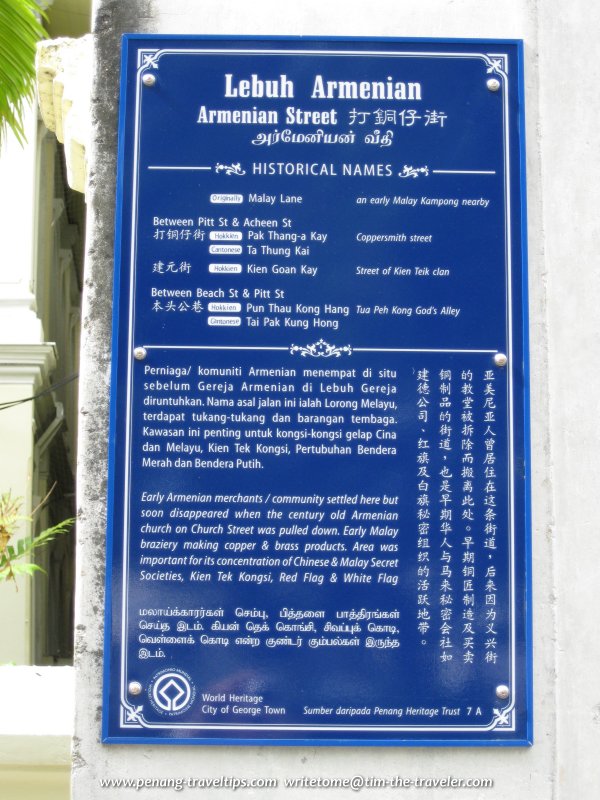 Armenian Street plaque
(12 November 2008)

Getting there
From Weld Quay Ferry & Bus Terminal, turn left and walk along Pengkalan Weld until you reach the junction of Gat Lebuh Armenian (Armenian Street Ghaut) to your right. Enter Gat Lebuh Armenian and follow it all the way until the junction of Lebuh Pantai. Armenian Street (Lebuh Armenian) is located across Lebuh Pantai.
References
Heritage Buildings of Penang Island: George Town, published by the Building Department & the Planning Department, Municipal Council of Penang Island (MPPP, 1994)
Add your business to my website
This website of mine is a unique directory of places and businesses. If you operate a business anywhere in Malaysia or Singapore, you may contact me to add your business/shop in. It only requires a one-time fee, and you may opt for either "contact listing only" or "full webpage of your own". As this website gets a lot of organic traffic, you will enjoy lots of exposure from people looking for the products and services that you provide. To find out more about adding your business/shop to this site,
CONTACT ME
Travelling somewhere?
If you're travelling somewhere, look for accommodation using the Search Hotel engine below. It helps you find the online booking site that offers the best rates for the room you want.
Looking for a book? Get it from Book Depository with free delivery worldwide!
I have just discovered
Book Depository
, a subsidiary of Amazon.com, and I love it. This is where you can buy books and have them sent to you. But unlike Amazon, when you purchase using Book Depository, you enjoy free delivery worldwide.
Give it a try today!
Here's a list of the latest pages I have added or updated on my website.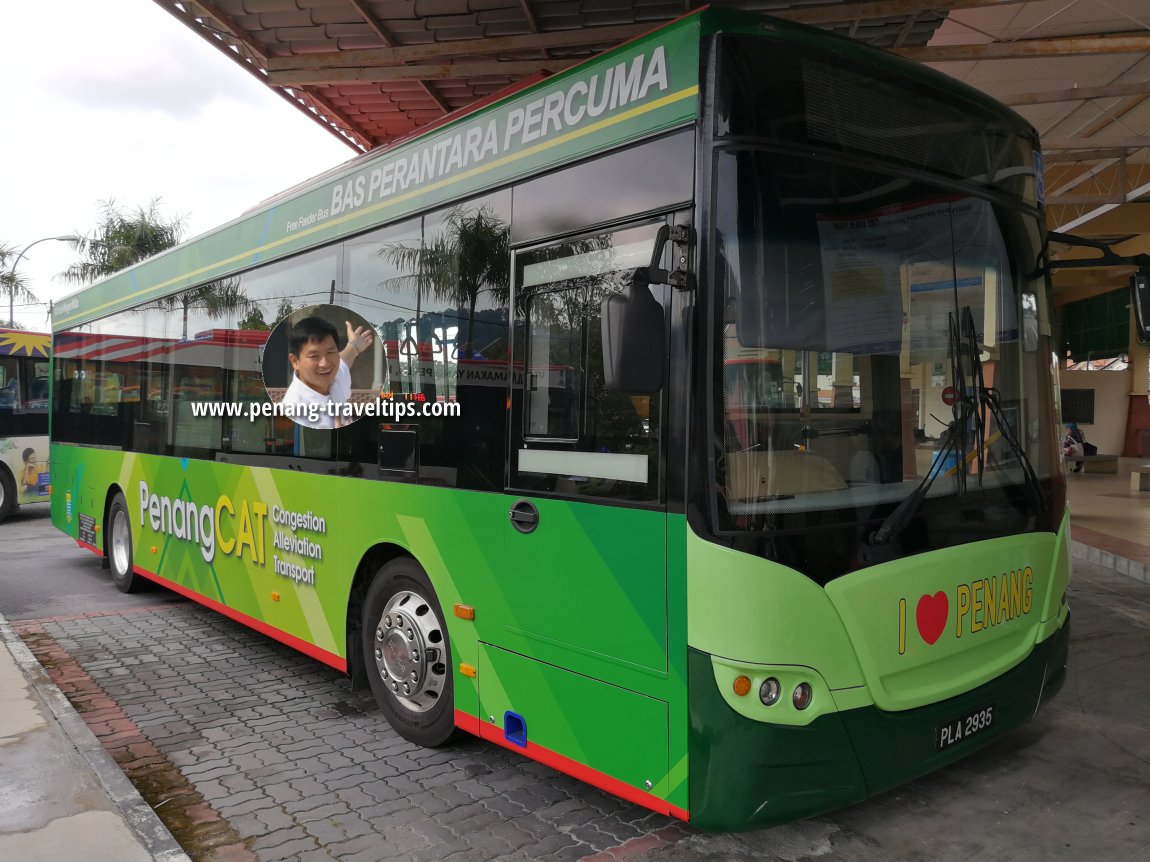 Take the CAT Free Feeder Bus
What's the best way to see Penang on a budget? Take the bus! In Penang, there are at least 12 absolutely
FREE
bus routes which cover almost every major neighbourhood on Penang Island and Penang Mainland. All you need to do is hop aboard!
Details
Vital Links
Book Your Express Bus Ticket
|
Hire a car
|
Our Recipes
|
Facebook Posts
|
Just Curious
|
Not In The Dictionary
|
Our Flowering Garden
Vital Links
Book Your Express Bus Ticket
|
Engage a Tour Guide for Penang
|
What's Up at Penang Hotels
|
Hire a car
|
Facebook Posts
|
Our Recipes
|
Our Flowering Garden
|
Guide Book on Penang Durians
Discover the World
About Me
Thank you for visiting
my website
. I started it in 2003, and today it has over twenty thousand pages of information. My name is
Timothy Tye
. I would be very pleased if you enjoy the information I have put together.
As a Christian, I hope that through this website, I am able to deliver God's message to all who need it, anywhere in the world. If you are open to hearing it, please read
God's Good News to You
.
If you wish to contact me, please use this
contact form
. And don't forget to
follow me on Facebook
. See you!
Copyright © 2003-2018
Timothy Tye
. All Rights Reserved.