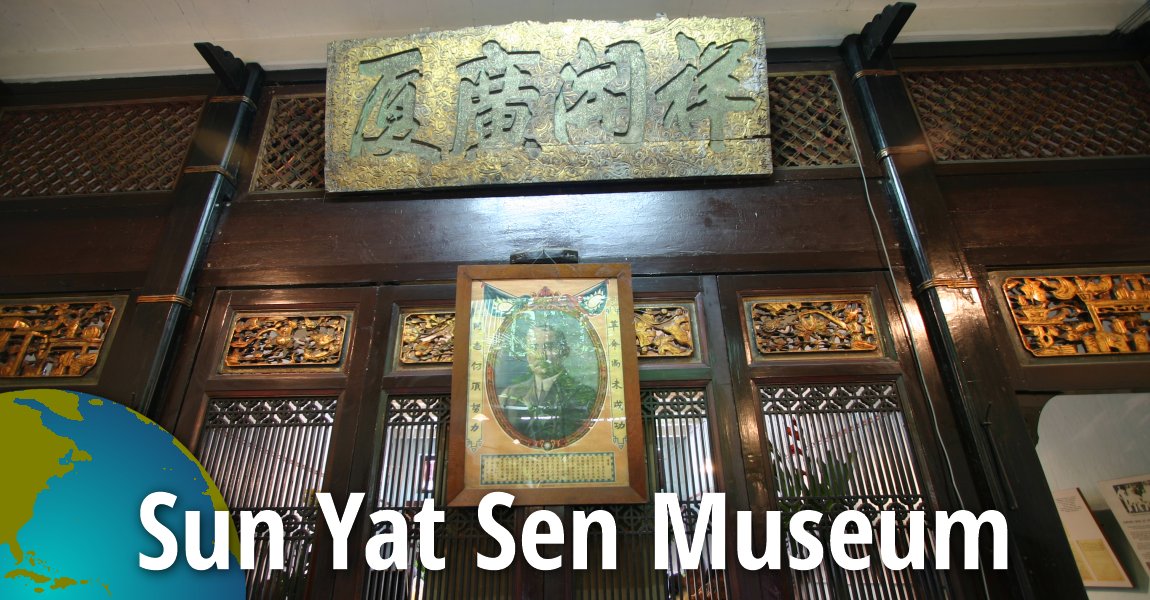 Portrait of Dr Sun Yat Sen
(4 February, 2006)

The
Sun Yat Sen Museum
(GPS: 5.415787, 100.336117) is a privately managed museum at 120 Armenian Street, in
George Town, Penang
. It occupies the shophouse where Dr Sun Yat Sen had his base while in Penang. The building was erected in the 1870's and bears witness to events that shaped world history, particularly that of China.
From the outside, the Sun Yat Sen Museum may may appear stark when compared to the ornate architecture of the clan temples down the street, the drab appearance is probably deliberate, to ward off uncalled-for attention from the authorities over the activities that Dr Sun was hatching there. While it looks like a typical George Town shophouse, the things that happened in it is anything but typical.
Visitor Information
Sun Yat Sen Museum
120 Armenian Street
10200 Penang
Phone: +60 4-262 0123
Email:
[email protected]
Website: sunyatsenpenang.com
Opening Hours:
9:30 am to 5:30 pm daily
Admission: RM5 per person, RM3 for students upon showing student card
Free in-house guided tours are available at specific times. Tours are conducted in English, Mandarin, Malay and (by prior arrangement) Thai.
About the Sun Yat Sen Museum
It was here that plans were made that eventually brought down the Qing Dynasty Government and turned China into a republic. Amazing but true, that the activities that took place in this nondescript shophouse has a greater impact on world events that most people in Penang as well as those living within its immediate neighbourhood would realise.
I think the name
Dr Sun Yat Sen
will ring a bell among older people - thougyh I recently conducted a tour for school students of the heritage enclave, and am pleasantly pleased to learn that they know who Sun Yat Sen is. For those who don't, Dr. Sun Yat Sen, also known as Sun Chong San, is reverred in both China and Taiwan as the architect of the new, republican China. Disgruntled by an imperial China ruled by the Manchu court that he considered inefficient and corrupt, Dr Sun founded the Tung Meng Hooi (also written as T'ung Meng Hooi).
The Tung Meng Hooi is a political party founded in 1905 in Tokyo with an agenda to turn China into a republic. Dr Sun travelled to various Chinese communities scattered around the world to drum up support for his movement to create this China sans Emperor. In 1909, the Southeast Asia headquarters of the Tung Meng Hooi was moved from Singapore to Penang, where it remained till 1911.
The decision to use Penang was swayed by the support Dr Sun received from the Chinese community here. I gather he would not be successful without the weight of support from his Penang contemporaries - Sino supremos like Cheong Fatt Tze and perhaps Kapitan China Chung Thye Pin.
(Read footnote)
Both were decorated figures in the Qing Dynasty court. Supporting Dr Sun would amount to treason to the emperor.
Still, I believe that Cheong Fatt Tze had reconciled that the bureaucracy of a weak China - a basket case at the mercy of European forces - is not good for business, and a modern China is the way forward. So even if they could not openly support Dr Sun, some form of backdoor support must have been forthcoming. Probably due to this, when Dr Sun's revolutionaries managed to overthrow the imperial government, Cheong Fatt Tze was awarded a position in the newly formed government.
Kampung Kaka
and
Kampung Kolam
are not the neat, spacious, sunny neighbourhoods that you would know today. In the 1910's, the area within earshot of the
Kapitan Keling Mosque
's azan was hemmed with stalls, stores, sheds and bullock carts, all providing ample nooks and crannies to hide and worm away.
But why chose a shophouse in this rather obscure corner of town as the Tung Meng Hooi headquarters? We need to understand that at that time, much of the activities of the Tung Meng Hooi is considered "underground" - what else would you call a party whose purpose is to overthrow a government? At any time at all, the authorities may raid the premises, so the choice of neighbourhood has to be one that provides easy escape when the need arises. The backdoor of this elongated shophouse opens into the Indian Muslim neighbourhoods of Kampung Kaka and Kampung Kolam.
I can't begin to provide you a true mental picture of this place in the early 20th century: walk the streets in Jaipur or Agra, and you'd get the idea. Now, the Muslims of Kampung Kaka, Kampung Kolam and the adjacent Kampung Aceh and
Pitt Street
are probably aware of what's transpiring within their midst. Dr Sun and his people don't look like the typical Chinaman. They wear Western attire, and certainly no pigtails (towchang) for them - these they have snipped off as a symbolic separation from imperialism. To the Muslims, Dr Sun Yat Sen and his followers are the "Orang Cina Potong Towchang" (Chinamen without pigtails).
At the Tung Meng Hooi's Penang Conference that took place at 120 Armenian Street on 13 November 1910, the Canton Uprising was planned. During that time, the premises served as the Penang Philomatic Union, a reading club that served as a front for the revolutionary activities. It is the second of two important Tung Meng Hooi conferences held in Penang, the first was at Dr Sun's Dato Keramat Road office. Although the Canton Uprising was unsuccessful, it marked the turning point in Dr Sun's nationalist revolution, which culminated with the establishment of the first republic in Asia.
In that year (1910), Dr Sun Yat Sen lived in Penang for about six months together with his family, including his second wife Chen Cui Fen - not at 120 Armenian Street, but at his office in Dato Kramat Road which has since been demolished. The house in 120 Armenian Street was used as his base, and his followers did live there.
The Kwong Wah Jit Poh newspaper was started by him and his followers there; today it holds the distinction of being one of the oldest Chinese language newspapers in the world. Dr Sun moved the base for the Kwong Wah Pao from Yangon to Penang; he relaunched and renamed it Kwong Wah Jit Poh, making it a daily newspaper, and used it as a vehicle for spreading nationalistic propaganda. During that time, the house was owned by Lim Boon Yeow, and taken over in 1926 by merchant Ch'ng Teong Swee, who later used it as the godown for his company Ch'ng Eng Joo. The company signboards still hang in the living room of the house.
Today 120 Armenian Street is maintained as the base for Areca Books and Lestari Heritage Network by Ch'ng Teong Swee's granddaughter, writer Khoo Salma Nasution (nee Khoo Su Nin) and her husband.
Dr Sun never lived long enough to see his republic consolidate its power. For good or otherwise, his legacy is a China without an emperor, two China's in fact, and the political geography of over a billion people that was shaped within the walls of a humble shophouse in Penang.
Getting there
Take the
Rapid Penang Bus
Nos.
10
,
103
,
301
,
302
,
308
and
401
Jalan Masjid Kapitan Keling, walk down the road to the junction of Lebuh Armenian, then turn right. 120 Armenian Street is on the right side of Lebuh Armenian, about 80 meters from the junction.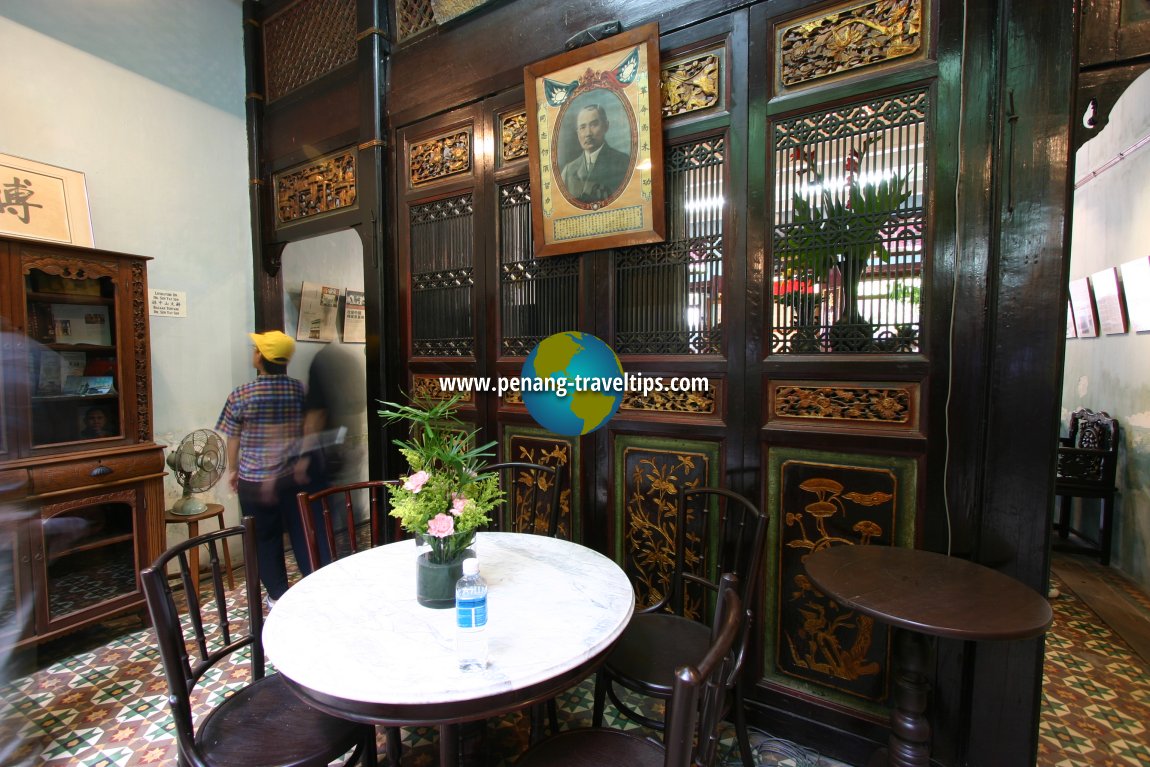 120 Armenian Street, George Town, Penang
(4 February, 2006)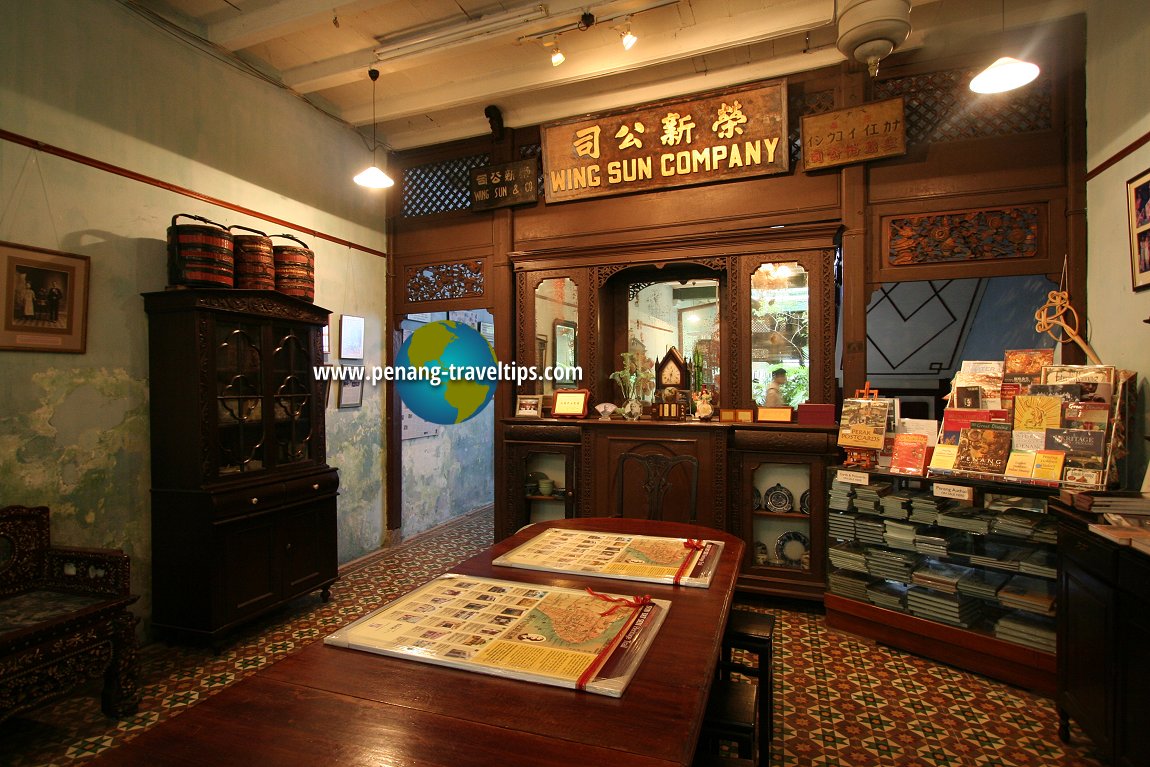 The dining hall at 120 Armenian Street, with the former company plaque
(20 November, 2010)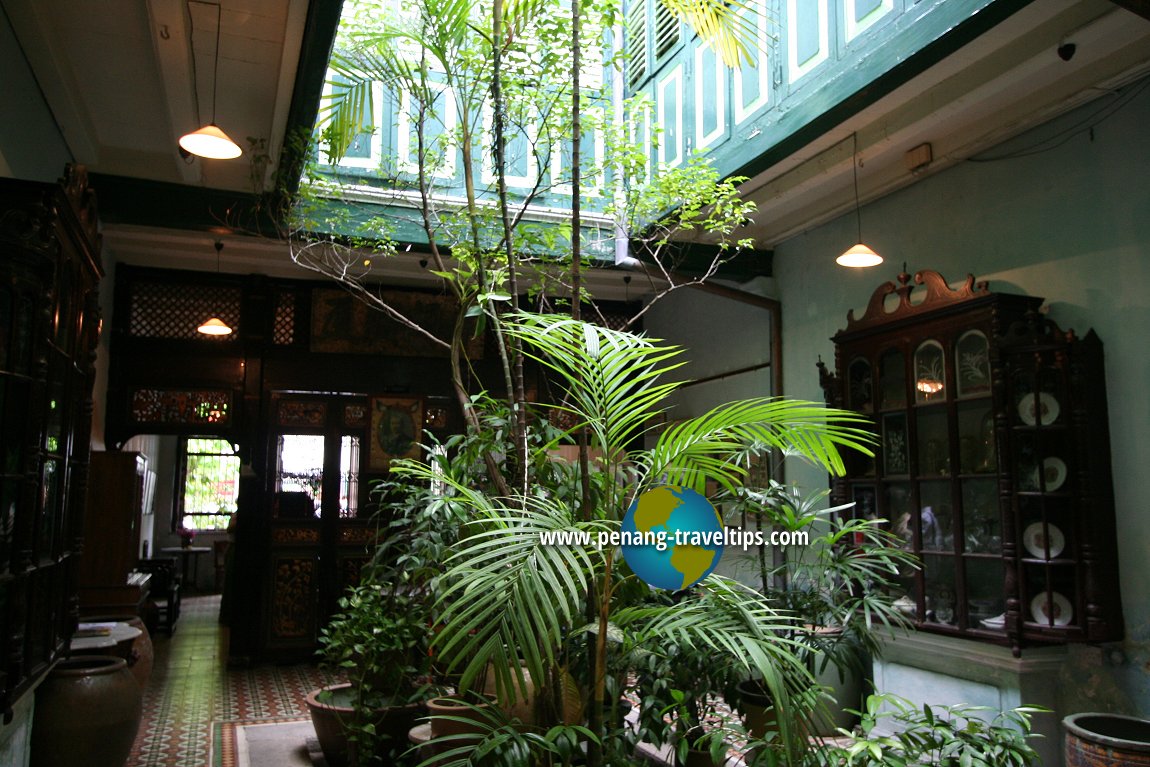 The airwell at the Sun Yat Sen Penang Base
(20 November, 2010)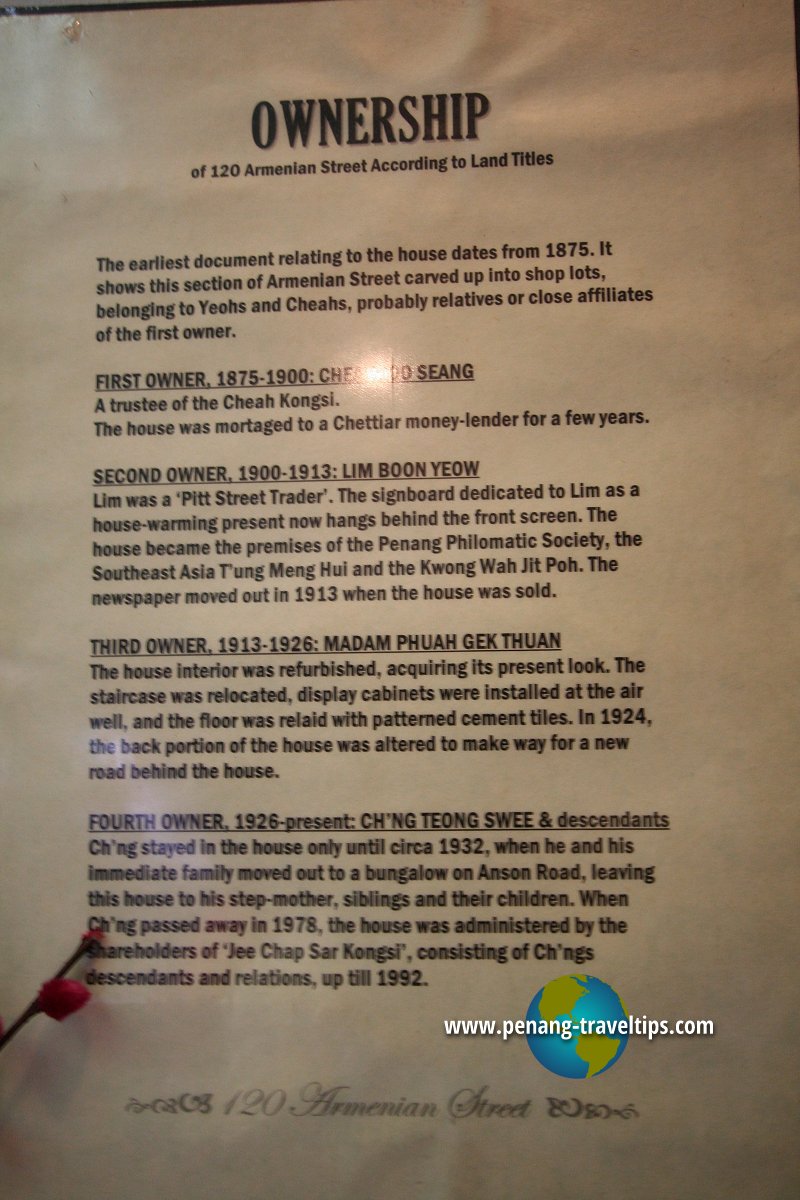 History of the ownership of 120, Armenian Street
(20 November, 2010)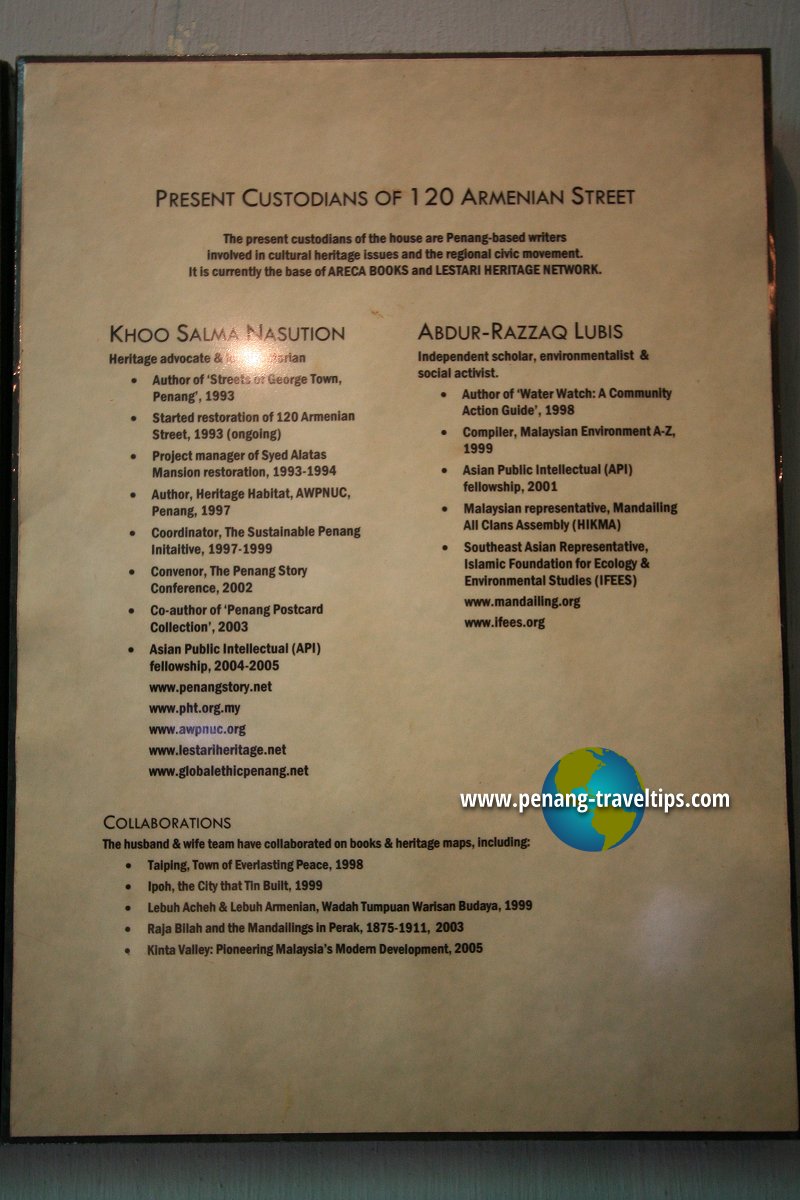 Present custodians of 120, Armenian Street
(20 November, 2010)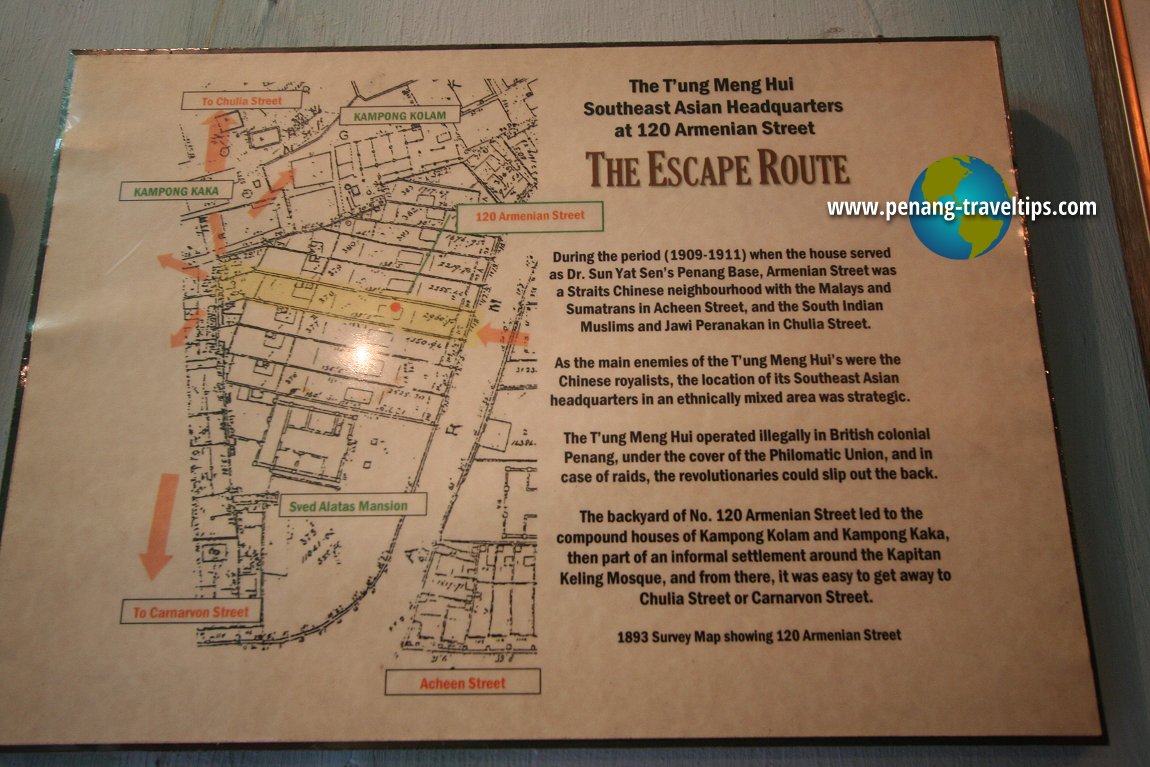 Escape route for T'ung Meng Hui members.
(20 November, 2010)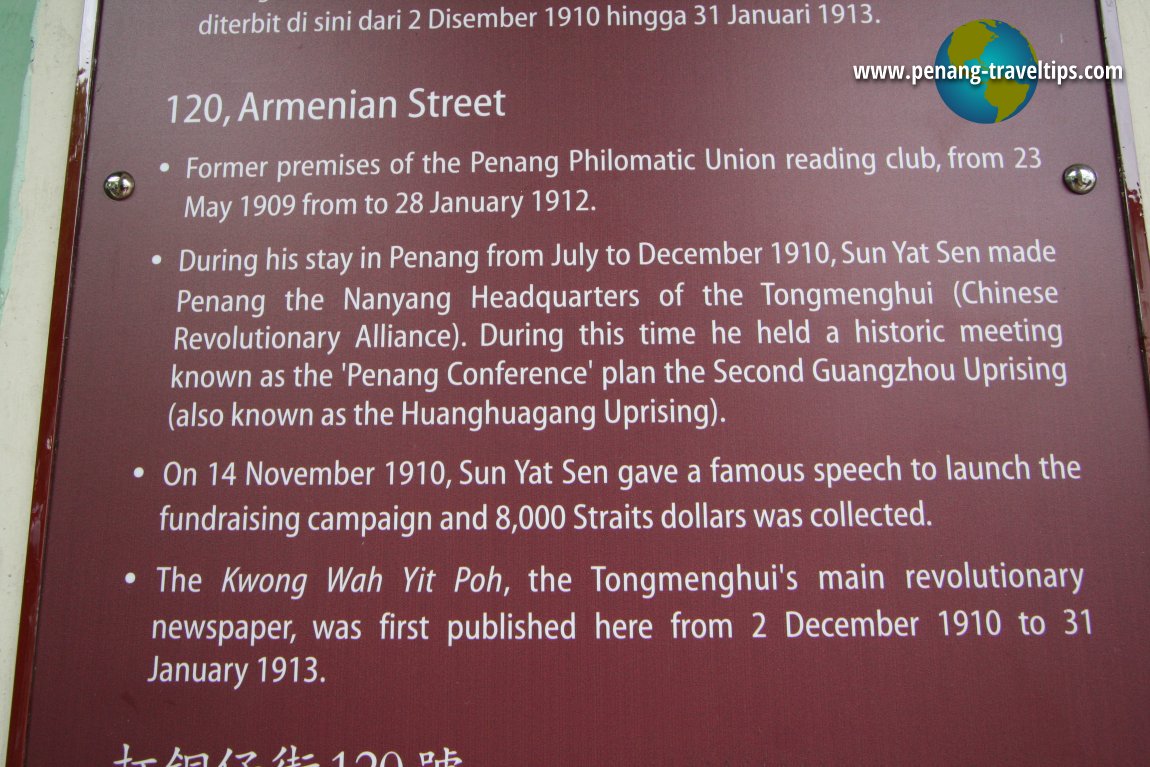 Interpretive plaque on 120, Armenian Street.
(20 November, 2010)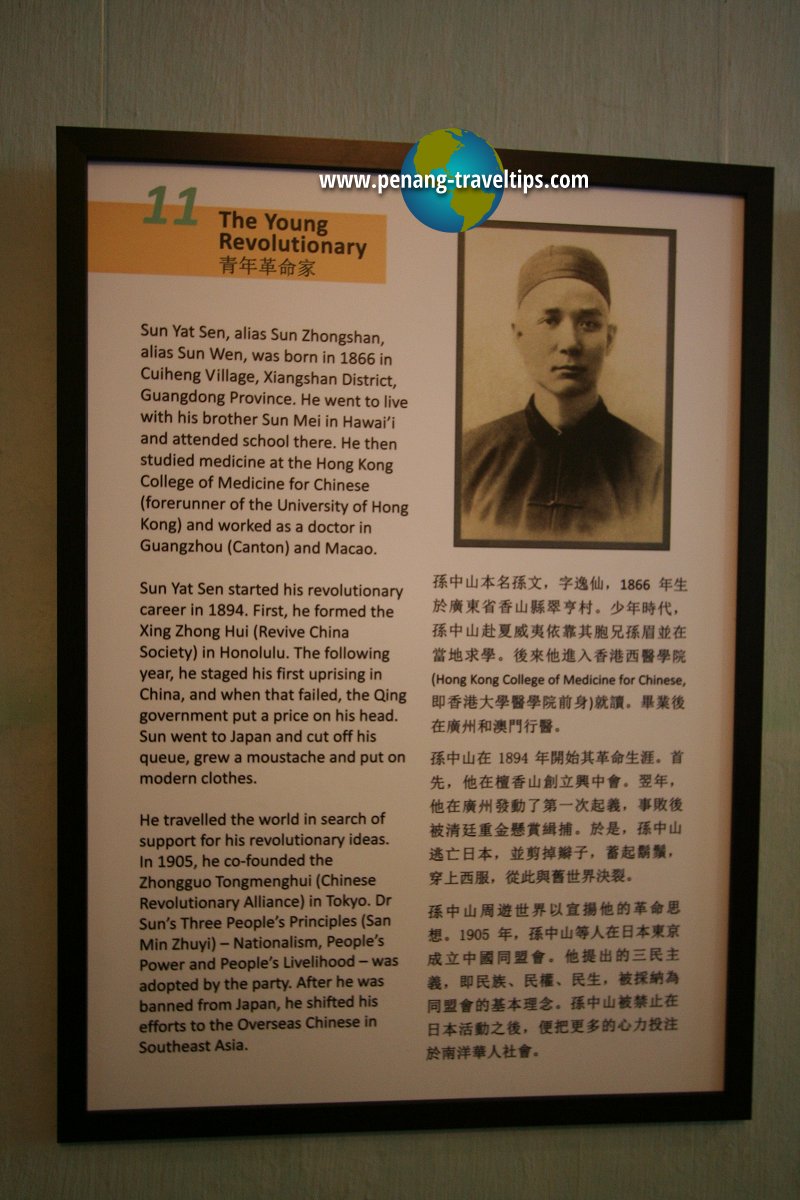 Interpretive plaque on Sun Yat Sen
(20 November, 2010)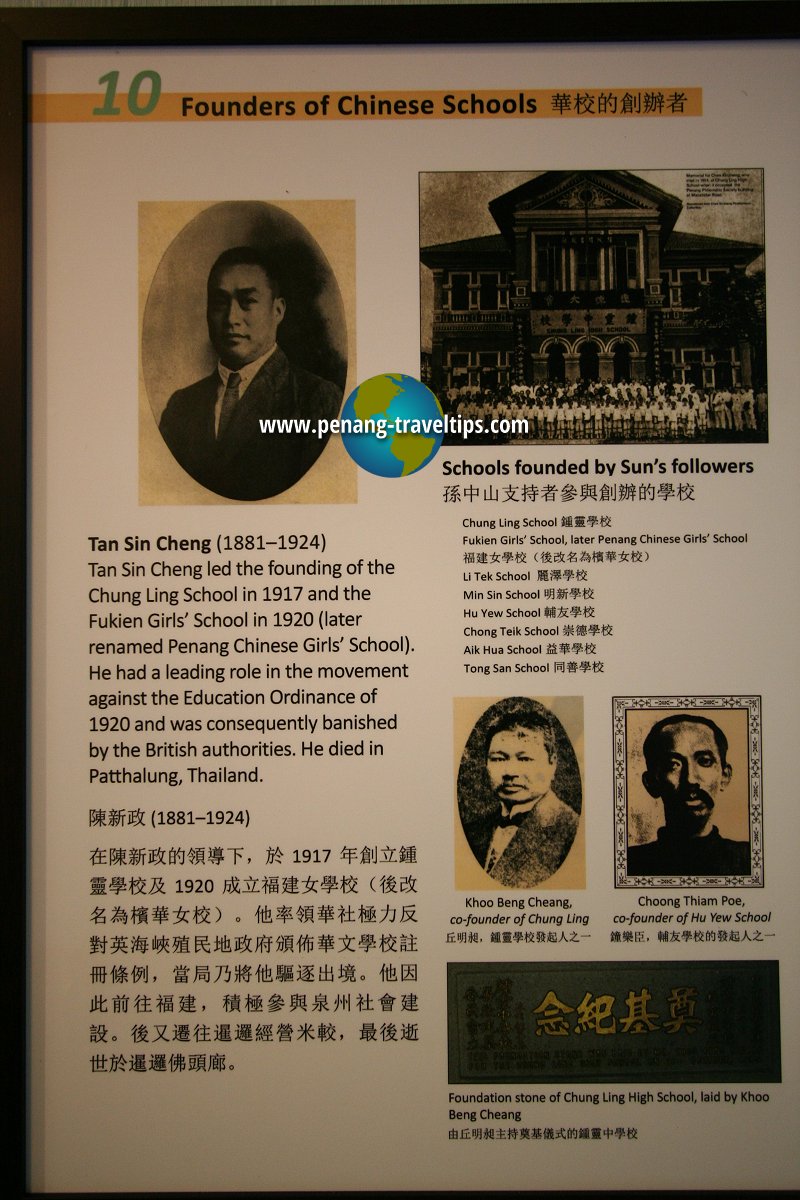 Tan Sin Cheng, founder of Chung Ling School and Fukien Girls' School, was one of the followers of Sun Yat Sen.
(20 November, 2010)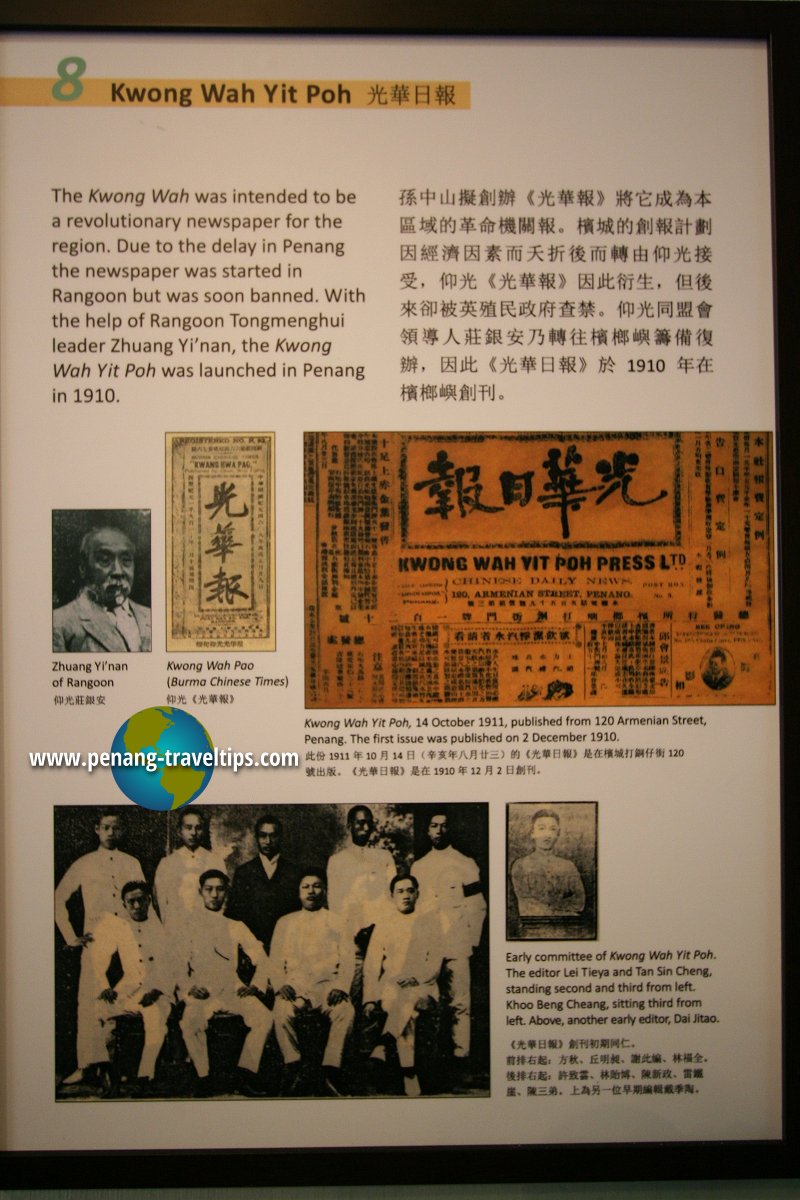 The Chinese newspaper Kwong Wah Yit Poh was established by followers of Sun Yat Sen.
(20 November, 2010)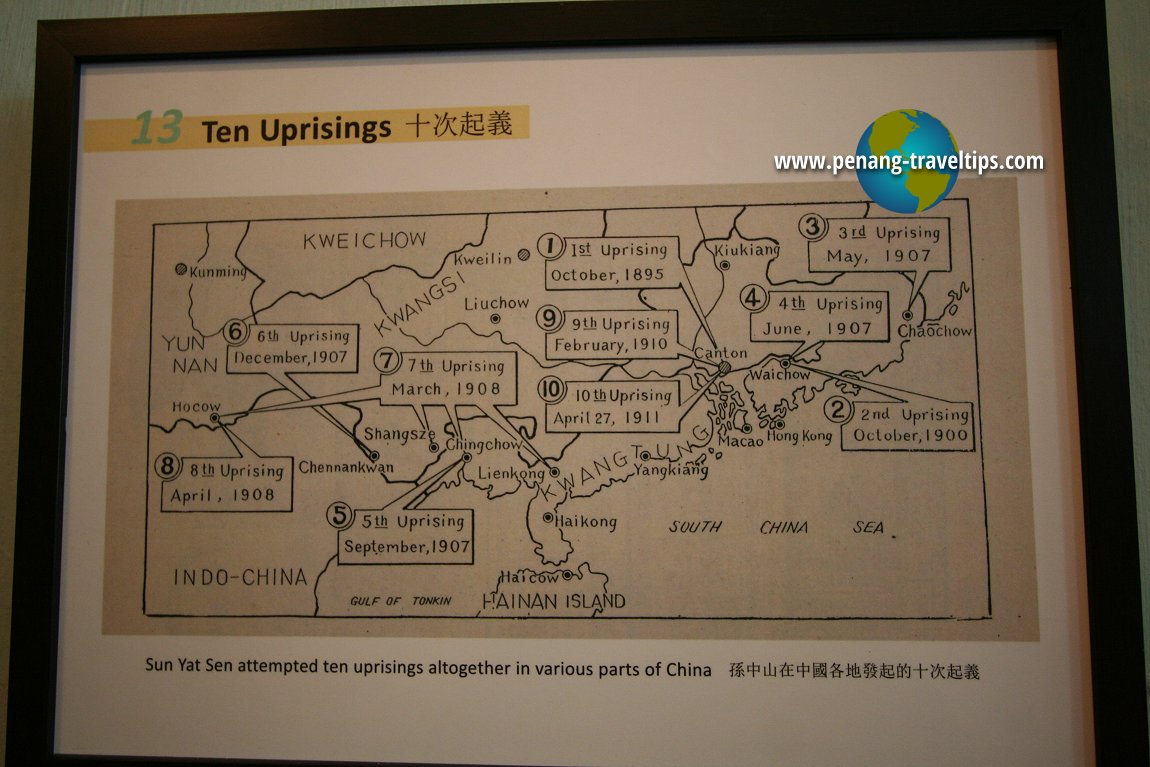 Ten Uprisings organised by Sun Yat Sen in various parts of southern China.
(20 November, 2010)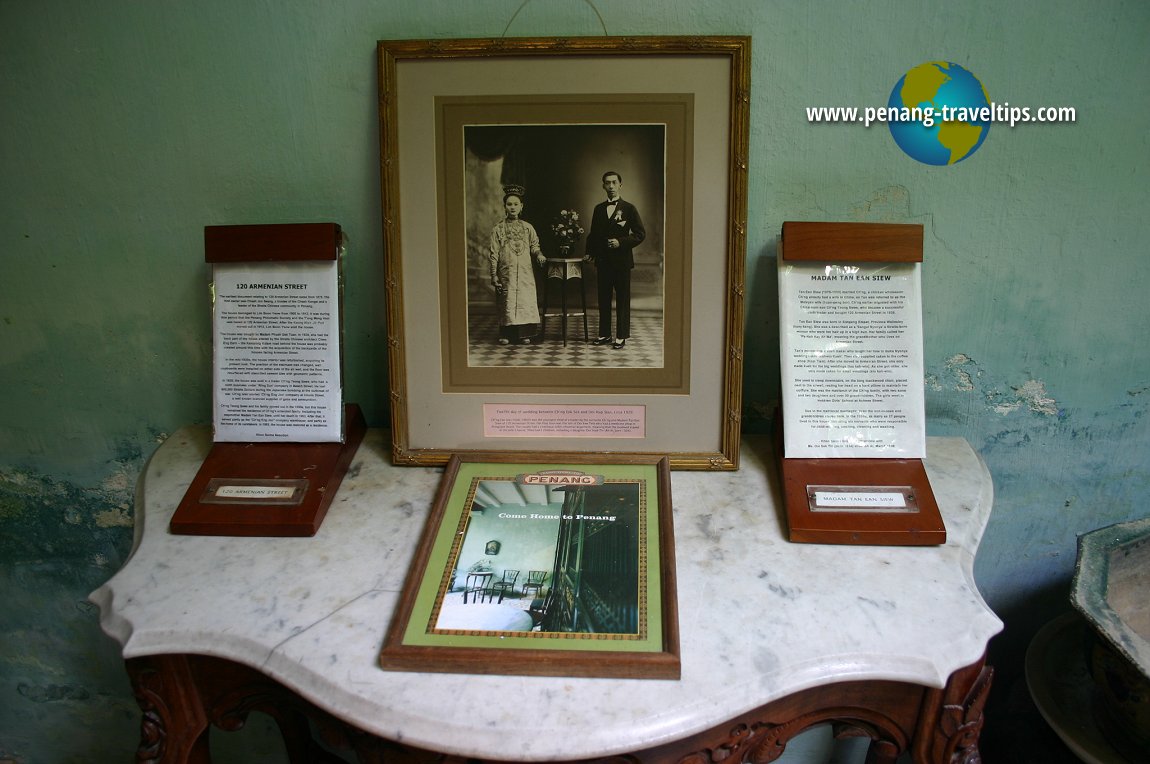 Display at Sun Yat Sen Museum
(24 June, 2005)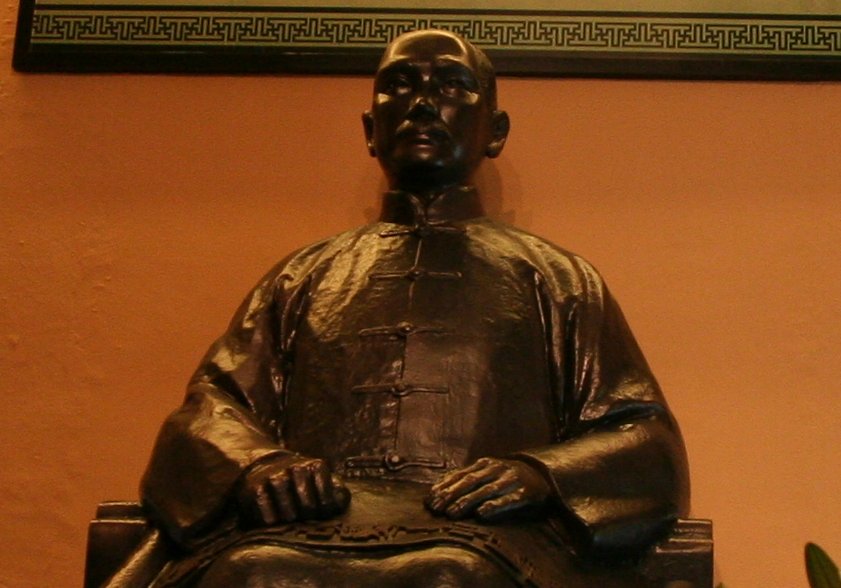 Sun Yat Sen Sites
There are many sites in Asia associated with Dr Sun Yat Sen. I list the ones which I have managed to document right here.
Details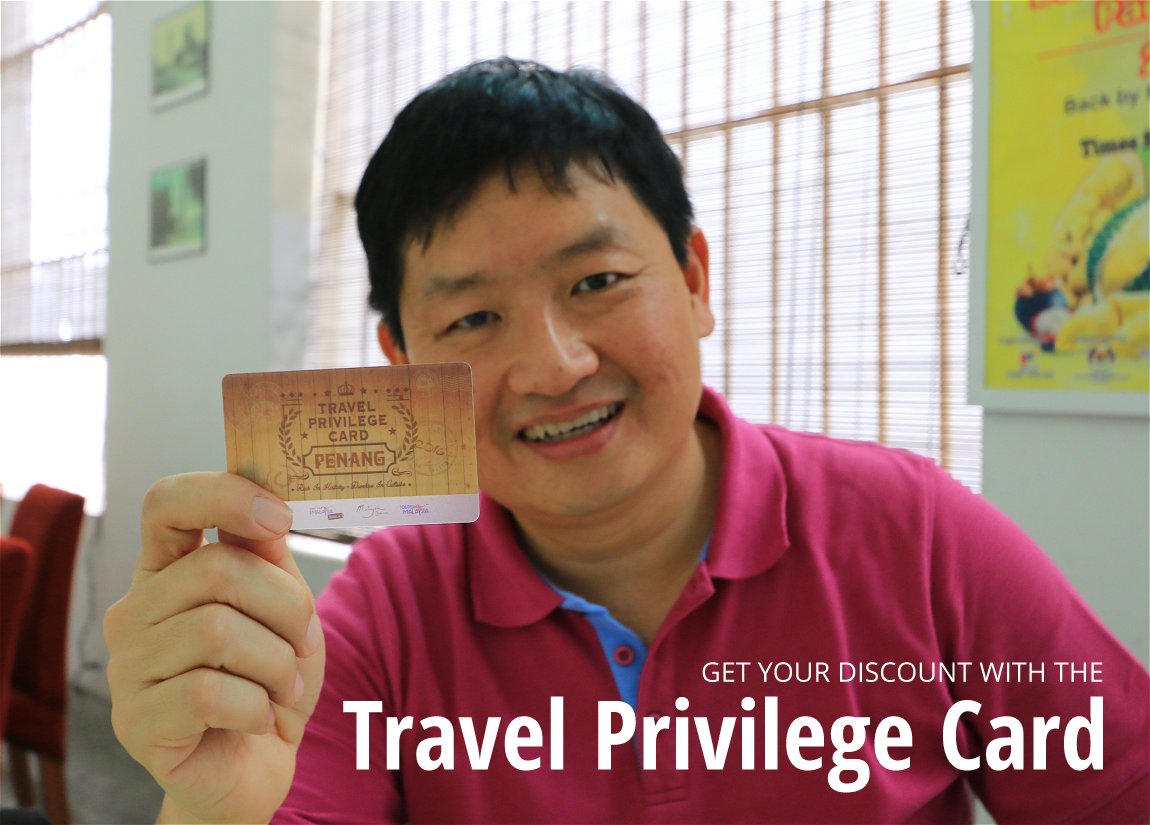 Enjoy 20% Discount at This Attraction !
Get the Travel Privilage Card - Penang
and enjoy a 20% discount on your entrance fee,
for a maximum of 2 adults and 2 kids!
Details Here!
Nearby Sights
Other Sun Yat Sen Sites
The following are other sites related to Sun Yat Sen that I have described:
Sun Yat Sen Nanyang Memorial Hall
Sun Yat-sen Memorial House, Macau
Song Qingling Former Residence, Shanghai
Acknowledgement
I wish to thank Khoo Salma Nasution and Loh-Lim Lin Lee for their help in reviewing this feature and verifying the information contained therein.

Footnote
According to Khoo Salma, "Assuming that Dr Sun Yat Sen received support from Cheong Fatt Tze would be jumping to conclusions. Cheong Fatt Tze was given a position by Yuan Shih Kai; although the latter was head of the Republican government, he and Dr. Sun were not exactly on good terms. Before the revolution, there were the royalists, the revolutionaries and a third group, the reformists, who did not support the Empress Dowager but supported the Emperor. I think the picture is complicated because of the many factions."

According to Loh-Lim Lin Lee, Chung Fatt Tze was totally expedient as were most of the [successful] overseas Chinese. Under the Manchus, Cheong Fatt Tze served as Special Trade Commissioner for the Empress Dowager, and he had a queque (pigtail). However, he also worked as well with the move to liberate the country, which explains his early appointment as "Special Economic Advisor to the New Government of China soon after 1911. Incidentally, he was reputed to be one of the first to cut off his queque.

Cheong Fatt Tze's little group on Leith Street was known as very powerful Hakkas. However they also served the Manchu Government as Vice-Consuls (6 in all) - Cheong Fatt Tze, his nephew (no2) Cheah Choon Seng (where MWE is - no3), Leong Fe (across the rd - no 4), Tye Kee Yoon (next to CFTM - no5) and Tye's son (no.6). Cheong Fatt Tze was also Consul General in Singapore.
Add your shop/business to this website
The Penang Travel Tips website is a huge website that documents everything in Penang. On top of the hundreds of streets and tourist attractions, I also add in hundreds of shops and businesses.
If you operate a shop business in Penang, or anywhere in Malaysia or Singapore, contact me to add your business/shop into my website. It only a one-time fee, and your shop/business will be listed by location and category, helping your would-be customers find you. To find out more,
CONTACT ME
Visiting Penang? Find the lowest hotel room rates here!
Use our search engine to compare room rates from different hotel booking websites, to find the one that's lowest.
Travelling somewhere?
If you're travelling somewhere, use our online engine to find the online booking site that offers you the best room rates.
Book your hotel room here
If you're coming to Penang, book your hotel room online with Agoda. Agoda offers the best prices on 2,000,000+ properties worldwide.
Start here.
Local Guided Tours of Penang
If you are coming to Penang and need someone to show you around, I can arrange for you a licensed tour guide to take you around. Guides charge a fixed fee of RM360 for taking a small group of up to 10 people on 4-hour walking tours. Walking tours exceeding 4 hours is charged an additional RM90 per hour. Tours are tailored to guest requirement. For more details,
contact tour coordinator
. Other types of tours also available.
For details, click here.
Looking for a book? Get it from Book Depository with free delivery worldwide!
I have just discovered
Book Depository
, a subsidiary of Amazon.com, and I love it. This is where you can buy books and have them sent to you. But unlike Amazon, when you purchase using Book Depository, you enjoy free delivery worldwide.
Give it a try today!
Here's a list of the latest pages I have added or updated on my website.
My YouTube Videos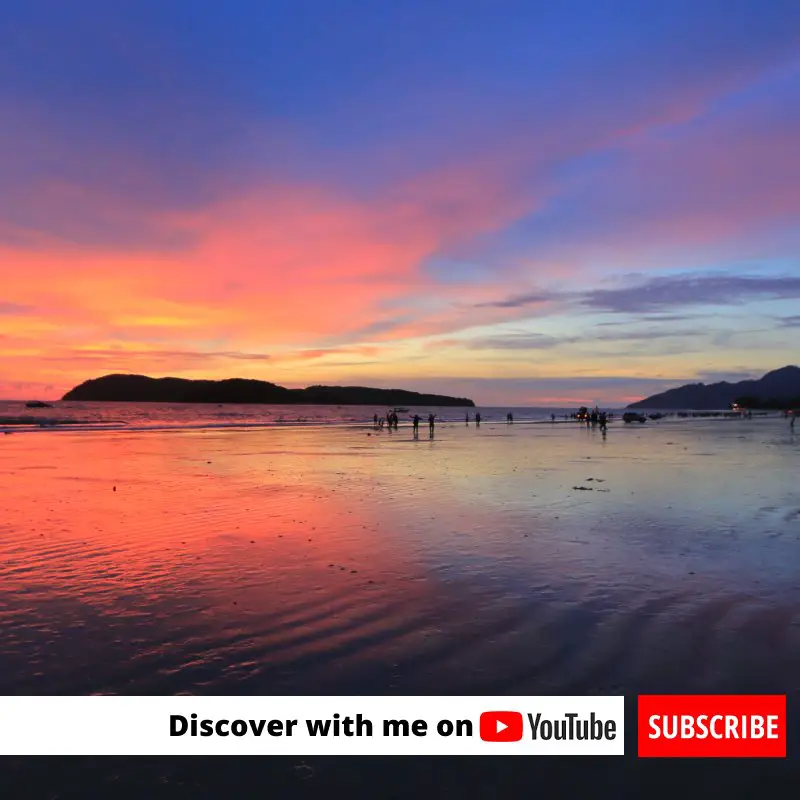 Check out
my YouTube Channel
and don't forget to subscribe!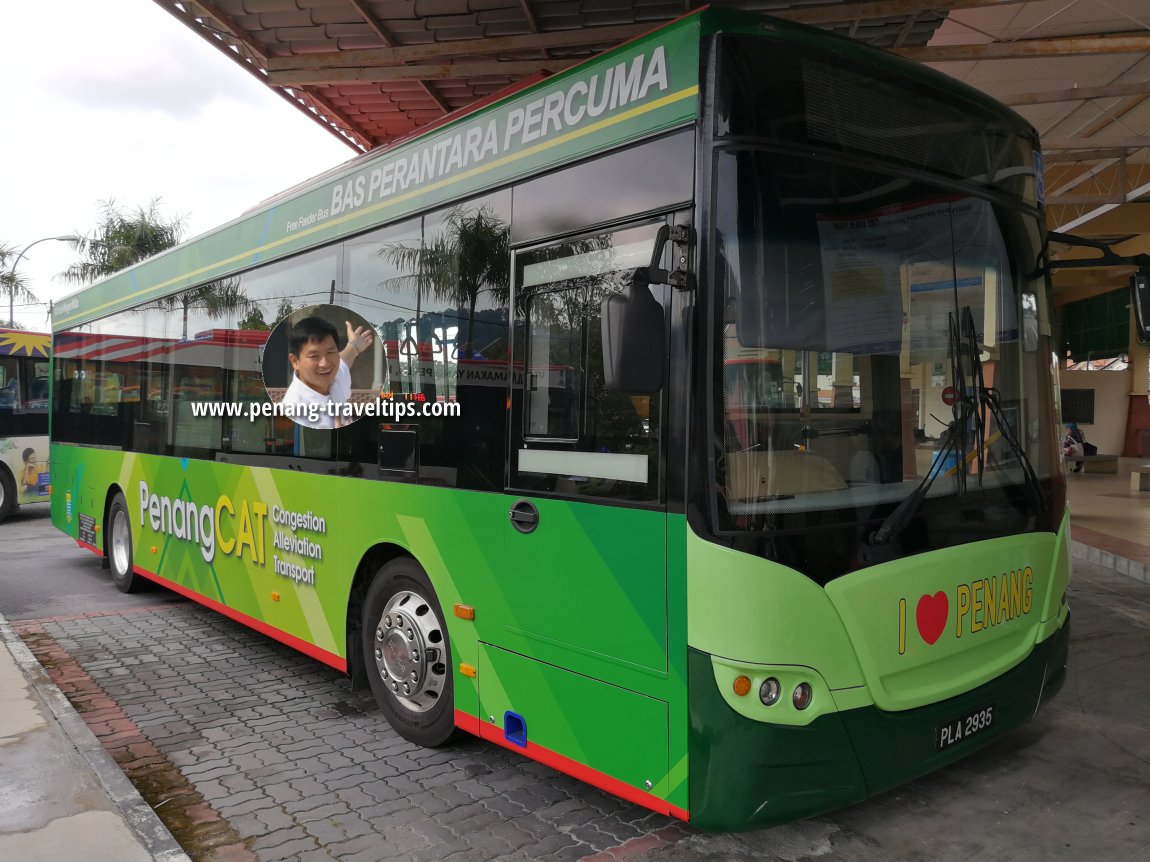 Take the CAT Free Feeder Bus
What's the best way to see Penang on a budget? Take the bus! In Penang, there are at least 12 absolutely
FREE
bus routes which cover almost every major neighbourhood on Penang Island and Penang Mainland. All you need to do is hop aboard!
Details
Vital Links
Book Your Express Bus Ticket
|
Hire a car
|
Our Recipes
|
Facebook Posts
|
Just Curious
|
Not In The Dictionary
|
Our Flowering Garden
Vital Links
Book Your Express Bus Ticket
|
Engage a Tour Guide for Penang
|
What's Up at Penang Hotels
|
Hire a car
|
Facebook Posts
|
Our Recipes
|
Our Flowering Garden
|
Guide Book on Penang Durians
Discover the World
About Me
Thank you for visiting
my website
. I started it in 2003, and today it has over twenty thousand pages of information. My name is
Timothy Tye
. I would be very pleased if you enjoy the information I have put together.
As a Christian, I hope that through this website, I am able to deliver God's message to all who need it, anywhere in the world. If you are open to hearing it, please read
God's Good News to You
.
If you wish to contact me, please use this
contact form
. And don't forget to
follow me on Facebook
. See you!
Copyright © 2003-2018
Timothy Tye
. All Rights Reserved.