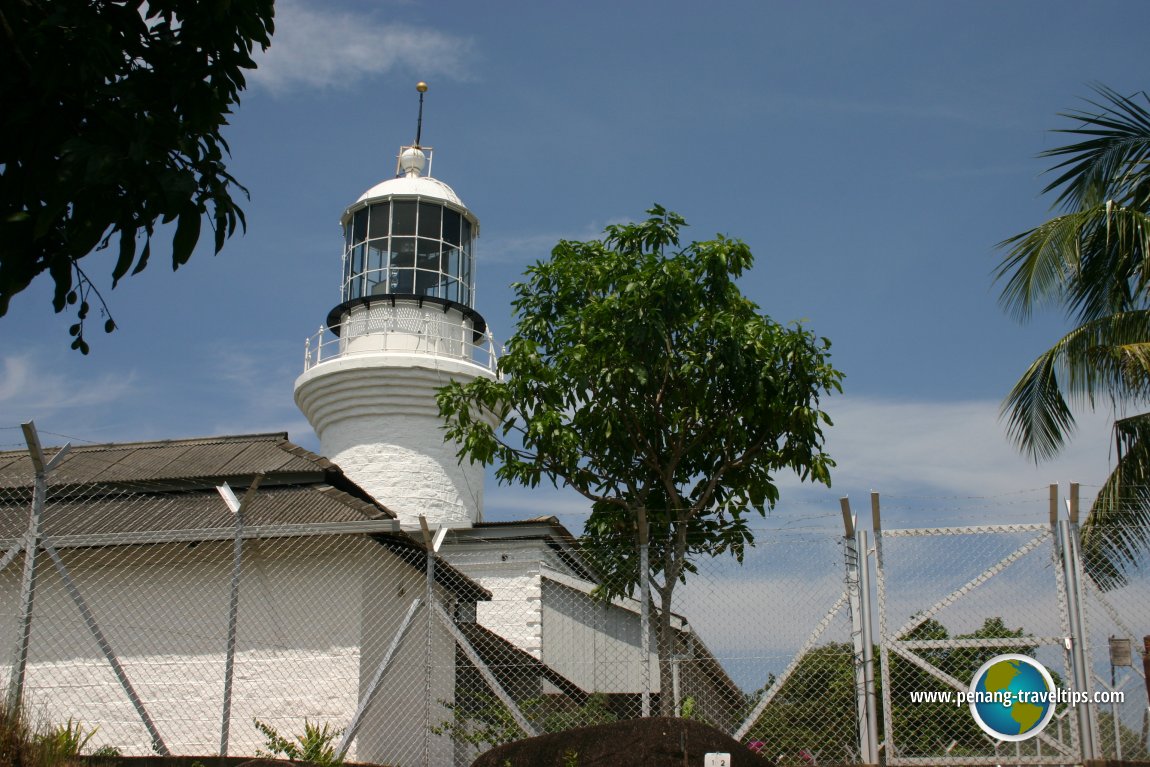 The Muka Head Lighthouse
(6 March 2004)

Muka Head Lighthouse
is the most prominent landmark in the
Penang National Park
. It is located at the top of the hill at Muka Head. The Muka Head Lighthouse was built by the British in 1883 at a cost of £37,929. It stands at a latitude of 05º 28.4' N and a longitude of 100º 10.9' E. The lighthouse is in the form of a 14 meter tall white granite tower, and the light is at a height of 242 meters above sea level. It has a visible range of 25 nautical miles.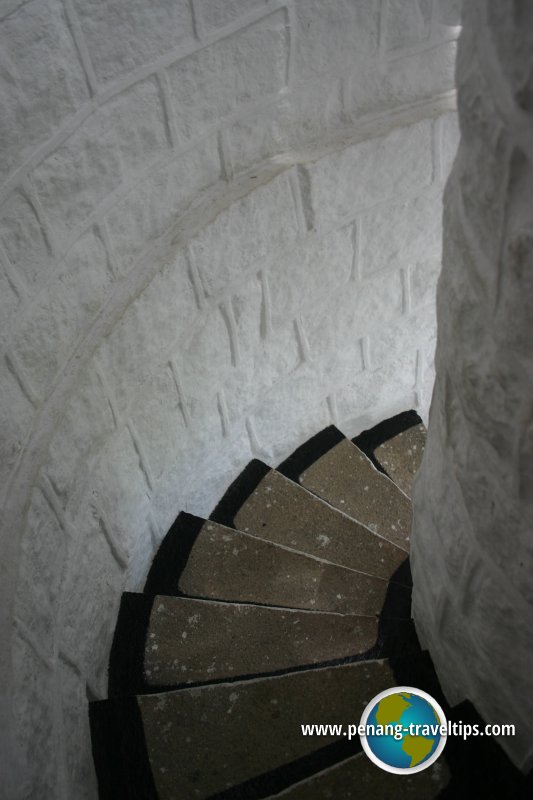 Spiral staircase leading up to the beacon of the lighthouse
(6 March 2004)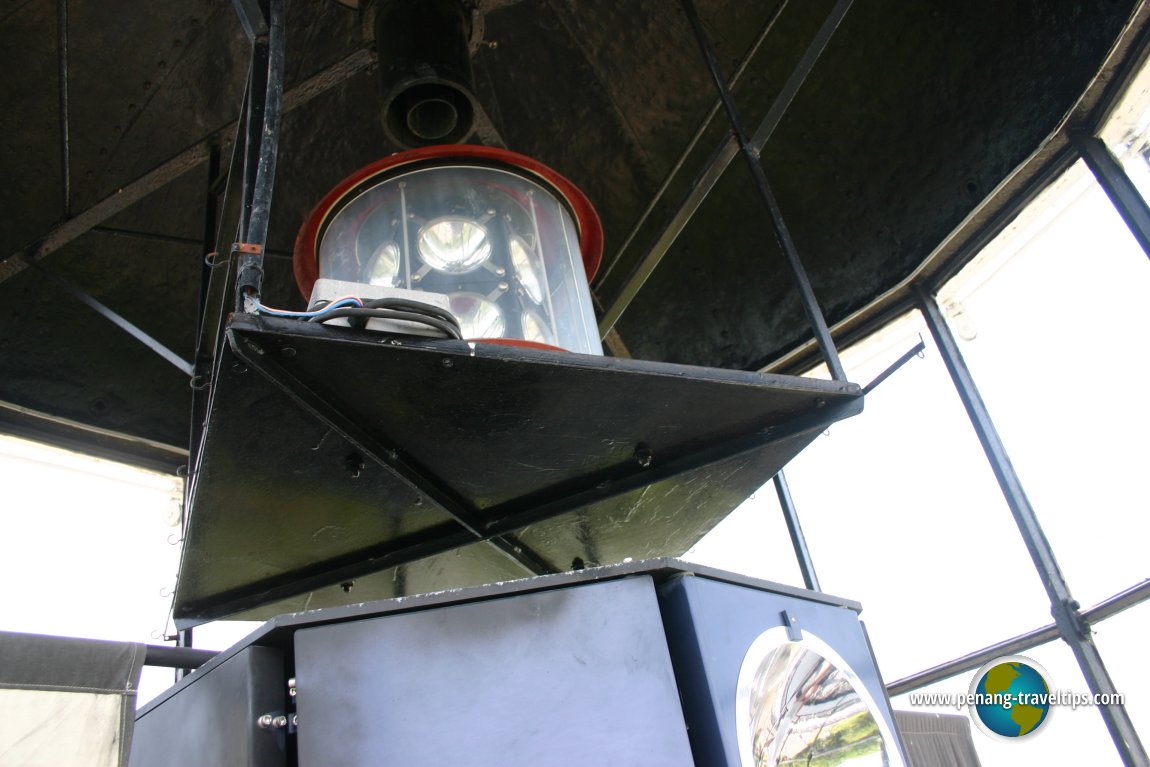 The lamps and lenses of the Muka Head Lighthouse
(6 March, 2004)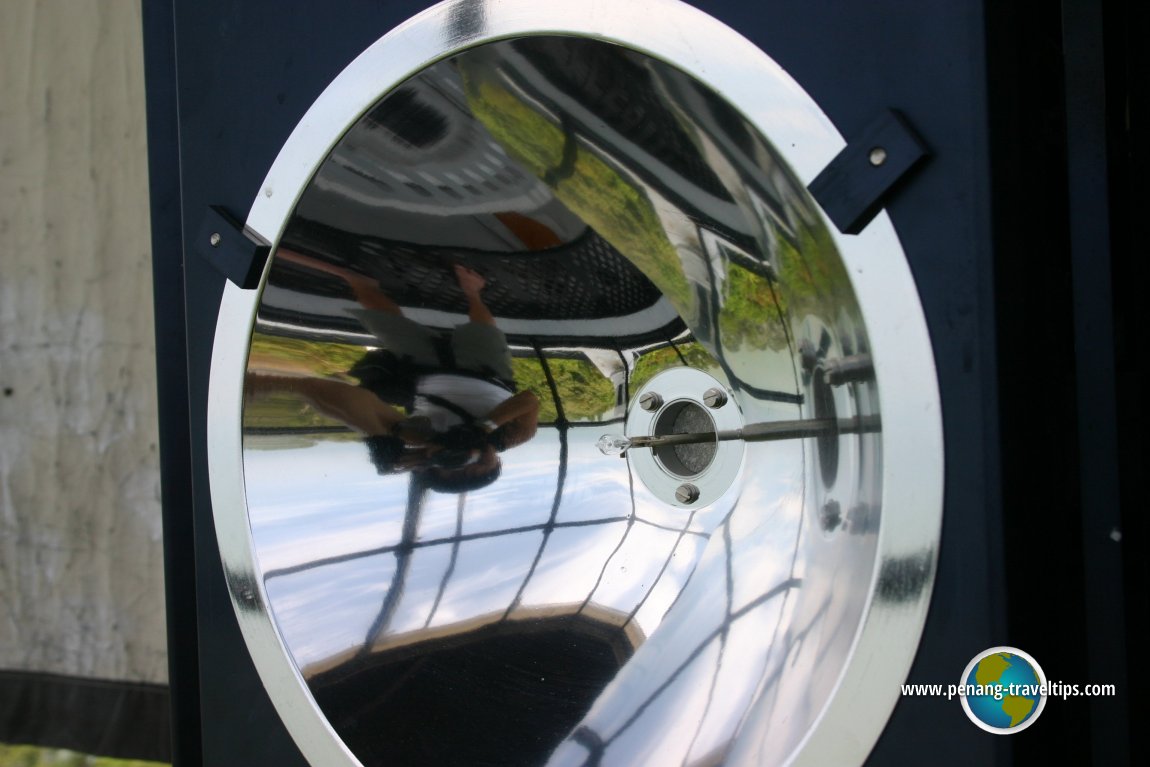 One of the lamps of the Muka Head Lighthouse
(6 March, 2004)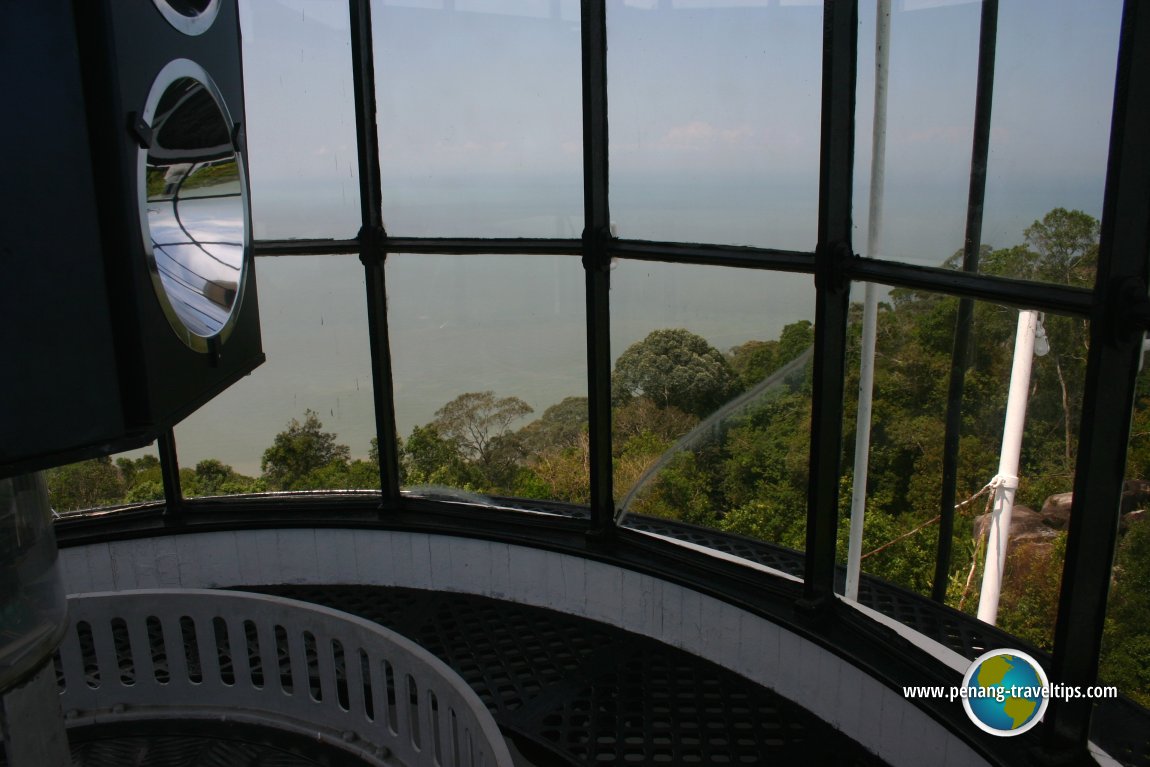 View from the Muka Head Lighthouse lantern
(6 March, 2004)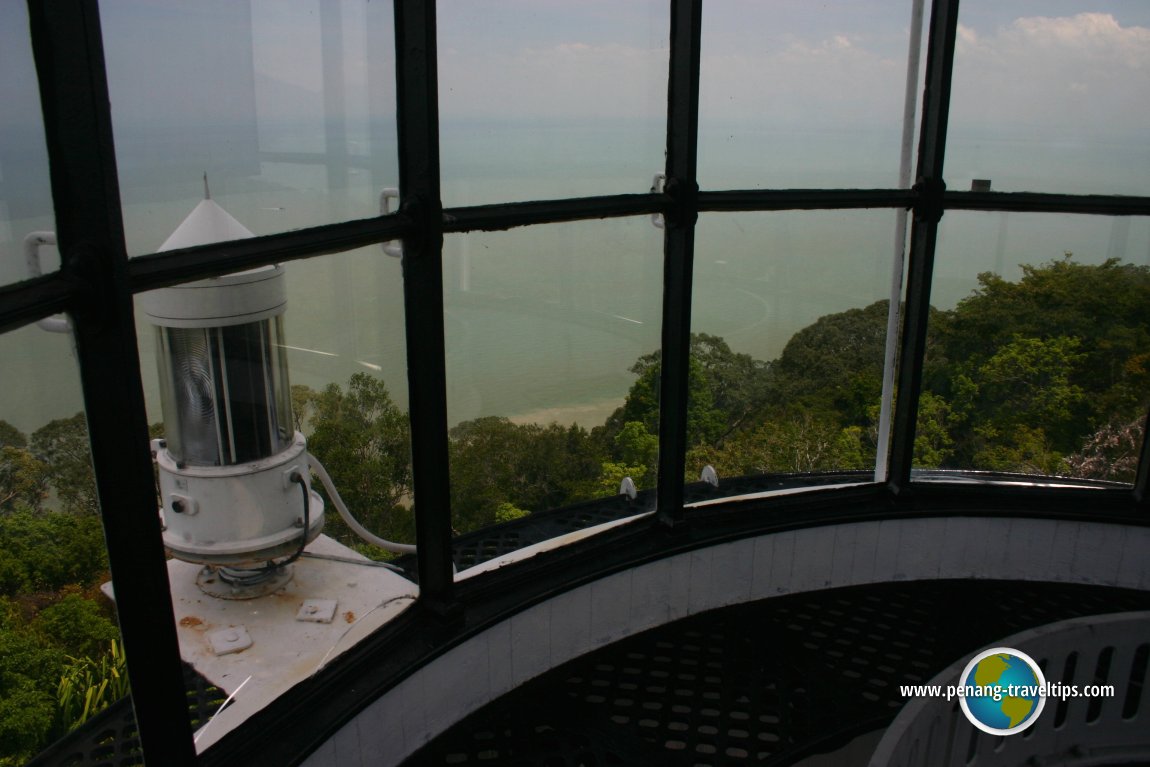 Room with a view - gorgeous scenery of the Penang National Park, from the Muka Head Lighthouse
(6 March 2004)

The Muka Head Lighthouse was built just a year after the
Fort Point Lighthouse
, which still stands today at Fort Cornwallis. These two lighthouses, along with the one at Pulau Rimau, were erected at a time when Penang experienced tremendous economic boom due to large-scale tin mining. This and other regional products gave the Penang Harbour a boost. At the same time, the Industrial Revolution in England brought about the introduction to steamships to replace sailing ships. These larger vessels began to call at Penang Harbour.
The Muka Head Lighthouse serves as a beacon to assist incoming ships approaching Penang Island from the Andaman Sea and the northern end of the
Straits of Malacca
, guiding them to navigate through the North Channel towards Penang Harbour. In similar fashion, the lighthouse at Pulau Rimau does the same thing from the southern approach.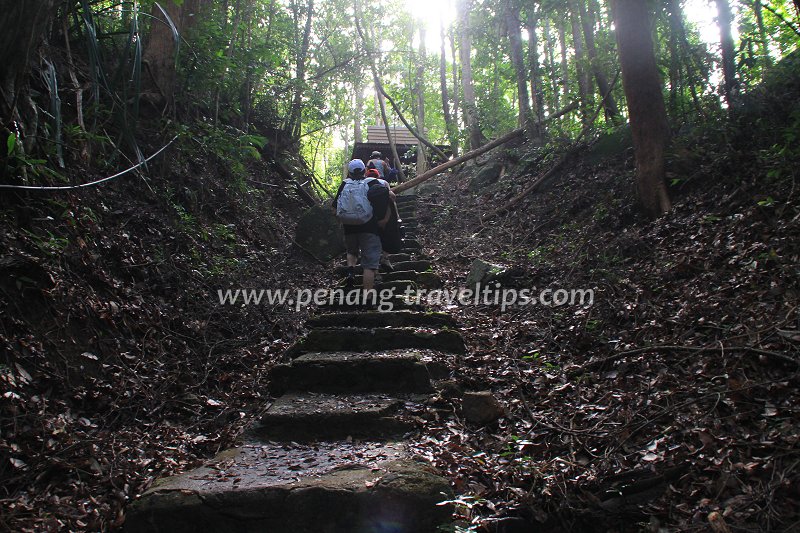 The jungle trail towards Muka Head Lighthouse
(23 August, 2012)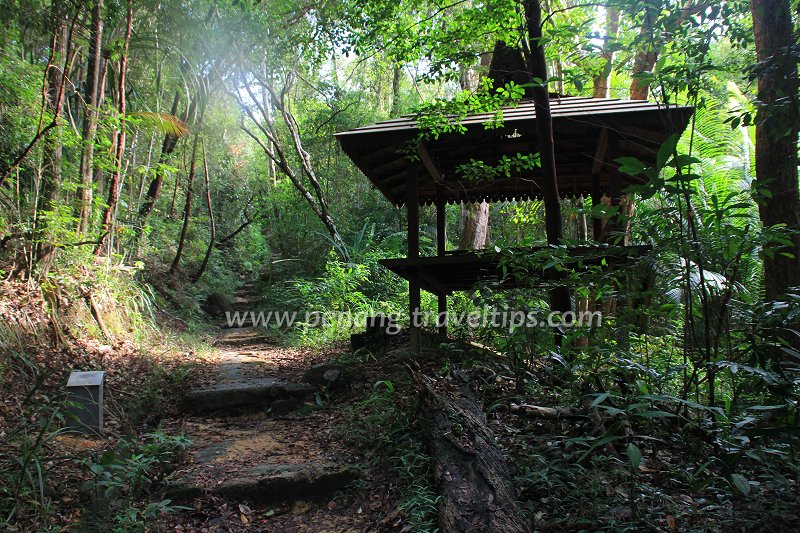 A rest stop in along the jungle trail towards the Muka Head Lighthouse
(23 August, 2012)

At the base of the Muka Head Lighthouse is the office of the Jabatan Laut as well as the caretaker's living quarters. From the base, a cast-iron spiral staircase leads up to the lantern. That's the glass hut encasing the lamp. There are a number of lamps, or bulbs, pointed in different direction. They are surrounded by parabolic reflactors to maximize the light. When the lighthouse is operational, the mechanism rotates, sending a sweeping ray of light across the surroundings.
The caretaker at the Muka Head Lighthouse
(6 March, 2004)

Penang Hokkien Section
This section is in Penang Hokkien and is part of Learn Penang Hokkien. It helps you practise reading in the language. Refer to the Penang Hokkien Dictionary for words that you are not sure.
Muka Head-eh3 Teng3thak3
Muka Head-eh3 Teng3thak3 si33 cit3-leh3 chut1mia2-eh3 sor1cai3. Cit1-leh1 teng3thak3 si33 1883 ni2 khi4 eh2. A33si33 lu1 boek1 khee3 cit1-leh1 teng3thak3, lu1 khah1 ho4 ceh33 cun2 khee3 Teluk Ketapang liau4 ba3lu1 paek1snua1 khi4. Muka Head-eh3 Teng3thak3 khui1 9-tiam4 ca1khi4 kau3ka1 3-tiam4 ae3por1. A33si33 lu4 kau3 thai1 wna33, lu4 tok33 boh3 tharn1 jip1.
Ti1 cit1-leh1 teng3thak3-eh3 teng1bin33 lu1 tharn1 khnua3 cin3 sui4-eh3 hong3keng4. Enee3-enee3 seik1 lu1 e33 khnua3 tiok3 hai4. Lu1 tun1 e33 hien3 tiok1 Pantai Kerachut-eh3 hai1kni2.
Translation
The Muka Head Lighthouse is a famous lighthouse. This lighthouse was built in 1883. If you want to go to this lighthouse, it's better that you take a boat to Teluk Ketapang and then hike from there. The Muka Head Lighthouse opens (to visitors) at 9:00 am in the morning until 3:00 pm in the afternoon. If you arrive too late, you will not be allowed in.
From the top of the lighthouse you can get a very beautiful scenery. All around is the sea. You can also see the Pantai Kerachut seashore.
Getting there
You reach the Muka Head Lighthouse, you can either hike from the national park office, or hire a boat to take you to Teluk Ketapang (Monkey Beach) and hike the rest of the way there. Even if you take the boat to Teluk Ketapang, the hike will take you at least half an hour of moderate climbing to reach the lighthouse. There are a number of rest areas along the jungle trail where you can catch your stop to catch your breath.
If you wish to enter the compound of the Muka Head Lighthouse, note that it is only open from 9:00 am in the morning until 3:00 pm in the evening, so play your journey accordingly.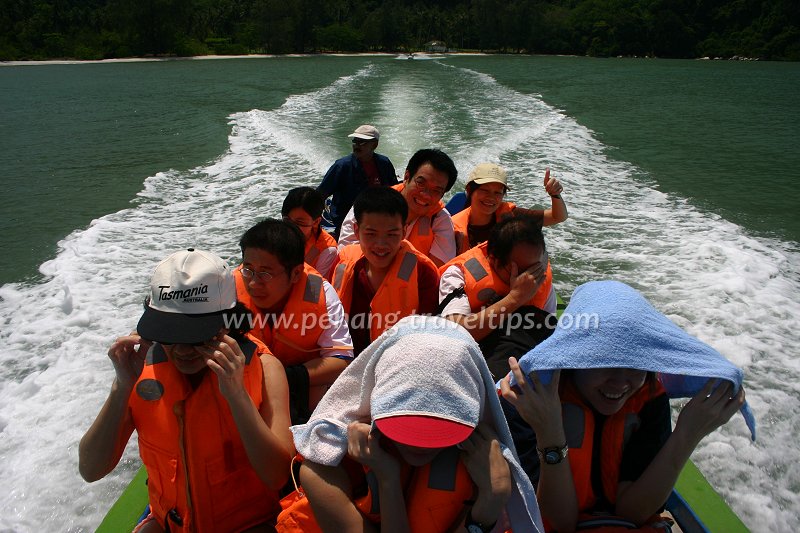 Muka Head boatride
(6 March, 2004)

Location of the Muka Head Lighthouse on the map
References
Penang - 500 Early Postcards, by Cheah Jin Seng, published by Editions Didier Millet (2012)
Jabatan Laut signboard at Penang National Park
Penang Condominium Market
Buy, sell, rent, let Penang condominiums. So easy!
Enter
Penang Residential Property Guide
Tips for buying and investing in residential properties in Penang
Enter
Timothy Property Homepage
The website that helps people acquire the home of their dream and invest in properties prudently. To buy, sell, rent, let property,
email me
or
WhatsApp me
at +60-12-429 9844.
Add your shop/business to this website
The Penang Travel Tips website is a huge website that documents everything in Penang. On top of the hundreds of streets and tourist attractions, I also add in hundreds of shops and businesses.
If you operate a shop business in Penang, or anywhere in Malaysia or Singapore, contact me to add your business/shop into my website. It only a one-time fee, and your shop/business will be listed by location and category, helping your would-be customers find you. To find out more,
CONTACT ME
Discover the World
About Me
Thank you for visiting
my website
. I started it in 2003, and today it has over twenty thousand pages of information. My name is
Timothy Tye
. I would be very pleased if you enjoy the information I have put together.
As a Christian, I hope that through this website, I am able to deliver God's message to all who need it, anywhere in the world. If you are open to hearing it, please read
God's Good News to You
.
If you wish to contact me, please use this
contact form
. And don't forget to
follow me on Facebook
. See you!
Copyright © 2003-2019
Timothy Tye
. All Rights Reserved.