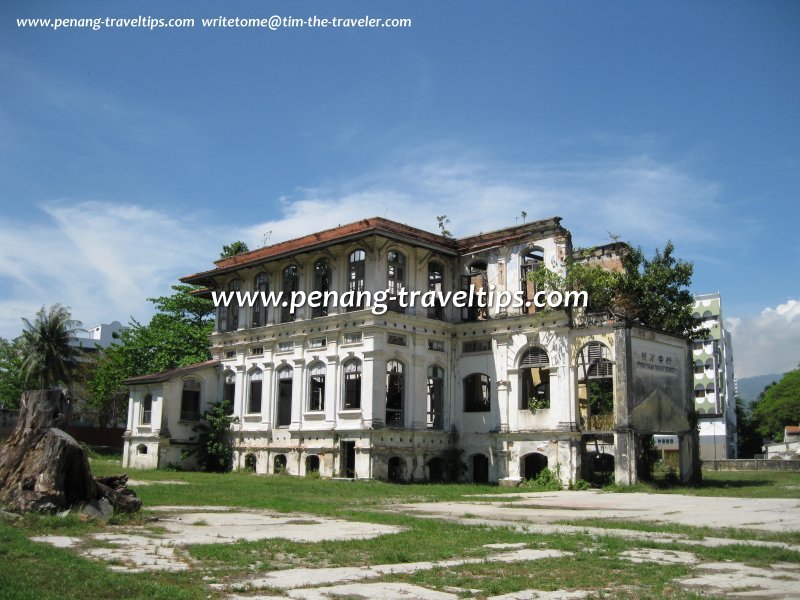 Goh Chan Lau
(23 February 2009)

Goh Chan Lau
(GPS: 5.42314, 100.33185) is a fabulous five-storey mansion along
Northam Road
which, sadly, is today in a severe state of disrepair. The mansion is also known by various names, including the
Chinese Residency
, the
Cheah Tek Soon Mansion
and the
Raffles-by-the-Sea
. It is perhaps best known as the former
Shih Chung Branch School Building
, although the
Shih Chung Branch School
has since relocated to
Sungai Nibong
. Goh Chan Lau is situated within the buffer zone of the
George Town Unesco World Heritage Site
, Goh Chan Lau is at the moment left in a forlorn state, waiting for someone bold enough to restore it.
Goh Chan Lau, which means "Five-Storey Bungalow" was built by late 19th century tycoon Cheah Tek Soon, after whom
Tek Soon Street
was named, somewhere in the 1880's. It had an eclectic mix of styles which could be described as Chinese meets Malay meets Colonial.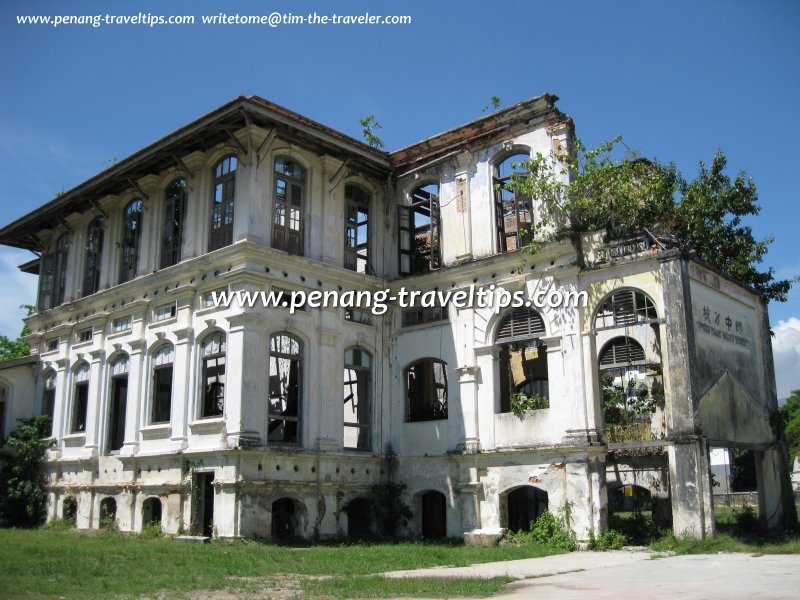 Goh Chan Lau, also known as Cheah Tek Soon Mansion
(23 February 2009)

The mansion of Cheah Tek Soon was the grandest private residence at the time of its completion, and located on prime real estate - Northam Road was known back in the late 19th century as
Ang Mor Loh
, or
White Men's Road
. Transfer Road, located to its side, became known as
Tek Soon Chu Phi Kay
, literally "side road to Tek Soon's house". At the turn of the 20th century, the property was taken over by his brother Cheah Tek Thye, during whose time the building became known as The Chinese Residency. Dr Koh Leap Teng, a nephew of
Koh Seang Tat
moved in to stay there when he married Tek Thye's eldest daughter.
Goh Chan Lau was willed to Cheah Tek Soon's only child, daughter Cheah Liew Bee, who was married to Goh Say Eng (1875-1941?), heir to his own family fortune from the Chop Swee Hock flour and match business, and founder of the
Penang Philomatic Society
. A fervent supporter of revolutionist,
Dr Sun Yat Sen
, Goh Say Eng kept the movement alive by selling off his properties one by one to fuel it financially. (In recognition to his contribution, Goh Say Eng was later elected as the representative of the overseas Chinese in Southeast Asia to the National Convention of the Tung Meng Hui in January, 1912 in China.) Goh Chan Lau was one of the items he had to let go, and it went into the hands of Tye Kee Yoon.
Tye Kee Yoon, for whom
Tye Kee Yoon Road
was named, was another imminent personality in 19th century Penang. Initially, Goh Chan Lau housed a hotel, the
Raffles-by-the-Sea
, direct competition with other hotels within the vicinity at that time, the
Eastern & Oriental Hotel
and the
Runnymede
.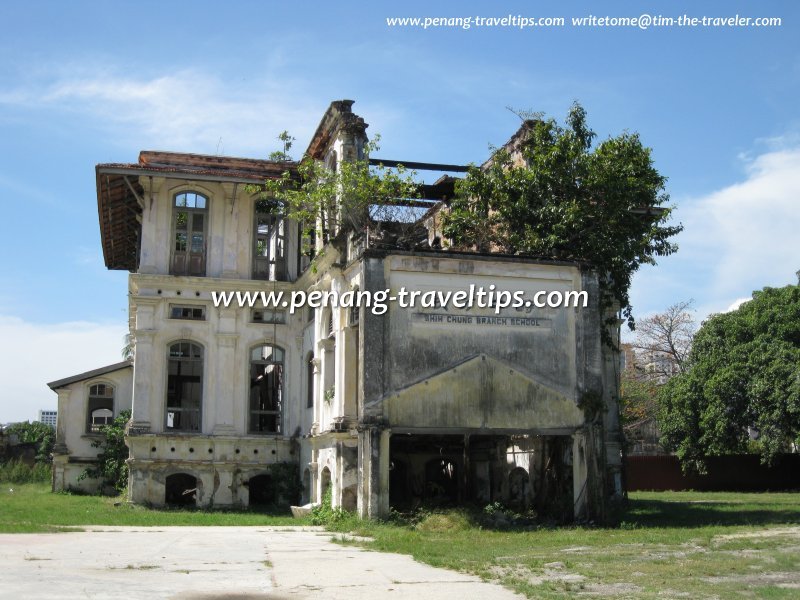 Front facade of Goh Chan Lau, also known as The Chinese Residency
(23 February 2009)

Later on, Tye Kee Yoon joined fellow tycoon Leong Fee (the father of
Leong Yin Kean
) to set up the
Shih Chung School
within Goh Chan Lau. Leong Fee, whose full name is Liang P'i Joo, also set up a girl's school called P'i Joo Girls' School which occupied the upper floor of Goh Chan Lau.
In the 1920s, Goh Chan Lau was leased to house the Government Branch School. After the Seconed World War, it was occupied by the Shih Chung Branch School until the early 1990's, when trustees of the Tye family sold it. The new owners had plans to turn it into a Buddhist-centre-cum-columbarium. Needless to say, the very idea of having a columbarium coming to town was met with harsh protests from Goh Chan Lau's immediate neighbors (save the silent ones resting in peace at the Protestant Cemetery), that the plans never left the drawing board.
Right now, Goh Chan Lau is like forlorn bride in wedding dress awaiting her indefinitely postponed matrimony. Every day brings an added wrinkle to her pitiful façade.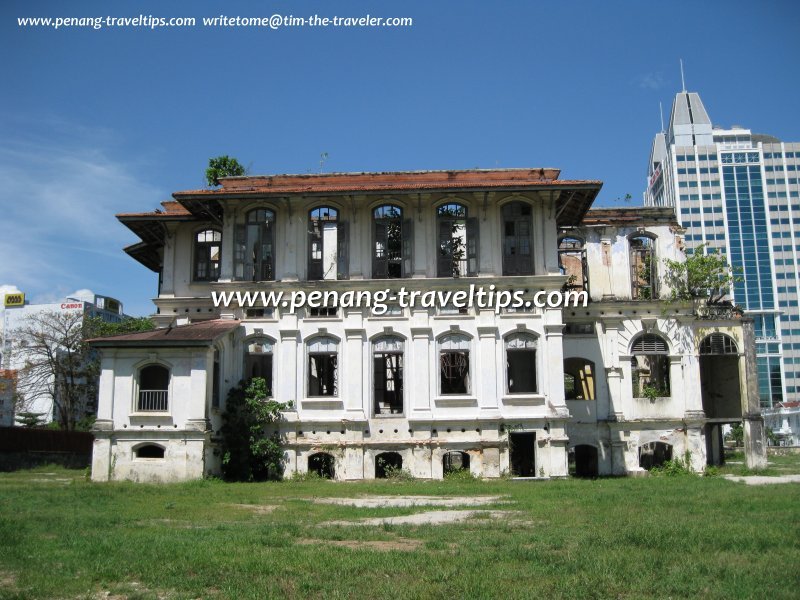 Side view of Goh Chan Lau, also known as the former Shih Chung Branch School
(23 February 2009)

Getting there
Take the
Rapid Penang Free Shuttle Bus
to Station No. 7 (Lebuh Muntri Station), located along Penang Road at the junction of
Muntri Street
. From there, walk north along
Penang Road until junction of Northam Road. Turn left at Northam Road, walk a short distance, past the
Protestant Cemetery
, and you will find Goh Chan Lau in ruins immediately thereafter.
Nearby Sights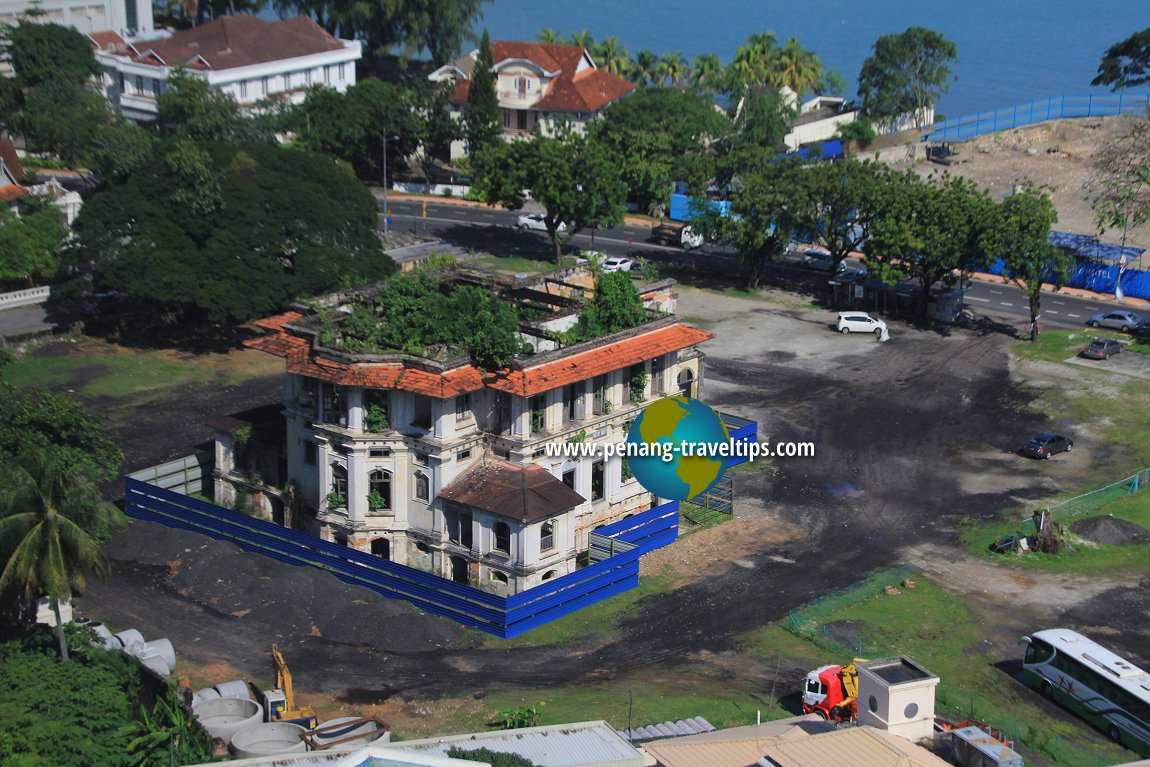 Goh Chan Lau, as viewed from Cititel.
(10 January, 2015)

Add your shop/business to this website
The Penang Travel Tips website is a huge website that documents everything in Penang. On top of the hundreds of streets and tourist attractions, I also add in hundreds of shops and businesses.
If you operate a shop business in Penang, or anywhere in Malaysia or Singapore, contact me to add your business/shop into my website. It only a one-time fee, and your shop/business will be listed by location and category, helping your would-be customers find you. To find out more,
CONTACT ME
Visiting Penang? Find the lowest hotel room rates here!
Use our search engine to compare room rates from different hotel booking websites, to find the one that's lowest.
Travelling somewhere?
If you're travelling somewhere, use our online engine to find the online booking site that offers you the best room rates.
Book your hotel room here
If you're coming to Penang, book your hotel room online with Agoda. Agoda offers the best prices on 2,000,000+ properties worldwide.
Start here.
Local Guided Tours of Penang
If you are coming to Penang and need someone to show you around, I can arrange for you a licensed tour guide to take you around. Guides charge a fixed fee of RM360 for taking a small group of up to 10 people on 4-hour walking tours. Walking tours exceeding 4 hours is charged an additional RM90 per hour. Tours are tailored to guest requirement. For more details,
contact tour coordinator
. Other types of tours also available.
For details, click here.
Looking for a book? Get it from Book Depository with free delivery worldwide!
I have just discovered
Book Depository
, a subsidiary of Amazon.com, and I love it. This is where you can buy books and have them sent to you. But unlike Amazon, when you purchase using Book Depository, you enjoy free delivery worldwide.
Give it a try today!
Here's a list of the latest pages I have added or updated on my website.
My YouTube Videos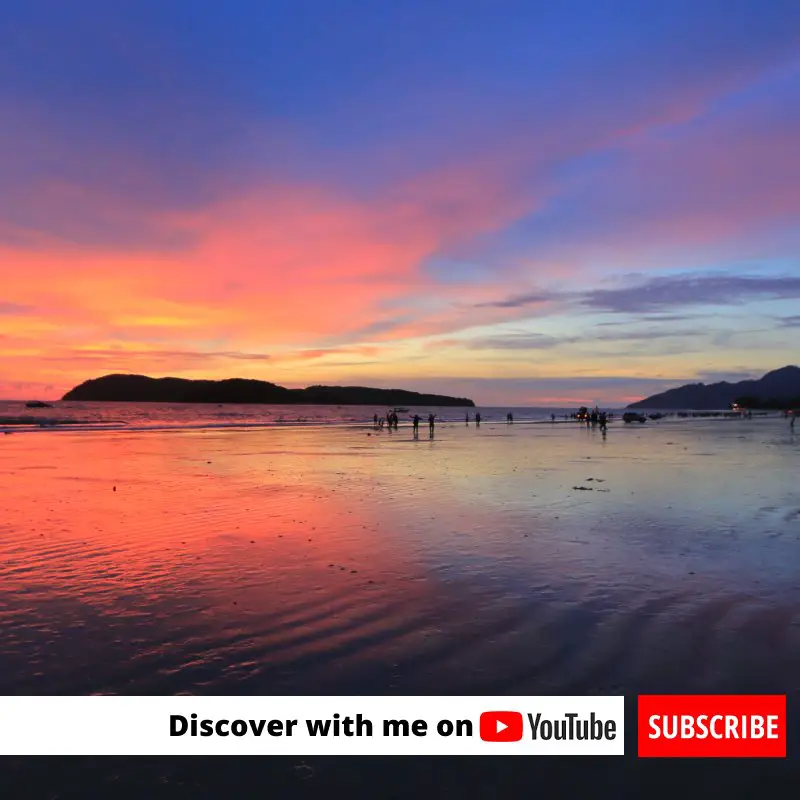 Check out
my YouTube Channel
and don't forget to subscribe!
Vital Links
Book Your Express Bus Ticket
|
Hire a car
|
Our Recipes
|
Facebook Posts
|
Just Curious
|
Not In The Dictionary
|
Our Flowering Garden
Vital Links
Book Your Express Bus Ticket
|
Engage a Tour Guide for Penang
|
What's Up at Penang Hotels
|
Hire a car
|
Facebook Posts
|
Our Recipes
|
Our Flowering Garden
|
Guide Book on Penang Durians
Discover the World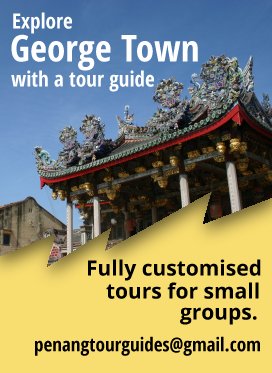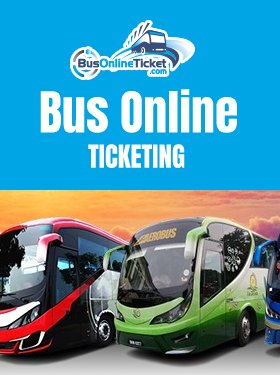 About Me