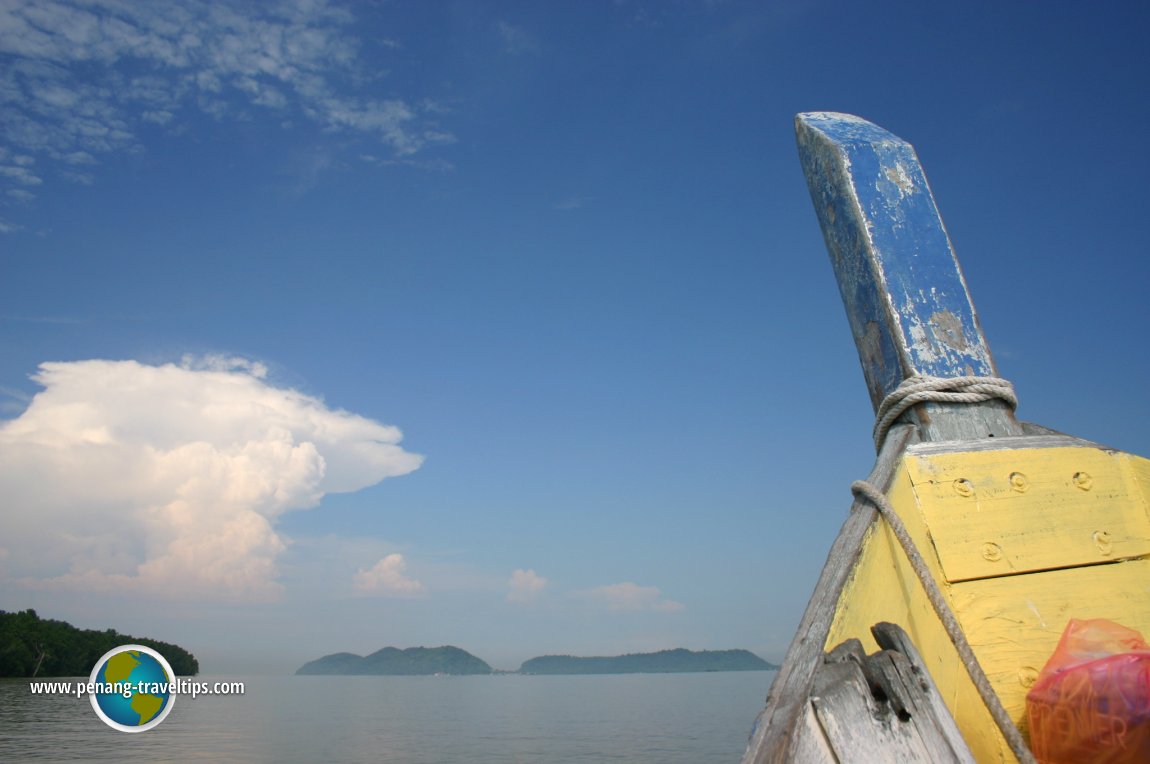 Boat approaching Pulau Aman
(23 May, 2005)

Pulau Aman
is an island off the coast of
Bukit Tambun
,
Seberang Perai
. Located on the southeast of Penang Island, Pulau Aman covers 288 acres. An idyllic Malay fishing village, Pulau Aman is known for having the oldest Sukun (breadfruit) tree in Malaysia. Pulau Aman is reachable by ferry boat from the pier at Bukit Tambun. Park your car in the open space in front of the pier. There is a big signboard pointing to the jetty for Pulau Aman, but apart from you, I guess you need to ask around for directions.
I arrived at the
Bukit Tambun Jetty
just before 9am one Saturday morning, and had to wait over an hour for the ferry, as it only leaves at 10am. The fare is RM4 (and RM2.50 for children) per way. The journey took over thirty minutes (over because the ferry did not depart on time), very slow considering the distance is only 2.5 nautical miles. It first negotiated a curve on the Sungai Jawi before reaching open sea.
Location of sights on Pulau Aman on the map
Sights on Pulau Aman
Other places of interes on Pulau Aman
1.
Batu Perompak
or Pirates' Rock is a bounder where pirates that used to menace the channel used to hide.
2.
Gua Lanun
or Pirates' Cave is where the pirates took shelter and hoarded their loot.
Village on Pulau Aman
There is a Malay village on Pulau Aman. The houses are clustered together on the northern coast of the island. A network of paths wrap themselves around the village. On the whole, the area is clean and well maintained. The people here no longer live in traditional Malay stilt houses, having moved down to ground level. Many of these homes are now open for homestays. I suppose this is one of the limited options the people here have to earn a source of income. This will probably appear more to Western tourists looking for a glimpse at the slow-paced country living.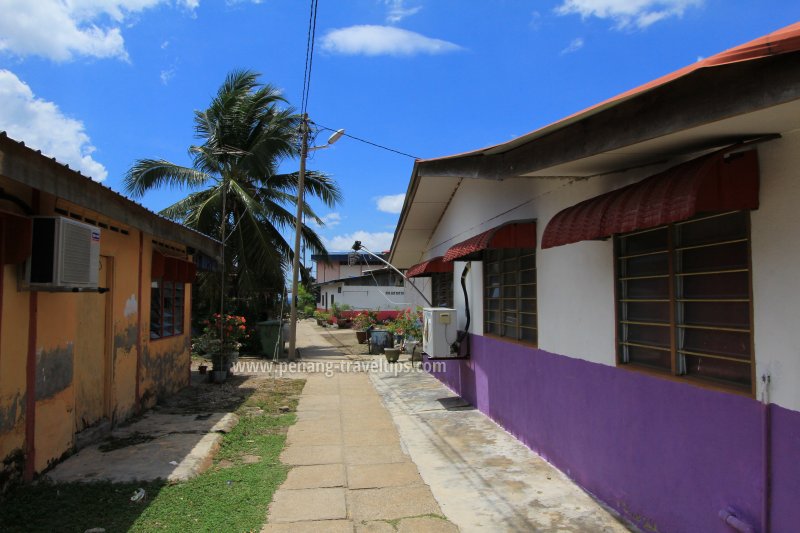 Pulau Aman village
(3 May, 2015)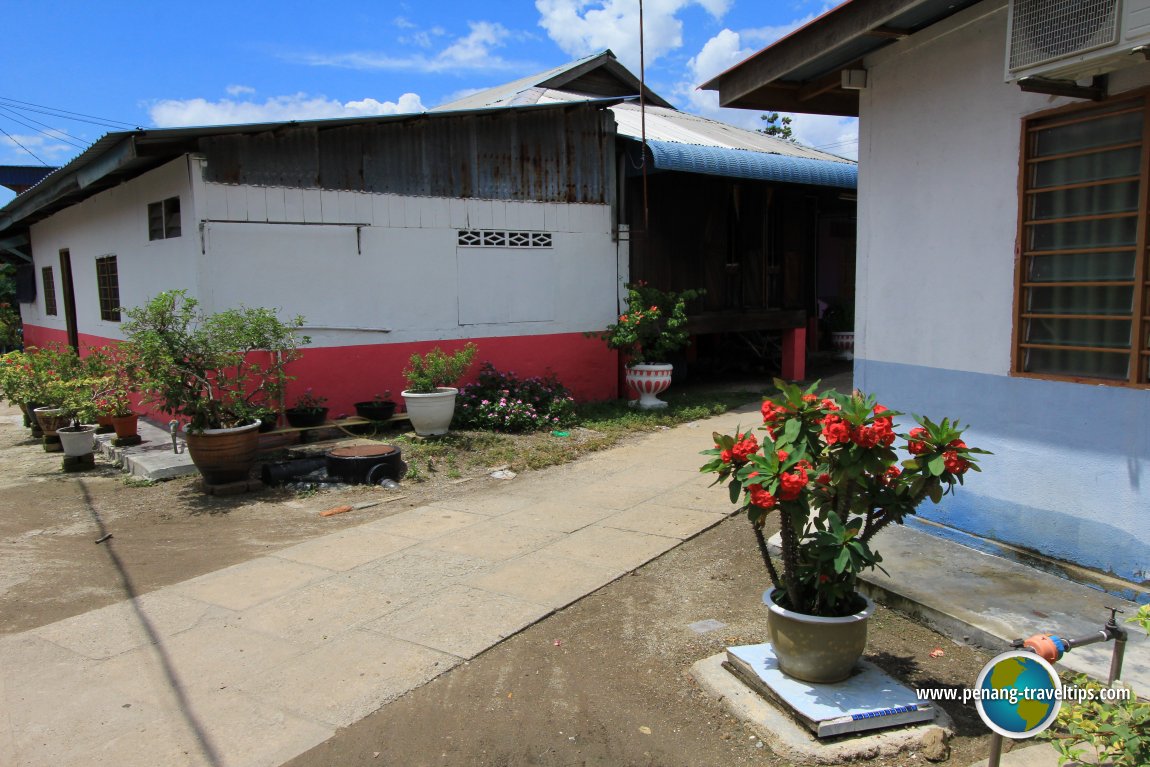 Pulau Aman village
(3 May, 2015)

I saw the womenfolk of the village engaged in cottage industries such as the baking of
kuih kapit
and
keropok lekor
. Homes have storefronts to sell souvenirs made of shells.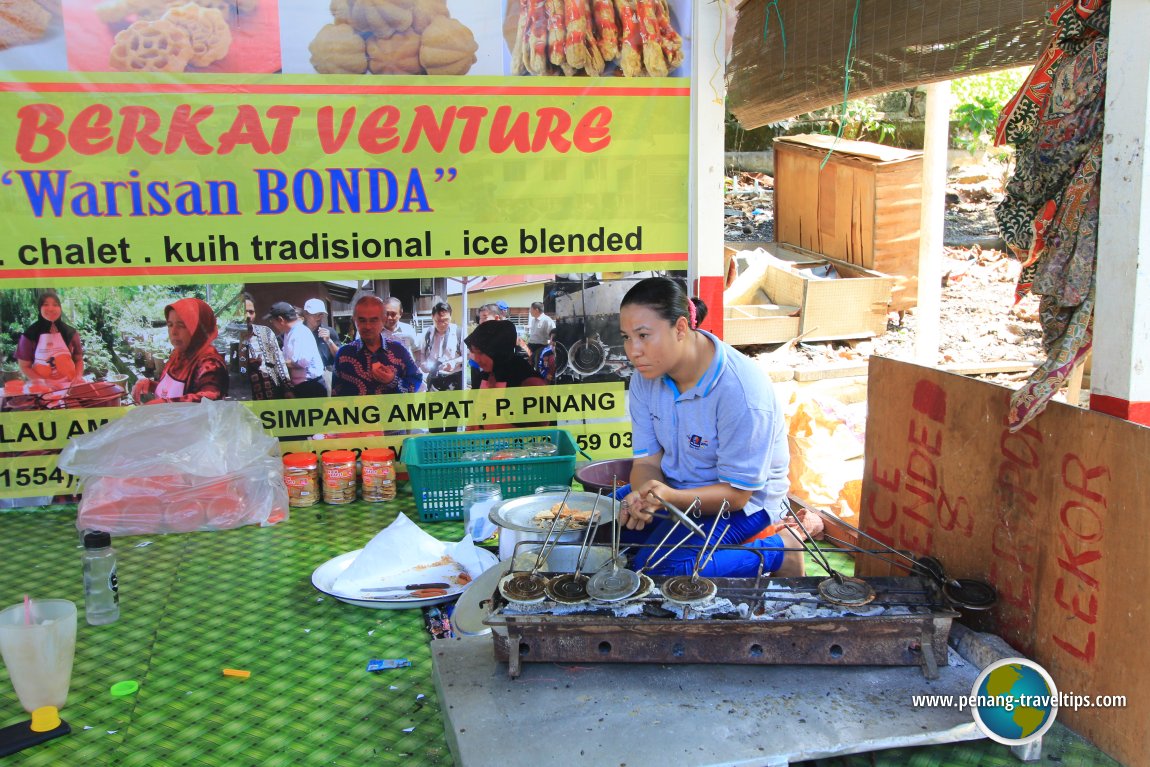 Pulau Aman villager making kuih kapit
(3 May, 2015)

Homestay on Pulau Aman
Pulau Aman is one of the location identified for Homestay programme in Penang. This is where the pace of life slows down considerably. Visitors here can view the fish farms around the island, as well as the fruit orchards maintained by the villagers. While at Pulau Aman, visitors can also visit some of the historical sites or canoe in the sea around the island.
For more details on Homestay in Pulau Aman, contact the Koperasi Pelancongan Pulau Pinang at 6 Jalan Kampung Kaka, 10200 George Town, Penang, at 04-250 5500.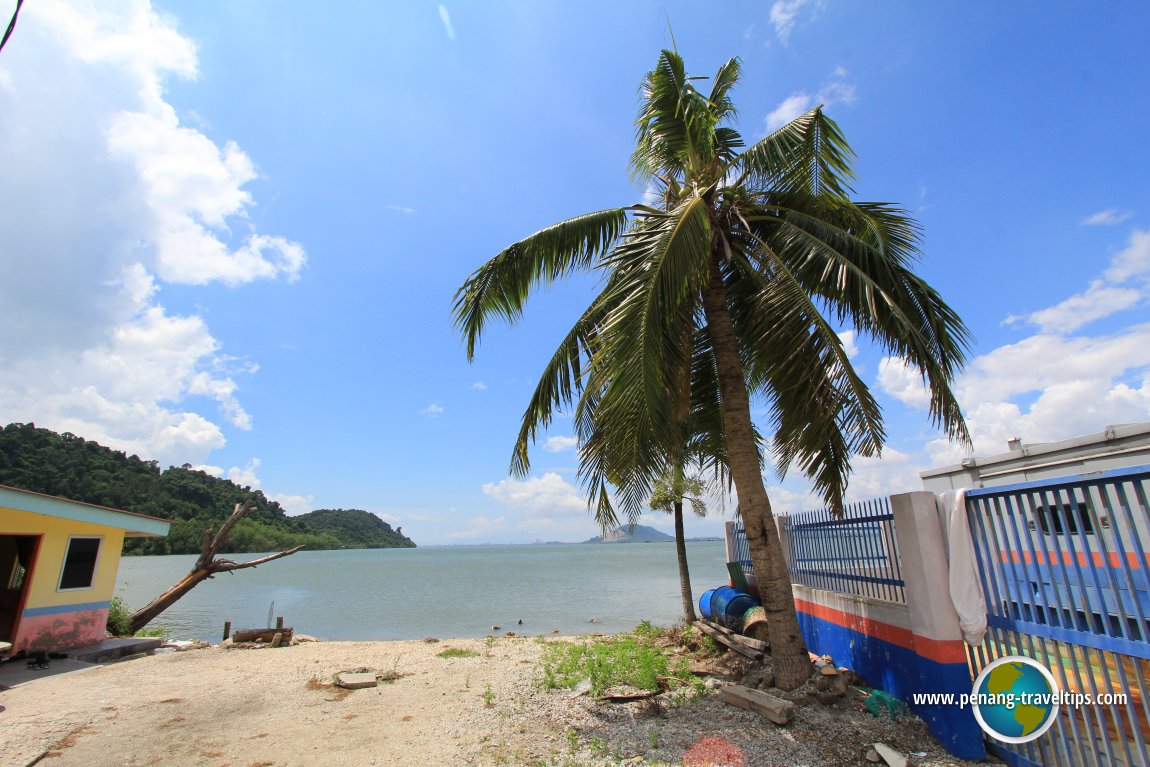 Pulau Aman seaside
(3 May, 2015)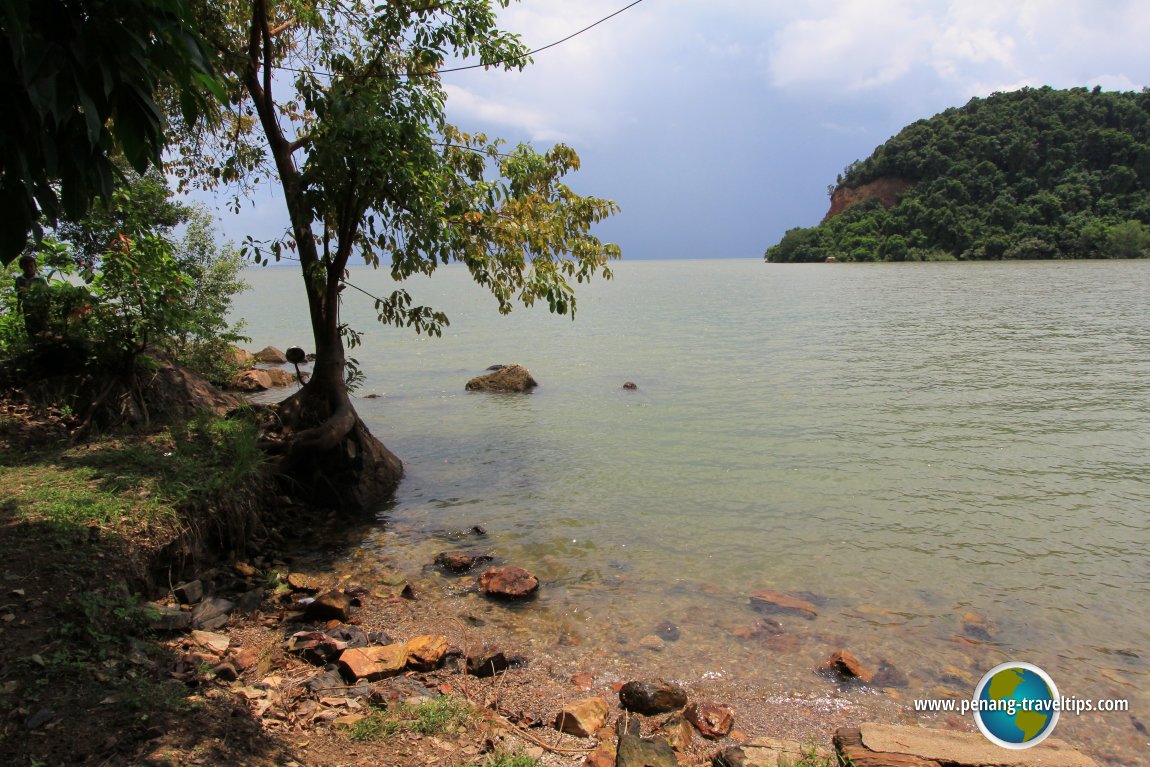 Pulau Aman seaside
(3 May, 2015)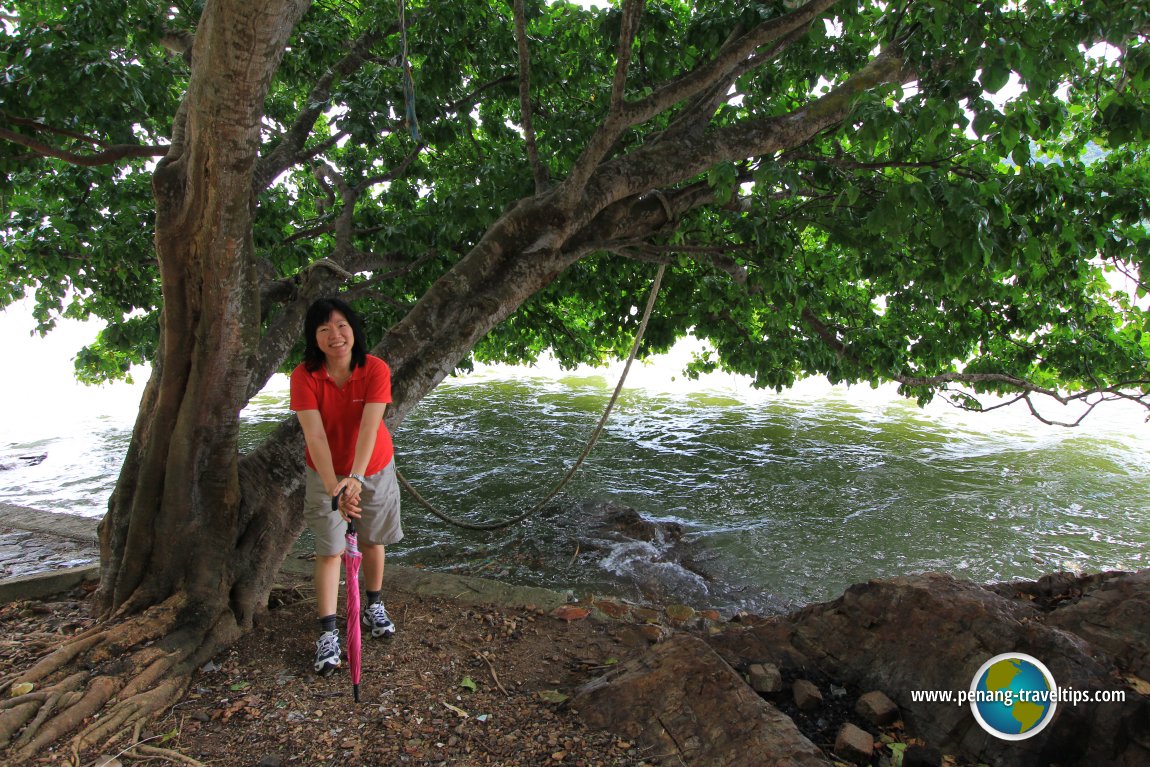 Goh Chooi Yoke in Pulau Aman
(3 May, 2015)

How to reach Pulau Aman
The most cost effective way to reach Pulau Aman is to take a ferry from the jetty at
Bukit Tambun
, on Penang Mainland. The journey takes 30 minutes. Boats can also be hired from
Batu Maung
or
Batu Uban
on Penang Island. The journey from there takes 45 minutes. Boat hires can be quite expensive, and run to a few hundred ringgit, as you are chartering the whole boat, and it also depends on availability of fishing boat to take you there.
Update 14 Jan 2012
You can now go to Pulau Aman by taking the ferry boats from the
Batu Musang Jetty
.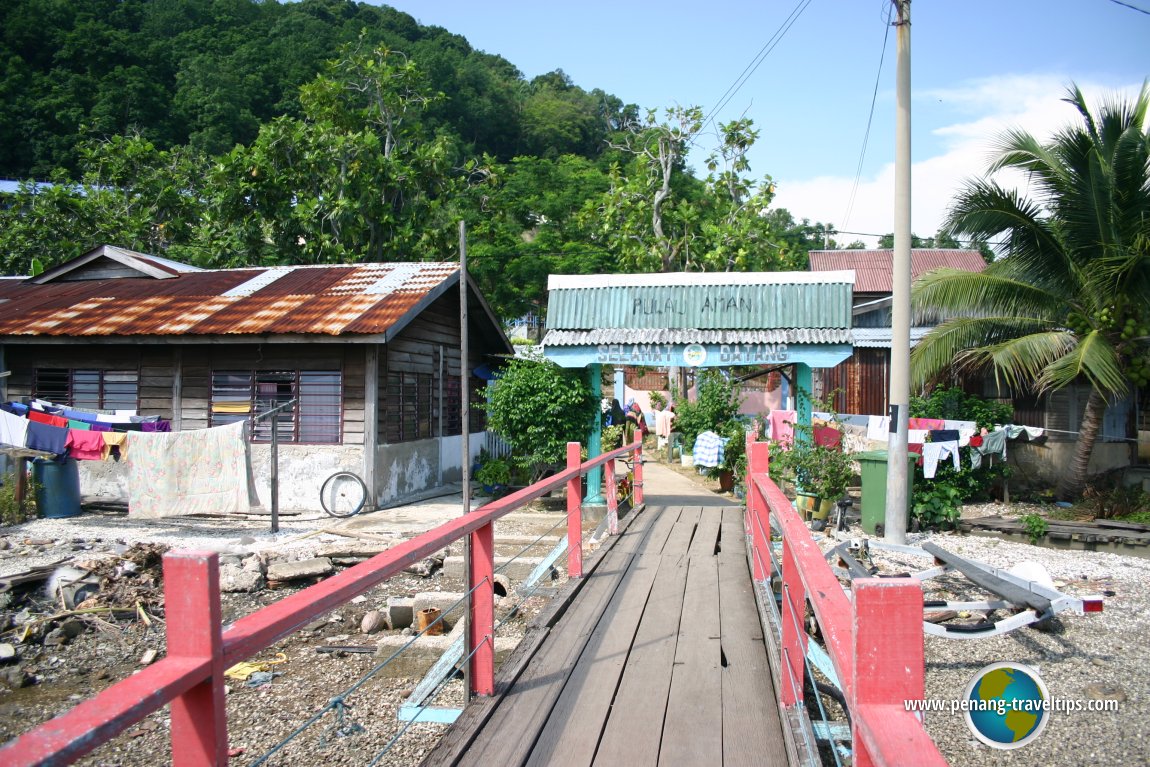 Selamat Datang ke Pulau Aman! Welcome to Pulau Aman!
(23 May, 2005)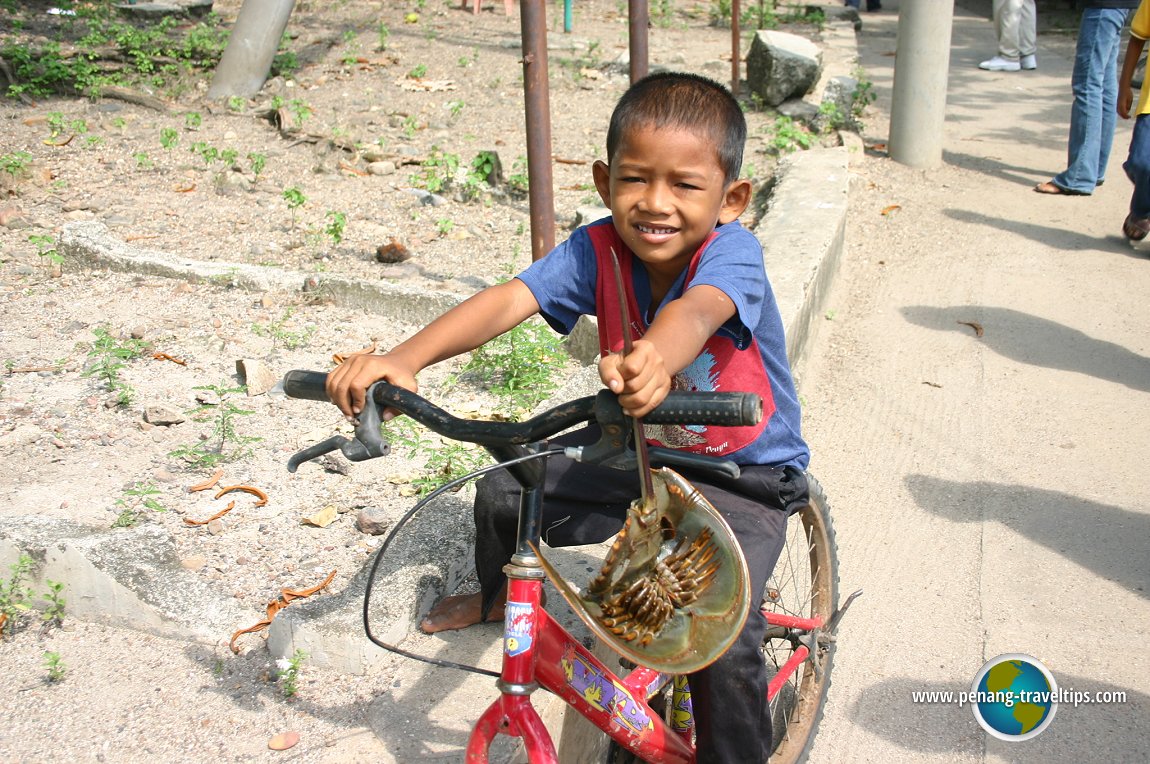 Little boy with horseshoe crab for lunch.
(23 May, 2005)

My Pulau Aman Experience
I shared the ferry with aunties and little kids, and middle men on their way to the kampung. I was the only non-Malay on board the ferry, and later, found that I was the only non-Malay on Pulau Aman on that day.
The ferry boat dropped us at the Pulau Aman jetty. This is the old jetty. When I was writing this, the new jetty is completed, but not open yet (I learn in the newspaper that it will open in September 2006).
The kampung of Pulau Aman is located on the northeast side of the island. There are paths around the kampung, and since it isn't a very big place, you are unlikely to get lost. What I noticed about the kampung is that it has a lot of sukun (breadfruit) trees. I can imagine what a simple life it must be over here. But for an urbanite like me, it would be dreadfully dull.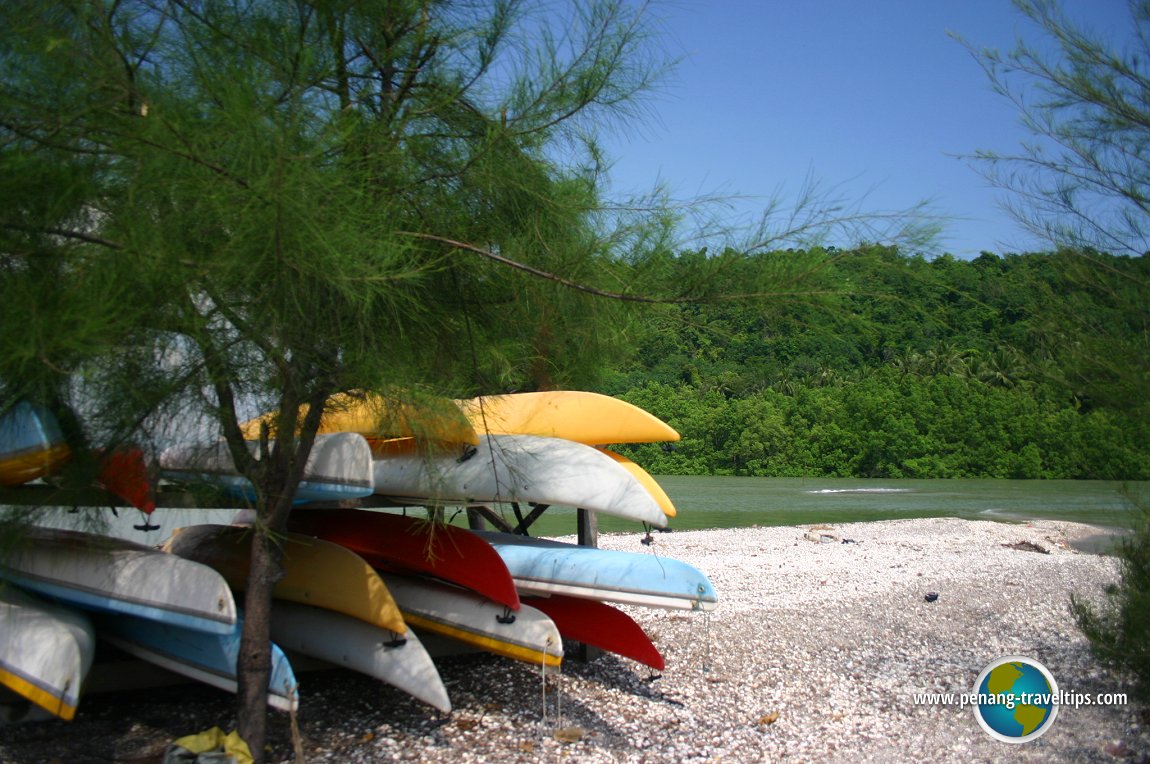 Kayaks for hire ... but the caretaker is absent.
(23 May, 2005)

On the north tip of the island, I discovered a stretch of beach. The sand was white, but coarse, and on closer inspection, I discovered that it's really cockle shells on the ground. Over here, I saw kayaks and a hut. I suppose someone has set this up for the purpose of watersports activities. But when I was there, there was nobody looking after the kayaks.
From this part of Pulau Aman, I can get a good view of
Pulau Gedung
. Pulau Gedung is like a sister island to Pulau Aman, visited mostly by fishermen and anglers. I shall write about Pulau Gedung separately.
Continuing my exploration of Pulau Aman, I followed the cement path as it wound its way along the west side of the island. Many of the trees are labelled with their local and scientific names, turning Pulau Aman into a botanic gardens. I come across the
buah keriang
tree, which brought back childhood memories, because there used to be a buah keriang tree near the primary school I went to (but the tree is long gone now). Throughout my growing up years, I have wondered how to spell buah keriang, and was in a way delighted to come across it in Pulau Aman. Buah keriang is nowhere as tasty as grapes. It is either sour or if not sour, then astringent.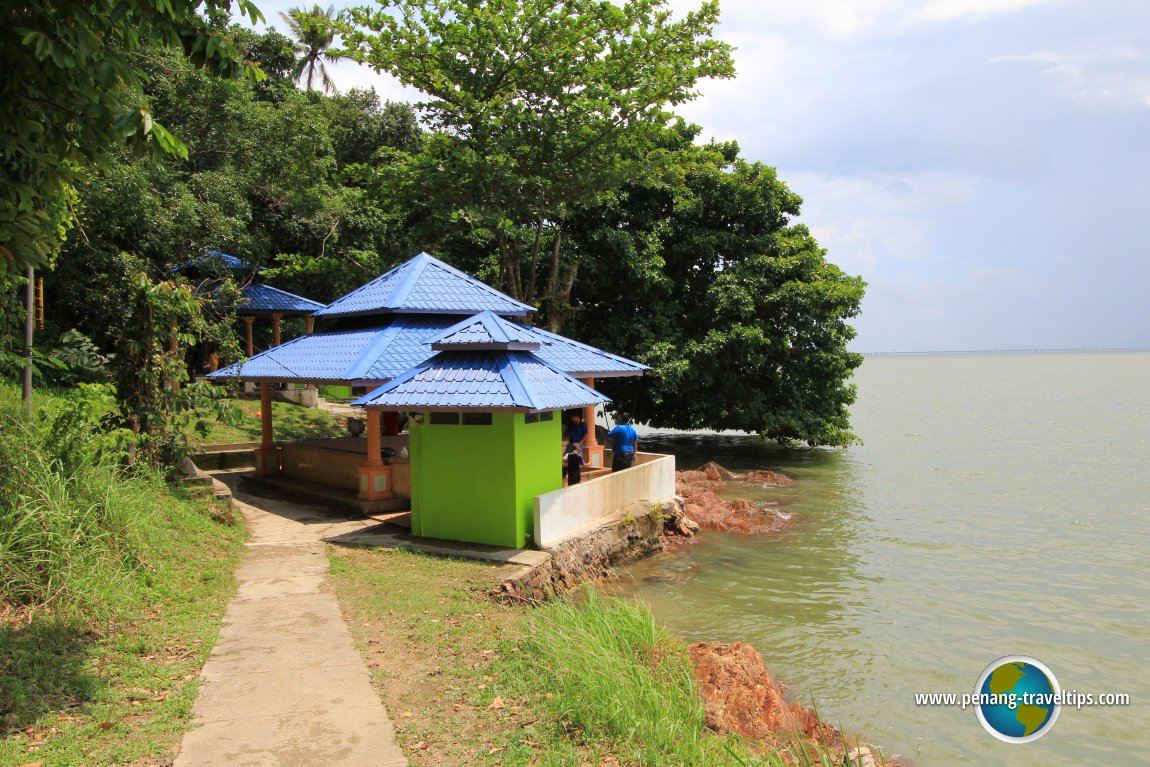 A shed is built to shelter the Telaga Emas (Golden Well).
(3 May, 2015)

At the end of the cement path, there was an old well, Telaga Emas (Golden Well) located right next to the sea. This well is said to have been dug in 1879 (that's just a few years after
Captain Francis Light
opened the trading post on). Today, a shed is built over the well, to provide a bit of shelter.
I turned back after Telaga Emas. The path appears to have been swallowed by the forest, and the number of mosquitoes around there is reaching the unbearable level. So I returned to the kampung, and looked for the oldest sukun tree. I finally found it in front of one of the kampung houses. According to the noticeboard in front of the tree, it was planted by someone by the name of Tok Awang bin Akib in 1891, over a hundred years ago. Nothing particularly spectacular about it.
I explored the other side of the island, where the cement pathway continues, to as far as the new jetty, where somebody was hanging their laundry on its railings. I finished exploring Pulau Aman within an hour, and had to sit at the jetty for another hour to wait for the ferry boat to take me back to Bukit Tambun.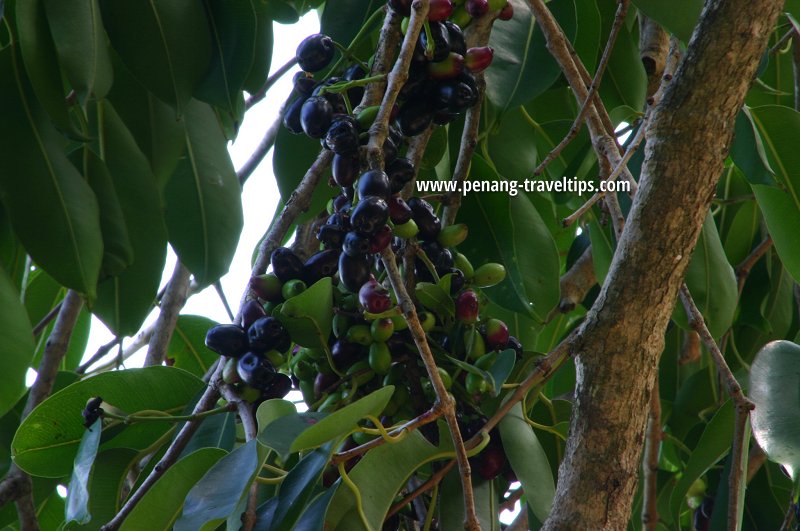 Buah Keriang (Eugenia claviflora Roxburgh), a fruit that looks like grapes, but frightfully sour.
(23 May, 2005)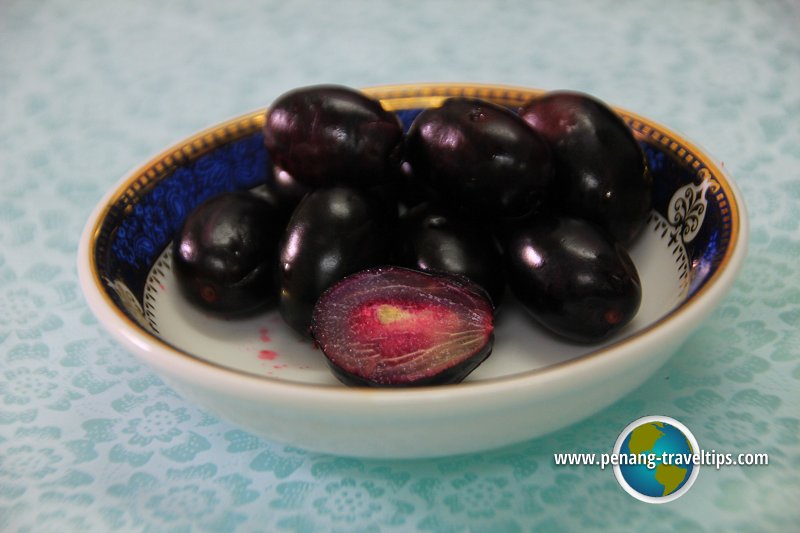 Buah Keriang
(3 May, 2015)

Is Pulau Aman worth exploring? If you're a true blue explorer like myself, then yes. But I have to say it is an extremely dull place for me. Nevertheless, if you want to go there, for your information, the ferry departs Bukit Tambun for Pulau Aman at 10am, 1pm, 4pm and 7pm. The trip from Pulau Aman for Bukit Tambun at 8am, 12noon, 3pm and 6pm. For enquiries, you can contact the Seberang Perai Fishermen Association at +604 397 9796 or +604 530 7185.
Updates
13 January 2012:
The ferry to Pulau Aman now runs from Batu Musang in
Batu Kawan
. The pier on Pulau Gedung, where the two British 1905 magazines are located, is now in a bad state due to poor maintenance. Similarly, poor maintenance resulted in the collapse of the canopy at Batu Payong.
Location of Pulau Aman on map
Add your shop/business to this website
The Penang Travel Tips website is a huge website that documents everything in Penang. On top of the hundreds of streets and tourist attractions, I also add in hundreds of shops and businesses.
If you operate a shop business in Penang, or anywhere in Malaysia or Singapore, contact me to add your business/shop into my website. It only a one-time fee, and your shop/business will be listed by location and category, helping your would-be customers find you. To find out more,
CONTACT ME
Travelling somewhere?
If you're travelling somewhere, use our online engine to find the online booking site that offers you the best room rates.
Book your hotel room here
If you're coming to Penang, book your hotel room online with Agoda. Agoda offers the best prices on 2,000,000+ properties worldwide.
Start here.
Local Guided Tours of Penang
If you are coming to Penang and need someone to show you around, I can arrange for you a licensed tour guide to take you around. Guides charge a fixed fee of RM320 for taking a small group of up to 10 people on 4-hour walking tours. Walking tours exceeding 4 hours is charged an additional RM120 per hour. Tours are tailored to guest requirement. For more details,
contact tour coordinator
.
Looking for a book? Get it from Book Depository with free delivery worldwide!
I have just discovered
Book Depository
, a subsidiary of Amazon.com, and I love it. This is where you can buy books and have them sent to you. But unlike Amazon, when you purchase using Book Depository, you enjoy free delivery worldwide.
Give it a try today!
Here's a list of the latest pages I have added or updated on my website.
My YouTube Videos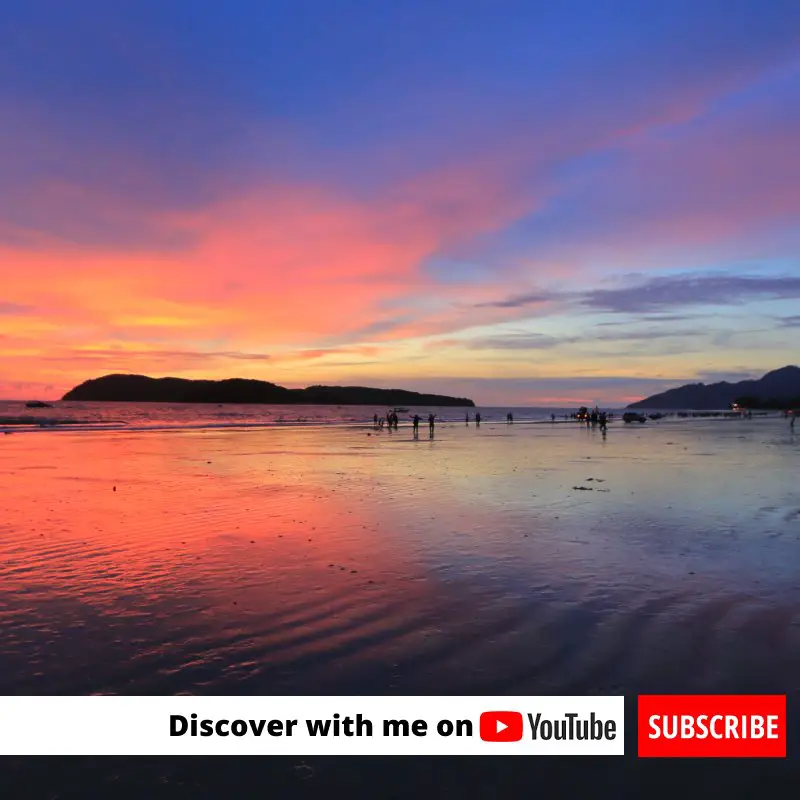 Check out
my YouTube Channel
and don't forget to subscribe!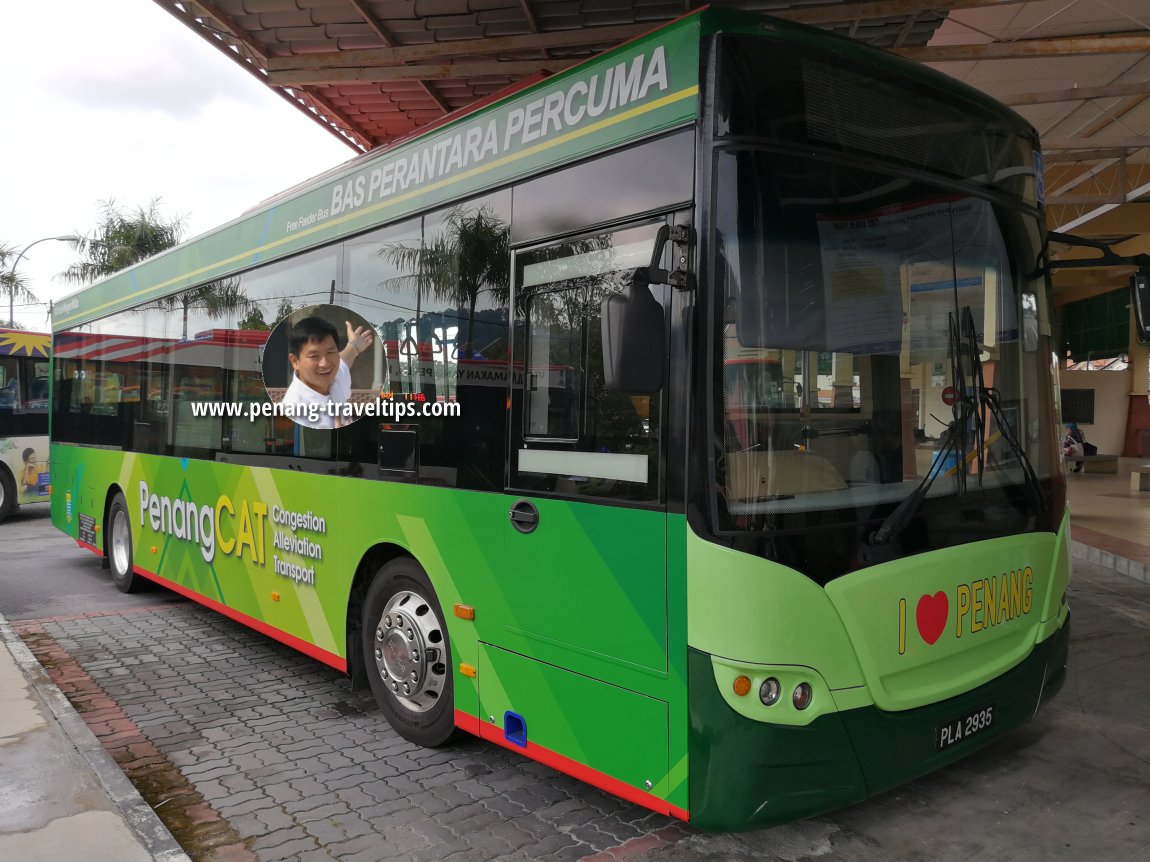 Take the CAT Free Feeder Bus
What's the best way to see Penang on a budget? Take the bus! In Penang, there are at least 12 absolutely
FREE
bus routes which cover almost every major neighbourhood on Penang Island and Penang Mainland. All you need to do is hop aboard!
Details
Vital Links
Book Your Express Bus Ticket
|
Hire a car
|
Our Recipes
|
Facebook Posts
|
Just Curious
|
Not In The Dictionary
|
Our Flowering Garden
Vital Links
Book Your Express Bus Ticket
|
Engage a Tour Guide for Penang
|
What's Up at Penang Hotels
|
Hire a car
|
Facebook Posts
|
Our Recipes
|
Our Flowering Garden
|
Guide Book on Penang Durians
Discover the World
About Me
Thank you for visiting
my website
. I started it in 2003, and today it has over twenty thousand pages of information. My name is
Timothy Tye
. I would be very pleased if you enjoy the information I have put together.
As a Christian, I hope that through this website, I am able to deliver God's message to all who need it, anywhere in the world. If you are open to hearing it, please read
God's Good News to You
.
If you wish to contact me, please use this
contact form
. And don't forget to
follow me on Facebook
. See you!
Copyright © 2003-2018
Timothy Tye
. All Rights Reserved.