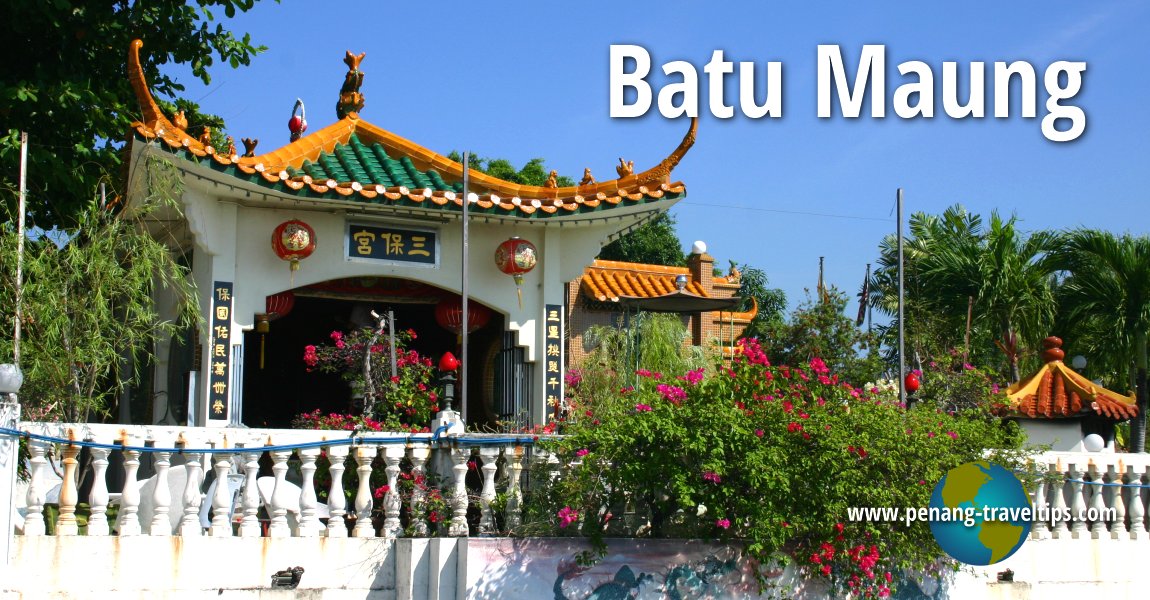 Batu Maung, Penang
(10 June, 2006)

Hok1kien3 Yak1
Batu Maung
(GPS: 5.28491, 100.2875; Traditional/Simplified Chinese: 峇都矛; Pinyin: Bādōu Máo;
Penang Hokkien
: Ba3tu1 Mau2) is a small fishing village on the southeast tip of
Penang Island
. The Penang Island end of the
Second Penang Bridge
is located here. Until the arrival of the bridge, Batu Maung is just a small, quiet fishing village with a rocky promontory.
I grew up in Batu Maung, albeit a very different Batu Maung from what it is today. I remember it as a small village where my father used to take me to to buy fish directly from the fishermen as their boats arrived at shore. Our house is on a hill where I suffered a lot of mosquito bites when I was growing up.
Map of Batu Maung
Hotels and Accommodation near Batu Maung
There aren't any mainstream hotels in Batu Maung. The nearest include
Eastin Hotel
in the Queensbay area,
Vistana Hotel
in Sungai Nibong and
Hotel Equatorial
in Bukit Jambul.
Sights in Batu Maung
Amenities in Batu Maung
Businesses in Batu Maung
Schools in Batu Maung
Coffee Shops in Batu Maung
Neighbourhoods of Batu Maung
Residential Properties in Batu Maung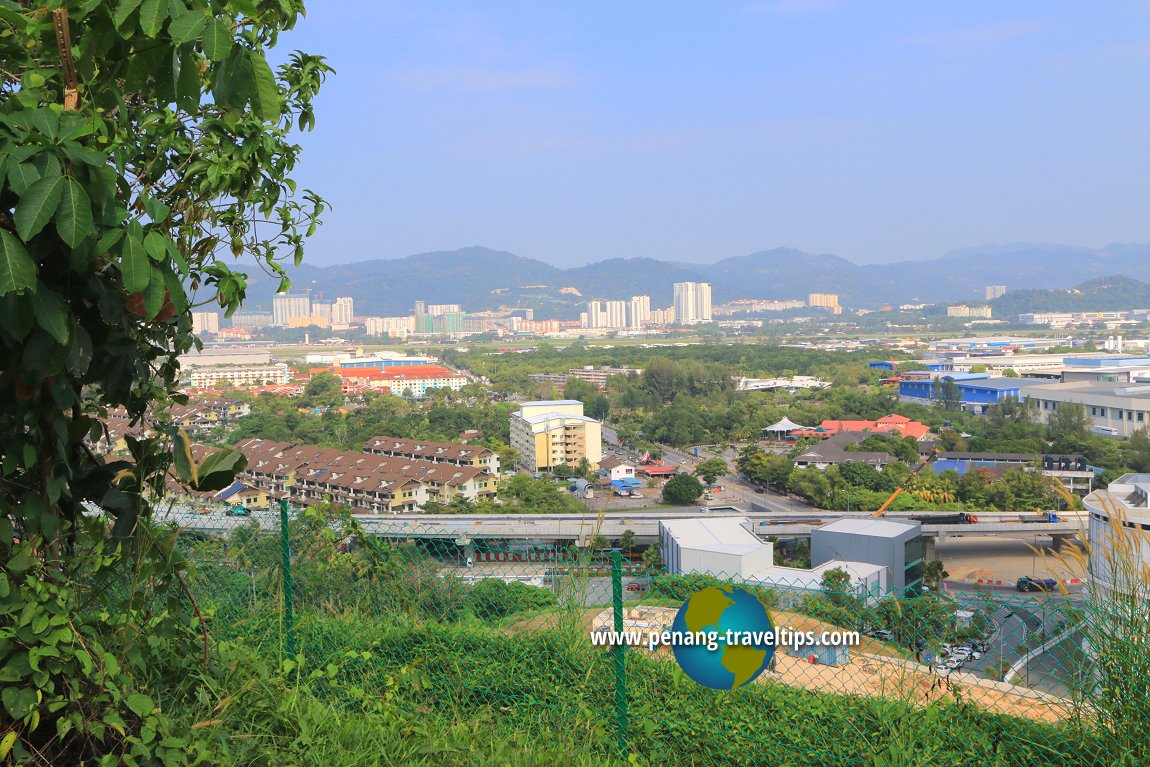 Batu Maung, with the new Jalan Permatang Damar Laut viaduct in the foreground, and high-rises of Sungai Ara in the distance.
(7 February, 2018)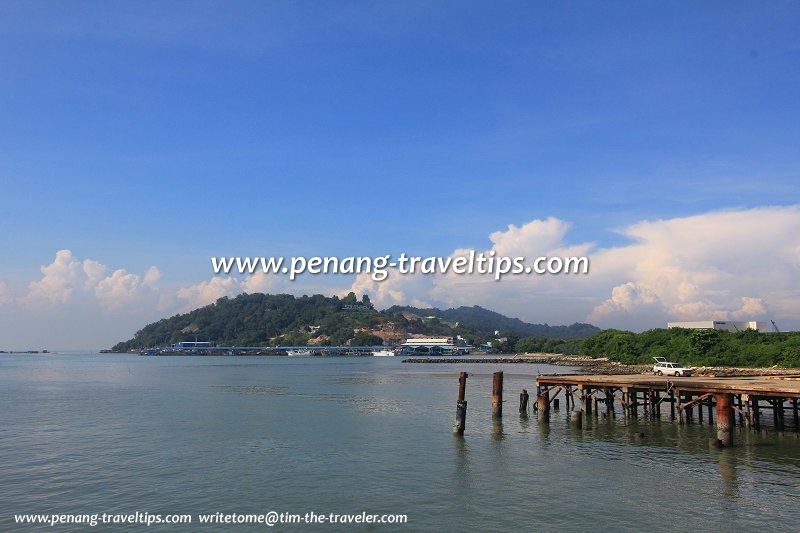 Batu Maung, Penang, as seen from the Second Penang Bridge construction site
(20 October, 2012)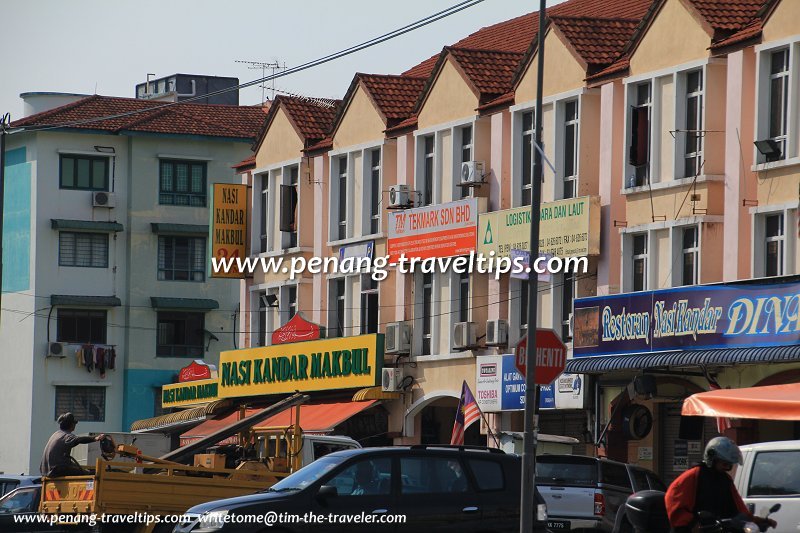 Businesses in Batu Maung
(15 September, 2012)

Businesses in Batu Maung
Clinics in Batu Maung
Industrial Parks in Batu Maung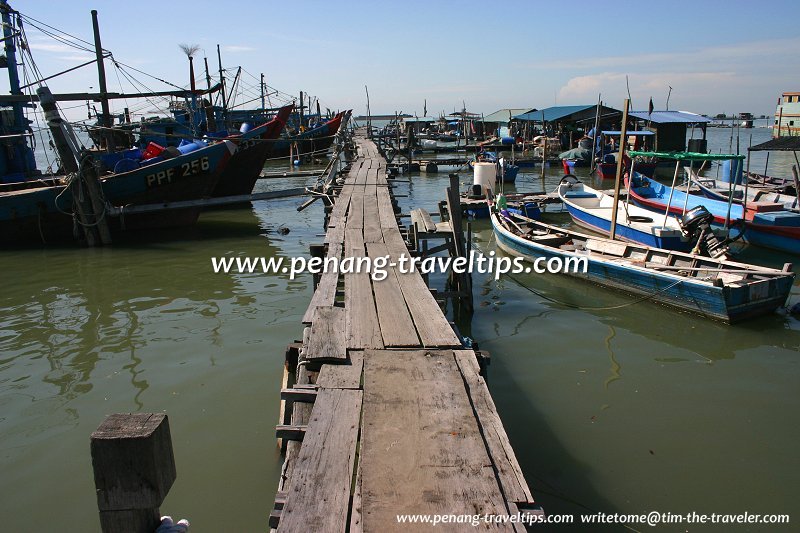 Fishing boats in Batu Maung
(10 June, 2006)

About Batu Maung
Within Batu Maung are several small villages including the Batu Maung village (called Pekan), Kampung Seronok, Kampung Binjai,
Permatang Damar Laut
,
Teluk Tempoyak
and Jalan Baru.
Today Batu Maung is very different from what I remember it. The site where my house was located is now a big housing estate. Double-storey link houses fill the land that was once holding just our house and a huge compound. More development is expected to take place in Batu Maung, now that the Second Penang Bridge will be built here.
The two main roads in Batu Maung, namely Jalan Batu Maung and Jalan Permatang Damar Laut, are also seeing rapid changes. Jalan Batu Maung, in particular, has become an industrial main road, lined with warehouses of freight companies. Jalan Permatang Damar Laut, once a windy rural road, is being developed with housing estates.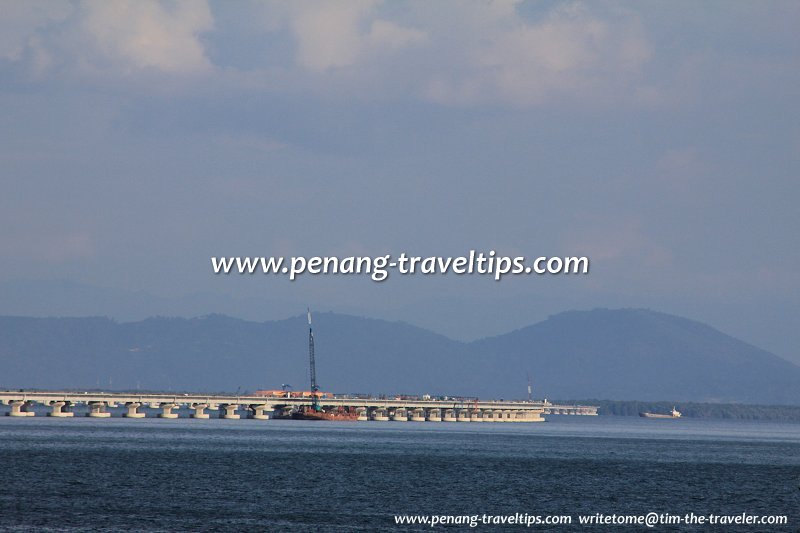 Construction of the Second Penang Bridge, as seen from Batu Maung
(17 January 2012)

Batu Maung is where the deep sea fishing port is located. It is not surprising therefore that Batu Maung is famous for seafood. In the sixties and early seventies, there was a famous seafood restaurant here called Ocean Inn. Ocean Inn as a Penang version of Har Par Villa, with its cement statues of Chinese mythology.
By the eighties and nineties, Ocean Inn has been replaced by newer seafood establishments. There was one called "Beginning of the World", named after the tip of the promontory known as the
Beginning of the World
, at the southernmost part of Batu Maung. The restaurant used to be located in the middle of the sea, and accessible by a plankway. It has since moved inland to the Batu Maung village centre, near the crossroads.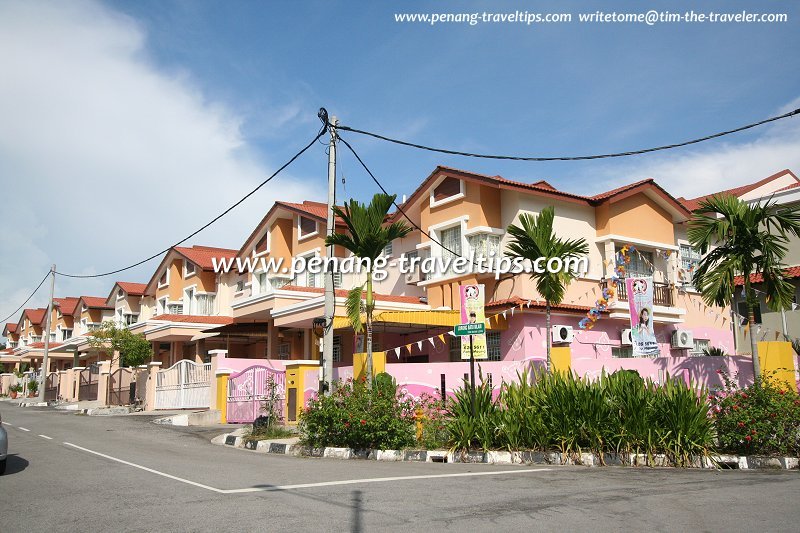 Residential development in Batu Maung
(30 April, 2010)

Batu Maung is also famous for having a temple dedicated to Admiral Cheng Ho (Zhenghe). The
Sam Poh Footprint Temple
, which initially was just an altar built over a rock right at the shoreline, has since been developed into a proper temple. It enshrines what appears to be a giant footprint - the footprint of Sam Poh, the local name given to Cheng Ho.
In the hills above Batu Maung are war relics from the Second World War. These were built by the British who had expected the Japanese to invade from the sea, and had stationed the arms southwards. As it happened, the Japanese invaded from the north, ande the artileries were unused. Today the war relics are now part of the
Penang War Museum
.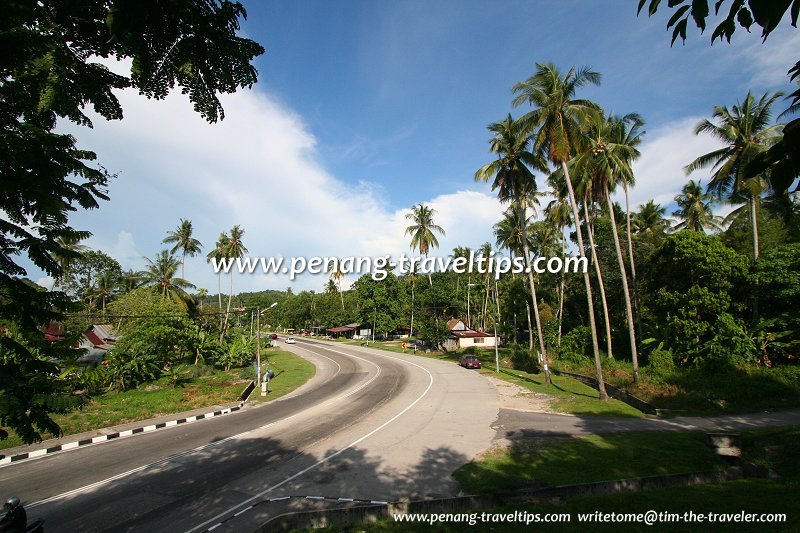 Jalan Permatang Damar Laut, Batu Maung
(30 April, 2010)

The Malaysian Fisheries Research Institute occupies a piece of land in Batu Maung. This is where the
Penang Aquarium
is located. It showcases a small collection of marine life. Next door to it is the WorldFish Centre, a Unesco-funded research institute which operates in Batu Maung after moving from the Philippines in 2000.
A great part of Batu Maung consisted of mangrove swamp. In the recent decade, the mangrove had been cleared - to the chagrin of environmentalists, as it caused a loss of habitat for the wildlife such as the birds and monkeys. The land was reclaimed to form Phase 4 of the Bayan Lepas Industrial Zone.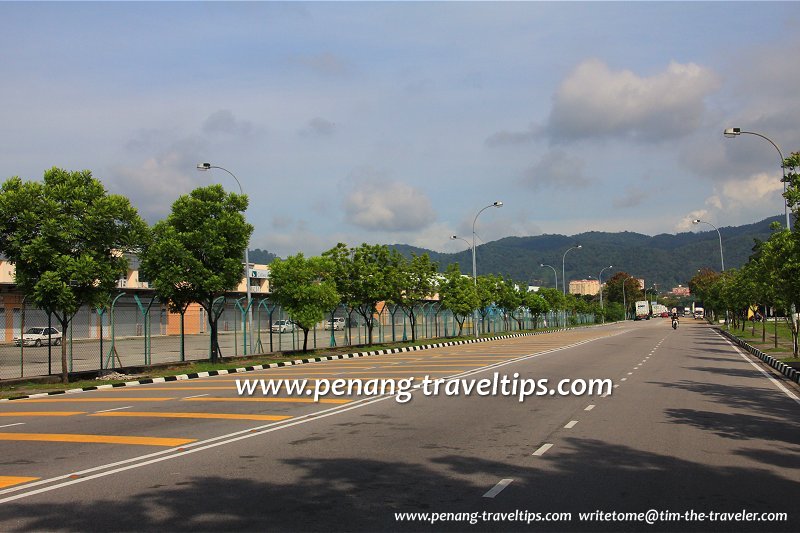 Jalan Batu Maung is an arrow-straight road now lined with warehouses of freight companies
(19 September, 2012)

As Batu Maung is located at the southernmost end of the
Tun Dr Lim Chong Eu Expressway
, it has become a choice site for property development. Several new housing estates have sprouted here. Development of Batu Maung is expected to further accelerate now that it has been identified as the end-point of the second bridge to link Penang island to
Batu Kawan
on the mainland.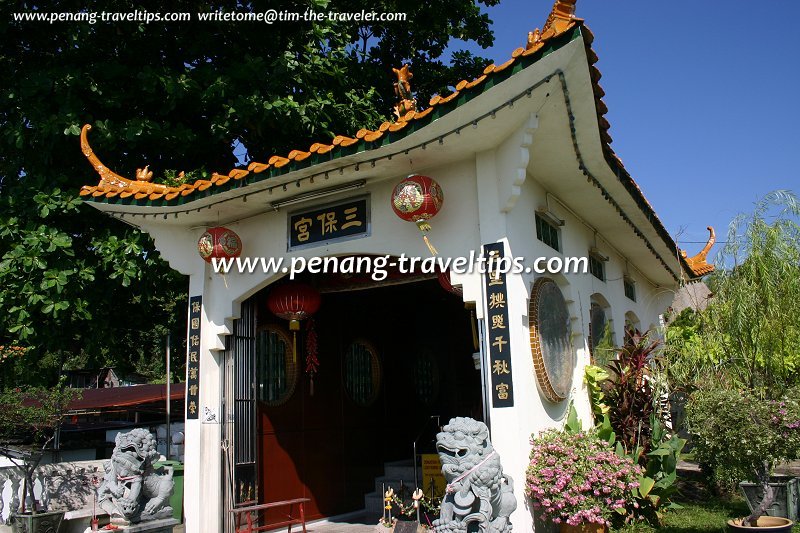 The famous Sam Poh Footprint Temple, Batu Maung
(10 June, 2006)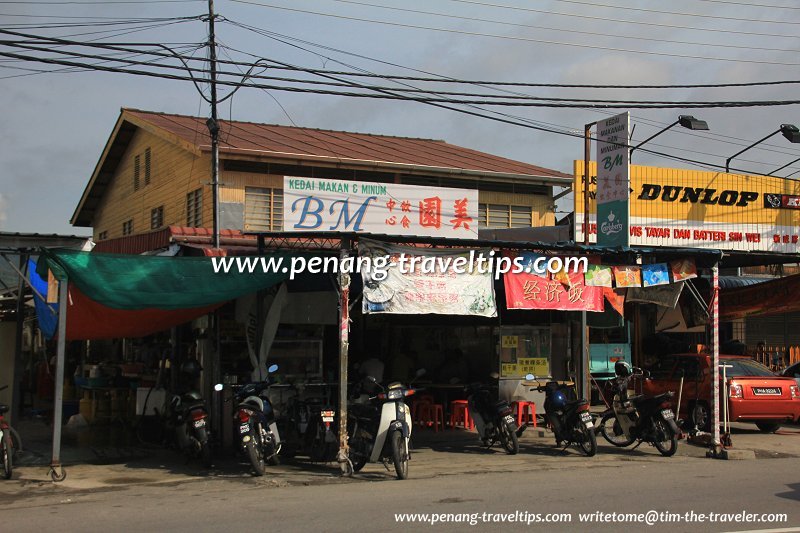 One of the coffee shops along Jalan Baru Batu Maung
(19 September, 2012)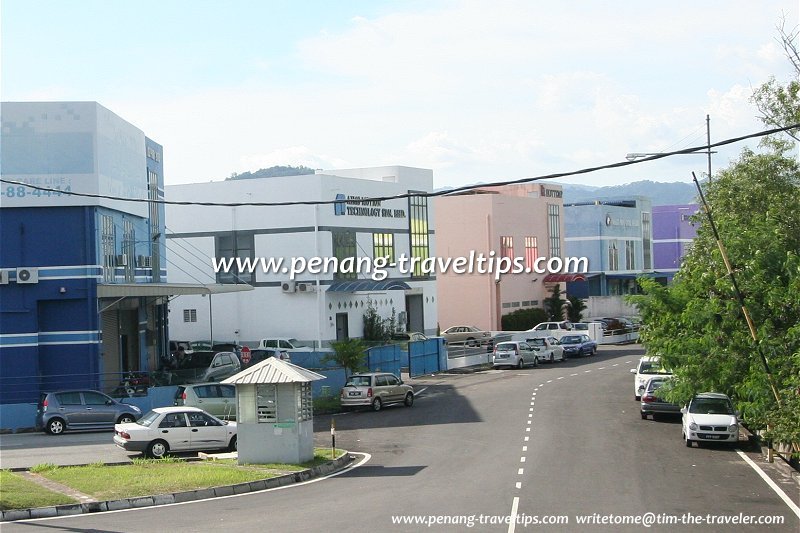 Diamond Valley Light Industrial Park, Batu Maung
(30 April, 2010)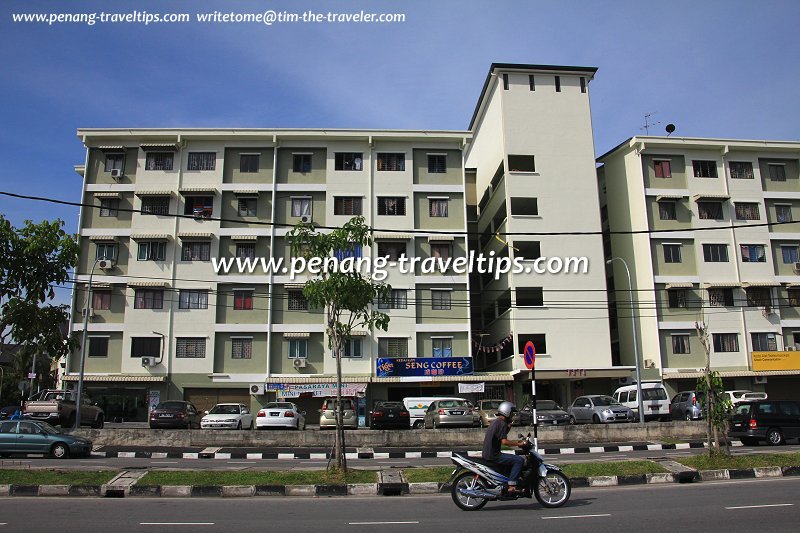 Apartments in Batu Maung
(15 September, 2012)

Getting to Batu Maung by public transport
Batu Maung is served by
Rapid Penang
302, 305, 307.
Add your shop/business to this website
The Penang Travel Tips website is a huge website that documents everything in Penang. On top of the hundreds of streets and tourist attractions, I also add in hundreds of shops and businesses.
If you operate a shop business in Penang, or anywhere in Malaysia or Singapore, contact me to add your business/shop into my website. It only a one-time fee, and your shop/business will be listed by location and category, helping your would-be customers find you. To find out more,
CONTACT ME
Visiting Penang? Find the lowest hotel room rates here!
Use our search engine to compare room rates from different hotel booking websites, to find the one that's lowest.
Travelling somewhere?
If you're travelling somewhere, use our online engine to find the online booking site that offers you the best room rates.
Book your hotel room here
If you're coming to Penang, book your hotel room online with Agoda. Agoda offers the best prices on 2,000,000+ properties worldwide.
Start here.
Local Guided Tours of Penang
If you are coming to Penang and need someone to show you around, I can arrange for you a licensed tour guide to take you around. Guides charge a fixed fee of RM360 for taking a small group of up to 10 people on 4-hour walking tours. Walking tours exceeding 4 hours is charged an additional RM90 per hour. Tours are tailored to guest requirement. For more details,
contact tour coordinator
. Other types of tours also available.
For details, click here.
Looking for a book? Get it from Book Depository with free delivery worldwide!
I have just discovered
Book Depository
, a subsidiary of Amazon.com, and I love it. This is where you can buy books and have them sent to you. But unlike Amazon, when you purchase using Book Depository, you enjoy free delivery worldwide.
Give it a try today!
Here's a list of the latest pages I have added or updated on my website.
My YouTube Videos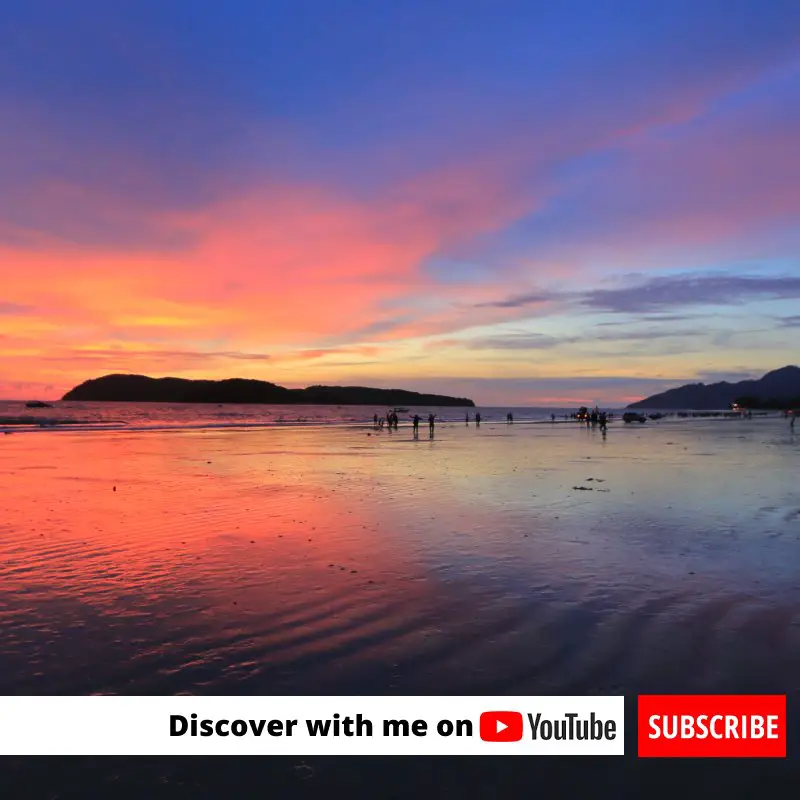 Check out
my YouTube Channel
and don't forget to subscribe!
Vital Links
Book Your Express Bus Ticket
|
Hire a car
|
Our Recipes
|
Facebook Posts
|
Just Curious
|
Not In The Dictionary
|
Our Flowering Garden
Vital Links
Book Your Express Bus Ticket
|
Engage a Tour Guide for Penang
|
What's Up at Penang Hotels
|
Hire a car
|
Facebook Posts
|
Our Recipes
|
Our Flowering Garden
|
Guide Book on Penang Durians
Discover the World
About Me