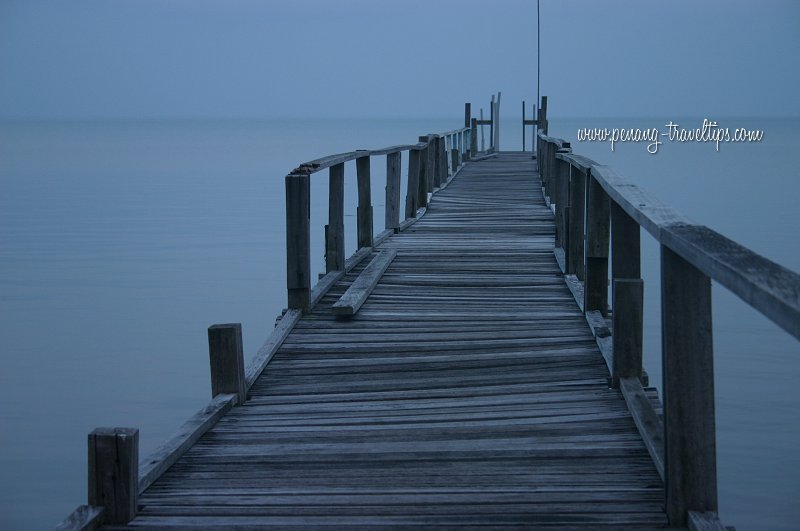 The old plankway at Teluk Tempoyak. It was badly damaged in the 2004 Boxing Day tsunami
(21 March, 2004)

Teluk Tempoyak
(GPS: 5.27763, 100.28758;
Penang Hokkien
: Tam3po3yak3

) is a quiet Malay fishing village on the southeast tip of Penang Island, just south of
Batu Maung
.
Teluk Tempoyak on Google Maps Street View
Until recently, Teluk Tempoyak was truly off the beaten path. The sole connection to the rest of Penang was
Jalan Teluk Tempoyak
, a hill road that snakes its way over the hill range. There wasn't a bus service there, so its residents had to climb over the hill to reach the nearest bus stop in Batu Maung. Later on, the Penang Yellow Bus began a service to that part of the island. This was later taken over by Rapid Penang, which introduced route 305.
As I used to live between Batu Maung and
Permatang Damar Laut
, I have explored Teluk Tempoyak during my younger days, though there is nothing of great interest for me here.
One of the main activities at Teluk Tempoyak has been quarrying. Much of the hills at Teluk Tempoyak have been quarried, although few people ever explore so far as to see the quarries.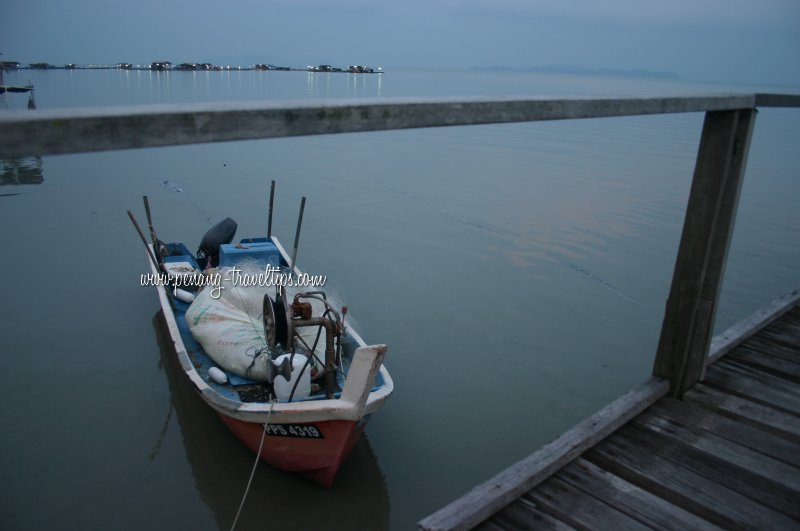 Teluk Tempoyak fishing boat
(21 March, 2004)

Teluk Tempoyak was affected by the 2004 Boxing Day tsunami. The plankway pier which was already in a broken state was further devastated. It has since been repaired, and is now looking even better than before the waves hit.
Teluk Tempoyak's biggest call to fame today is
ikan bakar
, or grilled fish. This can be enjoyed in a number of seaside Malay restaurants with the catch that comes in every evening, and is gaining fame among local tourists.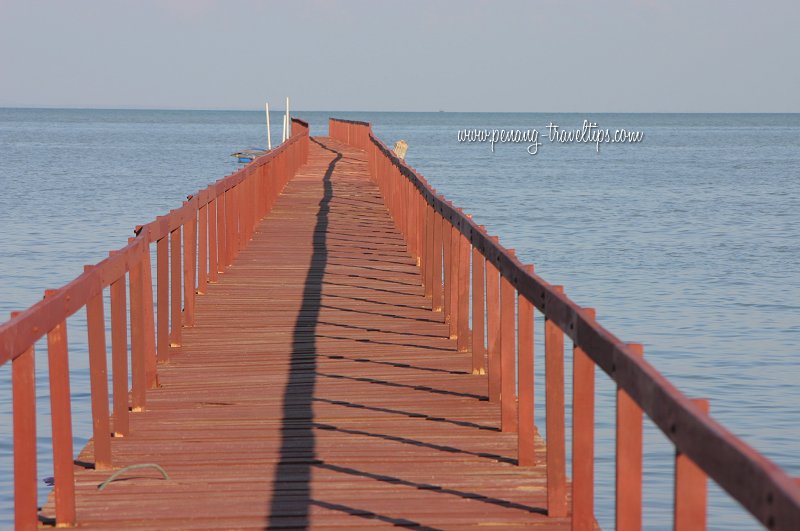 Teluk Tempoyak pier after it was repaired after the tsunami
(12 August, 2005)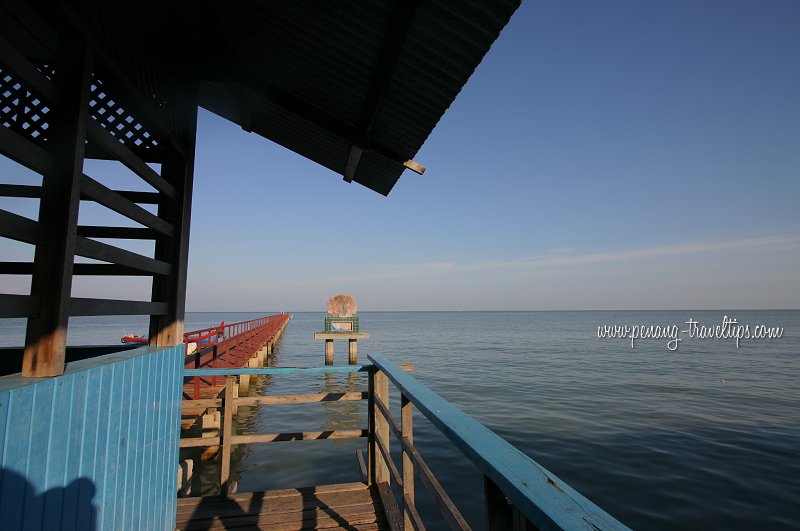 Another view of the Teluk Tempoyak pier
(12 August, 2005)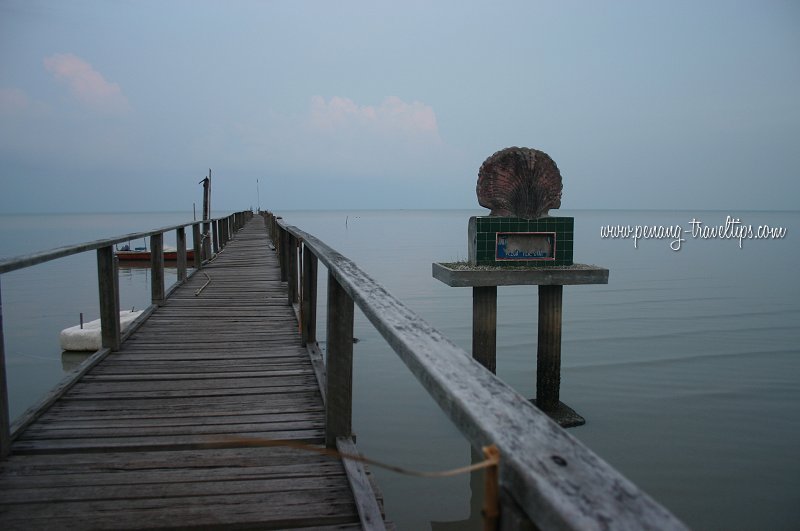 Teluk Tempoyak old pier
(21 March, 2004)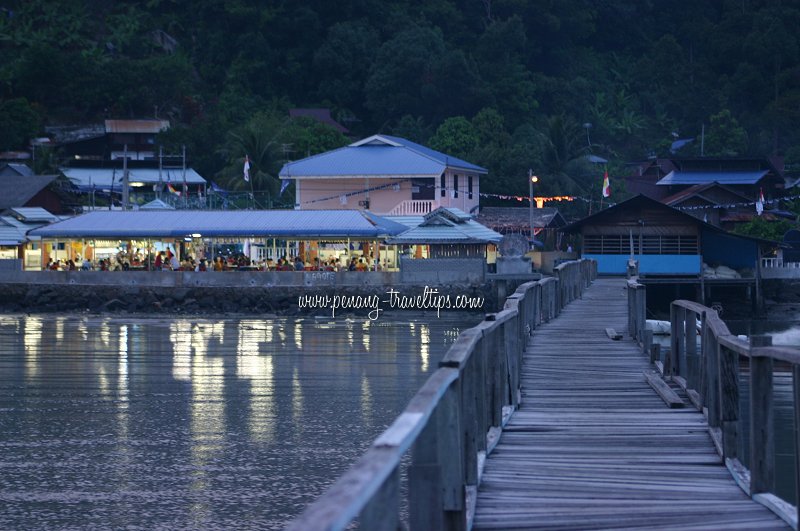 Teluk Tempoyak seafood restaurant
(21 March, 2004)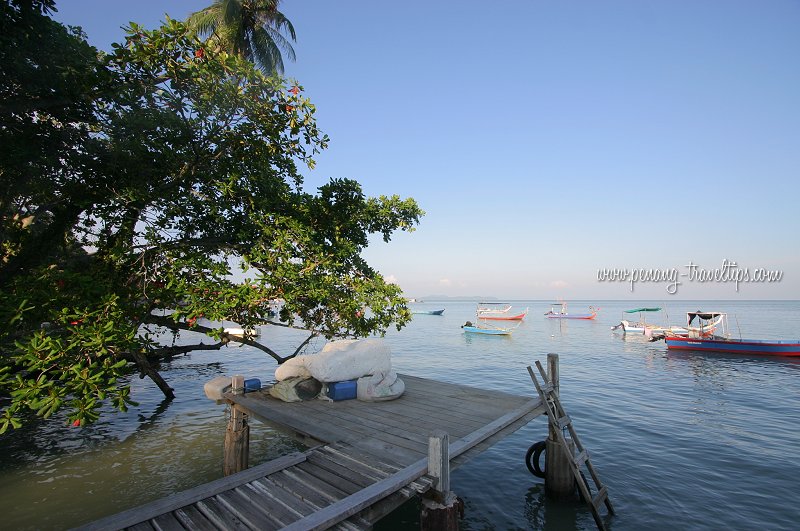 Teluk Tempoyak seaside
(12 August, 2005)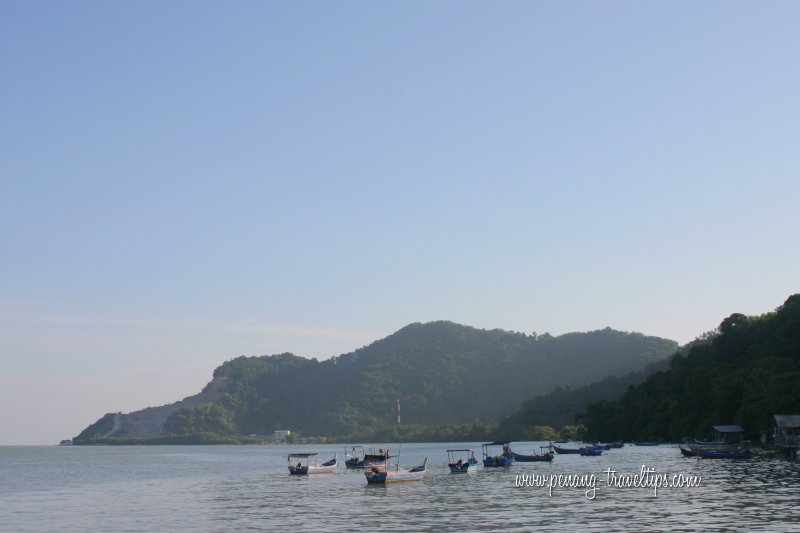 Teluk Tempoyak coast
(12 August, 2005)

There is a profusion of shoreline eateries specialising in seafood at Teluk Tempoyak.

Fish breeding farms off the rocky coast of Teluk Tempoyak.

Eateries at Teluk Tempoyak
Getting there
Rapid Penang
Bus 305 is the only service to Teluk Tempoyak. You may prefer to drive there. The scenery upon going over the hill is very nice.
Location of Teluk Tempoyak on the map
Add your shop/business to this website
The Penang Travel Tips website is a huge website that documents everything in Penang. On top of the hundreds of streets and tourist attractions, I also add in hundreds of shops and businesses.
If you operate a shop business in Penang, or anywhere in Malaysia or Singapore, contact me to add your business/shop into my website. It only a one-time fee, and your shop/business will be listed by location and category, helping your would-be customers find you. To find out more,
CONTACT ME
Discover the World
About Me