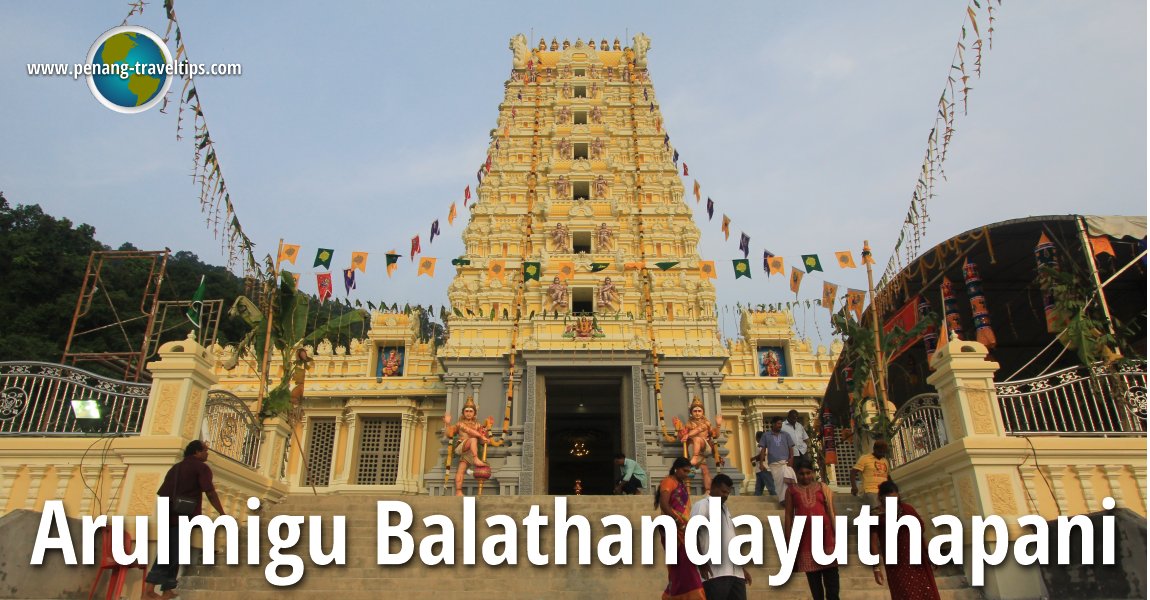 Arulmigu Balathandayuthapani Kovil, the Penang Waterfall Hill Temple
(1 July, 2012)
Penang Waterfall Temple
, officially known as the
Arulmigu Balathandayuthapani Kovil
and
Thanneermalai Shree Balathandayuthapani Devasthanam
(Hindu: அருள்மிகு பாலதண்டாயுதபாணி கோயில் and தண்ணிர்மலை ஸ்ரீ பாலதண்டாயுதபாணி தேவஸ்தானம்), or
Hill Top Murugan Temple
, is one of the oldest Hindu temples in Penang. It was originally located within the grounds of the Penang Botanical Gardens.
According to popular belief, a
sadhu
(holy man) chose a spot close to the waterfalls for a shrine dedicated to Murugan. The place was called
thanner malai
, meaning water hill, and the deity itself was known as
Thannermalaian
, or "he who resides by the waterfall". The waterfall in question is the
Penang Botanic Gardens Waterfall
, the biggest waterfall on Penang Island (but alas, is out of bounds to the public), where the temple got its start.
This original site is as old as the founding of George Town itself. It was the site of the Balathandayuthapani temple until 1850, when the authorities took over the area to establish the
Botanic Gardens Reservoir
. That was when the temple moved out, leaving at its original site a small shrine.
After the authorities took over the site of the
original Balathandayuthapani Temple
, the temple was provided with a new eleven-acre hillside plot on the left side of the Botanic Gardens Road. The temple grew to become the focus of the annual Thaipusam celebrations.
At the foot of the staircase leading to the Balathandayuthapani temple is a shrine dedicated to the deity Ganesha. The
Sree Ganeshar Temple
has since developed into a separate temple in its own right, and with its own devotees.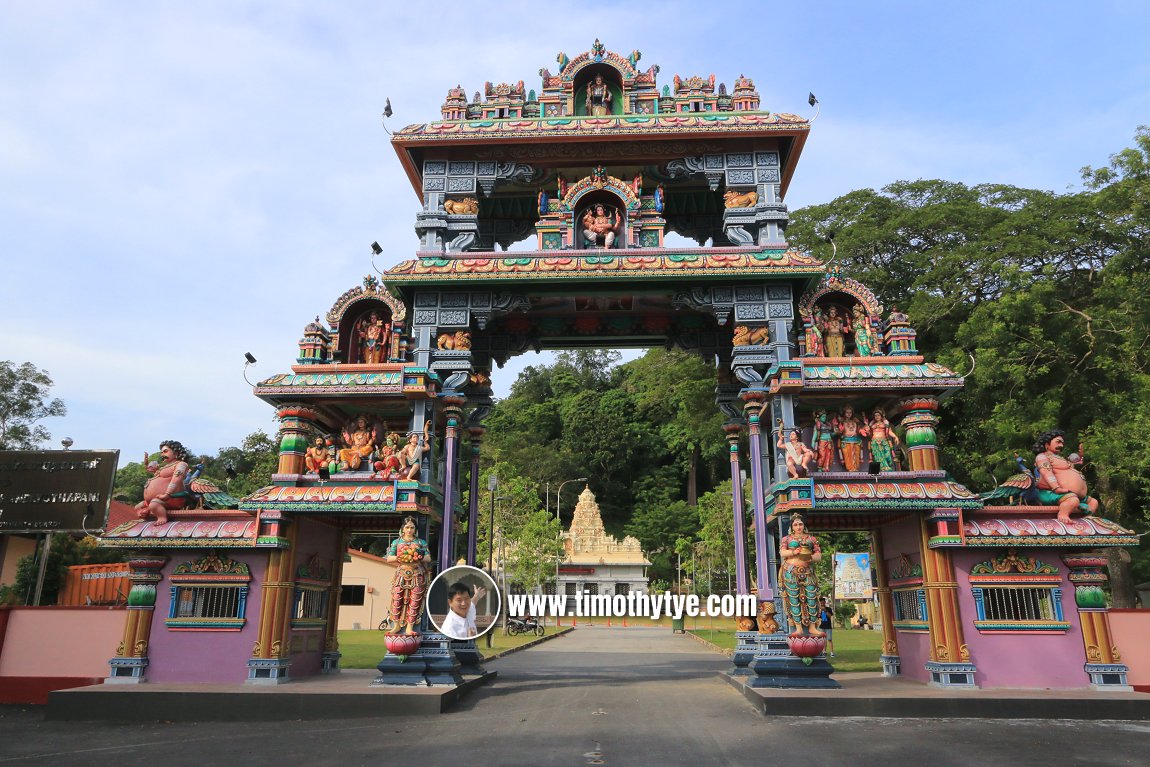 Arulmigu Balathandayuthapani Temple, Penang
(22 August, 2018)
Arulmigu Balathandayuthapani Temple, Penang
(22 August, 2018)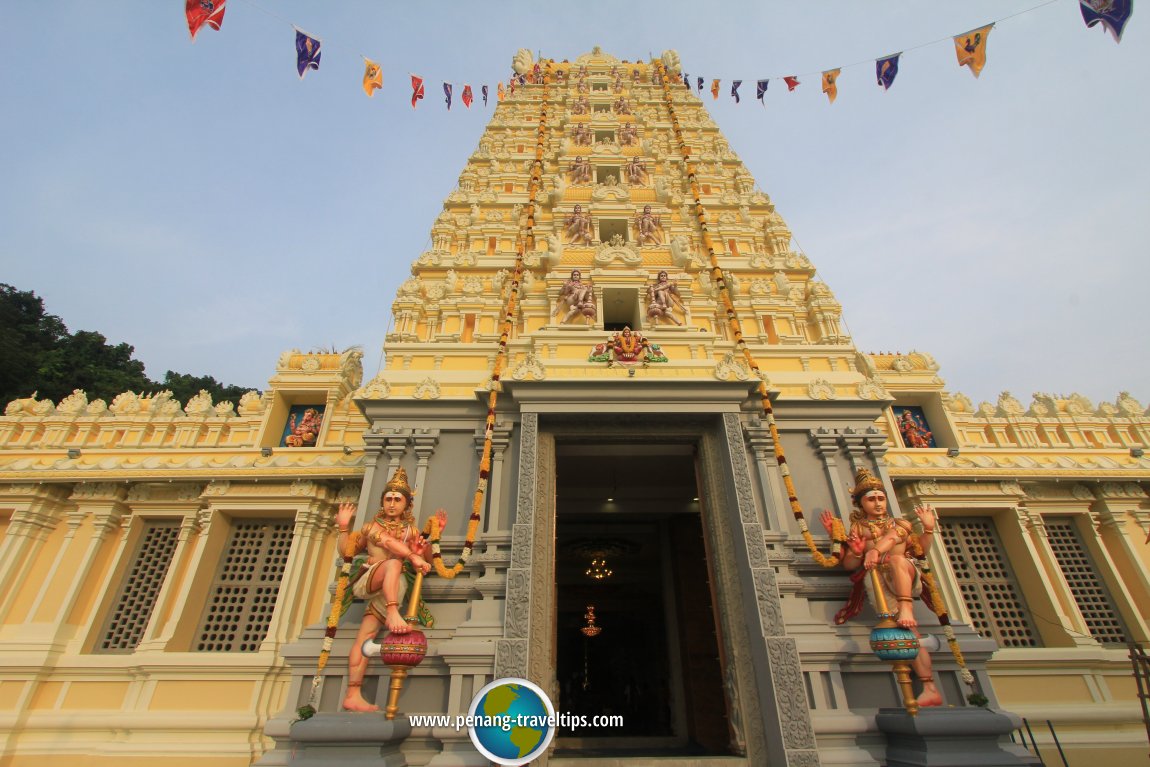 Entrance to the Arulmigu Balathandayuthapani Temple
(1 July, 2012)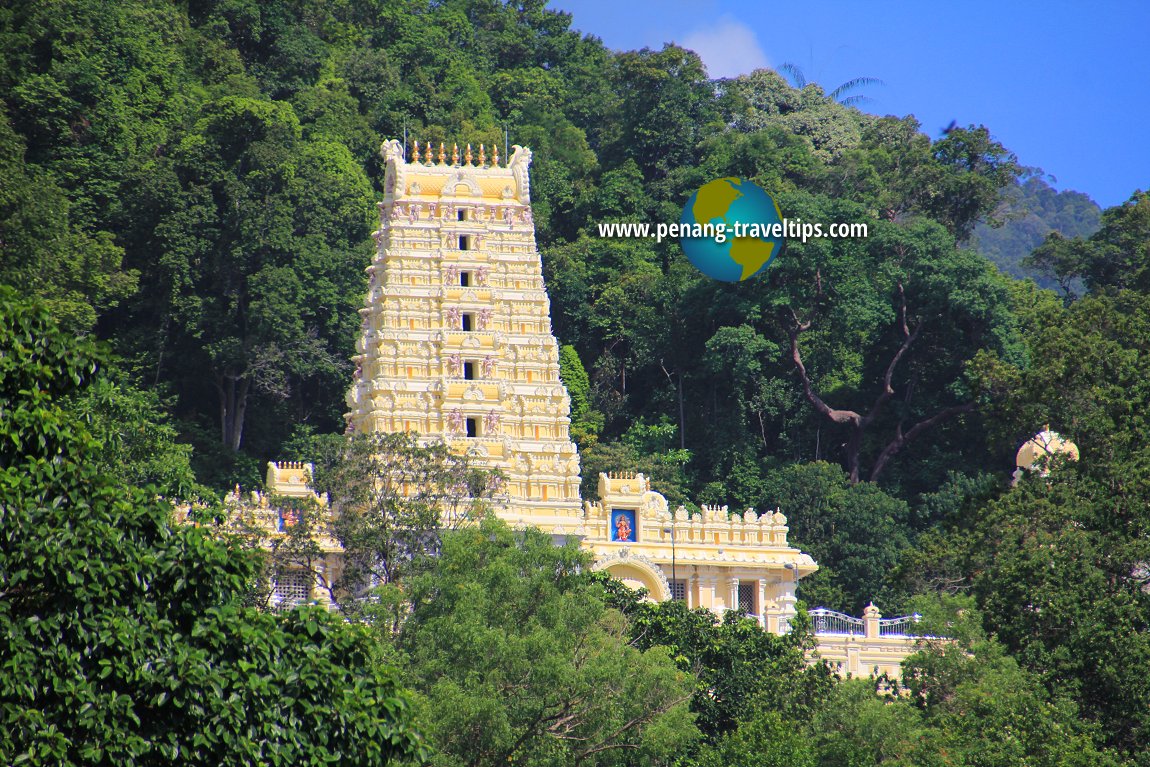 The Balathandayuthapani Temple, aka Waterfall Temple, peeking out from among the forest trees.
(22 May, 2013)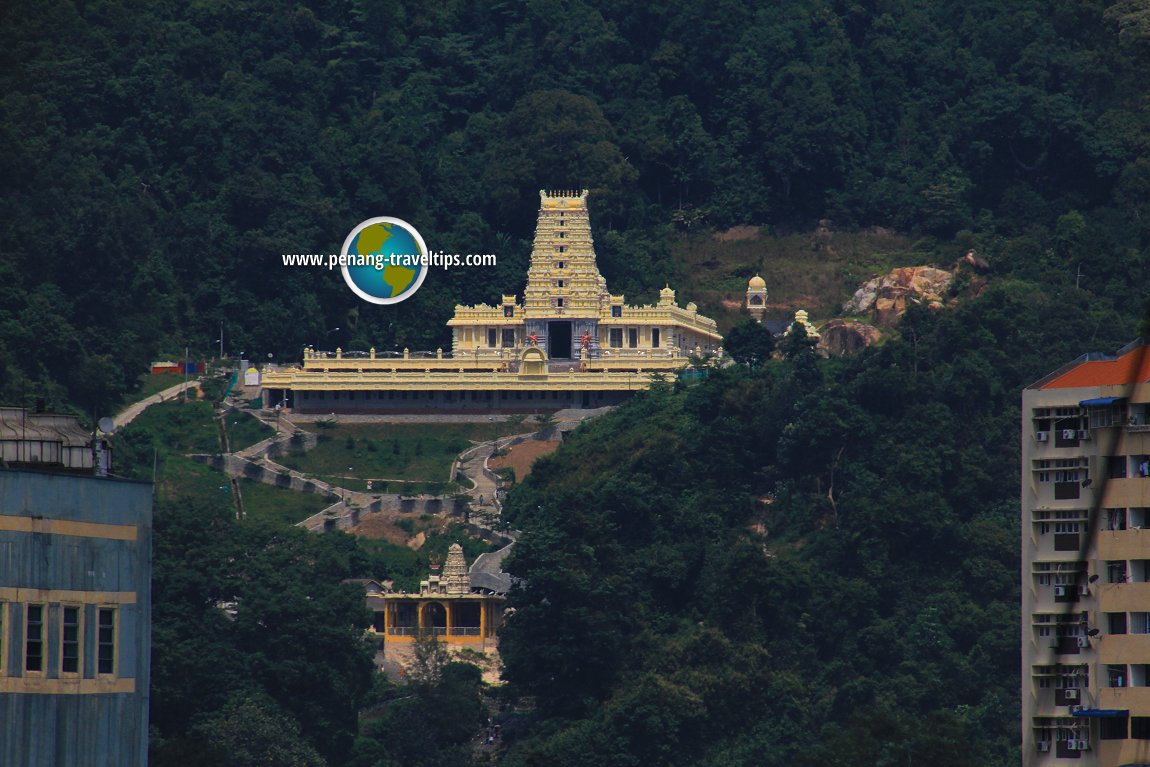 Arulmigu Balathandayuthapani Temple
(24 August, 2013)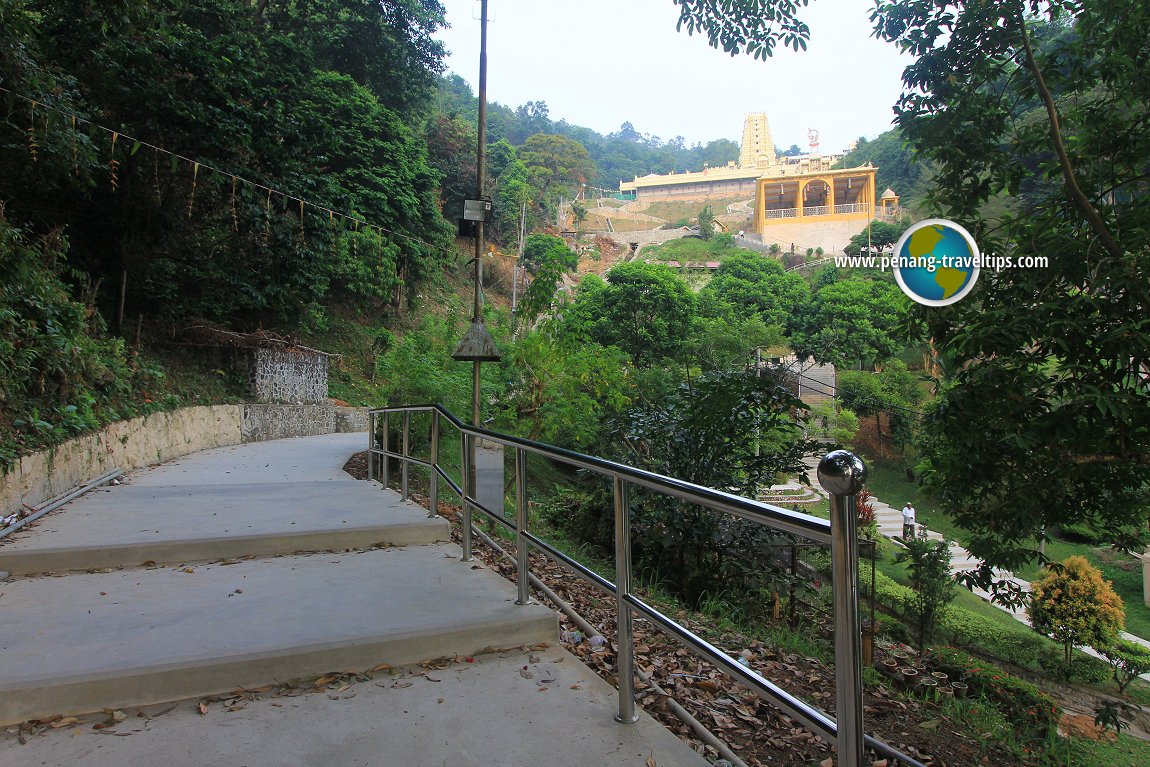 Approaching the Balathandayuthapani Temple
(1 July, 2012)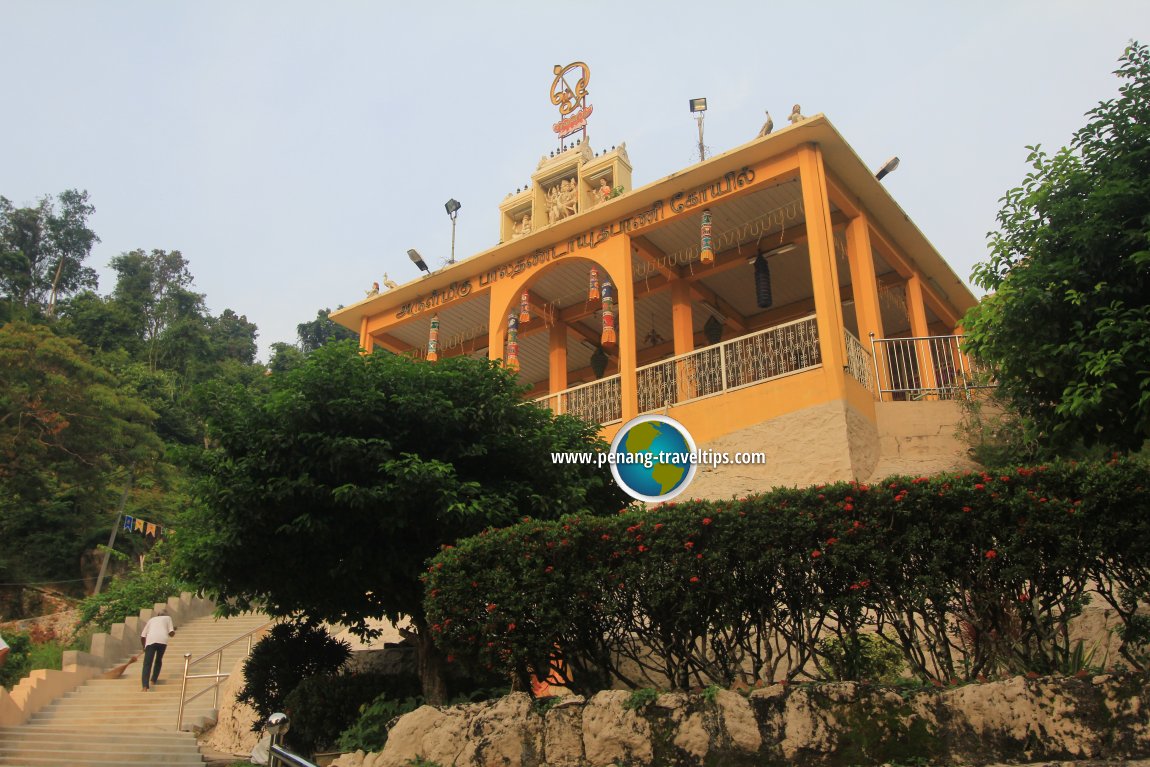 The old Arulmigu Balathandayuthapani Temple
(1 July, 2012)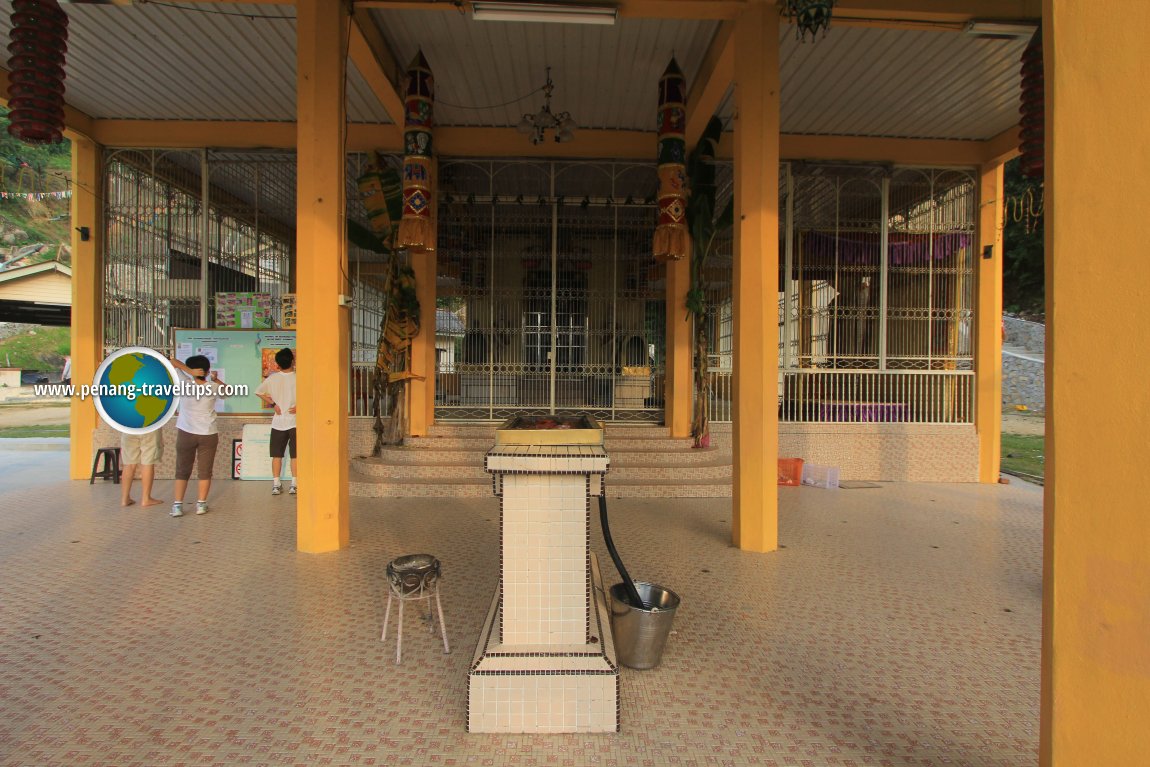 The old Arulmigu Balathandayuthapani Temple
(1 July, 2012)
The Balathandayuthapani temple has undergone several major renovations. This is in keeping with the requirements of the Hindu religious tenets, that renovations be done for every
mamangam
, or 12-year cycle.
Over the years, as the number of devotees and worshippers increased, the Hindu Endowments Board found that the hilltop temple could no longer accommodate the numbers. This is especially true in the past decade, with more and more visitors converging on the temple particularly during the Thaipusam celebration (other feast days of smaller scale include the
Chitra Pournami
,
Kantha Sasthi
,
Thirukarthigai
and
Aadipournami
).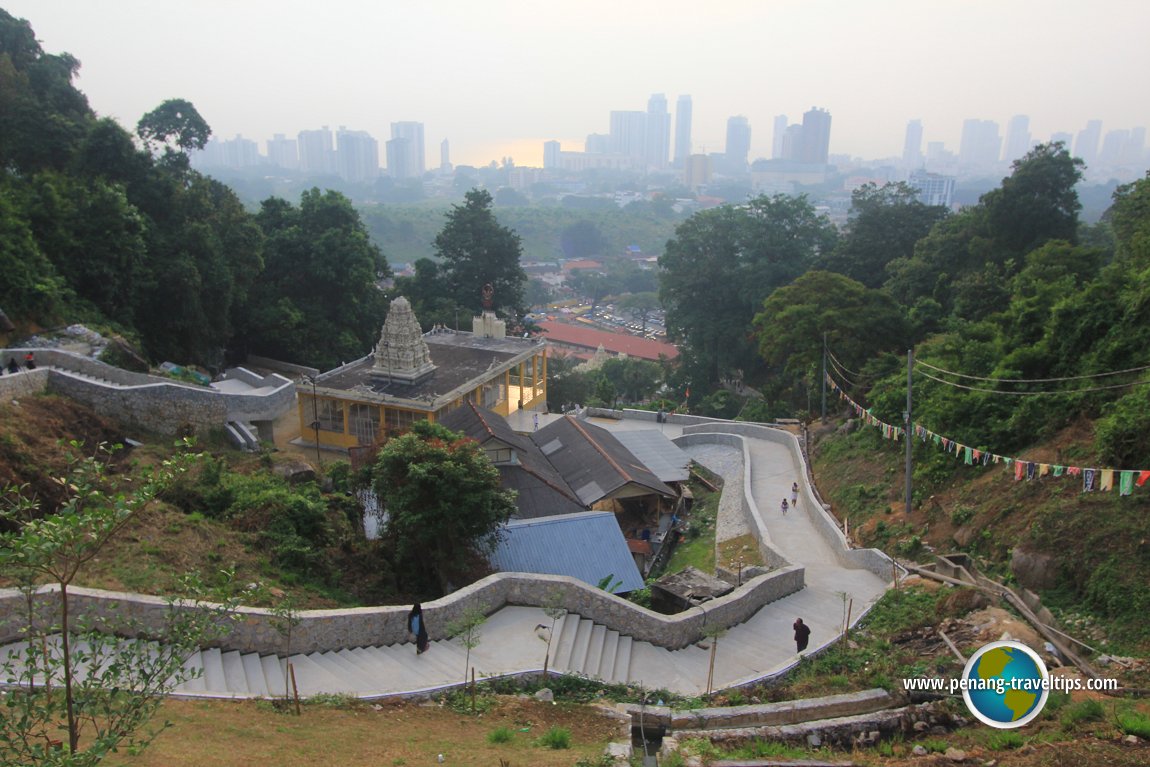 Looking down from Balathandayuthapani Temple
(1 July, 2012)
A feasibility study was conducted to ascertain the viability of expanding the old hilltop temple. Consultants engaged in the study discovered that the temple was sited over several subterranean springs. This makes its location unstable. After deliberating over the various reports, the Hindu Endowments Board made a decision to relocate the Balathandayuthapani temple to a new, safer location.
The new Arulmigu Balathandayuthapani temple is planned to accommodate up to 700,000 visitors, a number expected for every Thaipusam Festival. In keeping with its position as a major Hindu temple, it will have a huge
maha mandapam
, the pillared outer hall in which public rituals are performed.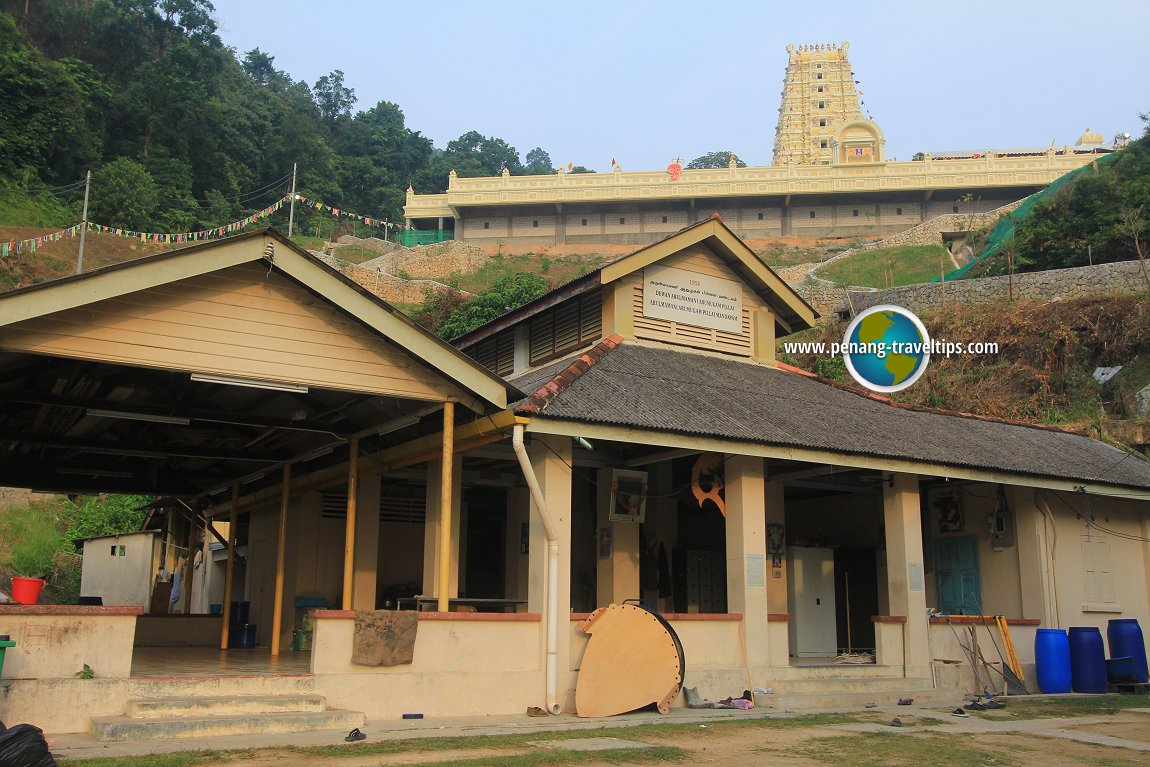 The Arulmamani Arumugam Pillai Mandapam, with the new Balathandayuthapani Temple looming behind it
(1 July, 2012)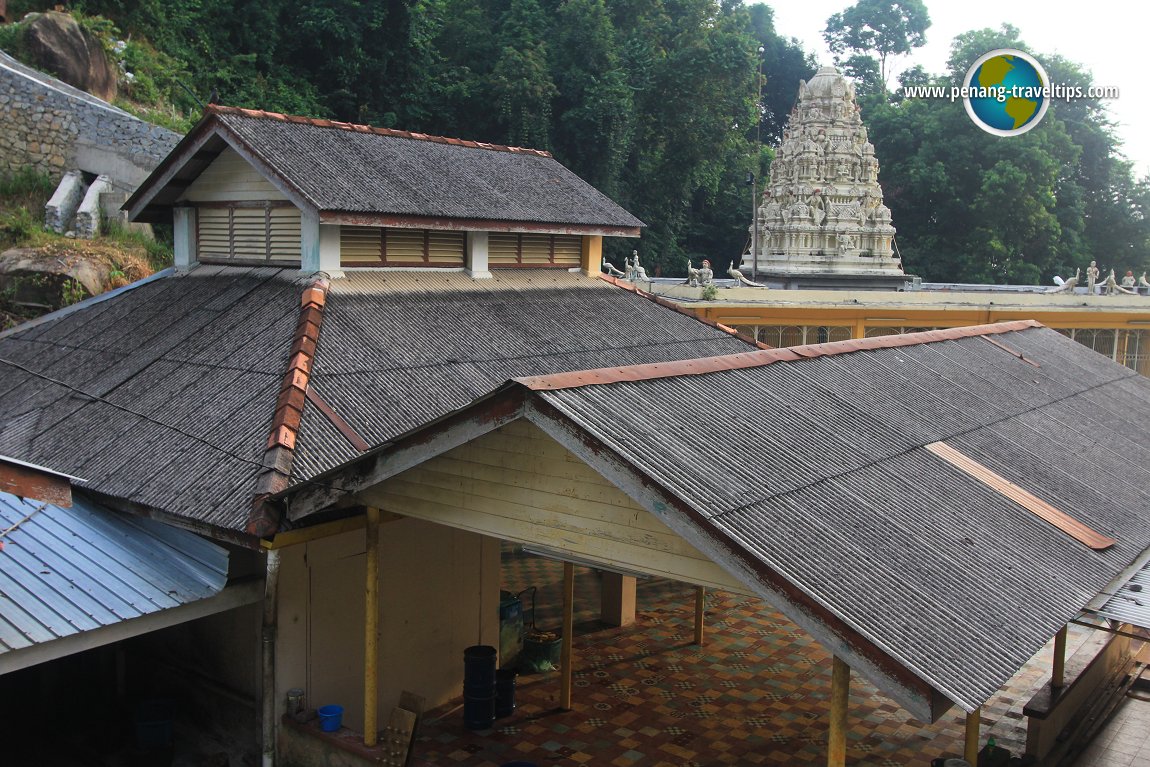 The Arulmamani Arumugam Pillai Mandapam, with the old Balathandayuthapani Temple in the background
(1 July, 2012)
Visitors to the new Arulmigu Balathandayuthapani Temple has an even longer climb than before, but the view makes the effort worthwhile. With over 500 steps (some estimates put the figure at 512 steps, though this is difficult to judge, as there are more than one route to the top), it is longer than the 272 steps of Batu Caves. The winding route allows you to stop several times to enjoy the scenery.
Half way to the top, you arrive at the Old Hill Top Murugan Temple, the former site for the Thaipusam celebrations. Next to it is the Arulmamani Arumugam Pillai Mandapam, a pavilion built in 1956. It acts as the staging area for visitors and pilgrims. From here, you get a good view of the new Arulmigu Balathandayuthapani Temple before you continue your ascend. As you climb higher, the skyscrapers of Gurney Drive and eventually the rest of George Town come into view.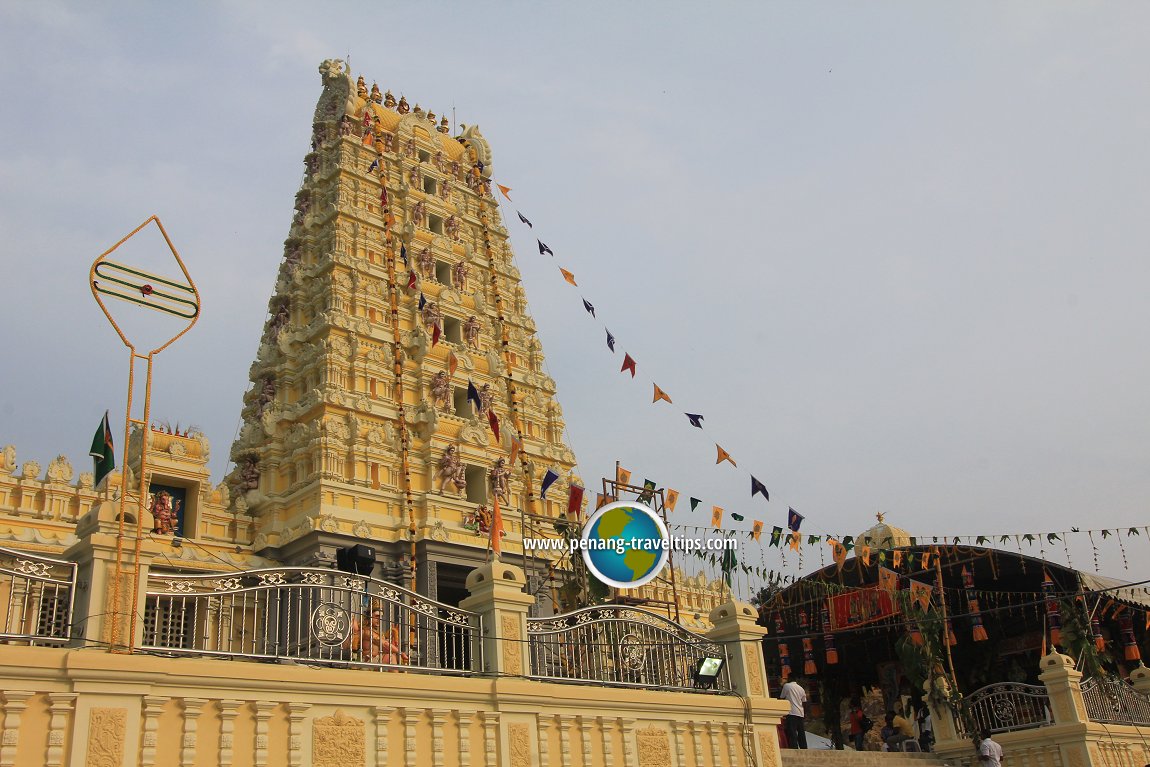 The rajagopuram of the Arulmigu Balathandayuthapani Temple
(1 July, 2012)
Arriving at the top, you enter the temple through a main gate topped by a gigantic seven-storey rajagopuram, or kingly temple tower, which is intricately embellished with multi-tier statues of deities. The
maha mandapam
surrounds the
garbhagriha
, or
sanctum sanctorum
, where the image of Murugan is placed. There is also alcoves or shrines for other deities.
The
maha mandapam
is supported by rows of intricately carved pillars. Hanging down from the ceiling are chandeliars that cast their light over the well-polished floor. Devotees gather in groups on the floor or awaiting their turn to perform prayers and rituals.
Since its recent expansion, the Balathandayuthapani Temple has become one of Penang's major tourist attractions, and not just during the Thaipusam season.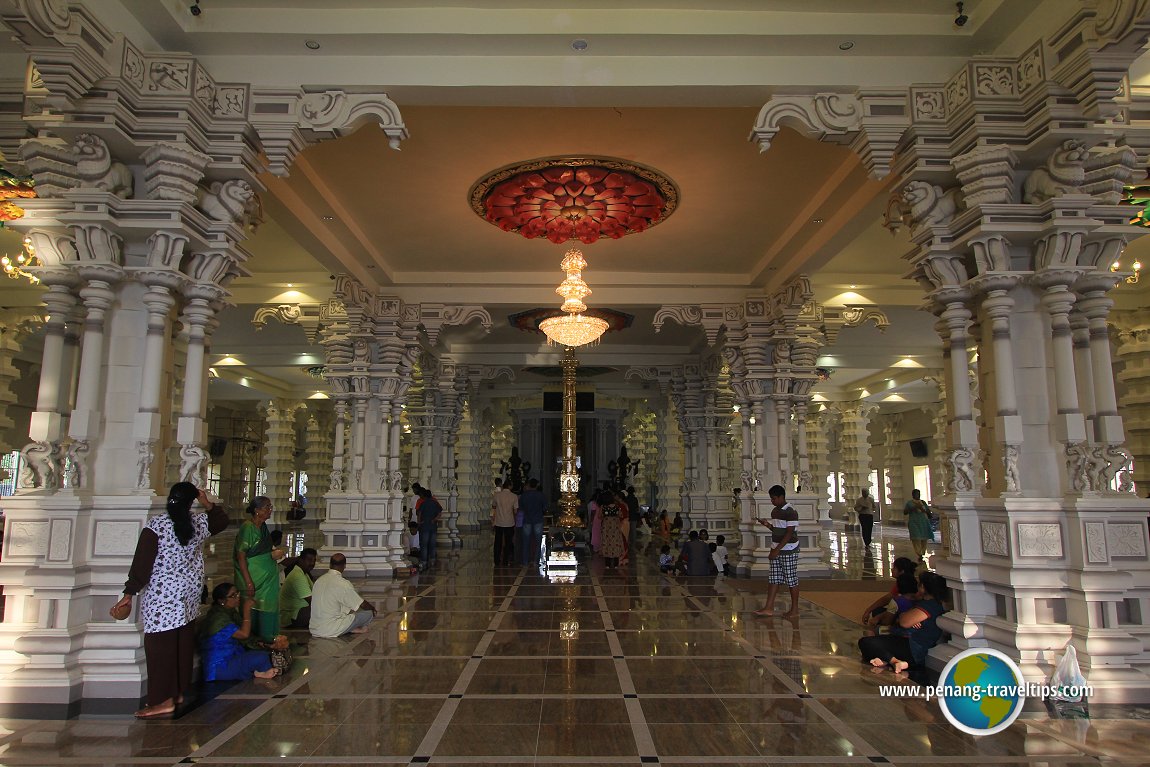 The maha mandapam of the Arulmigu Balathandayuthapani Temple
(1 July, 2012)
Penang Hokkien Section
This section is in Penang Hokkien and is part of
Learn Penang Hokkien
. It helps you practise reading in the language. If you are new to this writing system and would like to know more, read
Penang Hokkien Made Easy
. Refer also to the
Penang Hokkien Dictionary
for words that you are not sure.
Arulmigu Balathandayuthapani Kovil si3 te3-it1 tua33-keng1-eh3 Ke1ling3na1 ang3kong1 ti1 Penang. Cit1-leh1 am1 si3 khi4 hor3 cit1-leh3 Ke1ling3na1 ang3kong1 mia3 Murugan. I1 tun1 si3 kui1-leh3 te3-it1 lau33-eh3 Ke1ling3na1 am1 ti1 Penang. Te3-it1 ca4 eh3 si2, Balathandayuthapani si3 cit1-keng3 se1-keng3 am1 nia3, ti1 Ang3mor3 Hua3 Hnui2-eh3 chooi1chiang2-eh3 pni1nya4.
Ti1 1850 ni2 eh3 si2, eng3goay3 hua3 hnui2 boek1 yong33 heh1-peng2-eh3 tay3, Balathandayuthapani tiok3 pnua1 chut3 khee3. I1 sua4 khee3 i1-eh3 te3-jee3-leh3 sor1cai3. Tua3 ti1 cit1-leh1 sor1cai3 ta3-ta3 ni2 co3 Thaipusam, ju1 lai3 ju1 ce33 lang2 lai2, kau3ka1 uh3 si2 boh3 sor1cai3 hor3 lang3 khia3 tun4.
Eng3goay3 boek1 tay4 khah1 ce33 lang2, Arulmigu Balathandayuthapani Kovil pnua1 kokh1 cit3 pien3. I1-eh3 sin1-eh3 sor1cai3 tua3 ti1 snua3pni1. Boek1 kau3 tiok3 boek1 paek3 512-can3-eh3 lau3thui1, khah1 kuan2 goay3 Batu Caves gok3.
Ti1 sin1-eh3 Balathandayuthapani uh3 cit3-leh3 chit1-can3-eh3 Rajagopuram. Rajagopuram is cit1-hang3-eh3 Ke3ling3na1 thak3. Balathandayuthapani-eh3 Rajagopuram si3 te3-it1 tua33-leh2-eh3 rajagopuram for Murugan-eh3 am1 tua3 kui3 se1kai3.
A3si3 lu1 ai1 khee1 khnua3 Arulmigu Balathandayuthapani Kovil, liau4 lu1 mai1 khek1sio1 ka1 lang2, te3-it1 ho4 si3 mm3thang3 khee3 ti1 Thaipusam-eh3 tiam1sniah1.
Translation
Arulmigu Balathandayuthapani Kovil is the biggest Hindu temple in Penang. This temple was built for the Hindu deity Murugan. It is also among the oldest Hindu temple in Penang. In the beginning, Balathandayuthapani was just a small shrine beside the waterfall of the Penang Botanic Gardens.
In 1850, Balathandayuthapani had to move because the gardens is taking over the land. It moved to its second site. At this second site, it hosted the annual Thaipusam which over the years attracted an increasing number of people, until at times there is no place to stand.
In order to take in more people, Arulmigu Balathandayuthapani Kovil relocated once again. Its new location is on a hill side. To reach this site requires climbing a 512-step staircase, which is taller than that of Batu Caves.
At the new Balathandayuthapani is a seven-storey Rajagopuram. A Rajagopuram is a Hindu temple tower. The Rajagopuram of Balathandayuthapani is the biggest rajagopuram for a Murugan temple in the world.
If you wish to visit Arulmigu Balathandayuthapani Kovil, and you do not wish to get squashed by the crowd, then it's best not to go during Thaipusam.
For more reading material in Penang Hokkien, go to
Reading Material in Penang Hokkien
. View also the
Penang Hokkien Video Guides
for video readings in Penang Hokkien.
Updates
29 June 2012:
As reported, the Balathandayuthapani Temple held its
maha kumbabishegam
or consecration ceremony attended by state leaders, in the presence of forty Hindu priests from the six main Murugan temples in South India, and another forty chief priests of temples in Bali. The consecration ceremony began at dawn with the sprinkling of holy water on devotees at around 11:00 am.
22 April 2012:
It is reported in
The Star
that the new hillside temple building of the Balathandayuthapani Temple is expected to be open to the public following the consecration ceremony on 29 June, 2012. The new building, constructed at a cost of RM9 million, will feature the tallest gopuram of any Hindu temples dedicated to Lord Murugan outside of India. It will stand at a height of 21.6 meter, and will be ornately adorned with intricate sculptures reflecting the South Indian temple architecture.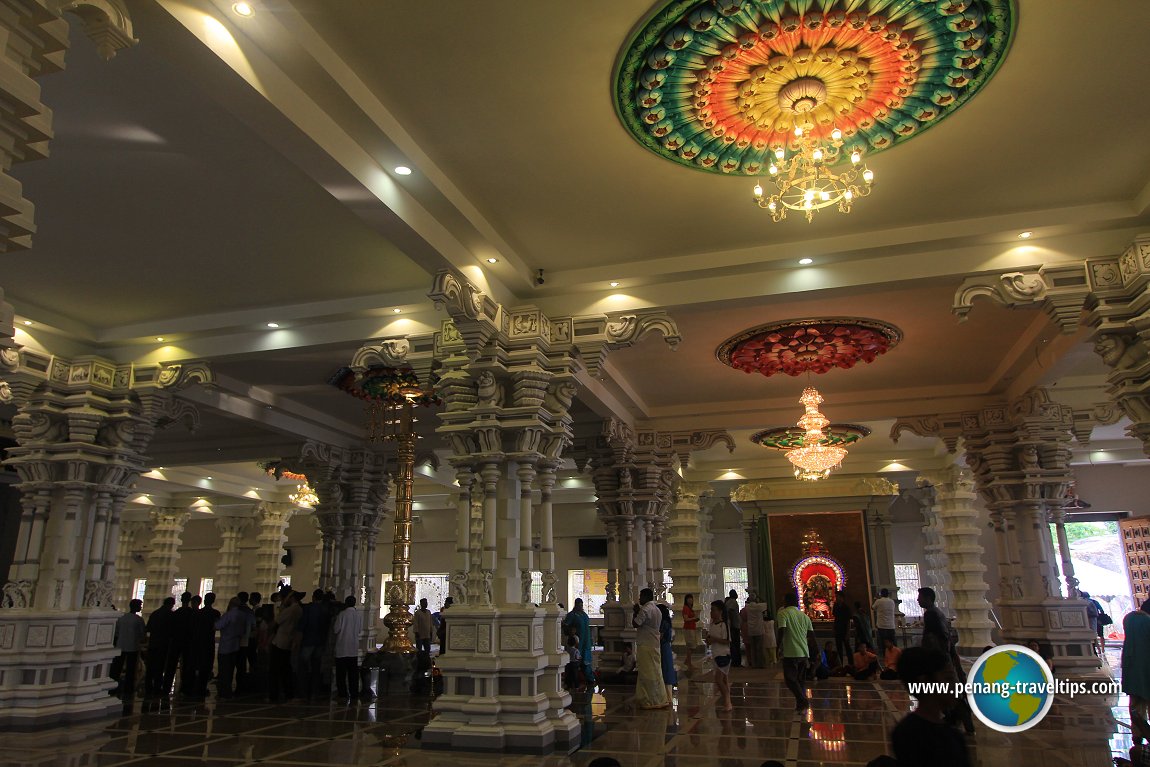 Chandeliers in the maha mandapam of the Balathandayuthapani Temple
(1 July, 2012)
The temple pillars feature the 14th and 15th century architectural styles of Chola and Padya temple designs. These are executed by artisans specially brought in from India.
An additional 22 toilets are being built to supplement the existing forty in the temple grounds, as the temple is expected to receive thousands of devotees and sightseeing visitors.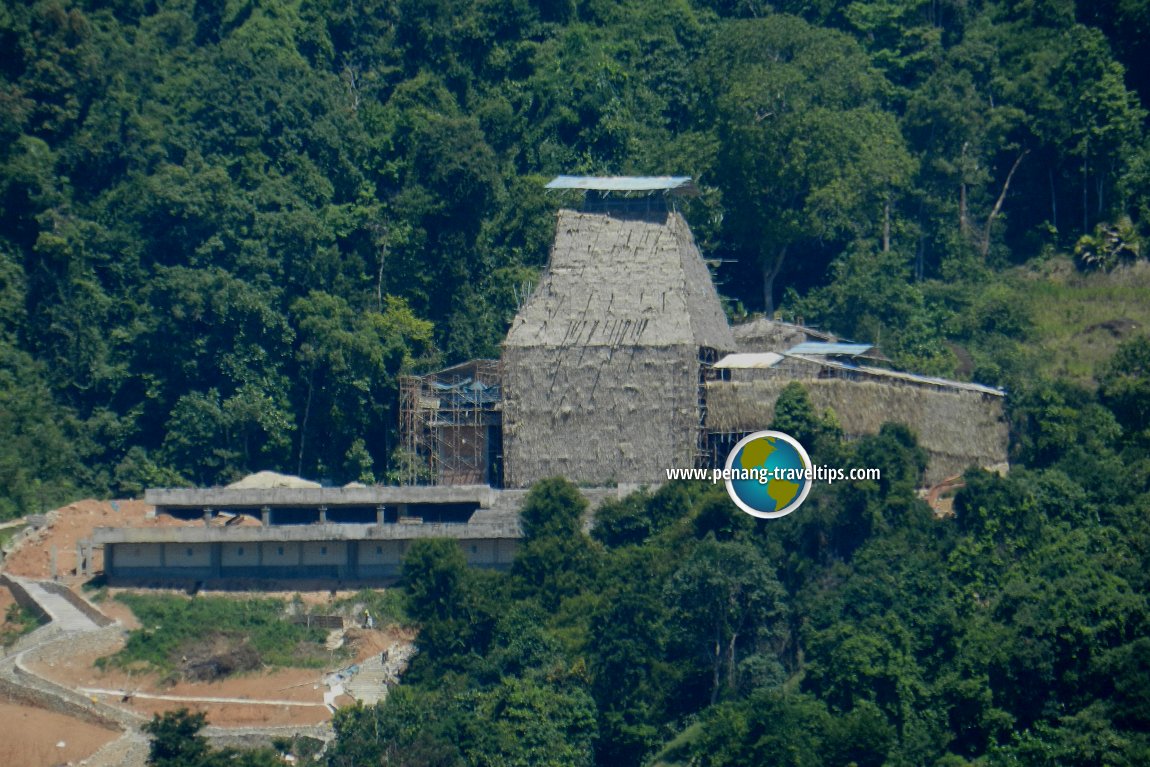 Balathandayuthapani Temple under construction
(11 June, 2011)
Shrines within the Arulmigu Balathandayuthapani Complex
Being the most important Hindu temple in Penang, the Arulmigu Balathandayuthapani includes numerous shrines, sub-temples and auxiliary halls within its compound. The following are some of the buildings that are located within the complex.
Arulmigu Balathandayuthapani Temple is on the map of Jalan Kebun Bunga
For other video guides, go to
Penang Travel Tips Video Guides
or load the
Video Guide Playlist
.
Thank you for using my website!
Hello and thank you for reading this page. My name is
Tim
. I wrote this page to compile what I discover, for my own knowledge, and also to share it with people who might find it useful. It is part of three inter-connected websites:
Penang Travel Tips
,
TimothyTye.com
and
Timothy Property Mart
.
I am a real estate agent, food blogger, amateur historian and travel author. This website is an encyclopedia as well as a business directory. As a real estate agent, I help people buy, sell, rent and let properties. If you have a property to sell or rent in Penang, Kuala Lumpur, Johor Bahru, Ipoh or Malacca, my team of realtors and I can help you. If you operate a restaurant, can write about your food and promote your restaurant. I can also help you engage other food bloggers to write about your food. And finally, if you are operating a business anywhere in Malaysia, you can add your shop to this website and be found by lots of customers. All you need to do is contact me with what you need.
contact Tim
You can do many things directly from this website. If you are visiting Penang, I can
arrange for you a tour guide and/or driver
to show you around. If you are traveling by bus anywhere in Malaysia or Singapore, you can
book your bus ticket
. If you seek accommodation, you can
get hotel room rates
.
As a Christian, I hope that through this website, I am able to deliver God's message to all who need it, anywhere in the world. If you are open to hearing it, please read
God's Good News to You
.
If you wish to contact me, please use this
contact form
. And don't forget to
follow me on Facebook
. See you!
Copyright © 2003-2019
Timothy Tye
. All Rights Reserved.