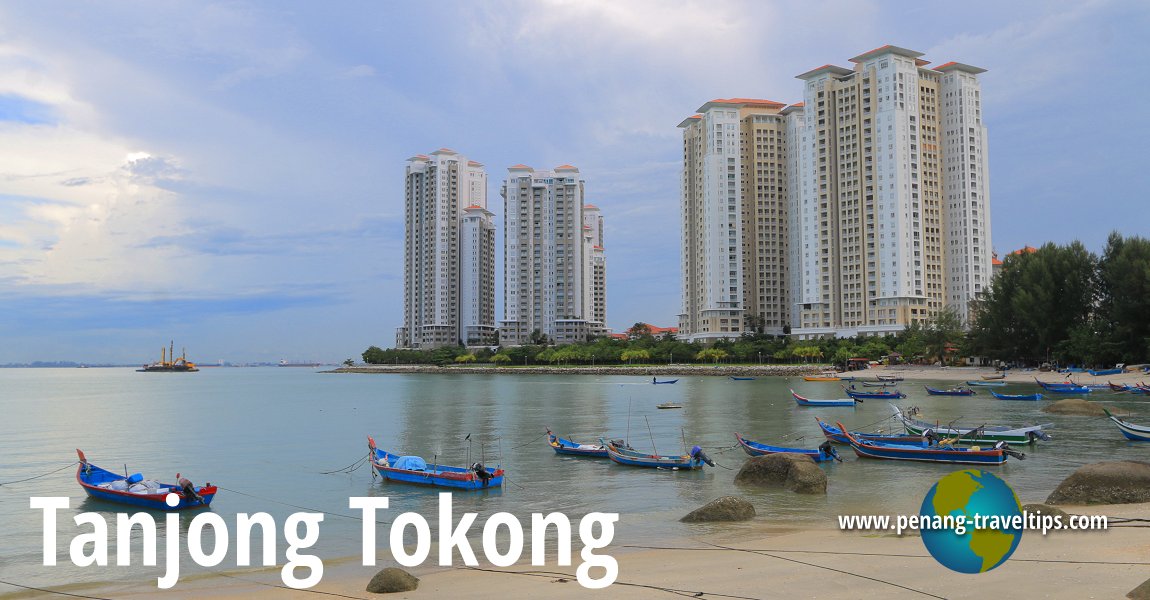 Tanjong Tokong, Penang
(14 November, 2017)

Tanjong Tokong
(GPS: 5.45127, 100.30556), (Traditional/Simplified Chinese: 丹绒道光; Pinyin: Dānróng Dàoguāng) often written as
Tanjung Tokong
nowadays, is a neighbourhood on the northeastern part of Penang Island. Formerly a fishing village, it derives its name from the
Tua Pek Kong temple
located on the northern part of the neighbourhood.
The coastline of Tanjong Tokong was significantly affected by the December 2004 tsunami. The force of the wave was so great that it broke a retaining wall at the famous seafood restaurant near the Tua Pek Kong temple. It also hoisted several fishing boats and deposited them along Jalan Tanjong Tokong, the main road.
Until the 1970s Tanjong Tokong was just a quiet fishing village. This is the destination of townfolks escaping the noise and dirt of George Town. Tanjong Tokong was where you can enjoy good seafood or take a dip in the (then) pristine sea. During that time, the coastline of Tanjong Tokong north of the Tua Pek Kong Temple comprises stretches of white sand interrupted by rocky coastal boulders, while south of the temple, the shore was a series of mudflats interspersed by groves of estuarine mangrove.
Apart from a few seaside bungalows, there was limited residential development in the area, and most of the houses until then comprised wooden village sheds haphazardly strewn along the coast and within the village of Tanjong Tokong. All this changed since the turn of the 21st century, as Tanjong Tokong gradually morphes into a skyscraper neighbourhood, with a large part of the latest development occupying reclaimed land. The high-rise development continues unabated as time of writing (Nov 2016).
Map of Tanjong Tokong
Hotels in Tanjong Tokong
Buying property in Tanjong Tokong
Tanjong Tokong is a favoured neighbourhood of many, because of its proximity to George Town - and the view from here to the city is often breathtaking. If you are keen to buy or rent property here,
email me
(Timothy Tye) or WhatsApp me
+6012 429 9844
. As a real estate agent, I will be able to help you find a suitable unit for sale or for rent.
Email Me
WhatsApp Me
Apartments & Condominiums in Tanjong Tokong (and vicinity)
Eateries in Tanjong Tokong
Sights in Tanjong Tokong
Shopping Malls in Tanjong Tokong
Commercial Properties in Tanjong Tokong
Residential Neighbourhoods and Settlements at Tanjong Tokong
Serviced Apartment in Tanjong Tokong
Schools in Tanjong Tokong
Businesses in Tanjong Tokong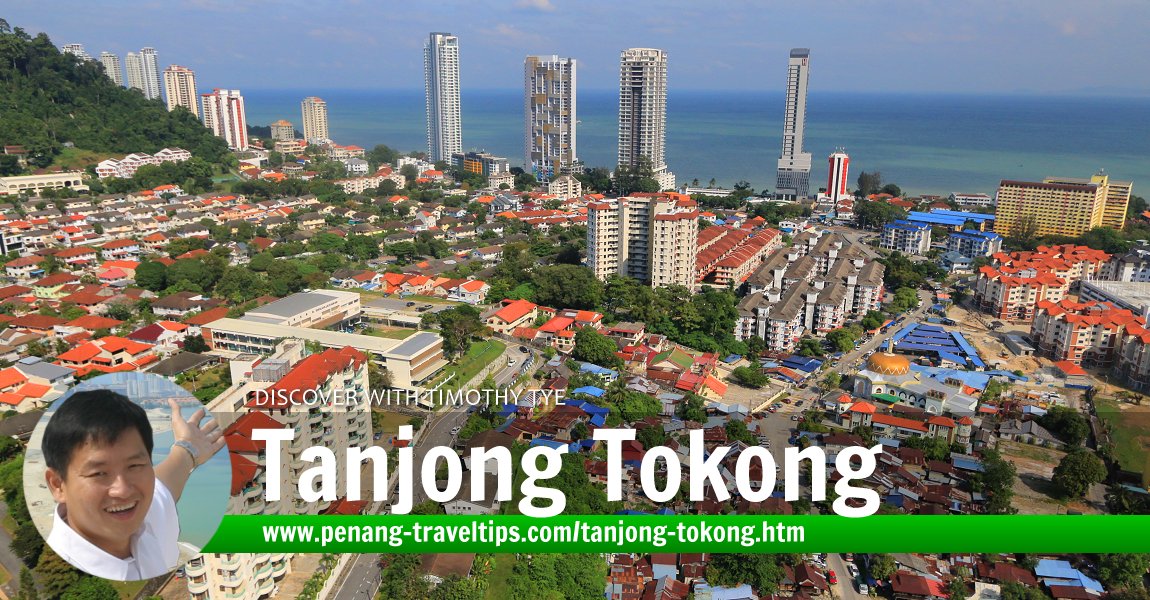 Aerial view of Tanjong Tokong from The Penthouse condominium.
(29 December, 2018)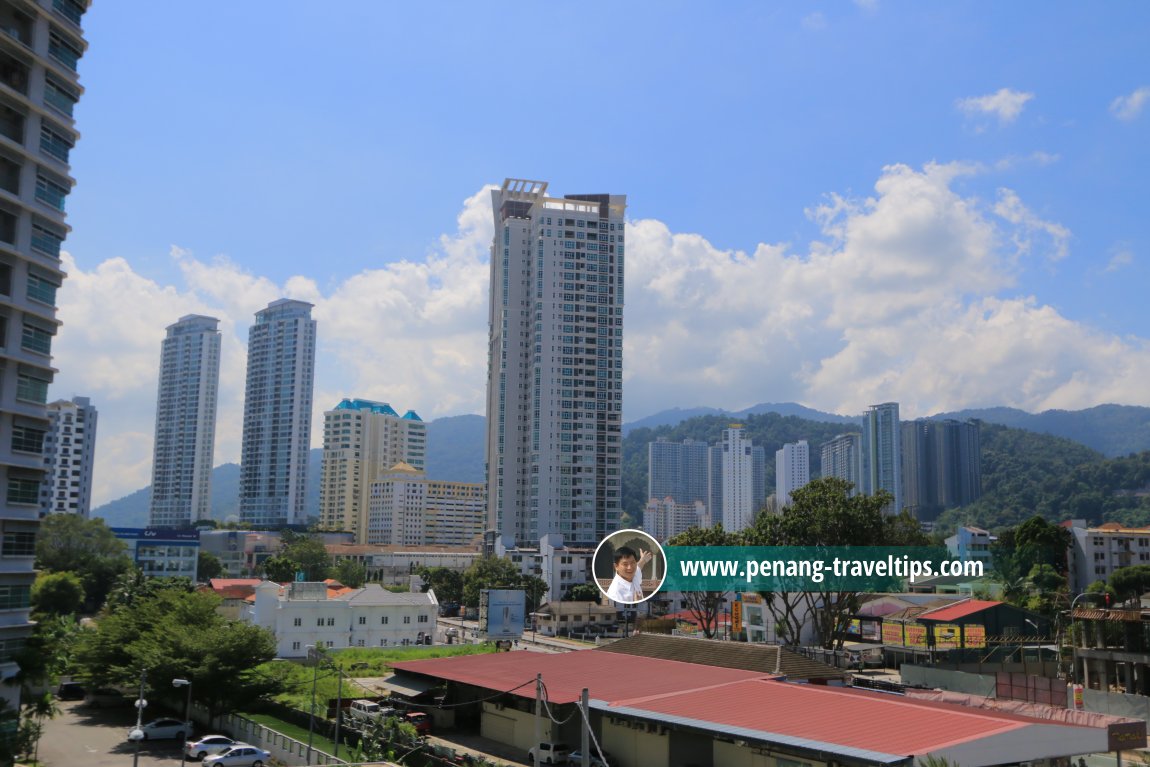 High-rise condominiums in Tanjong Tokong.
(29 December, 2018)

History of Tanjong Tokong
Tanjong Tokong is believed to hold the earliest Chinese settlement on Penang Island. It predates the arrival of Francis Light by a few decades. The settlement was founded by
Zhang Li
, who like many of his countrymen during the period following the collapse of the Ming Dynasty, decided to vote with his feet. He set sail for Sumatra, but somehow landed on Penang Island instead, and there, he founded a Chinese settlement at Tanjong Tokong. His grave is beside the Tanjong Tokong Tua Pek Kong Temple, where he is deified as an honourific Tua Pek Kong.
Urbanisation of Tanjong Tokong began in the 1970s, and gathered speed in the subsequent decades. Today, Tanjong Tokong villagers can feel the urban spawl of George Town pressing up against them, threatening to end their unharried lifestyle. The sea off Tanjung Tokong has undergone reclamation. This extended the shoreline outward, erasing the original curve of the Teluk Ayer Rajah bay and blunting the point of the cape that gave Tanjong Tokong its name. It also affects the currents which in turn impacts the lifelihood of coastal fishermen, who may eventually be forced to abandon fishing for other jobs.
Tanjong Tokong is also famous for the Fatty Loh Chicken Rice which had its original outlet at the junction of Fettes Park Road. This road has also seen much changes in tandem with the rest of Tanjong Tokong. New retail outlets that have been added to Tanjung Tokong include Island Plaza and Prima Tanjung.
From the 1980s onwards, Tanjong Tokong began to witness urban development. The earliest apartments to be built here were low rise, among them Villa Saujaze and Excel Court. By the early 1990s, grander development projects were planned for Tanjong Tokong. They include
Marina Bay Condominium
and
Island Plaza Shopping Centre
. Since then, Tanjong Tokong began to transform into an upscale residential area and extension of affluent Pulau Tikus. This is reflected in the development of several high-end condominiums including Tanjung Park and The Fettes Residences. As with elsewhere on Penang Island, Tanjong Tokong is seeing a mushrooming of high rise apartments. In addition to the aforementioned upscale projects, there are also low-cost and medium-cost apartments in the area, among them Palm Court Apartment and
Taman Tanjung
.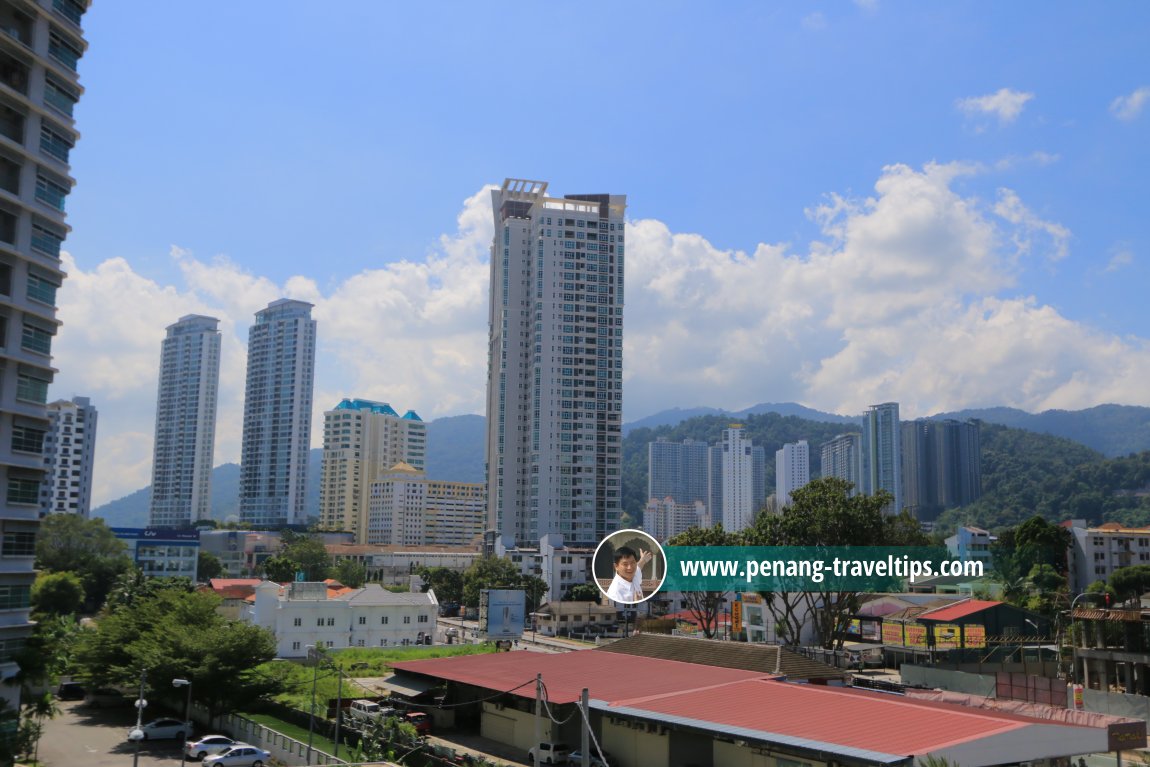 High-rise residential properties in Tanjong Tokong, Penang
(29 December, 2018)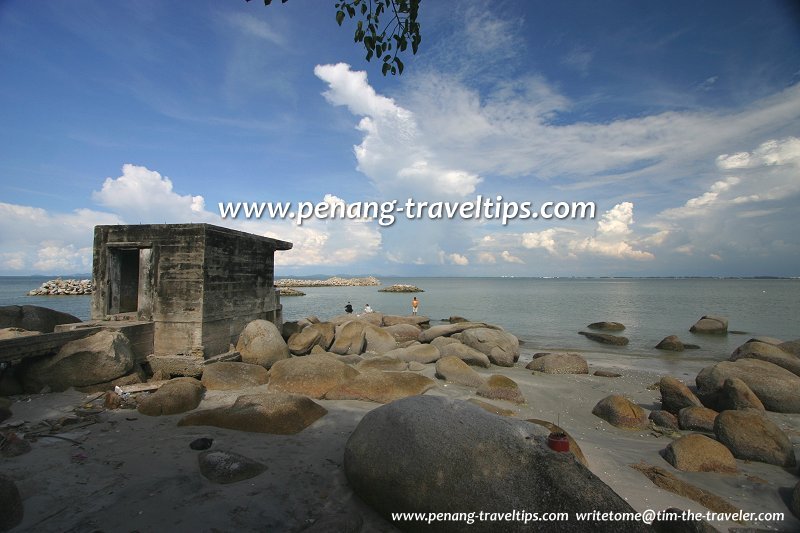 A World War II bunker on the coast of Tanjong Tokong
(27 November, 2005)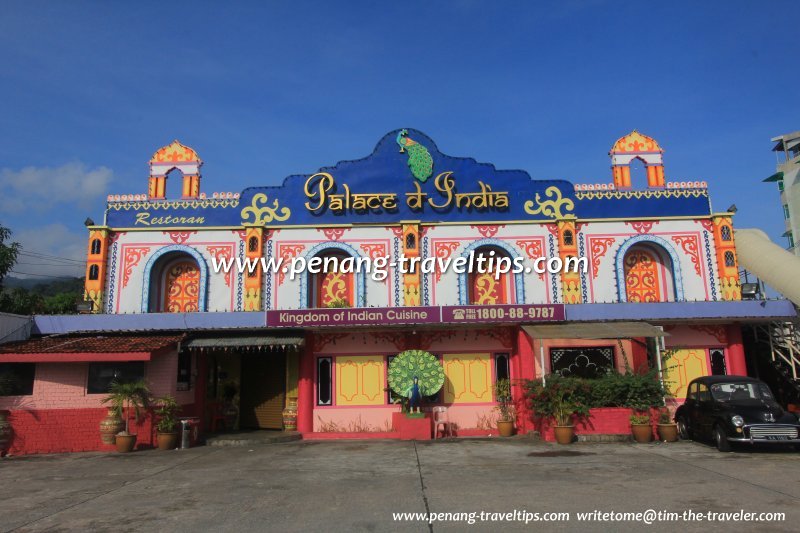 Palace d'India, Tanjong Tokong, Penang
(30 November, 2012)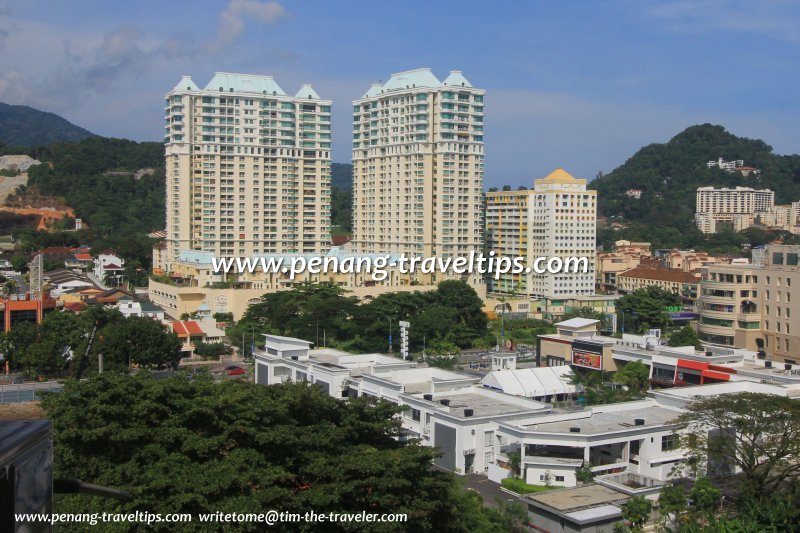 Commercial and residential properties in Tanjong Tokong
(30 November, 2012)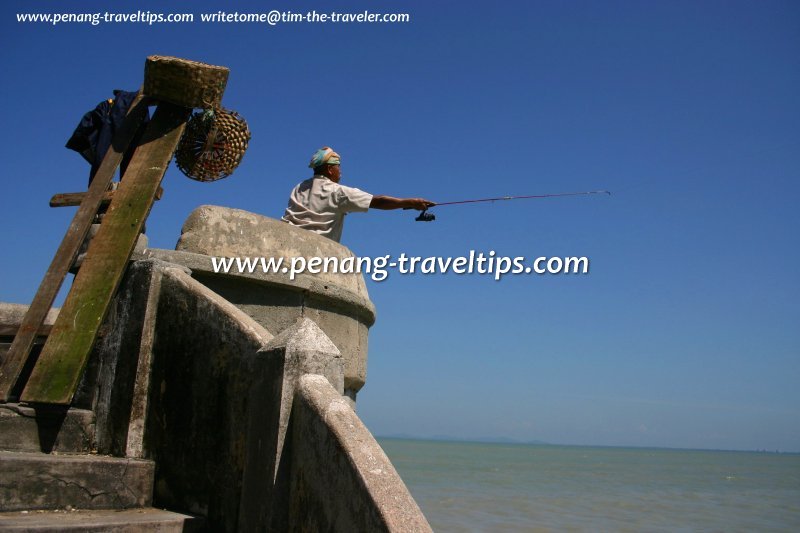 Angler at Tanjong Tokong, Penang
(23 December, 2003)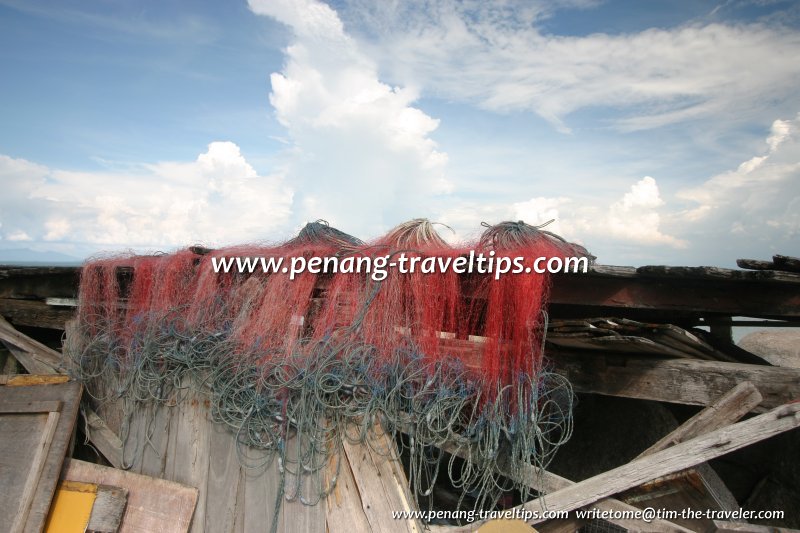 Fishing nets, a reminder that Tanjong Tokong was once a vibrant fishing village
(27 November, 2005)

Location
Tanjong Tokong is between 4.5 km to 7 km from
Magazine Circus
in the city centre. It is of moderate distance from the city, and is a convenient location for a home. The place is a choice neighbourhood for the wealthy, as it affords splendid views of the city, particularly if you live in a high-rise condominium.
Getting there
To reach the Tanjong Tokong, take
Rapid Penang
bus 101, 103,
104
from
Weld Quay Ferry & Bus Terminal
. The heart of Tanjong Tokong is at the intersection of Jalan Tanjong Tokong with Jalan Fettes and Jalan Seri Tanjung Pinang, in front of Island Plaza.
What to see and do there
Island Plaza
is an upmarket shopping mall. Apart from that, there is suburban shopping at
Prima Tanjung
across the road at Jalan Fettes. Further up the road is Fatty Loh Chicken Rice shop.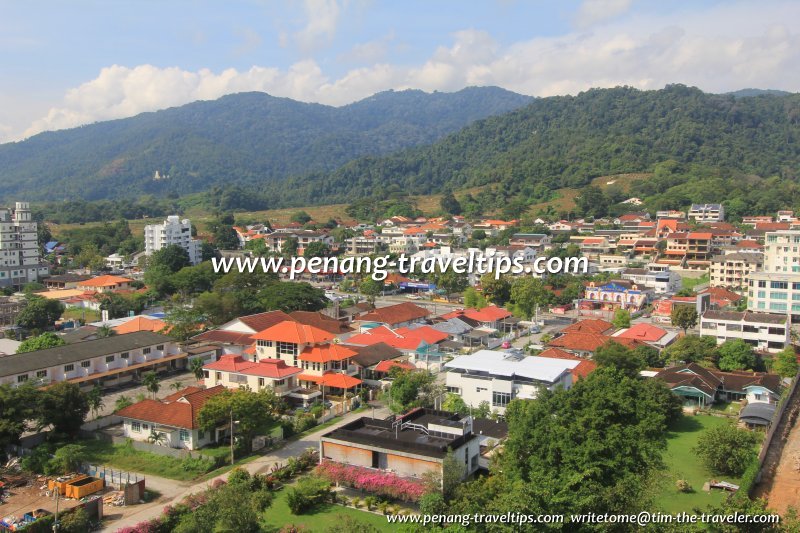 Bird's eye view of Tanjong Tokong
(30 November, 2012)

Amenities
Nearest schools include the
Penang Chinese Girls High School
and Sekolah Menengah Kebangsaan Tanjung Bungah. The nearest market is the Tanjong Tokong village market.
Island Plaza
is the nearest shopping mall, with the Cold Storage supermarket housed in it.
Gurney Plaza
is another shopping mall close by. Petrol stations in Tanjong Tokong includes a Shell, a Caltex and a Petronas. The nearest hospital is the
Penang Adventist Hospital
.
Traffic
Traffic is often heavy along the main road, Jalan Tanjong Tokong. Now that it has been widened, the traffic flow is smoother, even though the nonsensical way the road lines are drawn require motorists to swerve in and out at every approaching traffic light.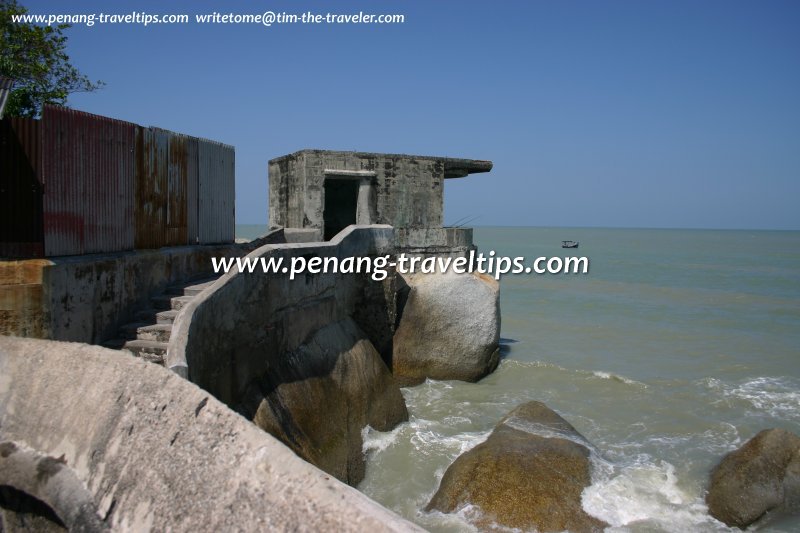 Retaining wall at Tanjong Tokong
(30 November, 2012)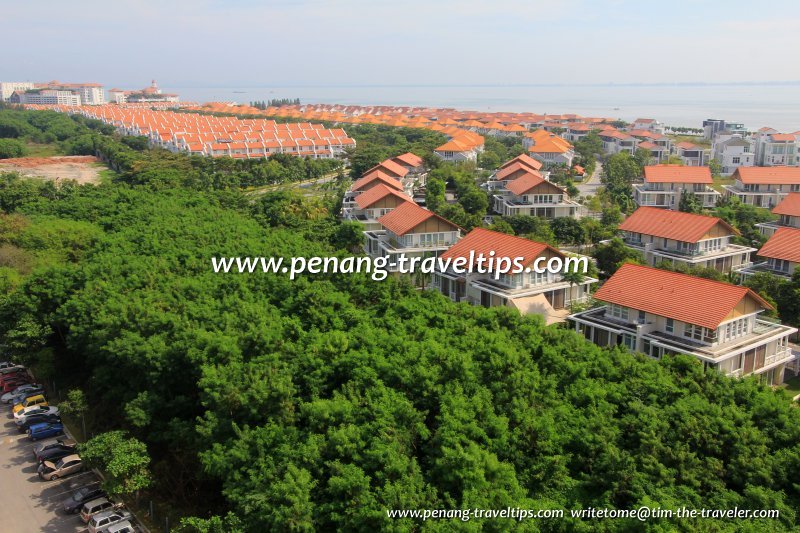 The reclamation of Seri Tanjung Pinang creates a new green belt in northern George Town
(30 November, 2012)

Add your shop/business to this website
The Penang Travel Tips website is a huge website that documents everything in Penang. On top of the hundreds of streets and tourist attractions, I also add in hundreds of shops and businesses.
If you operate a shop business in Penang, or anywhere in Malaysia or Singapore, contact me to add your business/shop into my website. It only a one-time fee, and your shop/business will be listed by location and category, helping your would-be customers find you. To find out more,
CONTACT ME
Visiting Penang? Find the lowest hotel room rates here!
Use our search engine to compare room rates from different hotel booking websites, to find the one that's lowest.
Travelling somewhere?
If you're travelling somewhere, use our online engine to find the online booking site that offers you the best room rates.
Book your hotel room here
If you're coming to Penang, book your hotel room online with Agoda. Agoda offers the best prices on 2,000,000+ properties worldwide.
Start here.
Local Guided Tours of Penang
If you are coming to Penang and need someone to show you around, I can arrange for you a licensed tour guide to take you around. Guides charge a fixed fee of RM360 for taking a small group of up to 10 people on 4-hour walking tours. Walking tours exceeding 4 hours is charged an additional RM90 per hour. Tours are tailored to guest requirement. For more details,
contact tour coordinator
. Other types of tours also available.
For details, click here.
Looking for a book? Get it from Book Depository with free delivery worldwide!
I have just discovered
Book Depository
, a subsidiary of Amazon.com, and I love it. This is where you can buy books and have them sent to you. But unlike Amazon, when you purchase using Book Depository, you enjoy free delivery worldwide.
Give it a try today!
Here's a list of the latest pages I have added or updated on my website.
My YouTube Videos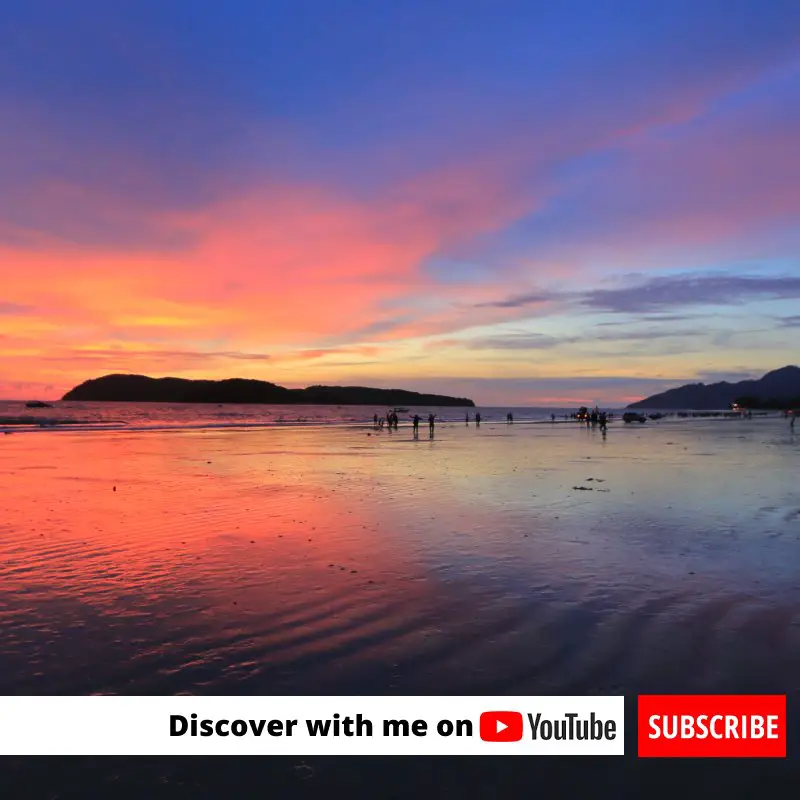 Check out
my YouTube Channel
and don't forget to subscribe!
Vital Links
Book Your Express Bus Ticket
|
Hire a car
|
Our Recipes
|
Facebook Posts
|
Just Curious
|
Not In The Dictionary
|
Our Flowering Garden
Vital Links
Book Your Express Bus Ticket
|
Engage a Tour Guide for Penang
|
What's Up at Penang Hotels
|
Hire a car
|
Facebook Posts
|
Our Recipes
|
Our Flowering Garden
|
Guide Book on Penang Durians
Discover the World
About Me