Francis Light
is the founder of the British Settlement of Prince of Wales Island, the name given by him for Penang. He is the kind of man that spells high sea adventure. I previously wrote that Francis Light was the illegitimate son of an English nobleman by the name of William Negus. However, according to Noël Francis Light Purdon, the 6-times great-grandson of Francis Light (see comment below), he was not the illigitimate son of Negus, rather Negus was paid to look after him and be his guardian through his schooling.
According to Purdon, Dallinghoo records state that Light was the son of one Mary Light while his father prefer to remain Incognito. He was born on 15 December, 1740 in Dallinghoo, Suffolk, England. While in the Royal Navy, he got acquainted with one
James Scott
was like him was also a midshipman.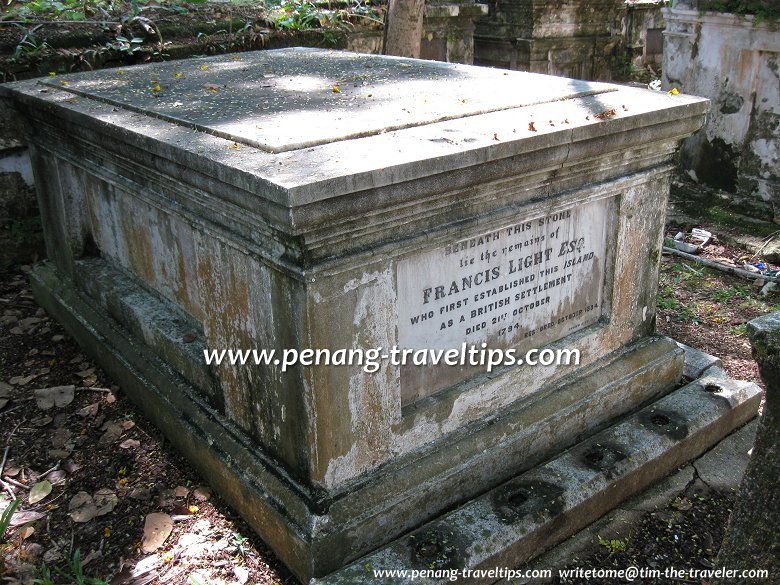 Francis Light's Tomb, Protestant Cemetery, Penang
(23 February, 2009)

When he was in his twenties, he arrived in Madras where he became the master of the ship Speedwell. He worked for the firm of Jourdain Sulivan & De Souza, and traded between India, Aceh and the Malay peninsula. In 1765 he was instructed by his company to establish trading relations with the rulers of this part of the world.
Francis Light set up a trading base in Kedah, and had a working relationship with the Sultan of Kedah. Kedah was then under constant threat from Siam. In 1771, the Sultan of Kedah offered Penang to Francis Light in return for British Protection of Kedah. Light wrote to his superiors informing them of the Sultan's offer, but his letter was largely ignored.
A bitter Francis Light withdrew to Phuket in 1772, where he set up a trading business with his long time friend, James Scott. There he met a Portuguese Eurasian lady by the name of Martina Rozells. (According to Purdon, see below, there is no evidence that Martina was half Portuguese. Also, she and Light married according to local custom.) Together, they set up a trading post in Kuala Kedah. The Sultan of Kedah has given Light the permission to trade in Kuala Kedah, and all along the coast of the Sultanate of Kedah.
In 1785, Francis Light found out that the Burmese was about to Phuket. His warning helped the islanders successfully defend themselves.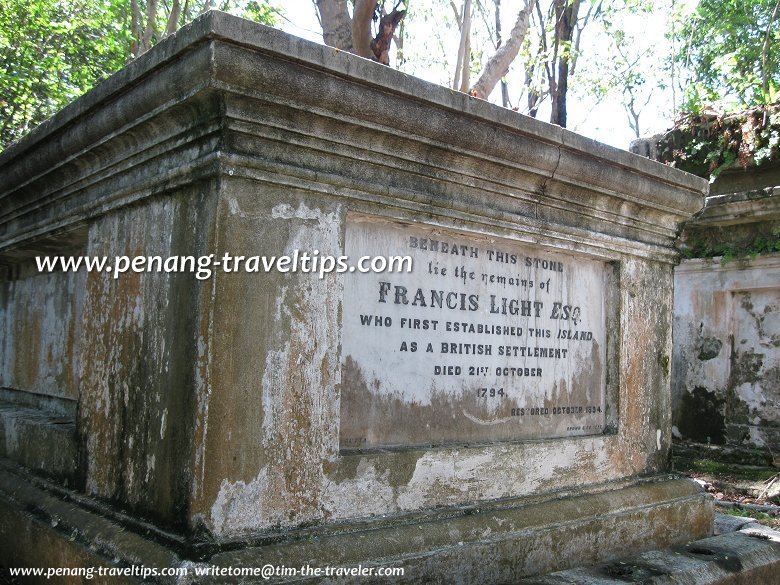 Another view of Francis Light's Tomb
(23 February, 2009)

In February of 1786, Francis Light wrote to the Governor-General of India, telling him about Penang. He had learned that the British was looking for a trading post. He proposed two possible options: Phuket (also called Junk Ceylon at that time) and Penang. This time, he got the attention of the Sir John MacPherson, the Governor-General, who authorised him to negotiate with the Sultan of Kedah. By then, the young Sultan Abdullah had taken over the reign. Francis Light landed in Penang on
11
August 1786 and became the first Superintendent of the island, which he renamed Prince of Wales Island. To avoid a conflict of interest, Light let his business partner James Scott take care of his business.
He brought Martina, whom he never legally married, and their two illegitimate children seven-year-old Sarah and infant William to Penang, where he would father another two children, Lanoon and Lukey. His eldest son William was born in Kuala Kedah on 27 April of the same year, 1786. He was to become Colonel William Light, the founder of the city of Adelaide exactly fifty years after the founding of Penang.
Francis Light succumbed to malaria on 21 October, 1794, just eight years after the founding of Penang. He was buried at the
Protestant Cemetery
in
Northam Road
. The cemetery also holds the remains of his business partner James Scott.
Further Reading