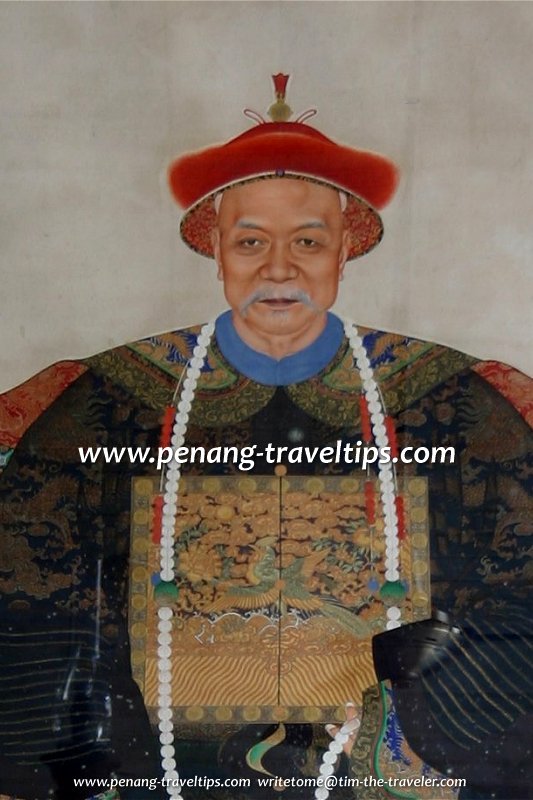 Kapitan Cina Chung Keng Kwee (1827-1901)
(30 October 2004)
Hai Kee Chan
(GPS: 5.417845, 100.341140; Penang Hokkien: Hai1 Ki3 Can3), a name meaning "Sea Rememberance Hall", is one of the most beautiful historical mansions in
George Town, Penang
. Today it houses the
Pinang Peranakan Mansion
, a cultural museum of Peranakan heritage. Hai Kee Chan is historically significant for it was the former residence of Chung Keng Kwee, the wealthiest man in Penang during his time and one of the most illustrious Kapitan Cina (leader of the local Chinese community) in the history of the country. The museum located along
Church Street
is open to the public.
View under the Christmas tree on Google Maps Street View
Address
Pinang Peranakan Mansion
29 Church Street, 10200 Penang
tel: +60-4-264-2929
email:
[email protected]
Opening Hours
Mondays - Saturdays from 9 am to 5 pm
Daily conducted tour at 11.30 am and 3.30 pm sharp.
Adults (Ages
12
and above) : RM10.00
Children (below 12) : Free
School children (in uniform) : RM5.00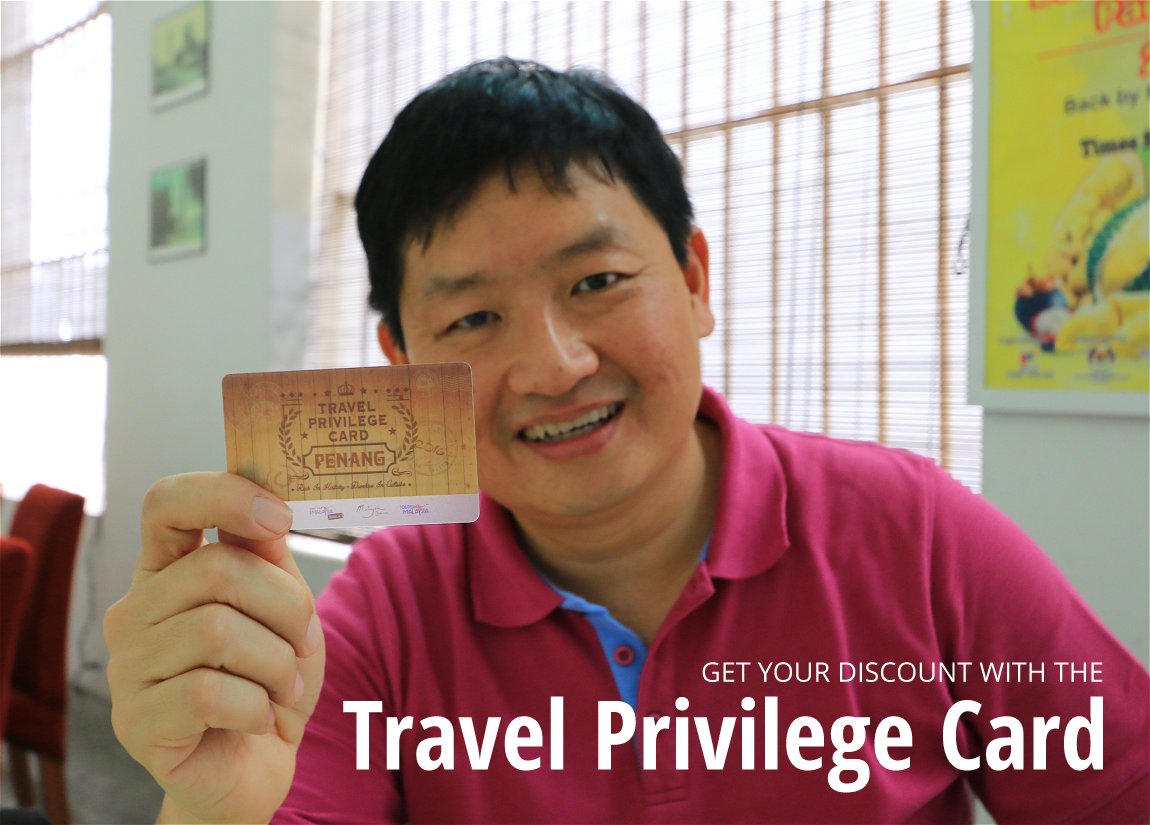 Enjoy 20% Discount at This Attraction !
Get the Travel Privilage Card - Penang
and enjoy a 20% discount on your entrance fee,
for a maximum of 2 adults and 2 kids!
Details Here!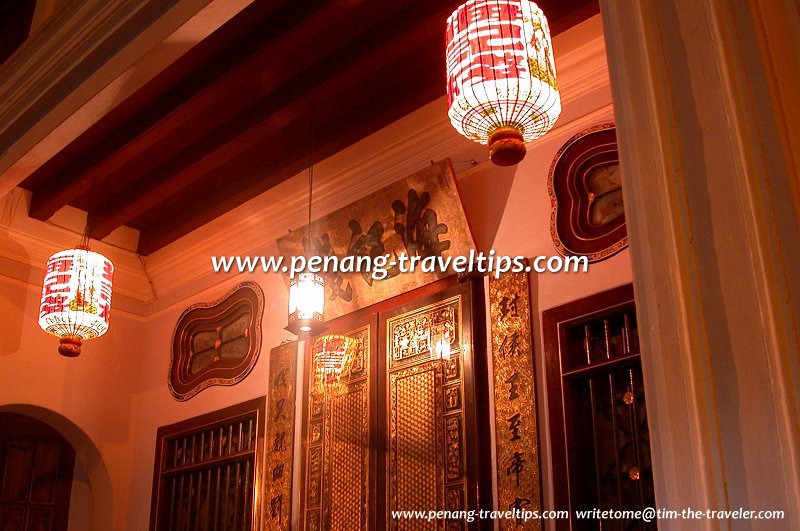 Pinang Peranakan Mansion, main entrance at night
(30 October 2004)
Getting to know the History of Hai Kee Chan
Hai Kee Chan
, also known as
Chung Keng Kwee Mansion
, and presently housing the
Pinang Peranakan Mansion
, is one of the most ornate private homes in George Town. It is located at 29 Church Street, 10200 George Town. Built by one of the most illustrious personality in 19th century Malaya, the house has a long and colorful history. After decades of collecting dust, the mansion was bought by a property developer. He restored it and turned it into a museum to showcase his collection of Peranakan antiques.
With much passion and care, he rehabilitated the mansion, bringing back its former glory, and once again, opening it for all to appreciate. This is the story of the Pinang Peranakan Mansion (also known as the Baba Nyonya Museum and the Kapitan Chung Keng Kwee Museum), and the man who built it, the enormously wealthy Hakka triad leader who was also awarded Mandarin 2nd Rank, the Kapitan China Chung Keng Kwee.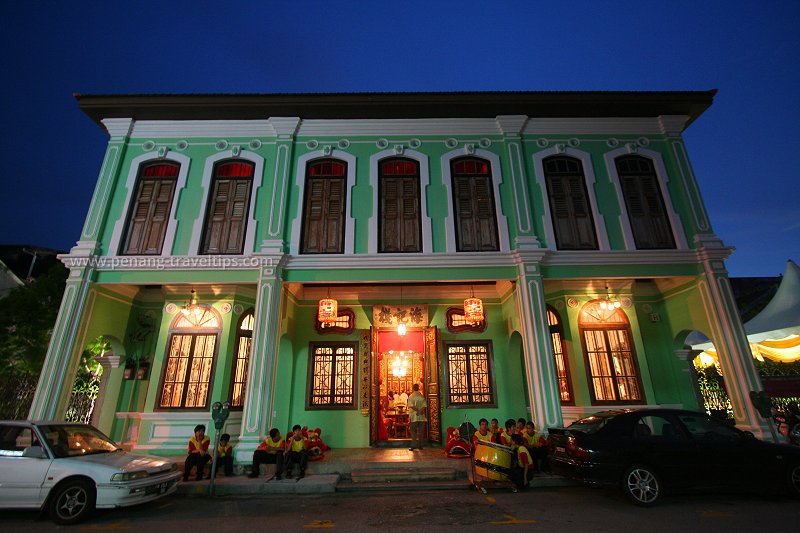 Penang Peranakan Mansion at night
(8 Oct 2009)
According to the Chung family record, Chung Keng-kwee alias Ah Quee (picture left) was born of a peasant family in the village of Cheng Sheng (Zeng Cheng) of the Kwangtung (Guangdong) Province. His father, Chung Hsing-fah, had five sons and Ah Quee was the third. Forced by turbulence in China, Chung Hsing-fah migrated abroad, later followed by his second son, Chung Keng-seng. Chung Keng-kwee stayed back to work their family plot to support his mother, Madam Lai, and family.
After a lapse of some years, with no news from his father or second elder brother, Madam Lai sent Chung Keng-kwee abroad to look for them. So in about 1841, Chung Keng-kwee, a brawny youth of 20, braved the South China Sea in a frail junk for Malaya.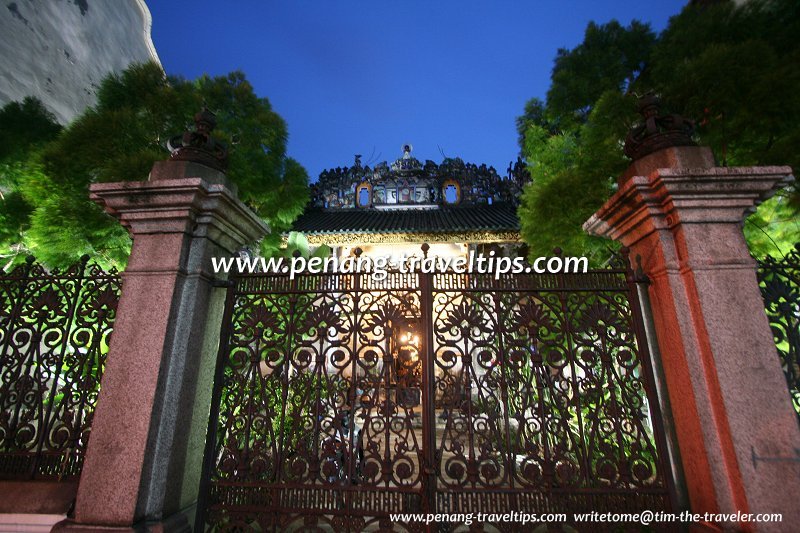 Pinang Peranakan Mansion, central courtyard
(30 October 2004)
Tin was discovered in Larut in the first decades of the 19th Century. In partnership with the Malay Rajas, Chung Keng Kwee began his tin mining operations in Larut. Chinese labourers were brought in to mine the ore. To look after their welfare, they formed secret societies called kongsi. The most notorious were the Hakka-dominated Hai San and Cantonese-dominated Ghee Hin (Yi Xing). Hai San means "Sea Mountain." It is often called Wu Qun, probably to refer to the five different factions, Huizhou, Dapu, Yongding, Zenglong and Jiaying.
When the Taiping rebellion broke out in China in the 1860s, many Hakka rebels fled China to work in the mines of Perak, finding employment with Chung Keng Kwee. This solidified Keng Kwee's position over the Larut mining areas, and he became the leader of the Hai San Kongsi from 1860 to 1884. By today's definition, that would make him a Godfather. However, these "mafia bosses" of the Straits Chinese would later reinvent themselves into Anglophile philantropist and found favour with the British.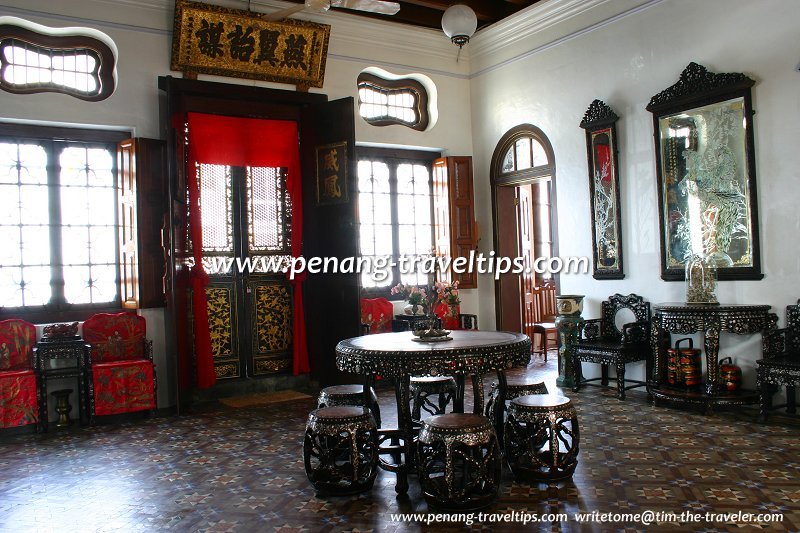 Pinang Peranakan Mansion, reception hall
(30 October 2004)
At that time, the only avenue to rise up in society was to be the head of a secret society, and often, this involves bloody circumstances. As leader of the Hai San triad, Chung Keng Kwee was cunning enough (or for that matter, lucky enough) to outwit and outlive his rivals So Ah Chiang (killed 1861) and Lee Ah Khun (Li Yaqin), the two leaders of the Ghee Hin triad.
The fighting in Larut eventually spilled over into Penang in 1867. The street fighting that erupted in George Town, which was afterwards known as the Penang Riots of 1867, pit the secret societies led by Chung Keng Kwee of the Hakka-speaking Hai San society and Khoo Thean Teik of the
Hokkien-speaking Tua Pek Kong Society
, also called the Kean Teik Tong) against the Cantonese-speaking Ghee Hin Society. Chung Keng Kwee and Khoo Thean Teik were allied for both political and commercial benefits, controlling monopolies on the revenue generated by liquor, tobacco, opium and gambling, in addition to procuring and supplying coolies.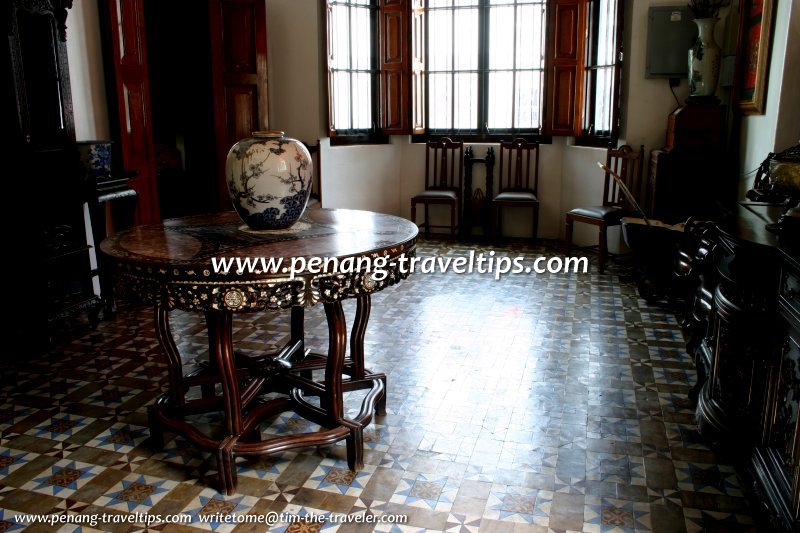 Pinang Peranakan Mansion, sideroom downstairs
(30 October 2004)
In 1872, Lee Ah Khun was caught by Chung Keng Kwee on the charge of having adultery with Keng Kwee's niece. He sentenced the both of them to death by drowning. They were put into a pig basket and thrown into a mining pond where they drowned. This episode antagonised the Hai San and Yi Xing kongsi, resulting in sporadic fightings among its members.
His opponent of the Ghee Hin camp was Chin Ah Yam, later Kapitan Chin Ah Yam, attorney of Ho Ghi-siu (the de-facto leader of Ghee Hin who always kept in the background).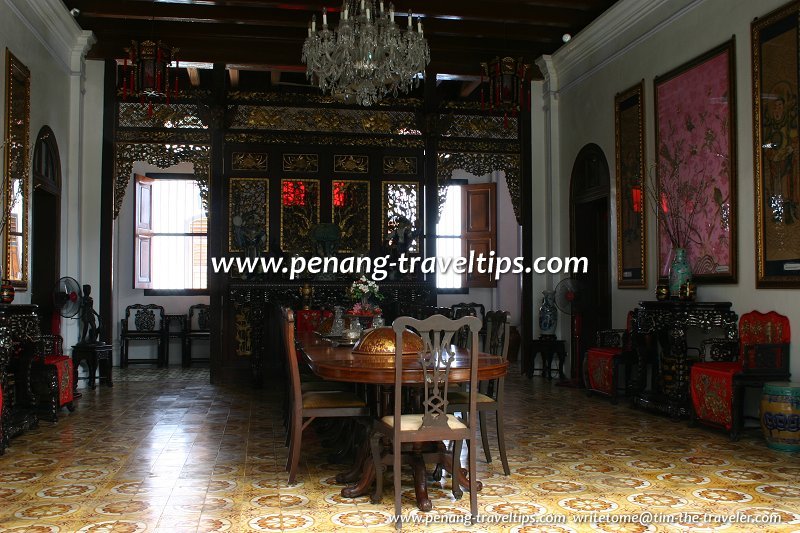 Pinang Peranakan Mansion, main dining room
(30 October 2004)
When Raja Abdullah grabbed the throne to become Sultan of Perak, it destablised the status quo over mining rights. Different factions were soon waging wars in Lower and Upper Perak, resulting in what was known as Perang Larut, or Wars of Larut, involving forty thousand Chinese miners. The fighting only came to a halt with the intervention of the British, who invited the factions to a peace talk in Pangkor Island, which yielded the Pangkor Engagement (Perjanjian Pangkor).
Ah Quee and Ah Yam were the main signatories to the "Engagement" entered into aboard the H.M.S. Pluto at Pangkor Island by twenty-six Headmen of the Chinese Secret Societies on 20th January, 1874.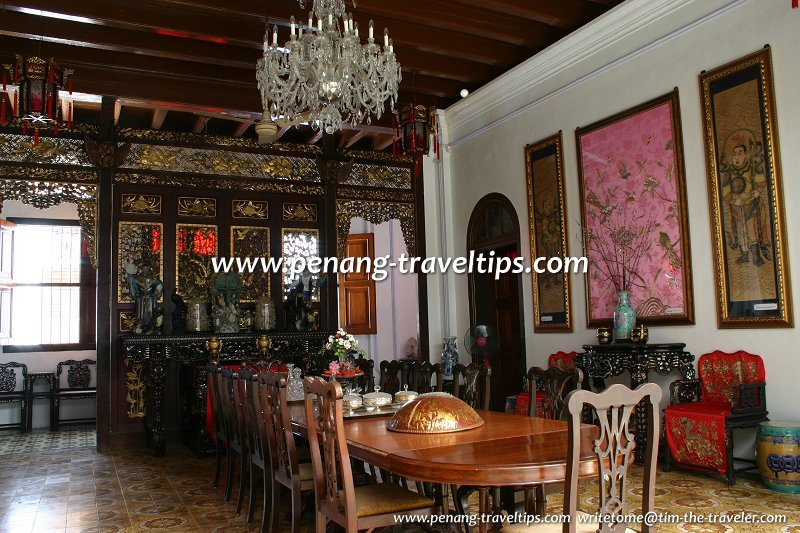 Pinang Peranakan Mansion, main dining room
(30 October 2004)
On the same day, the Treaty of Pangkor was signed by the Malay chiefs under which Raja Muda Abdullah was recognised as Sultan of Perak. As the Mantri of Larut, an unstable ally of Ah Quee, was not in the good books of Sultan Raja Muda Abdullah, the cause of the Hai Sans seemed hopelessly lost.
With the dispute over the Perak throne was settled, Sultan Raja Abdullah grudgingly accepted a British Resident in Perak. The British bestowed on both Chung Keng Kwee and Chen Ya Yen the title of Kapitan China, or leader of the Chinese Community. And finally, the town of Larut was renamed Taiping, which means "the Great Peace." It was also the name given to Chung Keng Kwee's fourth son, Chung Thye Pin, who was born around that time.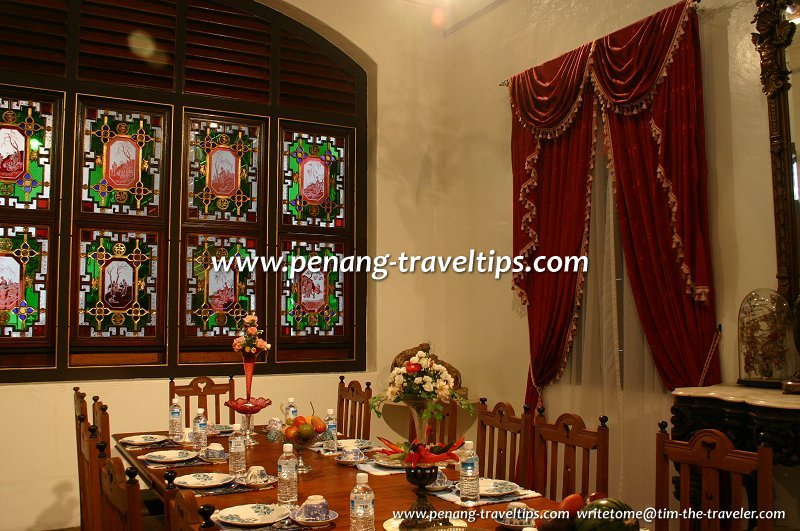 Pinang Peranakan Mansion, side dining room
(21 August 2004)
Three days afterwards, Ah Quee and Ah Yam were both appointed members of the Pacification Commission headed by Captain S. Dunlop and Messrs. Frank Swettenham and W. A. Pickering, one of whose terms of reference was to arrange for an amicable settlement of the squabbles over the tin mines at Larut.
The wheel of fortune turned unexpectedly in the favour of the Hai Sans when the Commissioners after due investigation and deliberation decided to allocate the mines in Klian Pauh (Taiping) to the Hai Sans and the mines in Klian Bharu (Kamunting) to the Ghee Hins. As the tin deposits in Klian Pauh were reputed to be superior and rich, the Ghee Hins were extremely dissatisfied.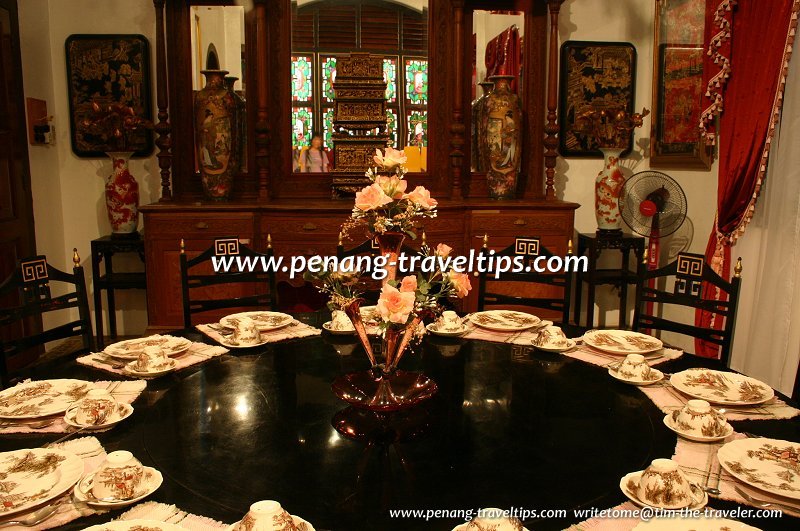 Pinang Peranakan Mansion, another side dining room
(21 August 2004)
It was only after the administration of a stern warning by the commissioners (official side) that the Ghee Hins were quietened down but not without great disappointment.
In spite of his riches and the concomitant greatness achieved by him, Kapitan Ah Quee was always magnanimous towards to his less fortunate rival, Kapitan Ah Yam. Both Kapitan Ah Quee and Kapitan Ah Yam were appointed members of the State Council of Perak which held its first meeting at Kuala Kangsar on 10th September, 1877. Kapitan Ah Quee's magnanimity is manifestly clear from the Council Minutes of Perak in "Papers on Malay Subjects" by R. J. Wilkinson, F. M. S. Government Press, Kuala Lumpur, 1908.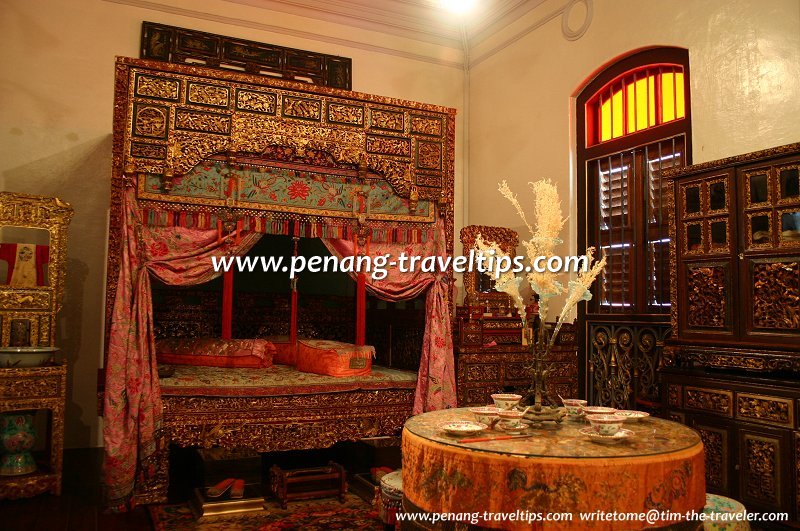 Pinang Peranakan Mansion, bridal chamber
(21 August 2004)
When in December, 1881, Kapitan Ah Yam applied for a grant of land in Taiping town (Kapitan Ah Quee's sphere of influence) for the erection of a Chinese theatre "for the instruction and amusement of the people" at the Council meeting, Ah Quee threw his support behind it, saying that "the people like the idea".
In consequence, the Council agreed to grant a piece of land, 300 feet by 180 feet, on a ten-year lease, free of rent, to Kapitan Ah Yam for his theatre building in the heart of Taiping, subject to certain provisions. (Vide "Papers on Malay Subjects", op. cit., Part IV, p. 30) In those days there were no Malayan citizenship laws, and it was the practice of prosperous immigrant Chinese to return to, or pay a visit to China.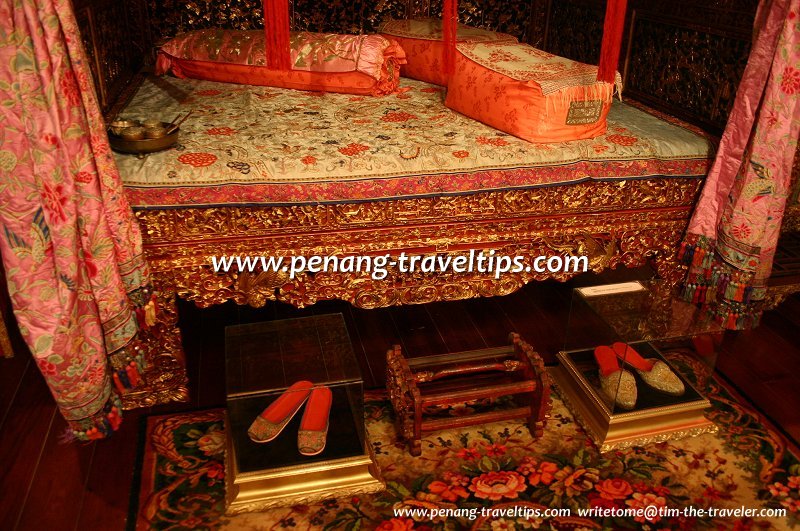 Pinang Peranakan Mansion, accessories
(21 August 2004)
Kapitan Ah Quee, now a man of position and opulence, occasionally visited his home village in China, and, in commemoration of the birthday of his mother, Madam Lai, founded and endowed a big scholarship fund for poor Chinese scholars preparing themselves for the time-honoured civil service examinations.
On sundry other occasions, he also contributed generously to charitable works, including a Flood Relief Fund in Chili and a War Relief Fund arising from the Franco-Annam war under the command of Viceroy Li Hung-chang.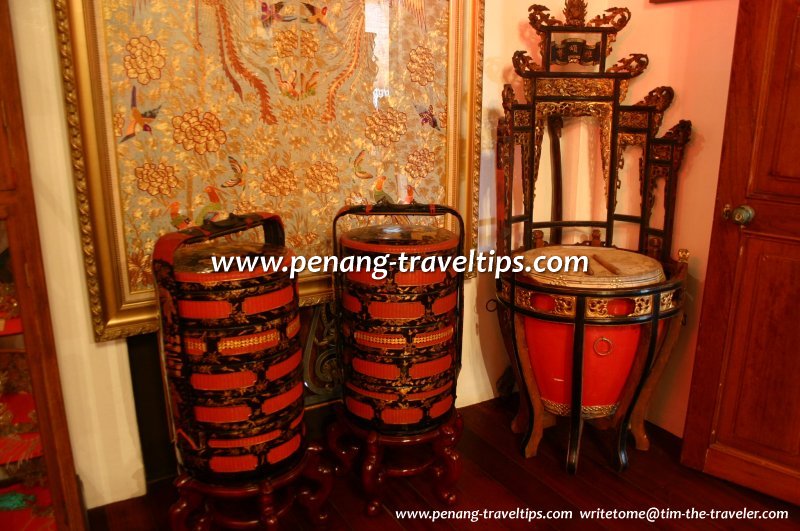 Pinang Peranakan Mansion, lacquerware carriers ("Sian3 Nah2"), and drum
(30 October 2004)
In recognition of his munificence, the Manchu Imperial Government fittingly conferred on him the title of "Mandarin of Second Rank" retrospectively for three generations. Thus Kapitan Chung Keng-kwee, his father, Chung Hsing-fah, and his grandfather, Chung Tung-lin, - the latter two posthumously - became simultaneously Mandarins of the Second Rank - a highly cherished honour in China.
In 1893, Chung Keng Kwee acquired two adjacent properties along
Church Street
. The first was the former headquarters of the Ghee Hin, ofter the Hai San ousted them in the 1890s. The second was a Chinese school, the Goh Hock Tong (or Ng Fook Tong in Cantonese). Keng Kwee offered the school an alternative site in Chulia Street, where a new building was completed on 1898m and there it stands to this day.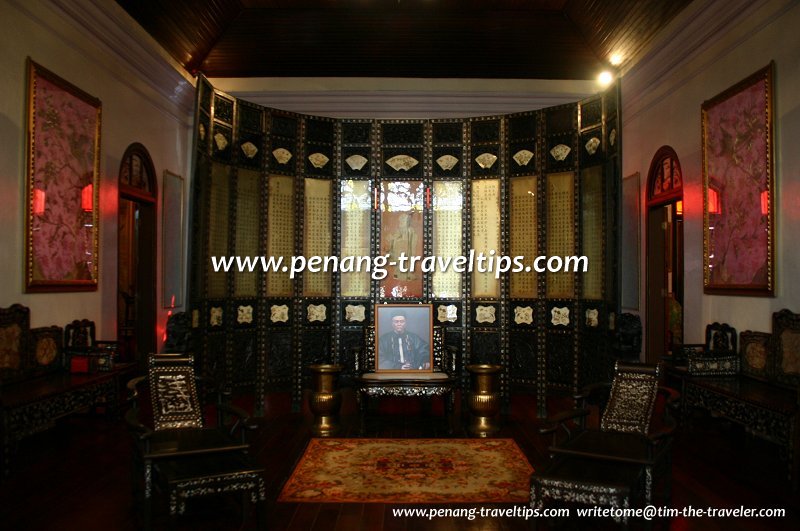 Pinang Peranakan Mansion, upstairs living room
(21 August 2004)
On the former Ghee Hin headquarters, Keng Kwee built his home and office, called Hai Kee Chan, or Sea Rememberance Store. It has interior fittings including Victorian cast iron columns from Macfarlane of Glasglow, the same company that fitted the Cheong Fatt Tze Mansion nearby.
On the former Goh Hock Tong site, Keng Kwee built an historic temple, dedicated exclusively to himself. It is a unique private house of worship, wherein a life-sized bronze statue of the late Kapitan is enthroned. The statue is magnificently attired in a Mandarin robe of the Second Rank, topped with a Manchu Mandarin cap. Behind this august statue, beyond the wall of the outside, is the backyard of the temple. Here in this backyard once lay the notorious well into which victims of the Ghee Hin Society were thrown. [
Note: At the time of writing this article (Dec 10, 2004), the restorers of the Pinang Peranakan Mansion have yet to discover the lost well. However, when I made a second visit, we were shown the well.
]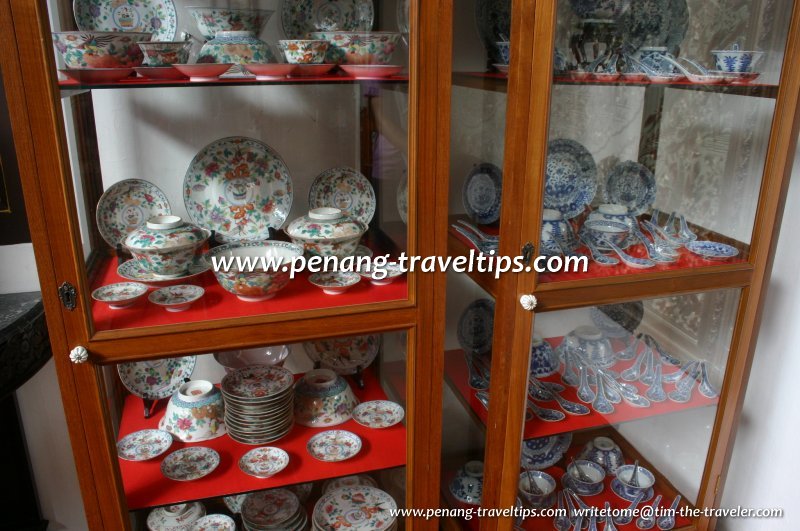 Pinang Peranakan Mansion, Nyonya tableware
(21 August 2004)
According to Mr Jeffrey Seow, great-grandson of Chung Keng Kwee, the temple is rumoured to be haunted. He remembers being told of a story when he was a child. Apparently some time in the 50s or 60s a strange occurance took place. There used to be a Bengali "jaga" who took care of the temple at night. The "jaga" used to sleep on his jute string single bed upstairs.
One morning he found himself on his bed out in the courtyard by the well. He quit after that, and they filled up the well. More recently, in about 2000 or 2001 as Jeffrey was in Penang together, he went to the temple with with his uncle, Chung Kok Chuan (Chung They Phin's son) and another friend.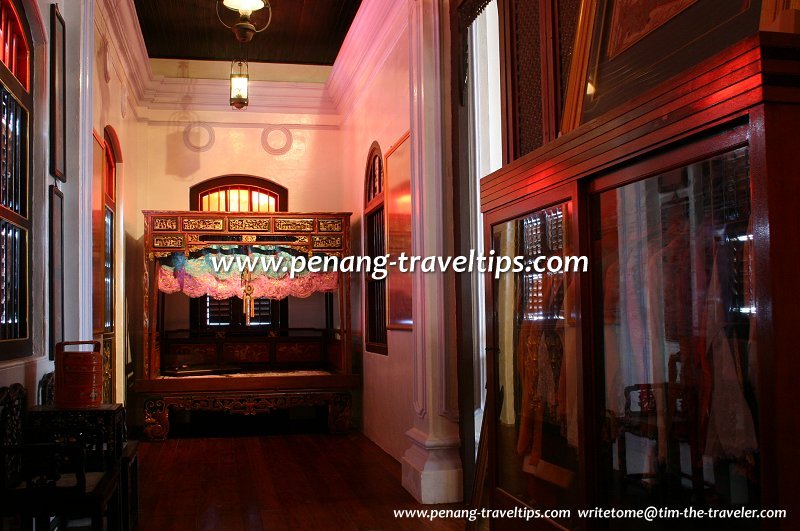 Pinang Peranakan Mansion, rear portion of house
(21 August 2004)
His cousin Owen Chung happened to be there with some workers doing some restoration work. Owen showed them all around the temple and took them on a tour of the house next door which was in a bad state. When they got back to Petaling Jaya his friend told him that he had seen Chung Keng Kwee standing next to his bronze statue.
He was dressed in blue mandarin robes and had a hat on with a very large peacock feather and was looking very upset about something or other. As there was no visual reference around that my friend could have "accidently remembered", so Jeffrey was inclined to believe he had a real experience - Chung Keng Quee walks the halls!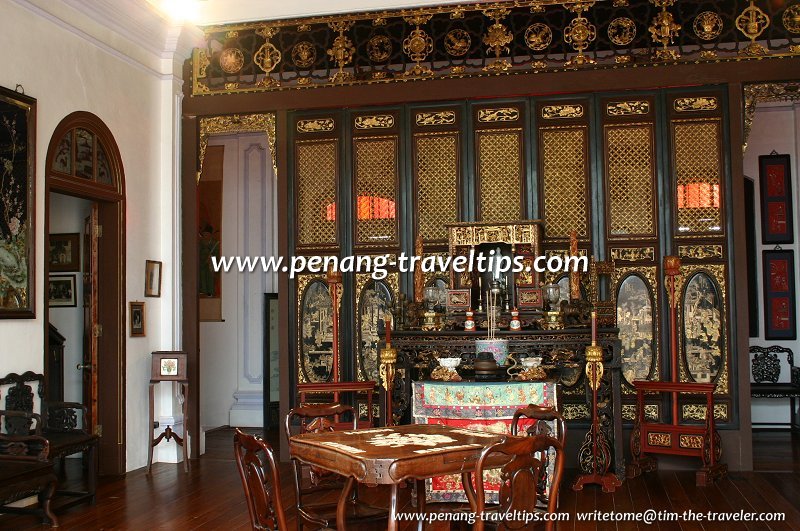 Pinang Peranakan Mansion, games table with altar to Kuan Yin
(30 October 2004)
Chung Keng Kwee died in Penang in 1898, a multi-millionaire, leaving behind very extensive landed property in Penang, Hongkong and Perak. Two streets in Penang were named after him,
Keng Kwee Street
and
Ah Quee Street
. His story mirrors that of his contemporaries Yap Ah Loy and Cheong Fatt Tze.
Kapitan Ah Quee had nine sons, the 4th and best known of whom was Chung Thye Phin. Born in 1876, Thye-phin received his education at the St. Xavier's Institution, Penang. Upon leaving school, he was initiated into his father's business. Possessing the same enterprising spirit as his father, Chung Thye Phin later started a number of tin mines of his own, including a deep-shaft mine at Tronoh , adjoining the famous mine of the same name, and the hydraulic mine at Batu Tugoh.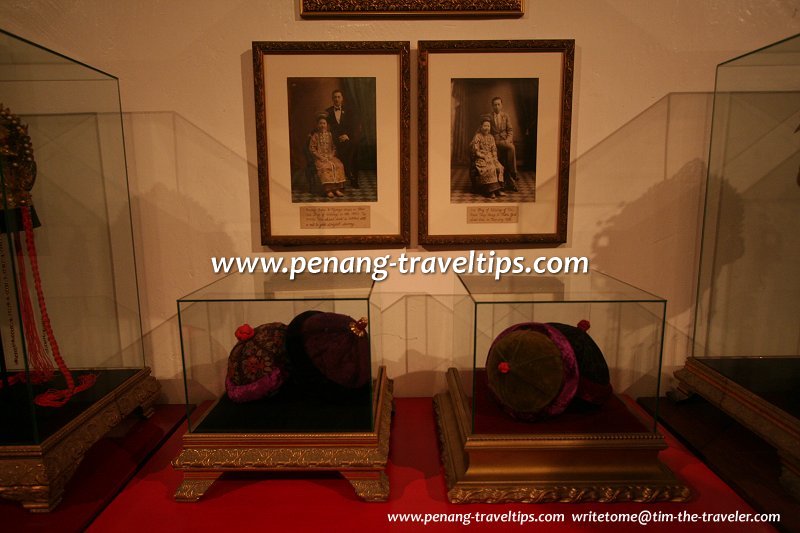 Penang Peranakan Mansion, old photographs and headgear
(8 Oct 2009)
His open-cast mines were operated on the most modern system in his time. He had the distinction of being the first Chinese miner to have introduced the latest appliances on the mines, under the supervision of a European engineer. He also had vast interests in some of the Government farm monopolies. At one time, during the latter part of the first World War, he was among the few who were permitted by the Government to print and issue 10-cent notes for circulation.
In public life, this worthy descendent of Kapitan Ah Quee was the recipient of a tassled "gold medal" from the Government of Indo China (Annam) for his liberal gifts to the Relief Fund. He was appointed in March 1918, by Sir Arthur Henderson Young to be a member of the Federal Council of the Federated Malay States during the temporary absence of the Honourable Mr. Eu Tong-sen.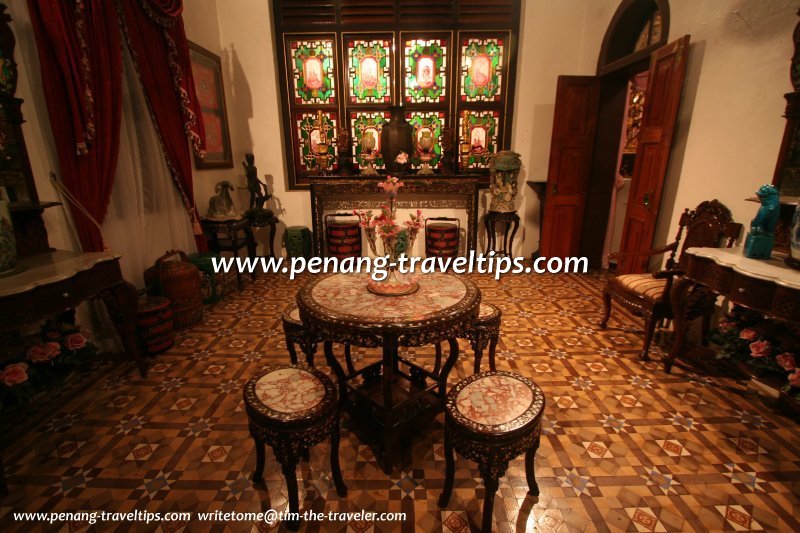 Penang Peranakan Mansion, living room
(8 Oct 2009)
On 24th March 1921, His Highness Iskandar Shah K. C. M. G., the Sultan of Perak, with the advice of Colonel W. J. P. Hume, British Resident, Perak, conferred on him the title of "Kapitan China", in all probability, the last of the Chinese Kapitans in Malaya. He was installed by the Sultan of Perak in Kuala Kangsar amidst much traditional pomp and pagentry. His appointment was so popular with the community that he was escorted to Kuala Kangsar by the delegates of more than 70 Chinese organisations from Perak.
A widely-travelled Malayan, Kapitan Thye-phin had gone round the world on many a business-cum-pleasure trip. On one occasion, when he was accompanied by his wife Madam Lee Sau-yeng, to China, he undertook a perilous trip up the scenic gorges of the Yangtze River at Chungking, China, thus earning for himself the disctinction of being the first non-China-born Chinese to have made the venture. It was here that he was enraptured by Nature's inimitable splendour.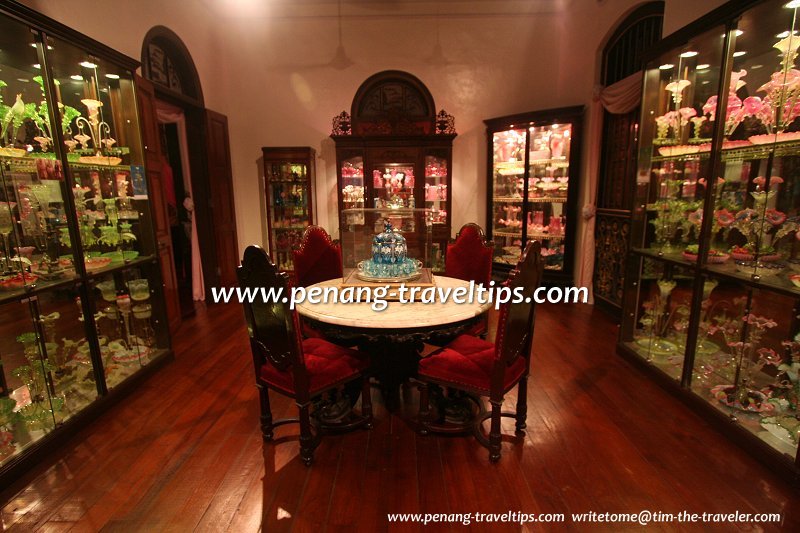 Penang Peranakan Mansion dining room
(8 Oct 2009)
Motoring was one of his passions. When the Duke and the Duchess of Connaught and Princess Patricia paid an official visit to Penang, they were driven by Kapitan Chung Thye-phin in his own private car. A lover of the good things of life, he lived gaily and luxuriously, so much so that many a legend of his Bohemian mode of living still lingers in the memory of his close contemporaries. Chung Thye-phin, the last kapitan China of Perak, died in May 1935.
The name Thye-phin (which rhymes with Taiping) needs clarification. It is a common belief that the town of Taiping (Supreme Peace) was named after Thye-phin or vice versa. This notion is unfounded, for the syllable "Thye" is indicated by a possibility different Chinese character "Ta"(meaning big).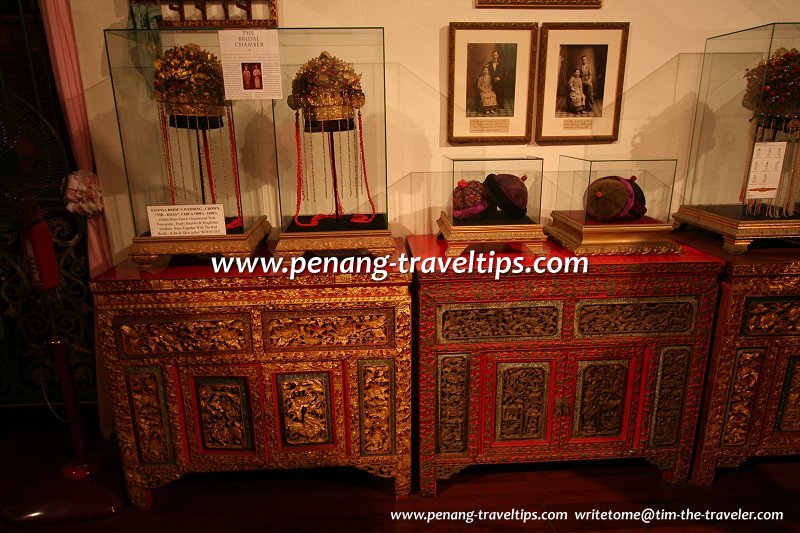 Penang Peranakan Mansion, sideboards
(8 Oct 2009)
The confusion arises from the fact that the character , "Ta" is pronounced "Thye" (or Tai) in Hakka. In fact, "Thye" is a "generation name" and all the eight brothers of Thye Phin bear the same generation name: Thye Choon, Thye Jin, Thye Jit, Thye Cheong, Thye Yen, Thye Hin, Thye Chiong and Thye Kim.
Getting there
From the
Weld Quay Ferry & Bus Terminal
, cross Pengkalan Weld using the pedestrian bridge. Then turn right and walk along Pengkalan Weld until you reach the junction to Gat Lebuh Gereja (Church Street Ghaut). Turn left, follow Gat Lebuh Gereja. Cross Lebuh Pantai and continue along Lebuh Gereja. Hai Kee Chan / Pinang Peranakan Mansion is on the left side of the road, about 250 feet from the Lebuh Pantai junction.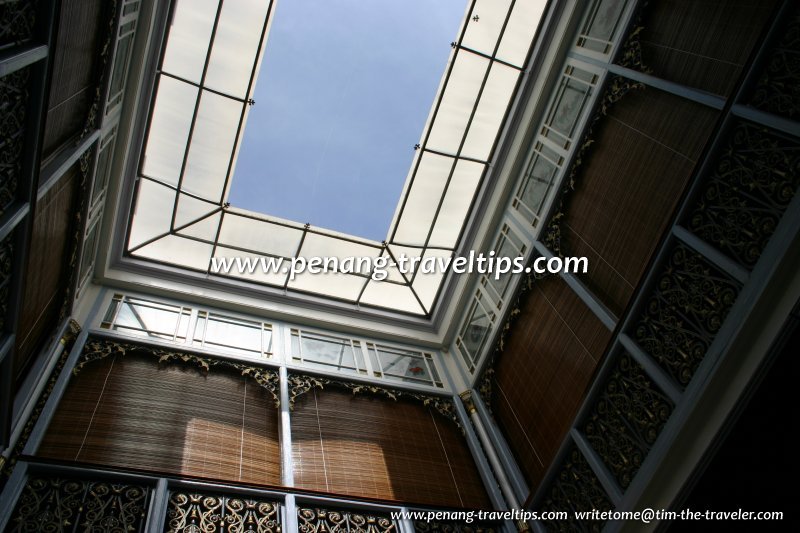 The air-well at Pinang Peranakan Mansion
(30 October, 2004)
Other mentions of Kapitan Chung Keng Kwee in this website
Hock Teik Cheng Sin Temple
,
Kek Lok Si Temple
,
Leong Fee Mansion
,
Lim Kongsi
,
Logan Building
,
Malaysian Hakka Heritage Centre
,
Meng Eng Soo
,
Ng Fook Thong
,
Penang Chinese Town Hall
,
Penang Heritage Enclave
,
Penang Turf Club
,
Relau Villa
,
Church Street
,
Gurney Drive
,
Herriot Street
and
1 Persiaran Gurney
.
Reference Material
The Kapitan System - XI, By Wu Liu, Sunday Gazette, June 19, 1960
Chung Keng Kwee, the Hakka Kapitan, by Chung Yoon-Ngan
Kapitan's Great Grandson, by Choong Kwee Kim, AllMalaysia Info, The Star, Sept 9, 2004
Acknowledgement
Penang Travel Tips conveys its sincere thanks to the Pinang Peranakan Mansion for graciously allowing a photoshoot to be carried out for the purpose of this article, as well as for providing access to invaluable information on the mansion. Penang Travel Tips also convey its thanks to Mr Jeffrey Seow, great grandson of Chung Keng Kwee, for his help in reviewing the text on this article.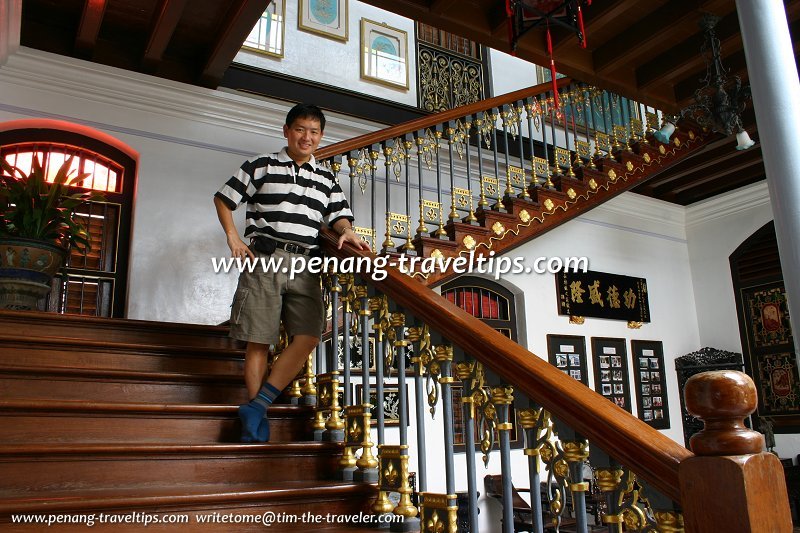 Tim at Pinang Peranakan Mansion
(30 October, 2004)
Add your shop/business to this website
The Penang Travel Tips website is a huge website that documents everything in Penang. On top of the hundreds of streets and tourist attractions, I also add in hundreds of shops and businesses.
If you operate a shop business in Penang, or anywhere in Malaysia or Singapore, contact me to add your business/shop into my website. It only a one-time fee, and your shop/business will be listed by location and category, helping your would-be customers find you. To find out more,
CONTACT ME
Visiting Penang? Find the lowest hotel room rates here!
Use our search engine to compare room rates from different hotel booking websites, to find the one that's lowest.
Travelling somewhere?
If you're travelling somewhere, use our online engine to find the online booking site that offers you the best room rates.
Book your hotel room here
If you're coming to Penang, book your hotel room online with Agoda. Agoda offers the best prices on 2,000,000+ properties worldwide.
Start here.
Local Guided Tours of Penang
If you are coming to Penang and need someone to show you around, I can arrange for you a licensed tour guide to take you around. Guides charge a fixed fee of RM360 for taking a small group of up to 10 people on 4-hour walking tours. Walking tours exceeding 4 hours is charged an additional RM90 per hour. Tours are tailored to guest requirement. For more details,
contact tour coordinator
. Other types of tours also available.
For details, click here.
Looking for a book? Get it from Book Depository with free delivery worldwide!
I have just discovered
Book Depository
, a subsidiary of Amazon.com, and I love it. This is where you can buy books and have them sent to you. But unlike Amazon, when you purchase using Book Depository, you enjoy free delivery worldwide.
Give it a try today!
Here's a list of the latest pages I have added or updated on my website.
My YouTube Videos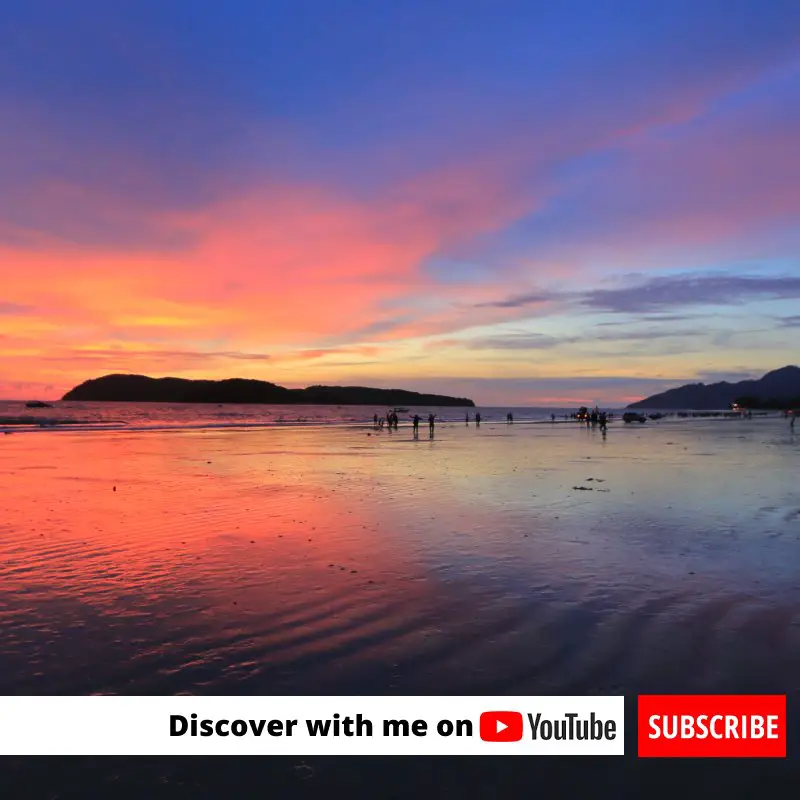 Check out
my YouTube Channel
and don't forget to subscribe!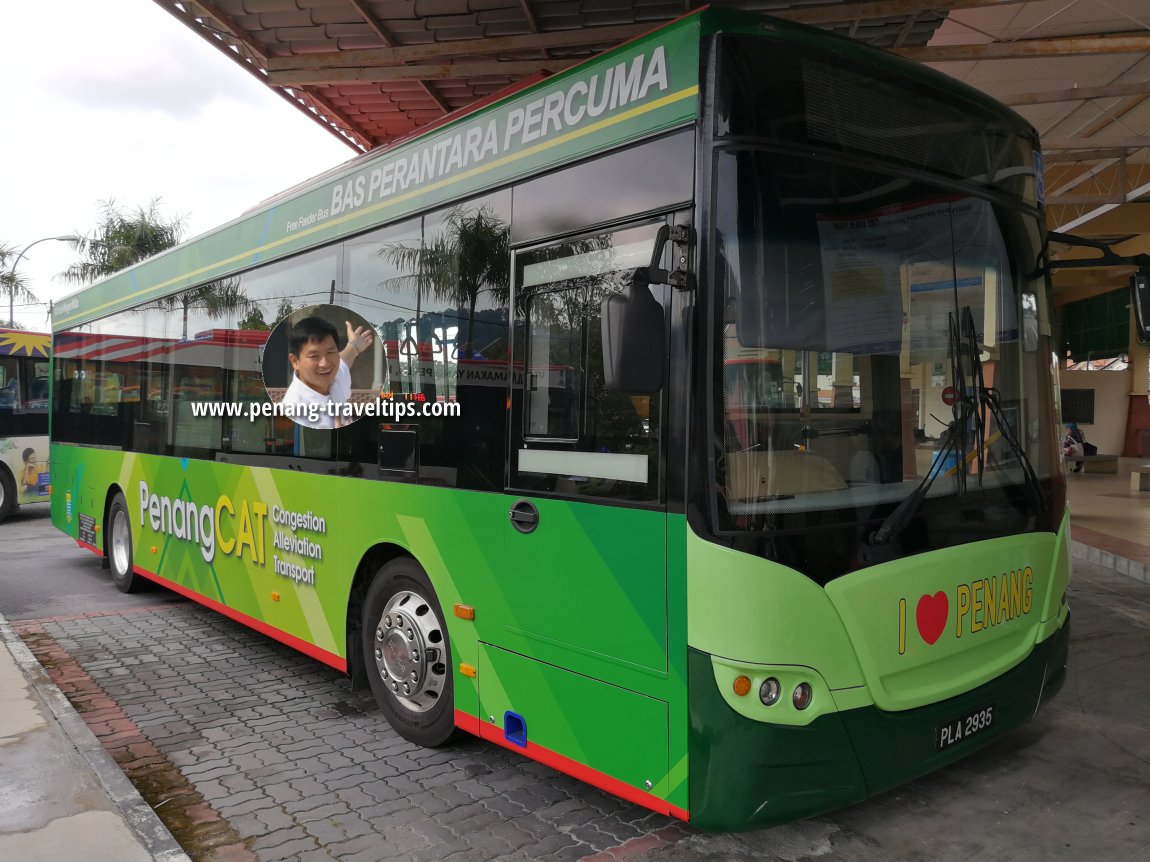 Take the CAT Free Feeder Bus
What's the best way to see Penang on a budget? Take the bus! In Penang, there are at least 12 absolutely
FREE
bus routes which cover almost every major neighbourhood on Penang Island and Penang Mainland. All you need to do is hop aboard!
Details
Vital Links
Book Your Express Bus Ticket
|
Hire a car
|
Our Recipes
|
Facebook Posts
|
Just Curious
|
Not In The Dictionary
|
Our Flowering Garden
Vital Links
Book Your Express Bus Ticket
|
Engage a Tour Guide for Penang
|
What's Up at Penang Hotels
|
Hire a car
|
Facebook Posts
|
Our Recipes
|
Our Flowering Garden
|
Guide Book on Penang Durians
Discover the World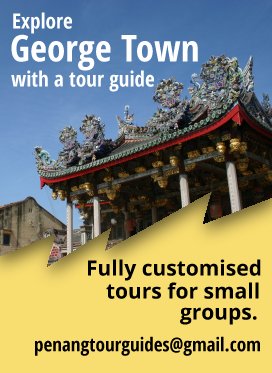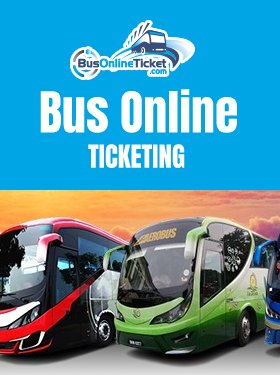 About Me
Thank you for visiting
my website
. I started it in 2003, and today it has over twenty thousand pages of information. My name is
Timothy Tye
. I would be very pleased if you enjoy the information I have put together.
As a Christian, I hope that through this website, I am able to deliver God's message to all who need it, anywhere in the world. If you are open to hearing it, please read
God's Good News to You
.
If you wish to contact me, please use this
contact form
. And don't forget to
follow me on Facebook
. See you!
Copyright © 2003-2019
Timothy Tye
. All Rights Reserved.