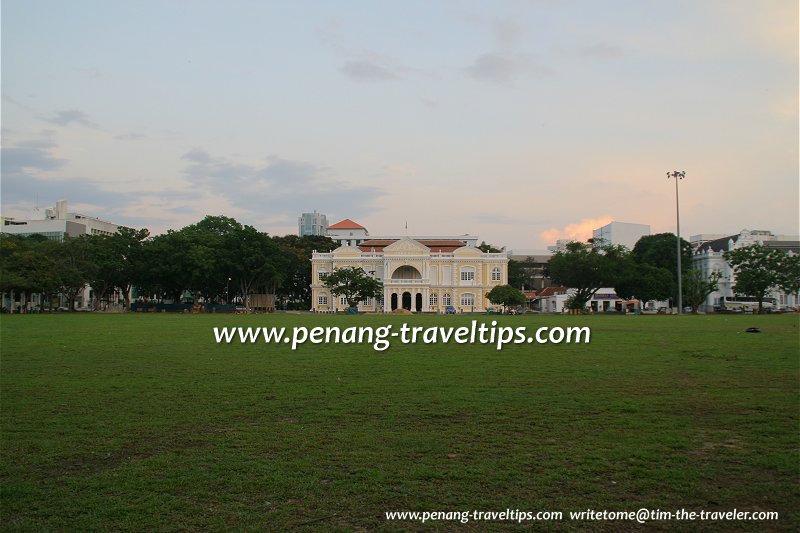 Padang Kota Lama
(23 April 2007)

Padang Kota Lama
(GPS: 5.42072, 100.34221), or simply called
The Padang
, is the parade ground and playing field created by the British colonials in the civic district of George Town. It is bordered by
Fort Cornwallis
on one side,
Jalan Tun Syed Sheh Barakbah
,
Jalan Padang Kota Lama
and
Light Street
.
The name "The Esplanade" is usually used collectively to denote the whole area that includes Padang Kota Lama and
Jalan Tun Syed Sheh Barakbah
, although historically
The Esplanade
refers only to Jalan Tun Syed Sheh Barakbah, between the bend in the road (called Fort Point) and where the road ends, near the
Cenotaph
.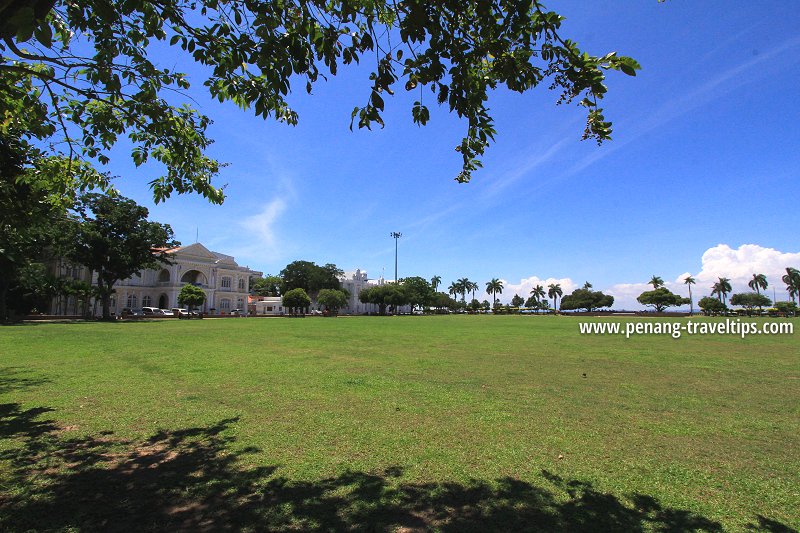 Padang Kota Lama on a clear day
(1 May, 2015)

Padang Kota Lama is located in one of the oldest section of George Town and was among the earliest part of town to be cleared. When
Francis Light
landed at the cape in 1786, he found that this part of the island was uninhabited (there were small Malay and Acehnese riverine settlements along
Sungai Pinang
) and densely forested. The land was flat but overgrown with hardwood trees such as the Penaga Laut (ironwood). The northern shore was sandy while the eastern shore was covered with mangrove swamp. Light was said to have blasted silver coins into the forest to induce the workers to clear the land. These coins would have landed in the area where Padang Kota Lama is located today.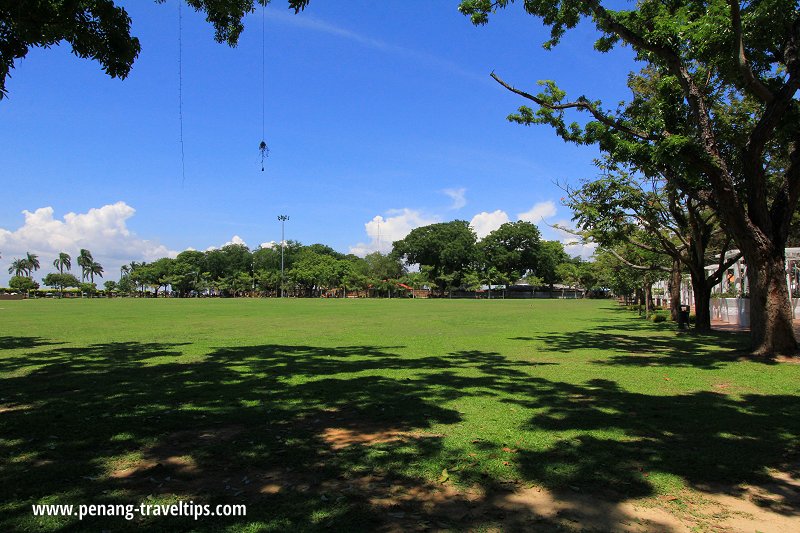 Padang Kota Lama on a clear day
(1 May, 2015)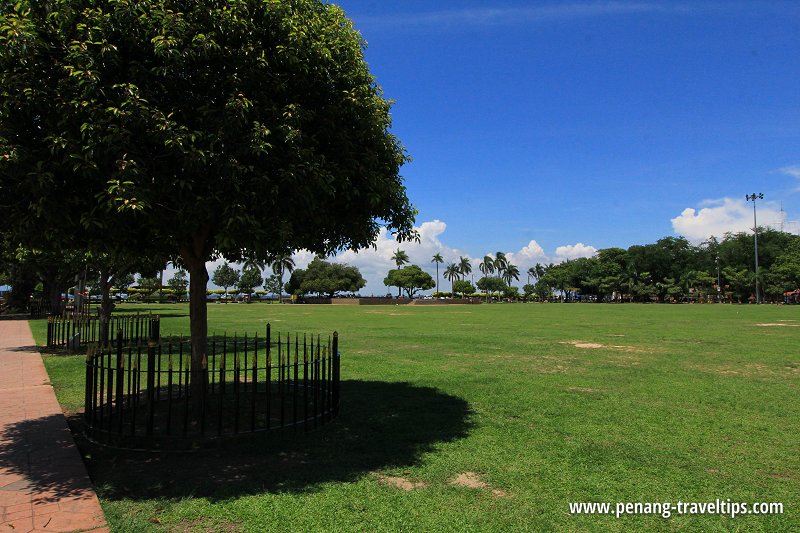 Padang Kota Lama on a clear day
(1 May, 2015)

There were several structures on Padang Kota Lama that has since been destroyed or dismantled. The clubhouse buildings, the Penang Sports Club (Cricket Section) and the Penang Recreation Club were located on the Padang - an arrangement that is similar to what we can see in Singapore's Padang today. Also located on Padang Kota Lama is the Vermont Memorial, a cost iron pavilion for the public, as well as the Municipal Band Stand, a pavilion for public entertainment and ceremonies. Most of these were destroyed during the Second World War and never rebuilt.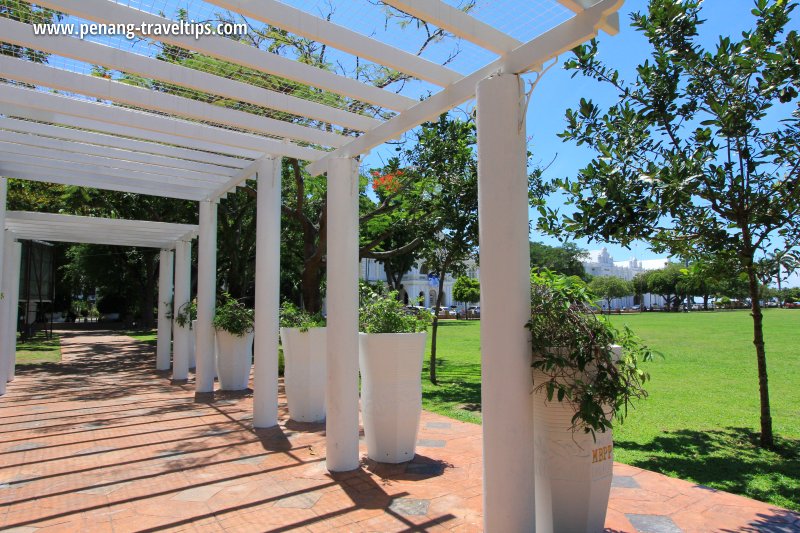 Trellis at Padang Kota Lama
(1 May, 2015)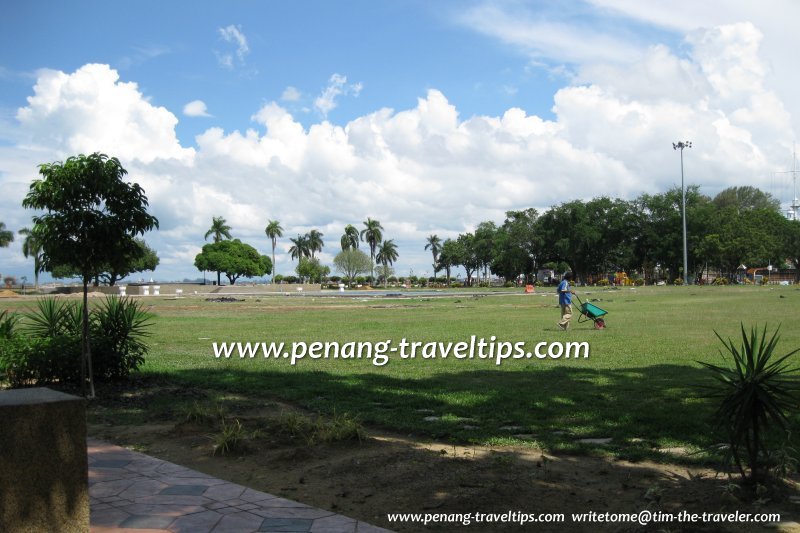 Padang Kota Lama undergoing returfing
(30 November 2008)

Fort Cornwallis was built in 1786 as a simple fort of nibong palms. It was rebuilt in bricks in 1793, and again in 1810. What we see of it dates from the 1810 renovation, with little change thereafter. On the south side of Padang Kota Lama is Light Street, the oldest street of George Town, and built to be a stately thoroughfare for the new British settlement. Across from it was the Police Courts, now the
State Assembly Building
(
Dewan Undangan Negeri
), dating from the early 19th century. On the western side of Padang Kota Lama is
Town Hall
and
City Hall
, built in 1880 and 1900 respectively. On the seaward side of Padang Kota Lama is a coastal road called The Explanade, which dates to the late 19th century (before that, it was just sandy shore). The Esplanade is now part of Jalan Tun Syed Sheh Barakbah. On a protrusion opposite Jalan Padang Kota Lama is the
Cenotaph
, dating to after the Second World War.
Although the British is no more the administrators in Penang, their legacy lives on in the sights all around Padang Kota Lama.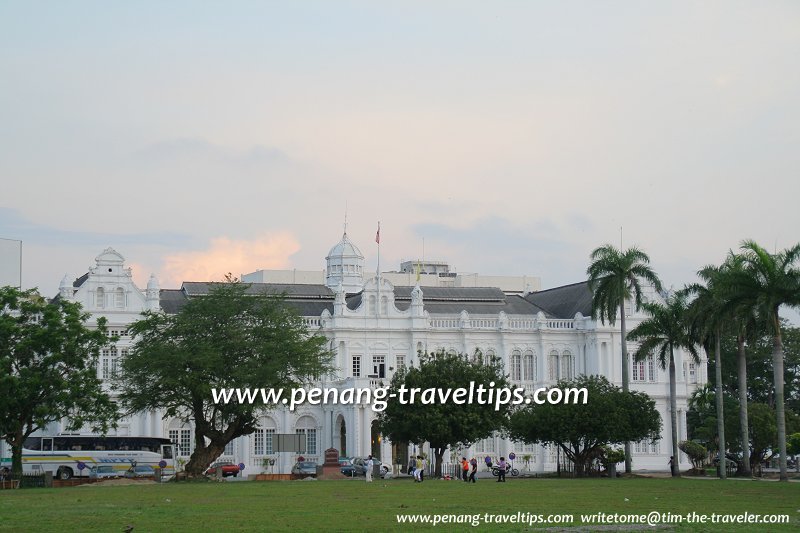 Historic trees and the City Hall from Padang Kota Lama
(23 April, 2007)

Getting there
Take
Rapid Penang Free Shuttle Bus
to Light Street, getting down at Station No. 4 (Imigresen), No. 5 (Bank Negara), No. 17 (Dewan Sri Pinang) or No. 18 (fort Cornwallis). Padang Kota Lama is just across from Light Street.
Padang Kota Lama is on the map of Light Street
Nearby Sights
Add your shop/business to this website
The Penang Travel Tips website is a huge website that documents everything in Penang. On top of the hundreds of streets and tourist attractions, I also add in hundreds of shops and businesses.
If you operate a shop business in Penang, or anywhere in Malaysia or Singapore, contact me to add your business/shop into my website. It only a one-time fee, and your shop/business will be listed by location and category, helping your would-be customers find you. To find out more,
CONTACT ME
Visiting Penang? Find the lowest hotel room rates here!
Use our search engine to compare room rates from different hotel booking websites, to find the one that's lowest.
Travelling somewhere?
If you're travelling somewhere, use our online engine to find the online booking site that offers you the best room rates.
Book your hotel room here
If you're coming to Penang, book your hotel room online with Agoda. Agoda offers the best prices on 2,000,000+ properties worldwide.
Start here.
Local Guided Tours of Penang
If you are coming to Penang and need someone to show you around, I can arrange for you a licensed tour guide to take you around. Guides charge a fixed fee of RM360 for taking a small group of up to 10 people on 4-hour walking tours. Walking tours exceeding 4 hours is charged an additional RM90 per hour. Tours are tailored to guest requirement. For more details,
contact tour coordinator
. Other types of tours also available.
For details, click here.
Looking for a book? Get it from Book Depository with free delivery worldwide!
I have just discovered
Book Depository
, a subsidiary of Amazon.com, and I love it. This is where you can buy books and have them sent to you. But unlike Amazon, when you purchase using Book Depository, you enjoy free delivery worldwide.
Give it a try today!
Here's a list of the latest pages I have added or updated on my website.
My YouTube Videos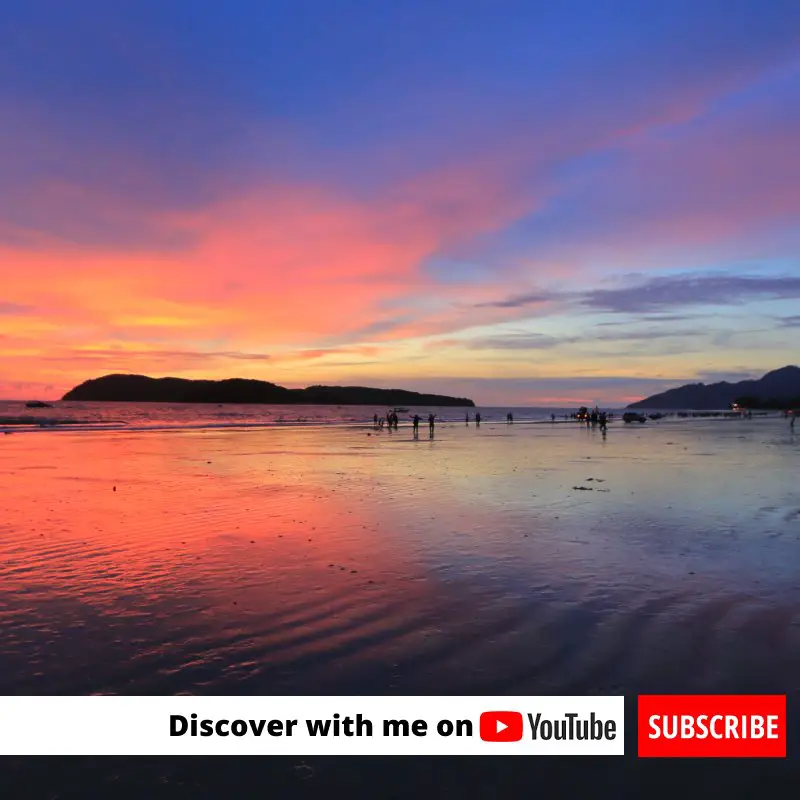 Check out
my YouTube Channel
and don't forget to subscribe!
Vital Links
Book Your Express Bus Ticket
|
Hire a car
|
Our Recipes
|
Facebook Posts
|
Just Curious
|
Not In The Dictionary
|
Our Flowering Garden
Vital Links
Book Your Express Bus Ticket
|
Engage a Tour Guide for Penang
|
What's Up at Penang Hotels
|
Hire a car
|
Facebook Posts
|
Our Recipes
|
Our Flowering Garden
|
Guide Book on Penang Durians
Discover the World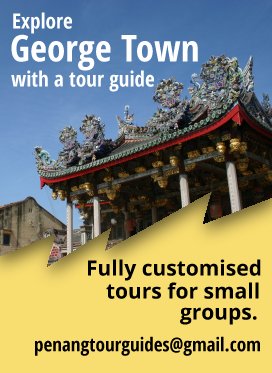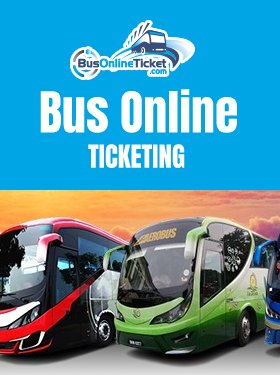 About Me