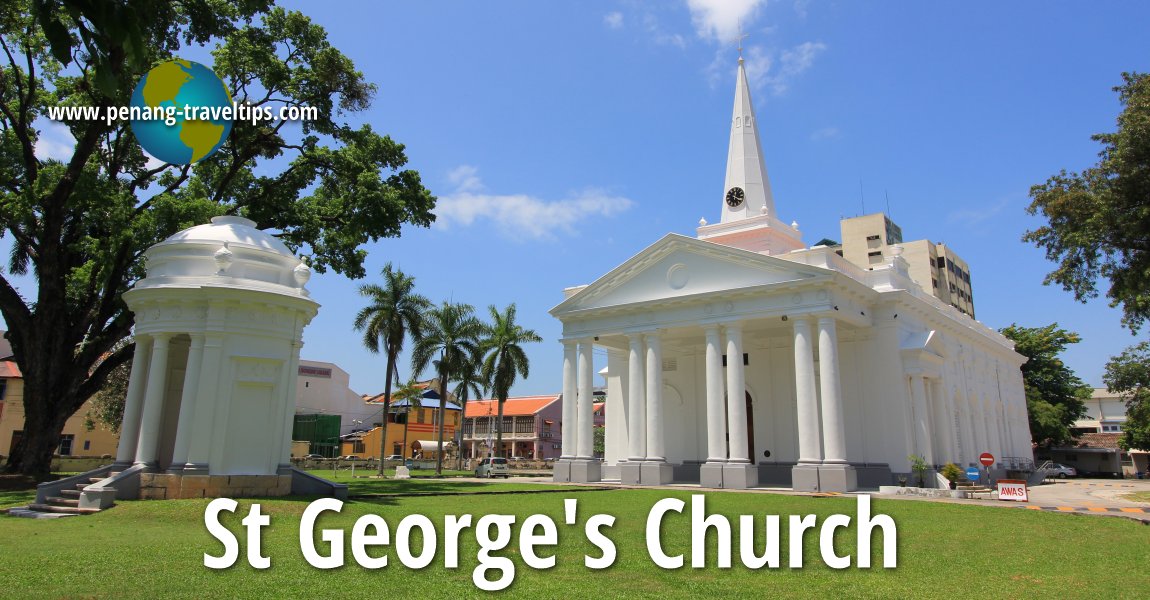 St George's Church, Penang
(17 April, 2011)
The
St George's Church
(GPS: 5.42002, 100.33931) is the oldest Anglican church in Malaysia, and is the main place of worship for the British colonial administrators in Penang. Located along
Farquhar Street
, it is one of the loveliest British colonial heritage buildings within the core zone of
George Town's Unesco World Heritage Site
. It is on the route of a
George Town walking tour
I established for
Penang Travel Tips
.
I have initially credited the formation of the St George's Church to Reverend Robert Sparke Hutchings*, the same person who founded the
Penang Free School
, the oldest English school in Southeast Asia, and who gave his name to Hutchings School nearby. However, I have since uncovered more details on the background of the church.
According to historian Marcus Langdon, Reverend Hutchings was present when deliberations were going on regarding construction of a church; however, rather than being the main mover of the project, he was only one of those consulted. The desire to erect a church for the Protestant inhabitants of Penang had been present long before that and indeed plans were submitted in 1810, 1813 and 1814. It was not until the extension of the East India Company's Charter for a further 20 years from 1814 that plans were finally acted upon. Rev Hutchings arrived in August 1814 and held services in the Court House opposite in Prince St, a now defunct road which ran between
Farquhar
and
Light streets
.
Approval to build the church was received from London in 1815 based on plans provided by engineer Major Thomas Anburey but this was not implemented. Instead the church was built according to plans obtained by Governor William Petrie from Madras in 1816 with modifications by engineer Lieutenant Robert Smith.
Although Hutchings was present when these plans were being considered, his input appears to have been minimal. He had in fact suggested that the church be built on the site of James Scott's property, Ossian Hall, on Light Street, on the grounds of today's
Dewan Sri Pinang
. Hutchings actually went to Bengal before construction of the church commenced and did not return until well after the church was opened, Rev Henderson officiating in his place.
The St George's Church was named after the patron saint of England. The saint's name was often called out in battle, a practice that goes back to the 12th century. The church itself was built in 1816 using convict labour, when Colonel John Alexander Bannerman was the Governor of Penang. The cost of building it was 60,000 Spanish dollars. This was a princely sum, considering the British paid only 10,000 Spanish dollars per annum to Kedah for Penang, while they bought Singapore a few years later for also 60,000 Spanish dollars.
The church was designed by Captain Robert N. Smith of Madras Engineers. (Smith is also a gifted artist whose oil paintings of Penang landscape still grace the walls of the
Penang State Museum
nearby.) The church was designed in the Georgian Palladian style - that's a combination of the Georgian style, named after the reigns of King George I and IV, 1714-1830; and the Palladian style, named after the Grecian architecture of a Roman called Palladius. (Compare it to the St Andrew's Cathedral in Singapore). This calls for graceful Grecian columns along the front of the building. The original roof was flat. However, it was modified to its present gable shape in 1864, after the original flat roof was found to be unsuitable for the weather in Penang.
The first significant event to take place at the St George's Church was the marriage of Janet, daughter of Governor Bannerman, to William Edward Philips, in 1818. Philips was the man who took over the pepper estate belonging to
Francis Light
, on which stands
Suffolk House
, believed to also have been built by him. Incidentally, Philips was acting Governor of Penang in 1817, when the construction of the church building was started, and completed in 1818, during Bannerman's term.
St George's Church on Google Maps Street View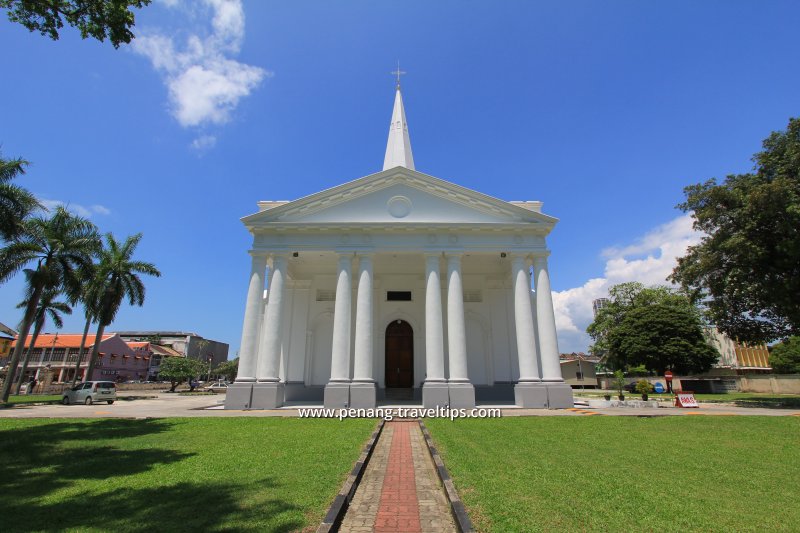 Front façade of St George's Church
(17 April 2011)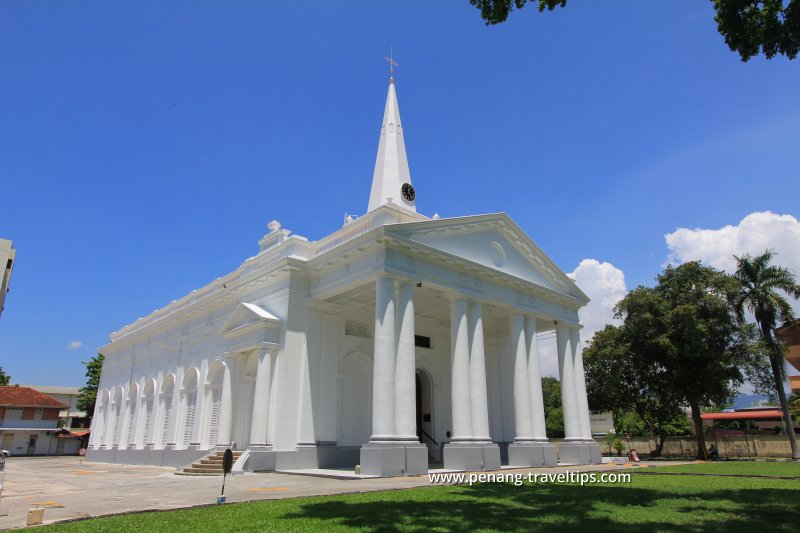 Side view of St George's Church
(17 April 2011)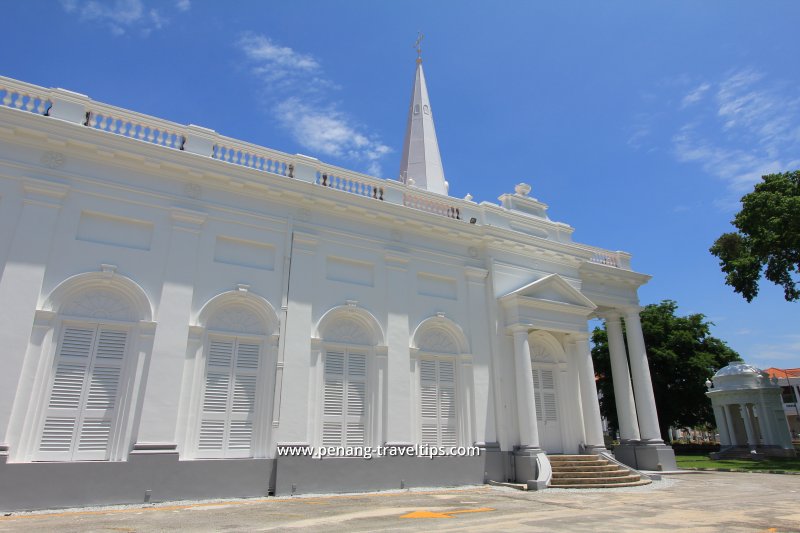 Side façade of St George's Church
(17 April 2011)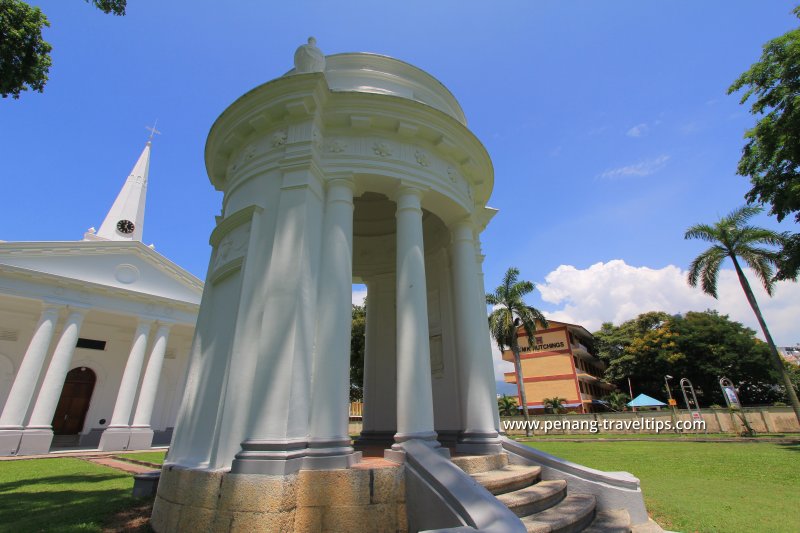 View of the Francis Light Memorial in the compound of the St George's Anglican Church
(17 April, 2011)
On the lawn of the St George's Church is the
Francis Light Memorial
.
Services are still held at the St George's Church twice every Sunday, at 8.30am and 10.30am.
Address: 1, Lebuh Farquhar, 10200 Penang, Malaysia.
Telephone: 604 261 2739 o Fax: 604 264 2292
Getting there
Take the
City Hop On Free Shuttle Bus
from Rapid Penang and alight at Station No. 6 (Muzium). The
Penang Hop-On Hop-Off Tourist Bus
also stops there. The St George's Church is located a short distance to the left of the
Penang Museum
.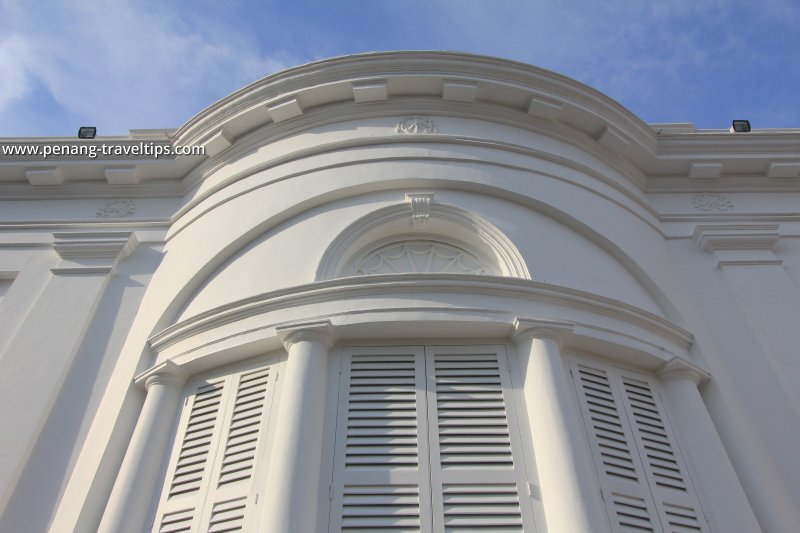 Rear façade, St George's Anglican Church
(14 May, 2011)
2010-2011 Restoration of St George's Anglican Church
The St George's Anglican Church underwent a 9-month restoration in 2010-2011. The RM1.8 million resoration was carried out under the Ninth Malaysia Plan allocation by the National Heritage Department. The result of the restoration is a gorgeous whitewashed building that is believed to have returned the church and the Francis Light Monument to their original states.
The St George's Anglican Church was designated one of the 50 National Heritage Treasures of Malaysia in 2007.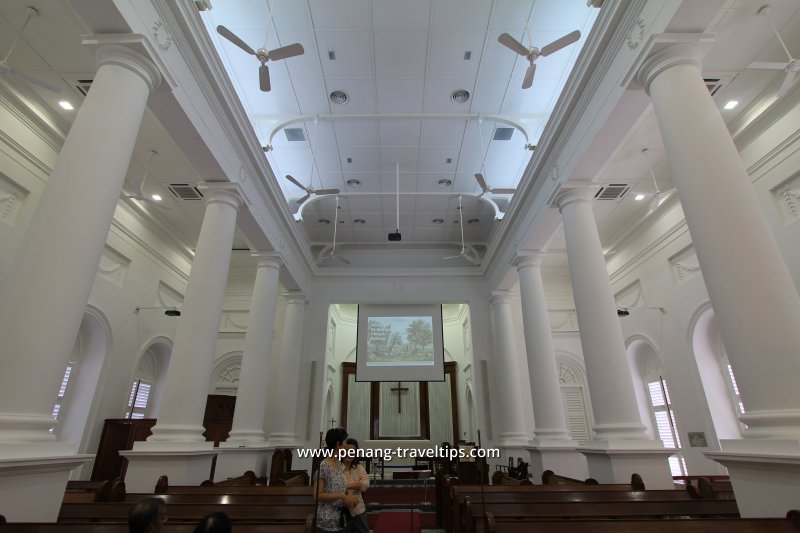 Interior of St George's Church, after the 2011 restoration
(14 May, 2011)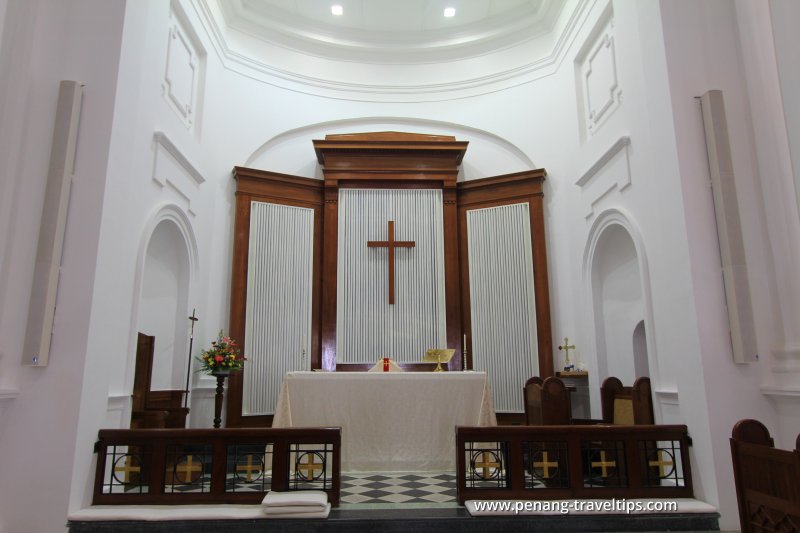 Altar of the St George's Church
(14 May, 2011)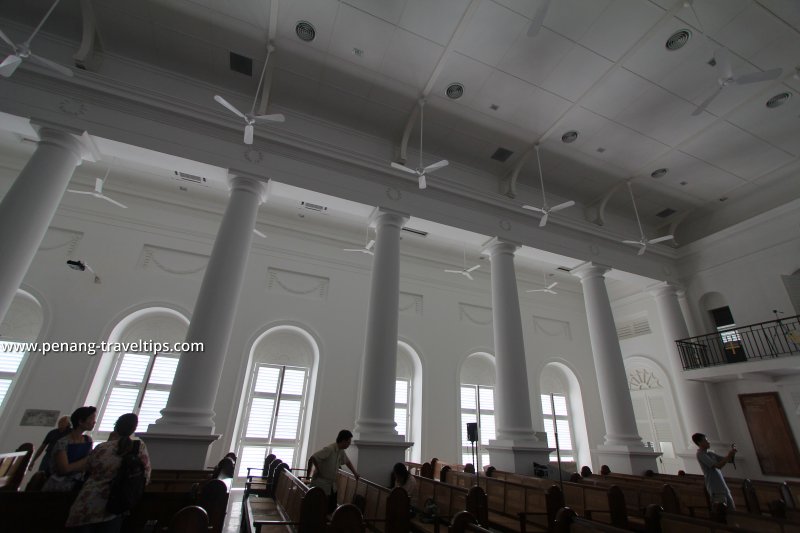 Interior columns of the St George's Church
(14 May, 2011)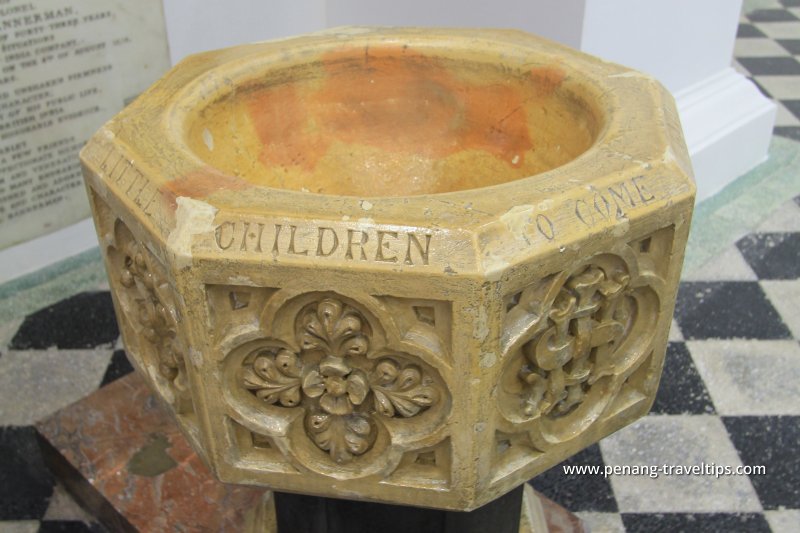 Baptismal font, St George's Anglican Church
(14 May, 2011)
The St George Anglican Church is on the map of Farquhar Street
St George's Church Before Restoration
I have photographed the St George's Church over many years. Here are some of the shots taken before the church underwent restoration.
2008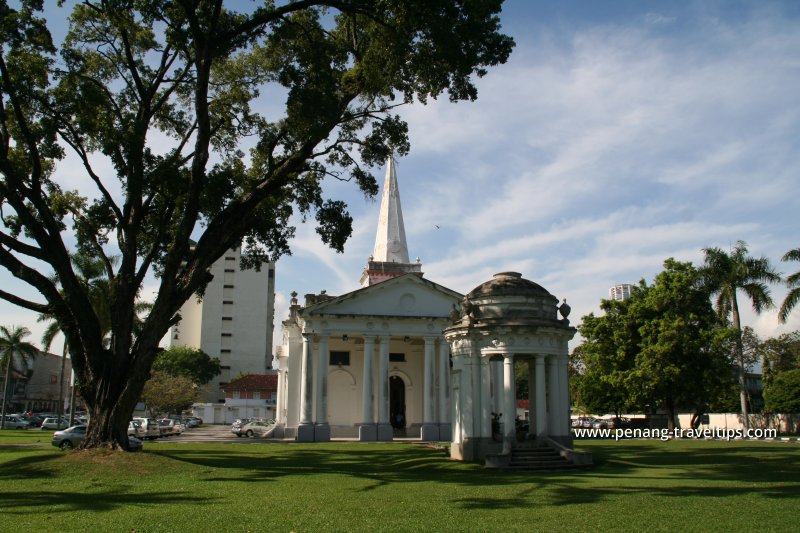 View of St George's Church in 2008
(8 January, 2008)
2002
These were taken in 2002. At that time, we never even dreamed that one day George Town would be recognised as a World Heritage Site by UNESCO. It just seem so far fetched.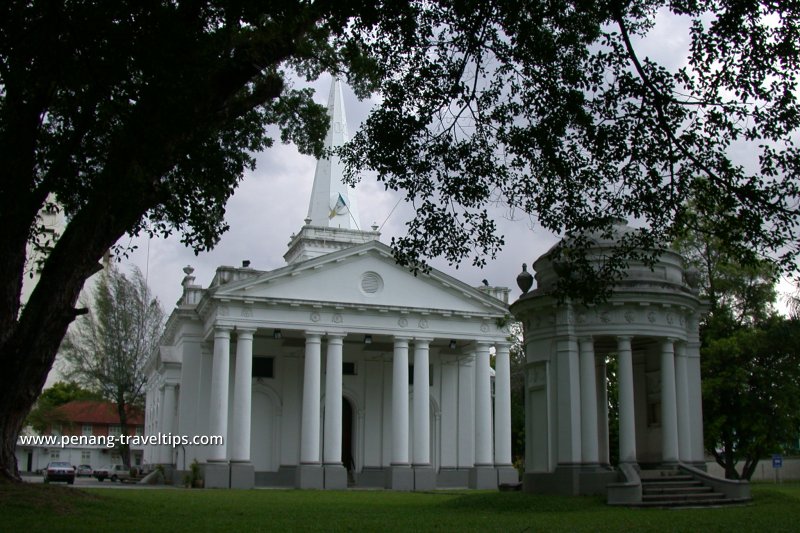 St George's Church
(20 July 2002)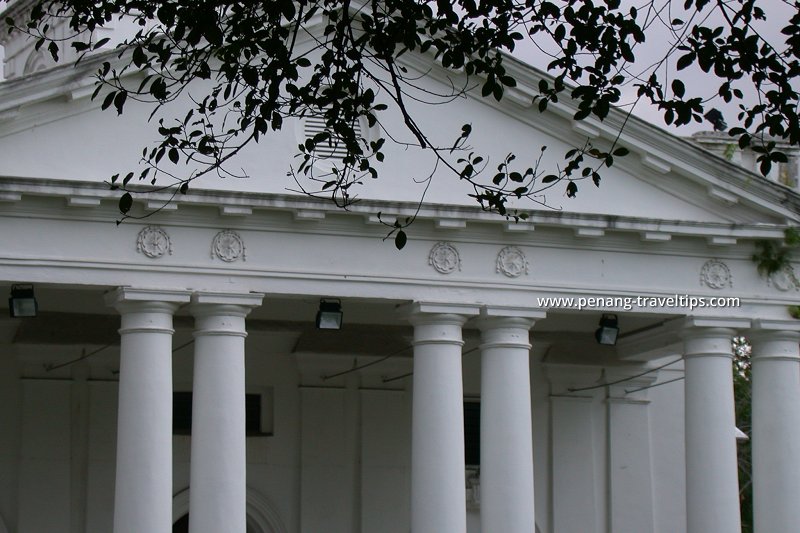 Gable-shaped roof and Grecian columns on the front façade of St George's Church
(29 July 2002)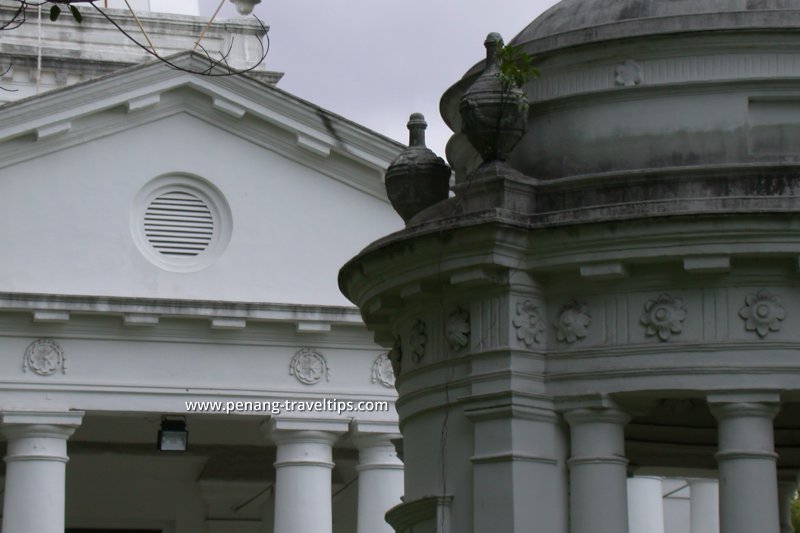 Francis Light Memorial and the St George's Church
(29 July 2002)
Upper North Archdeaconry of the Anglican Diocese of West Malaysia
The following are the Anglican churches on the northern part of West Malaysia:
Acknowledgement
I thank Marcus Langdon for furnishing additional details surrounding the building of the St George's Church.
Add your shop/business to this website
The Penang Travel Tips website is a huge website that documents everything in Penang. On top of the hundreds of streets and tourist attractions, I also add in hundreds of shops and businesses.
If you operate a shop business in Penang, or anywhere in Malaysia or Singapore, contact me to add your business/shop into my website. It only a one-time fee, and your shop/business will be listed by location and category, helping your would-be customers find you. To find out more,
CONTACT ME
Visiting Penang? Find the lowest hotel room rates here!
Use our search engine to compare room rates from different hotel booking websites, to find the one that's lowest.
Travelling somewhere?
If you're travelling somewhere, use our online engine to find the online booking site that offers you the best room rates.
Book your hotel room here
If you're coming to Penang, book your hotel room online with Agoda. Agoda offers the best prices on 2,000,000+ properties worldwide.
Start here.
Local Guided Tours of Penang
If you are coming to Penang and need someone to show you around, I can arrange for you a licensed tour guide to take you around. Guides charge a fixed fee of RM360 for taking a small group of up to 10 people on 4-hour walking tours. Walking tours exceeding 4 hours is charged an additional RM90 per hour. Tours are tailored to guest requirement. For more details,
contact tour coordinator
. Other types of tours also available.
For details, click here.
Looking for a book? Get it from Book Depository with free delivery worldwide!
I have just discovered
Book Depository
, a subsidiary of Amazon.com, and I love it. This is where you can buy books and have them sent to you. But unlike Amazon, when you purchase using Book Depository, you enjoy free delivery worldwide.
Give it a try today!
Here's a list of the latest pages I have added or updated on my website.
My YouTube Videos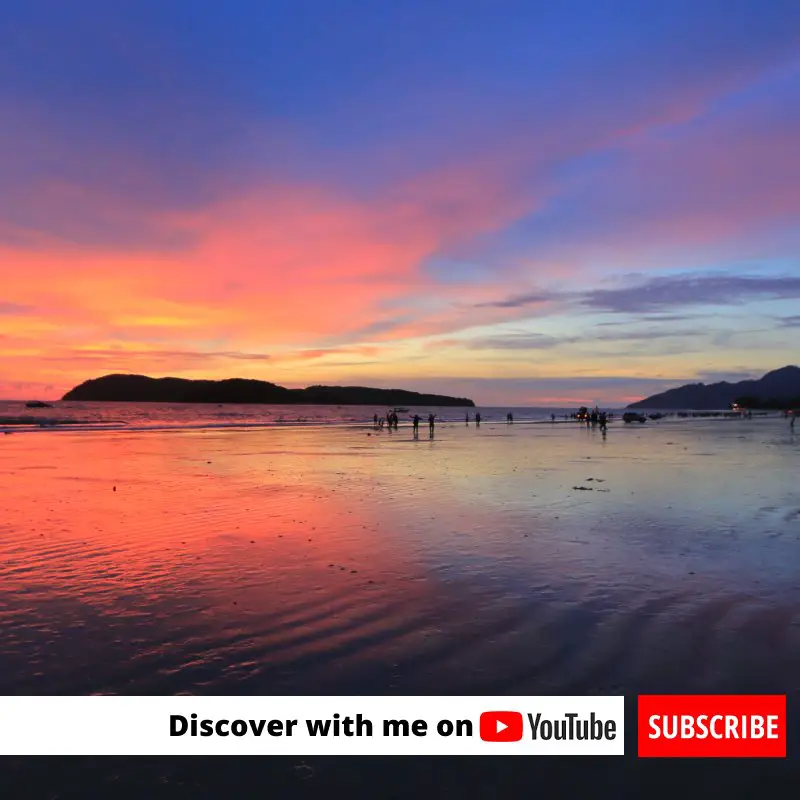 Check out
my YouTube Channel
and don't forget to subscribe!
Vital Links
Book Your Express Bus Ticket
|
Hire a car
|
Our Recipes
|
Facebook Posts
|
Just Curious
|
Not In The Dictionary
|
Our Flowering Garden
Vital Links
Book Your Express Bus Ticket
|
Engage a Tour Guide for Penang
|
What's Up at Penang Hotels
|
Hire a car
|
Facebook Posts
|
Our Recipes
|
Our Flowering Garden
|
Guide Book on Penang Durians
Discover the World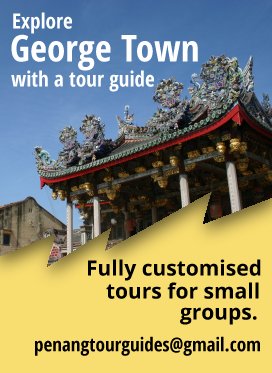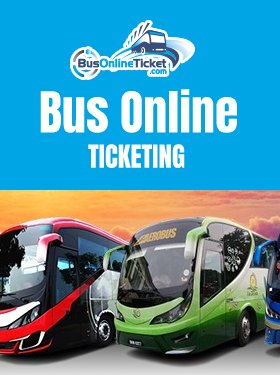 About Me