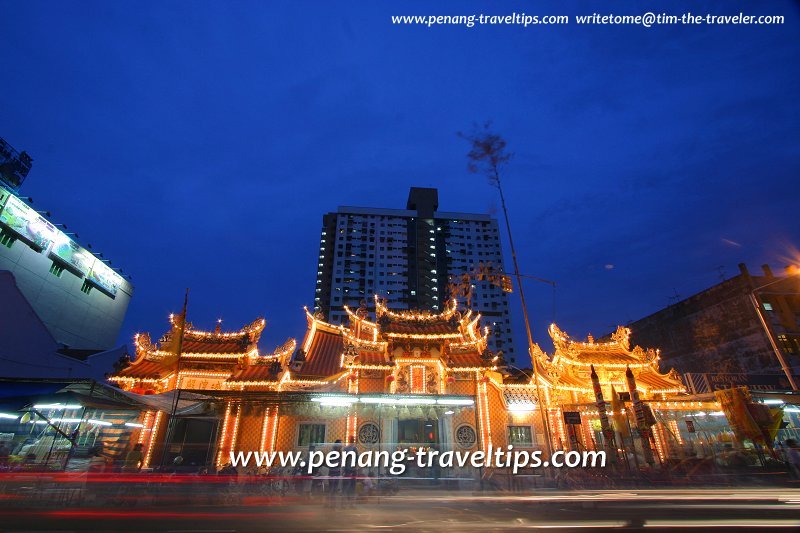 Kuan Yin See, George Town, Penang
(8 October, 2005)

Kuan Yin See
, or Temple of the Goddess of Mercy, is a Taoist temple along Jalan Burma. This is a different temple from the
Kuan Yin Teng
, also translated as the Goddess of Mercy Temple, of Pitt Street.
The Kuan Yin See was founded in 1922 by Ben Zhong, the second abbot of
Kek Lok Si Temple
who was also the one who built the Pagoda of 10,000 Buddhas. At the entrance to the temple is a name plaque and on either sides are pillar couplets, with calligraphy written by Chen Baochen, an official in the former Qing imperial court.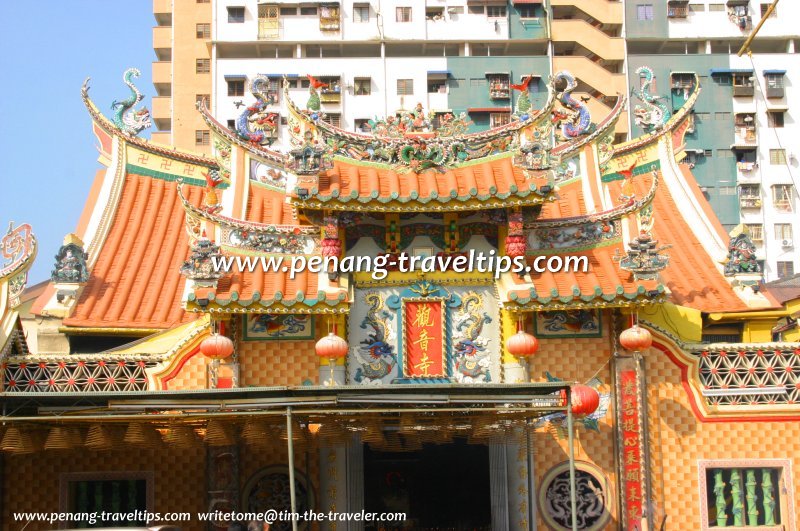 Kuan Yin See, front façade
(16 October, 2004)

The Temple of the Goddess of Mercy has become associated with the Nine Emperor Gods Festival, so much so that many people thought this is the
Nine Emperor Gods Temple of Penang
, which is a different temple located in
Macallum Street
. Nonetheless, the Kuan Yin See is the busiest during this festival, with stalls erected at the front selling vegetarian meals and confectioneries.
The Kuan Yin is was once the home of Fa Kong, a flamboyant monk whose legacy included founding a zoo in Air Itam, in what is now
Zoo Road
. An inscription attributed to him, of Zen verses, can be seen on the rock in the garden of
Kek Lok Si Temple
.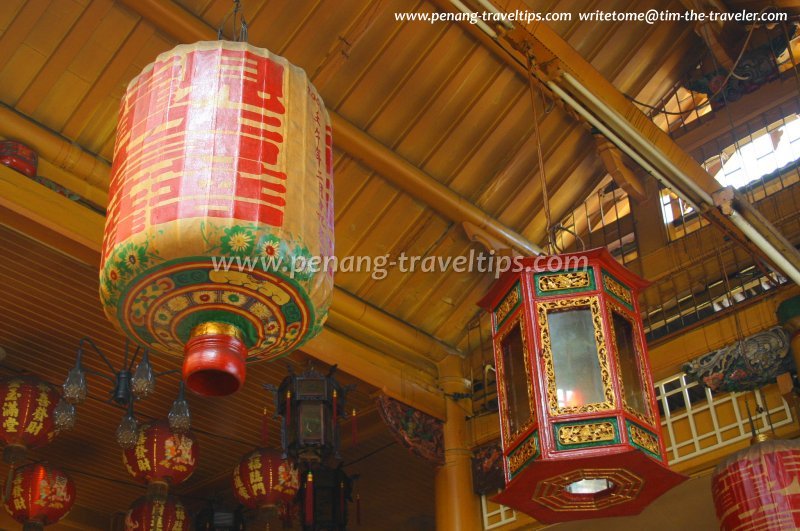 Kuan Yin See, lanterns
(16 October, 2004)

Getting there
From the
Komtar Bus Terminal
, walk along
Tek Soon Street
towards
Penang Road
. Cross Penang Road and turn right. Walk along Penang Road until you reach the pedestrian bridge. Use the pedestrian bridge to cross to
Burmah Road
. Walk down Burmah Road until you reach Kuan Yin See on the right side of the road.
What to see and do
The Kuan Yin See presents a photography opportunity to capture scenes within a Taoist temple. While the worshippers will not bother with you, be respectful and do not intrude on those who in the midst of worshipping. The best time to come is during the Nine Emperor Gods Festival, when the temple becomes extremely crowded and busy.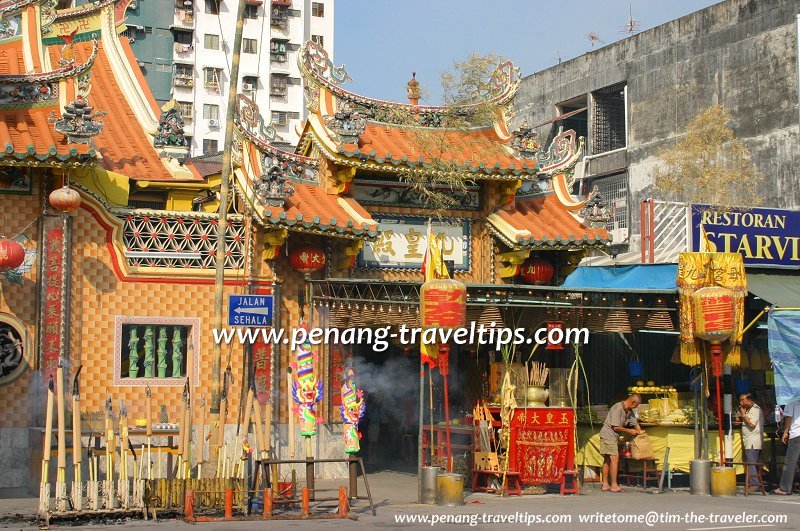 The side entrance of Kuan Yin See
(16 October, 2004)

Nearby Sights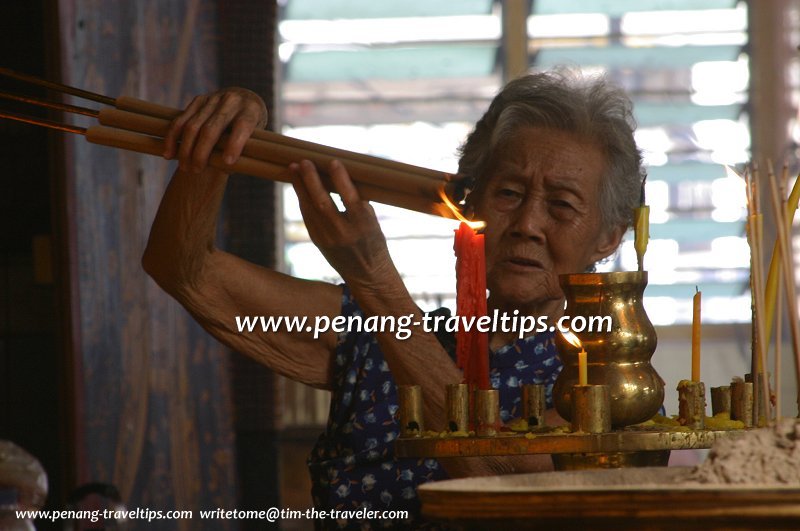 A devotee lighting joss sticks in Kuan Yin See
(16 October, 2004)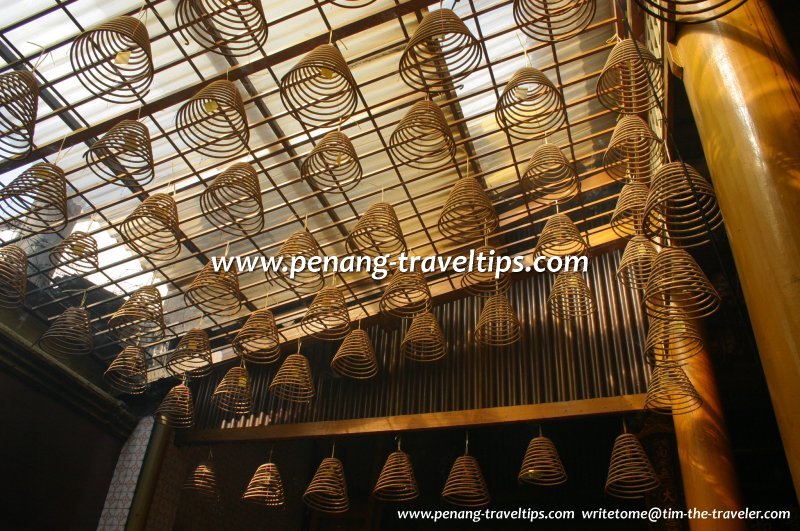 Joss coils at Kuan Yin See
(16 October, 2004)

Location of Kuan Yin see on the map
Add your shop/business to this website
The Penang Travel Tips website is a huge website that documents everything in Penang. On top of the hundreds of streets and tourist attractions, I also add in hundreds of shops and businesses.
If you operate a shop business in Penang, or anywhere in Malaysia or Singapore, contact me to add your business/shop into my website. It only a one-time fee, and your shop/business will be listed by location and category, helping your would-be customers find you. To find out more,
CONTACT ME
Discover the World
About Me