Sungai Prai Bridge, Seberang Perai
---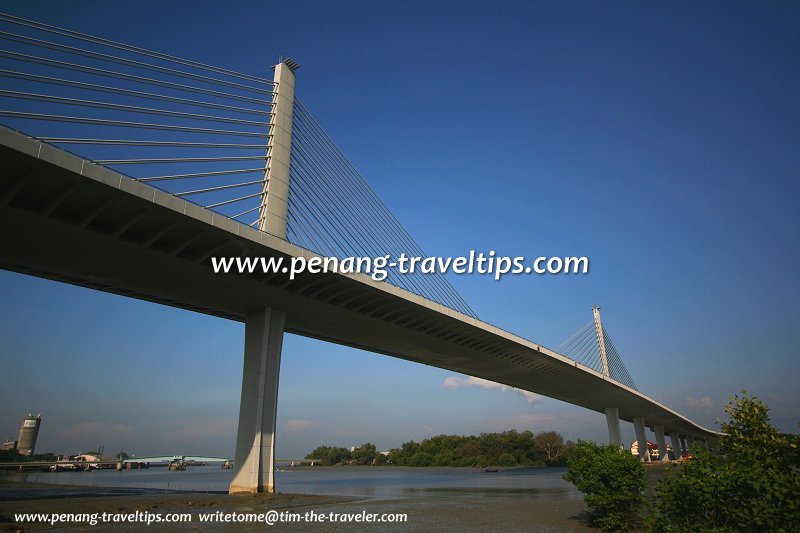 Sungai Prai Bridge (15 April, 2006)




The Sungai Prai Bridge is a new 1.4 mile link across the Prai River in Butterworth. This beautiful cable-stayed bridge forms Package 1B of the BORR (Butterworth Outer Ring Road) Project. Its distictive feature are the twin 40-meter tall concrete pylons for the cables. On each pylon are 14 pairs of stay cables.

The Prai River Bridge is a newly constructed bridge carrying six lanes of traffic from the Butterworth Outer Ring Road across Sungai Prai. It is 1.85 km long. Designed by Dar Al Handasah Consultants, it won the Supreme Award from IStructE Award for the Transportation Structures category in 2006. The bridge has a trumpet interchange to the Prai port.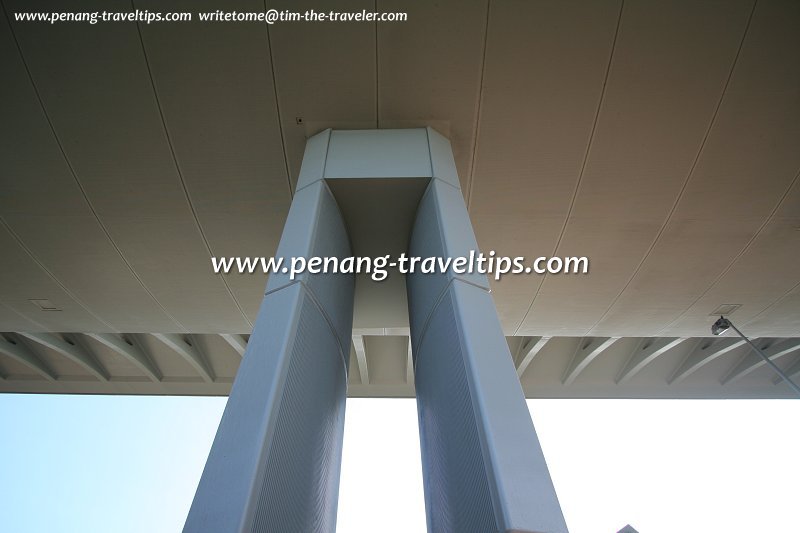 Sungai Prai Bridge column (15 April, 2006)






Construction of the Sungai Prai Bridge faced a problem when improperly poured concrete slab atop a pile cap at one of the two primary stay-support piers threatened to weaken the entire structure, and attempts to remove the granite-hard blocks with conventional demolition equipment was unsuccessful. In the end, a decision was made to remove the concrete with explosives.

Near the foot of the bridge is Giant Hypermarket Prima Prai.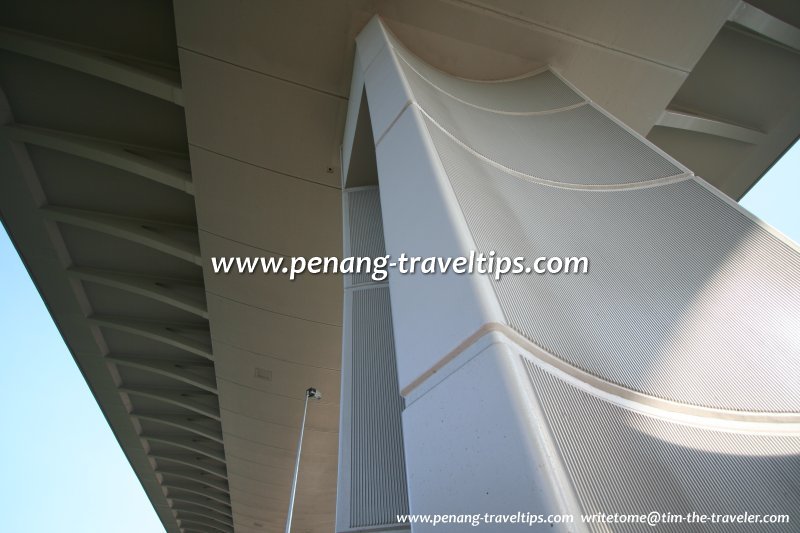 Sungai Prai Bridge column (15 April, 2006)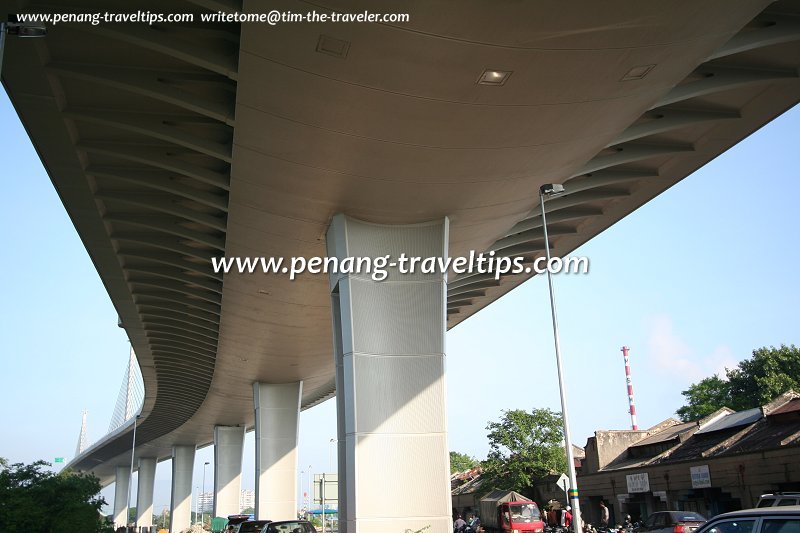 Sungai Prai Bridge underbelly (15 April, 2006)






View Sungai Prai Bridge in a larger map


Before you go anywhere in the Big World Out There, spend a moment to find the best Flights and Hotels.



| | |
| --- | --- |
| | Hello and thanks for visiting! My name is Tim! I created Penang Travel Tips so that I can tell you everything that I know about Penang. I hope my website provides you the information you are looking for, and that you will enjoy visiting it as much as I enjoyed writing it for you! If you found any errors, please let me know and I will correct it. Thank you! |

If you love to know everything about Penang, join me at Penang Travel Tips Facebook Group, Penang Street Art Facebook Group, Penang Hawker Food Facebook Group, Learn Penang Hokkien Facebook Group and Masa Masak Facebook Group!
Rapid Penang Bus Routes: This very useful page provides you all the information to take the public bus to visit any place in Penang.
Arriving by plane: Essential information for independent travelers (those not following a tour package) on taking the bus or taxi upon arrival at Penang International Airport.
Taking the Taxi: Taxi stands can be found at all major shopping malls. You can also call a taxi by phone. Get the details here.
Personal Guided Tours of Penang: If you like a licensed tour guide to show you around, get in touch with me and I'll arrange it for you. The fee is RM90 per hour. Payment for the first two hours collected upon booking.
Hospitals in Penang: Penang is a major regional medical tourism destination. If you are planning to come here for therapy or treatment, find out about the various hospitals available.
Penang Island Residential Property Guide: If you ever consider buying a residential property on Penang Island, read this guide before taking any action.
Penang Visitor FAQ: Frequently asked questions of visitors planning their trip to Penang.
Shopping malls of Penang: Penang has plenty of malls. Visitors often find that prices in Penang are often lower than back home. Get to know the malls in Penang.
Ernest Zacharevic George Town Murals: The murals by a young Lithuanian artist, created for the 2012 George Town Festivals, has become the biggest tourist attraction in Penang. Get information and a full list of the murals that everybody loves to photograph!

Copyright © 2003-2014 Timothy Tye. All Rights Reserved.
---
Terms & Condition of Use | Privacy Policy