| | |
| --- | --- |
| Penang Travel Tips | |
---

Described in detail, illustrated with original photos!
If you can't see the frame above, click here to view Penang Travel Tips Latest Updates


Penang Hotels by Location
Excursions from Penang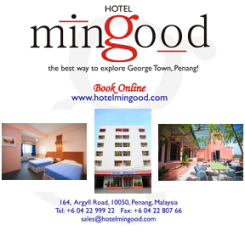 Other Accommodation Providers


Below is a list of hotels I have described in Penang. To make an online booking, go to Agoda.




Download this PDF of the main must-do sights in Penang. Print it out and bring it on your trip!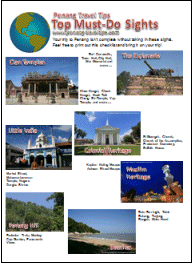 Things to know before you start your journey.
Introducing Penang
Some background details before you arrive.
Getting In
Whether you are arriving by plane, train or automobile, you can find useful details here:
Exploring Penang
Tips for discovering Penang on your own.
Going on Foot in George Town
Tourist Brochures
You can pick up tourist brochures at:
Taking the Bus in Penang
Rapid Penang Bus Routes
Full details on which bus to take, where it goes, etc.
Other Public Transport in Penang
Streets of Penang
Driving in Penang
Cycling in Penang
Penang Bike Share (coming)
What to See in Penang
You can spend a month or even a year and not cover all the sights. On the other hand, if you're only going to be in Penang for a day, there are a few sights you wouldn't want to miss.
Places in Penang
There's so much to discover. To help you make sense of everything, I've listed them by various categories.
Get to know George Town
It's a UNESCO World Heritage Site, no less, but what's there to see here? Get intimate with George Town, the capital of Penang.
Shopping in Penang
You can shop till you drop in Penang!
Businesses in Penang
What to buy where? Here's a wide selection of what's where in Penang.
Things to buy in Penang
What souvenir is appropriate when you visit Penang? Penang is famous for its snacks, most of which are available from the stalls at Chowrasta Market.
Malaysian handicrafts such as Labu Sayong or Songket, these are not immediately available in Penang, and would be more costly and limited in choice, than to go straight to the source.
Eating, Penang Style
Good Penang Food
Penang Durians
Upcoming Infrastructure in Penang
Proposed Penang Channel Tunnel
Coming to Live in Penang
If you are planning to live in Penang, the first thing to know is this: rentals are low, prices are high. In other words, you can get very good places to stay at quite reasonable rentals. That's because there are more properties for rent than there are takers. However, if you are looking to buy, be prepared to pay some of the highest property prices in the country.
Purchasing Properties in Penang
Among the states of Malaysia, property prices in Penang are in a class of its own. Prices per square foot on Penang Island is about the same as in Kuala Lumpur and Johor Bahru, and substantially above other states in the country. Read the following guides before you make any buying decisions.
Suburbs and Townships of Penang Island
George Town - capital
Suburbs and Townships of Seberang Perai
Practical Conveniences for living in Penang
Health Care in Penang
Education in Penang
Vital Contacts in Penang
Activities in Penang
Do not know what to do during your spare time? In Penang, there's lots of opportunity for recreation. The following is just a sample of activities that you can join while you're here!
Penang in Art
Depiction of life in Penang in art.
Performing Arts of Penang
Penang is proud to be the cradle of two homegrown performing arts, Boria and Chingay. Chingay in particular is still kept very much alive with an annual tournament participated by Chingay troupes throughout Penang and neighbouring states.
Culture of Penang
History of Penang
A whole section is devoted to the history of Penang. To view all the articles there, go to History of Penang.
Architecture of Penang
The city of George Town provides a rich ensemble of period shophouses, unmatched anywhere in the region.
People of Penang, past and present
Although it is one of the smallest states in Malaysia, Penang has one of the most colourful history, due in part to the open-door policy of Captain Francis Light, who invited peoples from all over to come over, settle and prosper:
Penang Hokkien
Fitting in
Living & Working in Penang
Coming to live in Penang? Whether you're from a different state or a different country, there's information here to help you, whether you want to register a company, get workers, find work, or hire a maid for your house.
Issues related to Penang
Mentions of Penang Travel Tips
Map of Localities in Penang

View Localities in Penang in a larger map


Penang Travel Tips (28 January 2006)


Hello and welcome to my website, Penang Travel Tips, yay! As you would expect, the articles on this website don't write themselves. Well, they are all written by me, Timothy Tye, based on my research and exploration of Penang.

I created it to compile everything that I know about Penang and to share it all with you. I hope my website provides you the information you are looking for, and that you will enjoy browsing and reading it! If you found any errors, please let me know so that I can correct it. For all correspondences, click here to contact me. Thank you and have a nice day!
Copyright © 2003-2014 Timothy Tye. All Rights Reserved.
---
Terms & Condition of Use | Privacy Policy