antique shops in Penang
. A good place to start is Penang Road, which has some of the best shop for antiques in Penang. There are a number of antique shops along both sides of the road. In addition, you might want to check out Chulia Street. There are some antique outlets at the malls such as Gurney Plaza, where you can expect prices to be higher.
Before takign out your wallet, find out whether the item you are considering buying is genuine or a reproduction - and whether an export permit is required for you to take them out of the country.
A number of items sold as antiques in these shops are in fact aged handicraft items from neighbouring countries like Thailand and Myanmar. They include potteryware, lacquerware, celadon, porcelain and basketware.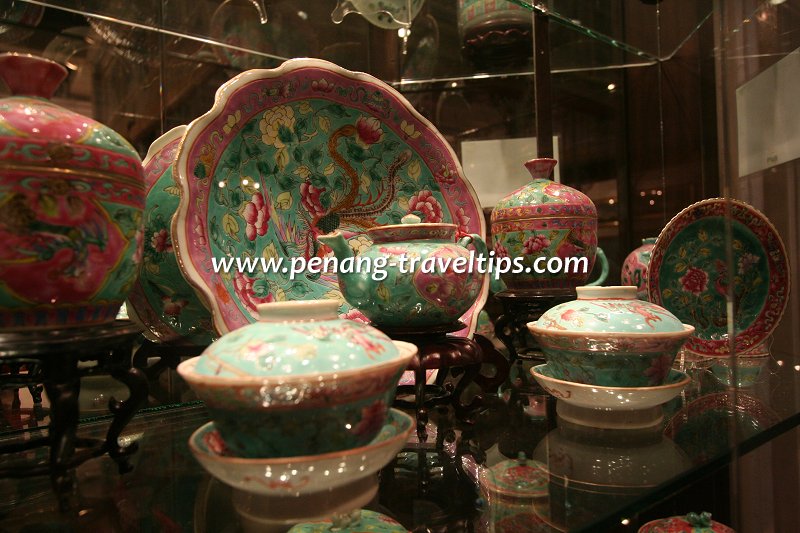 Nyonya ware
(8 October, 2009)

You can also find lovely Nyonya porcelain in many of these antique shops. These items, although popular locally, were in fact made in China according to local requirements. They are similar to the Thai bencharong, which however has become a cottage industy in Thailand. Over here, the making of Nyonya porcelain locally has not yet fully caught on.
New Individual Pages of Antique Shops in Penang
Antique Shops with Individual Pages
View
Antique Shops in Penang
in a larger map

Hong Giap Hang, Penang
Road

Oriental Arts & Antiques
, Chulia Street

Hung Kee Sdn Bhd
, Rope Walk

Keng Fatt Sdn Bhd
, Armenian Street

Mei Tatt Antique
, Rope Walk

Lean Giap
, Chulia Street

Hong Giap, Penang
Road

Peking Arts & Crafts, Penang
Road

Kok Seng Antique
, Pitt Street

Hong Chin Pewter Souvenir Shop, Penang
Road
Group Listing of Antique Shops
Kenangan Silam Enterprise
35&37 Lebuh Carnarvon
11100 George Town, Penang
Phone: 012 430 0717
Contact: Haji Alaudin
Location: Junction of Lebuh Carnarvon and Lebuh Buckingham.
Business hours: 2:00 pm to 7:00 pm
Remarks: Various types of antiques and collectibles including reproductions and enableware.
Ethnic Antique Sdn Bhd
19 Gottlieb Road
10350 George Town, Penang
Phone: +60-4-229 8712
Khor Antiques
251, 253 & 257 Beach Street
10300 George Town, Penang
Phone: +60-4-264 2623
Tian Hua Arts & Antique
85 Carnarvon Street
10100 George Town, Penang
Phone: 017 478 2878
Thank you for using my website!
arrange for you a tour guide and/or driver
to show you around. If you are traveling by bus anywhere in Malaysia or Singapore, you can
book your bus ticket
. If you seek accommodation, you can
get hotel room rates
.
As a Christian, I hope that through this website, I am able to deliver God's message to all who need it, anywhere in the world. If you are open to hearing it, please read
God's Good News to You
.
If you wish to contact me, please use this
contact form
. And don't forget to
follow me on Facebook
. See you!