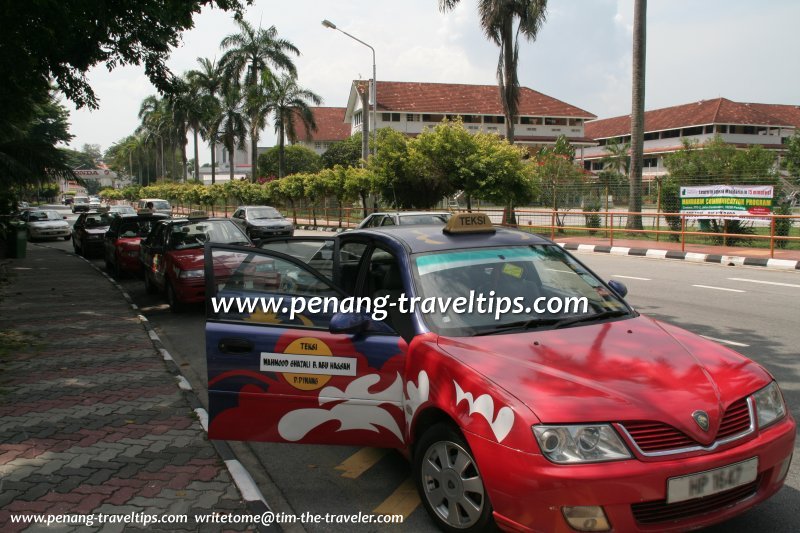 Penang taxis parked at the Bayview Georgetown Hotel Taxi Stand
(16 May, 2008)

Edisi BM
You can easily find taxis congregating at major shopping malls, the airport and bus terminals. Apart from these places, it may be quite difficult to hail a taxi in Penang. They are not as plentiful as in Kuala Lumpur or Singapore.
In an effort to enhance the professionalism of taxis in Penang, the authorities have directed all taxis in Penang to use the meter. The taxis have even put a sticker on their vehicle saying "This Taxi uses the Meter, Haggling is Forbidden - Get Your Receipt". However, a check with most taxi users (as of end 2013) has indicated to me that all the taxis they have taken still refuse to use the meter. So the sticker, I suppose, is nothing but lip service.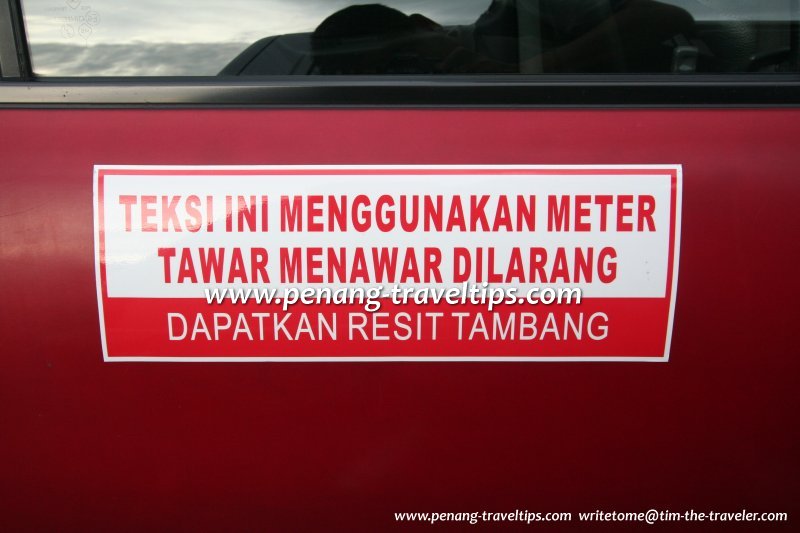 Sticker on taxi that only uses meter
(5 June, 2010)

Taxi stands are not as common as bus stops in Pulau Pinang. Also, taxis are not as ubiquitous on the streets in Pulau Pinang than they are in other major cities.
Call a Taxi in Penang
You can find taxi stands in front of all major hotels and shopping malls. So one way to get taxis is to go to the nearest major hotels. In George Town, that would be Bayview Georgetown Hotel, Cititel, Sunway Hotel, Georgetown City Hotel and g Hotel (in front of Gurney Plaza). There is also an abundance of taxis at the taxi stations next to the
Weld Quay Ferry & Bus Terminal
and
Komtar Bus Terminal
as well as Queensbay Mall, Bukit Jambul Complex and Sunshine Square. There are fewer taxis (but still possible) at the E & O Hotel, Gurney Hotel and Evergreen Laurel Hotel. For other locations, it's best to give the taxi a call.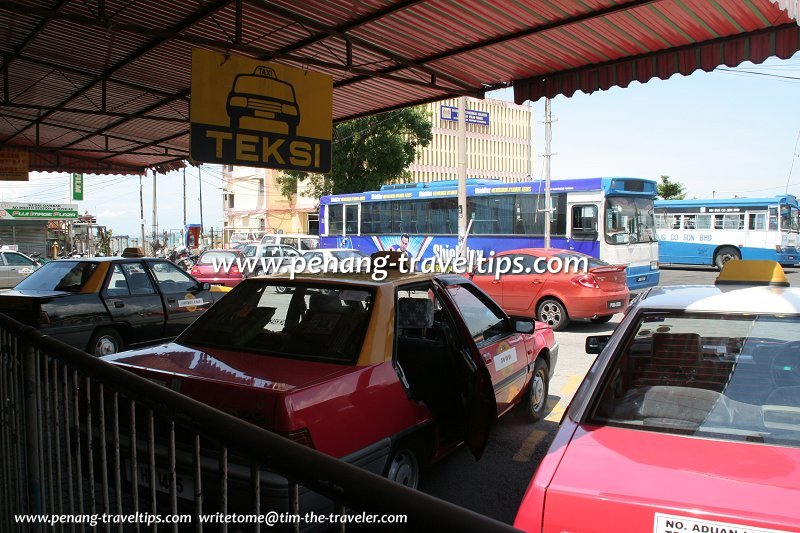 Weld Quay Taxi Stand
(22 October 2006)

Types of Taxi in Penang
There are two types of taxi on the streets in Penang. The regular (or "budget") taxi has a red body with some white to the livery, while the premium (or "executive") taxi is blue in colour. You will have more luck getting the blue taxis to go by the meter, with flag off at RM6 followed by RM2 for every kilometer. These taxis can also take you long distance across the border into Thailand and Singapore, if you are willing to pay for it. To get an executive taxi, call the taxi numbers on this page and ask for one.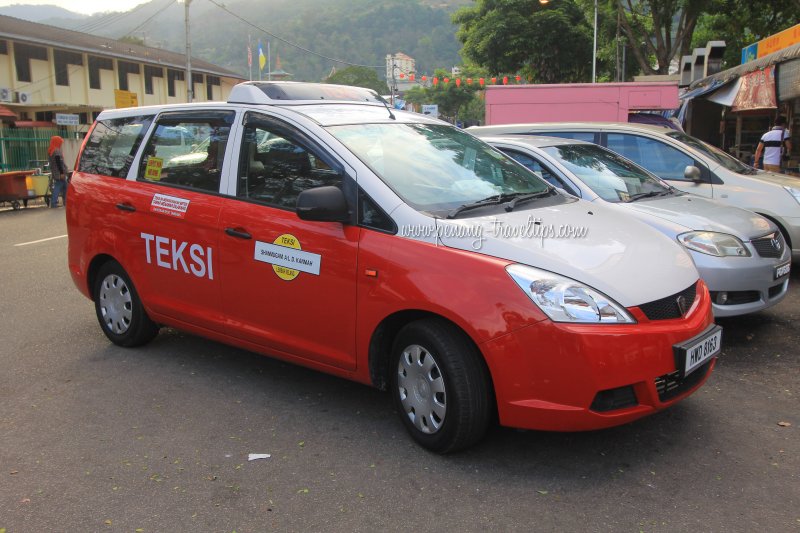 The regular budget taxi
(11 February, 2013)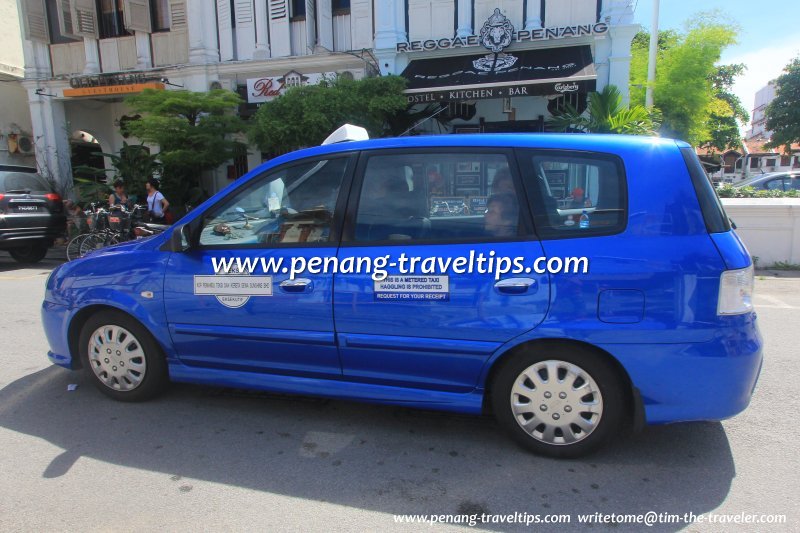 The premium-rate blue Executive Taxi of Penang
(15 December, 2012)

The red-colour "budget" taxis are the ones you will find waiting for customers at taxi stands of shopping malls. Always choose a taxi that is willing to use the meter. You will find a sticker on their door (see picture) saying that the taxi uses the meter. Having said this, I have to say that it is a farce. I have been told many number times by many different people that despite the sticker, most taxi drivers refuse to use the meter. You may just have to threaten to report them, or take a different taxi. Always remember to check that they switch on their meter before the journey starts.
Still, if you can't find any willing to use the meter, and you are determined to take a taxi, then your only other option is to negotiate the fare before climbing on board. Most taxis have fixed fare from point to point within George Town, and people who are familiar with taking taxis in the city will know the charges. Hence even if you ask a few taxis, you are likely to be given the same price which they have agreed among themselves. Most taxi drivers agree to honor this rate, though it is possible that you may find unscrupulous drivers who will fleece foreigners. By shopping around, you will get familiar with street rates quoted by different drivers.
Passenger Feedback
I received the following feedback which I shall share with you from a taxi user:
12 December, 2015
The company I work with sent me to Penang for 3 weeks last Nov. 2015. And in all those days I stayed there, it was just the BALA RADIO TAXI that I had been in contact with. The drivers were nice and very respectful. I would just like to say that and commend them thru this. My stay in Penang was really easy because of their help to me. So yes, thanks to BALA RADIO TAXI SERVICE.
Minnie Santos.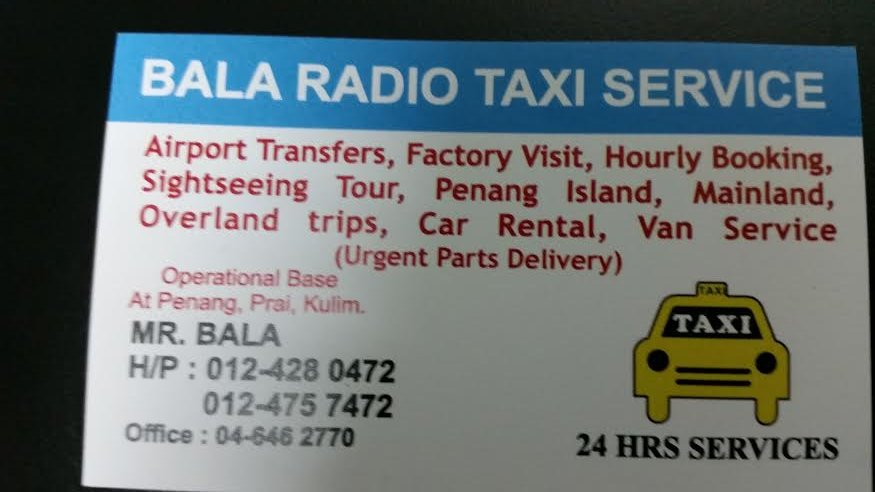 Bala Radio Taxi Service
(16 April, 2011)
© Minnie Santos
16 May, 2015:
Just would like to share with you that I experienced pleasant taxi service which used metre from Sri Radio Cab. Thanks to your posting in your blog which featured compliments about this taxi company in Penang.
Kaelvin
11 August, 2014
Dear Timothy,
Hi, my name is Archnashree Nellan and I have been on vacation in Penang for the past two months. When I first arrived, I had terrible experiences with taxis. From negotiating the rate to riding in cabs with no seat belts and erratic driving, I had some terrible experiences with taxis. But things changed when I began using Sri Radio Taxi. Their service and rate was great and made traveling around Penang easier and enjoyable. I used their services for about 7 weeks now for 4-5 days a week and would love if more tourists knew about their service. I am not sure if you take submissions but if you do, I would love to write a review to put on your website. Please let me know if I can write a review for your site. Thank you and I look forward to hearing your response.
Best Wishes,
Archnashree
11 August, 2014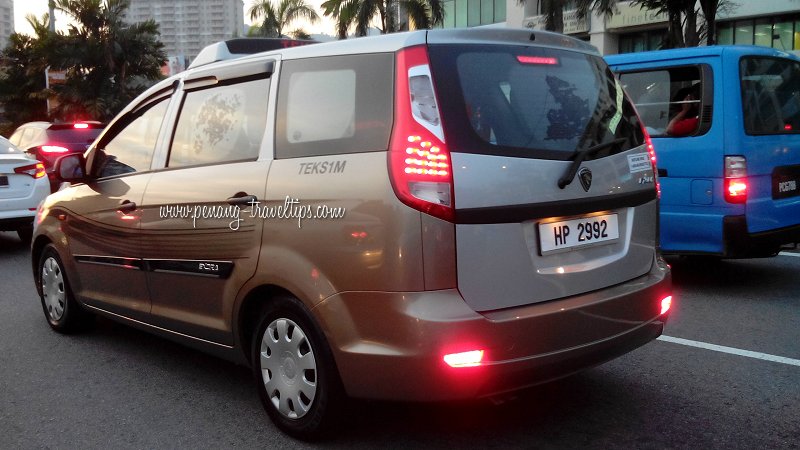 Teksi 1 Malaysia
(3 August, 2014)

Use MyTeksi App
If you are using a smartphone while in Penang, you can download the MyTeksi app which helps you book a taxi. That way, you avoid getting ripped off. The advantage of using MyTeksi is that you know the name, number plate and phone number of the driver, so you can share this detail with someone for safety sake. For more information on MyTeksi, go to https://grabtaxi.com/myteksi/
Teksi Rakyat 1 Malaysia
Teksi Rakyat 1 Malaysia
is another of the 1 Malaysia products that was rolled out in line with the Prime Minister Dato' Sri Najib Tun Razak. Click on the link for more details.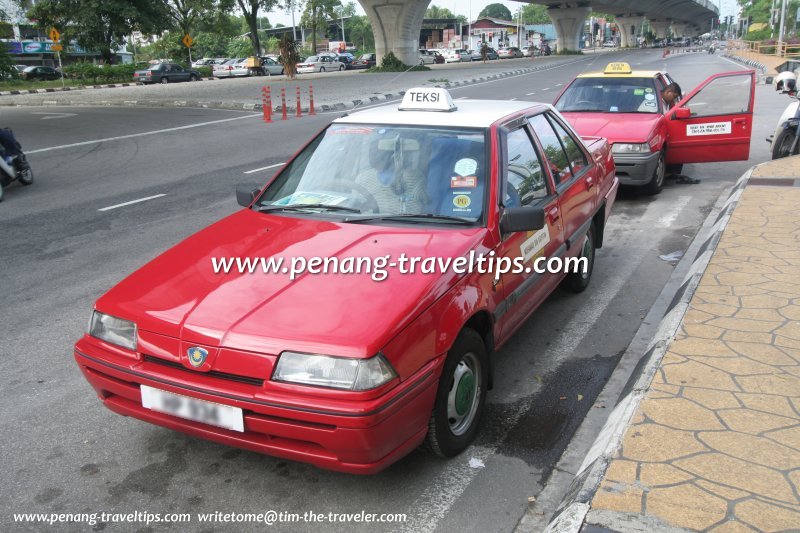 Taxis at the Sungai Nibong Bus Terminal
(30 April, 2008)

What is that fixed rate? Ah, that is for them to know and for us to find out. But people who are familiar with taking taxis in Pulau Pinang will soon be familiar with it. Also, the rate tends to be quite uniform among the different taxi companies.
As taxi rides can be much more expensive than taking the bus, you should carefully evaluate the options before calling the taxi. On the other hand, taxis provide the convenience of traveling from point to point, and for transporting of luggage.
What's the minimum price? It used to be RM4.00, but not really sure now, considering the meter's been thrown out the window. According to someone who wrote to me, the minimum rate that taxis charge is RM10, so the RM4 is
not
something you can find.
The following are fare estimations contributed by feedback from members who wrote to me: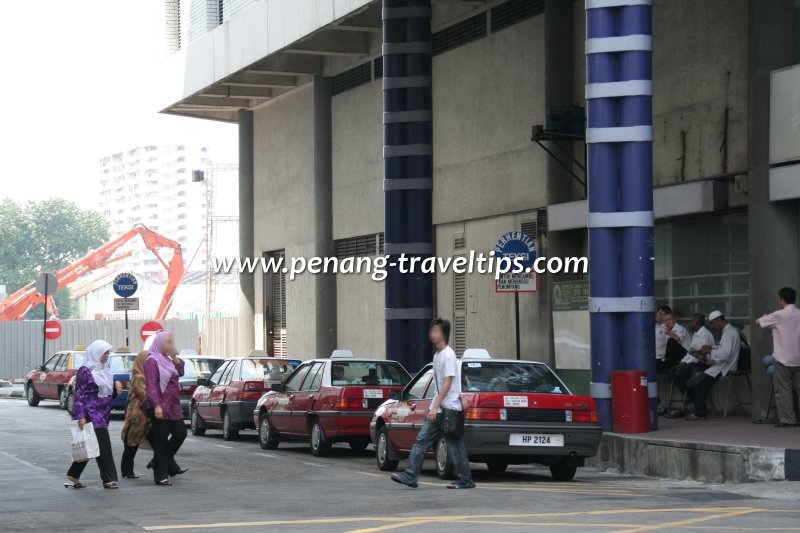 Komtar Taxi Stand
(16 May, 2008)

Taking the Airport Limousine
There is an airport limousine service (that's a glorified way to call an airport taxi). You buy a coupon at the arrival level, then go outside to take the limo that is queuing up for passengers. Pass the coupon to the driver and tell him where exactly you are going.
The fare is as follows (updated in Dec 2012), for daytime (7:00 am to 23:59 pm) and after hours (12:00 midnight to 6:59 am):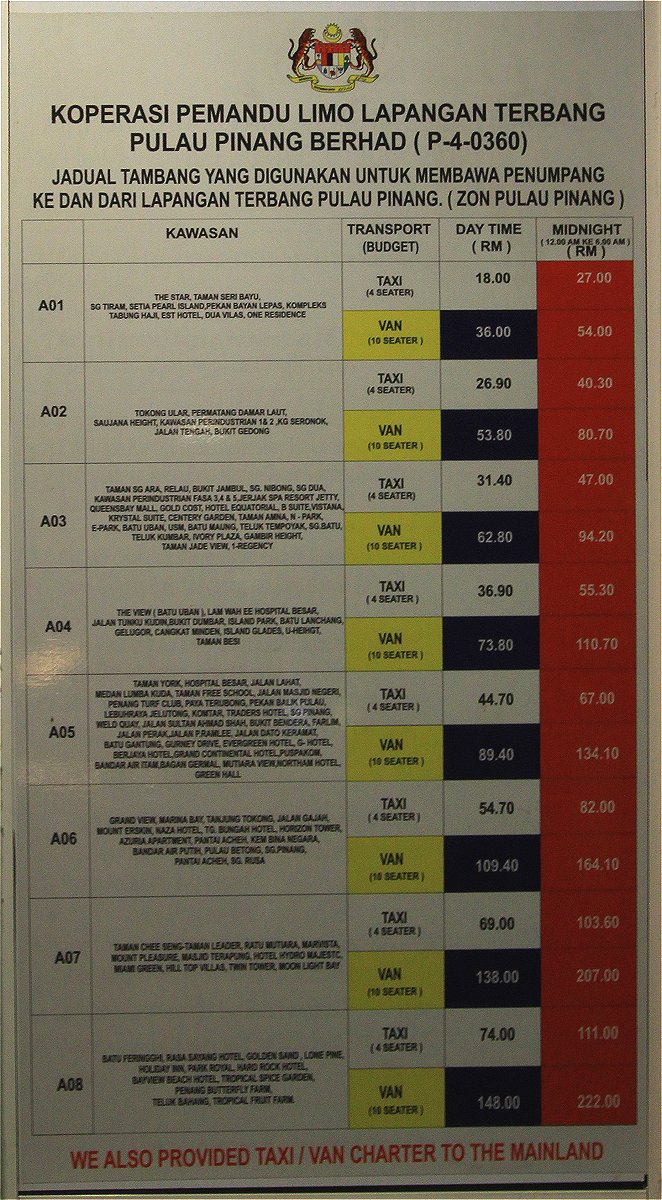 Penang Airport Taxi Fare
(27 October, 2012)

Acknowledgement
I wish to thank Loh Chee Kuang, Poay Kuan, HT Khor, Colleen Dunk, SB, Kamarul Syahril Kamal, Ewe Hean, PC Ong, Jennifer De Vries, Calvin Yeo, Michelle Loh, Pay Fern, Laura Joseph, Rani, Lucy Friedland, Peky for information on this page.
Add your business to this website
This website functions as a unique directory and place encyclopedia. Presently, it accepts the inclusion of businesses in Malaysia and Singapore. If you operate a business - be it a hotel, restaurant, florist, clinic, nursing home, etc. - contact us to add your business to this website. It costs only RM250/S$100 to have a page created for you, and included into this website. You are expected to provide photographs and full details, so that a page can be create for you, which will incorporate your business to the place maps shown on this website. To enquire or add your business,
CONTACT US
Travelling somewhere?
Do you know, different booking site sells the same hotel room at a different price? Use the searchbox from Hotelscombined to find the online booking site that offers the best rates!
Ordering Mooncakes This Year
Get a 25% discount when you order the mooncake from
Hotel Jen Penang
when you use my discount code Timothy25%. More about Hotel Jen Penang's mooncakes
here
.
Pautan terpenting laman ini
Looking for a promotion at a hotel in Penang. Get an overview of current promotions here!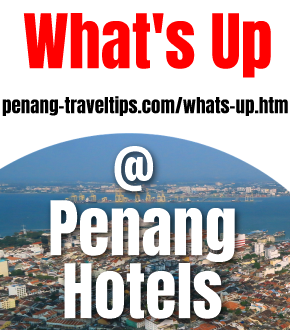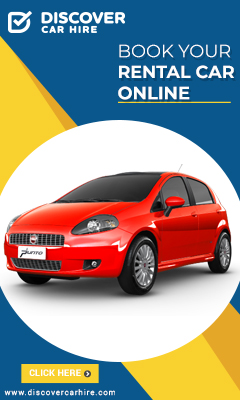 The Durian Tourist's Guide to Penang
Buku ini ditulis khusus untuk pengemar durian. Sekiranya anda berkunjung ke Pulau Pinang dengan hasrat menikmati durian, dapatkan buku ini. Ia membekalkan segala maklumat mengenai jenis durian yang terdapat di sini, dan kebun durian di seluruh Pulau Pinang.
Tinjau Buku Ini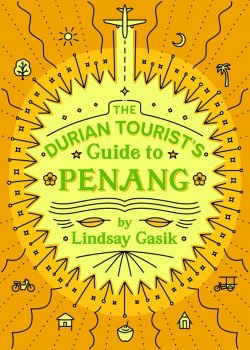 Apakah bas yang boleh dinaiki di Pulau Pinang?
Pengendali bas di Pulau Pinang ialah
Rapid Penang
.
Rangkaian bas Pulau Pinang
termasuk:
CAT
,
CAT Air Itam
,
CAT Balik Pulau
,
CAT Bukit Mertajam
,
CAT Nibong Tebal
,
10
,
11
,
12
,
13
,
101
,
102
,
103
,
104
,
201
,
202
,
203
,
204
,
206
,
301
,
302
,
303
,
304
,
305
,
306
,
307
,
308
,
401
,
401E
,
403
,
404
,
501
,
502
,
601
,
602
,
603
,
604
,
604A
,
605
,
606
,
608
,
610
,
701
,
702
,
703
,
707
,
708
,
709
,
801
,
802
,
803
,
804
,
Penang Sentral-Parit Buntar
dan
Penang Sentral-Sungai Petani
.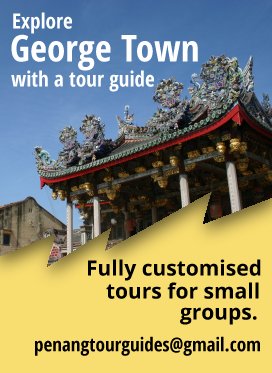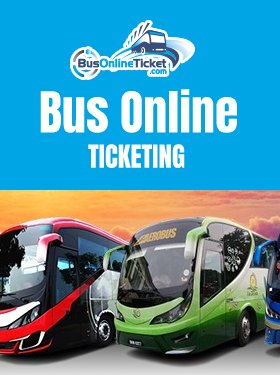 Mengenai Saya
Saya dan isteri saya pengemar pokok. Kami telah mengasas sebuah laman web mengenai pokok dan pelbagai tumbuh-tumbuhan. Berikut disenaraikan tumbuhan yang telah kami karangi.
[an error occurred while processing this directive] [an error occurred while processing this directive] [an error occurred while processing this directive]