B. Melayu
Parking on Penang Island
can be quite a challenge for people who are unfamiliar. Here's some tips for parking in
George Town
, if you are planning to drive here from outside Penang. Throughout Penang Island, to park in any of the street parking bays, you need to place a parking coupon on your dashboard so that it is visible to the parking inspector. Otherwise, you will be issued a summons. Please read the following pages:
1.
How to use the Penang Island Parking Coupons
2.
Penang Island Coupon Parking System
Updates on Parking on Penang Island
21 June, 2017
The parking coupon system for Penang Island has been revamped and standardised. Effective 1 July, 2017, a uniform parking fee of 40 sen for every 30 minutes is implemented from Monday to Saturday, including public holidays, from 8:00am to 6:00pm. No fee is charged for Sunday. This is a departure from the previous scheme, where parking fee is charged on Sundays and in some places, even until midnight. In line with the implementation of the revamp, a sticker will be pasted over the existing parking signboards advising of the new rates.
5 November, 2013
A new parking system using coupons was introduced to replace the use of parking attendants and parking meters. For details about this system, and the location where you can purchase the coupons, go to
Penang Island Coupon Parking System
.
In the past: Parking Attendants
In the past, some streets were served by parking attendants. They would carry a sling bag holding their parking receipts, which is in the form of a thick booklet. After you parking your car, you could pay him in advance, and he would issue you a receipt, which he would slip under the windscreen wiper.
In most places in George Town, parking was either 30 sen or 40 sen for every 30 minutes. You could pre-pay for a non-refundable time, or alternatively, you pay according to the amount of time spent when you are ready to leave. As it may be a hassle trying to locate the parking attendant when it's time to leave, I usually pay for about an hour if I happen to see the parking attendant nearby.
If you park your car without pre-paying - often because the parking attendant is nowhere around - when he comes back, he will issue a parking notice, which he has to update every half hour. When you return to retrieve your car, bring the parking notice to him, and he will issue you a receipt according to the amount of time you have parked.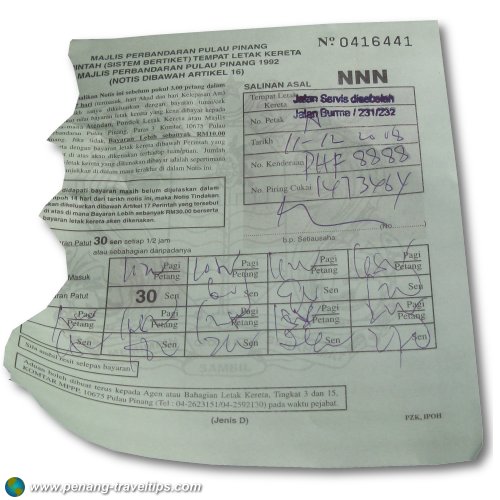 Parking notice, issued by parking attendant to show duration parked
(11 December 2008)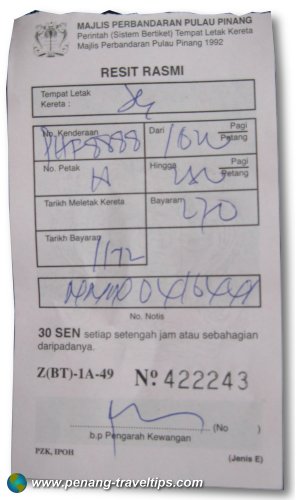 Parking receipt, issued by parking attendant after you pay for your parking
(11 December 2008)

If the parking attendant is nowhere to be found, you may try to make payment with another attendant - some will be willing to issue you a receipt, but some will not accept the parking notice issued by a different attendant. If you're unable to get the parking paid on the street, the other alternative is to make the payment at the
Penang Island City Council
(also called Majlis Bandaraya Pulau Pinang, or MBPP) office at
Komtar
. The counter at the MPPP office on Level 3 will collect your parking fee and issue you a receipt.
If you do not pay your parking within 14 days, the MPPP may issue you a summon, with then will cost you about RM20 to foot. Failure to pay the summons will have a bad impact on locals, as it may prevent us from renewing our road tax the following year.
Parking Meter
Some streets in George Town do not use parking attendants. Instead there are parking meters at regular intervals, usually one for every two parking lots. I find that parking meters are a big hassle. You have to prepare a lot of coins for it. The meters only accept the 10 sen, 20 sen and 50 sen coins. Also, you have to ensure that the meter is fed for a longer period that you are actually parked, for it is goes to zero, you are liable to receive a fine. There are MPPP officers on patrol checking the meters to make sure the parking meters are fed.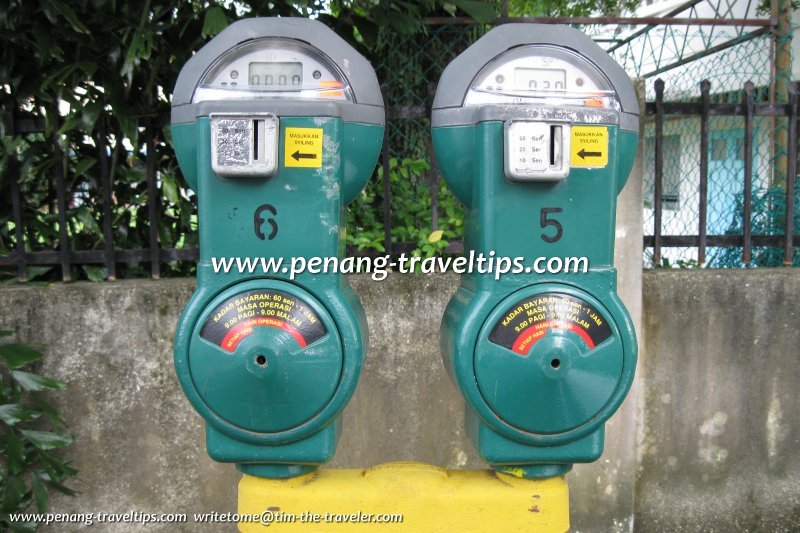 Parking meter in Penang
(17 December 2008)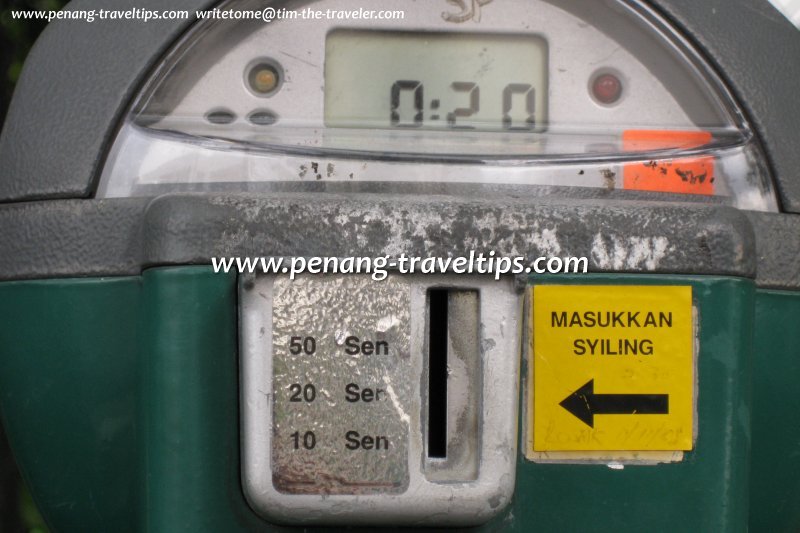 Coin slot and timer, parking meter
(17 December 2008)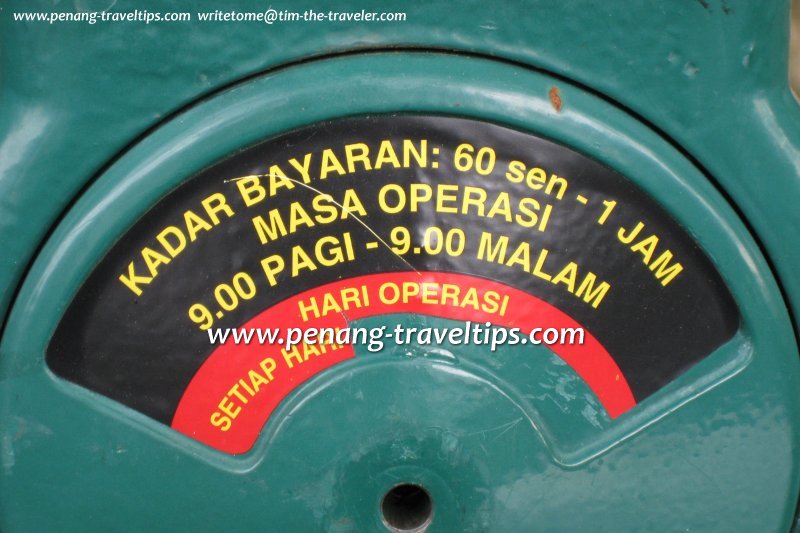 Timetable
(17 December 2008)

In most places in the business district of George Town, you need to pay for parking during office hours, which usually runs from 9:00 am in the morning to 5:00 pm in the evening for Mondays to Fridays. On Saturdays, parking is charged from 9:00 am in the morning till 1:00 pm in the afternoon. Parking is free after office hours as well as on Sundays and public holidays. In these places, if parking attendant is used, the price is usually 30 sen per half hour while if you find parking meters, it would be 40 sen per half hour (I can never comprehend why it is more expensive with parking meters!)
In some places in Penang, the MPPP rent out the street parking lots to private agents. You can expect to pay more, and for longer periods too, when agents collect parking. In such cases, it is almost always that the parking fee is 40 sen per half hour. That's the max for street parking. However, there will be longer chargeable parking hours, up to 9:00 pm at night in some places, and on Saturdays, Sundays and public holidays too. These places are usually near to major attractions and hawker centres, where the returns is certain due to patronage outside of office hours.
Parking in Shopping Malls
It is a given thing that parking at shopping malls are a lot more expensive than on the street.
Gurney Plaza
charges RM1.50 for the first one hour and RM1.00 for every subsequent hour.
1st Avenue Mall
charges RM2.00 for the first hour and RM1.00 for every subsequent hour.
Queensbay Mall
charges a different rate depending on where you park. I usually park on the 5th level, which charges RM1.00 for the first 4 hours (previously it was RM1.00 for unlimited time).
Sunshine Square
charges RM1.00 for the first 2 hours, waived if you produce a shopping receipt as proof of having done a purchase there.
Tesco
is one of the places where parking is free.
Updates: Increase in Parking Fee for 2013
27 December, 2012 (The Star)
: The Penang Island Municipal Council (MPPP) is considering increasing parking fees in the inner city of George Town as a move to discourage people from parking within the city for long periods at certain places, and to encourage them to carpool to these spots.
Four areas where parking fee is collected until midnight include Gurney Drive, New World Park, Padang Kota Lama and Upper Penang Road. This is to curb illegal parking attendant activities. Vehicles left haphazardly on the road unattended will be clamped or towed.
Opinion of the Present Parking Fee System
In my opinion the entire parking fee system on Penang Island is archaic and should be entirely revamped. The two existing parking methods: using parking meters or parking attendants have their faults. Many parking meters are broken while parking attendants often mischarge people. These two methods should be replaced with one similar those implemented at shopping malls. In addition, the use of Touch 'N Go stored value smart cards for paying parking fees should be introduced.
Thank you for using my website!
Hello and thank you for reading this page. My name is
Tim
. I wrote this page to compile what I discover, for my own knowledge, and also to share it with people who might find it useful. It is part of three inter-connected websites:
Penang Travel Tips
,
TimothyTye.com
and
Timothy Property Mart
.
I am a real estate agent, food blogger, amateur historian and travel author. This website is an encyclopedia as well as a business directory. As a real estate agent, I help people buy, sell, rent and let properties. If you have a property to sell or rent in Penang, Kuala Lumpur, Johor Bahru, Ipoh or Malacca, my team of realtors and I can help you. If you operate a restaurant, can write about your food and promote your restaurant. I can also help you engage other food bloggers to write about your food. And finally, if you are operating a business anywhere in Malaysia, you can add your shop to this website and be found by lots of customers. All you need to do is contact me with what you need.
contact Tim
You can do many things directly from this website. If you are visiting Penang, I can
arrange for you a tour guide and/or driver
to show you around. If you are traveling by bus anywhere in Malaysia or Singapore, you can
book your bus ticket
. If you seek accommodation, you can
get hotel room rates
.
As a Christian, I hope that through this website, I am able to deliver God's message to all who need it, anywhere in the world. If you are open to hearing it, please read
God's Good News to You
.
If you wish to contact me, please use this
contact form
. And don't forget to
follow me on Facebook
. See you!
Copyright © 2003-2019
Timothy Tye
. All Rights Reserved.