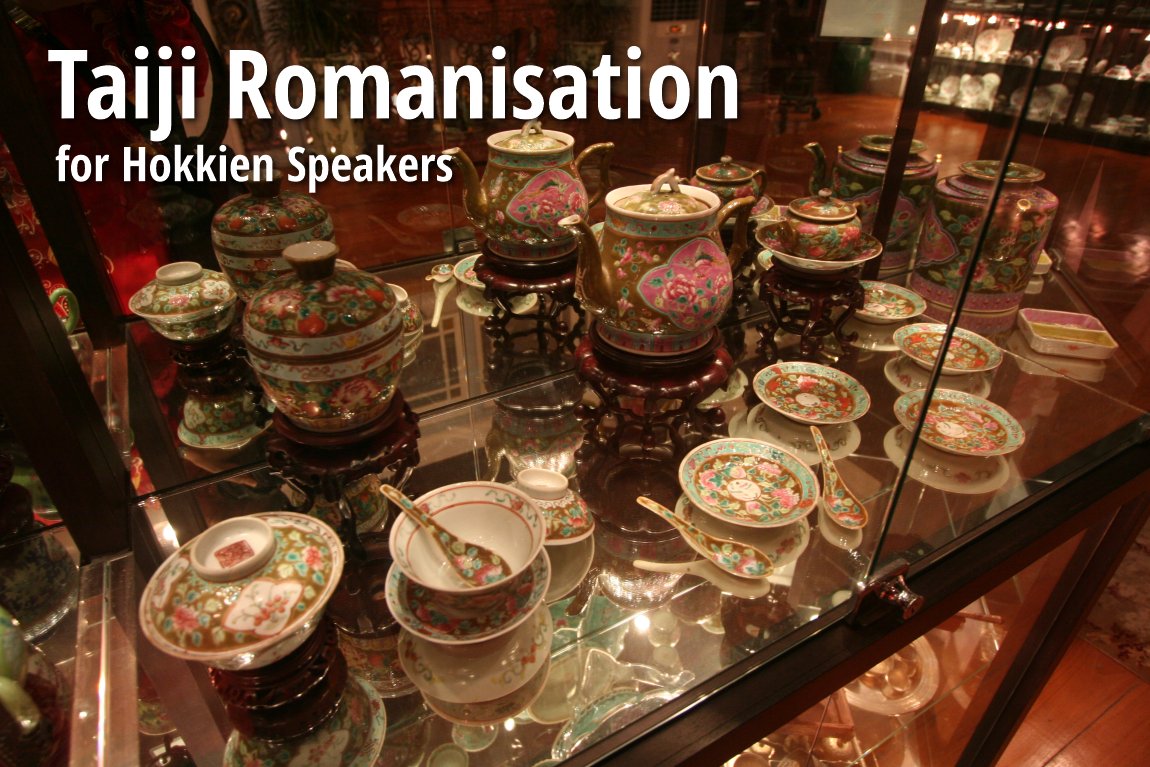 (8 October, 2009)
This lesson,
Taiji Romanisation for Hokkien Speakers
, is intended to provide people who already speak Hokkien the means to communicate in writing, using a very easy-to-learn writing system. The writing system, Taiji Romanisation, was created in Penang for the use with Penang Hokkien. Therefore the rule of tone and tone changes (or tone sandhi) is specific to Penang Hokkien. Nevertheless, for transcribing sentences, you can use it for other dialects of Hokkien.
The Tone System of Taiji Romanisation
There are four classes of tones in Taiji, namely 1, 2, 3/33 and 4. These four tones correspond to the four tones in Mandarin.
For example:
ma1

,
ma2

,
ma3

,
ma4

pa1

,
pa2

,
pa3

,
pa4

kau1

,
kau2

,
kau3

,
kau4

kong1

,
kong2

,
kong3

,
kong4

A syllable that has a meaning is called a
morpheme
. A morpheme can be a word on its own, for example
kau1

(to hang),
jip1

(to go in),
chut3

(to go out). Words can also be formed by putting morphemes together, for example,
lau3juak1

(fun),
pan3gee2

(cheap), etc.
When two morphemes are side by side, the one in front usually changes its tone.
Example 1:
ang2

(red) and
sna1

(shirt) becomes
ang3 sna1

(red shirt).
Example 2:
wah4

(I),
boek3

(want),
khee3

(to go),
co3

(to do) and
kang1

(work).
Strung together, those words form the sentence:
Wah1 boek1 khee1 co1 kang1

(I want to go to work). As you see, all the words change tones except the last one.
The rule for changing tones is as follows:
Words ending in tone 1 or tone 2 change their tone to 3 when placed in front of another word.
Example:
ang1

(husband) +
bor4

(wife) =
ang3bor4

(husband and wife, couple)
Example:
ang2

(red) +
sna1

(shirt) =
ang3 sna1

(red shirt)
Words ending in tone 3 or tone 4 change their tone to 1 when placed in front of another word.
Example:
lau3

(to leak) +
chooi4

(water) =
lau1 chooi4

(leaking water)
Example:
kang4

(river) +
pni1

(side) =
kang1 pni1

(riverside)
Tone 33 sounds the same as tone 3, except that, words ending in tone 33 do not change the final tone when placed in front of another word.
Example:
lau33

(old) +
lang2

(man) =
lau33 lang2

(old man)
Note that lau3 (to leak) and lau33 (old) sound almost the same (in fact, I regard them as the same), but due to the way one changes tones while the other doesn't, we can tell which is which when we see them in writing.
The
Penang Hokkien Dictionary
compiles over 5,000 words in use. The dictionary has audio to help you hear how each word is pronounced. All the entries include definition in English and Malay, with a large number also showing example sentences, the Chinese characters, and the same word in Taiwanese Hokkien and Amoy Hokkien. You can reference it for free from anywhere in the world. To learn more of Penang Hokkien, go to
Penang Hokkien Made Easy
or try the free online course,
Penang Hokkien on Memrise
.
I wish you all the best in getting to know Taiji Romanisation!

Now you can use the most user-friendly tool on the web to learn Penang Hokkien. It helps you to listen, understand and memorise.
Go to Memrise
, and learn Penang Hokkien at your own pace.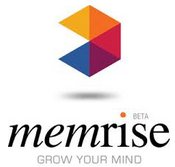 Selected Books related to the Hokkien Language
Add your shop/business to this website
The Penang Travel Tips website is a huge website that documents everything in Penang. On top of the hundreds of streets and tourist attractions, I also add in hundreds of shops and businesses.
If you operate a shop business in Penang, or anywhere in Malaysia or Singapore, contact me to add your business/shop into my website. It only a one-time fee, and your shop/business will be listed by location and category, helping your would-be customers find you. To find out more,
CONTACT ME
Visiting Penang? Find the lowest hotel room rates here!
Use our search engine to compare room rates from different hotel booking websites, to find the one that's lowest.
Travelling somewhere?
If you're travelling somewhere, use our online engine to find the online booking site that offers you the best room rates.
Book your hotel room here
If you're coming to Penang, book your hotel room online with Agoda. Agoda offers the best prices on 2,000,000+ properties worldwide.
Start here.
Local Guided Tours of Penang
If you are coming to Penang and need someone to show you around, I can arrange for you a licensed tour guide to take you around. Guides charge a fixed fee of RM360 for taking a small group of up to 10 people on 4-hour walking tours. Walking tours exceeding 4 hours is charged an additional RM90 per hour. Tours are tailored to guest requirement. For more details,
contact tour coordinator
. Other types of tours also available.
For details, click here.
Looking for a book? Get it from Book Depository with free delivery worldwide!
I have just discovered
Book Depository
, a subsidiary of Amazon.com, and I love it. This is where you can buy books and have them sent to you. But unlike Amazon, when you purchase using Book Depository, you enjoy free delivery worldwide.
Give it a try today!
Here's a list of the latest pages I have added or updated on my website.
My YouTube Videos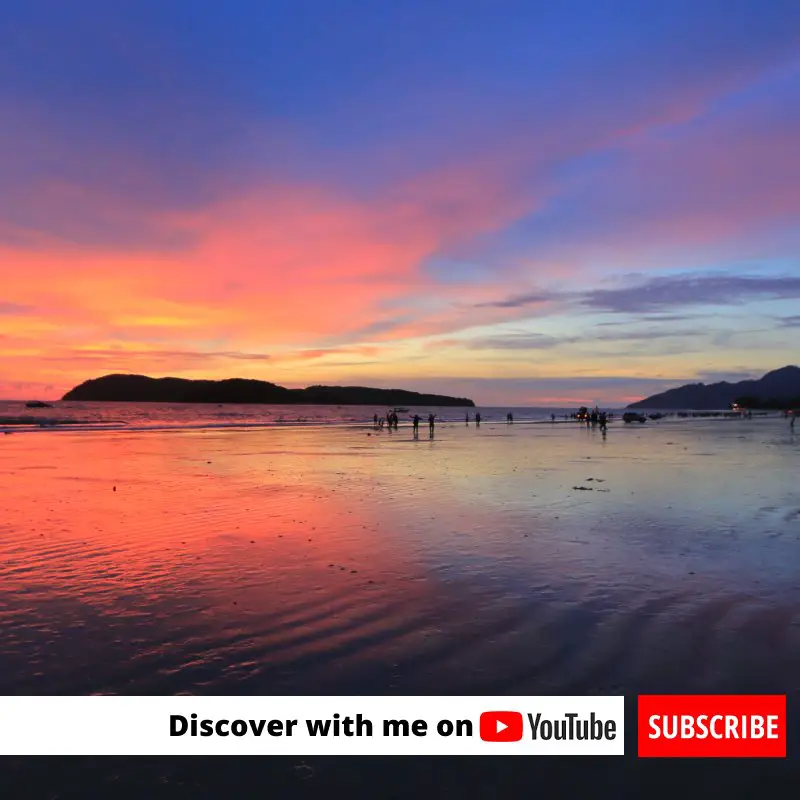 Check out
my YouTube Channel
and don't forget to subscribe!
Vital Links
Book Your Express Bus Ticket
|
Hire a car
|
Our Recipes
|
Facebook Posts
|
Just Curious
|
Not In The Dictionary
|
Our Flowering Garden
Vital Links
Book Your Express Bus Ticket
|
Engage a Tour Guide for Penang
|
What's Up at Penang Hotels
|
Hire a car
|
Facebook Posts
|
Our Recipes
|
Our Flowering Garden
|
Guide Book on Penang Durians
Discover the World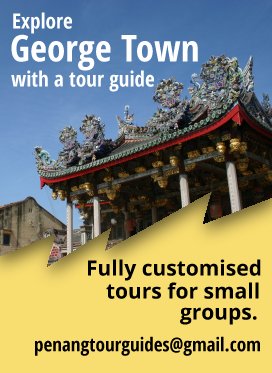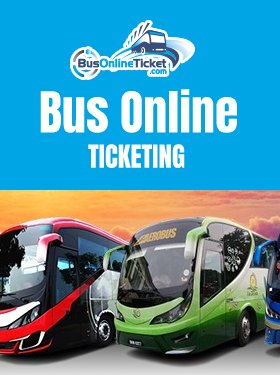 About Me