Plan Your Penang Vacation
is created to share with free, independent visitors useful tips to visit and enjoy Penang. Whether you're going to Penang for a day, a weekend or a week, I have assembled some useful tips to help you plan your own holiday here.
If you are prepared to pay for it, a personal tour guide can be very useful in discovering Penang. In addition to imparting fascinating information, a good tour guide adds spark and humor, turning an otherwise dull journey into a truly enjoyable and memorable one. Details on arranging a tour guide is provided at the end of this page.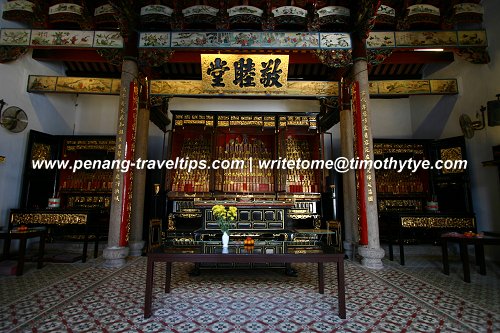 Teochew Ancestral Veneration Hall
(30 January 2006)

You
do not need
a tour guide if you are prepared to do your own homework. Within this huge website is all the information you need. Feel free to print out any page of this website for your own personal use, and bring the information with you when you visit Penang.
Planning a One-Day Trip to Penang
If you are coming to Penang for just a day, you are severely limited. More so if you are depending on public transport. The
Rapid Penang
bus has extensive coverage of all the places within Penang Island as well as Seberang Perai. However the headway (waiting time) is still rather long - more buses are being added to the roads, so this should reduce the waiting time. Taxis are not plentiful on the roads, but can be found in front of most shopping malls and big hotels.
If you have the nerve for it, I recommend that you drive, whether your own transport or a rented car. This will help you make the most of the time in your hands. Fuel is relatively cheap in Malaysia, at RM1.80 per liter (as of May 2009). One drawback of self-drive is the road in Penang, especially within George Town which are mostly one-way streets.
Places to visit
For a one-day trip, check out my list of
Penang Top 10 Attractions
. You are unlikely to be able to visit all 10, unless you intend to rush from one place to another, so be selective.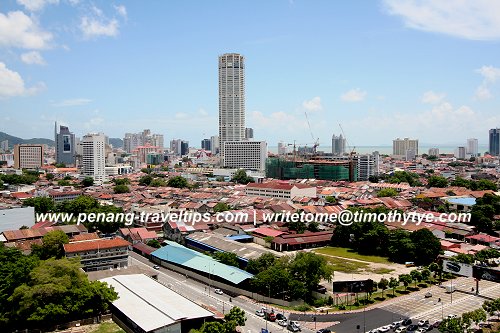 George Town skyline
(23 April 2009)

Places to eat
I recommend that you try some hawker food that Penang is famous for. The places to go include:
Penang Seafood
for information on where to go for the best seafood in Penang.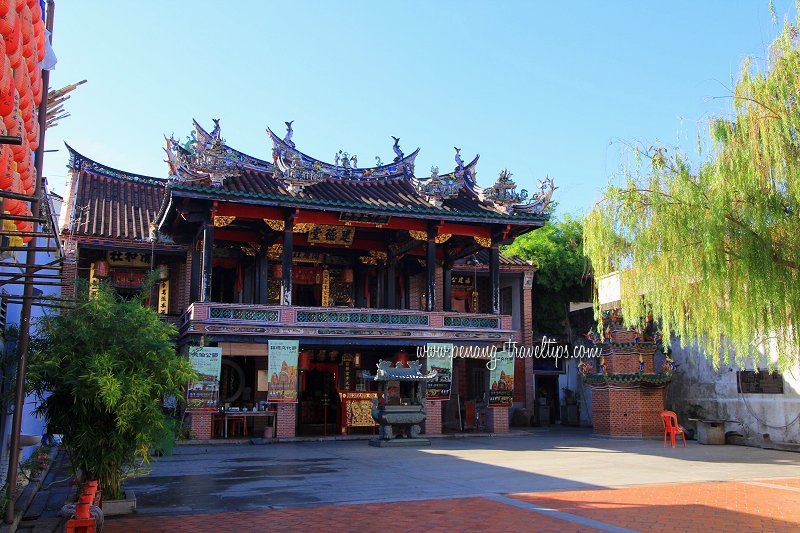 Hock Teik Cheng Sin Temple
(1 February 2009)

Planning a Weekend Trip to Penang
One weekend is the ideal duration to discover the best of Penang. You certainly have more time to explore the attractions in greater detail. In addition to the places I have mentioned for one-day trip, add to them the following places. Of course, you once again have to be selective.
For Sightseeing
For Beaches
For Shopping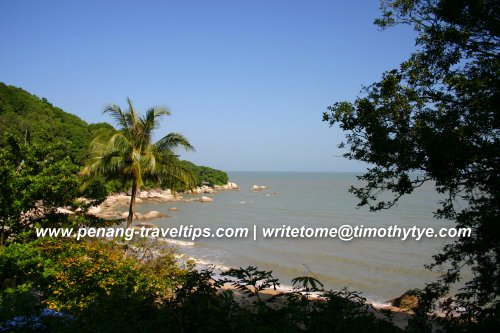 Batu Ferringhi beach
(23 December 2003)

Free Self-Guided Walking Tours
In addition, you can also consider the following free walking tours. Print them out and bring them with you.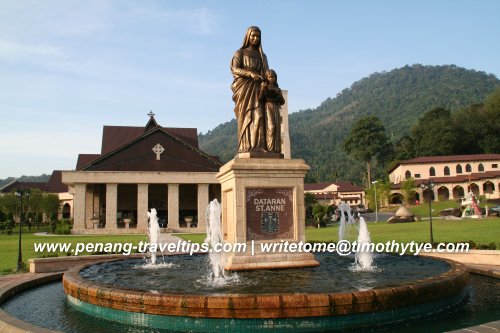 St Anne Square, Bukit Mertajam
(25 November 2007)

Planning an Extended Visit to Penang
If you have more time at your disposal, you can surely discover Penang indepth, and this website will help you unlock its charm. For through the list of sights that I have documented, and pick out the places you wish to visit. Most of them has a location map to show you how to get there. In addition, you should spend some time exploring the Inner
City of George Town
, which is a Unesco World Heritage Site, and discover all the heritage sites there.
Getting a Personal Tour Guide
It doesn't come cheap, but getting a personal tour guide is well worth the money if you are a serious visitor to Penang who want an intimate perspective of the destination. If you need a guide, I can arrange one for you. All the guides that I provide are license-holding tour guides with indepth knowledge of Penang. The fee is RM90 per hour, minimum two hours.
The same price applies regardless whether you are one person or a group, because they charge according to their time. The fee is also dependent on whether you are seeking a walking tour, whether you need the guide to drive you around, you are driving him around, etc. Payment is inclusive of fuel. All payment has to be made in advance before the trip. To inquire, write to me (you can get my email address from www.timothytye.com), and explain the type of tour you intend to take.
Add your shop/business to this website
The Penang Travel Tips website is a huge website that documents everything in Penang. On top of the hundreds of streets and tourist attractions, I also add in hundreds of shops and businesses.
If you operate a shop business in Penang, or anywhere in Malaysia or Singapore, contact me to add your business/shop into my website. It only a one-time fee, and your shop/business will be listed by location and category, helping your would-be customers find you. To find out more,
CONTACT ME
Visiting Penang? Find the lowest hotel room rates here!
Use our search engine to compare room rates from different hotel booking websites, to find the one that's lowest.
Travelling somewhere?
If you're travelling somewhere, use our online engine to find the online booking site that offers you the best room rates.
Book your hotel room here
If you're coming to Penang, book your hotel room online with Agoda. Agoda offers the best prices on 2,000,000+ properties worldwide.
Start here.
Local Guided Tours of Penang
If you are coming to Penang and need someone to show you around, I can arrange for you a licensed tour guide to take you around. Guides charge a fixed fee of RM360 for taking a small group of up to 10 people on 4-hour walking tours. Walking tours exceeding 4 hours is charged an additional RM90 per hour. Tours are tailored to guest requirement. For more details,
contact tour coordinator
. Other types of tours also available.
For details, click here.
Looking for a book? Get it from Book Depository with free delivery worldwide!
I have just discovered
Book Depository
, a subsidiary of Amazon.com, and I love it. This is where you can buy books and have them sent to you. But unlike Amazon, when you purchase using Book Depository, you enjoy free delivery worldwide.
Give it a try today!
Here's a list of the latest pages I have added or updated on my website.
My YouTube Videos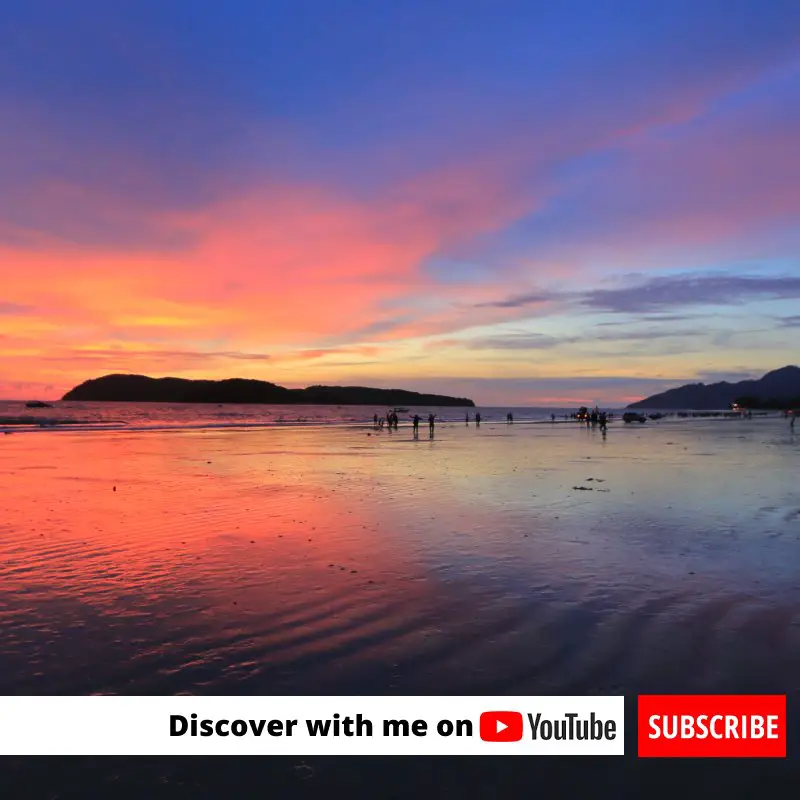 Check out
my YouTube Channel
and don't forget to subscribe!
Vital Links
Book Your Express Bus Ticket
|
Hire a car
|
Our Recipes
|
Facebook Posts
|
Just Curious
|
Not In The Dictionary
|
Our Flowering Garden
Vital Links
Book Your Express Bus Ticket
|
Engage a Tour Guide for Penang
|
What's Up at Penang Hotels
|
Hire a car
|
Facebook Posts
|
Our Recipes
|
Our Flowering Garden
|
Guide Book on Penang Durians
Discover the World
About Me