Penang Eurasians
forms an almost overlooked segment of the Penang population today, and yet they were once a significant part of early Penang. The arrival of Eurasians in Penang goes back to the first group which arrived at the invitation of Captain Francis Light, shortly after be landed on the island himself.
Light has had a close relationship with the Eurasians particularly since his common law wife, Martina Rozells, is one. He has had contact with them when he and Martina set up their business (then called "factory") in Thalang, Phuket.
There was a good number of Eurasians in Phuket in the third quarter of the 18th century. They trace their ancestry to different sources. Some were the product of the intermarriage between the European merchants in Bangkok and Siamese wives.
Catholic missionaries have been active in the region since the conquest of Malacca. When the Dutch conquered Malacca from the Portuguese in 1644, a Eurasian diaspora was created which spread through the region. At that time, many Eurasians sought a safe haven in Siam (present-day Thailand), and in particular at its then capital, Ayutthaya.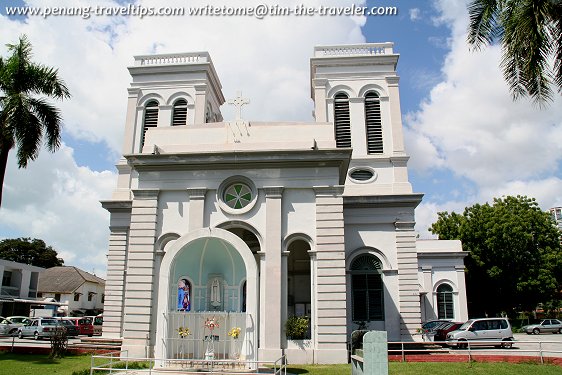 Church of the Assumption, Penang
(23 April, 2009)

In 1662, French and Belgian Catholic missionaries were involved in the setting up of the
Société des Missions Étrangères de Paris
, often abbreviated as M.E.P, the Society of Foreign Missions of Paris. This Catholic mission was a departure from earlier missionary institutions controlled by Spain and Portugal. The M.E.P dispatched its missionaries all over the world, and in Siam, it established a headquarters at Ayutthaya.
By the 18th century, the Catholics had established themselves in Siam as well as Cambodia, Laos, Tonkin and Cochinchina (both present-day Vietnam). In Siam however, cracks were showing in the relationship between the Catholics and the Buddhist, with the usual religious phobia cropping up and allegations that the Catholics were preaching against the religion of the king. This was during the reign of King Thai Sa (1732-1758). As a result, the Catholic missionaries had their freedom to evangelize curtailed.
In 1767, the Burmese invaded Ayutthaya and totally destroyed it. After a period of turmoil, General Taksin managed to consolidate the old Siamese kingdom at a new base in Thonburi, and was then proclaimed King Taksin. The new king appeared trusting of the Catholics, enrolling them in his army. However, as he also expected them to be involved in his superstitious practises, friction also appeared between King Taksin and the Christians and Muslims in his court. It culminated with the Decree of October 1774, which forbid his subjects from becoming Christians and Muslims.
Conflict between King Taksin and the Catholic missionaries culminated with the expulsion of the French bishop and his two priests from Siam in 1779, after the bishop forbid Catholics from taking part in a Buddhist procession. Bishop Le Bon, who was sickly, decided to return to France while his two priests, Father Coude and Father Garnault, decided to "wait out the storm in Thonburi" and headed for Pondicherry (present-day Puducherry), which was then under the French.
In 1782 King Taksin was forced off the throne. He was then secretly executed. Ascending the Siamese throne was King Ramathibodi, or Rama I. Father Coude and Father Garnault decided that it was time to return. But instead of going directly back to Siam, they went to the Kingdom of Quedah (present-day Kedah), where they were welcomed by Sultan Muhammad Jiwa Zainal Abidin II (1710-78). He even gave them a house in Port Quedah (present-day Kuala Kedah) which they could use as chapel. And here, the two Catholic fathers led a small group of Catholics, most of whom refugees from Siam.
Tim's Note: It is my belief that Martina Rozells, who later became Francis Light's common-law wife, was within this Catholic community.
While Father Garnault remained in Kedah, Father Goude relocated to Phuket, as the Catholics there had requested someone to serve as their priest. While in Phuket, Father Coude was promoted to the position of Vicar Apostolic of Siam.
His first duty as Bishop Coude was to solve the problem of double jurisdiction in Bangkok. Since the departure of the French missionaries, their place has been taken over by the Portuguese from Macau, and a Portuguese Dominican priest was looking after the "Portuguese" parishioners at the Church of the Holy Cross. So there was conflict with the French Catholics, led by Father Willemin, under Bishop Coude. The issue was resolved when Prince Bunman, brother of King Ramathibodi I, gave the Portugese Catholics another site, across the Khlong Phadung Krung Kasem canal. The church is still there, called the Holy Rosary Church.
The newly appointed Bishop Coude has great plans for the Catholic church in Siam, but before he could put them into action, he passed away while visiting the Catholics in Takua Thung, in January 1785. The only candidate capable of filling his shoes was Father Garnault, who was then appointed the new Vicar Apostolic of Siam.
Father Garnault benefitted greatly from having befriended Captain Francis Light. When Light established his trading port in Penang, he invited Father Garnault to come over. Light even provided him a house and gave him a ride on one of the British ships to India.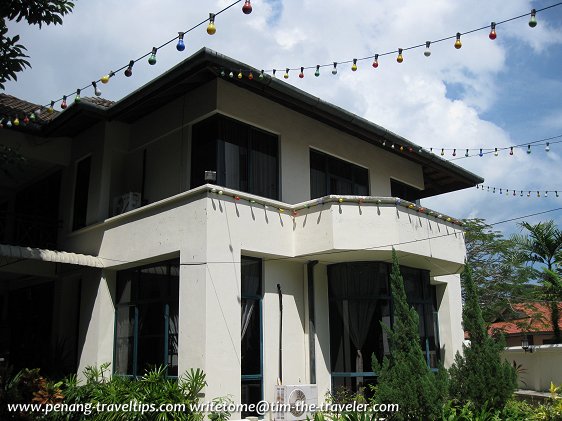 Penang Eurasian Association, Pulau Tikus
(1 March, 2009)

Father Garnault left Penang for Pondicherry to receive his Episcopal ordination from Monsignor Champenois, in April 1786. He was back in Penang on 15 August the same year. The 15th of August happens to be the date celebrated by Catholics as the anniversary of Mary's ascending to Heaven at the end of her life. For that reason, the first Eurasian church on Penang was named the
Church of the Assumption
.
Meanwhile, there is a remnant group of Siamese-Portuguese Catholics in Phuket. They belong to the Church of Our Lady Free from Sin. The situation in Siam was becoming hostile against the Catholics. When it culminated into a massacre of Catholics, the group fled Phuket led by their parish priest Father John Baptist Pasqual.
This second group of Eurasians arrived on the north coast of Penang, near a small rocky isle, during low tide. The isle, surrounding mud flats, appeared to resemble a rodent, so the Eurasians called it Pulau Tikus. They then made their way down the coast under they reach an area where they established themselves. To commemorate their safe arrival, they also called the area Pulau Tikus, and their village became known as Kampung Serani. Here, there Church of Our Lady Free from Sin was established. It was later renamed by the Pope to
Church of the Immaculate Conception
.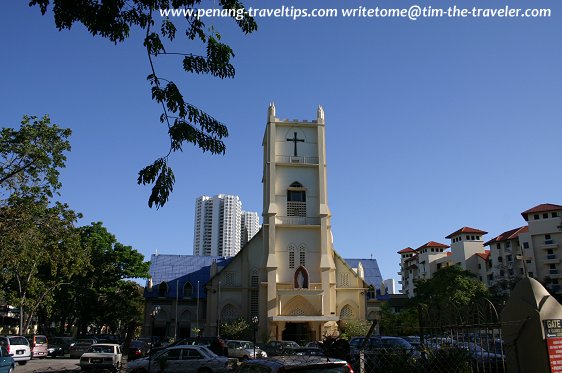 Church of the Immaculate Conception, Pulau Tikus, Penang
(23 January, 2005)

Today the Eurasians are left with just a remnant community, comprising mostly the elderly. Most of the upwardly mobile have left Penang for other destinations including Singapore, Australia and the United Kingdom. Their places of worship are now filled with mostly Chinese Catholics who were recent converts or whose forefathers embraced the faith after the establishment of Penang.
BIBLIOGRAPHY
-
History of the Church and Churches in Malaysia and Singapore
(1511-2000), by Fr. P. Decroix, MEP (2005), ISBN 983-42627-1-X.
-
Diocese of Penang Golden Jubilee
Add your shop/business to this website
The Penang Travel Tips website is a huge website that documents everything in Penang. On top of the hundreds of streets and tourist attractions, I also add in hundreds of shops and businesses.
If you operate a shop business in Penang, or anywhere in Malaysia or Singapore, contact me to add your business/shop into my website. It only a one-time fee, and your shop/business will be listed by location and category, helping your would-be customers find you. To find out more,
CONTACT ME
Visiting Penang? Find the lowest hotel room rates here!
Use our search engine to compare room rates from different hotel booking websites, to find the one that's lowest.
Travelling somewhere?
If you're travelling somewhere, use our online engine to find the online booking site that offers you the best room rates.
Book your hotel room here
If you're coming to Penang, book your hotel room online with Agoda. Agoda offers the best prices on 2,000,000+ properties worldwide.
Start here.
Local Guided Tours of Penang
If you are coming to Penang and need someone to show you around, I can arrange for you a licensed tour guide to take you around. Guides charge a fixed fee of RM360 for taking a small group of up to 10 people on 4-hour walking tours. Walking tours exceeding 4 hours is charged an additional RM90 per hour. Tours are tailored to guest requirement. For more details,
contact tour coordinator
. Other types of tours also available.
For details, click here.
Looking for a book? Get it from Book Depository with free delivery worldwide!
I have just discovered
Book Depository
, a subsidiary of Amazon.com, and I love it. This is where you can buy books and have them sent to you. But unlike Amazon, when you purchase using Book Depository, you enjoy free delivery worldwide.
Give it a try today!
Here's a list of the latest pages I have added or updated on my website.
My YouTube Videos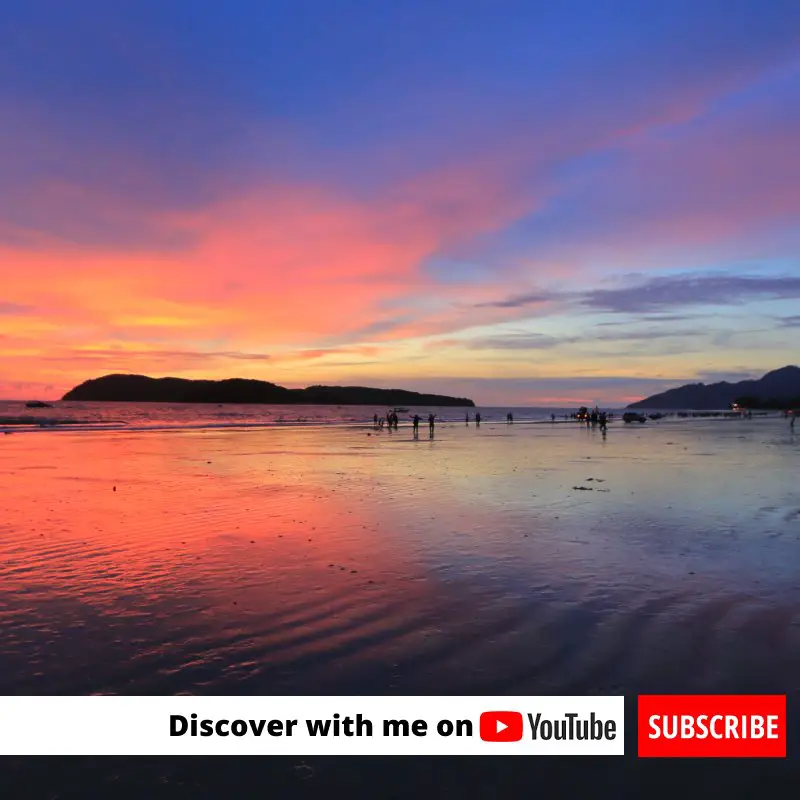 Check out
my YouTube Channel
and don't forget to subscribe!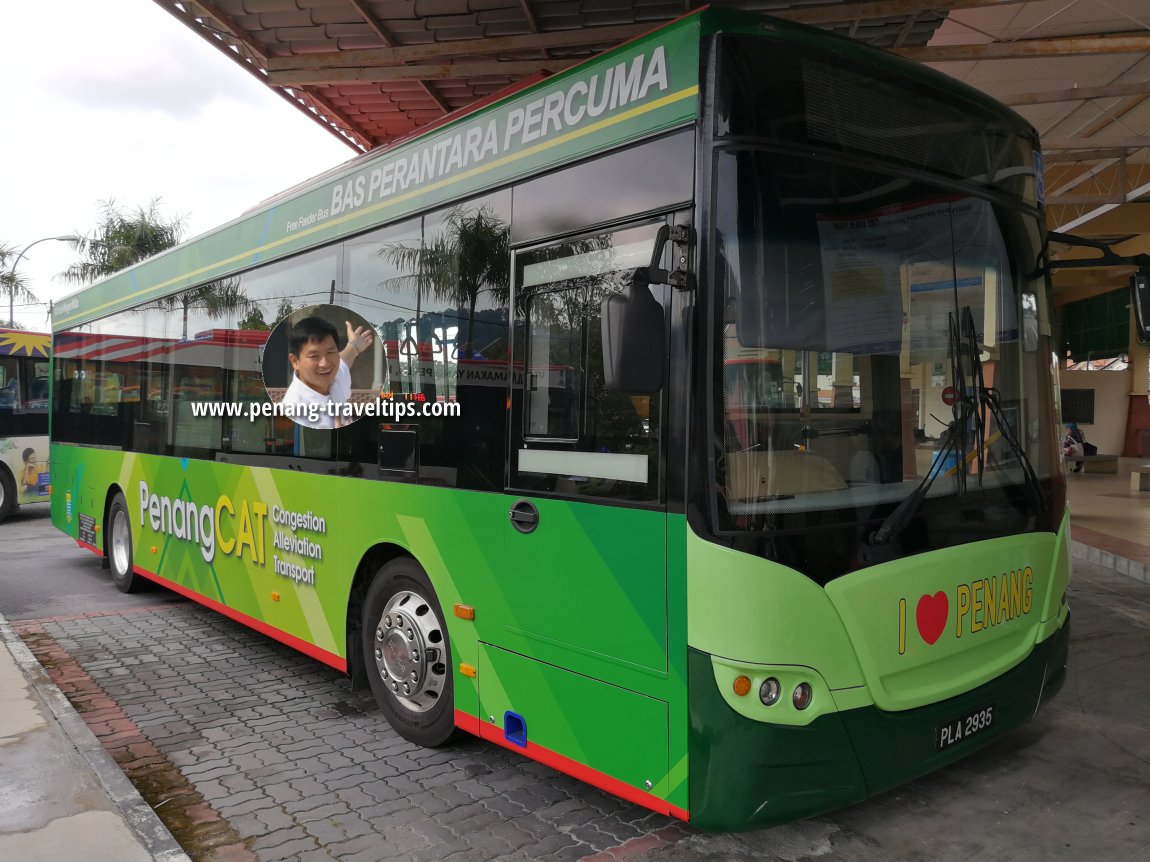 Take the CAT Free Feeder Bus
What's the best way to see Penang on a budget? Take the bus! In Penang, there are at least 12 absolutely
FREE
bus routes which cover almost every major neighbourhood on Penang Island and Penang Mainland. All you need to do is hop aboard!
Details
Vital Links
Book Your Express Bus Ticket
|
Hire a car
|
Our Recipes
|
Facebook Posts
|
Just Curious
|
Not In The Dictionary
|
Our Flowering Garden
Vital Links
Book Your Express Bus Ticket
|
Engage a Tour Guide for Penang
|
What's Up at Penang Hotels
|
Hire a car
|
Facebook Posts
|
Our Recipes
|
Our Flowering Garden
|
Guide Book on Penang Durians
Discover the World
About Me
Thank you for visiting
my website
. I started it in 2003, and today it has over twenty thousand pages of information. My name is
Timothy Tye
. I would be very pleased if you enjoy the information I have put together.
As a Christian, I hope that through this website, I am able to deliver God's message to all who need it, anywhere in the world. If you are open to hearing it, please read
God's Good News to You
.
If you wish to contact me, please use this
contact form
. And don't forget to
follow me on Facebook
. See you!
Copyright © 2003-2018
Timothy Tye
. All Rights Reserved.