Architecture
students and enthusiasts are likely to be delighted in exploring George Town, Penang, for it has an unmatched ensemble of structures representing various periods of regional history. Indeed, not only does George Town have the largest number of pre-Second World War shophouses, it also has well-preserved examples of urban structures going back to the early 19th century. These buildings are older than major cities in Malaysia, including Kuala Lumpur, Ipoh and Taiping, or any in Singapore. Only a few houses along Heeren Street, and First and Second Cross Streets of Malacca are older.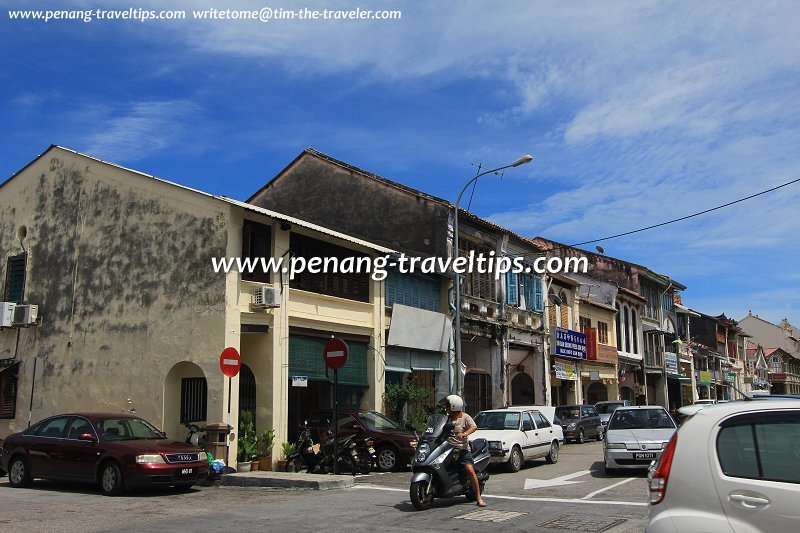 Within a single stretch of street in inner George Town may be buildings from various periods of history
(25 July, 2012)
To view and appreciate this rich ensemble of structures, one has to visit the inner core of the city, specifically the "original George Town" laid out by
Captain Francis Light
upon his arrival in 1786. That area was originally bounded by Light Street to the north, Beach Street to the east, Pitt Street to the west, and initially Market Street to the south, but extended to Chulia Street within Light's lifetime.
The streets within the original town are:
Extent of Francis Light's George Town
The original George Town during the time of Francis Light is in fact smaller than the area designated as a World Heritage Site, which includes part of George Town developed in the 19th century, long after the demise of the settlement's founder. Below is the map showing the core and buffer zones.
George Town World Heritage Site
Immediately outside the original town are other streets that were laid out as George Town expanded outward. While within the original town the structures have been townhouses of some sort from the start, those outside this area - those west of Pitt Street and south of Chulia Street - began as village houses that were replaced by townhouses in a later period, particular after the mid 19th century.
Alas, none of the structures built during Francis Light's lifetime are standing today. Almost all were first built of wood with attap roofing. The earliest extant date from the early 19th century. These too may have begun life as wooden structures with attap roofing, only to be reincarnated in bricks following numerous fires that razed various parts of George Town.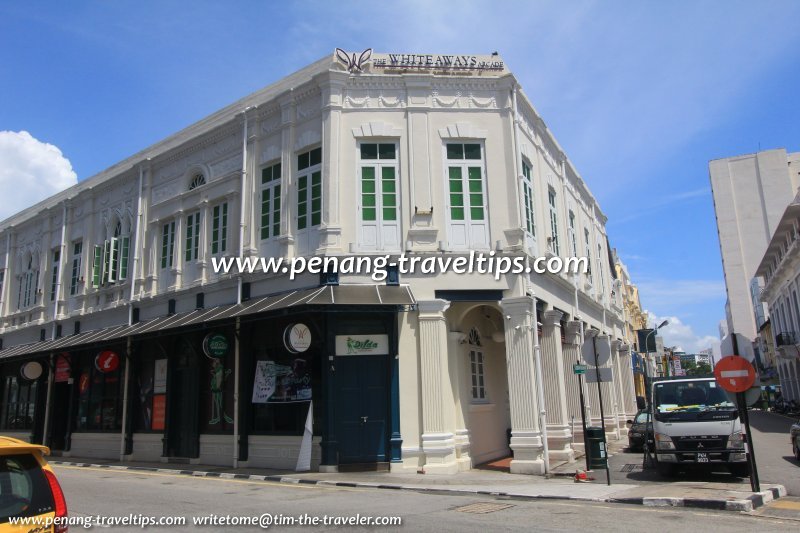 Buildings on the east side of the original George Town are not the oldest, though the land they are built on is used the longest
(10 May, 2012)
Today structures of various periods stand side by side. Two buildings adjacent to one another may have been built a hundred years apart. The majority of the buildings on the east side of town - those along Beach Street and the eastern end of Bishop Street and Church Street - are not as old, even though the site has been in use the longest. Being the most important part of George Town, those same plot of land have been rebuilt over many times.
To find the oldest structures in George Town, you have to explore the streets outside the commercial core. Those are the streets on the western and southern part of the original town, specifically Queen Street and China Street. Although they are of modest dimensions, these shophouses provide an important insight to the architectural of that early part of George Town's history.
The whole ensemble of George Town buildings may at once appear overwhelming. To help you appreciate the structures, the various architectural styles and periods they belong, I have grouped them below according to specific characteristics, functions and periods. Some are within the original George Town while others located in areas that were developed later.
George Town on Google Maps Street View
Architectural Styles and Periods
Buildings that appear in the early 19th century style do not necessary have to be built during that period. Many of the simple shophouses may have been built later, particularly if they are located outside the original town, for owners of modest means. On the other hand, buildings of later styles are unlikely to be built any earlier than their styles dictate, as this would have placed them "ahead of their time".
Outside the original town, George Town was composed of a scattering of villages, inhabited mostly by Malays and Indians. Only after the mid 20th century do shophouses began to replace the initial village houses.
Thank you for using my website!
arrange for you a tour guide and/or driver
to show you around. If you are traveling by bus anywhere in Malaysia or Singapore, you can
book your bus ticket
. If you seek accommodation, you can
get hotel room rates
.
As a Christian, I hope that through this website, I am able to deliver God's message to all who need it, anywhere in the world. If you are open to hearing it, please read
God's Good News to You
.
If you wish to contact me, please use this
contact form
. And don't forget to
follow me on Facebook
. See you!