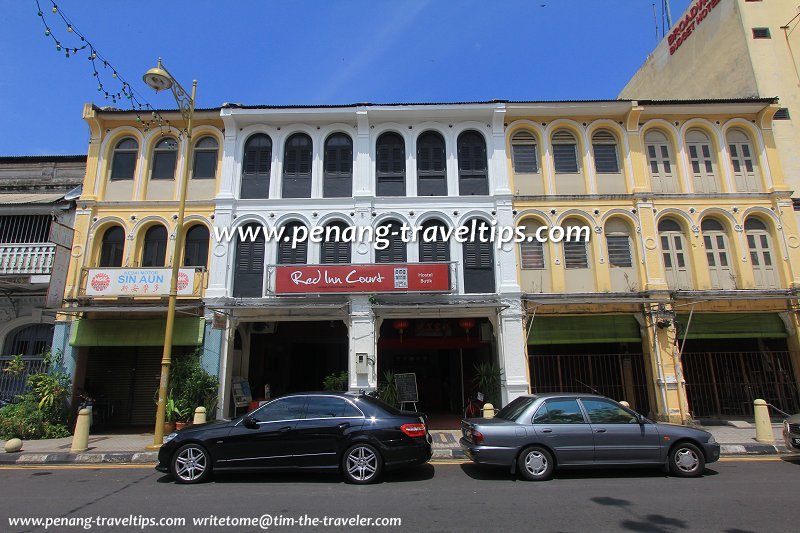 Nos 35A, 35B, 35C, 35D and 35E Pitt Street are an example of the Straits Eclectic style building in George Town
(22 July, 2012)
Straits Eclectic
is a form of architectural style prevalent in vernacular shophouses in George Town, Penang, from the early 20th century. What style is this? The "man in the street" would probably call this the "rojak" style while a yuppie at Starbucks would refer to it as the "fusion" style. In essense, the Straits Eclectic is the architectural manifestation of east meeting west. Elements of European architecture are incorporated into properties that usually belong to Asia (and very likely Chinese) owners.
The Straits Eclectic style came about during a prosperous era in the history of George Town - the period following discovery of rich quantity of tin in Larut and before the onset of the Great Depression. It was also during a period when George Town experience an influx of Chinese immigrants. Many of the most ornate clan temples of George Town were built during this period of plenty.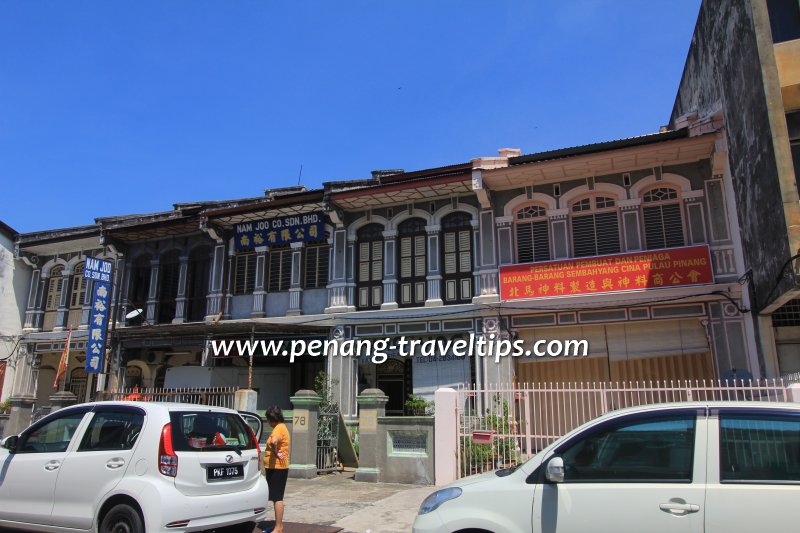 Straits Eclectic-style townhouses along Malay Street
(28 January, 2013)
There are two types of Straits Eclectic terrace house in George Town. One is the traditional shophouse, where the ground floor is used as a shop, while the upper level is the living quarters. The other is the townhouse, where both the ground floor and upper floor constitute a single residential unit. By default almost all Straits Eclectic terrace houses are double storeys or more, with single-storey terrace houses being the exception rather than the norm. You can easily tell the Straits Eclectic style townhouse by looking at its first floor windows. There would usually be three arched openings (occasionally two). In these openings are full-length windows. Each window comprises a pair of full-length shutters.
The top part of the shutter has jalousie or wooden blinds or louvers, while the bottom part is a flat panel. These windows do not open to balconies. Most open only at the jalousies though some are full-length. To prevent people especially small children from falling out of them, these full-length windows would usually have a wooden railing or baluster, again ornately carved. Depending on the amount of ornamentation, the Straits Eclectic style is occasionally divided to the
Early Straits Eclectic
, which is more sparse, and the
Late Straits Eclectic
, which tends to be more ornate. There are likelihood over overlap with other styles, so one can always aspect some structures to be "eclectic" in this regard. This style was in vogue from the early part of the 20th century to the late 1930s, when the Art Deco style started to gain popularity.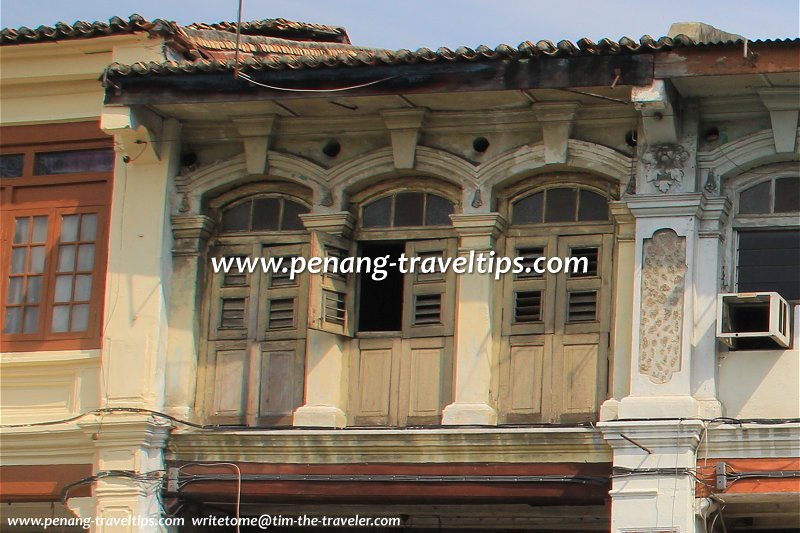 Straits Eclectic Style Windows, Bridge Street (Jalan CY Choy)
(30 July 2012)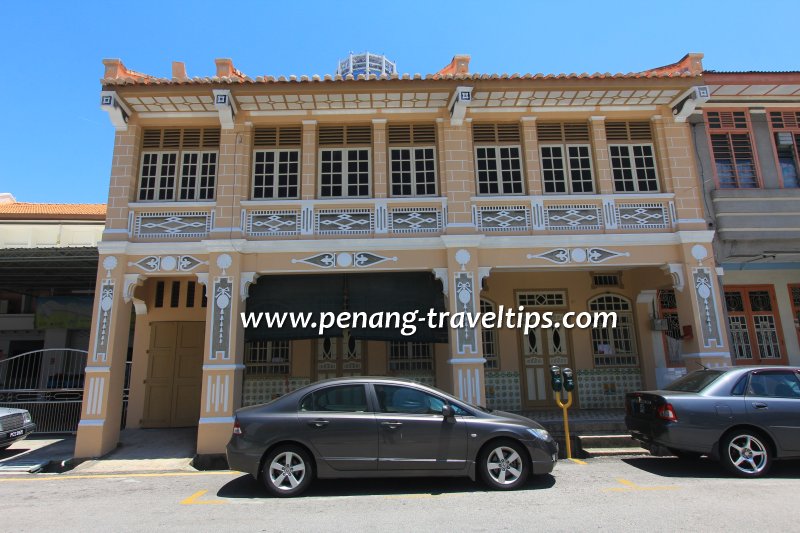 Restored terrace houses on Kinta Lane
(20 March, 2013)
Many of the well-preserved and restored Straits Eclectic Style of Shophouses and Townhouses in George Town stand as a testament to a chapter in Penang's history when the city experienced abundant growth and prosperity. The opulence is reflected in the rich ornamentation. The pilasters, spandrels, every possible blank space would be embellished with stucco decorations.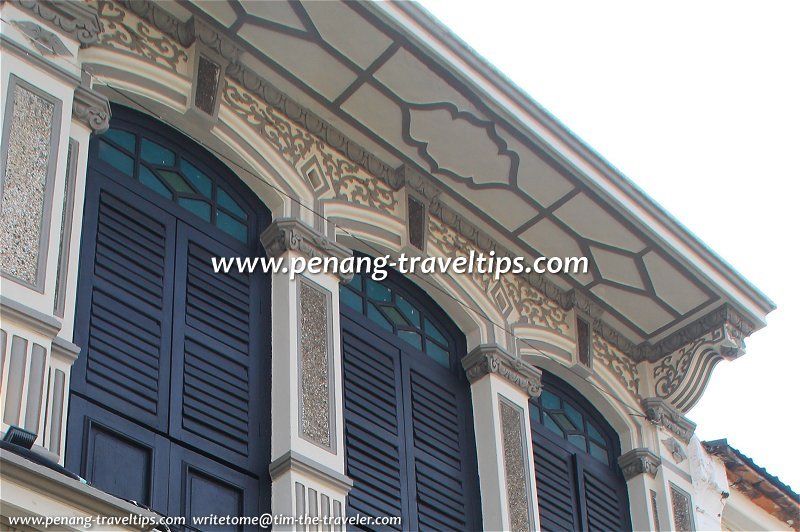 Stucco decoration at Noordin Mews
(30 July 2012)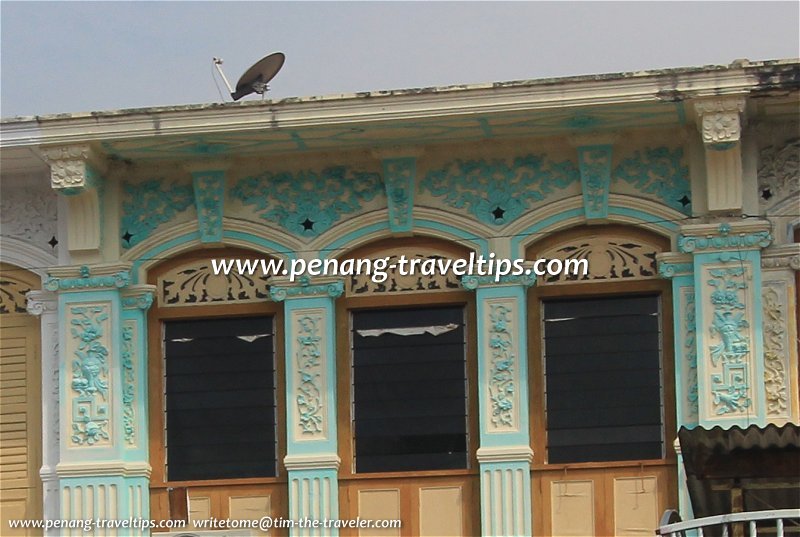 Floral ornamentation on a Late Straits Eclectic shophouse along McNair Street
(30 July 2012)
Where to view Straits Eclectic Houses in George Town
Muntri Street has such a wonderful ensemble of Straits Eclectic houses that I decided to create a page specially to showcase them to you. View here the
Straits Eclectic Houses of Muntri Street
. In addition, you should also check out the townhouses along
Macalister Lane
and shophouses along
Kinta Lane
and
Kek Chuan Road
.
Examples of Straits Eclectic Buildings in George Town
The following are some of the Straits Eclectic-style shophouses in George Town that I have described.
Straits Eclectic Shophouses outside George Town
The Straits Eclectic-style shophouses can be found in all main settlements in Penang, and not just within George Town. You can see this type of shophouse along the main road such as at Dato Kramat Road, Jalan Air Itam and at the pekan of Bayan Lepas and Balik Pulau.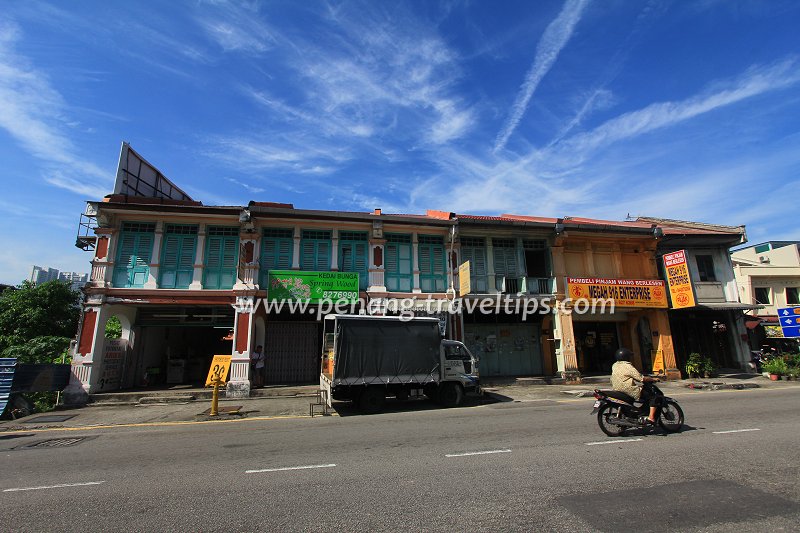 Straits Eclectic shophouses in Kampung Baru, Air Itam
(18 May, 2013)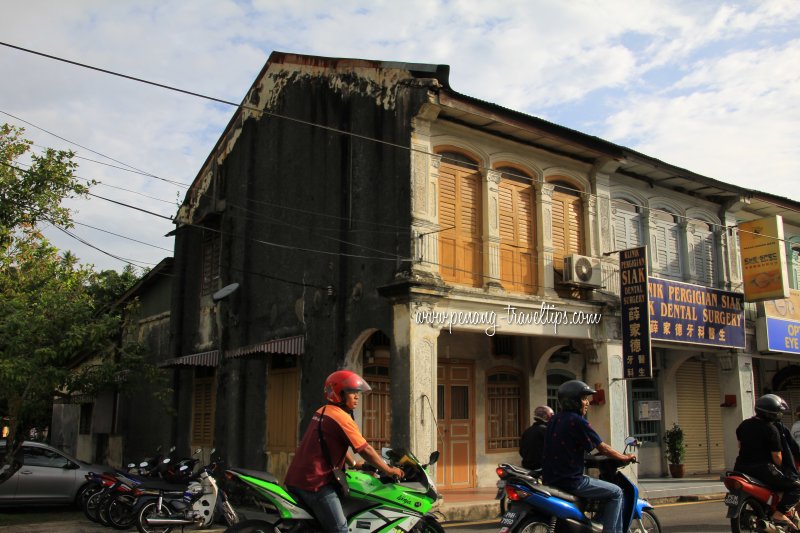 Late Straits Eclectic townhouses in Bayan Lepas
(4 February, 2014)
Thank you for using my website!
arrange for you a tour guide and/or driver
to show you around. If you are traveling by bus anywhere in Malaysia or Singapore, you can
book your bus ticket
. If you seek accommodation, you can
get hotel room rates
.
As a Christian, I hope that through this website, I am able to deliver God's message to all who need it, anywhere in the world. If you are open to hearing it, please read
God's Good News to You
.
If you wish to contact me, please use this
contact form
. And don't forget to
follow me on Facebook
. See you!