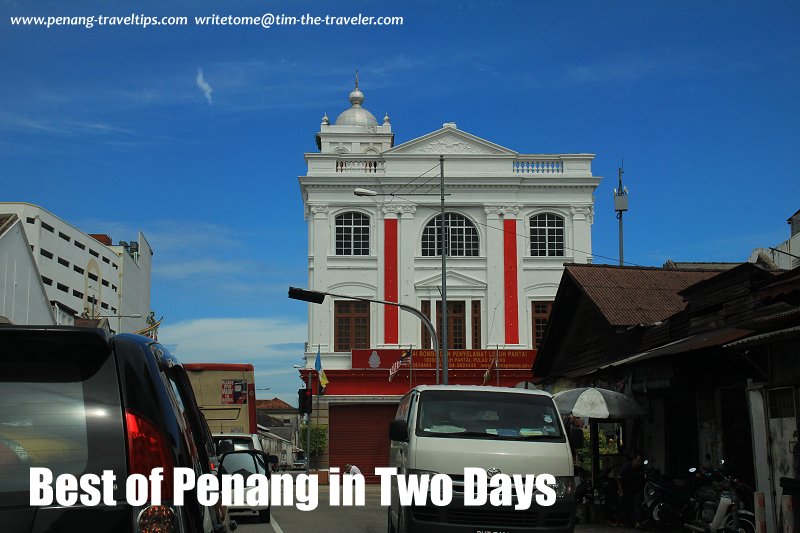 Best of Penang in 2 Days
(18 February, 2012)

Best of Penang in Two Days
is the itinerary for a self-guided tour of Penang Island which you can do in two days. I create it to help people get to know Penang Island and have the opportunity to visit all the must-see sights. It is ideal for people who have only two days to see "everything" in Penang. So, if you are coming to Penang for a weekend, this self-guided tour will be useful.
Terms of Use
You may print out any of the pages in Penang Travel Tips for your personal reference. Do bring it along when you come to explore Penang. If you find the information useful, please mention and link it to your website, blog or forum. Please do not extract or copy the content to your site or blog, just link to it please. If you wish to use the photos in this website for your site or blog, please ask for my permission first.
Guided Penang Tours
There's no comparison to engaging someone to guide you around. If you get an experience tour guide, he/she will be able to provide you fascinating details about the sights which will make your discovery of Penang all the more entertaining. There's a price to pay for someone's time, of course. If you wish to engage a tour guide, contact me (my email address is at the end of this article) and I'll arrange one for you, for both walking tour or coached tour. I myself do take small groups on walks and coach tours, whenever I am available, so if the timing is right, I can also guide you around.
Having said that, getting a tour guide is optional. That's because you can really explore Penang on your own using the notes in Penang Travel Tips.
Now let's get started ...
Okay, assuming you only have 2 days to see Penang, here's the Best of Penang in Two Days. On the first day, we will explore George Town on foot. On the second day we will explore the other places in Penang relying on public bus. Sights are mentioned with links. You should visit the links for details of each sight, accompanied by photos.
Day 1
On your first day in Penang, we will go on foot (or as they say in Penang, take "Bus No. 11") to explore George Town. It is quite a compact city and can easily be covered by walking. We will start at the Esplanade, the section where the British landed in 1786 and opened it as a British trading port.
Morning
Our self-guided tour begins at the
Queen Victoria Diamond Jubilee Memorial Clock Tower
. Talk along
Jalan Tun Syed Sheh Barakbah
. Enjoy the view of the sea and the George Town skyline. See
Padang Kota Lama
, the British parade field. It was dense forest when
Captain Francis Light
arrived. Visit
Fort Cornwallis
, the biggest intact fortress in Malaysia.
Coming out of Fort Cornwallis, continue along Jalan Tun Syed Sheh Barakbah. Visit the
Cenotaph
. Turn left into
Jalan Padang Kota Lama
. Admire the
City Hall
and
Town Hall
. Visit the
Municipal Fountain
.
Turn right, walk along
Lebuh Light
. Visit
Logan Memorial
and the
Penang Supreme Court
. Visit
Convent Light Street
, oldest Catholic girl's school in Malaysia. If you're allowed entry, go in and look for
Government House
and
Francis Light's Well
.
From Lebuh Light, continue to walk to
Lebuh Farquhar
. Take the pedestrian bridge to cross Lebuh Farquhar, with
St. Xavier's Institution
, oldest Catholic boys' school in Malaysia, in front of you. Walk along
Jalan Sultan Ahmad Shah
(
Northam Road
) until junction of Lebuh Leith, cross the road to visit
Cheong Fatt Tze Mansion
. There are guided tours of the mansion twice a day (at 11:00 am and 3:00 pm, at RM12.00 per person, call them ahead to arrange, at 262 0006).
From Cheong Fatt Tze Mansion, continue along Lebuh Leith, then turn left into
Lebuh Muntri
. Admire the Straits Eclectic townhouses, in varying degrees of preservation, along Lebuh Muntri. At junction of
Love Lane
, turn left. Walk along Love Lane until reaching Lebuh Farquhar again, and turn right. Pass
Church of the Assumption
on your right, then visit the
Penang State Museum
, where you get a vivid introduction to the cultures of the peoples of Penang.
Rest & Lunch
It's time for lunch. From Penang State Museum, walk along Lebuh Farquhar, with
St George's Anglican Church
on your right. Cross
Jalan Masjid Kapitan Keling
(
Pitt Street
), then enter Lebuh Bishop. You are now in the central business district of George Town. There are many coffee shops where you can find lots of interesting Penang food to eat. Try something interesting, among the famous dishes include
Char Koay Teow
,
Hokkien Mee
,
Curry Mee
,
Wan Tan Mee
,
Lor Mee
,
Nasi Kandar
(get acquainted with Penang Food here.)
Take a good rest, refresh yourself. When you're ready, we'll continue our exploration.
Afternoon
On the afternoon part of the day, we will explore Little India and the Armenian Street Heritage Enclave. Depending on where you have your lunch, locate
Lebuh Penang
and walk along it until you reach the area where there's a high concentration of Indian business. That's Little India. Walk along
Lebuh Pasar
(
Market Street
) and turn left (southwards) to
Lebuh King
. At the end of Lebuh King, visit the
Nagore Durgha Shrine
.
Walk along
Lebuh Chulia
until junction with
Lebuh Queen
, then visit the
Teochew Ancestral Temple
, followed by the
Mahamariamman Temple
, the oldest Hindu temple in Penang. Continue along Lebuh Queen, then turn left at the junction with
Lebuh Cina
. Walk along Lebuh Cina until Jalan Masjid Kapitan Keling, and visit the
Goddess of Mercy Temple
, oldest Chinese temple in Penang. Walk along Jalan Masjid Kapitan Keling, admiring the jewellery businesses of the South Indians. Visit
Masjid Kapitan Keling
, which served as a state mosque until the present Penang State Mosque was built.
Continue along Jalan Masjid Kapitan Keling. At the junction with Lebuh Armenian, visit
Hock Teik Cheng Sin
, the
Hokkien God of Prosperity Temple
. Continue along Lebuh Cannon, and visit
Leong San Tong Khoo Kongsi
, the most ornate clan ancestral temple in Penang. Entrance fee is RM5.00. Continue along Lebuh Cannon, and visit the
Acheen Street Mosque
, early Malay mosque built by the Achenese.
Walk along
Lebuh Aceh
, then turn right and reenter
Lebuh Armenian
. Visit
Dr Sun Yat Sen's Penang Base
(if it's open). Continue along Lebuh Armenian, past the Hock Teik Cheng Sin again, and visit
Cheah Kongsi
, another clan association located at the end of a narrow corridor.
Evening
Continue along Lebuh Armenian, into Gat Lebuh Armenian, until you reach
Pengkalan Weld
, preferably during the early evening. Visit the
Clan Jetties
, which look best as the sun is setting. Enjoy the view of the Penang Harbour.
End Day 1 with a nice dinner in one of the coffee shops along Pengkalan Weld, or at any of the fancier restaurants there.
Day 2
On our Second Day in Penang, we will discover the sights outside the historic core of George Town. For this purpose, we will be required to take the bus. In Penang, Rapid Penang bus has the most extensive network of routes, so I will be using it in this self-guided itinerary. My assumption is that you are staying in one of the hotels in George Town, so the bus numbers provided refers to routes from the city. Ask the locals if you're not sure where go alight the bus.
Morning
After breakfast at your hotel, we will visit
Kek Lok Si
, the biggest Chinese temple in Southeast Asia. The buses to take include Rapid Penang 201, 203 and 204. The two main terminals to catch the bus are
Weld Quay Ferry & Bus Terminal
and
Komtar Bus Terminal
. On your way to Kek Lok Si, enjoy the ride as you leave the heart of George Town on your journey to the suburbs. Disembark from the bus at the Ayer Itam Market, a sight in itself, and work your way to Kek Lok Si. Due to the size of the area, you should give yourself a few hours to fully explore Kek Lok Si.
After you're done with exploring Kek Lok Si, you can take a rest at Ayer Itam village, where there are several coffee shops. The specialty at Ayer Itam village is
Laksa
, the most famous of which is located next to the market.
From Ayer Itam, take the bus down to
Komtar
. Any bus with the sign "To Jeti" will be good to take.
At Komtar, you need to change bus, as this time we will be heading north. We are going to Pulau Tikus, to visit the beautiful
Wat Chaiyamangkalam
and
Dhammikarama Burmese Temple
. Take Rapid Penang bus 101 or 104, and get down in
Pulau Tikus town
.
Afternoon
Your visit to Wat Chaiyamangkalaram and Dhammikarama Burmese Temple should take about one and a half hours. Thereafter, you can head back to Pulau Tikus town for lunch. Recommended here is the famous Bangkok Lane Mee Goreng at
Seng Lee Cafe
.
After lunch, catch the bus back to Komtar Bus Terminal. Once again, look for "To Jeti" for the bus direction. We will now explore the southern side of Penang Island. Our next stop is the world-famous
Snake Temple
(I hope you're not squirmish). The bus to take is Rapid Penang 401, which goes to Balik Pulau.
Evening
From the Snake Temple, take Rapid Penang U401 to Teluk Kumbar for your dinner. Tonight, you will enjoy a delightful seafood dinner at "Good Friend" at Teluk Kumbar town. It is located by the seashore, so you can sit and admire the sunset while you enjoy your meal. After the meal, take any Rapid Penang bus ("To Jeti", of course) back to George Town.

Thank you for using my website!
Hello and thank you for reading this page. My name is
Tim
. I wrote this page to compile what I discover, for my own knowledge, and also to share it with people who might find it useful. It is part of three inter-connected websites:
Penang Travel Tips
,
TimothyTye.com
and
Timothy Property Mart
.
I am a real estate agent, food blogger, amateur historian and travel author. This website is an encyclopedia as well as a business directory. As a real estate agent, I help people buy, sell, rent and let properties. If you have a property to sell or rent in Penang, Kuala Lumpur, Johor Bahru, Ipoh or Malacca, my team of realtors and I can help you. If you operate a restaurant, can write about your food and promote your restaurant. I can also help you engage other food bloggers to write about your food. And finally, if you are operating a business anywhere in Malaysia, you can add your shop to this website and be found by lots of customers. All you need to do is contact me with what you need.
contact Tim
You can do many things directly from this website. If you are visiting Penang, I can
arrange for you a tour guide and/or driver
to show you around. If you are traveling by bus anywhere in Malaysia or Singapore, you can
book your bus ticket
. If you seek accommodation, you can
get hotel room rates
.
As a Christian, I hope that through this website, I am able to deliver God's message to all who need it, anywhere in the world. If you are open to hearing it, please read
God's Good News to You
.
If you wish to contact me, please use this
contact form
. And don't forget to
follow me on Facebook
. See you!
Copyright © 2003-2019
Timothy Tye
. All Rights Reserved.