Let me tell you all
about Penang
! As you probably already know, Penang is an island off the west coast of Peninsular Malaysia. It is located at a Latitude of 5°22'8.37"N and Longitude of 100°15'40.00"E (key in the location on Google Earth to find it).
Penang Island is one of the components of Penang State. Although is the second smallest state in Malaysia, it is also the most densely populated. Penang state comprises Penang Island (293 sq km) and Penang Mainland, or Province Wellesley (760 sq km, nowadays called
Seberang Perai
in Malay), which is on the mainland of Peninsular Malaysia. Although Seberang Perai is two-and-a-half times bigger than Penang Island in size, its population (54%) is only slightly more than that of the island.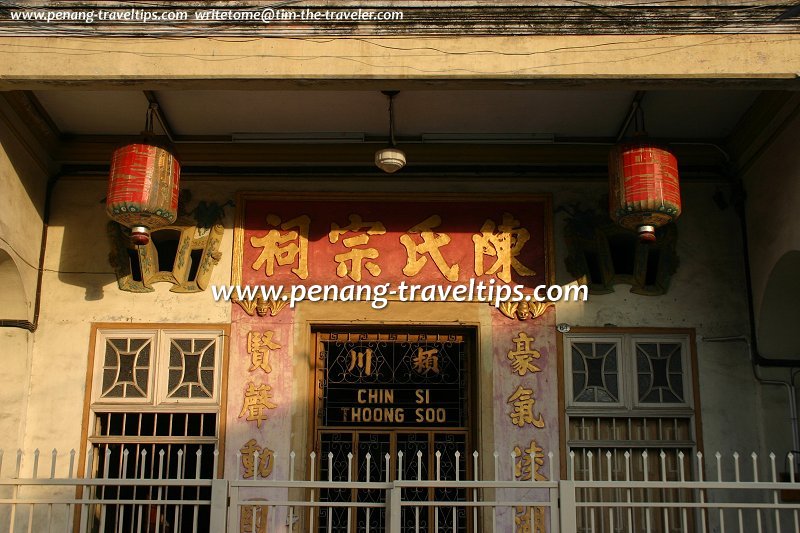 Chin Si Thoong Soo, one of the clan houses in Penang.

The sea, consisting of the North Channel and the South Channel, separates Penang Island from Seberang Perai. These two halves of Penang are connected by the 8-mile (13.4km) long
Penang Bridge
, the longest bridge in Malaysia and one of the longest in Asia. Since its completion over twenty years ago, the Penang Bridge has seen traffic volume exceeding capacity, resulting in regular jams and necessitating the planning for the
Second Penang Bridge
, even longer than the present one. This second bridge will one day connect Batu Maung on the island and Batu Kawan on the mainland.
The name "Penang" itself comes from the colonial (we were under the British until 1957) pronunciation of the original Malay name of the island, Pulau Pinang. Today the locals still call it Penang when speaking in English, though you may find that outside the English-speaking world, the island is often known and appear on maps as "Pinang", (among the Thais, for example) not even "Pulau Pinang". In a similar sense, the island is known in
Hokkien
as Pi
3
Nang
3
Su
3
.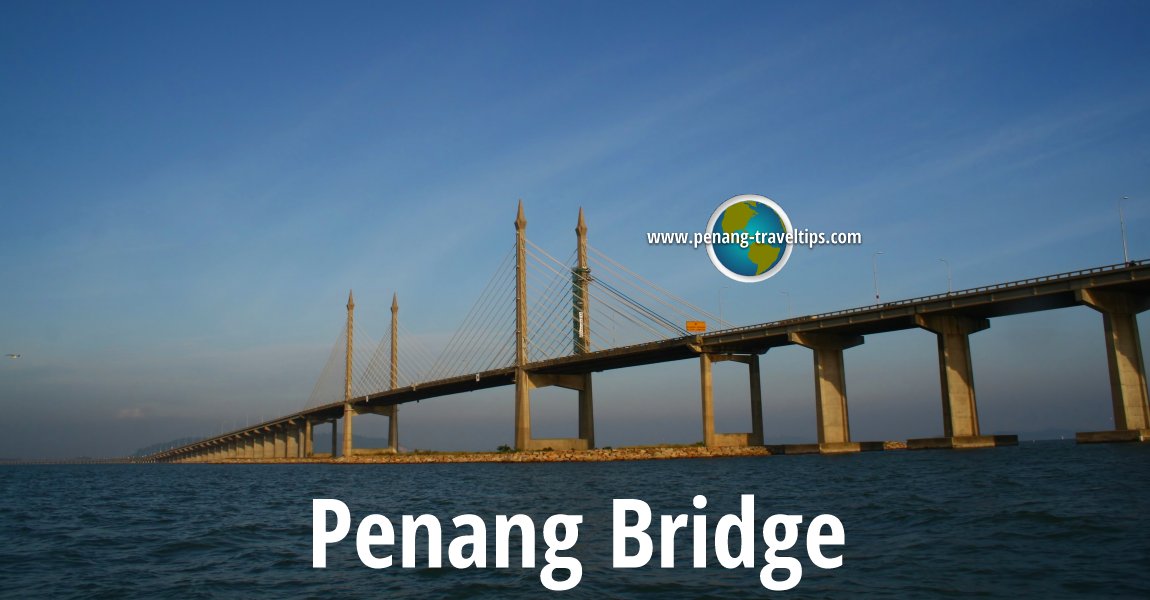 Penang Bridge, a symbol of modern Penang.

The capital of Penang is George Town (location: 5°25'8.59"N, 100°20'36.54"E). That's the correct way of writing it, even though the locals often misspell it as Georgetown.
George Town is located on a cape to the northeast of the island. The very tip of the cap is the site of the earliest British settlement, when they opened the island as the first British trading port at the end of the 18th century (to know more, read the
History of Penang
). The early original settlement was bounded by
Light Street
,
Beach Street
,
Pitt Street
and
Market Street
(shortly thereafter extended to Chulia Street). Today a lasting reminder of British occupation stands there in the form of
Fort Cornwallis
.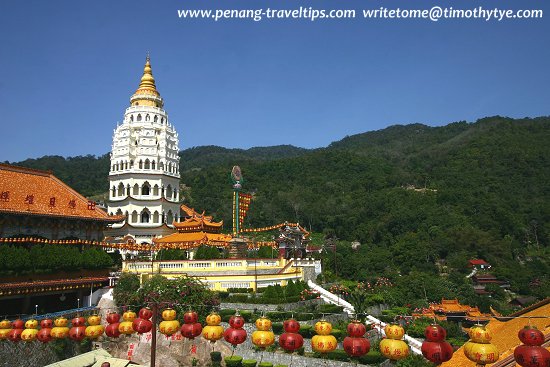 Kek Lok Si Temple, one of the most visited tourist attraction in Penang.

The area within a radius of about a mile from
Fort Cornwallis
forms the old quarters of George Town, today the
George Town UNESCO World Heritage Site
. This area holds some of the oldest and historically significant structures on Penang Island. You can find here whitewashed colonial buildings alongside gleaming temples, mosques, churches, labyrinthine alleys and all the sites that most tourists come to visit.
The area that constitutes George Town extends roundly to the
Gurney Drive Roundabout
to the north, and the
Gelugor Roundabout
to the south. It is
not common
to hear the locals talk about George Town (it has gained popular usage since the city was inscribed by UNESCO). If you hear them say, "I'm going to town", it means they are going to George Town. If they say, "I'm going to Penang", it means they are going to Penang Island.
Although Seberang Perai is also part of Penang State, the places there are usually referred to by their respective names, ie Butterworth, Perai, Bukit Mertajam, to name a few. To the chagrin of people living on mainland Penang, they are often made to feel like they are second-class to the island folks, although mainland Penang is twice the size of Penang Island. Though efforts are afoot to achieve greater integration, there is still an insular feel of meaning the island when the word "Penang" is spoken.
With over 2000 people on every square kilometer, Penang is the most densely populated state in Malaysia. The metropolitan area of Penang, which includes Penang Island, Seberang Perai as well as Sungai Petani and Kulim in neighboring Kedah, has a total population of 1.6 million, second only to the metropolitan area of the Klang Valley which includes the federal capital, Kuala Lumpur; and ahead of the Johor Bahru metropolitan area of 1.1 million. Although Penang is one of the most industrialized states in Malaysia, its capital George Town has managed to retain much of its old world charms.
George Town was the first town in the then Malaya to receive city status, by a royal charter granted by Queen Elizabeth II, just before the country achieved independence. For that reason, you often hear it being called the City of George Town, especially among the locals.
Today Penang Island is a major tourist destination, one of Malaysia's finest in fact. People from all over the world come here to experience its unique blend of different cultures, taste food that makes Penang famous throughout Malaysia, laze on its beaches and explore its old city enclaves and heritage sites.
Perhaps due to the easy-going nature of the island, many visitors find it to be a very charming destination. Indeed many have come to stay permanently. If you are one of those who are interested to make Penang your home, we certainly welcome you with open arms. Click on
Malaysia My Second Home
(coming soon) to find out more about the programme.
Penang Condominium Market
Buy, sell, rent, let Penang condominiums. So easy!
Enter
Penang Residential Property Guide
Tips for buying and investing in residential properties in Penang
Enter
Timothy Property Homepage
The website that helps people acquire the home of their dream and invest in properties prudently. To buy, sell, rent, let property,
email me
or
WhatsApp me
at +60-12-429 9844.
Add your shop/business to this website
The Penang Travel Tips website is a huge website that documents everything in Penang. On top of the hundreds of streets and tourist attractions, I also add in hundreds of shops and businesses.
If you operate a shop business in Penang, or anywhere in Malaysia or Singapore, contact me to add your business/shop into my website. It only a one-time fee, and your shop/business will be listed by location and category, helping your would-be customers find you. To find out more,
CONTACT ME
Discover the World
About Me
Thank you for visiting
my website
. I started it in 2003, and today it has over twenty thousand pages of information. My name is
Timothy Tye
. I would be very pleased if you enjoy the information I have put together.
As a Christian, I hope that through this website, I am able to deliver God's message to all who need it, anywhere in the world. If you are open to hearing it, please read
God's Good News to You
.
If you wish to contact me, please use this
contact form
. And don't forget to
follow me on Facebook
. See you!
Copyright © 2003-2019
Timothy Tye
. All Rights Reserved.