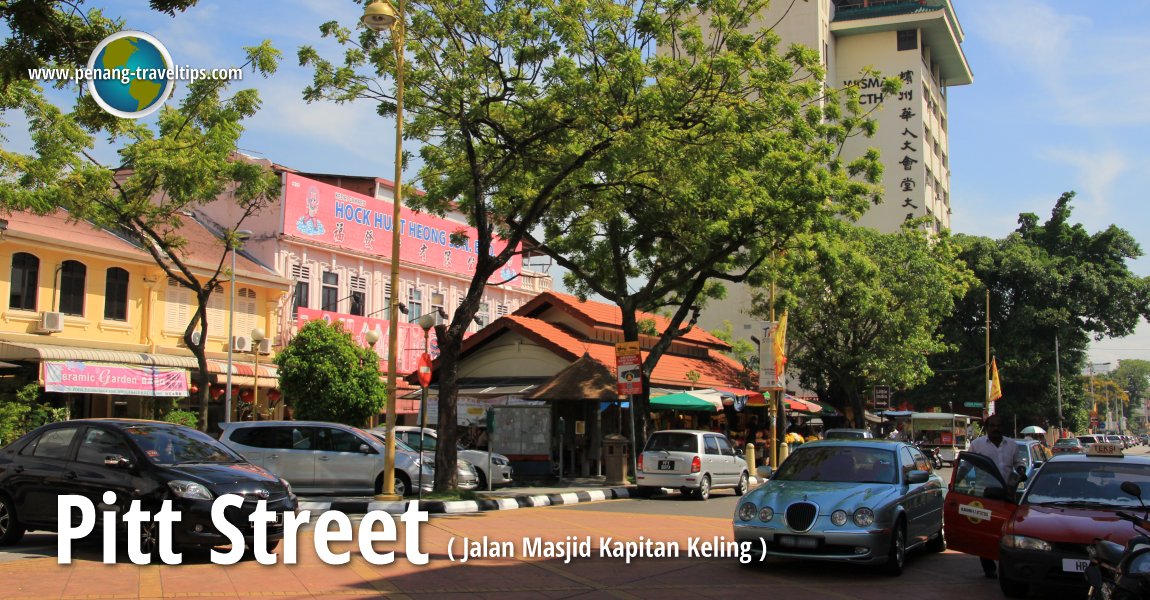 Pitt Street, George Town, Penang
(15 September, 2012)

B. Melayu
Pitt Street
(Malay: Jalan Masjid Kapitan Keling) is one of the four major streets in the Original Grid of George Town laid out by
Captain Francis Light
when he established his trading settlement.
It is said that the choice of name for this street came as an afterthought. After naming the first street of his settlement after himself, the town after the British monarch
King George III
, the island after the future
King George IV
, Light realised that he may have offended the prime minister for not naming anything after him. Hence, he decided to name Pitt Street after then then prime minister,
William Pitt the Younger
.
List of sights along Pitt Street
Accommodation on Pitt Street
The following is a list of accommodation that you can find on Pitt Street. The ones which you can book online via Agoda includes a "check rate" link.
Street Art on Pitt Street
"Bullock Cart Wheel" Sculpture (GPS: 5.41831, 100.33889)
"Tok Tok Mee" Sculpture (GPS: 5.41831, 100.33889)
Sights along Pitt Street
Eateries and Food Stalls on Pitt Street
Businesses along Pitt Street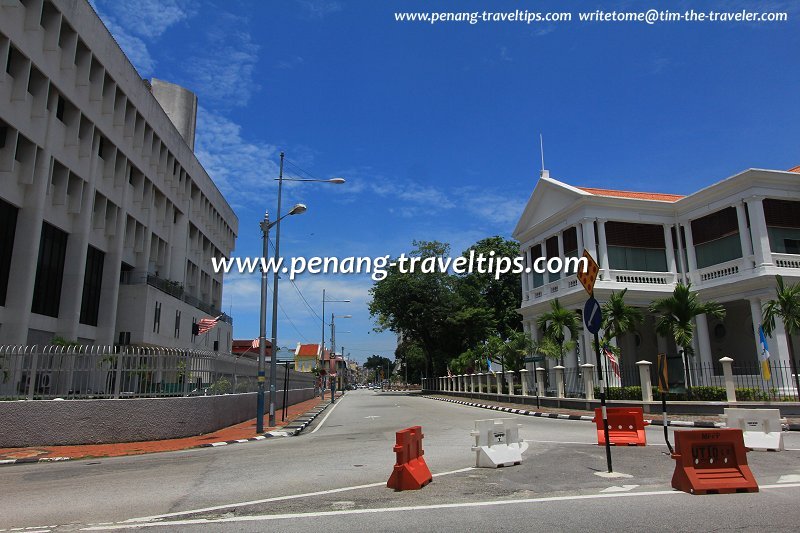 The junction of Pitt Street with Light Street
(21 August, 2011)

About Pitt Street
Pitt Street was already shown in the earliest existing map of George Town, the Popham map of 1798. During Light's time, Pitt Street was at the very edge of his town, which was bordered by
Light Street
,
Beach Street
and subsequently
Chulia Street
. Today the street, named Jalan Masjid Kapitan Keling after the Indian Muslim mosque along it, is one of the major streets within the
George Town World Heritage Site
core zone.
Pitt Street provides a cross section view of the cosmopolitan nature of George Town. At its outermost section, or rather easternmost, Pitt Street wears a European character. This was where the earliest British officers had their homes, centred upon their house of worship, the
St George's Anglican Church
.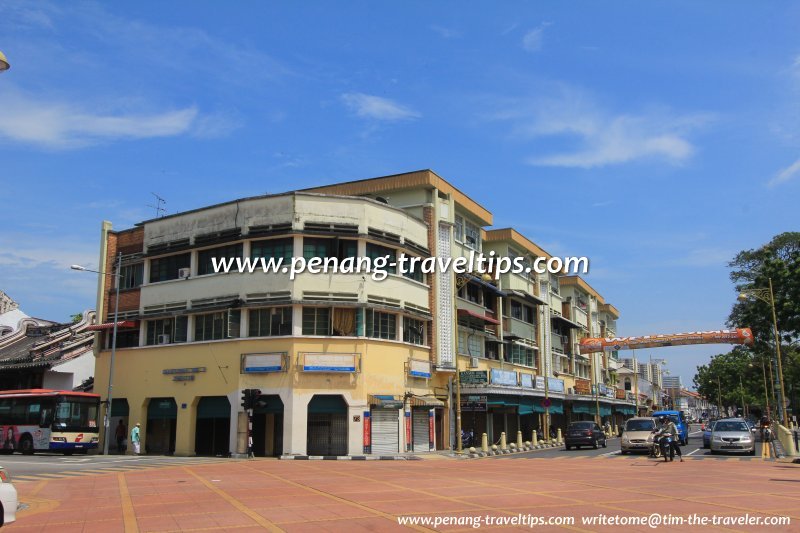 Pitt Street and Chulia Street junction
(22 July, 2012)

By the middle part of the 18th century, as the Europeans moved into the suburbs (to
North Beach
and then later on to
Western Road
), the properties along the coast were bought over by wealthy Chinese tycoons. People like
Koh Seang Tat
,
Foo Tye Sin
and
Goh Ban Bee
ownest the choicest lots.
As you leave the European section of Pitt Street, you enter the working-class Chinese precinct. This is anchored by the
Kuan Yin Teng Temple
, which once had an uninterrupted view of the sea down
China Street
, which was a predominantly Chinese enclave.
You will notice that the space after the Kuan Yin Temple broadens. In the old days, there used to be a police station here, on the site where today you can see kiosks selling flowers. For that reason, this section of Pitt Street was known as Tua33 Ba3lai4

in
Penang Hokkien
, meaning "big police station".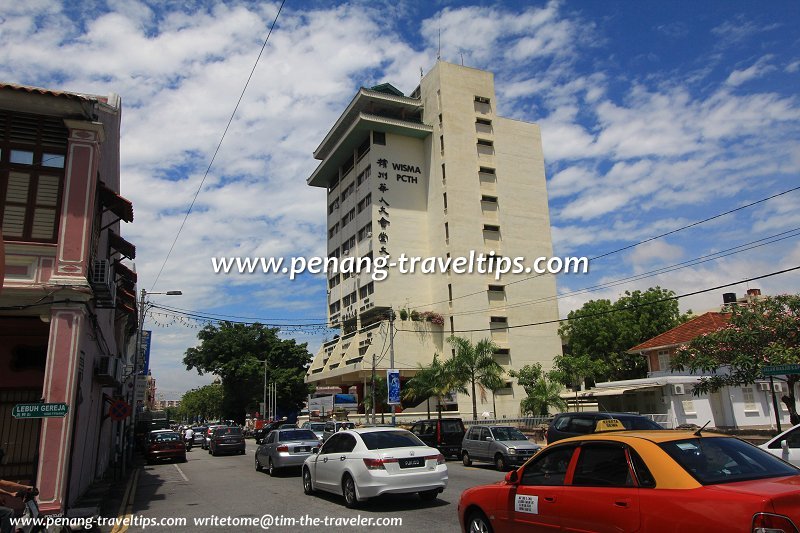 Stretch of Pitt Street near the Penang Chinese Town Hall
(21 April, 2012)

Continuing down Pitt Street, we come upon the rear entrance of the
Sri Mariamman Temple
, an indication that we are skirting the predominantly Hindu part of Light's town. The next junction is with Chulia Street, a thoroughfare populated mostly by communities from the Indian subcontinent. In the old days, the junction was known as Simpang Lelong in Malay, or Elam Muchanti ஏலம் முச்சந்த்தி

in Tamil, both of which meaning "auctioneer's junction." That's because auctions used to be carried out under the
Neem trees
, many of which are still standing today.
Upon crossing Chulia Street, the character of Pitt Street changes again. On the left side are rows of Muslim jewellery shops, while on the right is their main place of worship, the
Kapitan Keling Mosque
. This is the Indian Muslim part of town. The numerous Muslim eateries are located here. A largely forgotten piece of Muslim heritage is the
Madrasah Hamid Arabi
, an old Muslim religious school.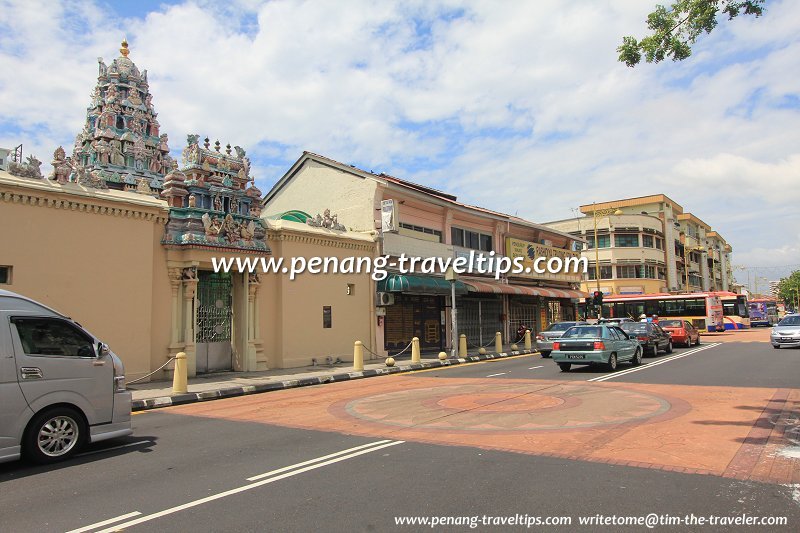 Giant koolam design on Pitt Street in front of the Arumigu Maha Mariamman Temple
(21 April, 2012)

The right side of Pitt Street, at the junction with
Buckingham Street
and
Kampung Kolam
, was once known as Tua33 Chooi1 Ti2 大水池

in Hokkien, meaning "big water tank". This refers to the water tank used by the Muslims of the community for ablution.
The section of Pitt Street between Kampung Kolam and Armenian Street used to be known as Ya3 Kha1 攑跤

, meaning "under the coconut tree", which is self explanatory. You can well imagine the rural nature of Pitt Street back then.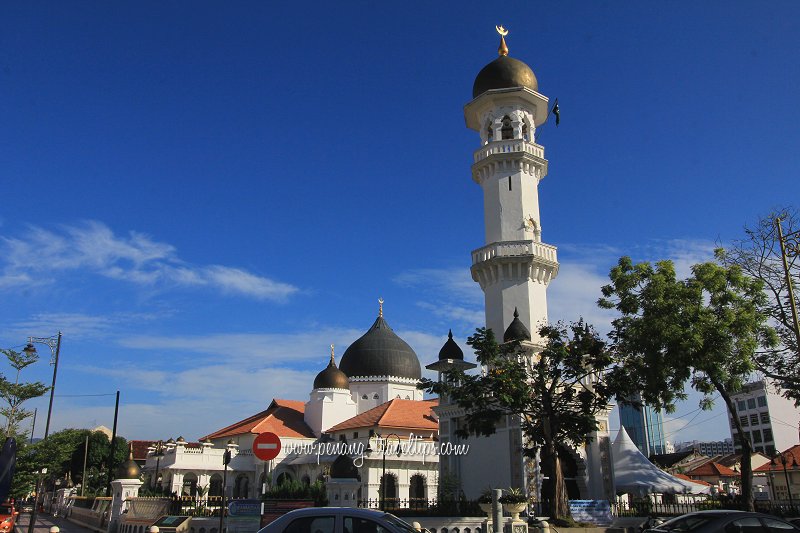 Kapitan Keling Mosque, the grandest landmark along Pitt Street
(30 June, 2014)

The junction of
Armenian Street
signals another character change for Pitt Street. This is where Pitt Street ends, and the street following is Cannon Street, named to commemorate the cannons fired during the Penang Riots of 1867.
The only thing Armenian about Armenian Street today is its name. Of course there once were Armenians in George Town, but they have long packed up and left. The appearance of town here is decidedly Chinese, although in the old days, there used to be Malay and Sumatran kampungs in the vicinity. Remnants of this can be seen in the
Acheen Street Mosque
.
Resurfacing of Pitt Street
A few years ago Pitt Street was surfaced with granite tiles in an attempt to create the appearance of cobblestones. The result drew widespread complaints from users, leading the municipal council to hold a survey, which showed that the public overwhelmingly supported the re-tarring of the street.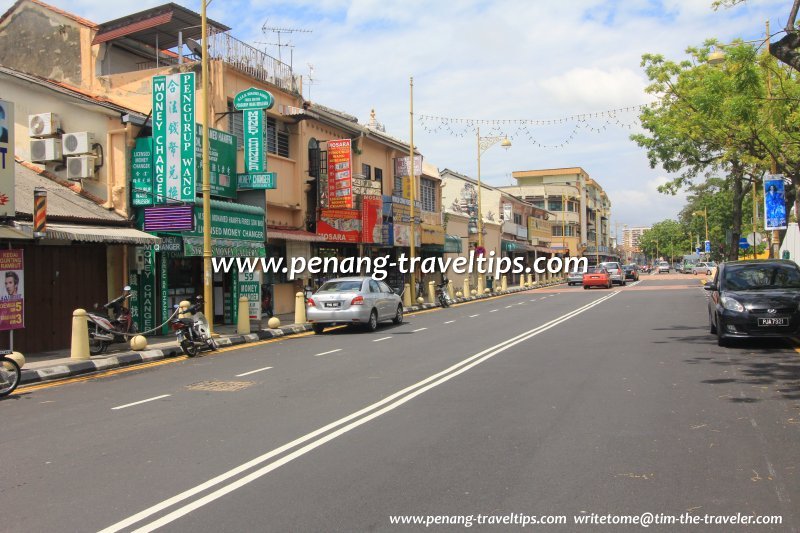 Newly resurfaced Pitt Street after the unpopular tiles were removed
(21 April, 2012)

Property Numbering
Starting from
Light Street
and heading towards
Cannon Street
, properties on the left side of Pitt Street carry odd-number addresses while those on the right side carry even-number addresses.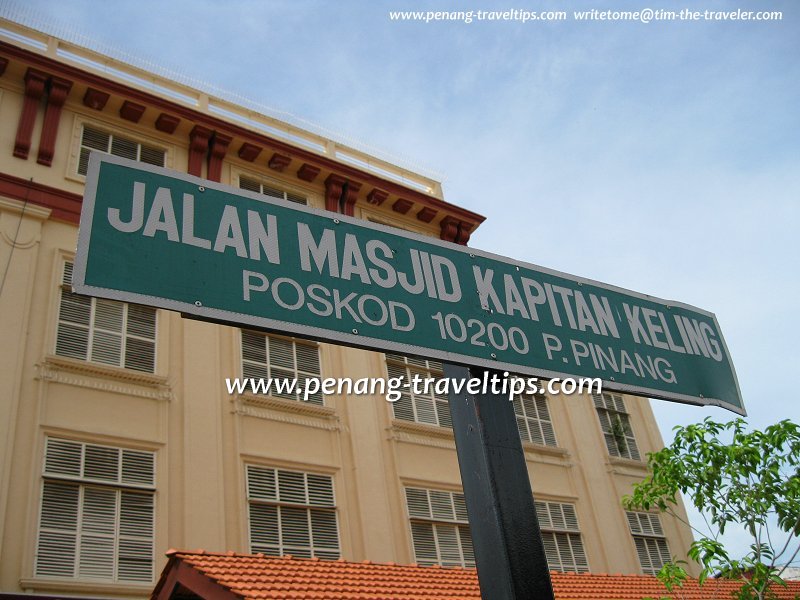 Jalan Masjid Kapitan Keling road sign
(12 November 2008)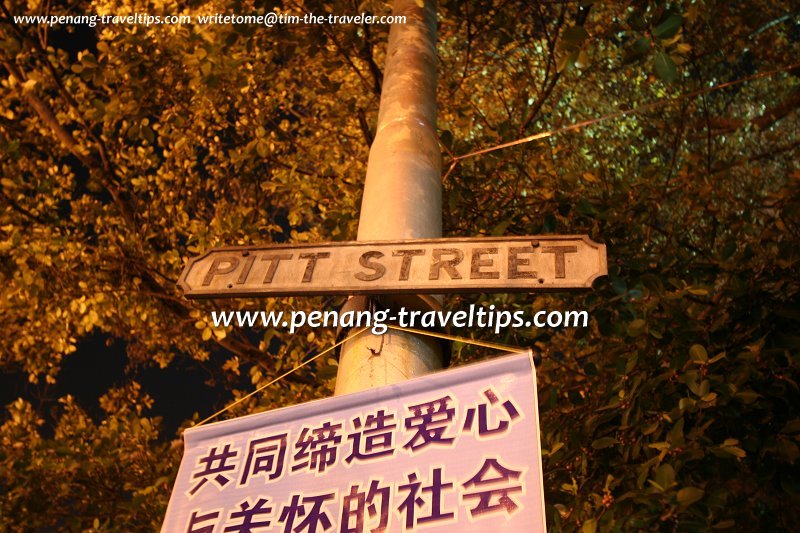 Old Pitt Street road sign
(9 February, 2009)

Properties on Pitt Street
In this section is a selection of photographs showing the properties lining Pitt Street.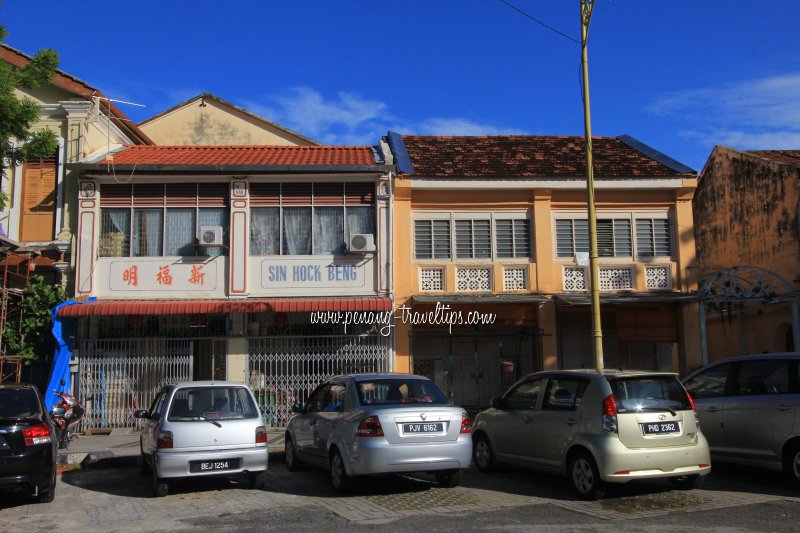 Pitt Street Shophouses: from right to left, their numbers are 156, 156A, 160 and 162
(30 June, 2014)

156, 156A, 160 and 162 is an ensemble of four adjoining shophouse. I am not sure where is No. 158, that instead there is 156A. Anyway, these are all built at the turn of the 20th century.
2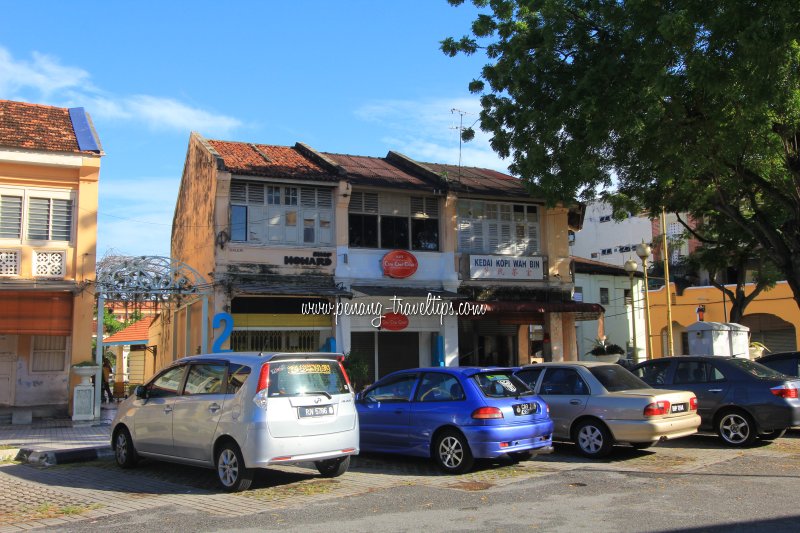 Pitt Street Shophouses: from right to left, their numbers are 156, 156A, 160 and 162
(30 June, 2014)

This cluster of three shophouses are numbered, from right to left, 150, 152 and 154. They presently house Kedai Kopi Wah Bin, Kafe Chin Chai Chiak and Galeri Shop Howard.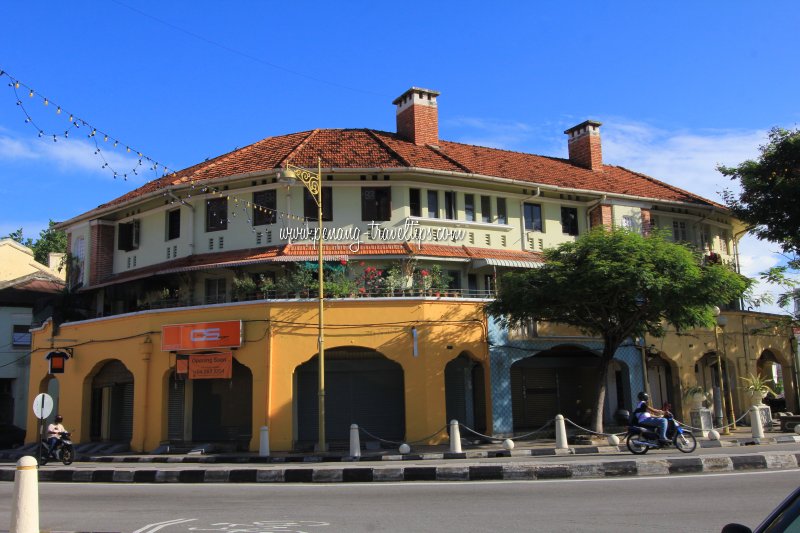 104 & 106 Pitt Street, Penang
(30 June, 2014)

104 & 106 Pitt Street
is the building that wraps around the curve of Pitt Street until Buckingham Street.
Getting there
Rapid Penang
Bus
10
,
103
,
301
and
401
pass through Pitt Street.
Street Art
There are two steel-rod sculptures on Pitt Street. The
"Bullock Cart Wheel" Sculpture
is on the wall near the junction near
Bishop Street
while the
"Tok Tok Mee" Sculpture
is at the junction with China Street.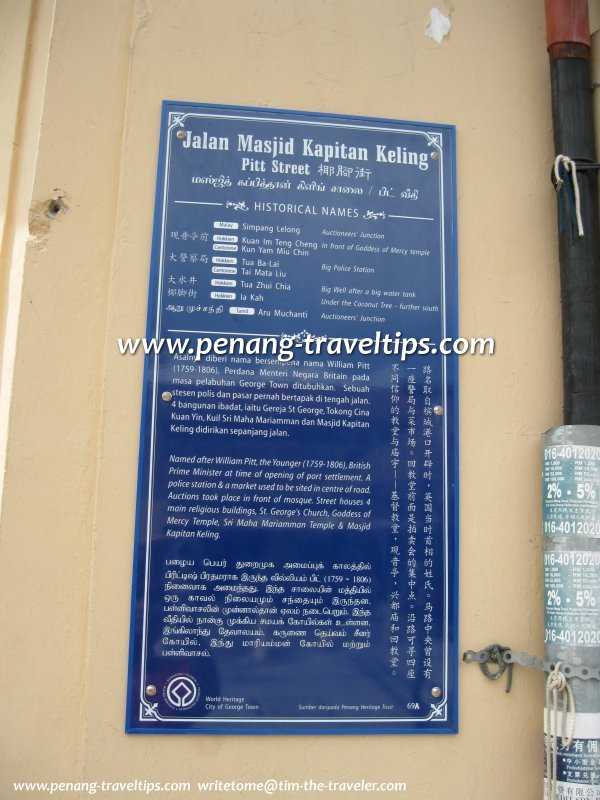 Pitt Street plaque
(12 November 2008)

Updates on Pitt Street
30 April, 2014
: It was reported in
The Star
that Arts-Ed and ThinkCity are working on a project entitled
Journey of Harmony - Understanding Communities and Its Values
which is meant to create greater awareness of the cultural and religious elements of Pitt Street. Residents, worshippers at the various religious sites and tourists are surveyed for their views, and the resulting information will be presented to the public.
References
1. Khoo Salma Nasution,
The Chulia in Penang
(Areca Books, 2014, p.14)
2.
Heritage Buildings of Penang Island
(MPPP, 1994, p.240)
Acknowledgement
1. Penang Travel Tips thanks Mr Nelamegam Malairaja for information on Simpang Lelong.
Important links on this website
What's up at various hotels
Map of Roads in Penang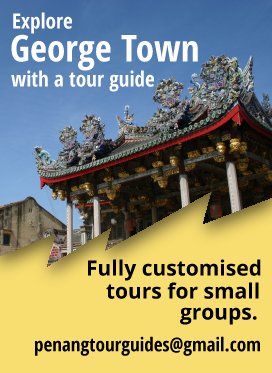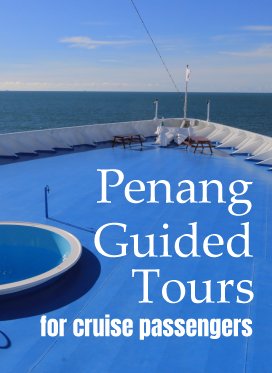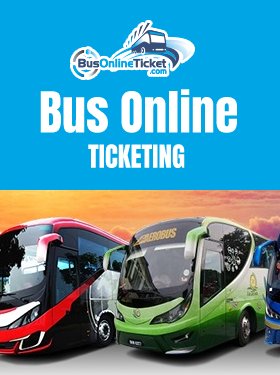 All about me
Thank you for visiting
my website
. I started it in 2003, and today it has over twenty thousand pages of information. My name is
Timothy Tye
. You can call me Tim. I have been writing my website full time since 1 November 2007, and I am enjoying every moment of it. I write my website to satisfy my own curiosity, but I am glad if the information is useful to you.
As a Christian, I hope that through this website, I am able to deliver
God's Good News
to those who need it all over the world. If you wish to contact me, please submit the
contact form
. Thanks again, don't forget to
follow me on Facebook
!
Welcome to my Singapore Travel Tips!
On top of writing Penang Travel Tips, I am expanding my writings to cover Singapore. These are the pages completed so far.
Copyright © 2003-2018
Timothy Tye
. All Rights Reserved.