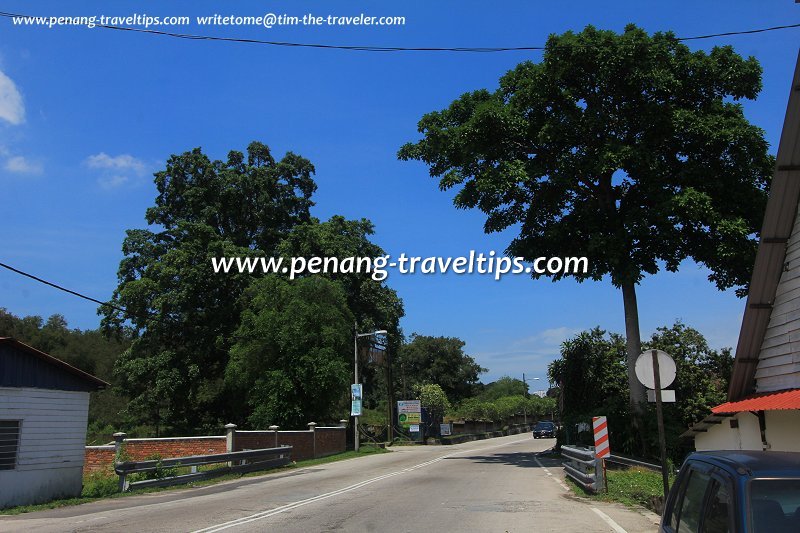 Mount Erskine, Penang
(18 February, 2013)


Mount Erskine
(Traditional Chinese: 白雲山, Simplified Chinese: 白云山; Pinyin: Báiyún Shān;
Penang Hokkien
: Paek3 Hoon3 Snua1

, Literal translation: "White Cloud Mountain") is a locality on the northeastern part of Penang Island. It was named after John James Erskine, the member of the town council of George Town around 1810. The Mount Erskine that we know today is a different place from the original Mount Erskine, which today is known as Mount Olivia, named after Olivia Mariamne Devenish (1771-1814), the wife of
Stamford Raffles
(1781-1826), who founded
Singapore
. Due to the
Mount Erskine Road
being built linking
Fettes Park
with
Bagan Jermal
, the entire stretch along the road became known as Mount Erskine.
Location of sights in Mount Erskine
Sights in Mount Erskine
Temples and religious retreats in Mount Erskine
Cemeteries in Mount Erskine
Neighbourhoods in Mount Erskine
Apartments & Condominiums at Mount Erskine
Streets in Mount Erskine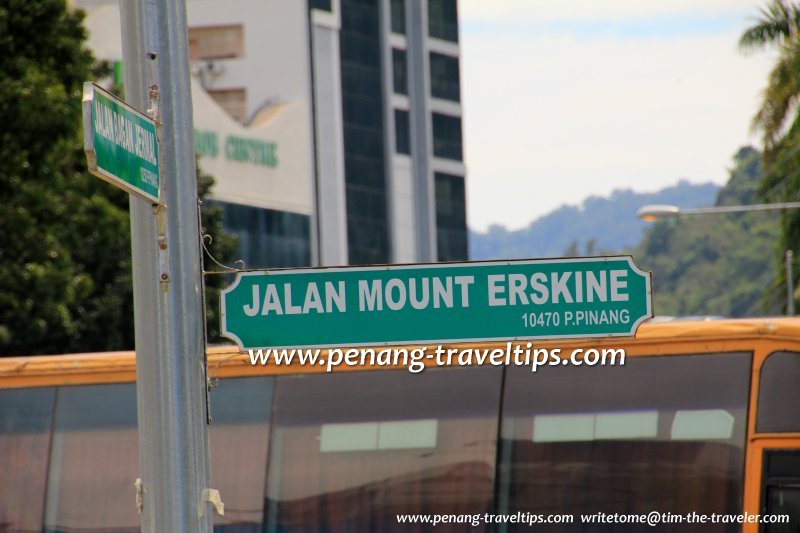 Jalan Mount Erskine road sign
(8 October, 2012)

Much of Mount Erskine is taken up by the Chinese cemetery there. This cemetery dates back to the early 19th century, and can be divided into different sections. The Cantonese-Teochew section is located closest to Gottlieb Road. Within its vicinity is the Kwangtung & Tengchow Association Funeral Parlour. Further up the road is a cemetery of the Hokkiens, managed by United Hokkien Cemeteries. It is one of the many Hokkien cemeteries in Penang, the others being at Batu Gantong, Batu Lanchang, Paya Terubong and Teluk Bahang.
Residential development in Mount Erskine occupy the land at the surroundings of the cemetery. The majority, such as Hong Seng Estate, are working class neighbourhoods for people who do not mind living in close proximity to cemeteries. Nonetheless, due to the size of the cemetery, it is just a stone's throw from the more affluent neighbourhood of
Tanjong Tokong
.
Public Transport
Presently Rapid Penang does not have a bus route passing through Jalan Mount Erskine. The nearest routes are through
Fettes Park
,
Vale of Tempe
and
Tanjong Tokong
.
Mount Erskine is 4.3 km from Magazine Circus, making it an ideal distance from the city centre of George Town. However the main road through the area, Mount Erskine Road, is today overloaded with traffic, leading to regular congestions and jams building up at the Gottlieb Road junction.
Amenities
The nearest school from Mount Erskine is the
Penang Chinese Girls' High School
. The nearest market from Mount Erskine is at
Fettes Park
and Tanjong Tokong village. The nearest shopping mall include
Midlands One Stop
,
Island Plaza
and
Gurney Plaza
.
Petrol stations near Mount Erskine
includes the Shell, Caltex and Petronas in Tanjong Tokong. The nearest hospital is
Penang Adventist Hospital
at Burmah Road.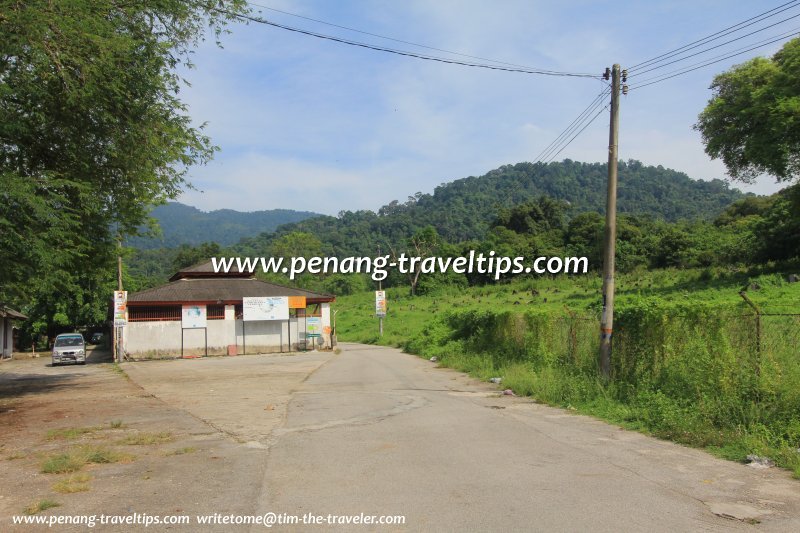 Road through the Mount Erskine cemetery
(9 June, 2012)