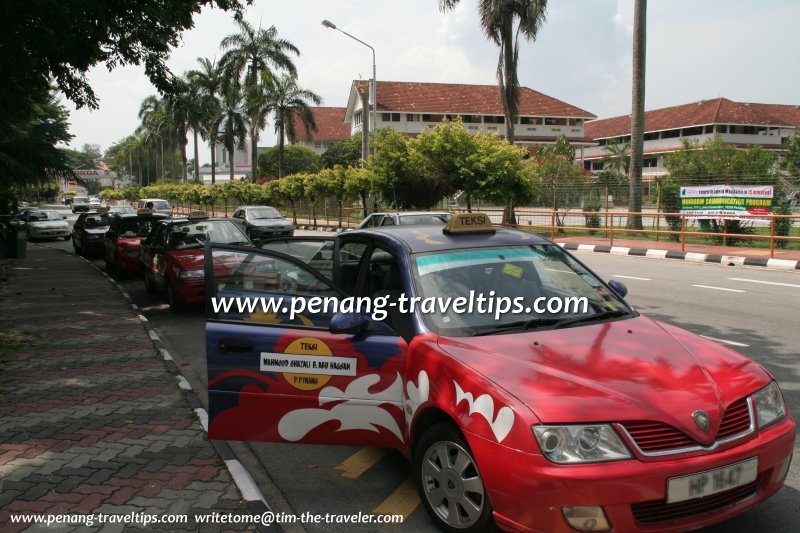 Penang taxis parked at the Bayview Georgetown Hotel Taxi Stand
(16 May, 2008)

You can easily find taxis congregating at major shopping malls, the airport and bus terminals. Apart from these places, it may be quite difficult to hail a taxi in Penang. They are not as plentiful as in Kuala Lumpur or Singapore.
In an effort to enhance the professionalism of taxis in Penang, the authorities have directed all taxis in Penang to use the meter. The taxis have even put a sticker on their vehicle saying "This Taxi uses the Meter, Haggling is Forbidden - Get Your Receipt". However, a check with most taxi users (as of end 2013) has indicated to me that all the taxis they have taken still refuse to use the meter. So the sticker, I suppose, is nothing but lip service.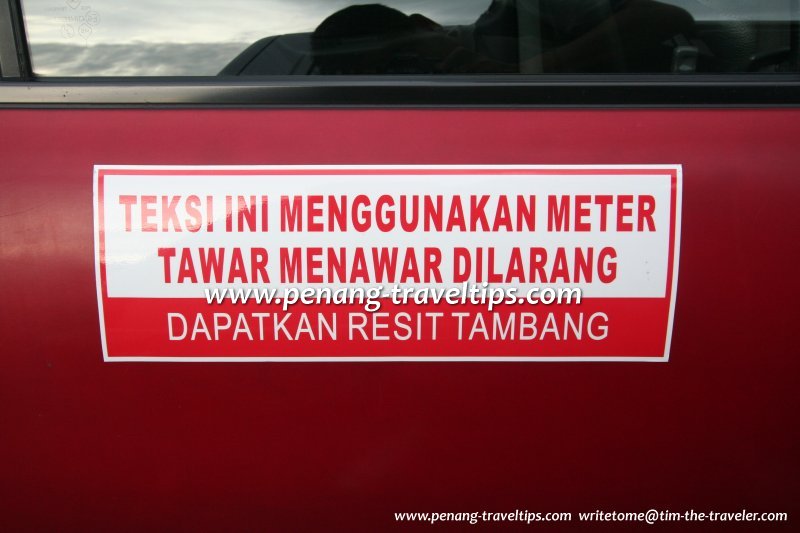 Sticker on taxi that only uses meter
(5 June, 2010)

Taxi stands are not as common as bus stops in Pulau Pinang. Also, taxis are not as ubiquitous on the streets in Pulau Pinang than they are in other major cities.
Call a Taxi in Penang
Aswan Taxi: 04 210 8211


BJ Radio Taxi: 04 643 0161 & 012 572 6487


CT Radio Taxi: 04 229 9467


Georgetown Taxi: 04 229 9467, 04 261 7098


Jade Auto Company: 04 226 3015


JRI Taxi: 04 229 0501


Lee Taxi Services: 016 493 3827 (Desmond)


MCI Taxi: 04 264 5534


Penang Taxi Drivers Association: 04 262 5721


Sri Radio Taxi: 012 469 9723, 017 527 0448


Sunshine Radio Taxi: 04 642 5961


Super Radio Taxi Service Center: 04 281 8766, 04 282 8753


Taxi Drivers Association: 04 262 5721


Teksi Seberang Perai Selatan: 04 593 1151


You can find taxi stands in front of all major hotels and shopping malls. So one way to get taxis is to go to the nearest major hotels. In George Town, that would be Bayview Georgetown Hotel, Cititel, Sunway Hotel, Georgetown City Hotel and g Hotel (in front of Gurney Plaza). There is also an abundance of taxis at the taxi stations next to the
Weld Quay Ferry & Bus Terminal
and
Komtar Bus Terminal
as well as Queensbay Mall, Bukit Jambul Complex and Sunshine Square. There are fewer taxis (but still possible) at the E & O Hotel, Gurney Hotel and Evergreen Laurel Hotel. For other locations, it's best to give the taxi a call.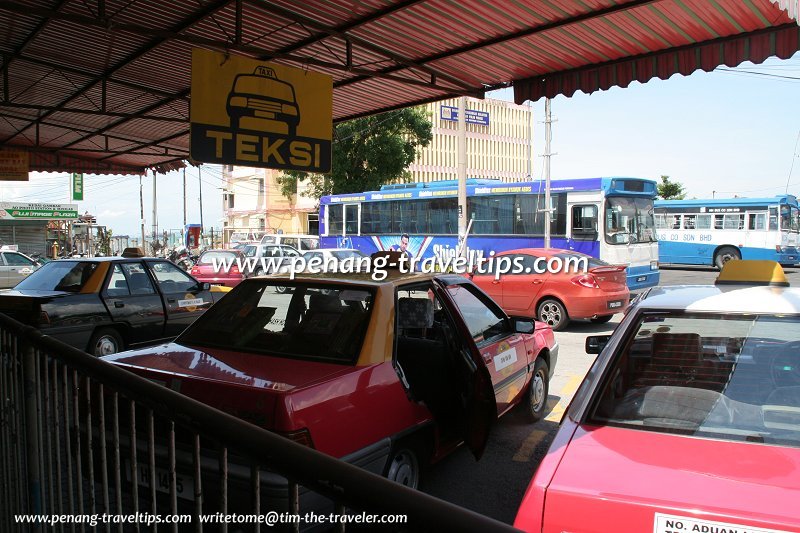 Weld Quay Taxi Stand
(22 October 2006)

View
Taxi Stands in Penang
in a larger map
Types of Taxi in Penang
There are two types of taxi on the streets in Penang. The regular (or "budget") taxi has a red body with some white to the livery, while the premium (or "executive") taxi is blue in colour. You will have more luck getting the blue taxis to go by the meter, with flag off at RM6 followed by RM2 for every kilometer. These taxis can also take you long distance across the border into Thailand and Singapore, if you are willing to pay for it. To get an executive taxi, call the taxi numbers on this page and ask for one.
The regular budget taxi
(11 February, 2013)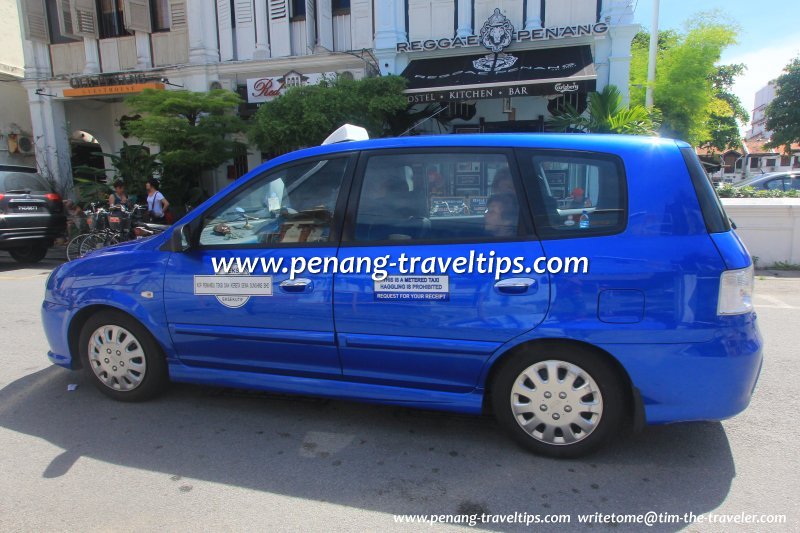 The premium-rate blue Executive Taxi of Penang
(15 December, 2012)

The red-colour "budget" taxis are the ones you will find waiting for customers at taxi stands of shopping malls. Always choose a taxi that is willing to use the meter. You will find a sticker on their door (see picture) saying that the taxi uses the meter. Having said this, I have to say that it is a farce. I have been told many number times by many different people that despite the sticker, most taxi drivers refuse to use the meter. You may just have to threaten to report them, or take a different taxi. Always remember to check that they switch on their meter before the journey starts.
Still, if you can't find any willing to use the meter, and you are determined to take a taxi, then your only other option is to negotiate the fare before climbing on board. Most taxis have fixed fare from point to point within George Town, and people who are familiar with taking taxis in the city will know the charges. Hence even if you ask a few taxis, you are likely to be given the same price which they have agreed among themselves. Most taxi drivers agree to honor this rate, though it is possible that you may find unscrupulous drivers who will fleece foreigners. By shopping around, you will get familiar with street rates quoted by different drivers.
Passenger Feedback
I received the following feedback which I shall share with you from a taxi user:
16 May, 2015:
Just would like to share with you that I experienced pleasant taxi service which used metre from Sri Radio Cab. Thanks to your posting in your blog which featured compliments about this taxi company in Penang.
Kaelvin
11 August, 2014
Dear Timothy,
Hi, my name is Archnashree Nellan and I have been on vacation in Penang for the past two months. When I first arrived, I had terrible experiences with taxis. From negotiating the rate to riding in cabs with no seat belts and erratic driving, I had some terrible experiences with taxis. But things changed when I began using Sri Radio Taxi. Their service and rate was great and made traveling around Penang easier and enjoyable. I used their services for about 7 weeks now for 4-5 days a week and would love if more tourists knew about their service. I am not sure if you take submissions but if you do, I would love to write a review to put on your website. Please let me know if I can write a review for your site. Thank you and I look forward to hearing your response.
Best Wishes,
Archnashree
11 August, 2014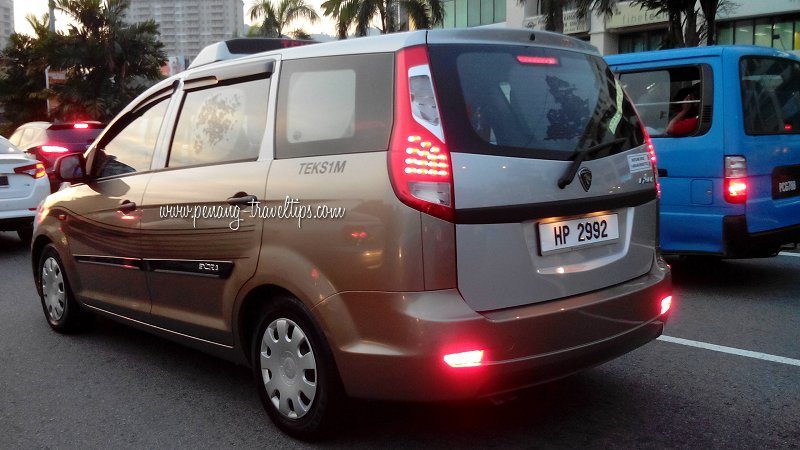 Teksi 1 Malaysia
(3 August, 2014)

Use MyTeksi App
If you are using a smartphone while in Penang, you can download the MyTeksi app which helps you book a taxi. That way, you avoid getting ripped off. The advantage of using MyTeksi is that you know the name, number plate and phone number of the driver, so you can share this detail with someone for safety sake. For more information on MyTeksi, go to http://grabtaxi.com/myteksi/
Teksi Rakyat 1 Malaysia
Teksi Rakyat 1 Malaysia
is another of the 1 Malaysia products that was rolled out in line with the Prime Minister Dato' Sri Najib Tun Razak. Click on the link for more details.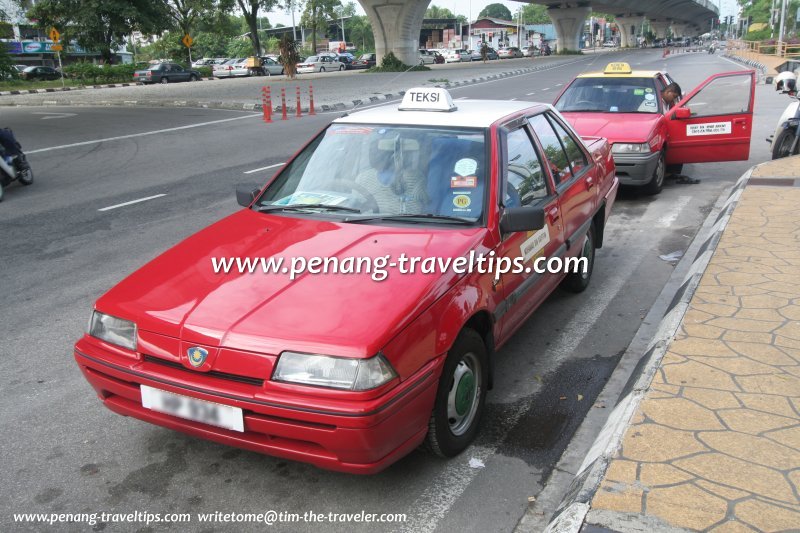 Taxis at the Sungai Nibong Bus Terminal
(30 April, 2008)

What is that fixed rate? Ah, that is for them to know and for us to find out. But people who are familiar with taking taxis in Pulau Pinang will soon be familiar with it. Also, the rate tends to be quite uniform among the different taxi companies.
As taxi rides can be much more expensive than taking the bus, you should carefully evaluate the options before calling the taxi. On the other hand, taxis provide the convenience of traveling from point to point, and for transporting of luggage.
What's the minimum price? It used to be RM4.00, but not really sure now, considering the meter's been thrown out the window. According to someone who wrote to me, the minimum rate that taxis charge is RM10, so the RM4 is
not
something you can find.
The following are fare estimations contributed by feedback from members who wrote to me:
George Town to Batu Ferringhi: RM30.00
George Town to Bayan Lepas: RM20.00
George Town to Airport: RM30
George Town to Gurney Plaza: RM12.00
Gurney Plaza to Macalister Road: RM12.00
Air Itam to Komtar / Weld Quay Ferry & Bus Terminal: RM12.00-RM15.00
Air Itam to Gurney Plaza: RM15.00
Air Itam to Airport: RM28.00-RM30.00
Air Itam to Batu Ferringhi: RM28.00-RM30.00
Altera to Green Lane: RM25.00
Bayan Baru to Airport: RM15.00
BJ Court to Altera: RM15.00
Queensbay Mall to Island Park: RM20.00
Penang Plaza to Island Park: RM17.00
Island Park to Airport: RM23.00
Gurney Hotel to Upper Pulau Pinang Road: RM10.00-RM15.00
Pulau Tikus to Gurney Hotel: RM10.00
Mainland to Airport: RM45.00
Batu Ferringhi to Airport: RM60.00
Batu Ferringhi to Komtar: RM35.00
Batu Ferringhi to Island Plaza: RM20.00
Batu Ferringhi to One-Stop Midlands: RM25.00-RM30.00
Tour by Taxi: RM25.00-RM30.00 per hour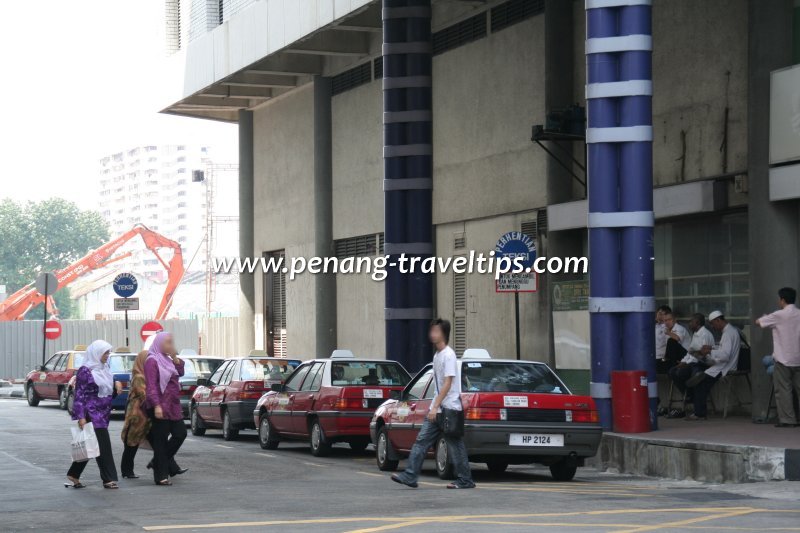 Komtar Taxi Stand
(16 May, 2008)

Taking the Airport Limousine
There is an airport limousine service (that's a glorified way to call an airport taxi). You buy a coupon at the arrival level, then go outside to take the limo that is queuing up for passengers. Pass the coupon to the driver and tell him where exactly you are going.
The fare is as follows (updated in Dec 2012), for daytime (7:00 am to 23:59 pm) and after hours (12:00 midnight to 6:59 am):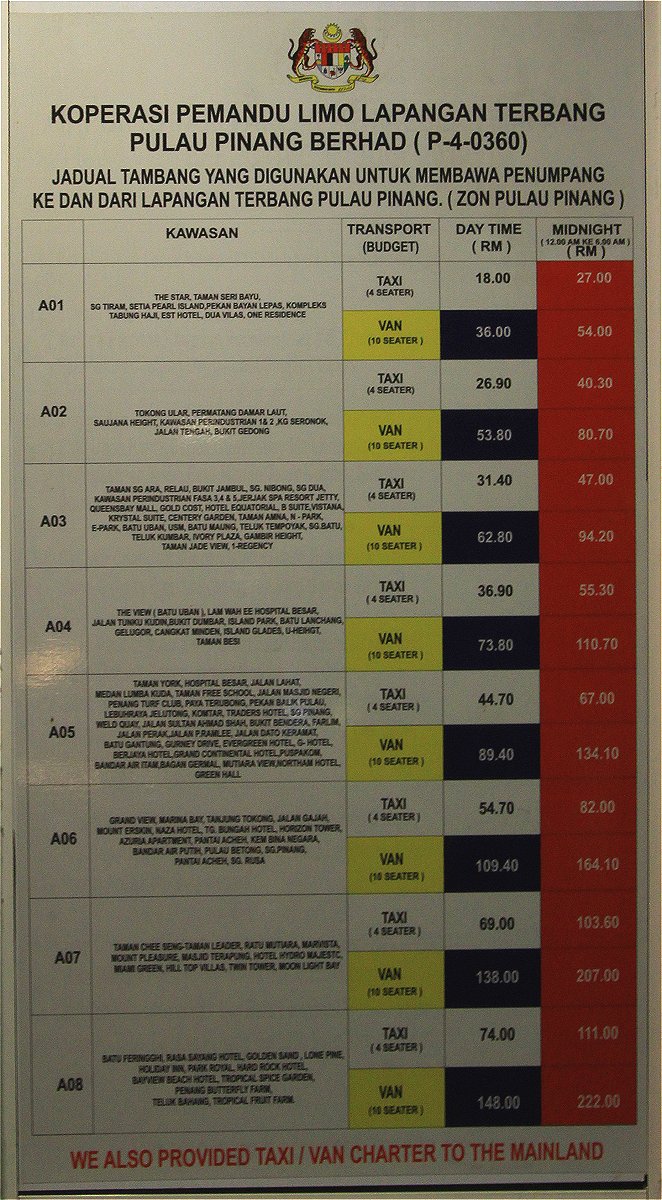 Penang Airport Taxi Fare
(27 October, 2012)

Acknowledgement
I wish to thank Loh Chee Kuang, Poay Kuan, HT Khor, Colleen Dunk, SB, Kamarul Syahril Kamal, Ewe Hean, PC Ong, Jennifer De Vries, Calvin Yeo, Michelle Loh, Pay Fern, Laura Joseph, Rani, Lucy Friedland, Peky for information on this page.
Explore Malaysia with Penang Travel Tips
Penang Travel Tips is not just about Penang. You can get lots of useful information to explore the rest of Malaysia right here!
Special Feature: Sungai Buloh-Kajang MRT Line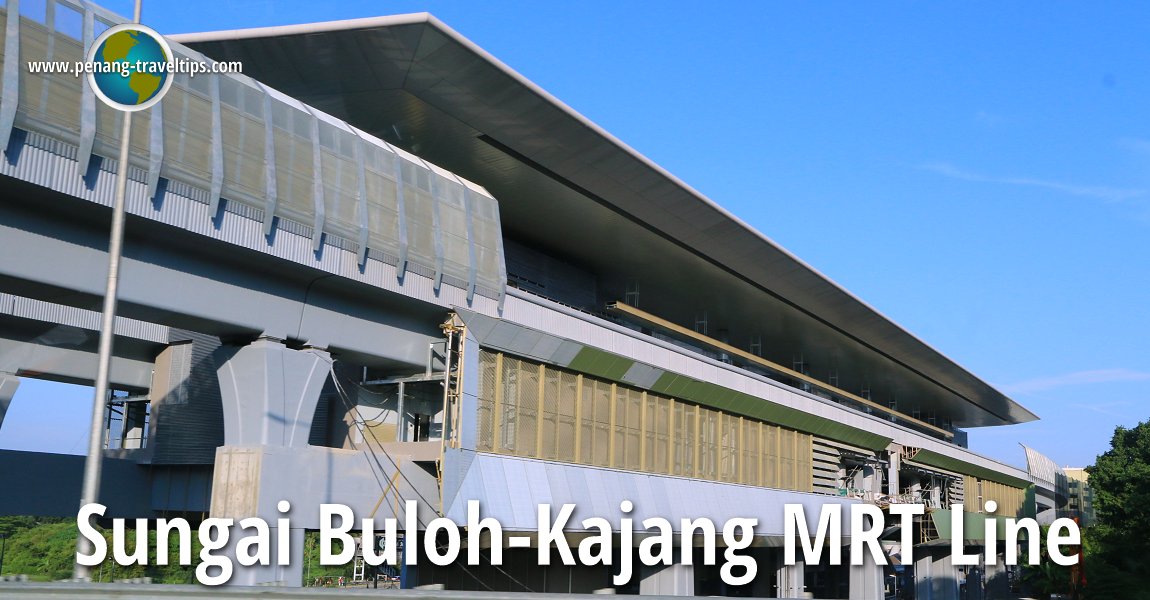 Sungai Buloh-Kajang MRT Line
Phone One of the Sungai Buloh-Kajang MRT Line became operational on 16 December, 2016. Get to know this first MRT line in Malaysia right here.
Details
Penang Travel Tips puts the Whole Wide World at Your Fingertips!
Penang Travel Tips
is not just about Penang, nor just about Malaysia - it's about the world wide world. It's my own treasure trove of travel information, for the benefit of anybody who might need it.

Our Special Feature on Penang Travel Tips this week is
Kuala Lumpur Travel Tips
. Get to know Kuala Lumpur neighbourhood by neighbourhood through the map below.
Advertise on this website
To put an add on this website,
contact me here.
Having a computer issue?
If your computer isn't performing up satisfactorily level,
contact a technician to look at your computer issue
, if you live on Penang Island.
The Travel Tips Made In Penang
As a Christian, I hope that through this website, I am able to deliver
God's Good News
to every corner of the world so that it reaches every person who needs. To get in touch with me, simply submit the
contact form
. Thanks for visiting and don't forget to
follow me on Facebook
!
My Social Media Presence
To interact with me,
LIKE ME on Facebook
, or LIKE my
Penang Travel Tips FB Page
and
Places To Go FB Page
, and join any/all of my Facebook Pages and Groups including
Penang Travel Tips FB Group
,
Exploring Malaysia
,
Big World Out There
,
My Little Bookshelf
,
Learn Penang Hokkien
,
Penang Street Art
,
Penang Hawker Food
,
Penang Restaurant Food
,
Masa Masak
,
Penang Residential Properties
and
Armchair Traveler
.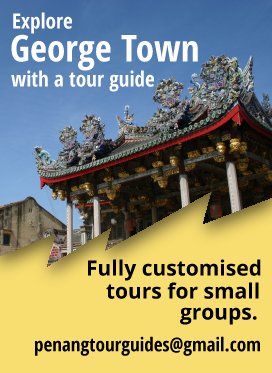 Copyright © 2003-2017
Timothy Tye
. All Rights Reserved.