Penang National Park
---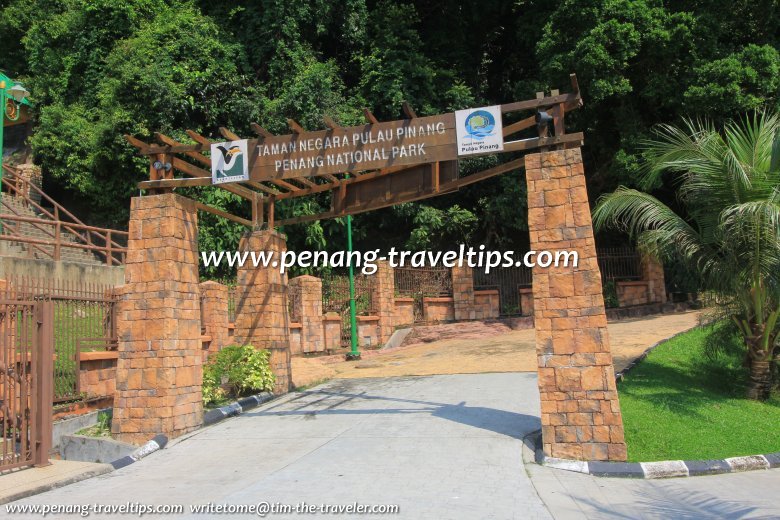 Penang National Park entrance (19 May, 2012)




The Penang National Park, also known as Taman Negara Pulau Pinang, is a nature reserve on the northwestern tip of Penang Island. Formerly known as the Pantai Acheh Forest Reserve, it was elevated to national park status by former prime minister, then deputy prime minister, Tun Abdullah Ahmad Badawi, in April 2003. The national park covers an area of 2562 hectares (although the national park's official website places the figure at a somewhat dubious 1266 hectare, and further made a suspicious claim that it is the second biggest national park after Taman Negara), it is in fact one of the smallest national parks in the country. Within this small area is an astounding range of biodiversity that includes 1181 hectates of lowland dipterocarp forest and 1381 hectares of mangrove. Among the features of the national park are mud flats, a meromictic lake and a turtle nesting beach.

There are eight stretches of beaches in the Penang National Park. They are, in counter clockwise direction, Teluk Bahang, Teluk Tukun, Teluk Ailing, Teluk Duyung, Teluk Ketapang, Pantai Kerachut, Teluk Kampi and Pantai Mas. The promontory of Muka Head with its lighthouse is on the northwestern tip of the national park.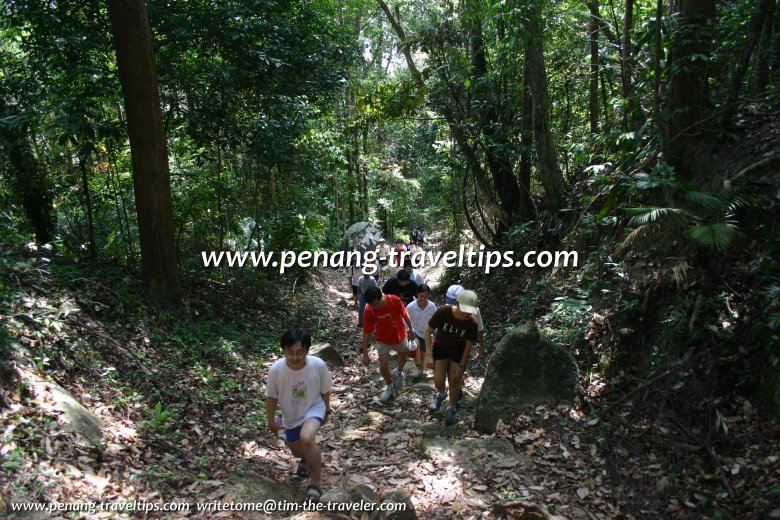 Penang National Park (6 March 2004)





The national park is home to 414 species of plants and 143 species of animals. Among the animals living here include otters, monitor lizards, monkey, and numerous variety of birdlife. Visiting animals include the hawksbill turtles and green turtle. The trees in this lowland dipterocarp forest include cengal, meranti, seraya, jelutong, bintangor, among others.
Boat Services
Boat services are available from Teluk Bahang to Monkey Beach (Teluk Duyung). You can book a whole boat for between RM40 to RM70 for one journey, and between RM80 to RM100 for a return trip. You can get the best price when business is slow. There are a few boat agents lined up in the area, so feel free to shop around.

If you are only booking a seat on the boat, the fare is RM10, and you may have to wait while the boat collects more passengers. If you are booking a return trip, make sure you get the phone number of the boat operator so that you can call him to fetch you when you are done with your exploring.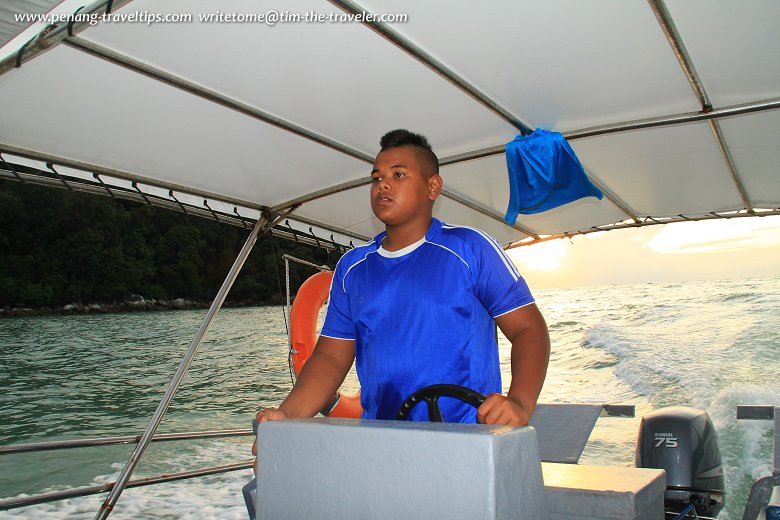 My boatman at the Penang National Park was a boy with a mohawk hair cut (23 August, 2012)


Updates
23 August 2012: I had the privilege of being invited to appear with host Andrew Boey on a segment of Me, My Camera and Malaysia! shot at Muka Head in the Penang National Park.
Getting there
If you go there by car, drive to the end of Jalan Hassan Abas (see the map on this page), where you see the entrance to the national park headquarters. To the right is a parking lot where you are park for the whole day for RM3.00.

If you depend on public transport, take Rapid Penang Bus No. 101 to the very end at Teluk Bahang, at a spot known as the End of the World. To enter the national park, register at the park headquarters. Admission to the park is free. Thereafter follow the trail. At the fork, the left turn goes west to Pantai Kerachut while the right turn goes north to Teluk Duyung.



View Penang National Park in a larger map