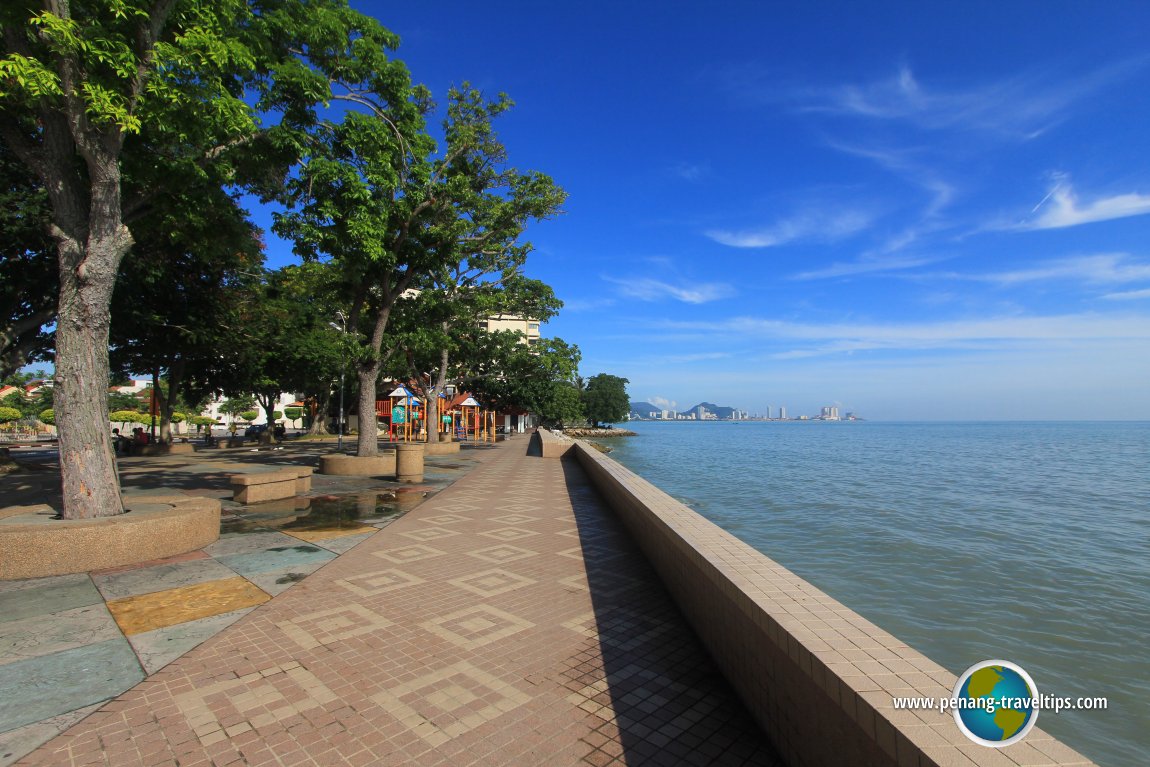 Esplanade, Penang
(1 June, 2013)


The
Esplanade
(GPS: 5.4222, 100.34193) of Penang refers to the waterfront area on the northern coast of George Town facing
Light Street
. It is the sight of
Francis Light's
Landing in Penang in 1786. It was also the first area on the island cleared by Light.
In keeping with the format of British civic areas, the Esplanade area has a parade, similar to the Padang in Singapore and the Dataran Merdeka in Kuala Lumpur. The parade ground is today known as
Padang Kota Lama
, or "old fort field", in reference to Fort Cornwallis. Indeed, the whole Esplanade area is also known as Padang Kota Lama, after the field.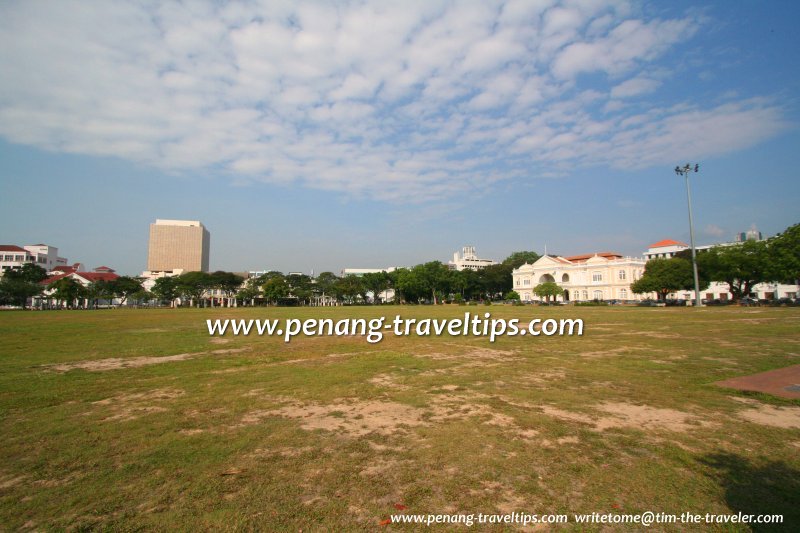 The Esplanade, Penang
(7 May, 2010)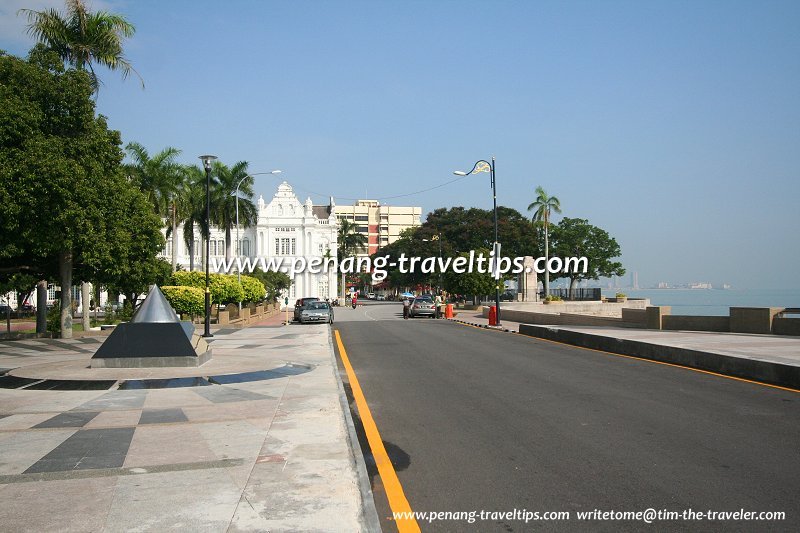 Esplanade
(7 May, 2010)

Within Padang Kota Lama itself are several sights, such as the
Millennium Monument
and
Speakers' Square
. Most of the trees around the field were planted by visiting dignitaries, such as Emperor Akihito, then Crown Prince Akihito. Between
Fort Cornwallis
and the parade field is a city park called
Taman Kota Lama
.
Some of the structures on the field have long gone. Among them, there was the Municipal Band Stand where Speaker's Square is located today. In proximity to the
Chinese Chamber of Commerce Building
across Light Street was the Vermont Monument, now also just a memory.
On either sides of Padang Kota Lama were the clubhouses of the
Penang Sports Club
, then located at Esplanade itself, and the Penang Recreation Club. They were destroyed during the Second World War.
Esplanade is today bordered by
Light Street
to the south, and
Jalan Tun Syed Sheh Barakbah
on three sides. Jalan Tun Syed Sheh Barakbah comprises Fort Road, which runs on the east side of
Fort Cornwallis
until Fort Point, and The Esplanade, the waterfront section from Fort Point to the
Cenotaph
.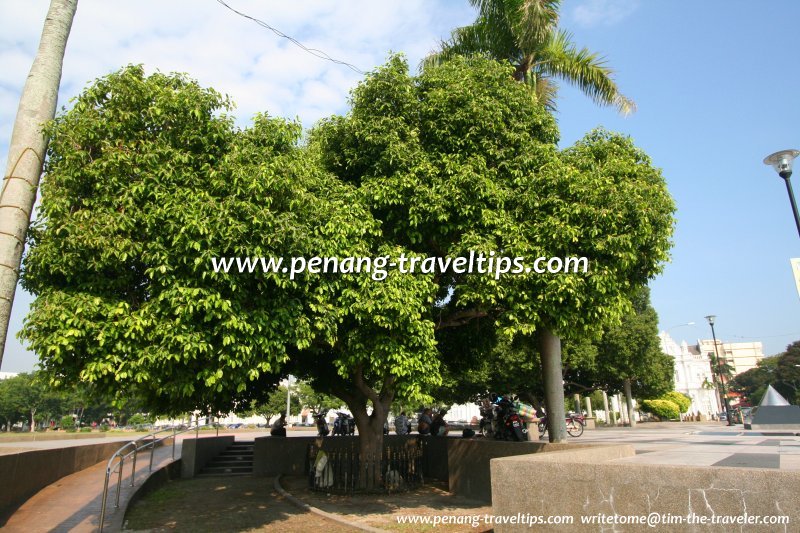 The Bunga Tanjong Tree planted by Emperor Akihito of Japan, when he was crown prince
(7 May, 2010)

The road linking Jalan Tun Syed Sheh Barakbah, in front of
City Hall
and
Town Hall
, is now called Jalan Padang Kota Lama. It was laid originally known as
Esplanade Road
.
At the junction of Esplanade Road with Light Street is the fountain donated by local 19th century millionnaire, Koh Seang Tat. The fountain is known today as the
Municipal Fountain
or Koh Seang Tat's Fountain.
Running parallel to Jalan Padang Kota Lama is
Duke Street
. It was the road leading towards Koh Seang Tat's mansion, which he called Edinburgh House, to commemorate its most imminent resident, the visiting Duke of Edinburgh, who lodged there in 1869. The mansion has long been pulled down.
The creation of Jalan Tun Syed Sheh Barakbah extended the former Esplanade to exit parallel to
Green Hall
. More recent structures added to this part of the Esplanade includes Dewan Sri Penang in the 70's, and the court complex in the first decade of the new millennium. Relocated to the junction facing the
Supreme Court
building is
Logan Memorial
.
Today the Esplanade continues to play an important part in Penang. It is the venue for many celebrations such as the anniversaries of
George Town UNESCO World Heritage Site
, Bon Odori Festival, and others.
Eateries at the Esplanade
Various Activities that has been staged at Esplanade