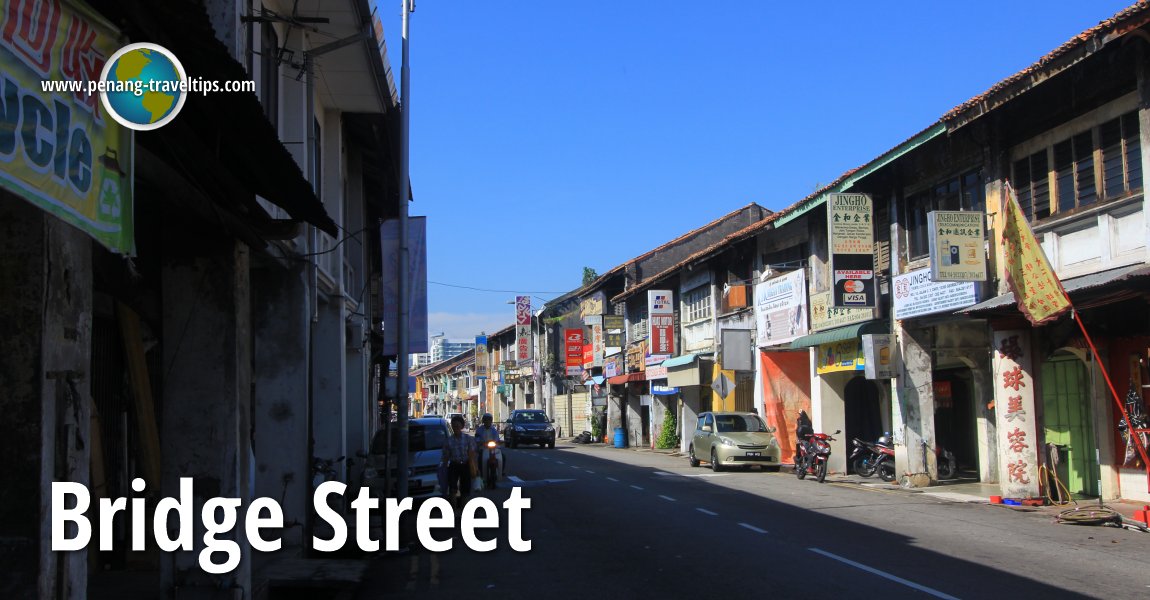 Bridge Street, Penang
(6 February, 2013)

B. Melayu
Bridge Street
, now called Jalan CY Choy, is a major road in
George Town
. It starts at
Anson Bridge
- which gives it its name - across the
Prangin Canal
, and ends at the
Sungai Pinang Bridge
, leading to
Jelutong Main Road
.
Location of sights along Bridge Street on the map
Sights along Bridge Street
Eateries along Bridge Street
Businesses along Bridge Street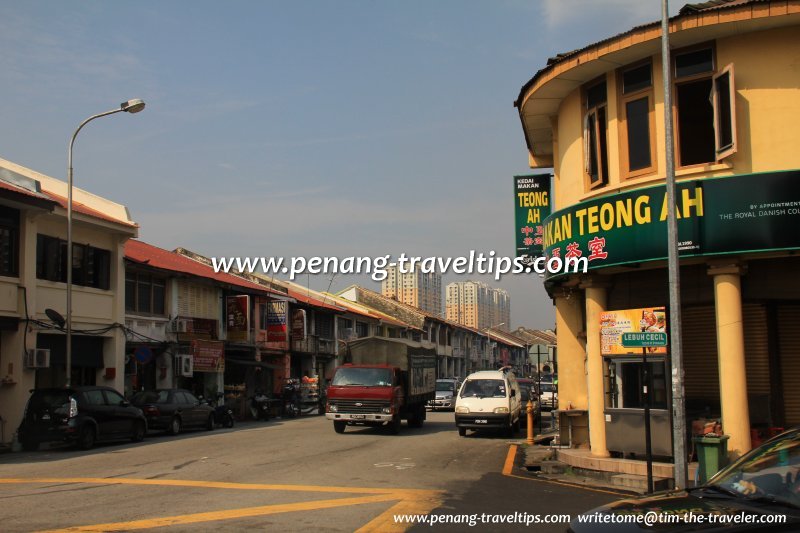 Bridge Street, at junction with Cecil Street
(30 July, 2012)

About Bridge Street
Until the mid 19th century, Bridge Street was considered "outskirts" of town, as it lies south of
Sia Boey
. On the area closest to the Prangin Canal, there was a Chinese kampung called Koay Kangnga, meaning "across the river". From this kampung, there developed a Chinese working class settlement. Until the late 19th century, this area was all attap houses, while Bridge Street itself faces the sea, shielded from it by clumps of mangrove trees and mud flats. The sea in front of Bridge Street was reclaimed between 1880 and 1904, and roads such as
Prangin Road Ghaut
,
Cecil Street Ghaut
, and so on, were built. The roads in the Chinese settlement off Bridge Street were aligned on nine parallel roads, and in the local Chinese language, Penang Hokkien, it was called Koay1 Kang3nga4 Thau3 Tiau3 Lor33, which means "first road across the river". This was later abbreviated to simply Thau3 Tiau3 Lor33 ("first road"). To the British administrators, though, this road was named
Magazine Road
. Next came 2nd road, 3rd road, and so forth, until
Sandilands Street
forms the nineth and final road.
Bridge Street was renamed Jalan C.Y. Choy in the early 1980's, in memory of the third and last mayor of George Town. Choy of the
Malayan Peoples' Socialist Front
became mayor of George Town after winning the city election of 1964 in the Sungei Pinang Ward, with a high majority. He is often nicknamed the "Quiet Mayor of George Town" due to his low profile.
Choy served as mayor until 1966, when the Federal Government of Malaysia discontinued local elections for the city. When differences caused the Socialist Front to disintegrate, and its components the
Labour Party
and
Parti Sosialis Rakyat Malaya
going separate ways, Choy contested as an independent candidate for Pengkalan Kota, easily winning in the 1960 general elections. He remained active in politics until his death at age 73 in 1980.
Hows to go to Bridge Street
Rapid Penang
Bus
302
,
303
,
307
and
401
pass through Jalan CY Choy.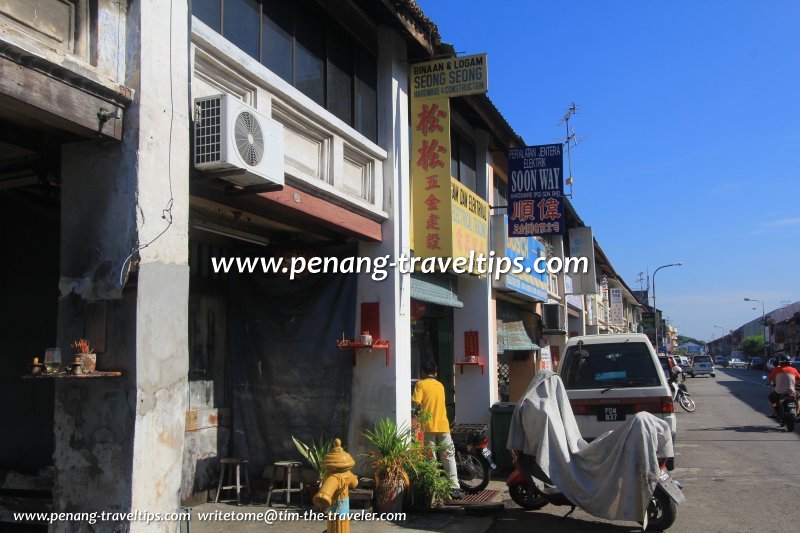 Bridge Street, George Town
(6 February, 2013)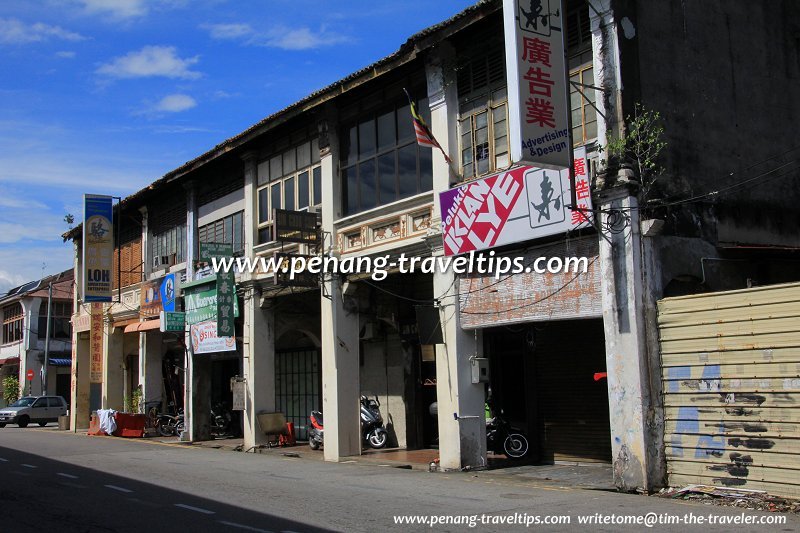 Shophouses along Bridge Street
(15 December, 2012)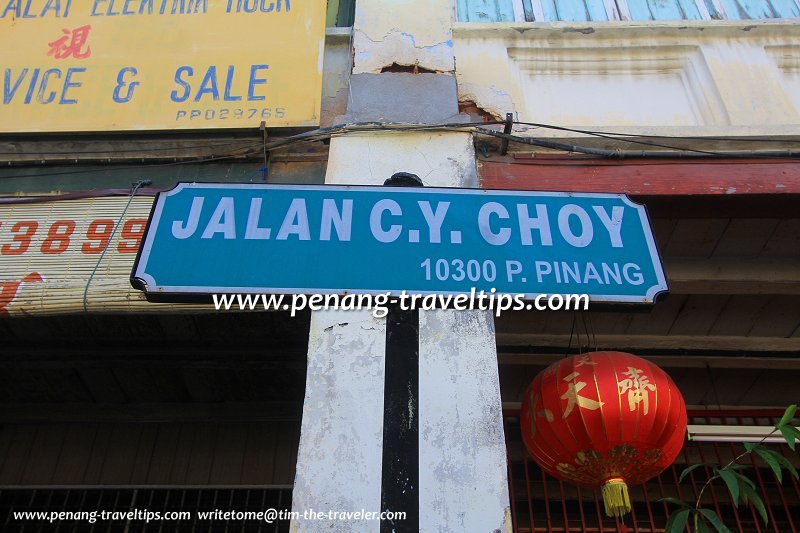 Jalan C.Y. Choy road sign
(6 February, 2013)

You can look for and book your hotel room direct from this website. Simply
click here
or use the search box below. You can filter the results based on your requirement, everything from five star hotels to homestays and more.
Look for a specific type of accommodation in Penang
Map of Roads in Penang
All about me