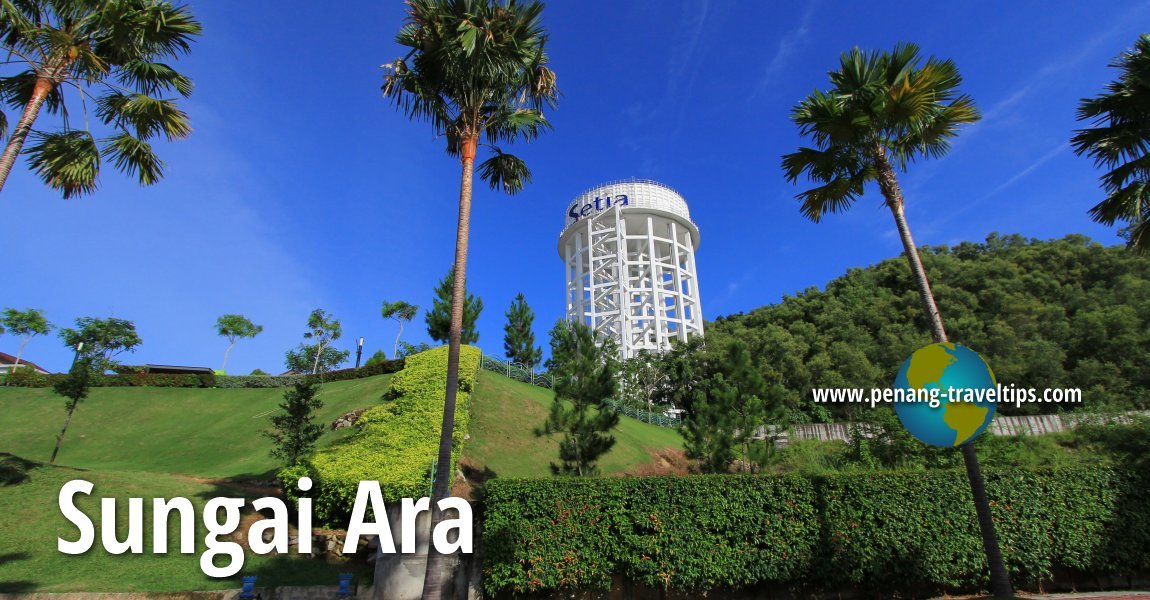 Sungai Ara, Penang
(10 July, 2015)

Sungai Ara
(GPS: 5.32429, 100.27191) (Traditional/Simplified Chinese: 新江; Pinyin: Xīnjiāng;
Penang Hokkien
: Sin3kang4) is a neighbourhood in the southeastern part of Penang Island. The name translates as "fig river". In Hokkien, Sungai Ara is known as "Sinkang", meaning "new river". Until quite recently, Sungai Ara was a rural community where the inhabitants were vegetable farmers.
Map of Sungai Ara
Hotels and other accommodation providers in Sungai Ara
Sights in Sungai Ara
Eateries in Sungai Ara
Markets in Sungai Ara
Petrol Stations in Sungai Ara
Schools in Sungai Ara
Apartments and Condominiums in Sungai Ara
Housing Estates in Sungai Ara
Documented Streets in Sungai Ara
The namesake Sungai Ara river flows through the village near
Masjid Al-Huda
. Its source is somewhere between Lorong Kenari 8 and Jalan Sungai Ara 1. From there, it winds its way heading east, under
Jalan Dato Ismail Hashim
, then under
Jalan Tun Dr Awang
. Behind Sekolah Menengah Raja Tun Uda in Bayan Baru, it merges with
Sungai Relau
to form
Sungai Keluang
, and continues east until it empties into the sea.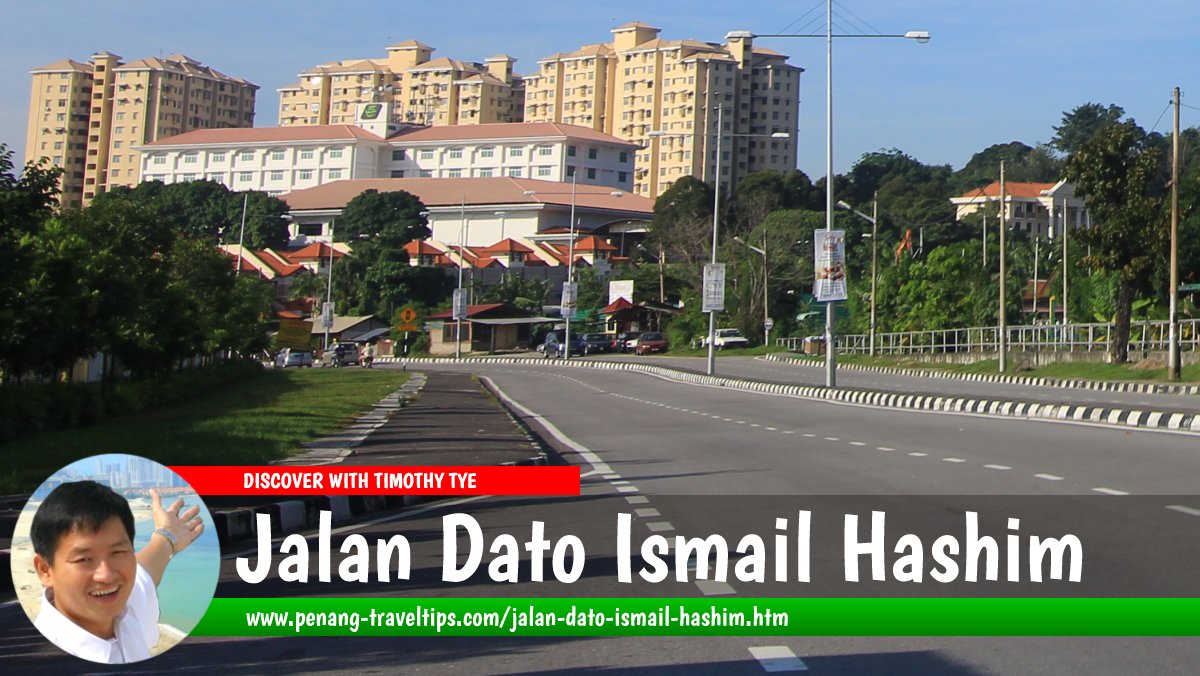 Jalan Dato Ismail Hashim, in Sungai Ara
(15 February, 2013)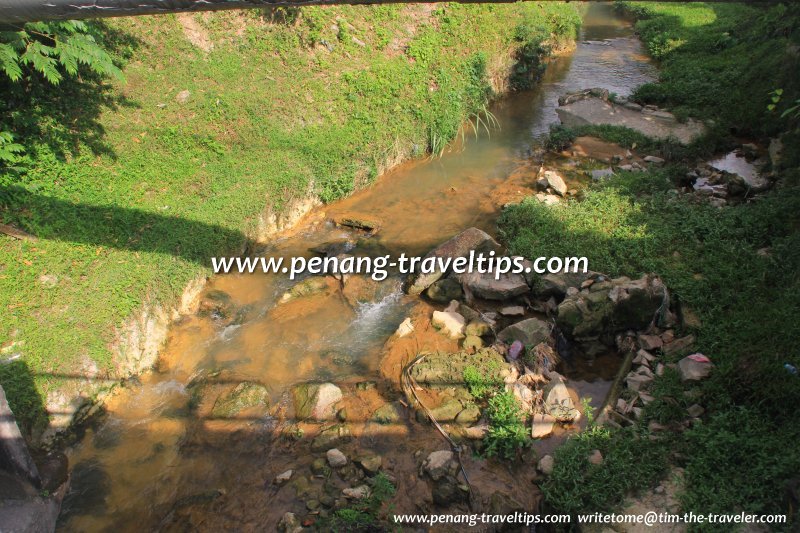 The Sungai Ara river, as seen from Jalan Dato Ismail Hashim
(4 June 2012)

Today much of Sungai Ara has been converted to residential development. The village of Sungai Ara is located at the junction of
Jalan Tengah
and
Jalan Dato Ismail Hashim
(formerly Jalan Sungai Ara), although much of the length of
Jalan Dato Ismail Hashim
is regarded as Sungai Ara. Taman Sungai Ara, Taman Desa Ria and Mutiara Perdana are some of the housing development here. The Setia Pearl Island Country Club, one of the two golf clubs on Penang Island, is also located in Sungai Ara.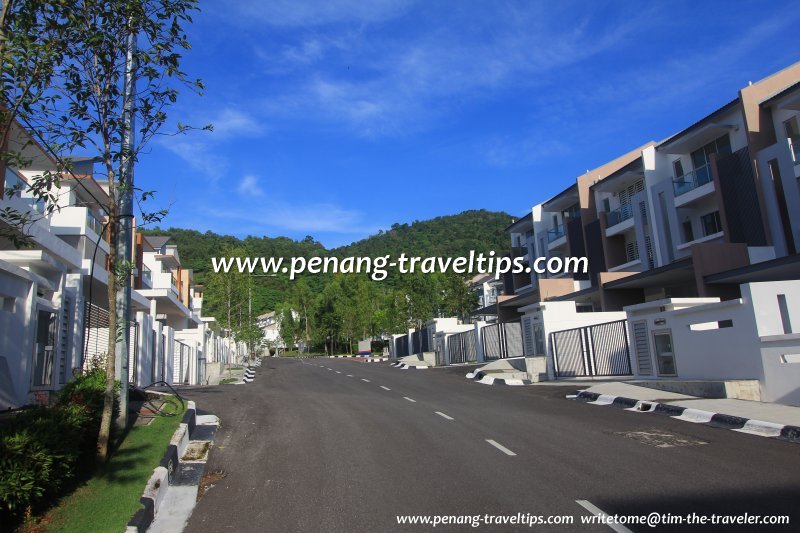 Sunway Merica, one of the housing estates in Sungai Ara
(15 February, 2013)

Getting there
Sungai Ara is 15.4 km from
Magazine Circus
, so it can be considered far from the city centre, but near the
Bayan Lepas area
. Sungai Ara is served by
Rapid Penang
Bus No. 302, 305 and 308.
Amenities
School in Sungai Ara includes
Sekolah Kebangsaan Sungai Ara
,
Sekolah Rendah Jenis Kebangsaan (Cina) Chong Cheng
,
Sekolah Menengah Sungai Ara
and Sekolah Kebangsaan Mutiara Perdana. The nearest market in Sungai Ara is at the Sungai Ara village, which is at the junction with Jalan Tengah. There isn't a shopping mall in Sungai Ara, but
Bukit Jambul Complex
,
Sunshine Square
and
Giant Hypermarket
are all within a short distance from it.
Traffic
So far, the main road is still experiencing moderate traffic volume, although there are two bottlenecks in Sungai Ara, one at the junction with Jalan Relau and another at the junction with Jalan Bayan. Some times these bottlenecks can create traffic queues of over half a kilometer. In addition, Jalan Mahkamah near Bayan Lepas is closed to traffic every Saturday for a night market.
Add your shop/business to this website
The Penang Travel Tips website is a huge website that documents everything in Penang. On top of the hundreds of streets and tourist attractions, I also add in hundreds of shops and businesses.
If you operate a shop business in Penang, or anywhere in Malaysia or Singapore, contact me to add your business/shop into my website. It only a one-time fee, and your shop/business will be listed by location and category, helping your would-be customers find you. To find out more,
CONTACT ME
Visiting Penang? Find the lowest hotel room rates here!
Use our search engine to compare room rates from different hotel booking websites, to find the one that's lowest.
Travelling somewhere?
If you're travelling somewhere, use our online engine to find the online booking site that offers you the best room rates.
Book your hotel room here
If you're coming to Penang, book your hotel room online with Agoda. Agoda offers the best prices on 2,000,000+ properties worldwide.
Start here.
Local Guided Tours of Penang
If you are coming to Penang and need someone to show you around, I can arrange for you a licensed tour guide to take you around. Guides charge a fixed fee of RM360 for taking a small group of up to 10 people on 4-hour walking tours. Walking tours exceeding 4 hours is charged an additional RM90 per hour. Tours are tailored to guest requirement. For more details,
contact tour coordinator
. Other types of tours also available.
For details, click here.
Looking for a book? Get it from Book Depository with free delivery worldwide!
I have just discovered
Book Depository
, a subsidiary of Amazon.com, and I love it. This is where you can buy books and have them sent to you. But unlike Amazon, when you purchase using Book Depository, you enjoy free delivery worldwide.
Give it a try today!
Here's a list of the latest pages I have added or updated on my website.
My YouTube Videos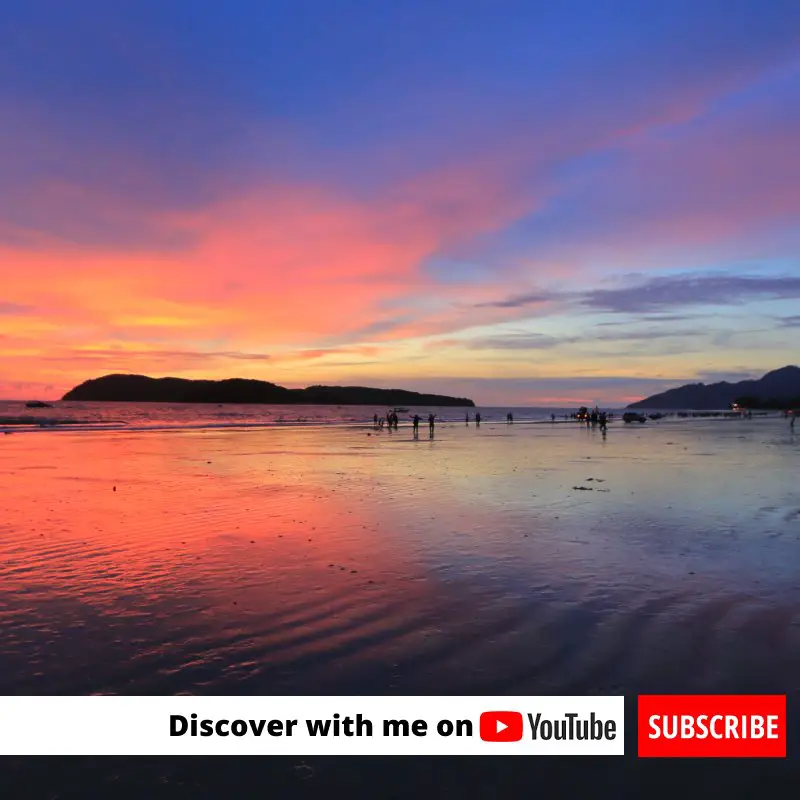 Check out
my YouTube Channel
and don't forget to subscribe!
Vital Links
Book Your Express Bus Ticket
|
Hire a car
|
Our Recipes
|
Facebook Posts
|
Just Curious
|
Not In The Dictionary
|
Our Flowering Garden
Vital Links
Book Your Express Bus Ticket
|
Engage a Tour Guide for Penang
|
What's Up at Penang Hotels
|
Hire a car
|
Facebook Posts
|
Our Recipes
|
Our Flowering Garden
|
Guide Book on Penang Durians
Discover the World
About Me