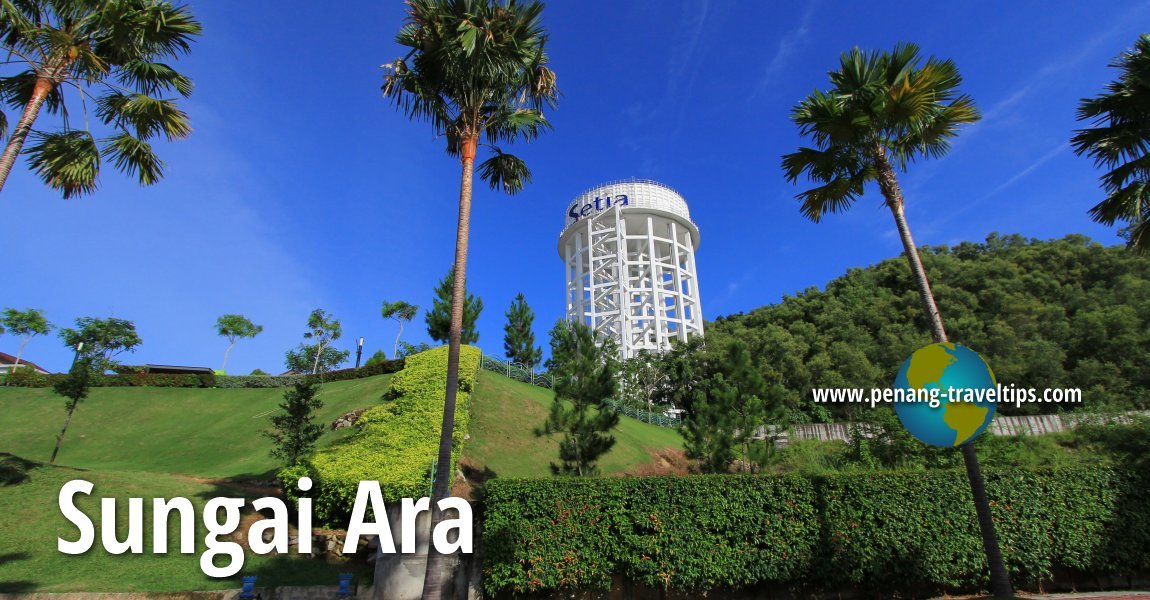 Sungai Ara, Penang
(10 July, 2015)

Sungai Ara
(GPS: 5.32429, 100.27191) (Traditional/Simplified Chinese: 新江; Pinyin: Xīnjiāng;
Penang Hokkien
: Sin3kang4) is a neighbourhood in the southeastern part of Penang Island. The name translates as "fig river". In Hokkien, Sungai Ara is known as "Sinkang", meaning "new river". Until quite recently, Sungai Ara was a rural community where the inhabitants were vegetable farmers.
Map of Sungai Ara
Hotels and other accommodation providers in Sungai Ara
Sights in Sungai Ara
Eateries in Sungai Ara
Markets in Sungai Ara
Petrol Stations in Sungai Ara
Schools in Sungai Ara
Apartments and Condominiums in Sungai Ara
Housing Estates in Sungai Ara
Documented Streets in Sungai Ara
The namesake Sungai Ara river flows through the village near
Masjid Al-Huda
. Its source is somewhere between Lorong Kenari 8 and Jalan Sungai Ara 1. From there, it winds its way heading east, under
Jalan Dato Ismail Hashim
, then under
Jalan Tun Dr Awang
. Behind Sekolah Menengah Raja Tun Uda in Bayan Baru, it merges with
Sungai Relau
to form
Sungai Keluang
, and continues east until it empties into the sea.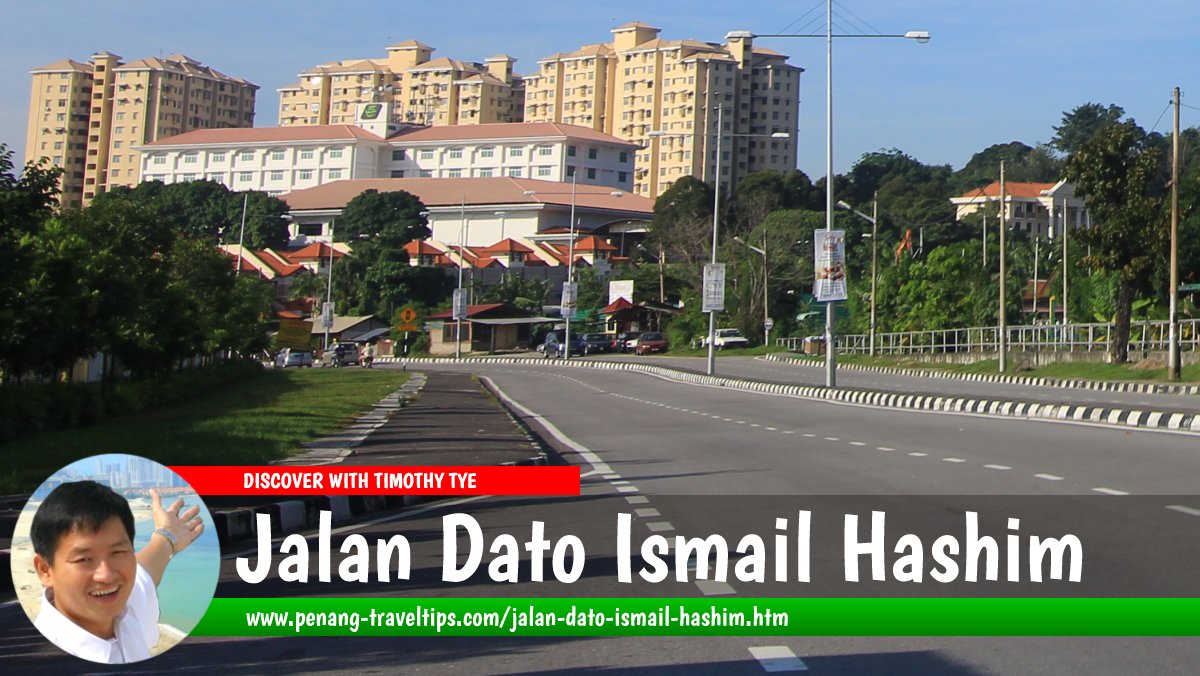 Jalan Dato Ismail Hashim, in Sungai Ara
(15 February, 2013)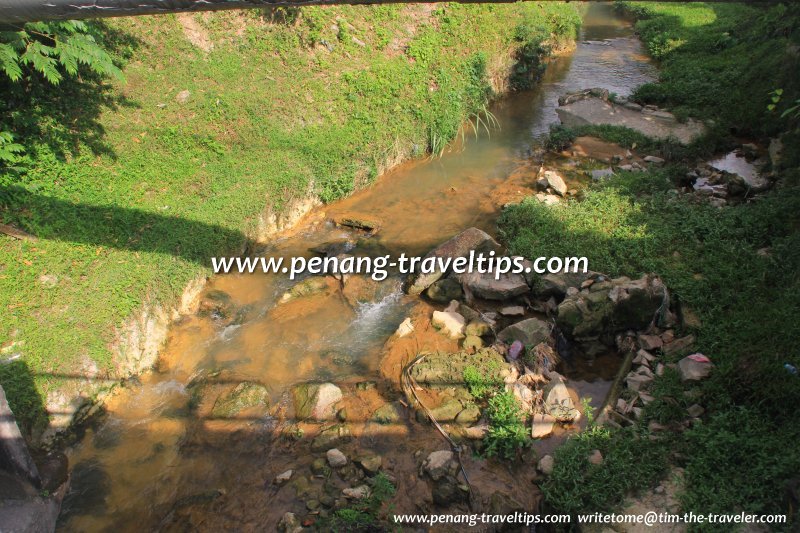 The Sungai Ara river, as seen from Jalan Dato Ismail Hashim
(4 June 2012)

Today much of Sungai Ara has been converted to residential development. The village of Sungai Ara is located at the junction of
Jalan Tengah
and
Jalan Dato Ismail Hashim
(formerly Jalan Sungai Ara), although much of the length of
Jalan Dato Ismail Hashim
is regarded as Sungai Ara. Taman Sungai Ara, Taman Desa Ria and Mutiara Perdana are some of the housing development here. The Setia Pearl Island Country Club, one of the two golf clubs on Penang Island, is also located in Sungai Ara.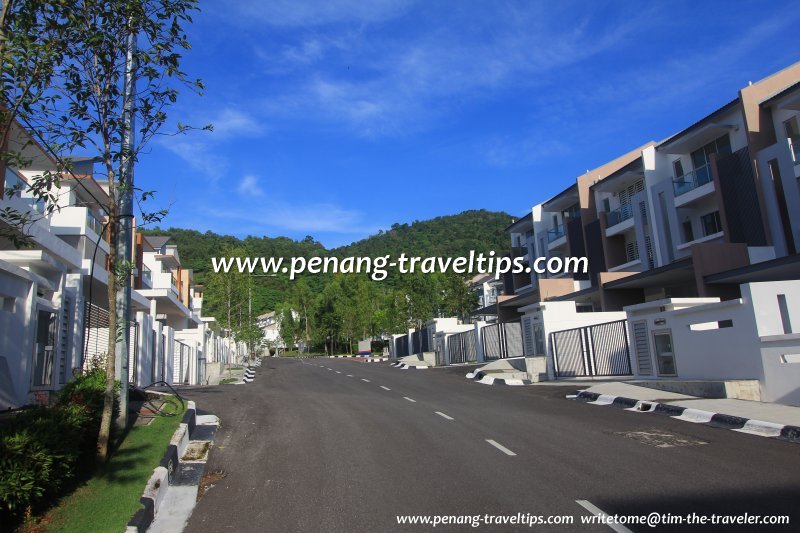 Sunway Merica, one of the housing estates in Sungai Ara
(15 February, 2013)

Getting there
Sungai Ara is 15.4 km from
Magazine Circus
, so it can be considered far from the city centre, but near the
Bayan Lepas area
. Sungai Ara is served by
Rapid Penang
Bus No. 302, 305 and 308.
Amenities
School in Sungai Ara includes
Sekolah Kebangsaan Sungai Ara
,
Sekolah Rendah Jenis Kebangsaan (Cina) Chong Cheng
,
Sekolah Menengah Sungai Ara
and Sekolah Kebangsaan Mutiara Perdana. The nearest market in Sungai Ara is at the Sungai Ara village, which is at the junction with Jalan Tengah. There isn't a shopping mall in Sungai Ara, but
Bukit Jambul Complex
,
Sunshine Square
and
Giant Hypermarket
are all within a short distance from it.
Traffic
So far, the main road is still experiencing moderate traffic volume, although there are two bottlenecks in Sungai Ara, one at the junction with Jalan Relau and another at the junction with Jalan Bayan. Some times these bottlenecks can create traffic queues of over half a kilometer. In addition, Jalan Mahkamah near Bayan Lepas is closed to traffic every Saturday for a night market.
Add your business to this website
This website functions as a unique directory and place encyclopedia. Presently, it accepts the inclusion of businesses in Malaysia and Singapore. If you operate a business - be it a hotel, restaurant, florist, clinic, nursing home, etc. - contact us to add your business to this website. It costs only RM250/S$100 to have a page created for you, and included into this website. You are expected to provide photographs and full details, so that a page can be create for you, which will incorporate your business to the place maps shown on this website. To enquire or add your business,
CONTACT US
Travelling somewhere?
Do you know, different booking site sells the same hotel room at a different price? Use the searchbox from Hotelscombined to find the online booking site that offers the best rates!
Ordering Mooncakes This Year
Get a 25% discount when you order the mooncake from
Hotel Jen Penang
when you use my discount code Timothy25%. More about Hotel Jen Penang's mooncakes
here
.
Important links on this website
Looking for a promotion at a hotel in Penang. Get an overview of current promotions here!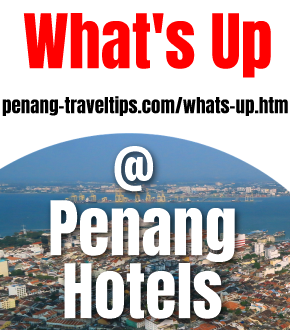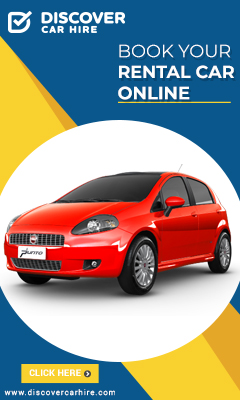 The Durian Tourist's Guide to Penang
This is a book written specially for durian lovers. If you come to Penang to enjoy durians, get this book! It provides details to help you learn about durians varieties and farms all over Penang.
Book Review Here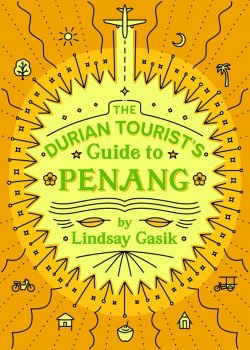 Which bus to take when in Penang?
The main bus operator in Penang is
Rapid Penang
. Take a look at all the
bus routes in Penang
:
CAT
,
CAT Air Itam
,
CAT Balik Pulau
,
CAT Bukit Mertajam
,
CAT Nibong Tebal
,
10
,
11
,
12
,
13
,
101
,
102
,
103
,
104
,
201
,
202
,
203
,
204
,
206
,
301
,
302
,
303
,
304
,
305
,
306
,
307
,
308
,
401
,
401E
,
403
,
404
,
501
,
502
,
601
,
602
,
603
,
604
,
604A
,
605
,
606
,
608
,
610
,
701
,
702
,
703
,
707
,
708
,
709
,
801
,
802
,
803
,
804
,
Penang Sentral-Parit Buntar
and
Penang Sentral-Sungai Petani
.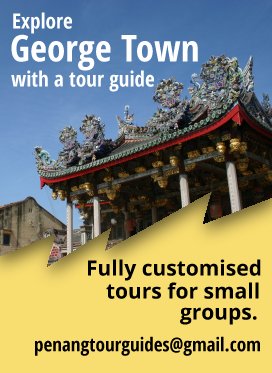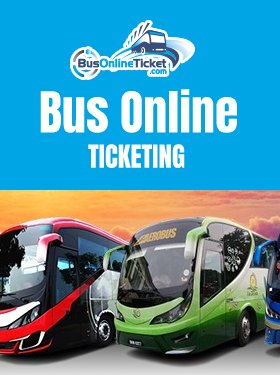 All about me
My wife and I are plant lovers. We started this website to describe the many plants and trees that we have gotten to know. These are now listed in alphabetical order.
Malaysia Travel Tips!
My
Malaysia Travel Tips
has useful information on every state in Malaysia (
Johor
,
Kedah
,
Kelantan
,
Malacca
,
Negeri Sembilan
,
Pahang
,
Penang
,
Perak
,
Perlis
,
Sabah
,
Sarawak
,
Selangor
,
Terengganu
) and every major city and destination (
Kuala Lumpur
,
Johor Bahru
,
Ipoh
,
Langkawi
,
Cameron Highlands
,
Kota Kinabalu
,
Kuching
,
Alor Setar
,
Seremban
,
Petaling Jaya
,
Putrajaya
,
Kota Bharu
,
Kuala Terengganu
,
Taiping
) and hundreds of smaller towns.
Singapore Travel Tips!
In addition to covering Malaysia, I have created the travel tips for Singapore. Please visit my
Singapore Travel Tips
for browse through the pages there.
[an error occurred while processing this directive]