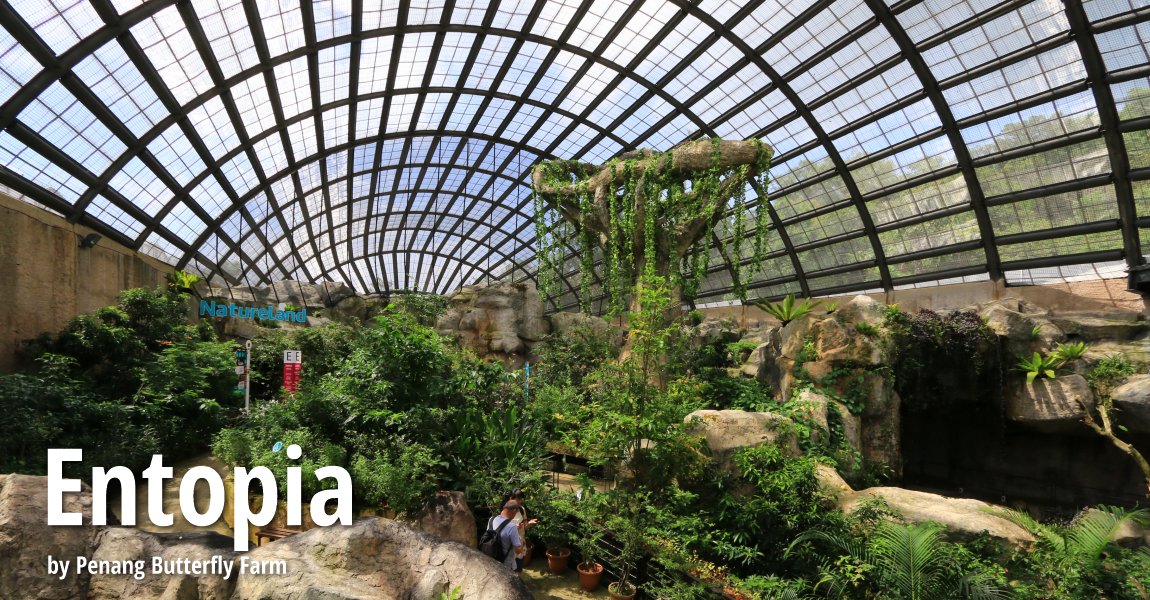 Entopia by Penang Butterfly Farm
(6 May, 2017)

B. Melayu
Entopia by Penang Butterfly Farm
(GPS: 5.44745, 100.21563) is a huge butterfly sanctuary in
Teluk Bahang, Penang
. It is located along Jalan Teluk Bahang, between
ESCAPE Adventureplay
to the north, and
Taman Rimba Teluk Bahang
to the south, within sight of the
Teluk Bahang Dam
. The original farm was established by Mr David Goh in 1986 while the present incarnation opened to the public on 2 May, 2016, and is being helmed by his son, Mr Joseph Goh, who serves as the Chief Executive Officer of Entopia.
More than just a place to view butterflies, Entopia has a vision to help people reestablish connection with nature. According to Joseph, the world's large-size vertebrates - the elephants, tigers and pandas - get the lion share of the attention, even though they represent just 3% of all animal species. In contrast, invertebrates such as butterflies constitute some 70% of animal species, but very few sanctuaries are devoted to celebrating them. Through Entopia, the voiceless and underappreciated invertebrates get to tell their stories.
Current Promotions at Entopia
Scroll through Entopia's current promotions below, or click here to view
All Promos
. You may click on the promotional ads to go directly to Entopia's list of Promotions.
Introducing Entopia - Voices of Nature
Entopia by Penang Butterfly Farm is on the map of Teluk Bahang
Going to Entopia
From George Town, take the northern beach road through Batu Ferringhi until you reach the
Teluk Bahang roundabout
. Make a 9 o'clock turn to the left. Entopia is located about 2.2 km or 2 minutes from the roundabout.
Entrance fees
The entrance fees to Entopia, as of May 2017, is as shown below.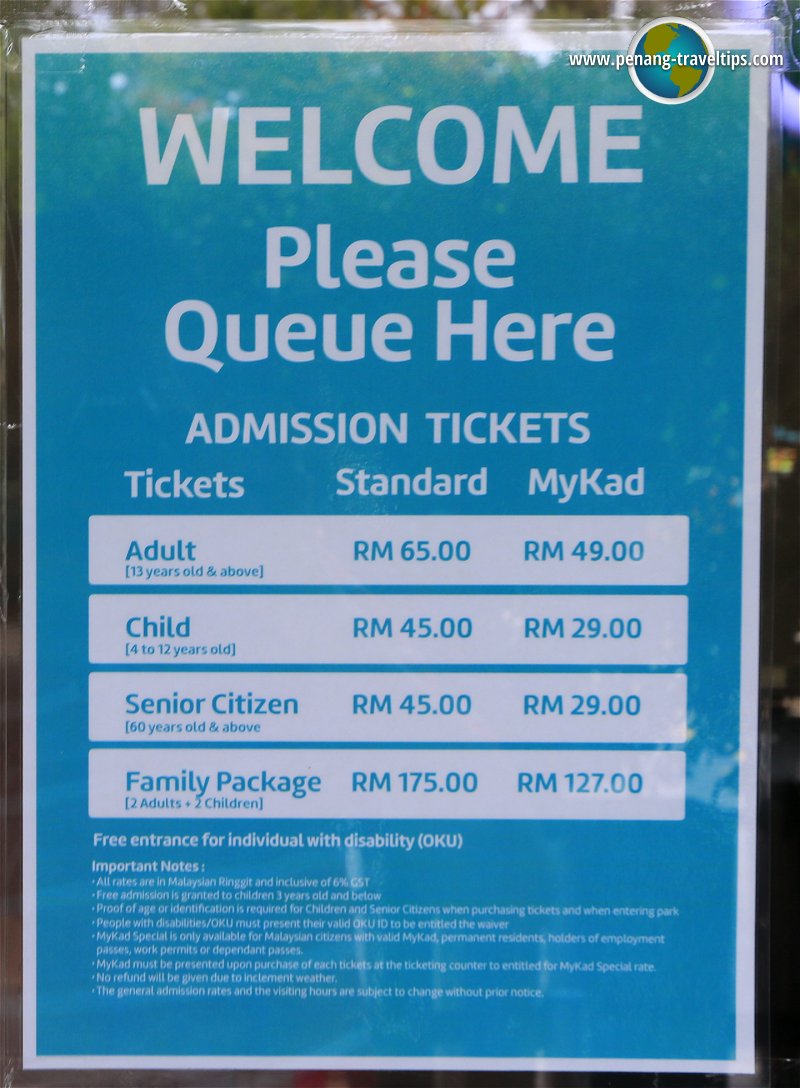 Entopia by Penang Butterfly Farm
(6 May, 2017)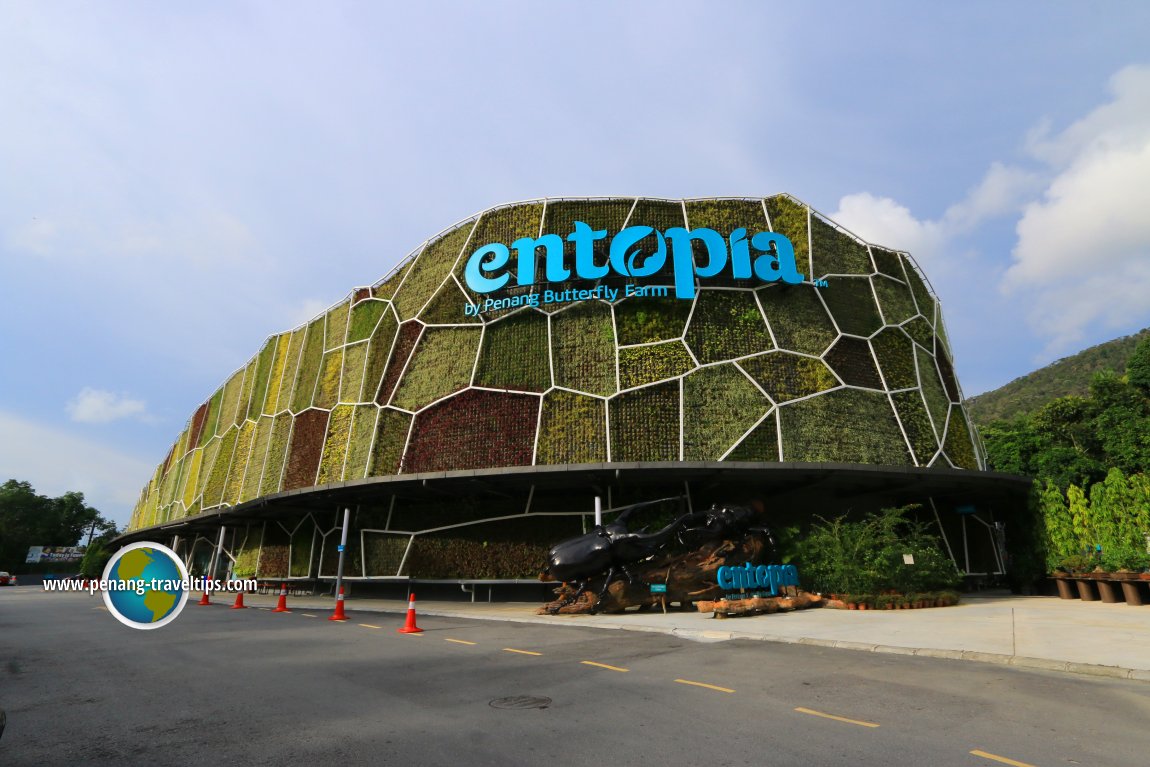 The front façade of Entopia is a green wall with over 80,000 plant pockets.
(6 May, 2017)

My visit to Entopia
My wife and I finally made a visit to Entopia on Saturday, 6 May, 2017. That is just over a year since it opened to the public on 2 May, 2016. We have been well aware of the opening of Entopia, but did not have the opportunity to visit it until now, which on hindsight, is so much the better, as the one year period has allowed the sanctuary to iron out any teething issues, and even allowed the trees time to establish growth. Personally showing us around is the man himself, the Chief Executive Officer of Entopia, Mr Joseph Goh.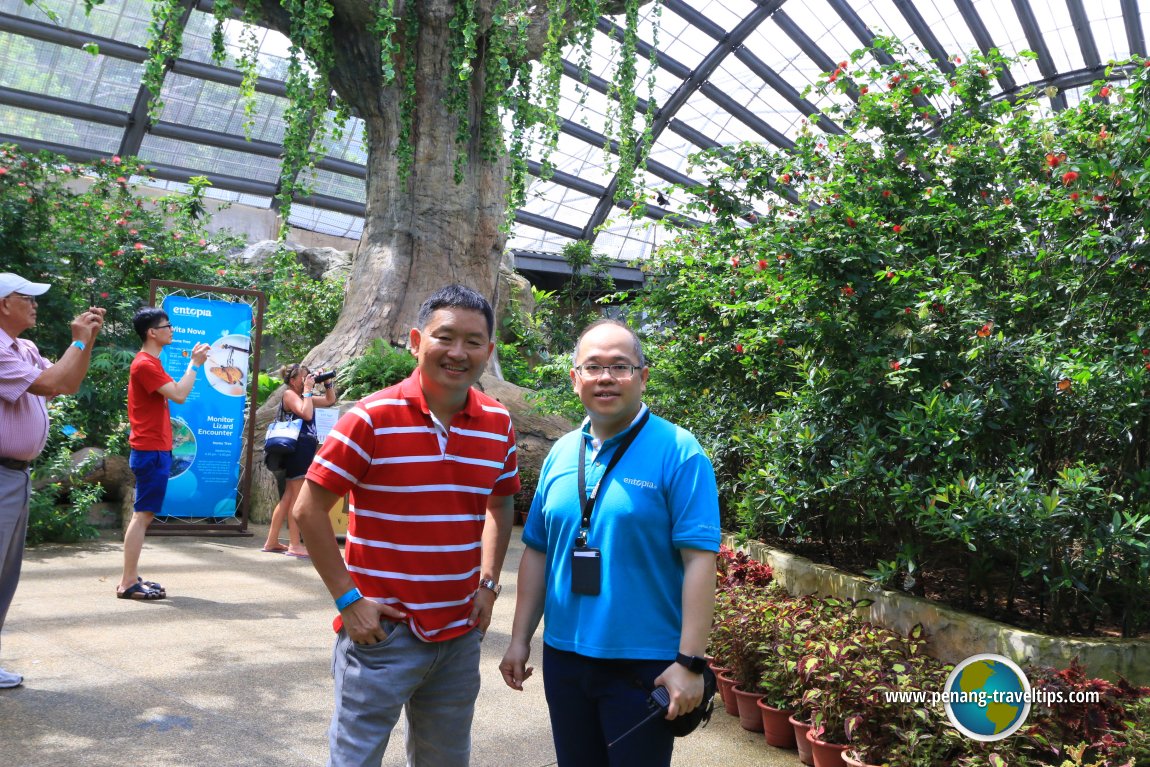 Here I am with Joseph Goh, CEO of Entopia, as he took us around the sanctuary. Behind us is the Home Tree, the emblem for Entopia.
(6 May, 2017)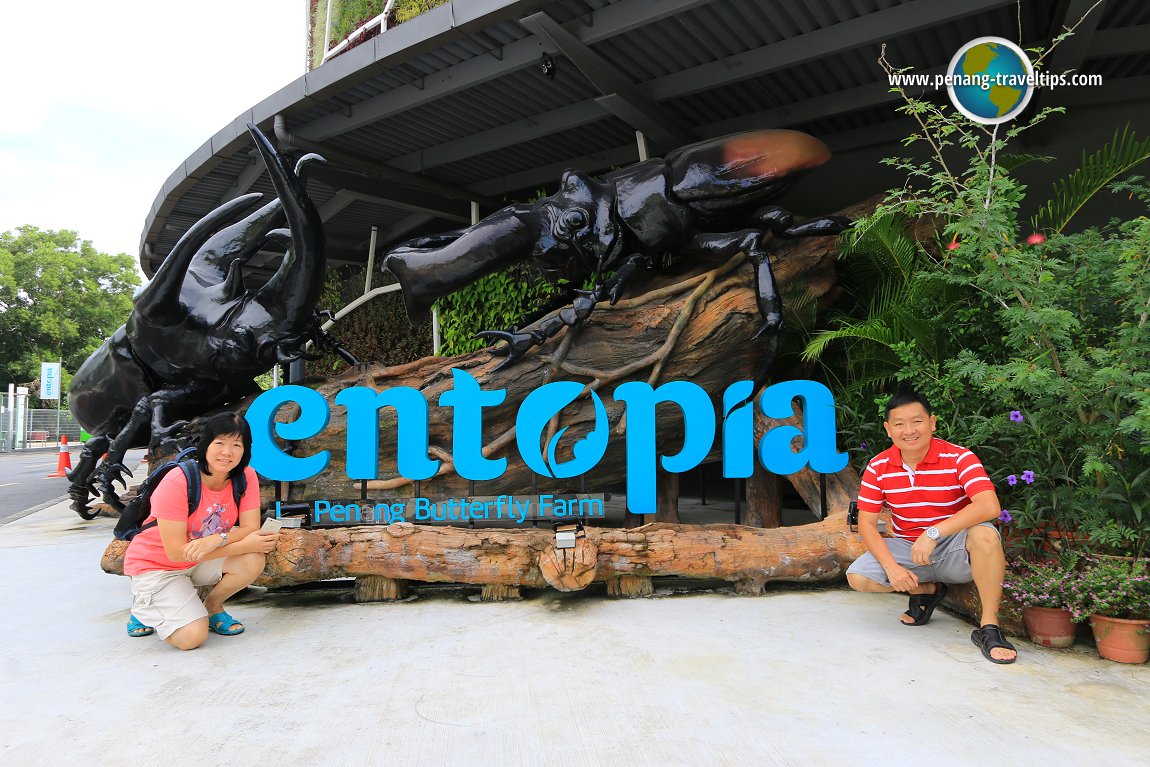 My wife and I at the Entopia signage.
(6 May, 2017)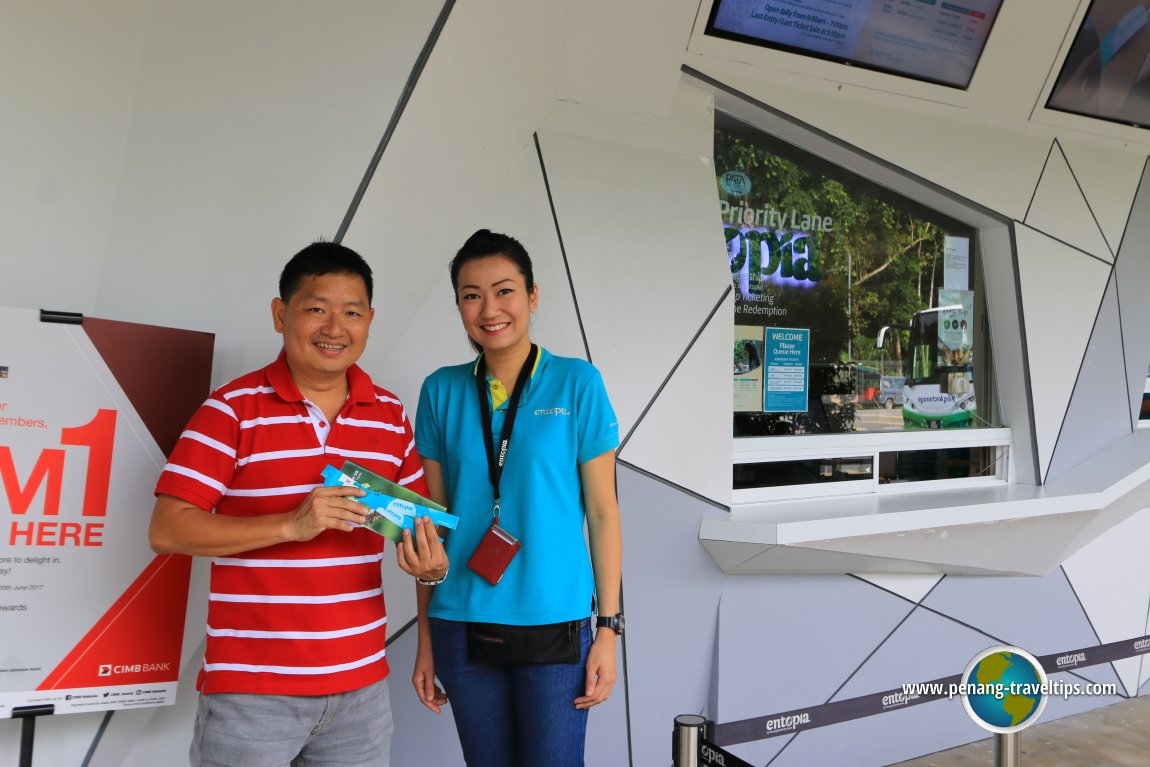 Receiving our wristband and Entopia pamplet from Miss Evon Lim, the Ticketing & Reservations Section Head at Entopia.
(6 May, 2017)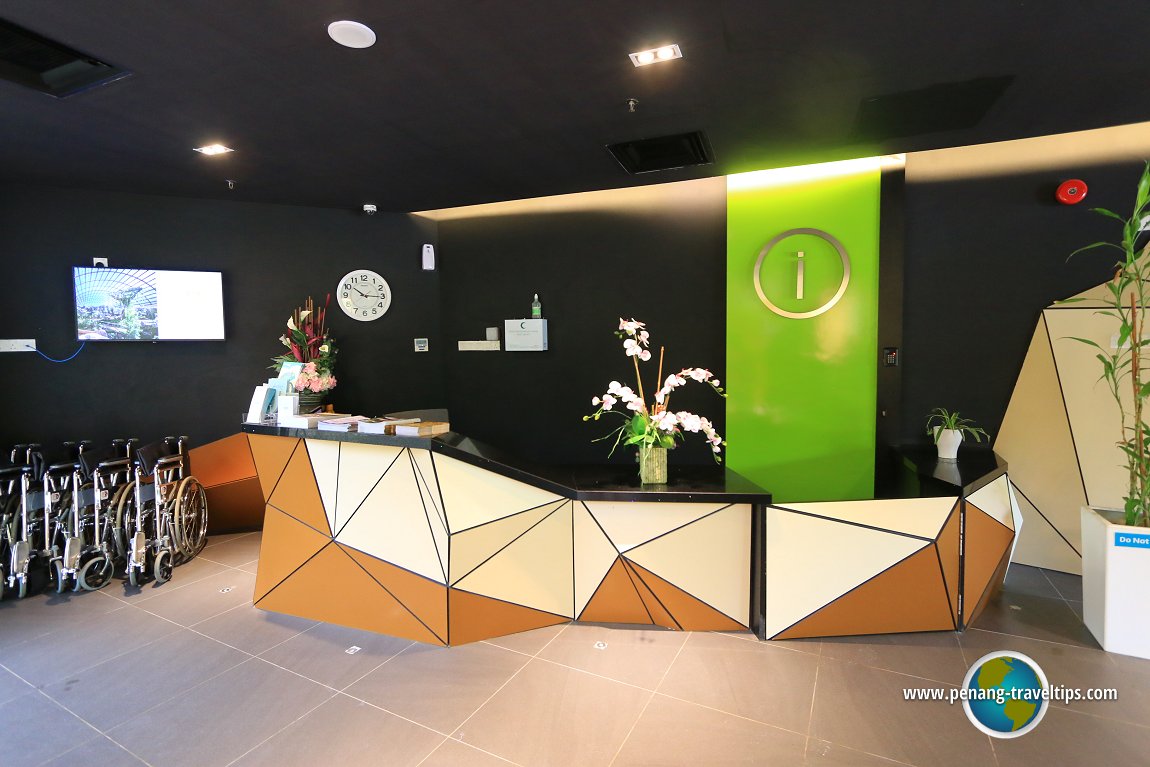 Entrance to Entopia, with wheelchairs at the ready, for the comfort of those who might need them.
(6 May, 2017)

My immediate impression was how huge it was. Yet, as we explore the area, I found that it is wheelchair friendly. Also, there are numerous benches at different places, so that the elderly have the chance to stop for rests. The front façade of the building is a green wall composed of over 80,000 plant pockets - I learned later that this is the largest plant wall in Malaysia, as certified by the Malaysia Book of Records.
Entopia comprises the outdoor
Natureland
and indoor
Cocoon
. Natureland comprises two large vivaria, or butterfly apiaries, which are as tall as five-storey buildings. It comprises various features such as
Mystery Cave
,
Tiger Falls
,
Home Tree
,
Dragon Path
,
Aroma Trail
, and
David's Garden
. The place is so warm. After all, it is supposed to mimic an actual tropical environment. Located off Natureland is a cafe called
Tapestree
. There is also a members area called
The Atlas
, and an educational area called
The Sphere
.
When you are done with Natureland, you continue on to Cocoon. Cocoon Indoor Discovery Centre is a two-storey indoor exhibition area. It holds various galleries including
Pandora Forest
,
Metamorphosis
,
Cinerama
,
Breeding Ground
,
Lumino City
,
Downtown Entopia
,
Underground Mysteries
and
Understory Tales
.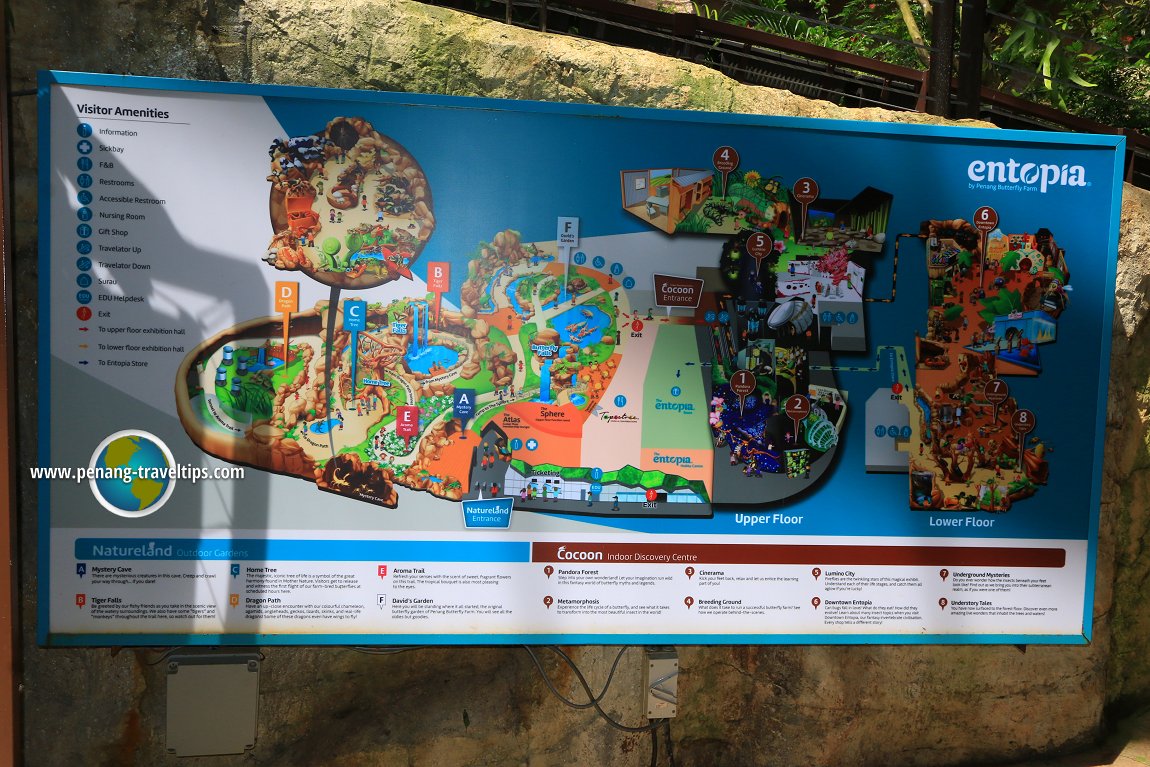 The layout of Entopia.
(6 May, 2017)

At various stations and at different times of the day, there would be short activities and shows held particularly in Natureland. Show times are stated on the notice board. We managed to follow the show known as
Vita Nova
, which is when new butterflies are released into the vivarium. Each visitor is given a canister with a newly emerged butterfly inside. They are then allowed to release the butterfly into the air.
Enjoying the sight of butterflies fluttering about at Entopia
Participating is a session of Vita Nova at Entopia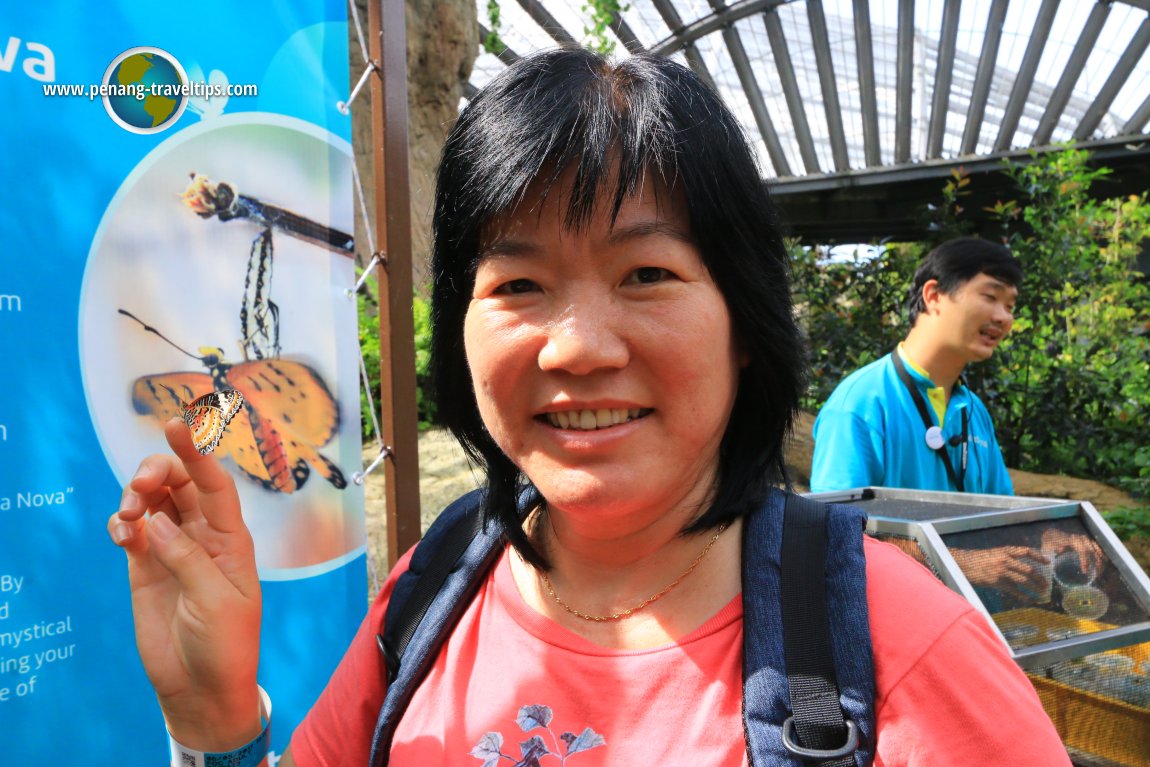 My wife with a butterfly perched on her hand.
(6 May, 2017)

As we walked through Entopia, it became apparent to me that there's more to this place that a casual walk in the park. Entopia is also a centre for research in the field of entomology. Advances are being made right here to better understand the lifecycle of insects, particularly butterflies, and this is contributed by the local scientists who have found a career locally thanks to Entopia. Through the research carried out here, and with its counterparts worldwide, scientists are now able to tell the gender of butterflies at pupa stage.
Entopia, as with the Penang Butterfly Farm in the past, is self sustaining, in that it does not harvest butterflies from the while, but release those which it has bred in captivity. To say that Entopia is harvesting butterflies from the wild is untrue. Adult butterflies have a lifespan of just about two weeks. So, catching them from the wild time consuming, not to mention, stress the creatures so much, they would not live long. The butterflies within Entopia's vivaria were all bred at the sanctuaries' breeding centres and then brought in to be released.
Butterflies feeding on the nectar of hibiscus flowers.
(6 May, 2017)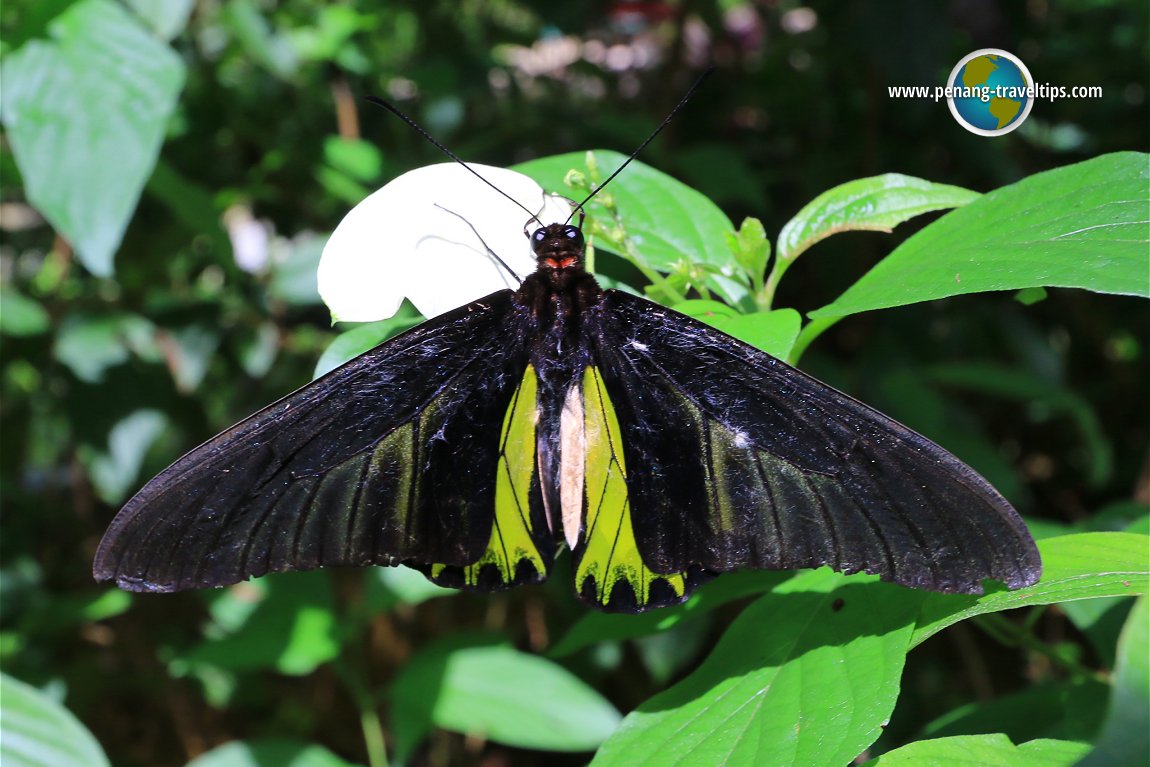 Butterfly perched on a flower at Entopia.
(6 May, 2017)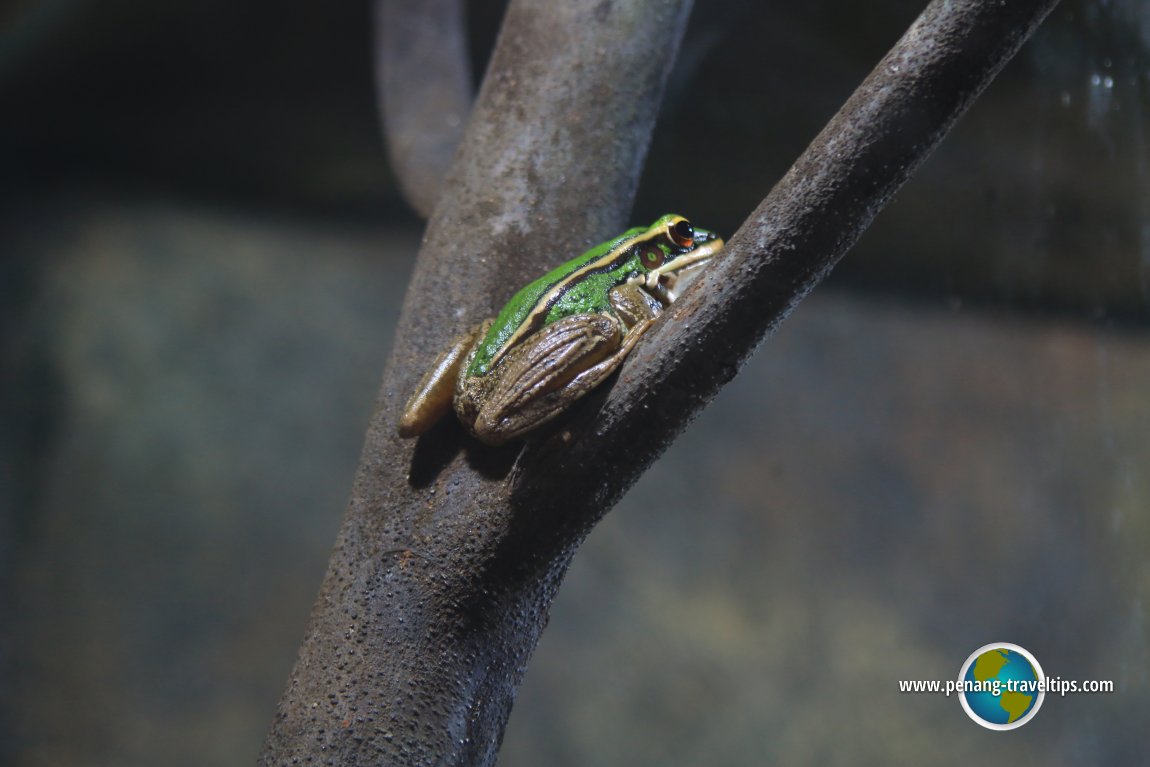 A Green Paddy Frog (Hylarana erythraea) on a branch at Entopia.
(6 May, 2017)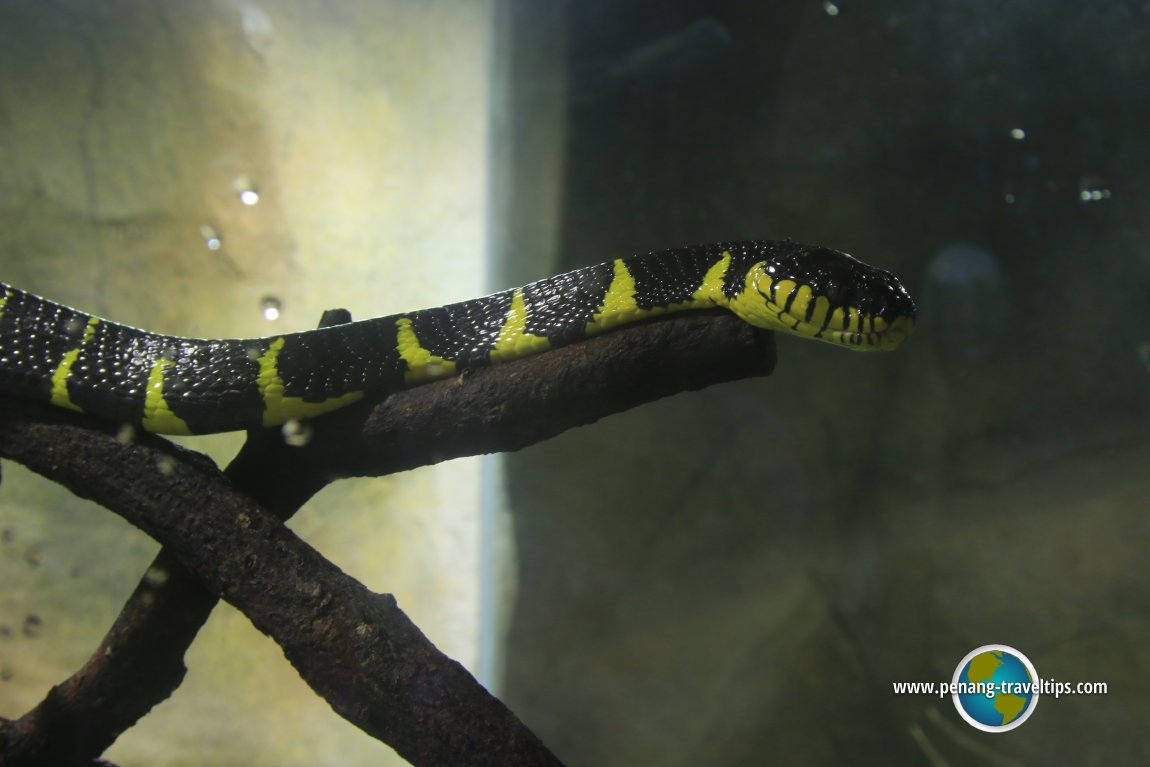 This mangrove snake (Boiga dendrophila) is one of the venemous reptiles at Entopia.
(6 May, 2017)

A Chilean Rose Tarantula (Grammostola rosea) at Entopia.
(6 May, 2017)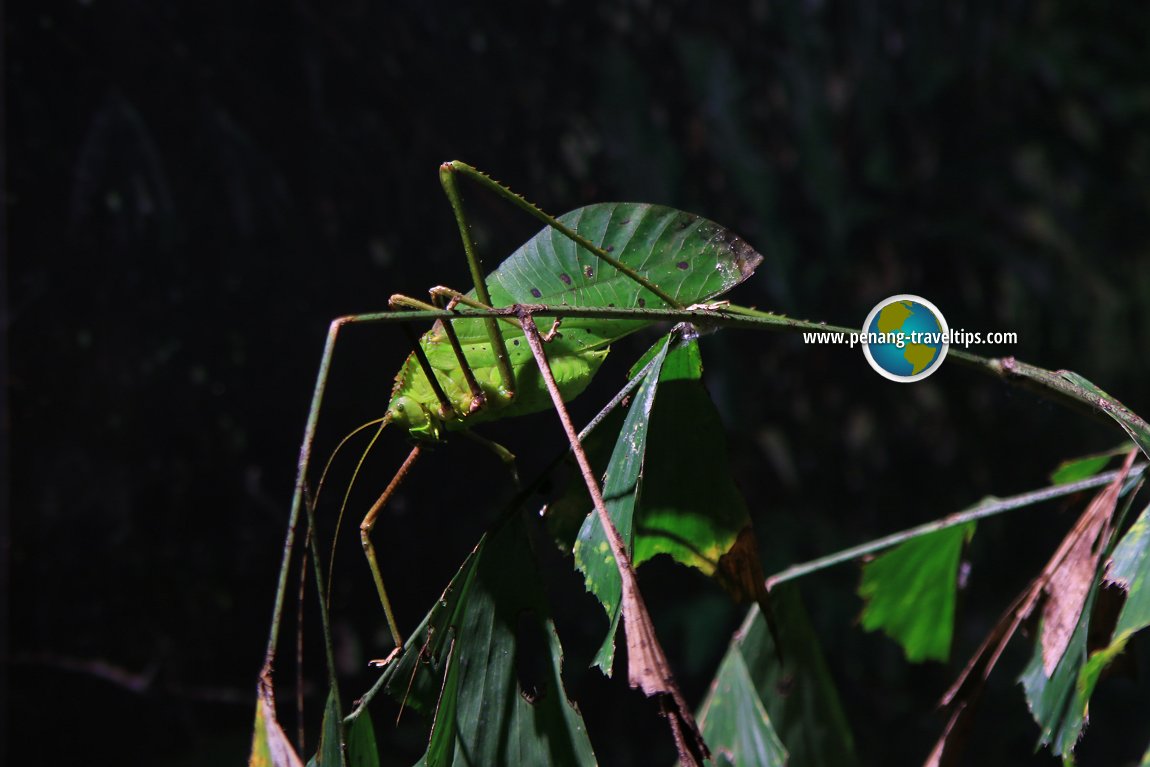 Giant Long-legged Katydid at Entopia.
(6 May, 2017)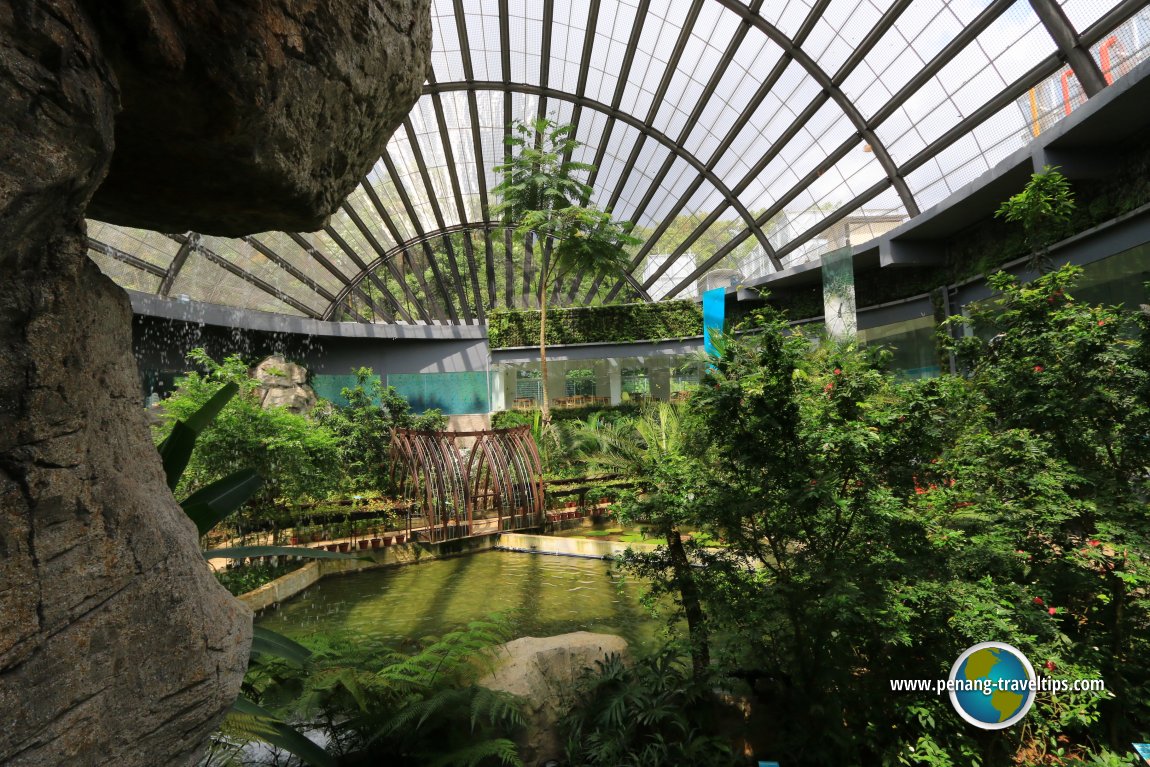 David's Garden, at Entopia.
(6 May, 2017)

In addition to the 2.7 acre of visitor space, Entopia maintains a breeding centre of about 30 acres, away from the visitors, located offsite in the surrounding hills. Many of those employed are Orang Asli families who have worked for the company since Joseph's father's time. They are the ones who maintain the true "Penang butterfly farm" of the company.
The breeding facilities also produces pupa for export to various museums, including the
American Museum of Natural History
in
New York City
, as well as to zoos and other butterfly sanctuaries. All pupa exports are carried out with permit from
Perhilitan
, the Department of Wildlife and National Parks of Peninsular Malaysia.
Breakthroughs are still being made at Entopia in breeding butterflies. Of the some 1,100 species of butterflies found in Malaysia, so far only about 120 species have been successfully bred, and those are the once you find fluttering in Entopia.
At the heart of Entopia is an area called David's Garden. It is named in honour of Joseph's father, David Goh, and occupies the site of the old Penang Butterfly Farm.
After we were done exploring Natureland, Joseph took us to the indoor galleries, collectively known as Cocoon. This section provides both education and recreation to visitors of all ages, from small kids to adults. We get to learn about the life cycle not only of butterflies, but also fireflies, ants, and other insects.
Entopia makes learning fun, especially for the young visitors who may be getting their initial exposure to entomology. There are cool activities that have them learn as they discover.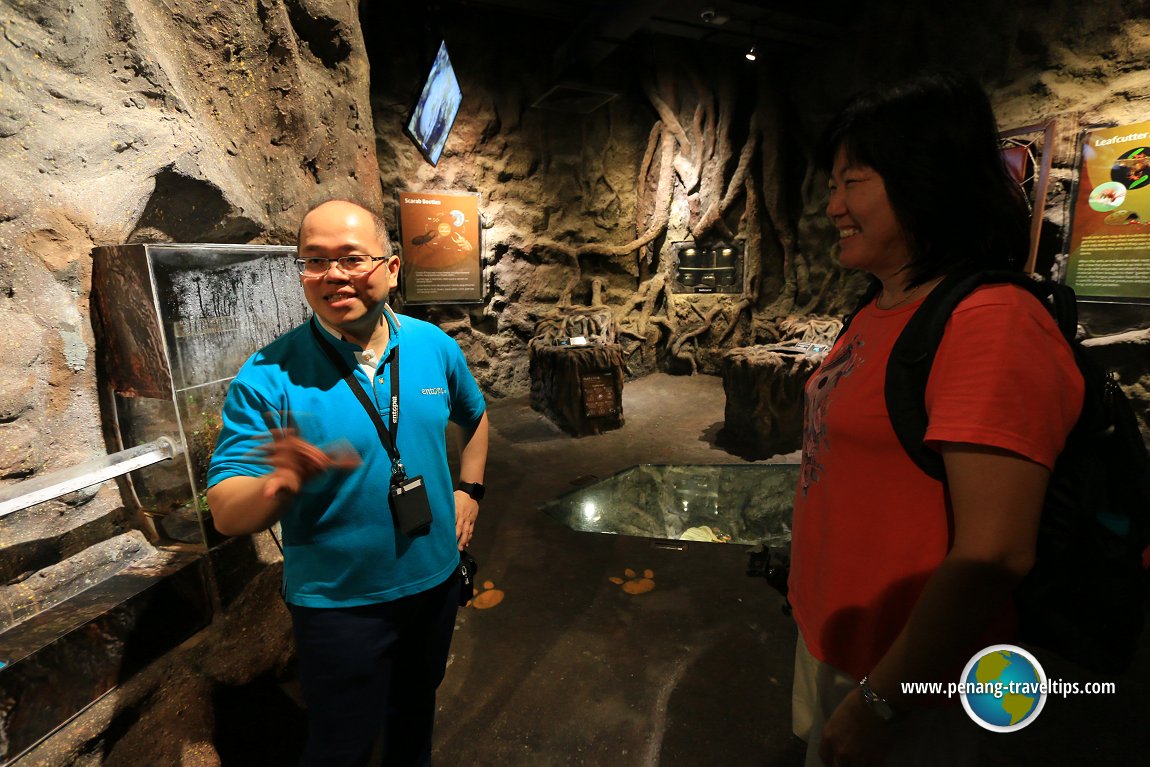 Joseph having a light moment with my wife.
(6 May, 2017)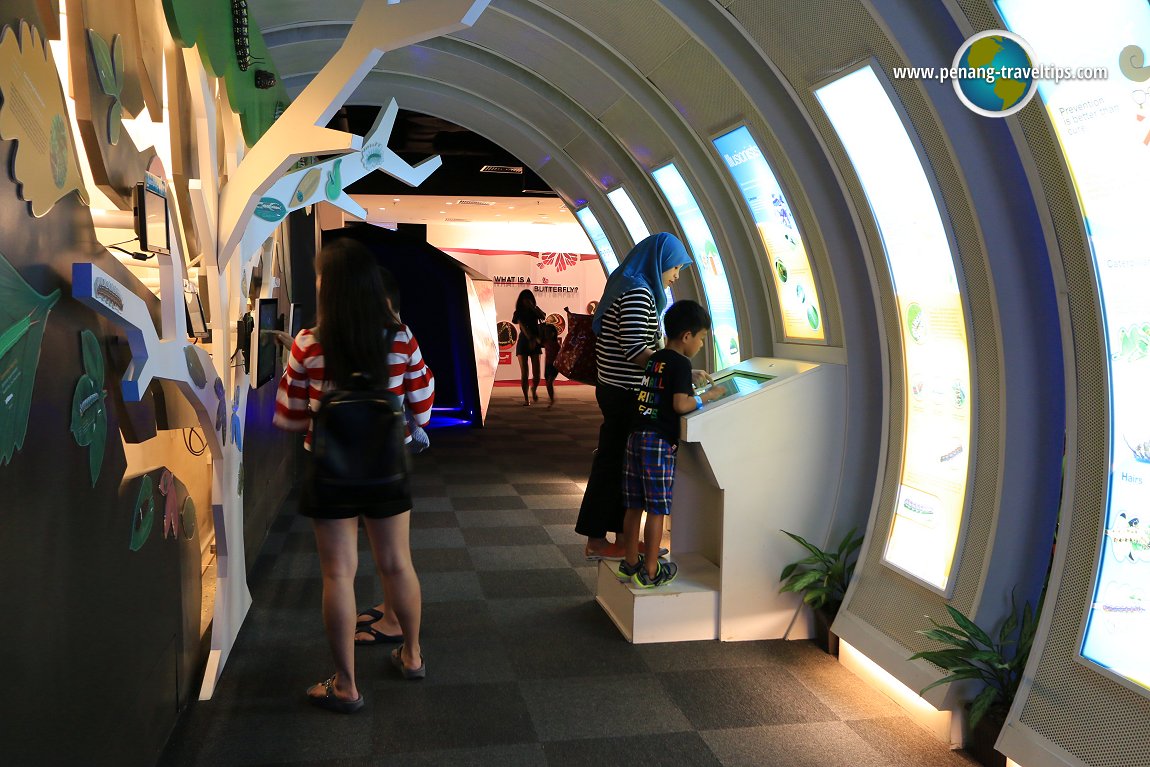 Visitors enjoy while they learn at Entopia.
(6 May, 2017)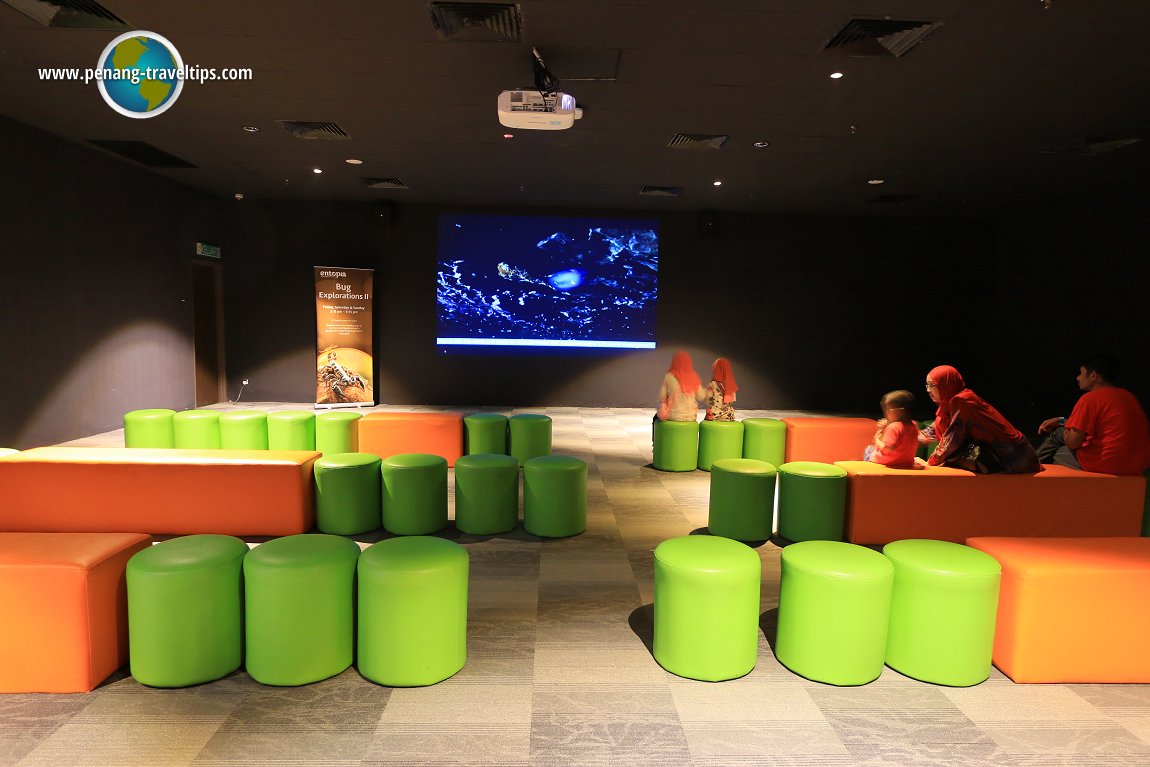 At Cinerama, visitors may follow a BBC documentary hosted by Sir David Attensborough.
(6 May, 2017)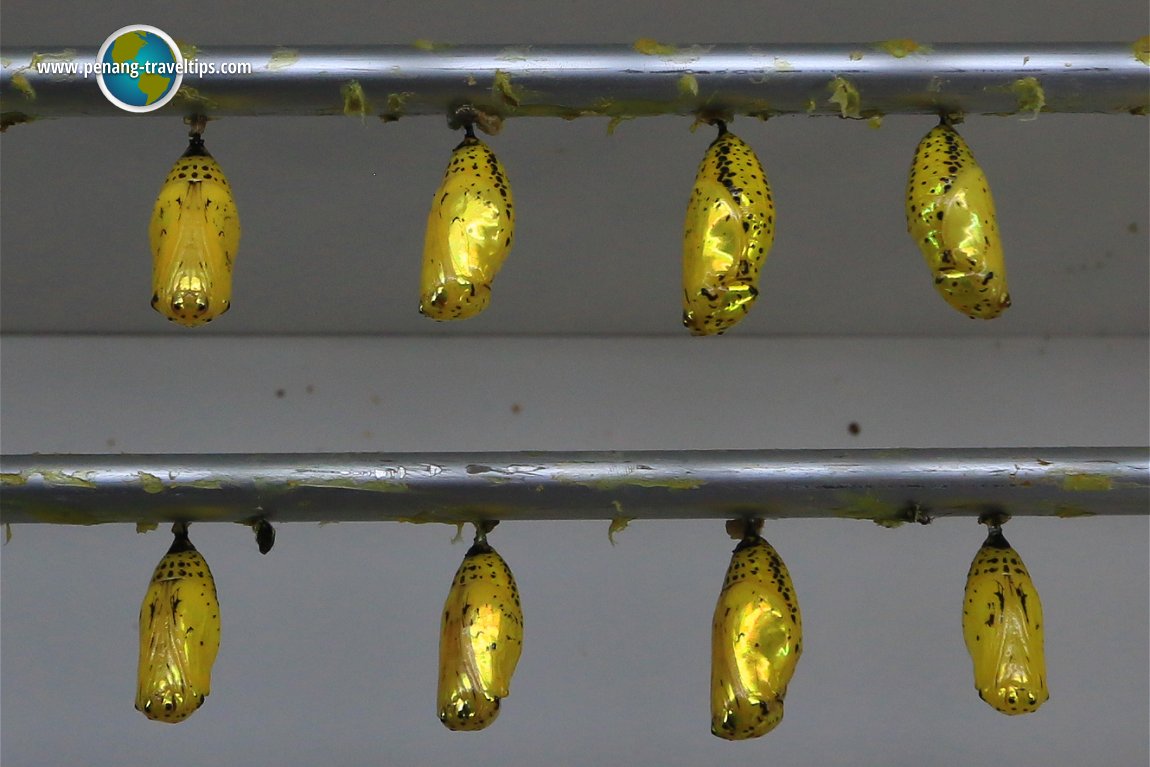 Golden pupae before the butterflies emerge from them.
(6 May, 2017)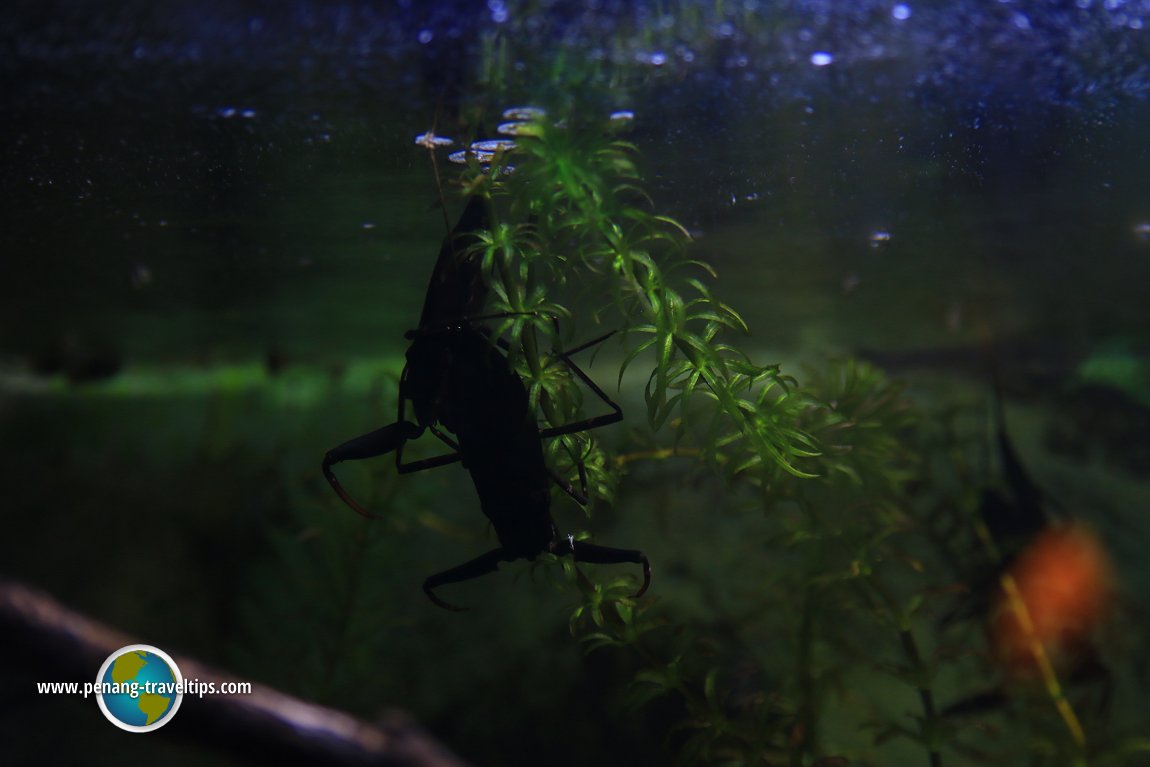 A water scorpion (Laccotresphes sp.) in its tank at Entopia.
(6 May, 2017)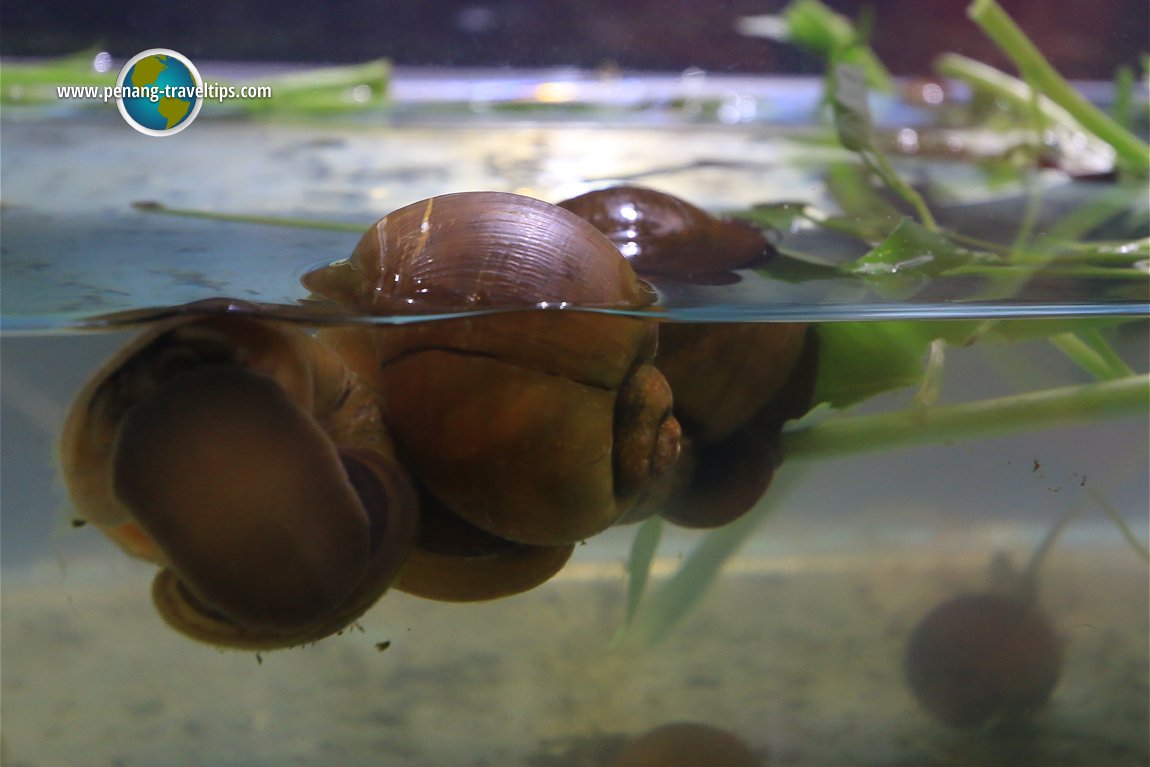 Who is eating whom? Apparently these snails are dinner for firefly larvae.
(6 May, 2017)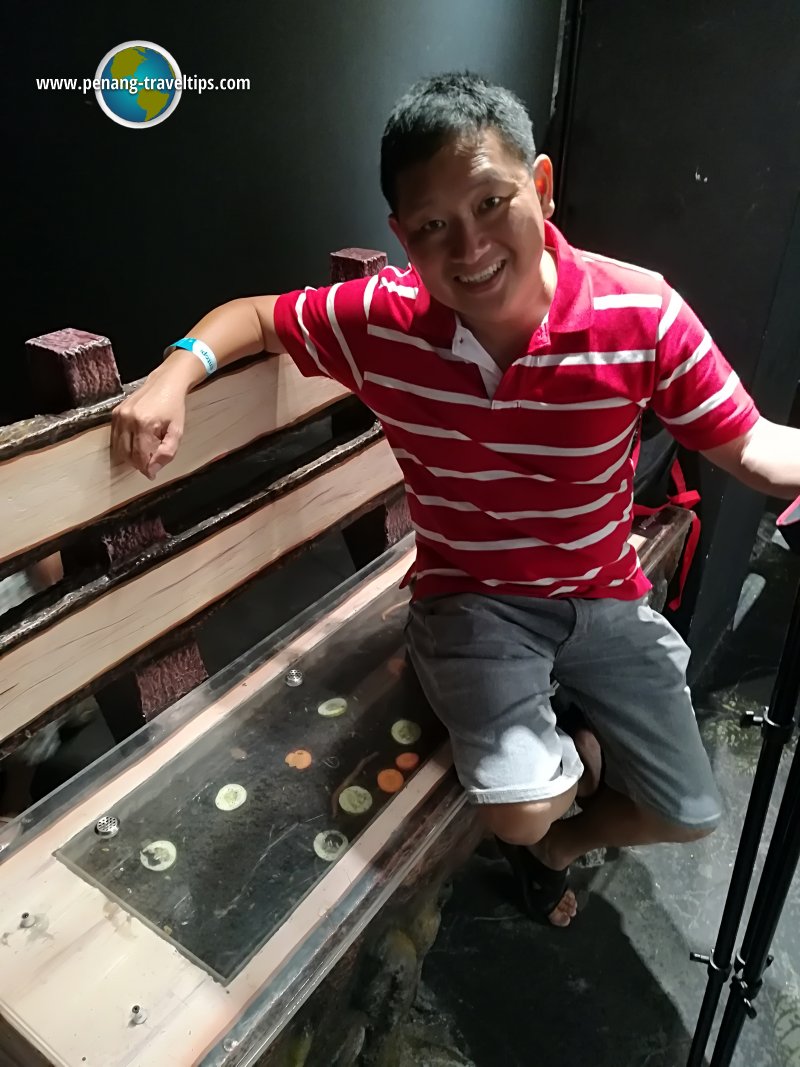 Here I am, sitting on an earthworm bench at Entopia.
(6 May, 2017)

Tapestree
Tapestree is the inhouse café in Entopia. To set this up, the company built a full fledged kitchen which produces everything, including their own bread. There is also a barista in the house to prepares for the guests any coffee orders.
We had our lunch here with Joseph. My wife and I ordered the burgers which Joseph had the pasta. We finished the meal with
Crème brûlée
, which I enjoyed with iced latte while Joseph had the hot version.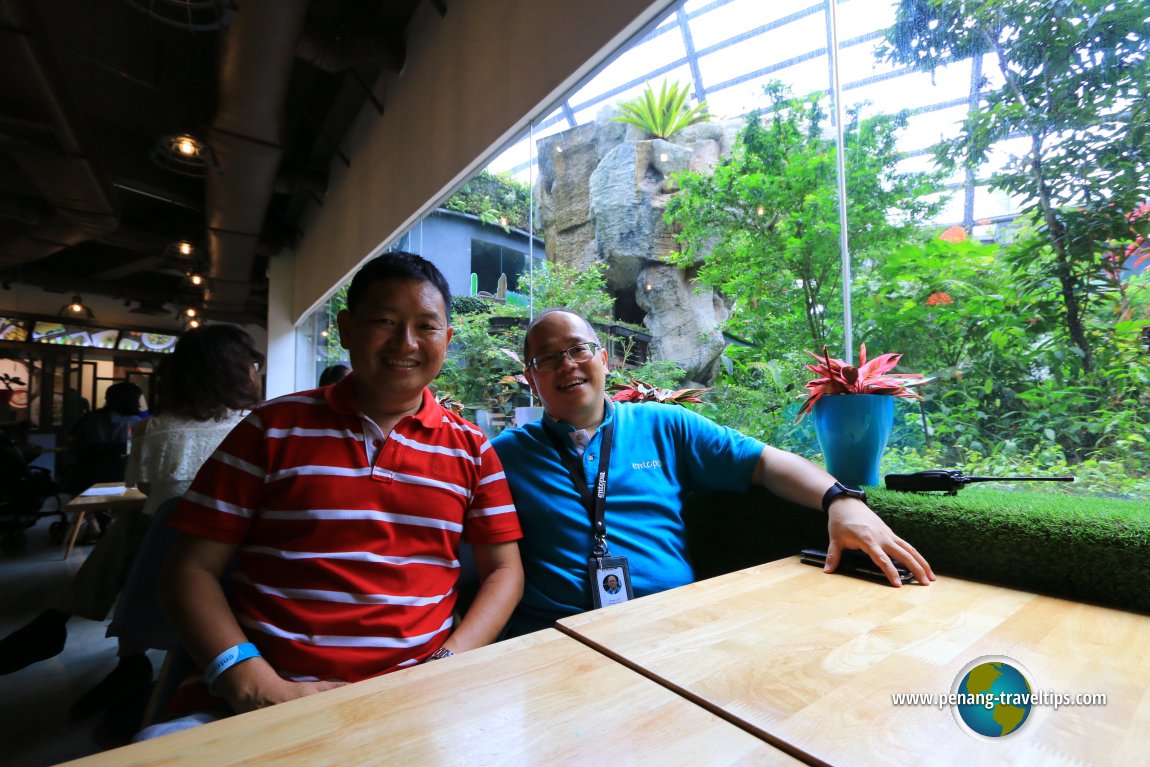 Joseph (right) and I having a good rest after our walk through Entopia.
(6 May, 2017)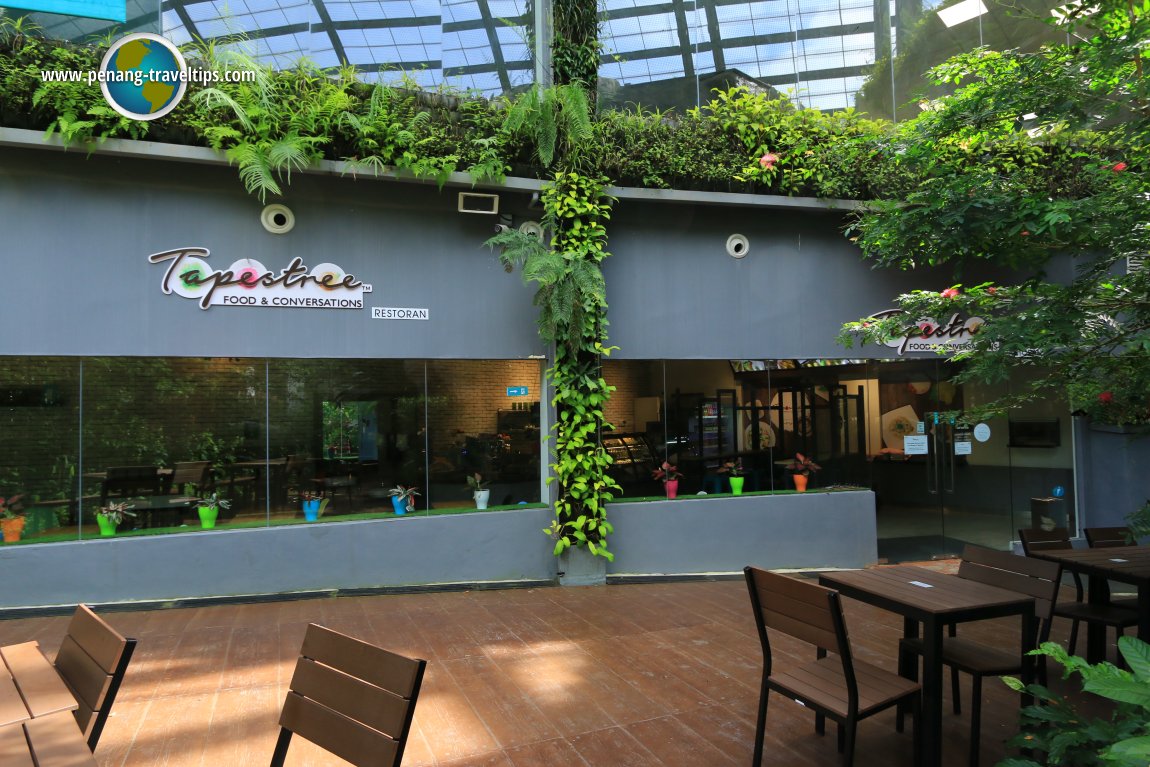 Tapestree, the café at Entopia.
(6 May, 2017)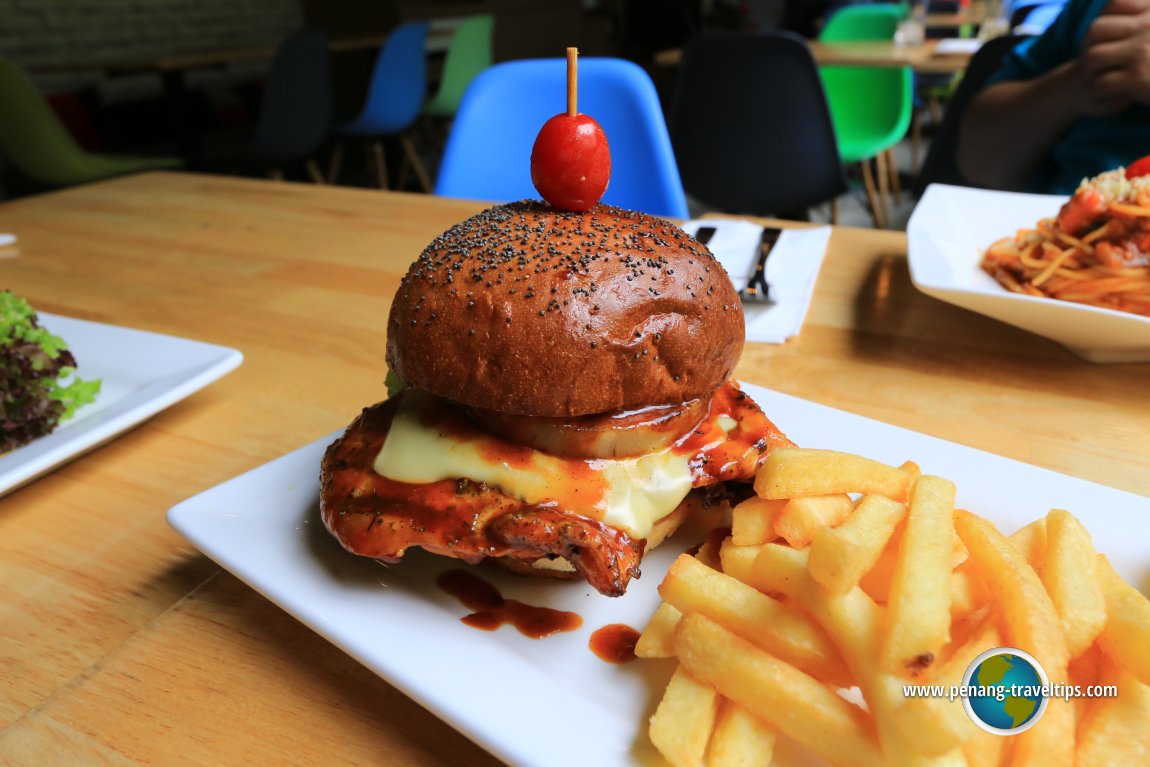 The barbecued chicken burger at Tapestree.
(6 May, 2017)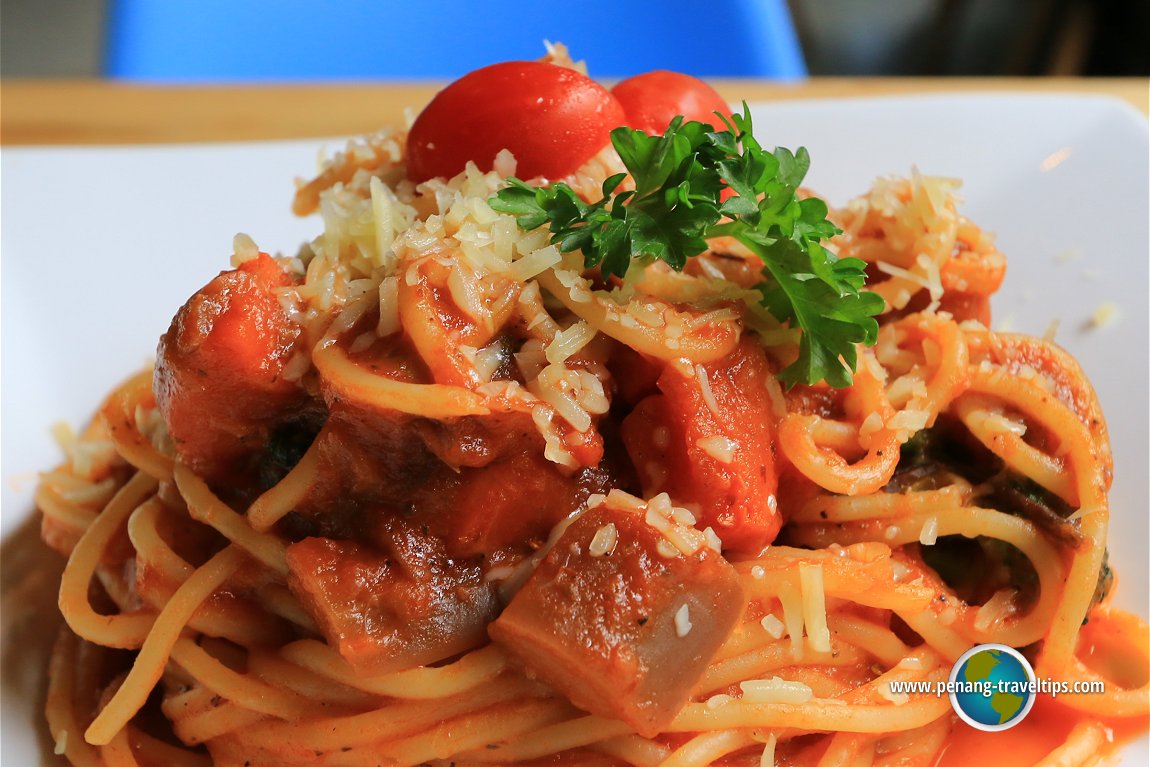 The pasta at Tapestree.
(6 May, 2017)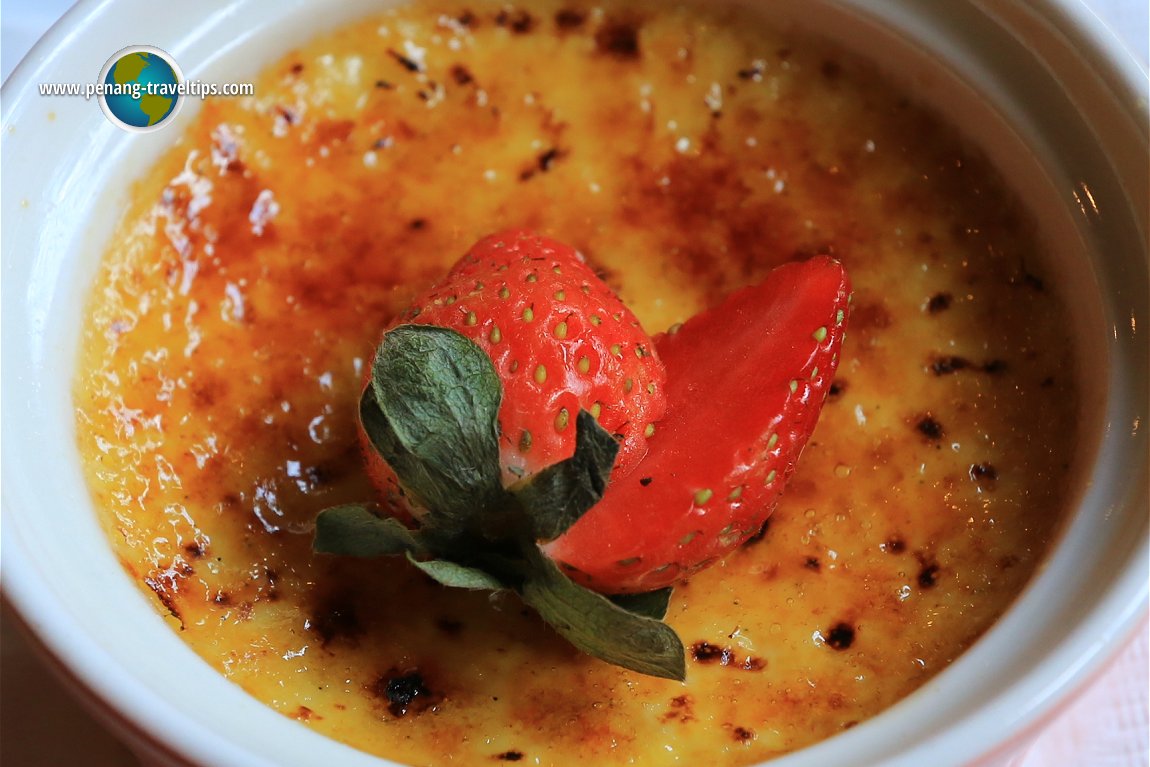 The Crème Brûlée at Tapestree.
(6 May, 2017)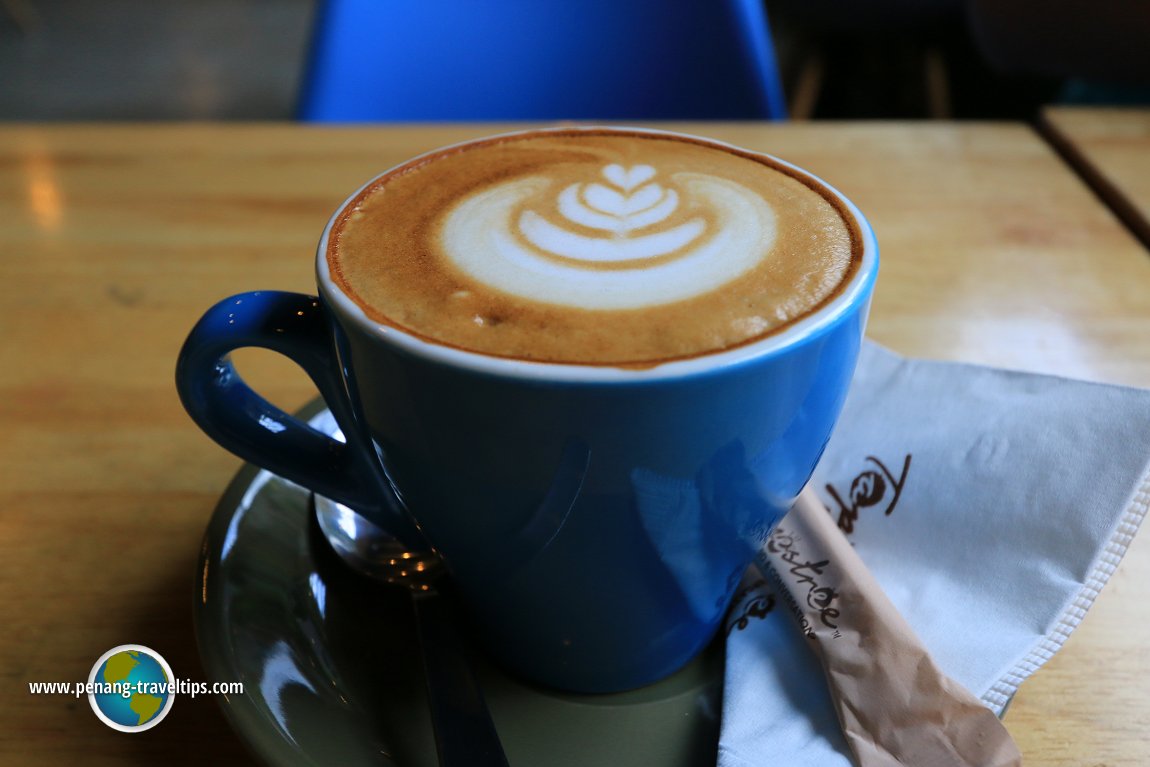 The Caffè Latte at Tapestree.
(6 May, 2017)

My wife and I had planned to visit Entopia for just a few hours. But we ended up being there for close to eight hours! Before coming, I have heard people saying that "there's nothing to see in Entopia". Well, nothing could be further than that. I guess people who saw nothing exciting at Entopia are just not that into the subject. But if you love nature, as both my wife and I do, you could spend hours and hours here, mersmerised by all the information.
As we finally made our way to the Gift Shop, which is the final portion of Entopia (and we ended up making a purchase there), I couldn't help feeling how fortunate we are to have Entopia right here in Penang, not only as a tourist attraction, but also as a breeding ground for local entomologists.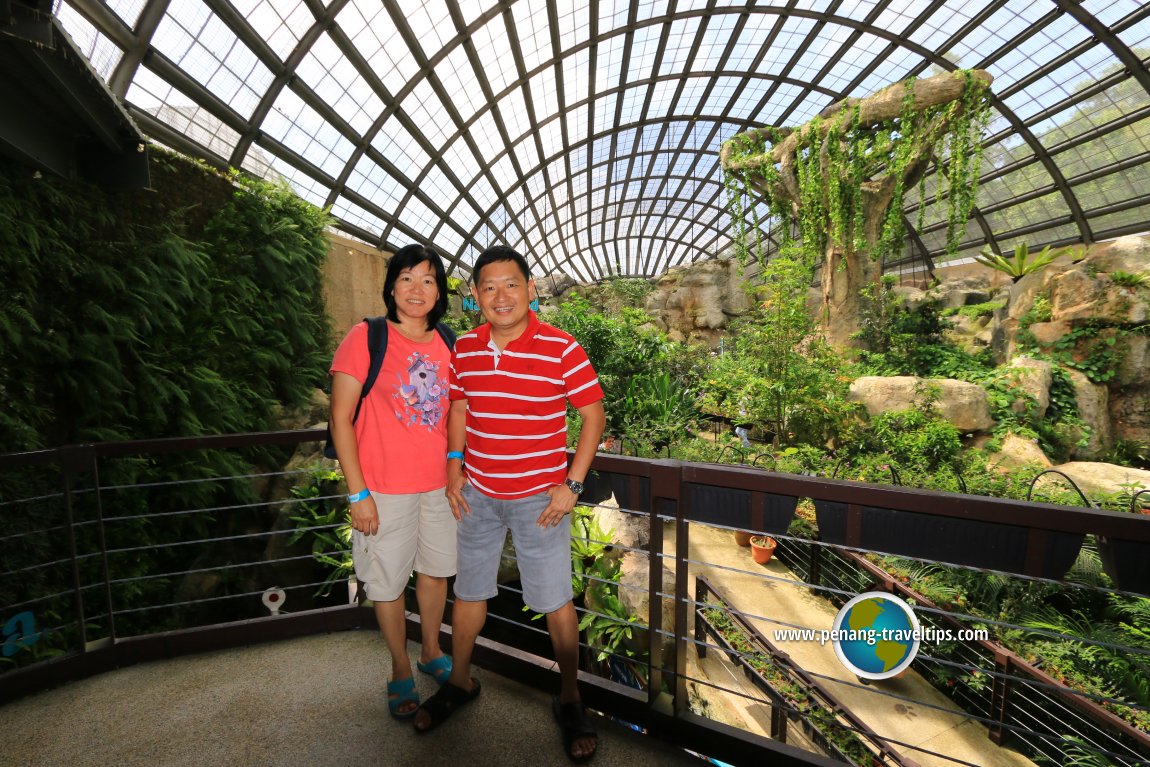 My wife and I at Entopia.
(6 May, 2017)

The history of Entopia
When the Penang Butterfly Farm first opened to the public in 1986, and was one of the first tropical butterfly farms in the world. It occupies a 0.8 hectare site near the foot of the
Teluk Bahang
hills, between the
Taman Rimba Teluk Bahang
and the
Teluk Bahang
village. The owner and founder is David Goh. A teacher by profession, he was passionate about butterflies and collecting of specimens. David decided to found his farm inspired by another butterfly farm owner, Clive Farrell of
Stratford-upon-Avon
in
England
.
The farm was intended to be more than just a tourist attraction. It introduced and created an interest in entomology - the study of insects - to the Malaysian public. For the first time, Malaysians from children to adults could experience the pleasure of watching over a thousand butterflies from 120 different species fluttering in an enclosure.
They include the famous
Rajah Brooke (Trogonoptera brookiana)
, the beautiful black butterfly with florescent green patches called birdwing. This butterfly comes from Borneo and West Malaysia, and was named after James, the Rajah of Sarawak, by naturalist
Alfred Wallace
, the founder of the Sarawak Museum, in 1855. Other butterflies found here include the endangered Yellow Bird wing (
Troides helena
).
Updates on Entopia Penang Butterfly Farm
3 December, 2015
The Penang Butterfly Farm has been rebranded Entopia.
26 February, 2015
: The Penang Butterfly Farm advises that the farm will be closed to the public for a major development beginning 7 March, 2015, and is planned to reopen in early 2016.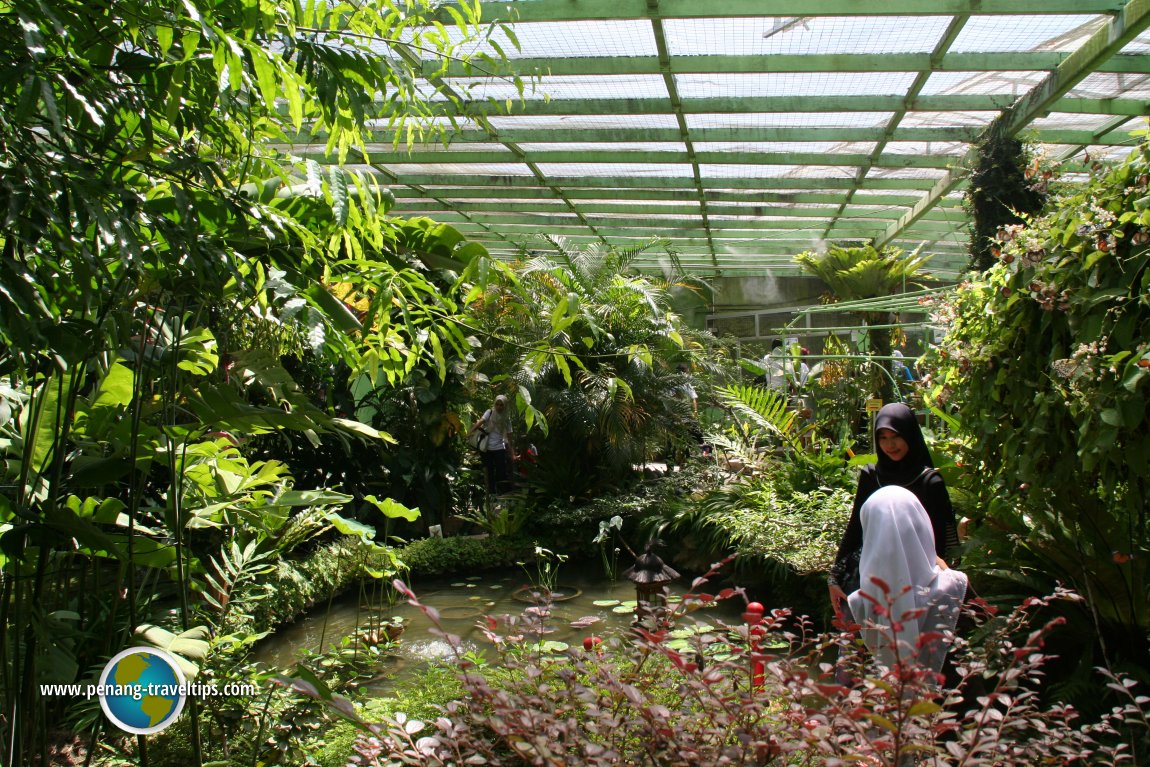 Penang Butterfly Farm
(2 December, 2007)

The old Penang Butterfly Farm
When the Penang Butterfly Farm opened in 1986, it was the first live butterfly and insect sanctuary in the tropical world. In its first year of operations, the farm attracted some 200,000 visitors. Since then, it has garnered many awards, including the Malaysian Tourism Gold Award (1988, 1990), PATA Gold Award (1991), and was voted the Most Popular Attraction in Penang on TripAdvisor in 2010.
Although to the general public, the butterfly farm is just another of Penang's many tourist attractions, the farm itself has gained an international reputation within the industry as a butterfly breeding centre. Rather than depleting the butterfly population in the wild, the farm has been active in breeding butterflies in captivity. This helps to increase the number of butterflies which are endangered species. It also increases awareness of conservation issues pertaining to the rain forest and butterfly habitats.
Before the Penang Butterfly Farm closed for its present makeover, its entrance fees for adults were RM27, children were RM15 and seniors (aged 58 and above) were RM13.50. Opening hours was from 9:00am to 6:00pm (present opening hours at Entopia up to 7:00pm), with last entry at 5:00pm.
As it is with Entopia today, visitors to the Penang Butterfly Farm enjoyed the sight of butterflies fluttering about as they consumed nectar from flowers and fruits. In addition to the butterflies, the farm also has a menagerie of other animals and insects, including beetles, stick insects, and other fascinating creatures. There is also an enclosure with huge scorpions and also a collection of tropical snakes and ducks. Gardening enthusiasts will also be delighted to see a big range of tropical plants growing healthily and many in full bloom.
After they are done with the butterfly enclosure, visitors proceed to the Insect Library with its collection of insects, from beetles to butterflies and more. The owner of the farm is also an avid ethnologist, and has a vast collection of tribal items including masks, effigies, weapons and musical instruments. Some of these items are on sale to interested buyers. The last part of the farm is the gift shop where visitors can purchase souvenirs, t-shirts, trinkets, even books, to remember their trip to the Penang Butterfly Farm. The entire ethnology section was done away with in the present Entopia, as it is not in keeping to the theme of the place.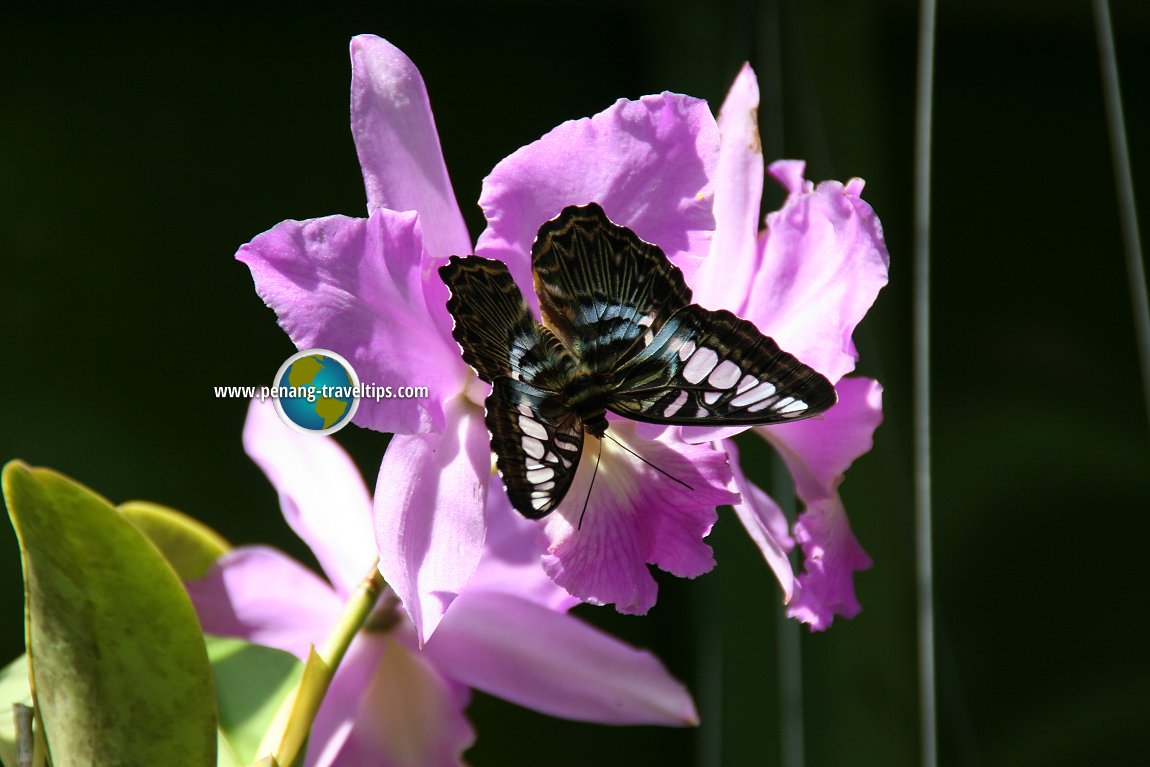 A butterfly on an orchid at Penang Butterfly Farm.
(2 December, 2007)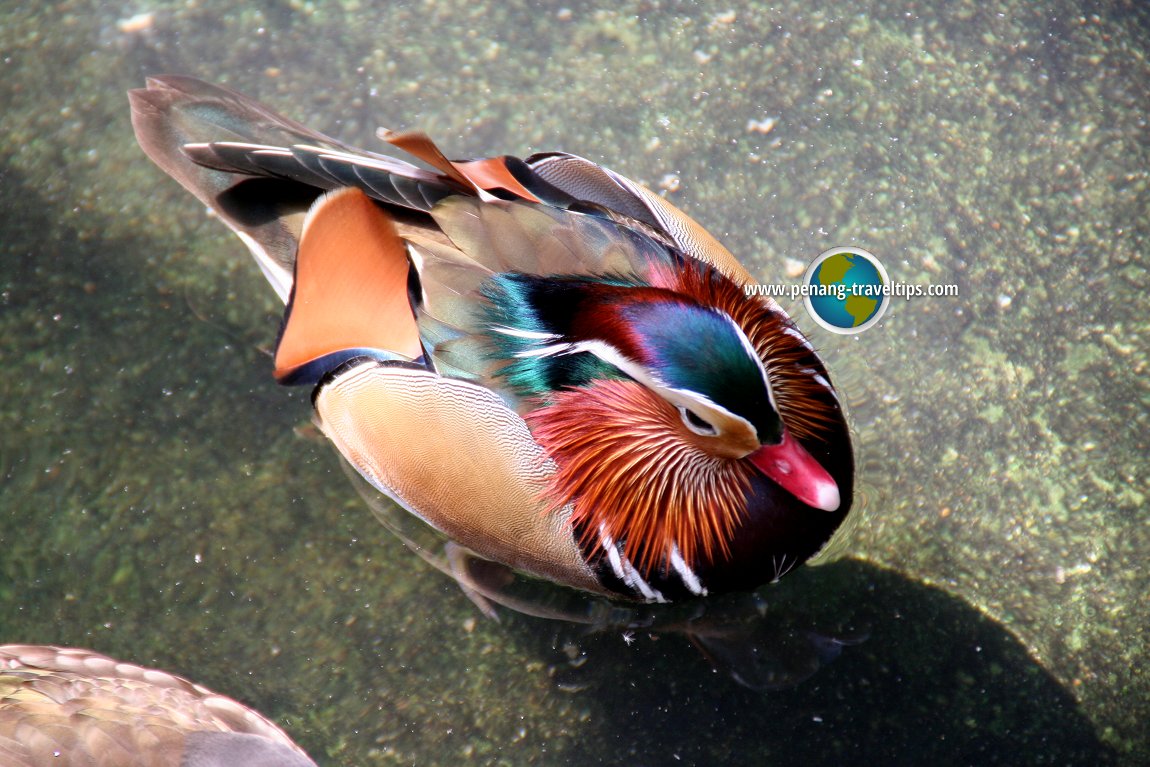 One of the Mandarin Ducks at the Penang Butterfly Farm.
(2 December, 2007)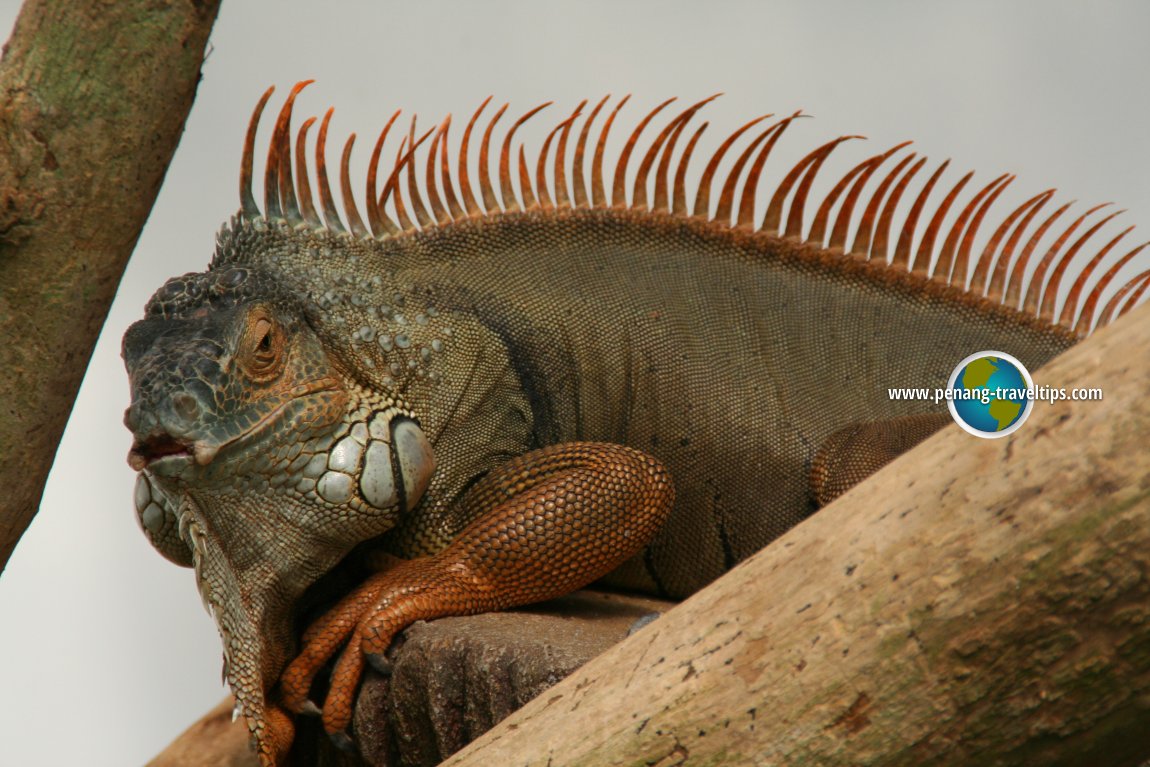 An iguana at the Penang Butterfly Farm.
(2 December, 2007)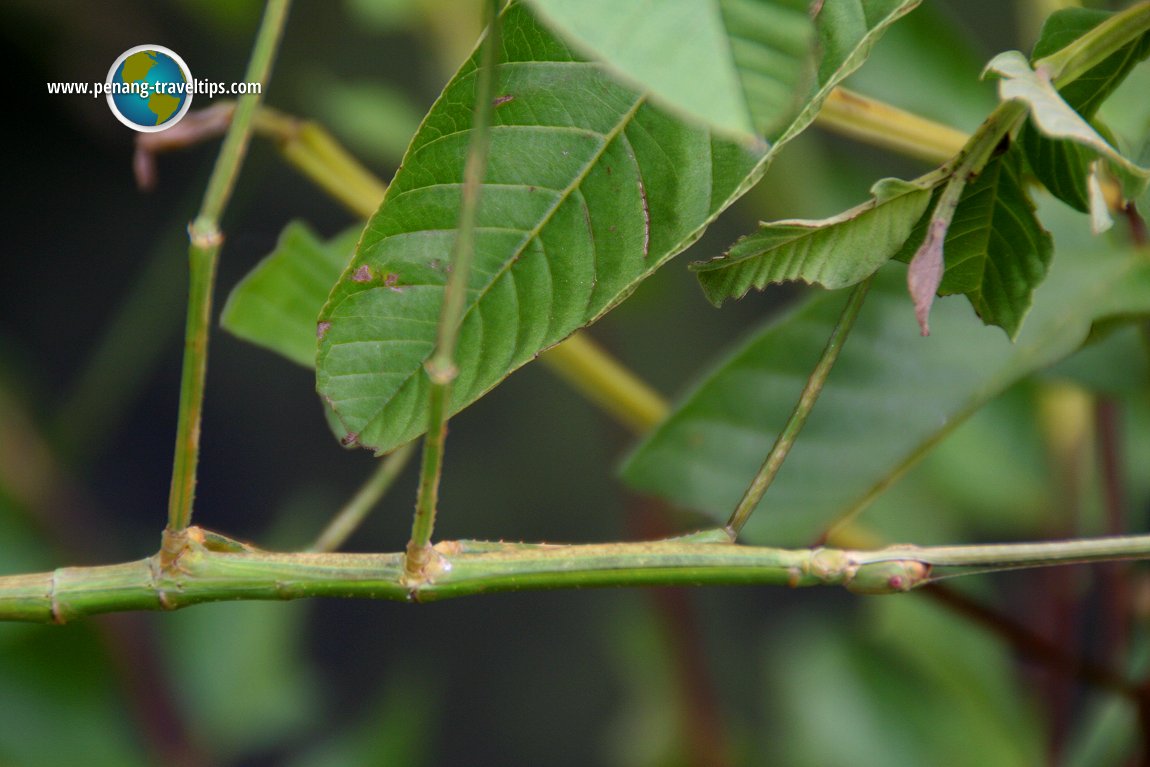 A stick insect at the Penang Butterfly Farm.
(2 December, 2007)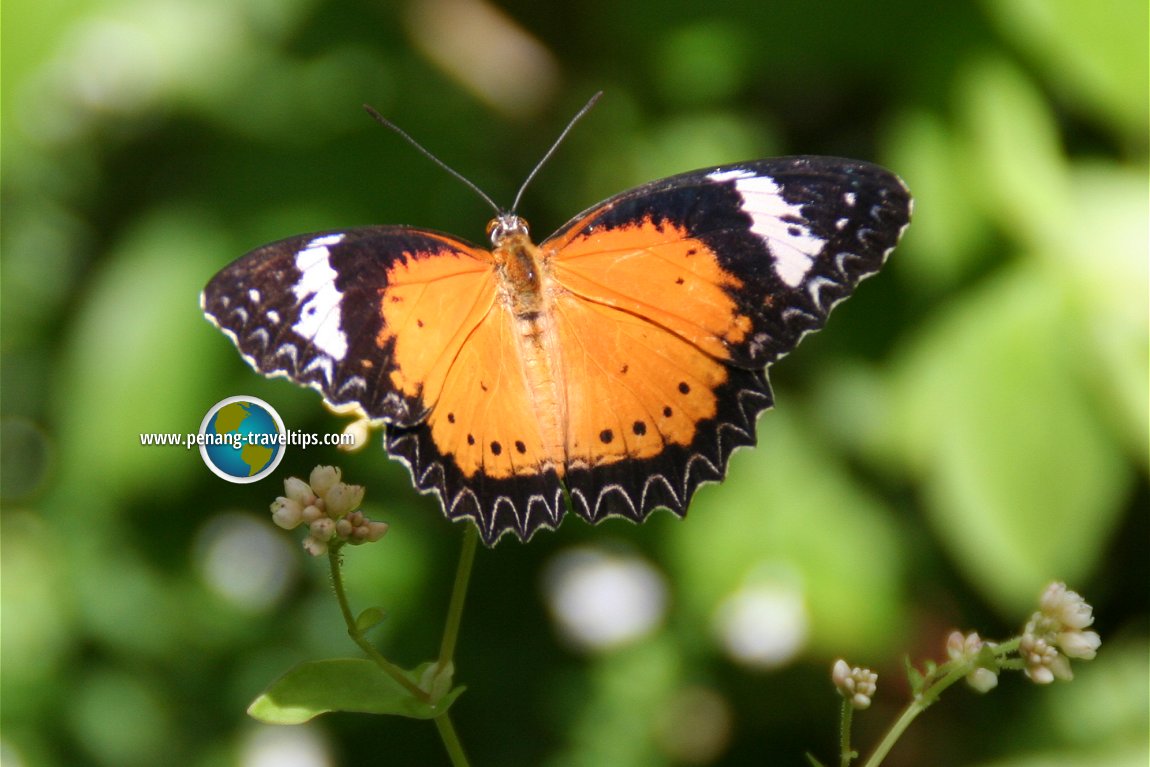 A butterfly at the Penang Butterfly Farm.
(2 December, 2007)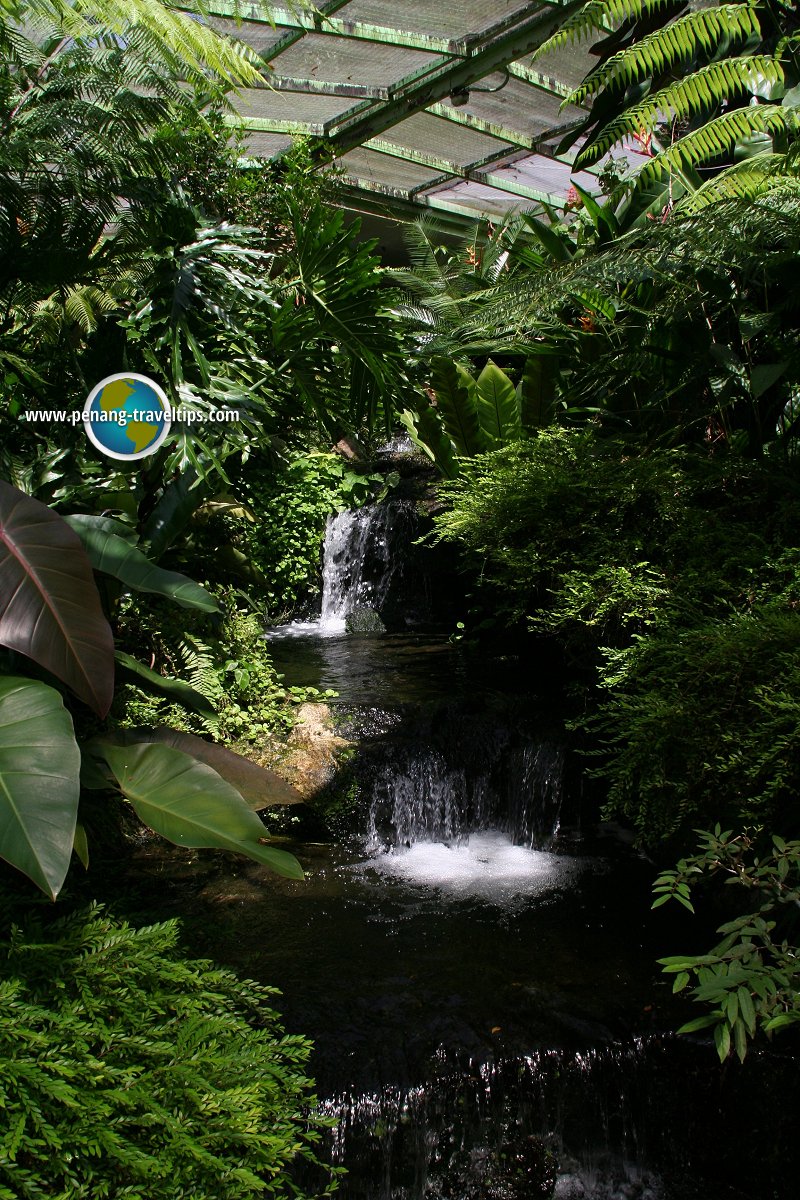 The manmade waterfall in the Penang Butterfly Farm.
(2 December, 2007)

Add your shop/business to this website
The Penang Travel Tips website is a huge website that documents everything in Penang. On top of the hundreds of streets and tourist attractions, I also add in hundreds of shops and businesses.
If you operate a shop business in Penang, or anywhere in Malaysia or Singapore, contact me to add your business/shop into my website. It only a one-time fee, and your shop/business will be listed by location and category, helping your would-be customers find you. To find out more,
CONTACT ME
Visiting Penang? Find the lowest hotel room rates here!
Use our search engine to compare room rates from different hotel booking websites, to find the one that's lowest.
Travelling somewhere?
If you're travelling somewhere, use our online engine to find the online booking site that offers you the best room rates.
Book your hotel room here
If you're coming to Penang, book your hotel room online with Agoda. Agoda offers the best prices on 2,000,000+ properties worldwide.
Start here.
Local Guided Tours of Penang
If you are coming to Penang and need someone to show you around, I can arrange for you a licensed tour guide to take you around. Guides charge a fixed fee of RM360 for taking a small group of up to 10 people on 4-hour walking tours. Walking tours exceeding 4 hours is charged an additional RM90 per hour. Tours are tailored to guest requirement. For more details,
contact tour coordinator
. Other types of tours also available.
For details, click here.
Looking for a book? Get it from Book Depository with free delivery worldwide!
I have just discovered
Book Depository
, a subsidiary of Amazon.com, and I love it. This is where you can buy books and have them sent to you. But unlike Amazon, when you purchase using Book Depository, you enjoy free delivery worldwide.
Give it a try today!
Here's a list of the latest pages I have added or updated on my website.
My YouTube Videos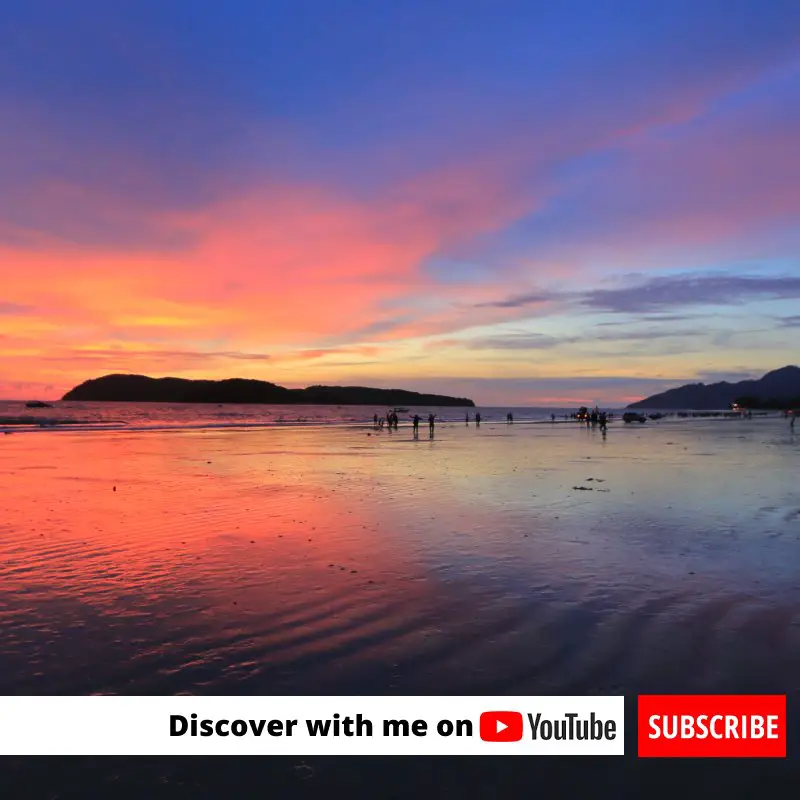 Check out
my YouTube Channel
and don't forget to subscribe!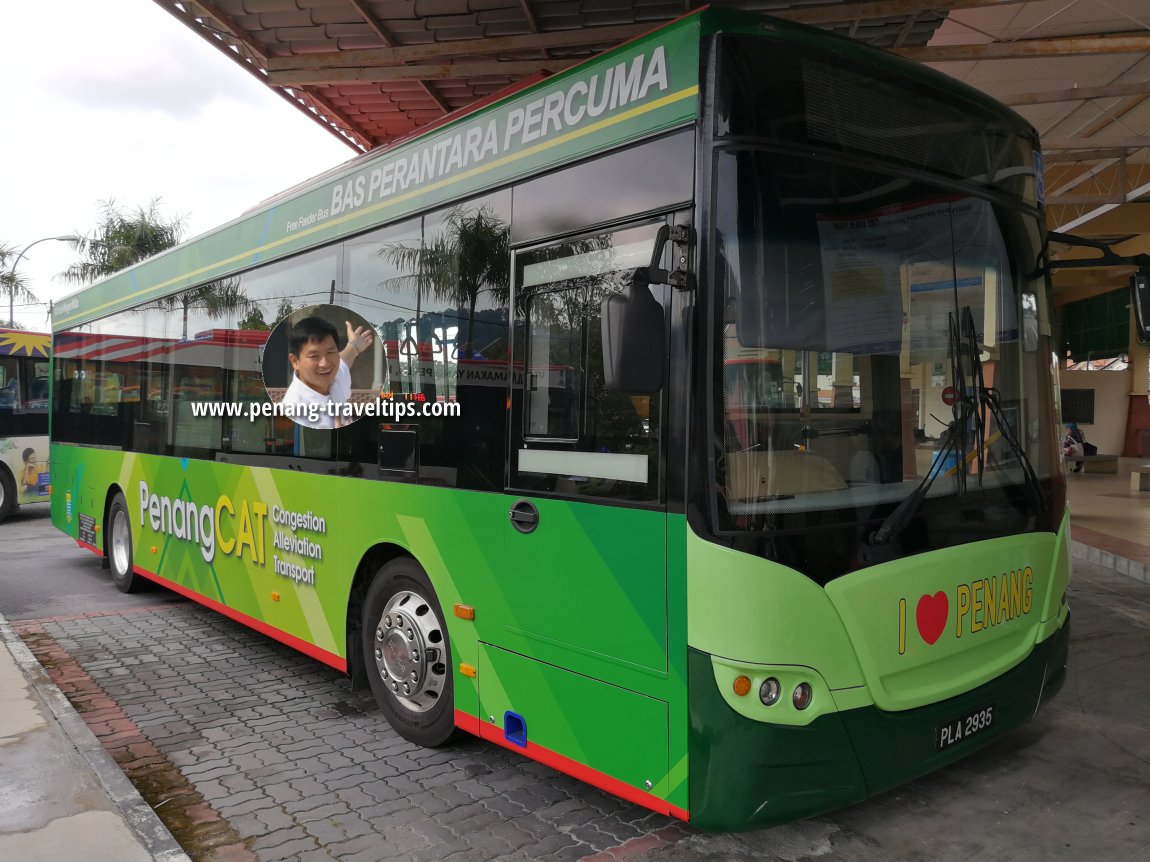 Take the CAT Free Feeder Bus
What's the best way to see Penang on a budget? Take the bus! In Penang, there are at least 12 absolutely
FREE
bus routes which cover almost every major neighbourhood on Penang Island and Penang Mainland. All you need to do is hop aboard!
Details
Vital Links
Book Your Express Bus Ticket
|
Hire a car
|
Our Recipes
|
Facebook Posts
|
Just Curious
|
Not In The Dictionary
|
Our Flowering Garden
Vital Links
Book Your Express Bus Ticket
|
Engage a Tour Guide for Penang
|
What's Up at Penang Hotels
|
Hire a car
|
Facebook Posts
|
Our Recipes
|
Our Flowering Garden
|
Guide Book on Penang Durians
Discover the World
About Me
Thank you for visiting
my website
. I started it in 2003, and today it has over twenty thousand pages of information. My name is
Timothy Tye
. I would be very pleased if you enjoy the information I have put together.
As a Christian, I hope that through this website, I am able to deliver God's message to all who need it, anywhere in the world. If you are open to hearing it, please read
God's Good News to You
.
If you wish to contact me, please use this
contact form
. And don't forget to
follow me on Facebook
. See you!
Copyright © 2003-2018
Timothy Tye
. All Rights Reserved.