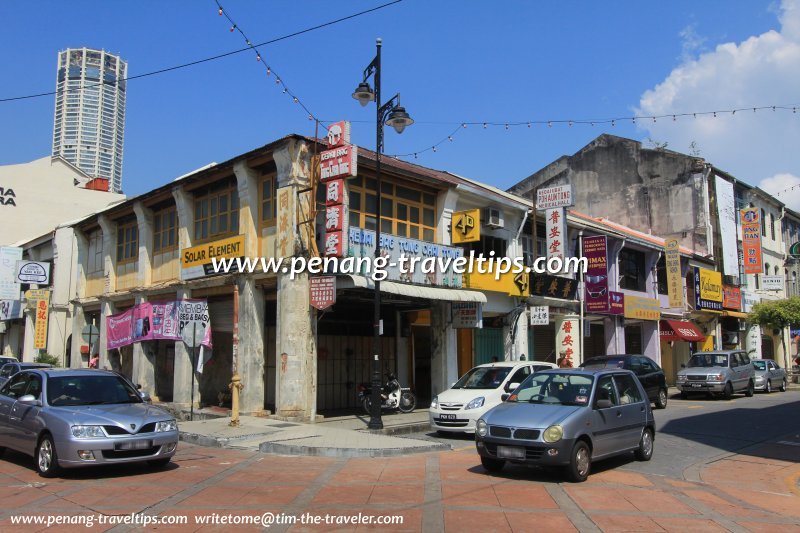 Campbell Street, at its intersection with Cintra Street (left)
(20 May, 2012)

Campbell Street
, or
Lebuh Campbell
, is a street within the buffer zone of the
George Town Unesco World Heritage Site
. It runs from Penang Road to the junction of Buckingham Street and Carnarvon Street.
Location of sights along Campbell Street
Hotels along Campbell Street
Sights along Campbell Street
Eateries on Campbell Street
Street Art on Campbell Street
Businesses along Campbell Street
Clinics on Campbell Street
About Campbell Street
Campbell Street was named after the Penang Inspector General (1866-1891) Sir George William Robert Campbell, who was also the acting Lieutenant-Governor of Penang between 1872 and 1873. It used to run from Pitt Street, which was much older. The locals called it
Sin Kay
, meaning "new street".
During the third quarter of the 19th century and into the 20th century, it was a red-light district, lined with brothels that advertise themselves by hanging red lanterns at their doors. The term "sin kay" acquired a whole new meaning, as a pun to mean "fresh hookers", in reference to the newly arrived prostitutes, many of whom are Cantonese. The Malays called Campbell Street Jalan Makau, in reference to Macau, in reference to the port city from which Cantonese laborers and prostitutes arrive.
In the mid 20th century, Campbell Street had become the most important shopping street for the locals. It is the place to shop for clothes, watches and shoes. The business began to decline by the mid 70's. Today most of the retail outlets have been taken over by wholesalers. The eastern end of Campbell Street, between
Rope Walk
and Carnarvon Street, was the centre of the Chinese jewellery business, with jewellery shops lining both sides of the street.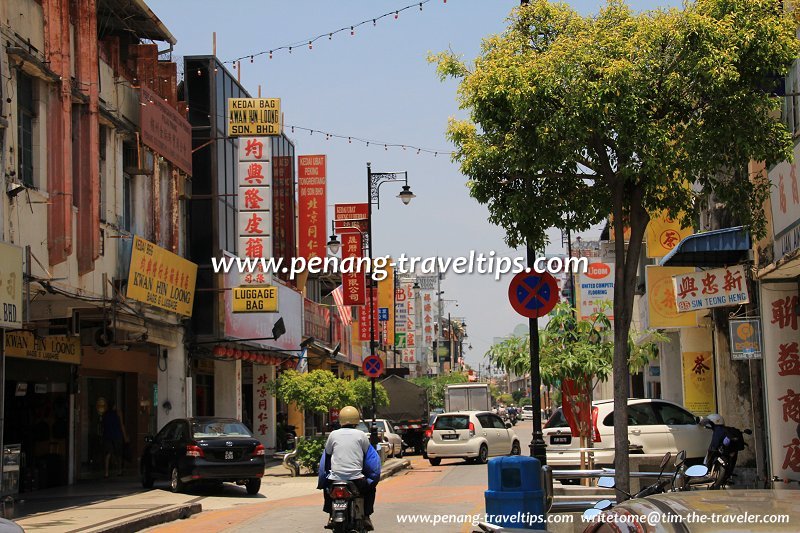 Campbell Street was once the main shopping precinct of Penang
(30 August, 2012)

Medan Lebuh Campbell
is the RM2.3 million pedestrian walkway built by the Penang Island Municipal Council (MPPP), as part of the effort to bring life into Campbell Street. It was opened on July 1999, and was not entirely successful, as it had introduced street concepts such as benches, without regard to the impracticality of the climate. To bring life into the street, it should ideally shelter the street, as is done in Singapore (Clarke Quay, Chinatown, Far East Square, Bugis Street, to name a few places) and air-condition the sheltered area. As such, Medan Lebuh Campbell succeed in creating a bottle neck for Campbell Street.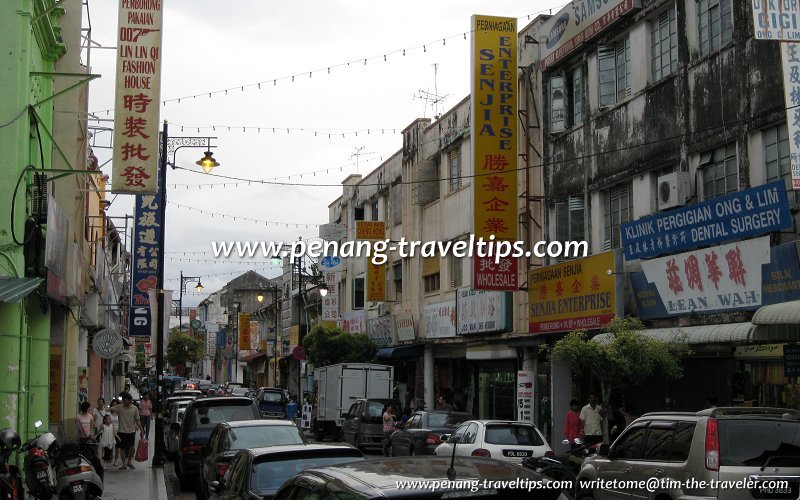 Campbell Street
(24 November 2008)

Major Junctions on Campbell Street
Campbell Street in Penang Hokkien
Learn to read at
Penang Hokkien Made Easy
Look up words in the
Penang Hokkien Dictionary
Updates on Campbell Street
2 August, 2014
:
StarMetro, The Star
reports that the Municipal Council of Penang Island (MPPP) is considering widening Campbell Street. Councillor in charged of Infrastructre and Traffic, Dr Tan Kim Hooi, said that details are being finalized. The Council is also considering a proposal from Rapid Penang to run a bus route through Campbell Street, providing a link between Penang Road and Pitt Street.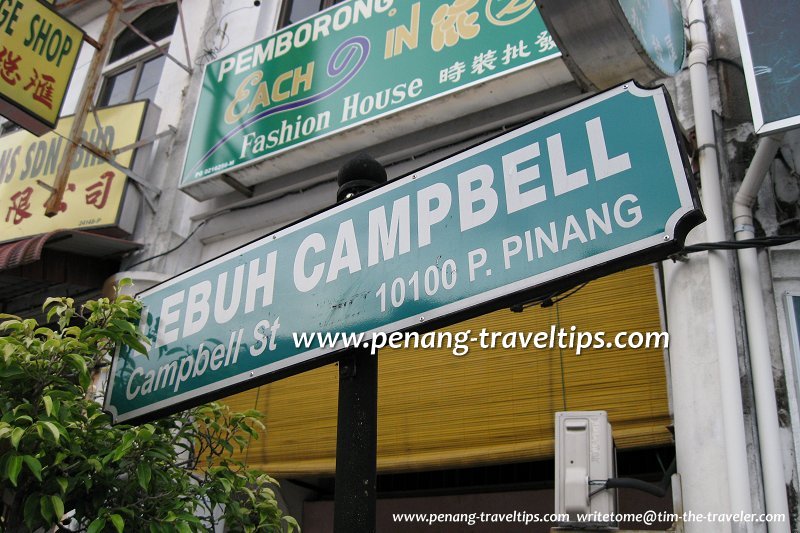 Lebuh Campbell road sign
(24 November 2008)

In Other Words ...
Campbell Street is called Sin3 Kay3, meaning "new street", in
Hokkien
.
Getting there
The nearest bus stop to go to Campbell Street is at Penang Road. You can take
Rapid Penang Free Shuttle Bus
to Station No. 8 (Lebuh Campbell) and walking a short distance from Penang Road to Campbell Street.
Rapid Penang
buses 10, 11,
101
,
103
,
104
,
201
,
202
,
203
,
204
,
206
,
301
and
302
also stop at the bus stop along Penang Road.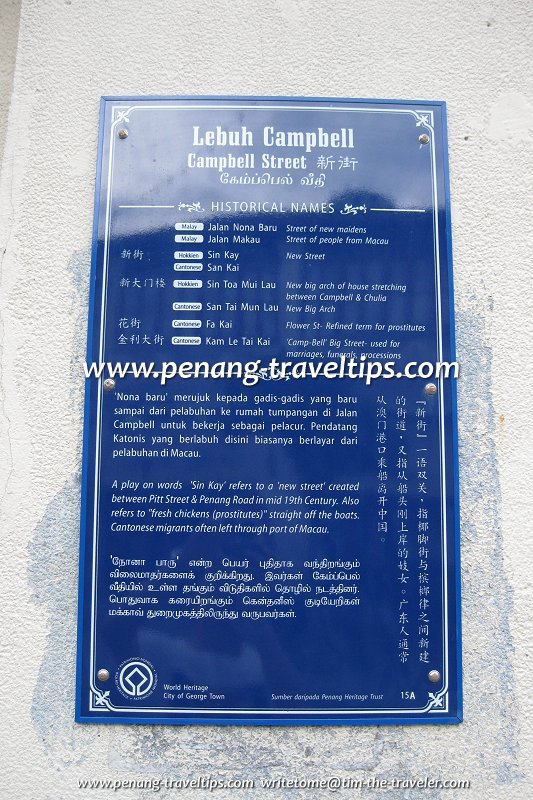 Campbell Street plaque
(24 November 2008)

You can look for and book your hotel room direct from this website. Simply
click here
or use the search box below. You can filter the results based on your requirement, everything from five star hotels to homestays and more.
Look for a specific type of accommodation in Penang
Map of Roads in Penang
All about me