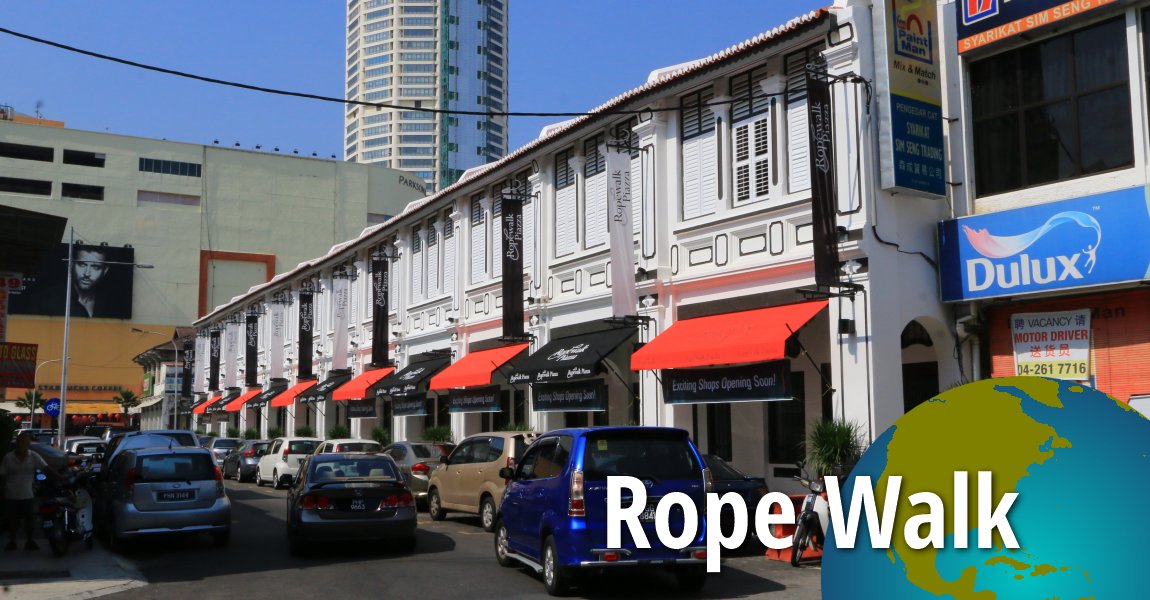 Rope Walk, Penang
(9 January, 2016)

Rope Walk
, or
Jalan Pintal Tali
, is one of the roads in
George Town
. It runs from
Chulia Street
to
Prangin Road
. The road got its name from the traditional rope spinner that used to set up shop there, making ropes out of coconut husk. This was in the 19th century, when ropes were in demand for bullock carts and other forms of carriages. The ropes were also required for the mooring of ships at the harbour.
When the Malays and Chinese in George Town became polarized into two camps, the rope spinners supporting the White Flag (Bendera Putih) Secret Society based at
Masjid Pintal Tali
. The White Flag Secret Society teamed up with the Ghee Hin, which by then also had its base at
Meng Eng Soo
in Rope Walk. The congregation at Masjid Pintal Tali also split into two camps by the turn of the 20th century. The splinter group set up their own mosque, the
Masjid Al-Jamiul Azzakirin
, better known as the Prangin Road Mosque.
For much of the 20th century, Rope Walk was a working-class part of George Town. It had a flea market, which has since been relocated to
Lorong Kulit
, while the road is lined with hardware stores that are still operating today.
Location of sights along Rope Walk
Hotels on Rope Walk
Street Art
Sights along Rope Walk
Eateries along Rope Walk
Commercial Properties on Rope Walk
Businesses on Rope Walk
Getting there
From the Komtar Bus Terminal, walk northeast along Jalan Ria until junction with Prangin Road. Turn right and walk southeast on Prangin Road until junction with Jalan Pintal Tali on your left.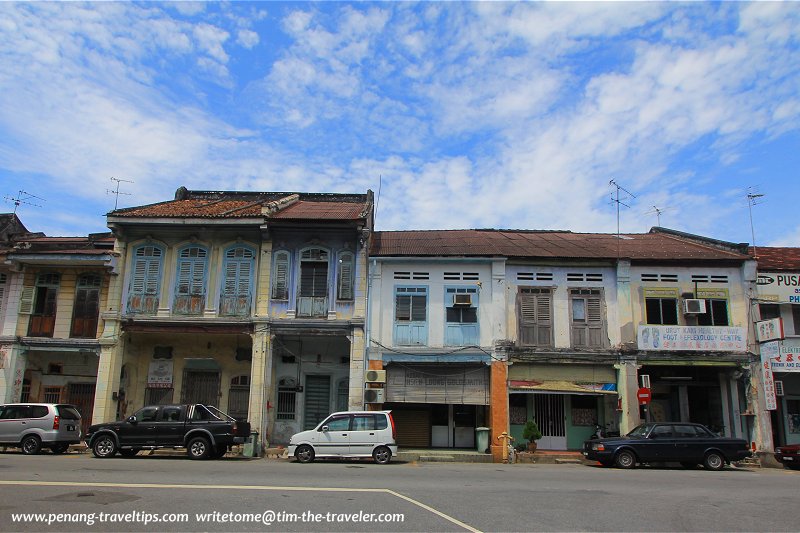 The shophouses of Rope Walk, as seen from the junction with Claimant Place
(25 January, 2013)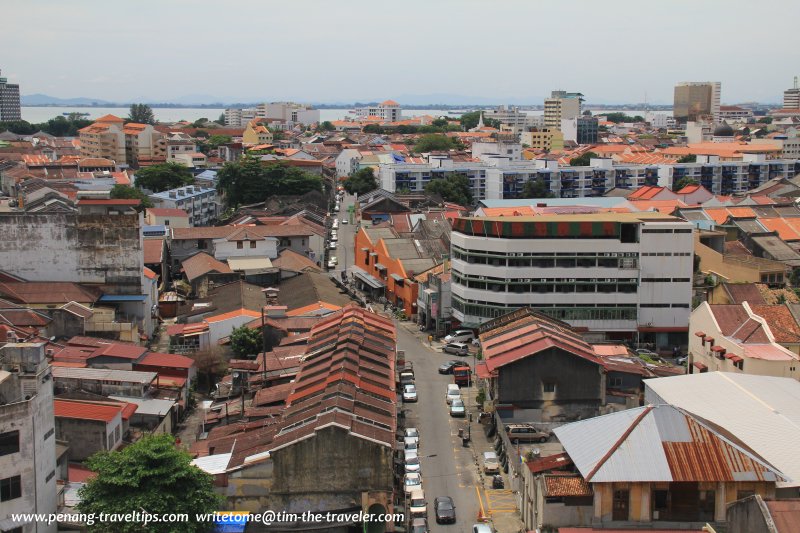 Aerial view of Rope Walk
(7 July, 2012)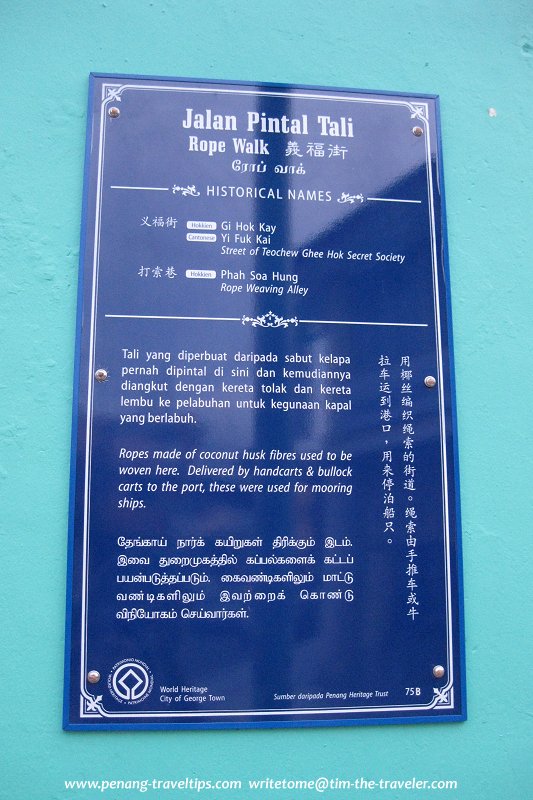 Rope Walk history plaque
(12 November 2008)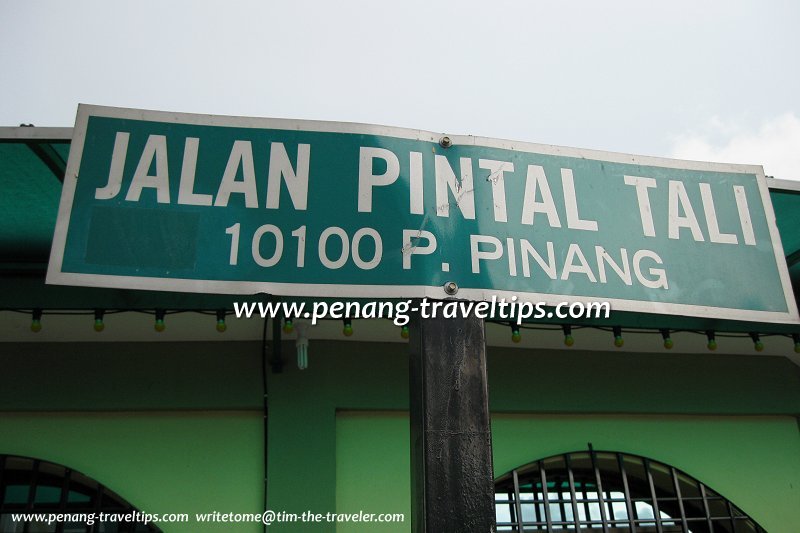 The old Jalan Pintal Tali road sign
(12 November 2008)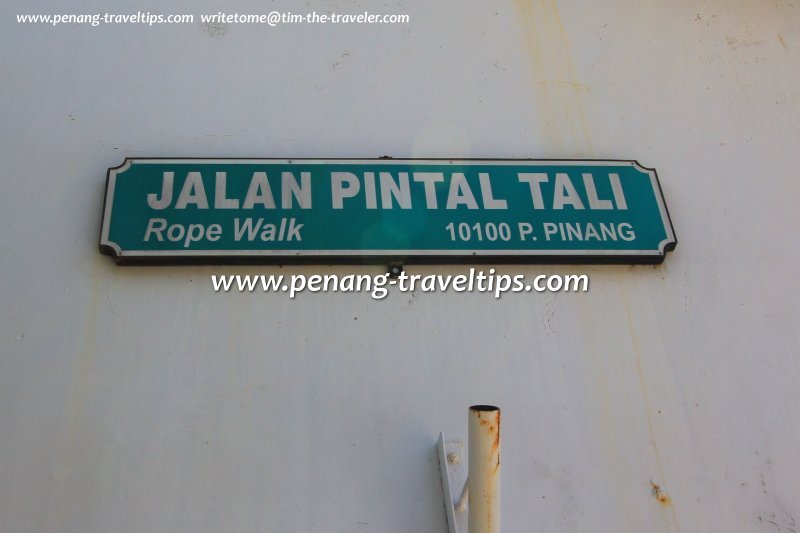 Jalan Pintal Tali road sign
(25 January, 2013)


contact me
You can look for and book your hotel room direct from this website. Simply
click here
or use the search box below. You can filter the results based on your requirement, everything from five star hotels to homestays and more.
Look for a specific type of accommodation in Penang
Map of Roads in Penang
All about me