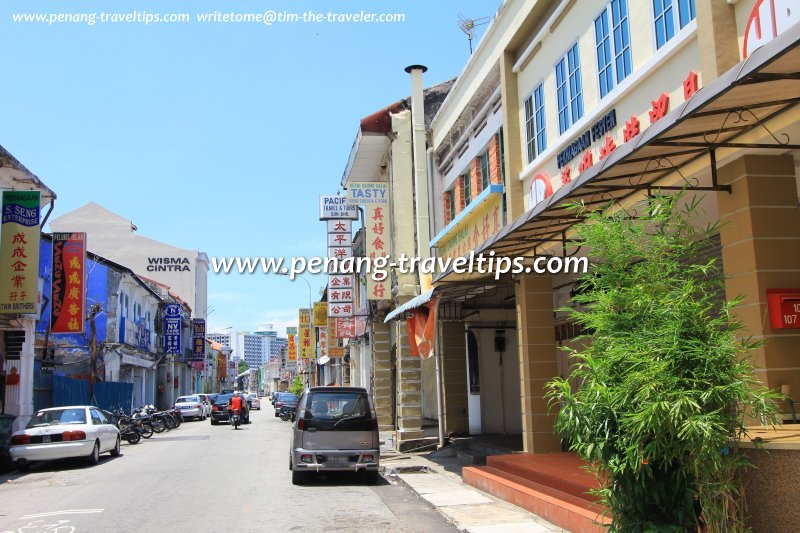 Cintra Street, Penang
(17 April, 2011)

Cintra Street
or
Lebuh Cintra
is a street within the Chinatown area of George Town. It starts at Chulia Street and ends at
Kimberley Street
, across from
Sungai Ujong Road
. It is intersected by Campbell Street.
Kampung Malabar
also ends at Cintra Street.
Cintra Street was named after an event that was totally unrelated to Penang, safe except for the fact that one of the protagonists was Sir Arthur Wellesley, after whom Province Wellesley was named after. The aforementioned event was the signing of the Convention of Sintra, named after the Portuguese town of Sintra (written Cintra in English), a municipality within the District of Lisbon. The Convention of Sintra allowed French troops to withdraw and evacuate from Portugal, which they had earlier invaded, following their defeat by Anglo-Portuguese forces led by Wellesley.
Map of sights along Cintra Street
Hotels along Cintra Street
Coffee Shops & Restaurants along Cintra Street
Street Art on Cintra Street
Historic Buildings on Cintra Street
Commercial Properties on Cintra Street
Businesses on Cintra Street
Food Recommendations
The following item is recommended by a member of the
Penang Hawker Food Facebook Group
.
Cintra Street
(17 December 2008)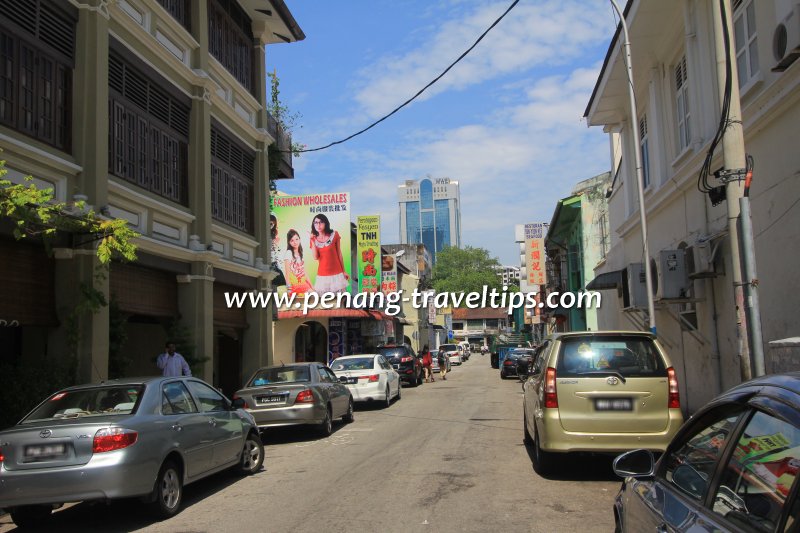 Cintra Street, looking towards Chulia Street
(25 January, 2013)

The Convention of Sintra was an embarrassment as well as a disgrace to the United Kingdom, because two incompetent superiors to Wellesley, namely Sir Harry Burrard and Sir Hew Dalrymple, allowed the defeated troops to "escape" any form of punishment. They were allowed free transport and travelled loaded - meaning they went home with valuables that they had looted. Wellesley wanted to fight, but was overruled by his superiors. An official inquiry was held, the result of which saw Wellesley returning to active duty, which the two superiors were quietly pressured into retirement.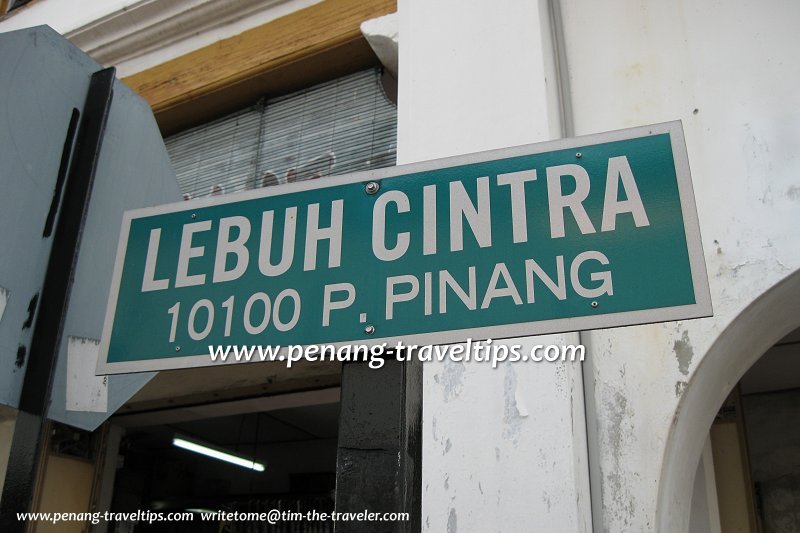 Cintra Street sign
(17 December 2008)

For much of the 19th and early 20th century, Cintra Street was a red light district. The section between Kampung Malabar and Campbell Streets was where brothels with Japanese prostitutes were found. These prostitutes, called Karayuki-san, meaning "Ms Gone Overseas", were girls from impoverished rural Japanese families. Many are believed to be buried at the
Japanese Cemetery
(just as is the case with the Japanese Cemetery in Sandakan and Banda Street in Singapore). The section of Cintra Street between Campbell and Kimberley Street was also another red light area, with cheap brothels stocked with prostitutes from other races.
Today we can no longer find such prostitution dens operating along Cintra Street - not openly, anyway. In the 1960's,
People's Court
, one of the earliest housing estates in Penang, was built to provide housing to low-income earners. It is today the heart of Chinatown with a number of popular Chinese restaurants. The most popular is De Tai Tung. Foo Heong Restaurant was famous in the 1970's but has since lost its lustre. Also along Cintra Street is a famous
Hum Chin Peng
stall and a herbal tea stall.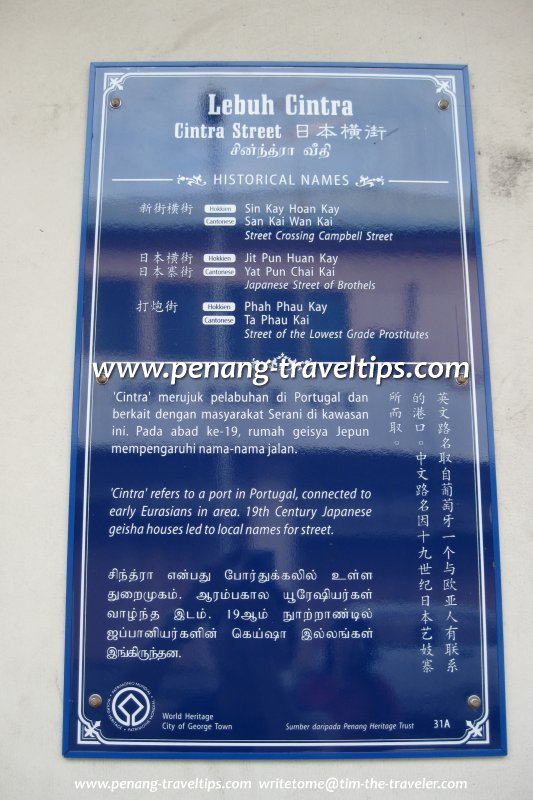 Cintra Street plaque
(17 December 2008)

Getting there
From the
Komtar Bus Terminal
, walk along Jalan Ria, cross Jalan Dr Lim Chwee Leong and enter Jalan Sungai Ujong. Walk along Jalan Sungai Ujong until Kimberley Street. Cintra Street is located across Kimberley Street.
In Other Words ...
Cintra Street was known in
Hokkien
as Sin3 Kay3 Huan3 Kay1 新街橫街

, meaning "street intersecting Campbell Street". It was also called Phak1 Phau1 Kay1 拍袍街

("low-class brothel street") and Jit3pun1 Kay3 日本街

("Japanese (brothel) street").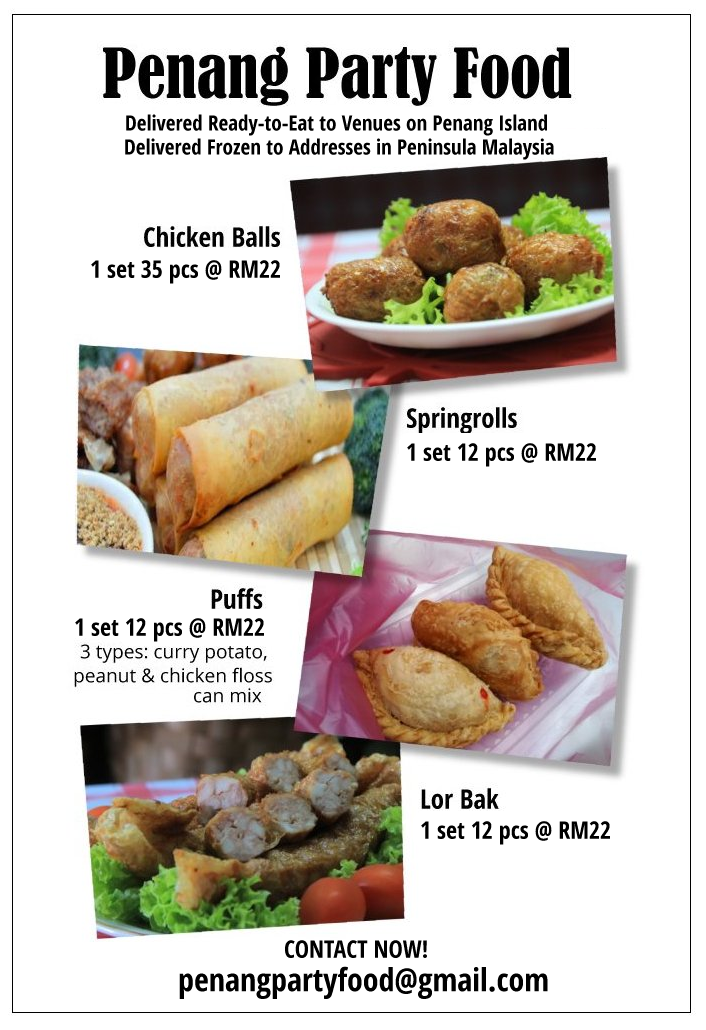 Map of Roads in Penang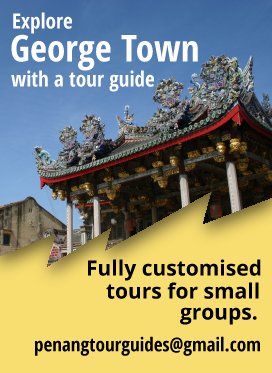 All about me
Welcome to my Singapore Travel Tips!
On top of writing Penang Travel Tips, I am expanding my writings to cover Singapore. These are the pages completed so far.