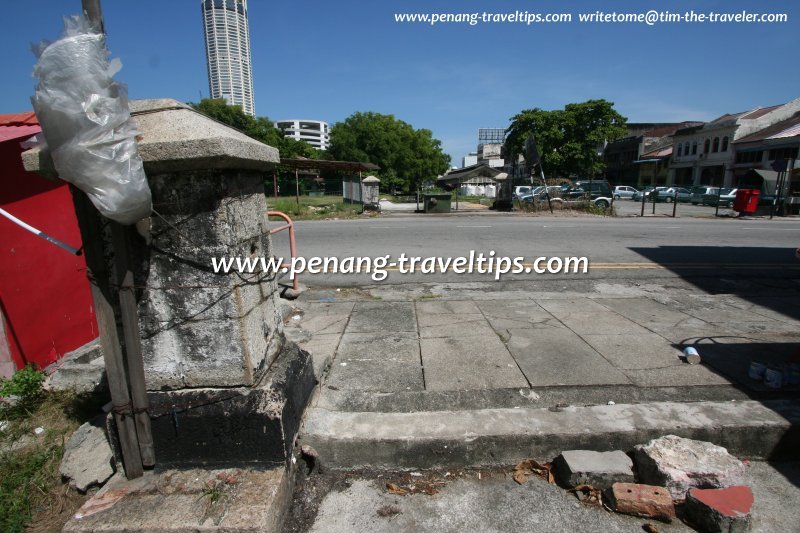 Anson Bridge
(19 March, 2010)

Anson Bridge
is a small historical bridge in George Town, Penang. It links Beach Street to
Bridge Street
.
I have known about the Anson Bridge for quite some time, and have briefly documented it when I was researching the
Prangin Canal
. In the past week (of March 2010), there has been renewed interest in restoring the Anson Bridge, so I revisited the area.
To say the least, Anson Bridge is insignificant to the eyes. You might not even notice it unless you pay full attention. It is located over Bridge Street just before the traffic lights of
Prangin Road
junction. The bridge goes across Prangin Canal, parts of which is still visible. So what's the big deal with Anson Bridge.
Anson Bridge is a very important bridge in 19th century George Town. Historically, it provides the main link between George Town and the hinterland. (Up until the third quarter of the 19th century, George Town reached as far as Prangin Canal, and the land south of the canal was regarded as countryside.) According to oral history (people I spoke of who remember seeing the bridge in their childhood days), the bridge is an arch bridge that is higher than the roads. This allows perahus to pass easily under it.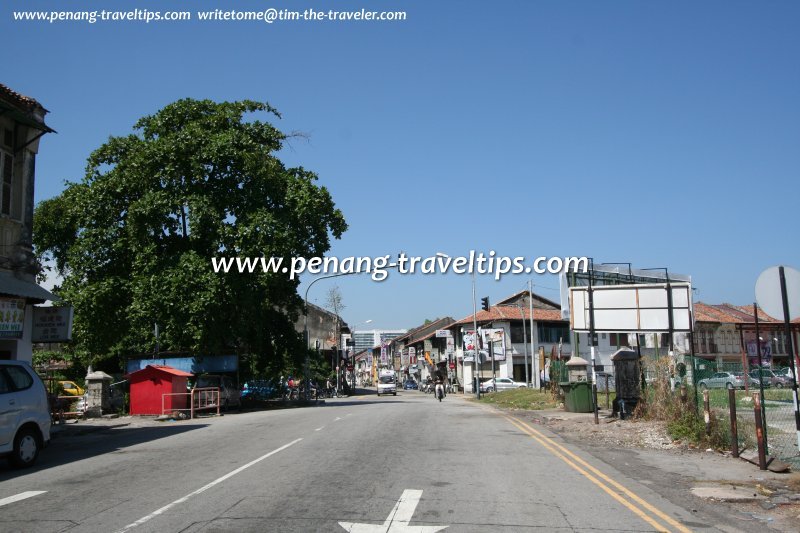 View across Anson Bridge
(19 March, 2010)

If you look at Anson Bridge today, it is almost street level. This is because the surrounding roads have been paved over many times, the result of which, the roads are now much higher than before. You can notice this by looking at the level of the surrounding houses. The detrimental effect of having such high roads is that during severe downpours, the houses quickly get flooded.
Anson Bridge was named after Major General Archibald Edward Harbord Anson, who was the Lieutenant Governor of Penang from 1867 to 1871 (read
Governors of the Straits Settlement
).
At time of writing, I am still trying to figure out the year that Anson Bridge was built, but judging from whom it was named after, I would suppose that the year from 1867 to the end of the 19th century would be when the bridge was built. That coincides with when land reclamation took place, the result of which
Prangin Road Ghaut
was created. I suppose this is also when
Anson Road
was built, and named after the same governor.
Considering the significance of Anson Bridge, the local government should take steps to restore it. It would also be proper if a plaque can be erected so that the story of the bridge can be appreciated by the people today.
Nearby Sights
Nearby Shopping
Location of Anson Bridge on the map

contact me
You can look for and book your hotel room direct from this website. Simply
click here
or use the search box below. You can filter the results based on your requirement, everything from five star hotels to homestays and more.
Look for a specific type of accommodation in Penang
All about me