Macallum Street Ghaut, George Town, Penang
---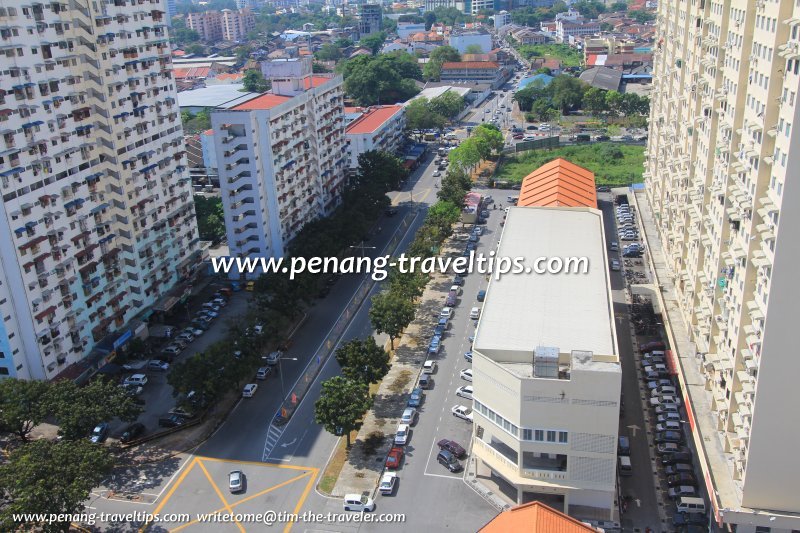 Macallum Street Ghaut, as seen from Kompleks Pulau Mutiara Block 8A (25 January, 2013)




Macallum Street Ghaut is both a street as well as neighbourhood in George Town, Penang. The Macallum Street Ghaut area was created in the early 1980's as an extension of Macallum Street when land reclamation extended the shoreline outward. This enabled the served by Macallum Street Ghaut and Cecil Street Ghaut to be developed. Until then, both streets were paths that led to the swampy coast. (Much of the eastern coastline of Penang Island was lined with mangrove swamps which were progressively cleared, though the mangrove reestablishes itself in some places.)

The Macallum Street Ghaut neighbourhood was developed in stages with low- to medium-cost apartments. Among the earliest were the PDC Flats namely blocks 346, 349, 350, 352 and 354, located between Macallum Street Ghaut and Cecil Street Ghaut. Facing Tun Dr Lim Chong Eu Expressway are the Macallum Flats block 1, 2 and 3.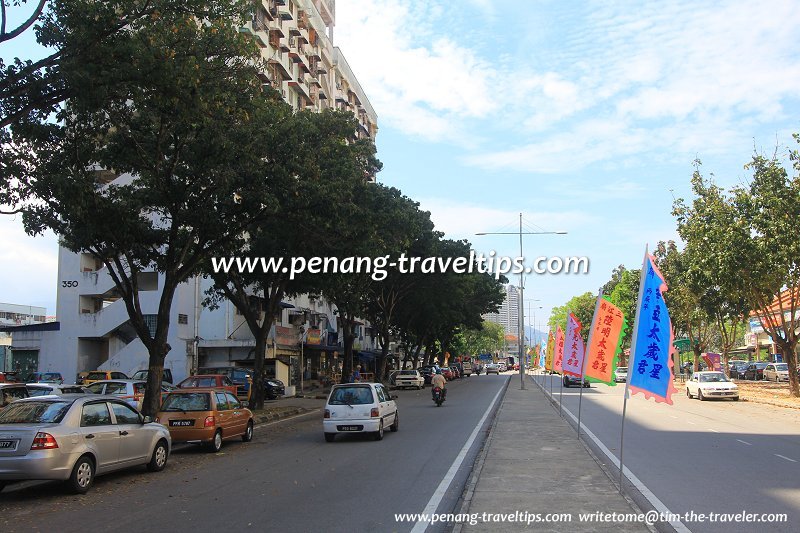 Macallum Street Ghaut, as seen from street level (25 January, 2013)





A more recent development in the Macallum Street Ghaut area is a high-rise apartment complex known as Pelangi Apartment. It comprises blocks 3, 5, 7, 9 and 11 along Lintang Macallum 2, and Blocks 358, 360 and 362 at Lintang Macallum 1, near the mouth of Sungai Pinang. There is also a small area of landed low-cost houses accessed via Pintasan Cecil. The newest development is presently the Sri Saujana Apartment blocks 42A, 42B and 43C, occupying part of the area that was the former Koay Jetty.

In addition to the residential property, there are also commercial properties at Macallum Street Ghaut. Perhaps the most prominent are Kompleks Pulau Mutiara, which houses the wholesale market relocated from Sia Boey, and Harbour Trade Centre.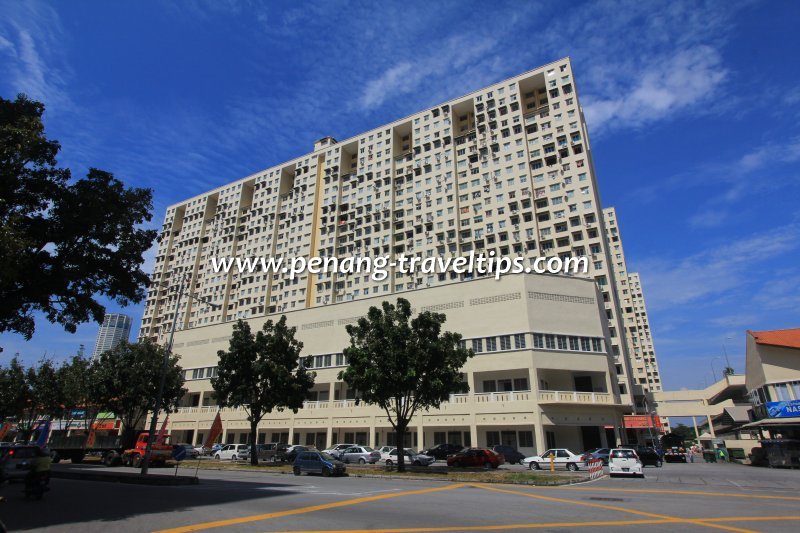 Sri Saujana Commercial Block, Macallum Street Ghaut (25 January, 2013)


Sights in the Macallum Street Ghaut neighbourhood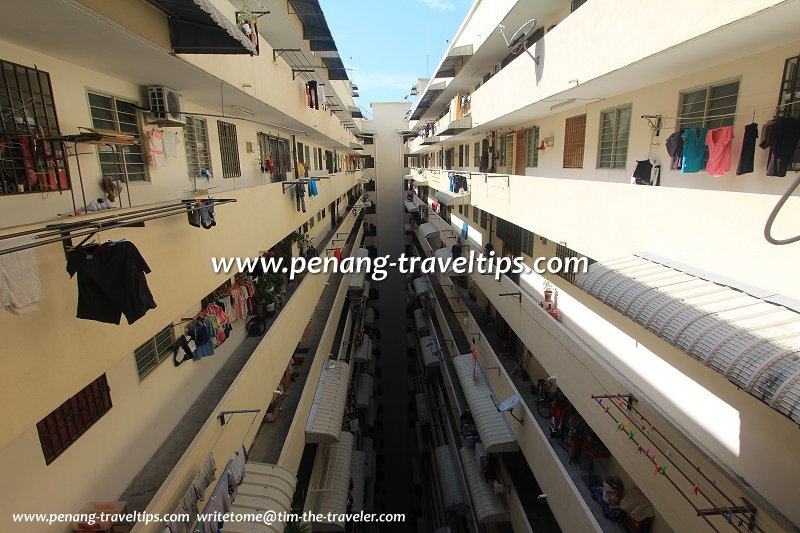 View inside Sri Saujana Apartment block (25 January, 2013)


Eateries in the Macallum Street Ghaut area
Apartments in the Macallum Street Ghaut area
School in the Macallum Street Ghaut area
Businesses at Macallum Street Ghaut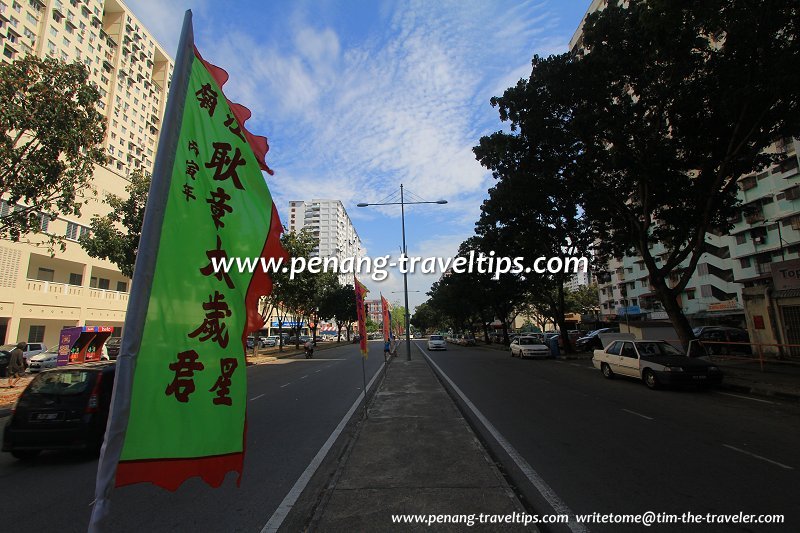 Another view of Macallum Street Ghaut (25 January, 2013)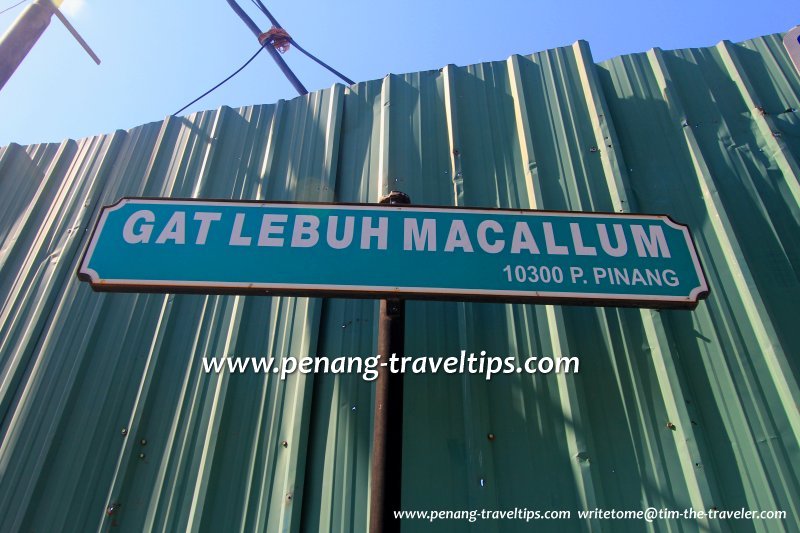 Gat Lebuh Macallum road sign (6 February, 2013)


Getting there
Macallum Street Ghaut is served by Rapid Penang bus 303.



View Macallum Street Ghaut in a larger map


Before you go anywhere in the Big World Out There, spend a moment to find the best Flights and Hotels.



| | |
| --- | --- |
| | Hello and thanks for visiting! My name is Tim! I created Penang Travel Tips so that I can tell you everything that I know about Penang. I hope my website provides you the information you are looking for, and that you will enjoy visiting it as much as I enjoyed writing it for you! If you found any errors, please let me know and I will correct it. Thank you! |

If you love to know everything about Penang, join me at Penang Travel Tips Facebook Group, Penang Street Art Facebook Group, Penang Hawker Food Facebook Group, Learn Penang Hokkien Facebook Group and Masa Masak Facebook Group!
Rapid Penang Bus Routes: This very useful page provides you all the information to take the public bus to visit any place in Penang.
Arriving by plane: Essential information for independent travelers (those not following a tour package) on taking the bus or taxi upon arrival at Penang International Airport.
Taking the Taxi: Taxi stands can be found at all major shopping malls. You can also call a taxi by phone. Get the details here.
Personal Guided Tours of Penang: If you like a licensed tour guide to show you around, get in touch with me and I'll arrange it for you. The fee is RM90 per hour. Payment for the first two hours collected upon booking.
Hospitals in Penang: Penang is a major regional medical tourism destination. If you are planning to come here for therapy or treatment, find out about the various hospitals available.
Penang Island Residential Property Guide: If you ever consider buying a residential property on Penang Island, read this guide before taking any action.
Penang Visitor FAQ: Frequently asked questions of visitors planning their trip to Penang.
Shopping malls of Penang: Penang has plenty of malls. Visitors often find that prices in Penang are often lower than back home. Get to know the malls in Penang.
Ernest Zacharevic George Town Murals: The murals by a young Lithuanian artist, created for the 2012 George Town Festivals, has become the biggest tourist attraction in Penang. Get information and a full list of the murals that everybody loves to photograph!

Copyright © 2003-2014 Timothy Tye. All Rights Reserved.
---
Terms & Condition of Use | Privacy Policy