Khoo Sian Ewe Road
, or
Jalan Khoo Sian Ewe
, is a short road linking
Phee Choon Road
with
Burmah Road (Jalan Burma)
. It was built in the early 20th Century and was named after the philanthropic land proprietor Khoo Sian Ewe (1886-1964) who owned the land on both sides of Khoo Sian Ewe Road.
Map of Khoo Sian Ewe Road
Sights along Khoo Sian Ewe Road
About Khoo Sian Ewe, the man behind the road name
Khoo Sian Ewe was the second son of Kapitan China Khoo Cheow Teong from Sumatra. He was a student of the
Penang Free School
and later served as one of the first vice-presidents and second president (1924-38) of the
Old Frees' Association
.
After he took over his father's vast estates, he quickly rose to become a pillar in the Chinese community. He was the longest serving president of the
Penang Chinese Town Hall
, from 1927 to 1964. In addition, he was also the President of the
Chinese Chamber of Commerce
, from 1933 to 1941. A pillar of the early 20th century Penang society, he was made a Justice of the Peace in 1920 and Municipal Commissioner until the Japanese Occupation in 1941. He served on the board of the Leong San Tong Khoo Kongsi and the
Chung Hwa Confucian High School
, among others. He was also a member of the Straits Settlements Legislative Council from 1934 until 1941. Khoo Sian Ewe was knighted the Commander of the British Empire (CBE) in 1954.
Khoo Sian Ewe owns most of the land between Jalan Burma and Jalan Phee Choon. Indeed he was the biggest property owners in Penang before the Second World War. The
Loke Thye Kee restaurant
was established by two Hainanese brothers who once worked as Khoo Sian Ewe's cooks. He helped them realise their dream by helping them establish the restaurant. After the restaurant along Weld Quay was forced to relocated, Khoo provided the brothers a new premise to re-establish their restaurant, at the junction of Penang Road and Burmah Road.
Khoo Sian Ewe built the
Majestic Theatre
, which was the first cinema in Penang to screen Chinese talkies. The cinema opened in 1926, and became known among the Chinese as the Shanghai Sound Movie Theatre, although officially it is known as Khoo Sian Ewe Theatre. Other properties owned by Khoo Sian Ewe include his bungalow,
The Great Wall
, up in
Penang Hill
.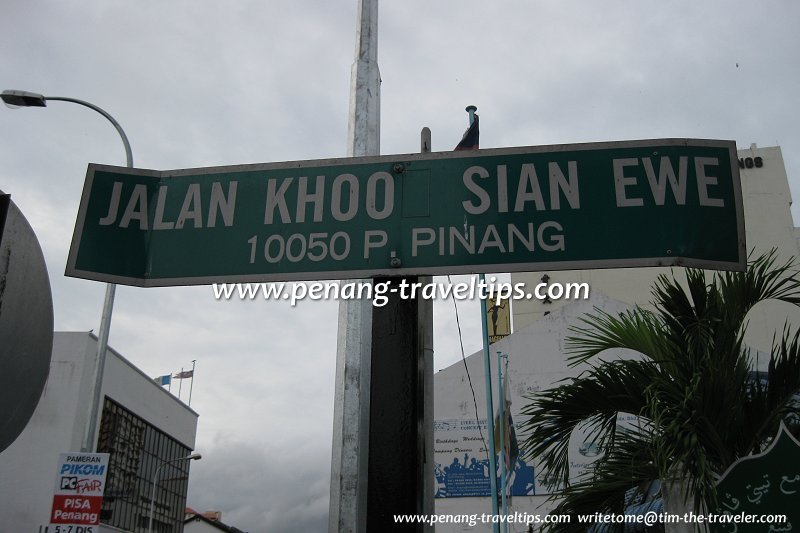 Khoo Sian Ewe Road
(24 November 2008)

Getting there
The nearest bus stop is along Transfer Road. It is served by
Rapid Penang
bus 10,
101
,
103
,
104
,
201
,
202
,
203
,
204
,
206
,
502
and
CAT
.
Khoo Sian Ewe Road on Google Street View
(Nov 2015)
You can look for and book your hotel room direct from this website. Simply
click here
or use the search box below. You can filter the results based on your requirement, everything from five star hotels to homestays and more.
Look for a specific type of accommodation in Penang
Map of Roads in Penang
All about me